Stats & Info:

Frank Thomas
January, 8, 2014
Jan 8
2:28
PM ET
Greg Maddux received 97.2 percent of the vote, the eighth highest total in the history of BBWAA balloting.

Maddux was a four-time Cy Young winner, eight-time All-Star and 18-time Gold Glove winner, who ranks in the top 10 all-time in wins and strikeouts.

His 11-year teammate, Tom Glavine, received 91.9 percent of the vote.

Glavine won 305 games, led the NL in wins five times, and was a 10-time All-Star who won two Cy Young Awards.

Frank Thomas received 83.7 percent of the vote. He hit 521 home runs (tied for 18th all-time) and had 2,468 hits in a 19-season career. He is the White Sox all-time leader in home runs, RBIs, extra-base hits, OPS and runs scored. He's also one of only two American Leaguers to win back-to-back MVPs in the last half-century, along with Miguel Cabrera.

Thomas is one of five players in major league history to have had at least 500 home runs, 1,700 RBI and 1,500 walks, along with Barry Bonds, Ted Williams, Mel Ott, and Babe Ruth.

Stat of the Day
Glavine and Maddux's run as teammates was tied for the second-longest time together as teammates by members of the same Hall of Fame induction class. The Elias Sports Bureau notes that the famous Cubs infield combination of Joe Tinker, Johnny Evers and Frank Chance were all inducted together in 1946. Mickey Mantle and Whitey Ford were teammates for 15 seasons prior to being inducted together in 1974.

Looking ahead
This was the final season of eligibility for BBWAA election for Jack Morris, who received 61.5 percent of the vote. Morris will be eligible for induction through future Veterans Committee elections.

Newcomers to next year's ballot include three pitchers with high likelihood of election- Randy Johnson, Pedro Martinez and John Smoltz.

Johnson won 303 games and struck out 4,875 in his 22-season career, the latter of which ranks second all-time. His five Cy Young Awards also rank second to Roger Clemens' seven.

Martinez's career is best known for a seven-season stretch from 1997 to 2003 that ranks among the best all-time. In it, he was 118-36 with a 2.20 ERA for the Expos and Red Sox. He went 219-100 in an 18-year career, winning a World Series with the 2004 Red Sox.

Smoltz excelled as both a starter and a reliever in a 21-year career, primarily as a teammate of Maddux and Glavine. He won 213 games and saved 154. Smoltz was also known as one of the game's dominant postseason pitchers. He was 15-4 with a 2.67 ERA in 41 career postseason appearances (27 starts), including 7-0 with a 2.59 ERA in LDS play.

January, 7, 2014
Jan 7
5:45
PM ET
By
ESPN Stats & Information
| ESPN.com
The Baseball Hall of Fame will be announcing the results of this year's election on Wednesday at 2 p.m. ET. Here are the top statistical storylines.
• Though no players were elected by the Baseball Writers Association of America (BBWAA) in 2013, multiple are expected to be inducted this year. The most notable newcomers are
Greg Maddux
,
Tom Glavine
and
Frank Thomas
. The last time the BBWAA elected at least three players was in 1999 when George Brett, Nolan Ryan and Robin Yount were selected.
• Maddux ranks in the Top 10 all-time in both wins and strikeouts and is a four-time Cy Young Award winner (tied for third-most all-time) and league ERA champ.
He holds the record for most Gold Gloves won for fielding excellence with 18. Maddux is expected to challenge Tom Seaver's record (98.84 percent) for highest percentage of the vote received.
• Glavine, a teammate of Maddux's from 1993 to 2003, was a five-time 20-game winner who won Cy Young Awards in 1991 and 1998. He is the fourth-winningest left-handed pitcher in major-league history with 305 wins. Glavine also has a signature postseason moment- eight scoreless innings of one-hit ball in the clinching game of the 1995 World Series (a series in which he won MVP honors).
• Thomas finished his career with 2,468 hits and 521 home runs, the latter of which ranks tied for 18th all-time. He won back-to-back AL MVPs in 1993 and 1994. Thomas ranks as the White Sox's all-time leader in home runs (448), RBIs (1,465) and OPS (.995).
Thomas was a discerning hitter—he's one of five players with at least 500 home runs, 1,700 RBI and 1,500 walks, along with
Barry Bonds
, Ted Williams, Mel Ott and Babe Ruth.
• The top returning vote getters from last year's election are
Craig Biggio
, who garnered 68 percent of the vote in his first year on the ballot and Jack Morris, who got nearly 67 percent of the vote in his 14th try.
Biggio is one of four players to finish his career with at least 2,500 hits, 250 home runs and 400 home runs. The others are Barry Bonds,
Rickey Henderson
and Joe Morgan.
Morris was the winningest pitcher of the 1980s (162 victories) and finished in the top five of the Cy Young voting five times. His 3.90 career ERA would be the highest for any pitcher in the Hall of Fame. Morris is best remembered for his 10 scoreless innings in Game 7 of the 1991 World Series, one of four World Series that Morris won. He is the last pitcher to pitch at least 10 innings in a postseason game.
• Neither Barry Bonds nor
Roger Clemens
is expected to be elected. Bonds, baseball's all-time home run leader, received 36 percent of the vote in his first year on the ballot last year. Clemens, who ranks third all-time in strikeouts and ninth all-time in wins, received nearly 38 percent of the vote (slightly more than half of what is needed for election).
July, 2, 2013
7/02/13
3:43
PM ET
By
ESPN Stats & Information
| ESPN.com
Harry How/Getty Images Albert Pujols faces the Cardinals for first time in his career on Tuesday.
Albert Pujols
' tenure in St. Louis was arguably the most productive start to a career in history. His 445 home runs, 1,329 RBI and 3,893 total bases all set new standards for a player's first 11 seasons in the league.
On Tuesday, Pujols faces the
St. Louis Cardinals
for the first time since leaving via free agency following the 2011 season.
He's second in franchise history in nearly every power hitting category, from home runs to slugging percentage.
But Pujols hasn't quite been the same hitter with the
Los Angeles Angels
. In fact, he's been less productive than the Cardinals who have replaced him.
Since the start of 2012, Cardinals first basemen have combined for an .826 OPS, while Pujols has had an uncharacteristically low .822 OPS. The 173 combined RBI at first base for the Cardinals is the most for any team in the majors over the past two seasons.
Perhaps the bigger drama will come when Pujols returns to play in front of the fans in St. Louis, but Tuesday won't be without drama when he takes the field against his old club.
Here's a look at some of the most memorable performances in which a star player faced his former team for the first time.
Willie Mays (Mets) versus Giants -- May 14, 1972
After 2,857 games with the Giants, Mays finally suited up for another team -- and played against the Giants. His first hit for the Mets was a go-ahead solo home run in the fifth inning.
Tom Seaver (Reds) at Mets -- Aug. 21, 1977
Seaver received a hero's welcome with three separate standing ovations from the Shea Stadium crowd. He struck out 11 while allowing one run in a complete-game, 5-1 win. "It's hard to put into words how much this game meant to me," Seaver said.
Roger Clemens (Blue Jays) at Red Sox -- July 12, 1997
Back in Boston for the first time, Clemens struck out a Blue Jays franchise-record 16 Red Sox over eight innings in a 3-1 win. Improving to 14-3 on the season, Clemens walked off the mound glaring at Red Sox GM Dan Duquette, who had previously said Clemens was "in the twilight of his career."
Frank Thomas (A's) at White Sox -- May 22, 2006
After 16 years with Chicago, Thomas quickly provided a reminder of what he could do. After a standing ovation, the Big Hurt went 3-for-5 with two home runs, his first multi-home run game in almost two years.
Pedro Martinez (Mets) at Red Sox -- June 28, 2006
Pedro wasn't as successful as Clemens in his first game back against the Red Sox. He received a warm greeting from the Fenway faithful, but didn't provide a performance to match. Martinez lasted three innings and allowed eight runs, while striking out only one.
April, 26, 2011
4/26/11
3:17
PM ET
Today's Trivia:
It was 50 years ago today that Roger Maris hit the first of his 61 home runs in 1961. (He went homerless in his first 10 games of the season.) Maris would win his second straight American League MVP that year. Who is the only player to win back-to-back American League MVP awards since?
On Monday, we looked at American League hitters who were slumping. Here's a look at the numbers behind some of the notable slumps in the National League:

Gonzalez
• The Rockies
Carlos Gonzalez
is just 3-for-34 on at-bats ending in a fastball. At .088, that's the lowest of any regular in the majors this season. Last season, he hit .379 with 14 home runs on at-bats ending in a fastball.
• The
Los Angeles Dodgers
James Loney
(.170 BA) is swinging at 53.5 percent of pitches, way up from 42.2 percent last season. It's most noticeable on the first pitch where he's swinging at 39.4 percent compared to 21.9 percent in 2010.
• It's the soft stuff getting to the
Pittsburgh Pirates
Pedro Alvarez
(.216). He's 2-for-17 on at-bats ending in a change-up and 2-for-14 on sliders.
• Marlins' shortstop
Hanley Ramirez
(.194) actually is 5-for-14 with three doubles against left-handed pitching, but righties have been a different story. A career .313 hitter against right-handers, Ramirez is hitting .151 against them this season. Of his swings against right-handed pitching, 27.1 percent have been swings and misses, up from 19.9 percent last season.
•
Dan Uggla
has a .174 batting average on balls in play (BABIP), which puts him ahead of only
Angel Pagan
among 99 National League qualifiers. (The league average is .297.) However, that's not just a matter of luck. Only 10.8 percent of Uggla's hits have been line drives, down from 22.5 percent in 2010.
• When you look at the National League players who hit the highest percentage of ground balls, speedsters
Jose Tabata
and
Michael Bourn
not surprisingly top the list. But sixth on that list is
Raul Ibanez
(.179) who is hitting 60.0 percent grounders, up from 44.6 percent in 2010.
• Given that he hit .196 in 2010, it's hard to call
Carlos Pena
's .169 batting average a slump. However, the fact that he has only one extra-base hit (a double) would qualify as a power slump. All 28 of his home runs in 2010 came on pitches middle-away. This season, he's hitting just .125 on those pitches.
Trivia Answer:
Frank Thomas
(1993-94) is the only player to win back-to-back American League MVP awards since Maris.
February, 16, 2011
2/16/11
1:49
PM ET
By
Alok Pattani
| ESPN.com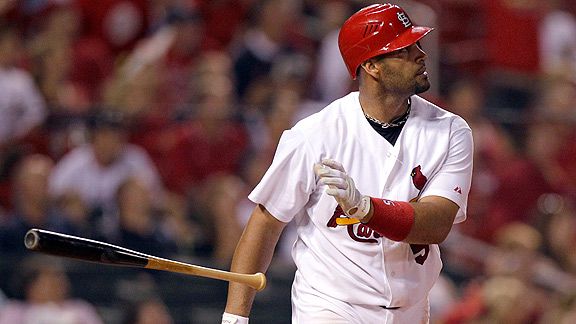 AP Photo/Jeff Roberson
Are the stats that Albert Pujols put up from 2001 to 2010 the best first 10 seasons in history?
The noon ET deadline has passed for
Albert Pujols
and the
St. Louis Cardinals
to reach an agreement on a new contract. Does this mean that 2011 definitely will be Pujols' last season in St. Louis? No, but if it is, then the Cardinals will be losing the services of one of the greatest players in the history of the game.
In fact, if you look at Pujols' numbers from his first 10 seasons, they are absolutely stunning. The case can be made that Pujols has had the best first 10 seasons of any player in MLB history.
Don't think so? Consider the following:
• One way to look at a player's contributions (including pitching, hitting, base running and defense) is to look at his wins above replacement (WAR). This measures how many more wins a team had with the player in the lineup than they would have had if they had to replace him (taking into account his position). Baseball Reference has numbers that go back all time; however, the numbers are more estimates than actual the further you go back because of the lack of available data.
According to
Baseball-Reference.com
, Pujols accounted for 83.8 wins above replacement in his first 10 seasons, second to only Ted Williams among position players. Pujols' total already is tied for the 31st-highest WAR among position players, and tied for the 47th-highest WAR if you include pitchers, as well.
• While WAR looks at a player's "average" performance based on his cumulative numbers across the season, a more intricate way to look at how a player has performed in various situations within games is to use win probability added (WPA).
This looks at how a player increased or decreased his team's chance of winning a game based on his offensive contributions, so it accounts for so-called "clutch" situations.
While WAR compares players to replacement level, WPA compares a player to average (which would be 0), so its numbers are lower in general.
According to Baseball Reference, Pujols has added 58.7 wins above the average player with his offense during his career. That's the highest total for a player in his first 10 seasons as far back as play-by-play data goes (1950), more than five wins ahead of the player who ranks second, Mickey Mantle.
• There is the possibility that Pujols has come up in "higher leverage" situations (e.g. late in close games) more frequently than others, and perhaps that's a reason his WPA is so high. You can account for this using a statistic called situational wins added, which essentially is WPA adjusted for the leverage of the situations that the player has come up in. This number can be interpreted as wins added above the average player in the same game situations.
This makes Pujols' career look even more amazing, as he has accounted for about 62 situational wins above average over his 10-year career. Not only is that the highest total through a player's first 10 seasons since 1950, but it already ranks as the 15th-highest career total in that span.
For the traditionalists, Pujols has hit at least .300, with 30 home runs and 100 RBIs in each of his 10 seasons. That's the longest streak of such seasons for a player at
any point
in his career. Look at the names that are second and third: Lou Gehrig (9, 1929 to 1937) and Babe Ruth (8, 1926 to 1933).
That alone should show you the elite company that Pujols can be compared with at this point of his career.
September, 8, 2010
9/08/10
3:09
PM ET
Today's Trivia:
Neither the
Oakland Athletics
nor the
Seattle Mariners
have a player with at least 15 home runs. Kevin Kouzmanoff's 14 leads Oakland, while
Russell Branyan
paces Seattle with 13 (in just 50 games!). If either team ends up without a 15-HR player, it would the first time for an AL team since the 1992 Angels. Who led that team in home runs? (Hint: He has the third-most career HR for a player who homered in his first at-bat.)

Quick Hits:
With their third straight game with at least three home runs, the
Toronto Blue Jays
now have 215 on the season. That's tied for the third most in franchise history and 33 more than any other team. Let's dive into Toronto's torrid pace with help from STATS LLC.
• Toronto has hit at least three homers in each of its last three games. In 138 games this season, the
Houston Astros
have the same number of three-HR games.
• The Blue Jays now have 33 three-HR games, the mostby a team in a season since the 2005
Texas Rangers
. Over the last 90 years, the 1997 Mariners had the most three-HR games with 43.
• Speaking of the Mariners, they've only hit a home run in 62 games this season. The Blue Jays have hit multiple home runs in 63 games this season.
• The Blue Jays have hit an incredible 181 home runs against right-handed pitchers, 54 more than any other team. In fact, only the
Boston Red Sox
(182) have more total HR than the Blue Jays have against righties alone.
• The Blue Jays are hitting just .218 against lefties this season, which would be the lowest season average over the last 35 years. Not surprisingly, only 34 of their homers have come against southpaws (tied for 17th in the majors).
• The Blue Jays are on pace for 150 home runs at home this season. That puts them just off the pace of 2005 Rangers, who hold the record with 153 HR at home.
•
Jose Bautista
has already hit 27 home runs at home this season, the most by an AL player since Mark Teixeira's 30 in Arlington back in 2005. The MLB record would be a task though. That belongs to Hank Greenberg, who hit 39 of his 58 home runs at home in 1938.
• At home, Bautista is averaging a home run every 7.93 at-bats. That would be the best in the American League over the last 50 years. In 1994,
Frank Thomas
averaged one per 8.14 at-bats at home. Over that span, Bautista's rate would be the sixth best in the majors behind two seasons apiece for
Barry Bonds
and
Mark McGwire
, and Hank Aaron's 1971 campaign.
Today's Leaderboard:
Of Adam Lind's 20 home runs, 14 have come in two-strike counts. Compare that to Baustista, who has 8 of his 43 HR coming with two strikes. Lind's total is the most in the AL and trails only
Albert Pujols
, who has 15 more total home runs.
Key Matchups:
Zack Greinke
has not enjoyed facing the
Minnesota Twins
this season, going 0-3 with a 10.29 ERA. In fact, take out his starts against Minnesota and Greinke's ERA would drop from 3.87 to 3.36, as noted in the Kansas City Star.
Joe Mauer
is 4-for-8 against Greinke this season, after entering 2010 just 6-for-27 against him.
After missing two years due to injury,
Chris Capuano
made it back to the big leagues in 2010. However, that means he will have to face Albert Pujols again for the first time since 2007. If Pujols wants to make a run at the Triple Crown, it will require a massive climb in batting average. Tonight is a good place to start. Albert is 15-for-27 against Capuano, a .556 average that is his third highest against anyone he's faced 20 times.
Trivia Answer:
Gary Gaetti led the 1992 Angels with 12 home runs. That's the fewest HR to lead an AL team in a non-strike year since Bobby Bonds paced the 1976 Angels with 10.
April, 28, 2010
4/28/10
2:51
AM ET
By
ESPN Stats & Info
| ESPN.com
Tuesday was a great day for pitching. Several hurlers dominated and home runs were more scarce than normal. In fact, according to the Elias Sports Bureau: the eight homerless games in the majors Tuesday was the most since October 2, 1990 (2nd-to-last day of that season), when eight of 13 games were homerless.
One player who pitched well, but probably wasn't smiling at game's end was
Zack Greinke
. Greinke threw seven shutout innings only to leave and see the bullpen blow it. Greinke has an excellent 2.56 ERA this season with nearly a 4 to 1 strikeout-walk ratio, but has no wins to show for it. A big reason is the Royals bullpen has blown 3 of his potential wins. Last season Greinke won his first 5 starts with an ERA of 0.50 on his way to the Cy Young Award.
Why Ubaldo Jimenez won:
- Dominant fastball: Jimenez's heater averaged 97.1 MPH, a season-high. He didn't command it particularly well with only 48.9 percent of the pitch in the strike zone (MLB avg 55.6 pct), but hitters helped him out with a 41.7 chase percentage. It was Jimenez's best on his fastball since May 16, 2008. The Diamondbacks were 1-11 against Jimenez's heater with three of his six strikeouts coming on the pitch. Jimenez didn't fall behind to many hitters going to only one 2-0 count and one 3-1 count. Jimenez also retired every leadoff batter (MLB avg 68 pct). With his league-leading fifth victory Tuesday, Ubaldo Jimenez is now 13-3 with a 2.24 ERA since August 1, 2009. No pitcher in baseball has more wins in that span. Jimenez also extended his scoreless streak to 22.1 innings - the second longest streak in baseball this year behind
Mike Pelfrey
's active streak of 24. Jimenez also pitched at least six innings for the 33rd time in his last 34 starts.
Why Francisco Liriano won:
- His slider is back: Liriano threw his slider 40 times, the most since coming off Tommy John surgery in 2008. Tigers hitters were 1-11 off the pitch and chased it out of the zone 63.2 percent of the time - also a best since coming off surgery. Six of his 10 strikeouts were on sliders.
Can Papi keep going?
David Ortiz
(.549 OPS this season) reportedly wants to play "2 or 3" more seasons in the big leagues. While the issue of whether or not he's fit to play in the big leagues RIGHT NOW is a relevant question, it's extremely unlikely he'll be a contributor at age 36 or older. Since 1990, only 4 different 1B/DH that weighed 230 or more pounds at age 36 or older have had a season with a .850+ OPS:
Frank Thomas
(four times),
Andres Galarraga
(three times),
Jim Thome
(three times) and
Jason Giambi
(once).