Stats & Info:

Freddie Freeman
February, 4, 2014
Feb 4
9:59
PM ET
By
ESPN Stats & Information
| ESPN.com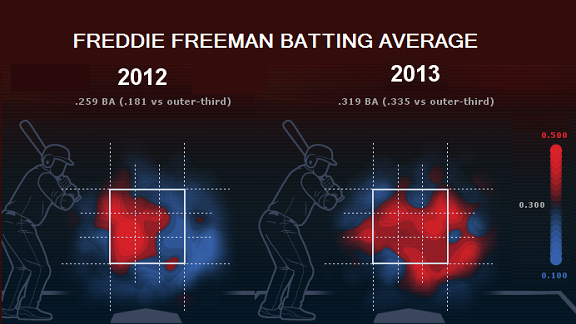 ESPN Stats & InformationFreddie Freeman made significant improvements at the plate over the last year.
The
Atlanta Braves
locked in one of their young stars by signing first baseman
Freddie Freeman
to an eight-year contract extension with a reported value of $135 million.
The 24-year-old Freeman is one of the game's emerging young stars.
2013 breakthrough
Freeman enjoyed a breakout 2013 season, posting more Wins Above Replacement (5.4) than in his first two seasons combined (4.0).
He had the fourth-most Wins Above Replacement for any first baseman in the majors last season.
Freeman became the first first baseman since Hall of Famer Orlando Cepeda to post three 20-HR seasons through his age-23 season. His three such seasons are tied with Cepeda, Jimmie Foxx and Hal Trosky for the most in MLB history among those whose primary position was first base.
What led to Freeman's improvement?
Freeman's 2013 success was a product of his becoming a hitter who could get to pitches on the outside part of the plate.
The heat maps atop this story show the difference in performance from 2012 to 2013.
Freeman had the highest batting average (.335), second-highest OPS (.914), and tied for the sixth-most home runs (11) last season versus pitches thrown to the outer third of the plate, or off the outside corner.
Freeman was able to do this without notably increasing his rate of swings that missed on pitches thrown to that area. His 2013 miss rate was 27 percent, up one percentage point from 2012.
Stat to Watch
One thing that may be tough for Freeman to match in future seasons is how he performed last season with runners in scoring position.
Freeman had a .443 batting average and 1.236 OPS in that situation last season. Both of those ranked second-best in the majors.
The money
The contract is the largest ever signed by a player with the Braves. The previous mark of $90 million was set by
Chipper Jones
for his six-year deal from 2001 to 2006.
October, 3, 2013
10/03/13
2:00
AM ET
By
Jacob Nitzberg
| ESPN.com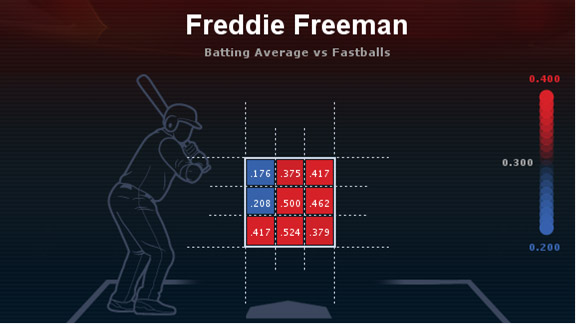 For each of the eight remaining postseason teams, the Stats & Information team will offer a look at a key hitter and use Next-Level data to analyze how he might best be approached by opposing pitchers.
Freddie Freeman
has emerged as an MVP candidate in the National League this season, pacing the first-place Braves with 176 hits, an .897 OPS and 109 RBI.
Here's a look at how Freeman has put together such a great season, and how his NLDS opponent should attempt to get him out.
Jump Start
Don't give Freeman anything to hit early in the count. He hit .446 within the first two pitches of an at-bat this season, second-best in the major leagues (
Joey Votto
- .449).
Freeman swung at the first pitch 46 percent of the time this season, the second-highest rate in the majors.
When the first pitch was in the strike zone he swung 77 percent of the time, easily the highest rate in the majors. He led the majors with 44 first-pitch hits.
As a result, Freeman saw a lower percentage of pitches in the strike zone (42 percent) than almost any hitter in baseball. Only
Pablo Sandoval
and Josh Hamilton, two of the seven most frequent swingers in the game, saw a lower percentage of pitches in the zone this season among hitters who qualified for the batting title.
Even that has not worked, as Freeman hit .272 against pitches out of the strike zone, the fourth-highest average in the majors.
Fast and Furious

Freeman mashed fastballs this season, hitting .367 in at-bats ending with the pitch.
When he faces Clayton Kershaw in Game 1, it will be interesting to see if Kershaw works to Freeman's weakness-- inside fastballs.
Freeman hit .156 against fastballs on the inner-third of the strike zone, or off the inside corner. But Kershaw rarely works there. If he throws 15 fastballs to lefties in a game, he'll only put two to three in that spot. He likes to work the middle and outer part of the plate with that pitch.
That plays into something Freeman does very well.
Against fastballs over the middle and outer third of the plate, he hit .415 with 15 home runs. Only Votto (.425) had a higher average on pitches to that area in 2013.
Don't Sweat the Soft Stuff

Freeman's batting average against offspeed pitches was .248, slightly above league average, but that doesn't necessarily mean that offspeed stuff is the way to go.
Freeman's line-drive rate against those pitches was 27 percent, the highest in the NL.
He's All Right
Right-handed pitchers had trouble getting Freeman out this season; he hit .334 against them, the fourth-best rate in the major leagues.
Freeman's one weakness was dealing with righties with good sliders (he'll face one in Game 2-- Zack Greinke). Freeman missed on 44 percent of the swings he took against right-handers' sliders, and his issues were the same whether he was in a two-strike hole or not.
Freeman made 41 outs and had only six hits against the pitch.
Getting Defensive
Freeman is not an ideal candidate for a defensive shift. He pulled 78 of his 165 ground balls this season (47 percent). The league average for left-handed hitters was 54 percent this season.
Freeman pulls his fly balls slightly more than league average, so outfielders may want to play slightly towards the lines, but a significant defensive adjustment is probably not warranted by the numbers.
September, 22, 2013
9/22/13
11:41
PM ET
By
ESPN Stats & Information
| ESPN.com
The
Atlanta Braves
and
Oakland Athletics
each clinched division titles on Sunday, with the Braves winning the NL East for the first time since 2005 and the Athletics winning the AL West in consecutive seasons for the first time since 2002 and 2003.
Each clinched a division title when another team in their division lost and each has an 8 1/2 game lead in the standings. The two have almost identical records. But those aren't their only common bonds.
How they Won
The Braves won on the strength of a pitching staff that ranks first in the majors in ERA (3.19). As good as Atlanta's bullpen was last season, it was even better this season, with a major-league best 2.46 ERA. The names of the pitchers who come in before closer Craig Kimbrel are different than in previous seasons, but Kimbrel has been his usual lights-out self. He can be the first pitcher to lead the NL in saves in three straight seasons since Hall-of-Famer Bruce Sutter (1979 to 1982).
Similarly, the Athletics got great pitching all year as well. Their 3.59 ERA ranks second best in the American League, trailing only the
Kansas City Royals
. Oakland's pitchers also rank in the top five in both WHIP and opponents' OPS.
Spotlight performer: Freddie Freeman and Josh Donaldson
The Braves got the breakthrough season they'd been hoping for from Freddie Freeman, who has been the team's top run producer (after Justin Upton's red-hot April).
Freeman
With the retirement of
Chipper Jones
, the Braves were in need of a player who could be a slashline superstar. Freeman has been one, hitting .314 with a .392 on-base percentage and a .500 slugging percentage, a combination of numbers that Jones reached six times during his career.
Freeman has been clutch all season. He's hitting .435 and has an OPS of 1.231 with runners in scoring position, both of which ranked second-best in the majors' (the former to
Allen Craig
, the latter to
Miguel Cabrera
).
The Athletics got a surprising breakthrough season from third baseman Josh Donaldson, whose slashline numbers are coincidentally almost identical to Freeman's (.306/.388/.511). Donaldson currently ranks second in the major leagues in wins above replacement (8.1), trailing only
Mike Trout
.
As we noted recently, Donaldson's strength is that he does everything well. He ranks third among American League third basemen with 12 Defensive Runs Saved.
Unsung Heroes
Moss
Evan Gattis
has had an amazing run of big home runs for the Braves in his first year in the majors. He has seven home runs that have either tied the game or given his team the lead in the seventh inning or later, one shy of
Paul Goldschmidt
for the major-league lead.
Brandon Moss
hasn't been quite
that
good, but he's had a penchant for notable home runs. He has four homers to tie or put the Athletics ahead in the seventh inning or later, the most on the team and two shy of the AL lead.
Circle These Games
The Braves established very early in the season that this would be a special year. They developed an identity for being a team that would win games late (as we noted with Gattis). The best of those was on April 6 when
B.J. Upton
hit a game-tying homer against
Chicago Cubs
reliever
Carlos Marmol
and
Justin Upton
hit a walk-off homer two batters later.
The best wins for the Athletics have been the games that took the longest. They rallied from 6-1 down to beat the Angels in 19 innings on April 29 on Moss' walk-off home run and beat the Yankees on June 13 on Nate Freiman's 18th-inning walk-off hit against
Mariano Rivera
.
Stats of the Day
The Braves have won 12 division titles in the Wild Card era. The only team with more is the Yankees (13). No other team has more than seven.
The Athletics have won 187 games since the start of last season. That is the most wins in the majors in that span.
July, 10, 2013
7/10/13
9:03
PM ET
By
ESPN Stats & Information
| ESPN.com
Thearon W. Henderson/Getty ImagesYasiel Puig is hitting over .400 in his first 34 career games.
The National League's Final Vote has been widely discussed this week, as
Los Angeles Dodgers
rookie
Yasiel Puig
is in the mix despite not debuting in the majors until June 3. Puig has some tough competition against
Freddie Freeman
,
Ian Desmond
,
Hunter Pence
and
Adrian Gonzalez
.
YASIEL PUIG
Despite his lack of experience this season, does Puig deserve to win the Final Vote?
Some may disagree with the idea of Puig in the All-Star Game, but the numbers would suggest he deserves it. Although Puig has played in only 34 games - all four other candidates have played in at least 77 games - he leads them all in Wins Above Replacement. Limited experience does not in and of itself mean a player isn't deserving - Puig has contributed as much or more in his admittedly brief tenure than the other candidates have with significantly more playing time.
Puig has 55 hits in his first 34 career games, the third-most in the Live Ball Era (since 1920). Only Joe DiMaggio (59 in 1936) and Roy Weatherly (59 in 1936) had more hits in their first 34 career games.
Puig is the first player to hit .400 or better through his first 130 career at-bats since Tony Oliva (.423 spanning games from 1962-64), according to the Elias Sports Bureau. The Dodgers have never had a single player with a .400 or higher batting average at the All-Star break (minimum 100 AB). The highest was .377 by
Mike Piazza
in 1995.
FREDDIE FREEMAN
Freeman has three walk-off hits this season, tied with
Alex Gordon
for the most in either league.
IAN DESMOND
Ten of Desmond's 15 home runs this season have been to give his team the lead. Desmond's 10 go-ahead homers are tied with
Carlos Gonzalez
for third-most in the National League, trailing only
Paul Goldschmidt
(13) and
Pedro Alvarez
(11).
HUNTER PENCE
This season, Pence leads the majors in stolen bases (13) without being caught and is one of four players with at least 13 home runs, 13 stolen bases and 22 doubles, joining
Mike Trout
, Carlos Gonzalez and
Jason Kipnis
.
ADRIAN GONZALEZ
Gonzalez is "Mr. Consistency." Including this season, Gonzalez is one of six players with a batting average of at least .295 and OPS of at least .800 in each of the last four seasons, along with
Joey Votto
, Carlos Gonzalez,
Miguel Cabrera
,
Ryan Braun
and
Adrian Beltre
.
September, 25, 2012
9/25/12
11:42
PM ET
By
ESPN Stats & Information
| ESPN.com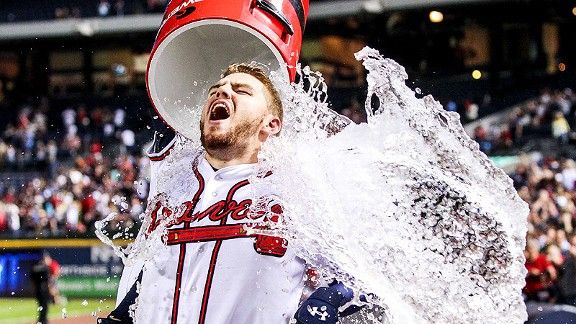 US PresswireFreddie Freeman was the hero in the Braves' postseason-clinching win on Tuesday.
With one swing of the bat,
Freddie Freeman
clinched a playoff spot for the
Atlanta Braves
and also etched his name in baseball's annals of clutch performances.
His first career walk-off homer, a two-run shot in the bottom of the ninth inning, gave the Braves a dramatic 4-3 win over the
Miami Marlins
on Tuesday night and a trip to the postseason for the second time in the past three seasons.
Freeman is the seventh player in major league history to hit a walk-off home run to clinch a team's postseason berth.
He is just the second, however, to hit the game-winning homer with his team trailing in the game. The other was Bobby Thomson's "Shot Heard 'Round the World" for the 1951 New York Giants.
The homer was sweet redemption for Freeman, who hit into a double play in the 13th inning of a 4-3 loss to the
Philadelphia Phillies
on the final day of the 2011 season, eliminating the Braves from the playoffs last year.
How Freeman won the game
The game-winning pitch was a 95-mph fastball that Freeman sent 425 feet over the center-field wall. It was just his second career homer on a pitch at least 95-mph and first this season.
Since the start of August and before Tuesday, Freeman was 2-for-14 in at-bats ending in a pitch at least that fast. Of the 36 swings he had taken against pitches 95 mph or faster in that span, 20 had been fouled off.
The pitch was on the outer third of the plate, giving him his fourth home run this season on a pitch away. He was hitting .186 in at-bats ending in an outside pitch entering Tuesday, fifth-worst in the majors.
Magical Medlen
The game wasn't decided until the final pitch but the Braves had to feel good about their chances of winning when it started with
Kris Medlen
on the mound.
The Braves have now won the past 22 games started by Medlen, matching the longest streak of consecutive team wins in a player's starts in major-league history, according to the Elias Sports Bureau.
The
New York Yankees
won 22 in a row in games started by Whitey Ford from 1950-53 and the New York Giants also won 22 in a row in games started by Carl Hubbell from 1936-37.
Medlen's seven innings of three-run ball actually increased his ERA to 1.04 as a starter this season. He held the Marlins' righties to two hits in 13 at-bats, but both hits were homers off fastballs.
It is the first time in his career he allowed multiple long balls to right-handed batters off his heater in a single outing.
Before Tuesday, righties were hitting just .203 with 14 strikeouts ending in a Medlen fastball in his 10 previous starts this season.
89 is enough in 2012
The playoff-clinching win was the 89th victory for the Braves this season. Last season, they also won 89 games, but finished one game out of a postseason spot.