Stats & Info:

French Open
May, 21, 2011
5/21/11
11:56
AM ET
By
Kenton Wong
| ESPN.com
Although American men's tennis has struggled at the majors in recent years, American women have been a force – almost entirely on the strength of Venus and
Serena Williams
.
Unfortunately injuries knocked both sisters out of the 2011 French Open. With the withdrawals, the French Open will not feature a seeded American woman for the first time in the Open Era (1968).
While Venus had played in the last 16 Grand Slam events, Serena hasn't played on tour since last year's Wimbledon. Dating back to when Serena played in her first Grand Slam as a professional at the 1998 Australian Open, the only Grand Slam in which neither Williams sister played was the 2003 US Open.
Three women have combined to win the last seven Grand Slam titles dating back to Wimbledon in 2009. The younger Williams and
Kim Clijsters
have three each while last year's French Open champion
Francesca Schiavone
has the other.
When Clijsters retired in 2007, she had one major title – the 2005 US Open. Since returning to the WTA Tour in 2009, Clijsters has won three of the five Grand Slams she has played including the last two.
However, the Belgian hasn't played at Roland Garros since reaching the semifinals in 2006. Her best result at the French is runner-up in both 2001 and 2003.
Caroline Wozniacki
– the world's number one - is the betting favorite according to MGM Resorts International, but she is still seeking her first major title. Her best finish at a Grand Slam is runner-up at the 2009 US Open.
Another player to watch is
Maria Sharapova
. She won the French Open tune-up at Rome and beat three Top-10 players – Wozniacki,
Victoria Azarenka
and
Samantha Stosur
- on her way to the title. With a win in Paris, Sharapova will complete the career Grand Slam, having won Wimbledon in 2004, the US Open in 2006 and the Australian Open in 2008.
May, 20, 2011
5/20/11
12:47
PM ET
By
Kenton Wong
| ESPN.com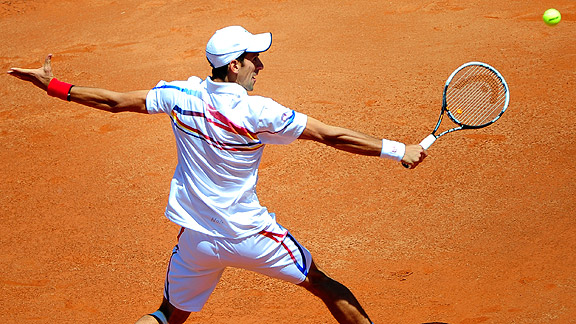 Alberto Pizzoli/AFP/Getty Images
For the first time in years, someone not named Nadal or Federer is the favorite to win a Slam.
Rafael Nadal
stepped onto the clay at Roland Garros as a professional for the first time in 2005. Since then, Nadal has gone 38-1 at the French Open, the lone loss to
Robin Soderling
in the fourth round in 2009.
Nadal's been even more dominant in Paris than his record would show. He did not drop a single set en route to winning his last two French Open titles (2008 and 2010). Yet at this year's tournament, which begins Sunday,
Novak Djokovic
will be the player getting all the attention.
Djokovic has won 37 straight matches to start the 2011 season, five matches short of the Open Era record set by John McEnroe in 1984. Tack on his last two matches of 2010 at Davis Cup and the Serbian's win streak is at 39, the sixth longest in the Open Era. Guillermo Vilas holds the record at 46 straight set in 1977.
Even more impressive is that seven of Djokovic's 37 wins this season have come against
Roger Federer
and Nadal. According to the ATP, Djokovic is the first player to beat both Nadal and Federer three straight times.
All four of Djokovic's wins against Nadal this year have come in a final, including the last two on clay. Nadal held a lifetime 16-7 record against Djokovic entering 2011, including 9-0 on clay.
Nadal's grasp on the world No. 1 ranking is slipping. In order for him to maintain the top spot, he must win the French
and
Djokovic must lose prior to the final. Anything else and Djokovic will be the new No. 1 in two weeks. The last player ranked No. 1 other than Nadal or Federer was
Andy Roddick
in 2004.
It's not often that Federer is the third favorite at a Grand Slam, but that's the case this year at the French Open. For the first time since winning his first Grand Slam at Wimbledon in 2003, Federer is not the defending champion at any of the Grand Slams. In fact, Federer has not reached the final of a Grand Slam since winning the Australian Open in 2010.
That being said, Federer is still a threat in any tournament and has reached the quarterfinals in 27 straight Grand Slams, more than twice as long as the next longest streak in the Open Era. Ivan Lendl reached 13 straight Grand Slam quarterfinals from 1985 to 1989.
May, 16, 2011
5/16/11
9:19
PM ET
By
Keith Hawkins
| ESPN.com
Proving that last week in Madrid was no fluke, Novak Djokovic beat
Rafael Nadal
on clay for the second time in eight days on Sunday.
And Djokovic did it, again, in straight sets.
Djokovic will take this week off before the start of the French Open on May 22 (which also happens to be Djokovic's 24th birthday). His win streak now stands at 39 matches -- including 37-0 in 2011. The last player to beat Djokovic?
Roger Federer
, in the semifinal round at last season's World Tour Finals.
Here are 11 notable moments to Djokovic's 2011 season:
0
- Wins (in nine matches) Djokovic had against Nadal on clay entering 2011.
1
- The number of players to beat Nadal twice on clay in the same season following Djokovic's wins vs Nadal in Madrid and Rome.
2
- Times in Djokovic's career that he's beaten both Federer and Nadal in back-to-back matches. He beat Federer and Nadal in the semis and final, respectively, earlier this season at Indian Wells. In 2007 at Montreal, Djokovic beat the world's top-three players in consecutive matches: No. 3
Andy Roddick
in the quarterfinals, No. 2 Nadal in the semis and No. 1 Federer in the final.
3
- Number of clay-court titles, in as many weeks, that Djokovic now has won following Sunday's victory in Rome.
4
- Number of clay-court titles Djokovic had won (since turning pro) from 2003-10.
5
- Times a men's or women's player in the Open era (since 1968) has started a season at least 37-0. Djokovic is the first to do it since Martina Hingis started 37-0 in 1997. The only other men's player with a longer win streak to start a season is John McEnroe, who ran off 42 straight victories at the start of the 1984 season.
6
- If he wins his first-round match at the French Open, Djokovic will be the sixth men's player in the Open Era with a win streak of at least 40 matches. The last player with a streak that long was Federer, who won 41 straight over the course of the 2006-07 seasons.
7
- Combined wins this season over Nadal (4) and Federer (3).
8
- If Djokovic wins his next eight matches (which would mean winning the French Open and then his first match at Queen's Club in June), then he would break Guillermo Vilas' men's Open era record for consecutive victories of 46, set in 1977.
9
- Number of sets he has LOST this season, as well as the number of sets he's won at love (meaning he won the set, 6-0) .
10
- Number of his 37 wins this season that have come against players who, at the time, were ranked in the top five.