Stats & Info:

Gavin Floyd
October, 5, 2012
10/05/12
10:10
PM ET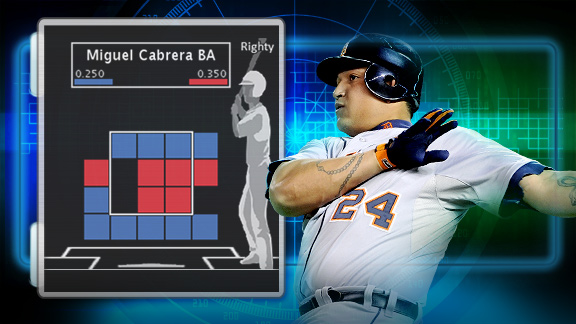 There is no team that Triple-Crown winner
Miguel Cabrera
shredded quite like the
Oakland Athletics
in 2012.
Cabrera was 14-for-29 with three home runs and 14 RBI in seven games against Athletics pitching this season.
How might the Athletics try to change their fortunes in the postseason?
Up, Up, and Away
Oakland's best bet could be to pitch Cabrera up around the eyes.
Cabrera misses high pitches at about the same rate that he misses pitches thrown elsewhere. But upstairs is the area where Cabrera did the least damage.
When Cabrera made contact with a pitch in the upper-third of the strike zone and above, he made 46 outs and got 16 hits. That's a ratio of nearly three outs for every hit.
Cabrera's ratio of outs to hits when he makes contact with pitches thrown to other spots is about 1.4-to-1.
However, Cabrera will need a reason to go after those pitches. He only swings at pitches thrown in the upper-third and above about one-third of the time.
Cabrera's other vulnerability is pitches on the outer-third of the plate, or just off the outside corner.
He had a .256 batting average with six home runs in at-bats that ended with a pitch to that area. The chart on the right shows the difference between pitching Cabrera away and pitching him to any other area.
White Sox right-hander
Gavin Floyd
held Cabrera to one hit in eight at-bats this season, and his primary strategy was to work Cabrera away.
Of his 35 pitches to Cabrera, 24 of them were on that outside edge or just off the outside corner. Five of the seven times he got Cabrera out, the pitch was classified as being on the outer-half or off the outside corner.
Cabrera did club outside pitches, but not until the very end of the season. Three of those six home runs noted above came in the last three weeks of the season.
Look Left
As much as Cabrera dominated this season, much of that has come against right-handed pitching.
Cabrera has just four home runs in 159 at-bats against lefties, though he does have a .441 on-base percentage against them this season.
The means by which lefties have kept Cabrera from hitting the ball out of the ballpark has been to keep the ball down. Nearly half of the pitches Cabrera has seen this season from lefties have been around the knees or below (the major-league average is 42 percent).
Move to the Middle
If you see the Athletics employ an infield shift, it will probably be because of this statistic.
Of the 217 times that the Cabrera hit the ball on the ground, 172 of them were hit over the second base bag or to the left of second base. That's an 80 percent rate, which is an above-average rate for a right-handed hitter.
If Cabrera hits the ball in the air, he's actually more apt to hit the ball to right field than he is to hit it to left field.
Any leftfielder will probably play him extremely deep. Cabrera's line drives and fly balls to left field traveled an average distance of 330 feet (22 of them went over the fence).
The only player to hit balls a greater average distance to that area was
Matt Holliday
of the Cardinals (340 feet).
September, 28, 2012
9/28/12
11:53
AM ET
U.S. Presswire/Kim KlementJoe Maddon has given the Rays late-game efforts a big thumbs-up.
A year removed from the miracle that was Game 162 of the 2011 season, the
Tampa Bay Rays
have worked their way back into this wild card race with an eight-game winning streak.
The Rays are even with the
Los Angeles Angels
in the standings, two games behind the
Oakland Athletics
and three games behind the
Baltimore Orioles
, with whom they close the season.
What's been key to this surge? Some of the same elements that came into play in the days leading up to Game 162 a year ago.
Timely hitting
A quick check of the stats would indicate that the offense has been overpowering. That was true for the first half of the win streak, when the Rays hit ridiculously well.
But in the last four games, the offense has reverted back to the form it showed for most of the season, as the chart on the right shows.
The back end of the winning streak has been highlighted by repeated late-game success in pressure situations both for their hitters and pitchers.
Case in point:
Sunday --
The Rays turned a 1-0 eighth-inning lead into a 3-0 cushion on
Evan Longoria's
two-run double.
Tuesday --
A sixth-inning single by
Jose Molina
produced two runs, extending a one-run lead to a three-run lead in an eventual 5-2 victory over the Red Sox
Wednesday --
A seventh-inning RBI double by
Jose Lobaton
turned a one-run lead into a two-run lead in a 4-2 win in Fenway Park.
Thursday --
Longoria's ninth-inning home run off
Brett Myers
snapped a 2-2 tie and gave the Rays a 3-2 win over the White Sox.
The interesting thing about this is that it runs counter to what the Rays offense has done all season. The Rays have rarely gotten offense when they needed it.
Tampa Bay ranks last in the majors in runs scored (143), batting average (.201), and OPS (.591) from the seventh inning on in 2012.
Seventh Inning = Game Over
The Rays pitching staff has succeeded in turning these games into six-inning contests.
In the last three innings during this win streak, opponents are hitting .184 with a .507 OPS.
In the last four games, Rays' pitchers have been impossible to score against in the last three innings.
In them, Rays opponents have not scored a run in innings seven through nine, and they've managed just five hits in 42 at-bats.
Rays pitchers have been able to thwart overeager hitters with soft stuff.
David Price
, normally reliant on his fastball, got six of his last nine outs on Tuesday with offspeed pitches.
Fernando Rodney
has gotten six outs with changeups in his last four appearances, including game-ending strikeouts in the last two.
Looking ahead
Late-game success may again play a large role on Friday night because the Rays are facing one of their biggest nemeses. White Sox starter
Gavin Floyd
is 4-1 with a 2.57 ERA in five career starts against them.
The good news for the Rays -- he may not be around at game's end, when the Rays are just warming up. Floyd has only pitched into the seventh inning once in his last six starts.
April, 29, 2012
4/29/12
9:01
PM ET
By
ESPN Stats & Information
| ESPN.com
It took a great pitching performance from
Chicago White Sox
starter
Gavin Floyd
to end the
Boston Red Sox
six-game winning streak.
Sunday marked the fourth time in Floyd's career that he carried a no-hit bid into the seventh inning, but he's yet to finish one off. The Elias Sports Bureau notes that Floyd's four such bids are the third-most among active pitchers.
How did Floyd pitch so well?
Our pitch-performance data showed that he got five of his nine strikeouts on pitches that were out of the strike zone. He finished off all 15 hitters on whom he got a two-strike count.
Floyd's curveball was working in those two-strike counts. He threw 11 curveballs in two-strike situations and got five strikeouts with them.
The White Sox were bidding to become the first team with two regular-season no-hitters in the same season since the 1973 Angels, who got two from Nolan Ryan. The 2010 Phillies are the last team with two no-hitters, if you combine regular season and postseason (both by
Roy Halladay
).
Floyd is 7-0 with a 2.75 ERA in eight career starts against the Red Sox. He's the first pitcher to win his first seven career decisions against the Red Sox since former
Minnesota Twins
right-hander
Kevin Tapani
.
Other notable performances from Sunday included:
The day's best pitchers
Johan Santana
threw six scoreless innings in his Coors Field debut, in the
New York Mets
wild win over the
Colorado Rockies
. Santana has now pitched 22 scoreless innings against the Rockies, which (via Elias) is the longest streak by any pitcher to start his career.
CC Sabathia
beat the Tigers to remain undefeated this season. The Tigers right-handed hitters were 1-for-21 against him. Sabathia got five strikeouts with his slider. He's had at least five with that pitch in all five of his starts this season.
Speaking of sliders,
Chicago Cubs
starter
Matt Garza
got 10 outs with his, and notched six strikeouts with the pitch, in a 5-1 win over the Phillies.
Also chiming in with impressive efforts were
Arizona Diamondbacks
starter
Wade Miley
, who is 6-1 with a 2.47 ERA in his last eight starts dating back to last season after beating the Diamondbacks, and
Cleveland Indians
starter
Derek Lowe
, who beat the Los Angels of Anaheim with an efficient effort- he threw single-digit pitch totals in the fourth, fifth, and sixth innings.
The day's best hitter
Rightfielder
Jay Bruce
homered for the fourth straight game, the longest streak by a Cincinnati Reds player since
Adam Dunn
homered in five straight games in May, 2008.

Bruce
The streaky Bruce has had another hot week, hitting .476 with an OPS of 1.685 since Tuesday. His last three home runs have come on pitches over the outer-third of the plate. Bruce has 40 home runs on outer-third pitches since 2009, sixth-most in the majors in that span.
April, 8, 2012
4/08/12
3:28
PM ET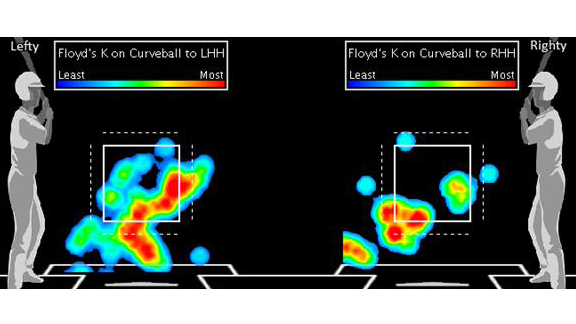 ESPN Stats & InformationGavin Floyd struck out 71 batters on curveballs last season, the fourth-highest total in the AL.
Click here to create your own Floyd heat maps

Sunday Night Baseball kicks off (ESPN, 8 ET) with the
Chicago White Sox
in Arlington to take on the two-time defending American League champion
Texas Rangers
.
Rangers Ballpark in Arlington was the most hitter-friendly stadium in the majors in 2011. According to Elias, teams scored 41 percent more runs and hit 50 percent more home runs in Rangers home games than in their games on the road. Coors Field ranked second with 35 percent increases in both categories.
Starting pitchers
Gavin Floyd
goes on the road for his first start of the season. In 2011, he was much better on the road than at U.S. Cellular Field. Away from home he was 8-6 with a 3.41 ERA; his 5.66 ERA at home was the third-worst among major league starters, better than only
Brandon Morrow
and
John Lackey
.
Over the last three seasons, Floyd's curveball has been one of the hardest to hit in the majors. Opposing hitters bat .144 against his curve. Only
Ricky Romero
allowed a lower average when throwing curveballs.
Floyd is especially fond of the curveball in two-strike counts. Twenty percent of his pitches overall are curves, but with two strikes his usage jumps to 37 percent. Last season, Floyd struck out 71 batters on curveballs, the fourth-highest total in the American League.
Matt Harrison
went from being demoted to the bullpen in 2010 to 14 wins last season. The key was cutting his walk rate by more than a third, from 4.5 walks per 9 innings in 2010 to 2.8 walks per 9 last season. In three-ball counts, he improved his strike percentage from 71 to 81 percent.
Among left-handed starters, Harrison had the fifth-highest average fastball velocity last season. He has steadily increased his velocity from 90.8 mph in 2008 to 92.7 mph in 2011. That added zip has been key to an effective high fastball. Opponents hit .216 on plate appearances ending in a high fastball last year, down from .261 in 2010.
Key matchup: Harrison vs Adam Dunn
Dunn had a strikeout and two walks against
Derek Holland
on Saturday and struggled against left-handed pitchers last season. The three-hole hitter in the White Sox lineup hit .064 and slugged .074 against lefties last year. It was the first time in his career that he slugged less than .400 against lefties.
He was even worse against two of Harrison's strengths. He went 0-for-23 against sliders and 3-for-56 against fastballs from thrown by left-handed pitchers.
According to the Elias Sports Bureau, Dunn is the only major-league player in the past 50 years who batted below .100 in a season with at least 100 plate appearances versus southpaws.
Jeremy Lundblad contributed to this post
August, 3, 2011
8/03/11
4:28
PM ET
By
John Fisher
| ESPN.com


A.J. Burnett faces Gavin Floyd when the New York Yankees visit the Chicago White Sox. Here are five things to watch on Wednesday Night Baseball (ESPN, 8 ET):
• Gavin Floyd has pitched well over his past three starts -- especially compared to his previous six -- and his biggest improvement has been getting ahead of hitters.
He's thrown 76 percent first-pitch strikes since the All-Star Break compared to 66 percent in his previous six starts. He's also had success by throwing his changeup more often, in place of his slider.
• A.J. Burnett will try to avoid losing his 10th game for the second time in three seasons with the Yankees -- he lost 10 games just twice in eight seasons before joining the Yanks (in seasons with at least 10 starts).
Burnett has been fighting a disturbing career trend as his average fastball velocity has decreased for four consecutive seasons -- from 95.1 MPH in 2007 to 92.6 MPH this season. Not surprisingly, he's using it less this season (58 percent of his pitches) than he has in any other season in his career.
Due to the decreased velocity, his changeup isn't nearly as effective even though he's throwing it at the highest rate of his career (10 percent of his pitches). And it just hasn't been any good.
•
Adam Dunn
, who signed a four-year, $56 million contract with the White Sox in the offseason, is having by far the worst season of his career. Among qualified hitters he's last in the majors this season in batting average, batting average against lefties, strikeout percentage and Wins Above Replacement.
The Elias Sports Bureau tells us that if this holds up, Dunn's OPS this season when compared to his career mark would be the largest difference in major league history (among players with 6,000 career plate appearances).

Gardner
• With
Derek Jeter
starting slowly and spending time on the DL, there's been debate about who should lead off for the Yankees. It'll be interesting to see who hits there tonight.
Brett Gardner
is the popular choice because of his speed and it appears that the team performs better with him at the top of the lineup -- but HE hits better when he's anywhere else in the order.
The Yanks score 5.6 runs per game and hit .270 when Gardner leads off but score just 5.1 runs per game and hit .260 with him lower in the order. Gardner's batting average and on-base percentage are both 100 points higher when he bats anywhere from 2-9 than when he hits first.
• If the White Sox fall behind, this game will be over. Chicago has 16 comeback wins this season, tied for third-fewest in the majors. The Yankees only have 18 comeback losses, tied for third-fewest in baseball.
Along the same lines, don't expect much late-inning drama. Both teams have just three walk-off wins this season, only the Rockies have fewer. As for walk-off losses, the Yankees have three and the White Sox have five -- only the Red Sox (one) have fewer than New York.
July, 8, 2011
7/08/11
5:44
PM ET
The teams with the most wins in the majors start a three-game series tonight in Philadelphia as the Phillies (55 wins) and Braves (53) square off.
The red-hot Braves, who have won four straight and nine of their last 10, send
Brandon Beachy
to the mound, while the Phils (winners of seven of their last 10) counter with
Roy Halladay
. Halladay is 6-0 with a 2.69 ERA in his last nine starts and the Phillies have won each of them.
Halladay is 11-3 on the season, the seventh straight campaign that he has won at least 10 games by the break. Only three times since 1975 has a Phillies starter had 12+ wins before the break (
Curt Schilling
in 1999 and Steve Carlton in 1977 & 1980).
Beachy is winless in four starts against the Phillies, going 0-3 with a 5.00 ERA including his major league debut last Sept. 20 in Philly. The last time he faced them (May 13) he had to leave after two innings with a strained oblique. However, since returning from the DL, Beachy is 2-0 with a 2.65 ERA in three starts.
The Braves have won the last two series against the Phillies, taking two of three in each.
In other games Friday:
Josh Beckett
and the Red Sox host the Orioles. From the Elias Sports Bureau: Beckett has permitted fewer hits than innings pitched in each of his last 11 starts, the longest single-season streak of that sort by a Red Sox pitcher since
Pedro Martinez
had an 11-game streak in the 2000 season. The last Red Sox pitcher with a longer streak of that kind was Carl Mays: 12 straight starts allowing fewer hits than innings, in 1918.
Also from Elias: Minnesota's
Joe Mauer
has a hit in each of his last six at-bats against White Sox starter
Gavin Floyd
. The longest current streak of consecutive hits by one active major-leaguer against another is eight, by
Andruw Jones
against
Jason Marquis
.
July, 4, 2010
7/04/10
5:52
AM ET
By
ESPN Stats & Info
| ESPN.com
WHY THEY WON…
How Red Sox starter
Jon Lester
improved to 12-0 lifetime against the Orioles:
- Lester got 13 groundballs against 5 fly balls. At 72.2 pct, that's his highest percentage since April 23 (also against Baltimore).
- The Orioles did not put 1 of Lester's 13 two-strike fastballs in play and struck out 4 times against the pitch.
- Lester got 6 of his 7 strikeouts on pitches low in the strike zone. He kept the ball out of the middle of the zone vertically, with 92 of his 100 pitches judged by Inside Edge to be either up in the zone, down in the zone, or out of zone high or low.
How Tigers starter
Justin Verlander
beat the Mariners:
- He had a miss pct of 27.9 (2nd-best this season).
- His chase pct was 34.0 (2nd-best this season).
- He threw and offspeed pitch on his first pitch 34.5 pct of the time (2nd-most this season).
- His offspeed stuff set up his heater: 8 swings-and-misses (2nd-most this season) and 7 K (most this season) vs fastball.
WANT MORE…
Ubaldo Jiménez had a rough 3rd Inning. How rough?
- Allowed 1st career grand slam (
Travis Ishikawa
).
- Allowed as many earned runs (7) as he did in April and May combined.
- Had given up 7 ER in a start just twice in career prior to Saturday
- ERA rose from 1.83 to 2.33<>Through 3rd inning (not after)
Stephen Strasburg
struck out 5 in 5 innings. His 53 strikeouts in his first 6 games are 3rd-most all-time.
Saturday's Longest No-Hit Bids
Saturday was the 2nd day this season that 2 pitchers each took a no-hit bid into the 7th inning. The 1st was June 13, when
Ted Lilly
and
Gavin Floyd
did it in the same game.
Randy Wells
and
Bruce Chen
each made it through 6 full innings before allowing a hit leading off the 7th. Chen had been perfect through 6, which was the first time in 7 starts this season that he took a perfect game bid beyond the 1st inning. In all 6 of his previous starts, he allowed a hit in the 1st inning.
Rolling Rookie
How about the consideration for a rookie, with 3 weeks of major league experience to make the All-Star team? We're not talking about Stephen Strasburg, but Indians rookie
Carlos Santana
, who ranked 2nd among the teams' hitters in WAR. The catcher position for the American League, with injuries to multiple players of significance, is a bit on the depleted side, and there's a vacancy for an Indian with
Shin-Soo Choo
headed to the disabled list. Santana was 0-for-3 Saturday, but his 2 walks gave him 17 in 21 games and kept his on-base percentage well above .400
Managing similarity
Saturday was Diamondbacks manager Kirk Gibson's 2nd game. In his 2nd game as a player, his team won, 14-1. Today in his 2nd game as manager, his team lost, 14-1.
LOOKING AHEAD…
CHICAGO CUBS
Mike Leake
has allowed a .529 (9-17) opp BA (league average: .314) on 1st pitches during his current 4-game losing streak.
NEW YORK YANKEES
Mark Teixeira
has not had a hit against Toronto's right handed-pitchers (0/8). He is batting .111 when behind in the count (1/9), batting .000 when ahead in the count (0/5) and 2 of his 3 hits against Toronto in 2010 came off the 1st pitch of the at-bat.
May, 23, 2010
5/23/10
3:40
AM ET
By
ESPN Stats & Info
| ESPN.com
Daisuke Matsuzaka
dazzled Phillies hitters Saturday night, throwing 7 2/3 hitless innings before Philadelphia's
Juan Castro
ended the bid with a bloop single just over the reach of Red Sox shortstop
Marco Scutaro
. That starting stint without a hit is the longest no-hit bid of Matsuzaka's career, surpassing his four innings without a hit vs the Angels on September 15, 2009. It has been 32 years since the Phillies have been no-hit (Bob Forsch, 1978).
Matsuzaka's outing also ties
CC Sabathia
for the longest no-hit bid this season that did not go on to finish as a no-hitter. In other words, only two pitchers have no-hit bids longer than 7 2/3 innings this season --
Ubaldo Jimenez
and
Dallas Braden
.
Why Red Sox starter Daisuke Matsuzaka won:
- Had three innings of fewer than 10 pitches and zero with 20 or more. In his first four starts, Matsuzaka made it through just one inning with fewer than 10 pitches.
- The Phillies swung at 33.9 percent of Matsuzaka's offerings outside the strike zone, a season-high for Daisuke. Two of Daisuke's three swinging strikeouts were on fastballs outside the strike zone.
- Matsuzaka had success working up in the strike zone against the Phillies. Four of his five strikeouts were on high pitches, and the Phillies missed on five of their 15 swings against his offerings up in the zone.
Why Cubs starter Randy Wells deserved the win:
- Effective with off-speed stuff, particularly his slider. Rangers hitters were only 1-7 (.143) against the slider and the opposition is hitting only .204 against Wells' slider this season. His strike pct on all off-speed pitches was 74 (MLB average: 61 pct). Plus, Rangers hitters chased 46 pct of off-speed stuff out of the zone tonight (MLB average: 31 pct).
- Economical. Five of his 8 completed innings were 1-2-3 (62 pct; double the MLB avg.)
- Control. Went to a 3-ball count to only 4 of 31 batters faced (13 pct; MLB average: 19 pct).
Why Rockies starter Jeff Francis won:
- No solid contact. Of the 21 pitches that ended at-bats, Inside Edge determined only 2 balls were "well-hit." That .095 well-hit percentage is miniscule compared to the MLB average (.267).
- Dominated with slow stuff. Royals hitters were 0-11 against Francis' curveball and changeup. For the season, hitters are 2-for-21 against Francis' off-speed deliveries.
Why Athletics starter Gio Gonzalez won:
- Season-high first pitch strike percentage of 70.4. Giants hitters were 0-5 when putting the first pitch in play.
- The Giants were 0-7 with four strikeouts against Gonzalez's curveball and took just eight swings against it, despite the fact that he threw 38 of them on the day. Gonzalez got 12 called strikes with the curve, including three for strikeouts.
- Gonzalez retired the leadoff hitter in each of his eight innings..
- Gonzalez kept his curveball down in the zone, throwing 31 of his 38 curves in the lower third. The Giants were 0-4 with three strikeouts on low curveballs. For the season, opposing hitters are 0-35 with a whopping 29 strikeouts against Gonzalez curveballs in the lower third. On the season, Gonzalez has thrown 84 low curveballs before two strikes, and not a single one has been put in play. With two strikes, Gonzalez has thrown 85 low curveballs, with only six being put in play, all for outs.
Why Giants starter Matt Cain deserved better:
- Dominated with his curve and changeup. With a combined 0-for-7 performance against the two pitches today, opposing hitters are now 6-48 (.125) vs. Cain's curve and change in 2010.
- He got out of trouble. Cain retired only 3 of 8 leadoff hitters (38 pct; MLB average: 68 pct) but only allowed 1 to score - however it ended up being a big one.
- He put hitters away in all situations. When counts got to 2 strikes, 88 pct of at-bats ended in outs (MLB average: 72 pct). When counts got to 2-0, 2-1, or 3-ball, 82 percent of at-bats were outs (MLB average: 54 pct).
Why White Sox starter Gavin Floyd won:
- Commanded the inner half of the plate: 20 of Floyd's 24 pitches on the inner third went for strikes, and the Marlins were just 1-12 against those pitches. Six of Floyd's seven strikeouts came on inside pitches.
- Fooled the Marlins with his off-speed pitches (curveball, changeup, slider): Floyd threw 35 of 54 off-speed pitches for strikes, with 14 of the 35 strikes being of the called variety. The Marlins took 21 swings against Floyd's curveball, changeup, and slider, missing on 11.
- Five of Floyd's seven strikeouts were with off-speed pitches.
- Floyd retired the first six leadoff hitters he faced.
Why Angels starter Scott Kazmir won:
- A season high 79.5 pct (89 of 112) of his pitches were fastballs, with the Cardinals hitting just 2-18 against the pitch. Cardinals hitters missed on 14 of their 42 swings against Kazmir's fastball.
- Kazmir retired six of seven leadoff hitters he faced and retired the side in order in five of seven innings.
- Kazmir reached a 2-0 count on just one of the 27 hitters he faced.
- All five of Kazmir's strikeouts came on pitches on the outer third of the strike zone, with the Cardinals hitting just 2-16 against outside pitches.
April, 19, 2010
4/19/10
3:14
AM ET
By
Mark Simon, ESPN Stats & Info
| ESPN.com
Four players from our One2Watch4 series (which kicked off the TMI blog in March), had impact performances on Sunday.
* - Won Cy Young Award
April, 8, 2010
4/08/10
12:58
PM ET
By
Jeremy Lundblad, ESPN Stats & Info
| ESPN.com
Today's Trivia
: It was 36 years ago today that Hank Aaron hit his 715th career home run, surpassing Babe Ruth's career total. Who was the opposing pitcher that gave up the historic home run?
Quick Hits
*
Bronson Arroyo
heads into his today's start looking for his 14th straight quality start dating back to last July. According to Elias, his streak matches the longest by a Reds pitcher since
Jose Rijo
recorded 15 consecutive quality starts in 1993. Arroyo has posted only a 5-4 record during his streak.
* Random Fact: The Tigers have only had one player named Woods. Outfielder Ron Woods debuted for the Tigers in 1969, playing 17 games before getting dealt to the Yankees.
* From the Elias Sports Bureau:
Garrett Jones
and
Vernon Wells
share the major-league lead (with
Placido Polanco
) with six RBIs this season. Jones and Wells had three RBIs in each of their team's first two games and each is in position to set a major-league record today. No player has ever had three or more RBIs in each of his team's first three games of a season. (RBIs have been officially recorded in the major leagues since 1920.)
Today's Leaderboard
:
Brian Bannister
takes the hill today for the Royals, and it's the fact that it's a day game that's key. Bannister holds one of the stranger day/night splits. In his career, he is 17-8 in day games compared to 13-30 at night. Meanwhile,
C.J. Wilson
, making his first start since 2005 this afternoon, is just 2-8 in day games. Bannister's 17-8 mark is impressive given his struggles otherwise, but it's just the 8th best among active pitchers (min. 20 decisions).
Jered Weaver
is 17-4 in his career in day games. Next on the list is
Gavin Floyd
at 18-5. Floyd draws a night game tonight. He is just 18-24 in those.
Key Matchups
:
Joe Mauer
is welcoming
Joel Pineiro
back to the American League with open arms. The reigning AL MVP is 13-for-18 (.722) in his career against the Angels starter. According to the Elias Sports Bureau, there is only one active batter-pitcher matchup with at least 15 at-bats that has produced a higher batting average.
Magglio Ordonez
is 12-for-15 (.800) against
Chad Durbin
.
Matt Wieters
hasn't been around long enough to say that he owns a pitcher. That said, his limited track record against
Jeff Niemann
suggests just that. Wieters is 5-7 in his career against Niemann. Throw in a walk, and Wieters has a .750 on-base percentage in 8 plate appearances. Wieters' 5 hits and 3 RBI against Niemann are tied for his most against any pitcher.
Trivia Answer
: Dodgers pitcher Al Downing is probably best known for giving up Aaron's 715th home run. However, he may prefer you remember his accomplishment on August 11, 1967. Facing the Yankees in the bottom of the 2nd, Downing struck out the side on 9 pitches, something that has only been accomplished 40 times.