Stats & Info:

Gerardo Parra
October, 29, 2013
10/29/13
10:57
AM ET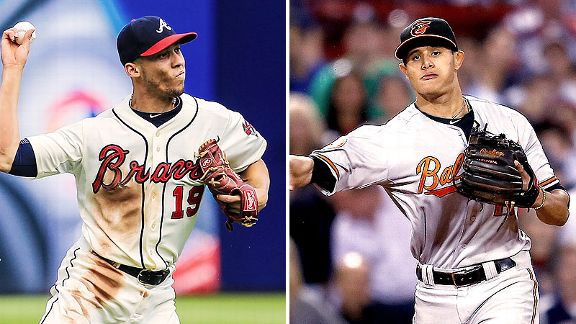 Jim Rogash/Getty ImagesAndrelton Simmons and Manny Machado are among the favorites to win Gold Gloves tonight.
The
Rawlings Gold Glove Awards
will be handed out at 8 p.m. ET on ESPN2. Here are some of the top statistical storylines that Adnan Virk and
Nomar Garciaparra
will be talking about during the broadcast.
A new generation of defensive stars
If the winners match up with the advanced defensive stats, a number of young players will be taking home some hardware.
Of the eight players with at least 20 defensive runs saved at their respective positions, five were in either their first or second major league season and four are finalists (the exception being Mets center fielder
Juan Lagares
).
Braves shortstop
Andrelton Simmons
tied Diamondbacks outfielder
Gerardo Parra
for the major league lead with 41 defensive runs saved, the most by a player in a single season in the 11-year history of the stat.
Second-year third baseman
Manny Machado
of the Orioles was not far behind, leading all players at his position with 35 defensive runs saved; he also led the majors in Web Gems. In the National League, Rockies rookie
Nolan Arenado
led third basemen with 30 defensive runs saved.
Pirates left fielder
Starling Marte
had 20 defensive runs saved, the most for anyone at that position. He'll be competing with past winner
Carlos Gonzalez
of the Rockies and former Rockies utility man,
Eric Young Jr.
of the Mets.
Royals, Diamondbacks best of the best
The Royals and Diamondbacks were the top two teams in defensive runs saved and each had significant individual success, as well.
The Royals have five finalists, three of whom led the American League in defensive runs saved at their respective positions:
Salvador Perez
at catcher,
Lorenzo Cain
in center field and
Alex Gordon
in left field. Their other nominees are first baseman
Eric Hosmer
and shortstop (and Web Gem regular)
Alcides Escobar
.
The Diamondbacks had three players earn finalist honors: Parra, as previously mentioned, tied the record for most defensive runs saved in a season as an outfielder.
Paul Goldschmidt
had the second-most defensive runs saved among first basemen, and
Patrick Corbin
had the most among any pitcher.
Another one for Molina?
Yadier Molina
has won five straight Gold Gloves and will contend with Pirates catcher
Russell Martin
and Dodgers catcher
A.J. Ellis
for a sixth.
Only four catchers have won at least six Gold Gloves --
Ivan Rodriguez
(13), Johnny Bench (10), Bob Boone (seven) and Jim Sundberg (six).
Molina's current streak is the best for an NL catcher since Bench won 10 in a row from 1968 to 1977.
Two other finalists will be vying for their fifth Gold Glove -- Blue Jays pitcher
Mark Buehrle
(who is competing with teammate
R.A. Dickey
and Tigers pitcher
Doug Fister
) and
Adrian Beltre
of the Rangers, who goes up against Machado and
Evan Longoria
.
A new statistical component
Rawlings introduced a new statistical component, SDI (
SABR Defensive Index
), to account for approximately 25 percent of the vote (the rest of the votes are from major league coaches and managers).
The SDI combines five advanced defensive metrics (including the one ESPN uses most frequently,
defensive runs saved
) that evaluate a fielder's ability to convert batted balls into outs and make other plays (such as convert double plays and deter baserunner advancement) relative to others at his position.
July, 28, 2012
7/28/12
1:27
PM ET
Getty Images/Jim McIsaac PhelpsJustin Upton and the Diamondbacks are hanging in the race for a postseason spot.
The epic end of the 2011 regular season will go down in baseball lore -- the
Boston Red Sox
's collapse, the Atlanta Braves' faltering to lose the Wild Card,
Evan Longoria
's walk-off to put the
Tampa Bay Rays
in the postseason.
Lost in the amazement of Sept. 28 was the bigger picture before that, when the
Arizona Diamondbacks
staged a remarkable stretch run over the final 62 games to overtake the
San Francisco Giants
in the NL West.
The D'backs finished on a tear -- 41-21 (.661), including a nearly incredible 29-13 (.690) against NL West opponents. They went from trailing the Giants by four games to winning the division by eight.
Justin Upton
, who had been averaging a home run every 27 plate appearances, lowered that frequency to 16½ -- mostly by crushing fastballs at a .376 clip (after a respectable .318 earlier in the year).
Gerardo Parra
hit better than .300 for the final two months.
The team traded second basemen with Toronto, sending
Kelly Johnson
northward in exchange for
Aaron Hill
, who promptly led the team with a .315 batting average the rest of the season.
Ian Kennedy
won 10 of his last 12 starts en route to a 21-4 overall record. As a team Arizona cut its strikeout-to-walk ratio from 2.53 to 2.11, and raised its on-base percentage from .314 to .336.
J.J. Putz
converted his last 24 save opportunities, had an ERA equal to his WHIP (0.77), and averaged nearly 11 strikeouts per nine innings.
Could a similar charge by the Diamondbacks be in order this season?
Friday's 11-5 win against the Mets was Arizona's 100th game of the season. And the 2012 numbers compare favorably to those at 100 games in 2011.
Despite three fewer wins, the team's batting average is 18 points higher, scoring is up slightly, and hitters are more patient than last season.
The remaining schedule is fairly light, with half of the games being against sub-.500 teams, including 16 against the
San Diego Padres
and
Colorado Rockies
, who bring up the rear of the division.
It remains to be seen whether this season holds similar Diamondbacks in the rough, but there are a few with potential.
Paul Goldschmidt
has been feasting on left-handed pitching; his average (.368), slugging percentage (.755), and OPS (1.189) are all among the NL leaders.
Free-agent pickup
Jason Kubel
is your NL RBI leader with 72, and 11 of his 22 homers have come in July.
Kubel has been a lot more selective on inside pitches this season; his swing rate has gone down four points, and his average has jumped from .179 to .258. And after a slow start,
Miguel Montero
is hitting .331 since mid-June and chasing a lot fewer pitches out of the zone.
As 2011 taught a lot of teams, a 5½-game lead in either the division or Wild Card can easily be overcome. So if the final pieces in the puzzle fall into place, the NL West could be an interesting division over these last 62 games.
March, 28, 2011
3/28/11
8:59
AM ET
Arizona Diamondbacks

They struck out a major-league record 1,529 times in 2010. However, two players no longer with the team --
Mark Reynolds
and
Adam LaRoche
-- accounted for 25 percent of those strikeouts (383 of 1,529).
Gerardo Parra
was second among all leftfielders in 2010 with a +/- rating of +19. (Parra turned 19 more batted balls into outs than the average left fielder would have.) The only left fielder with a better +/- than Parra last season was
Carl Crawford
.
Colorado Rockies

The Rockies hit .298 at home in 2010, but just .226 on the road. The 72-point differential in their home-road batting average was the worst in baseball.
Carlos Gonzalez
was one of 15 players who hit 30 home runs and had 100 RBI last season. Of those 15 players, Gonzalez drew the fewest walks (40).
Los Angeles Dodgers

Once again, the Dodgers will have a big question mark in left field. (Currently,
Jay Gibbons
and
Marcus Thames
are the leading candidates for the starting position.) In 2010, the Dodgers' leftfielders combined to hit .261, with a .322 on-base percentage and .392 slugging percentage. Those numbers were the lowest for Los Angeles' leftfielders in all three categories since 2005.
Despite playing 162 games for the first time in his career,
Matt Kemp
saw his batting average, OBP and slugging percentage all drop at least 40 points from 2009 to 2010. He also struck out 31 more times, from 139 to a career-high 170.
San Diego Padres

There's no replacing
Adrian Gonzalez
's offensive production, one reason why their offseason moves might have revolved around improving defensively. New second baseman
Orlando Hudson
was a major-league best +23 among second basemen last season. New shortstop
Jason Bartlett
ranked ninth at his position, +6.
The core of their bullpen, the best in the majors last season, returns in 2011. The Padres' relief corps ranked first or second in ERA, opponents' batting average, strikeouts per 9 IP and strikeout-to-walk ratio, and fourth in home runs per 9 IP. Their strikeout-to-walk ratio was 18 percent higher than the next-best team.
San Francisco Giants

Barring injury,
Tim Lincecum
likely will become the eighth pitcher in the modern era (since 1900) with 1,000 strikeouts in his first five seasons. The seven pitchers who reached this milestone: Tom Seaver (1,155), Bert Blyleven (1,094), Dwight Gooden (1,067),
Kerry Wood
(1,065), Grover Cleveland Alexander (1,036),
Hideo Nomo
(1,031) and Mark Langston (1,018). In four seasons, Lincecum has 907 career strikeouts.
The Giants finished the season on a tear thanks to their pitchers, who put together one of the best calendar months in the live ball era (since 1920). The Giants posted a 1.78 ERA in September, the fifth-lowest in a month since 1920, and their .182 opponents' batting average was the second-best for a single month in that span.
-- Mark Simon and John Fisher contributed to this report
November, 12, 2010
11/12/10
12:00
PM ET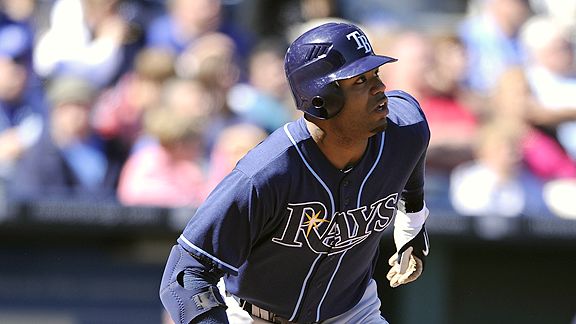 John Williamson/MLB Photos via Getty Images
The skill sets of Carl Crawford make him an ideal fit for the Angels, whose offensive and defensive numbers suffered significantly in 2010
There may be few moves that would make more statistical sense this winter than for
Carl Crawford
to sign with the
Los Angeles Angels
of Anaheim.
News reports indicate that the
Angels will be among the heaviest pursuers
in the Crawford sweepstakes and give them credit for knowing their primary weakness. The departures of
Chone Figgins
and
Vladimir Guerrero
were significantly costly. No team in the majors had a bigger drop in both runs scored (the Angels dropped from 883 runs in 2009 to 681 in 2010) and on-base percentage (.350 to .311) over the last two seasons.
Crawford, a Silver Slugger winner, can fix a lot of the Angels issues in one swoop. He hit .307 in 2010 with a .356 on-base percentage and a .495 slugging percentage. His 13 triples would help a team that had only 19 last season, tied for third-fewest in baseball. Crawford rated behind only
Josh Hamilton
among American Leaguers whose primary position was left field using a metric known as weighted On-Base Average (devised by occasional ESPN.com contributor, Tom Tango, it is scaled similar to on-base percentage, but with a greater weight for doubles, triples and home runs).
In a year in which pitching dominated, Crawford was one of a small group of players whose offensive production increased from 2009 to 2010, with his wOBA increasing from .367 to .378. No Angels regular had a higher wOBA than
Hideki Matsui
's .356 in 2010.
Chances are you're familiar with Crawford's speed. He ranked among the American League leaders with 47 stolen bases and ranked fourth in a Bill James-devised stat, baserunning gain. Crawford scored a +25 in this metric, which measures a hitter's ability to avoid double plays (he hit into two in 2010) and take extra bases as a baserunner without being thrown out (for example, he scored from first on a double 11 times in 19 possible situations, above the MLB average of 40 percent).
The feeling is that the Angels could make Crawford their No. 3 hitter, but they also could hit him leadoff if the need bore out. Much of the Angels offensive struggle in 2010 could be attributed both to injuries (
Kendry Morales
most notably) and the inability of their leadoff man to get on base. The top hitter in the Angels order had an on-base percentage decline from .387 in 2009 to .325 in 2010.
Crawford, coming off his first Gold Glove Award, also fills a significant need defensively. Angels leftfielders ranked tied for third-worst in the Baseball Info Solutions metric Defensive Runs Saved. This stat measures an outfielder's ability to turn batted balls into outs, deter baserunners and rob home runs. Crawford has led all leftfielders in that measurement in each of the last three seasons, finishing tied in 2010 with
Gerardo Parra
.
The other means by which this is a perfect marriage is that a large contractual commitment will not be an issue to Angels owner Arte Moreno. Over the last three seasons, the Angels have signed players to contracts that will pay out $162 million, the fourth-largest potential outlay for any team in free agency in that span. Crawford's deal will likely rival the three largest free agent commitments in Angels history --
Torii Hunter
(five years, $90 million), Mo Vaughn (six years, $80 million) and Vladimir Guerrero (five years, $70 million).