Stats & Info:

Goran Dragic
January, 22, 2014
Jan 22
12:43
PM ET
By
Justin Page
| ESPN.com
The
Indiana Pacers
look to continue their winning ways when they head west to take on the
Phoenix Suns
(ESPN, 10:30 pm ET). Here's a look at some of the game's top storylines.
The Pacers are dominating
The Pacers are a league-best 33-7 this season and are off to their best 40-game start in franchise history. Indiana has won five straight games by an average of 20.2 points.
The Pacers are allowing a league-low 92.8 points per 100 possessions. If that holds up through a full season, it would be the fewest points per 100 possessions a team has allowed since the 2003-04 Spurs (91.2) and Pistons (92.5).
Indiana is 11-2 against Western Conference teams this season. The Heat (10-2) are the only other team in the East that has a winning record against the West.
George is dominating too
Paul George
is averaging 28.8 points on 54 percent shooting in his last four games.
George and
Blake Griffin
are the only players who rank in the top 10 in both points per game and defensive win shares. George led the league with 6.3 defensive win shares last season.
George
George is shooting a career-high 46 percent from the field, and a big reason is that he's improved his midrange game.
He's shooting 42 percent on midrange shots, which are defined as 2-point field goal attempts outside the paint. He shot 33 percent on those shots two seasons ago and 36 percent last season.
George is also shooting 58 percent on corner 3-pointers, the best percentage among more than 100 players who have taken at least 25 of those shots.
Matchup to Watch: How the Suns get their 3s
The Suns rely heavily on the 3-point shot; 31 percent of their field goal attempts come from that range, the third-highest percentage in the league.
The Suns rank third in 3-point makes (9.4) and first in attempts per game (26.0).
The Pacers are defending the perimeter well. Opponents are shooting a league-worst 32 percent from the 3-point line. Only 19 percent of their points come from 3-point range (third-fewest in NBA).
The Hibbert effect
According to NBA.com's player-tracking data, opponents are attempting 9.7 shots at the rim per game against
Roy Hibbert
but are shooting only 41 percent on those shots. That's the fourth-lowest percentage among the 65 players who have at least five such shots attempted against them per game.
Did You Know?
The Pacers have won two straight games against Phoenix, one win shy of tying their longest win streak in the 77-game history of the series. Indiana defeated Phoenix three straight times from 1987-88 to 2003-04.
Rachel Stern also contributed research to this post.
November, 28, 2013
11/28/13
12:28
AM ET
By
ESPN Stats & Information
| ESPN.com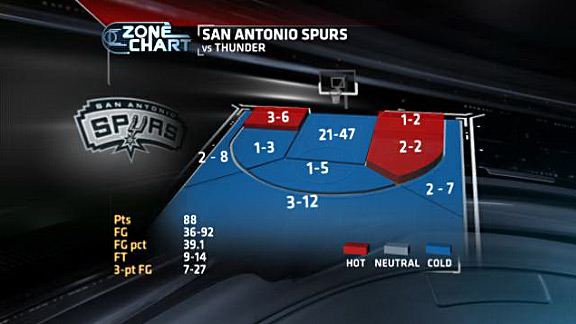 The Spurs had a rough shooting night in their loss to the Thunder
The Elias Sports Bureau noted that Wednesday marked the first time in NBA history that a pair of winning streaks of 11 or more games ended on the same day.
What were the keys to victory for the
Oklahoma City Thunder
and the
Phoenix Suns
in stopping the 11-game winning streaks of the
San Antonio Spurs
and
Portland Trail Blazers
?
For starters, Thunder in control
The Spurs starting five (
Tim Duncan
,
Kawhi Leonard
,
Tiago Splitter
,
Tony Parker
and
Danny Green
) was outscored by eight points in its time on the floor.
The Thunder's starting lineup (
Kevin Durant
,
Serge Ibaka
,
Kendrick Perkins
,
Thabo Sefolosha
and
Russell Westbrook
) outscored the Spurs by seven when on the floor together.
Jackson delivers
On a day in which Durant and Westbrook were a combined 12-for-39,
Reggie Jackson
came off the bench to match his career high in scoring with 23 points in 26 minutes, on 10 of 14 shooting from the field.
Jackson is 19 for 29 from the field in his last three games, including 15 of 21 on his shots in the paint.
Dragic at his best
Goran Dragic
had 31 points and 10 assists for the Suns. It is the second 30-10 game of his NBA career. Dragic was one point shy of tying his career high. He's averaging 22.6 points in his last five games.
Dragic is 8-for-16 in this five-game stretch on 3-pointers taken between the wings (in other words, straight-on, or close-to-straight-on shots. He opened the year by making only 1 of his first 8.
The Suns have gotten the most out of Dragic all season, averaging 109 points per 100 possessions with him on the count, compared to 96 points per 100 possessions with him off the court.
Frye high
Channing Frye
was 10 for 12 from the field, including a perfect 7 for 7 from 2-point range. That marks the best perfect shooting day from 2-point range in his career.
He's also now 14-for-29 from 3-point range in his last four games.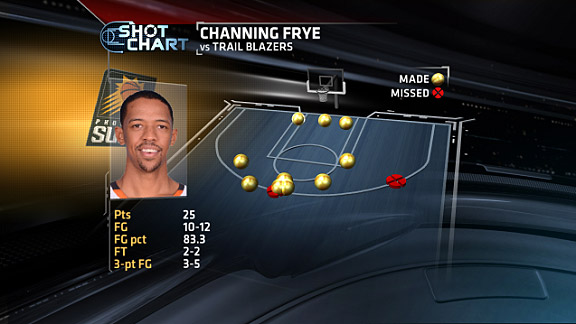 October, 27, 2012
10/27/12
3:52
PM ET
By
Jose DeLeon, ESPN Stats & Info
| ESPN.com
Christian Petersen/Getty Images
Goran Dragic (left) is back in Phoenix to replace Steve Nash (right). What does Dragic bring to the table that the two-time MVP didn't?
This is the second installment of a series called "Missed or Not Missed?". The concept is simple -- we take a look at a few Western Conference teams and determine if the players they've lost will be missed or if the player they brought in will make them forget that loss.
The
Phoenix Suns
couldn't compete with the elite teams in the West and traded
Steve Nash
to the
Los Angeles Lakers
. In comes
Goran Dragic
for a second stint and he becomes one of Phoenix's focal points. Will the Suns be better off with a younger point guard running the show?
Pick & roll master
Few have Nash's stellar ability to hit the roll man on pick-and-roll plays. He led the league last year with the most passes to the roll man (375) and his teammates made him look good as they ranked first in points per play (1.18) and field-goal percentage (60.3).
Dragic was one of 15 players with at least 160 such plays and is a formidable pick-and-roll player, but his teammates ranked eighth in field-goal percentage and ninth in points per play on the pick-and-roll.
Younger, fresher legs
Dragic, who is 12 years younger than Nash, is a great jump shot defender. There were 121 players last year who were involved in at least 130 plays where they defended a jump shot. Of those 121, Dragic held his opponents to the fourth-lowest field-goal percentage (30.8) and the sixth-fewest points per play (.81).
Nash, on the other hand, allowed his opponents to shoot nearly 40 percent on jump shots and allowed an average of more than a point per play.