Stats & Info:

Grant Balfour
April, 13, 2014
Apr 13
3:42
PM ET
Several times a season, a day comes along that has so much stuff packed into it, we don't need to look at the rest of the week. Consider that all of the following happened in
seven hours on Friday
:
Welington Castillo
hit a three-run homer in the 11th to lead the
Chicago Cubs
to victory over the
St. Louis Cardinals
. It was the Cubs' second extra-inning homer this season (
Anthony Rizzo
, April 2), matching their recent average for an entire year (eight in the previous four seasons).
Trevor Rosenthal
, who allowed the one on Friday, also gave up a walk-off to Rizzo in 2012, and is the only active pitcher to allow two extra-inning homers to the Cubs.
Madison Bumgarner
hit a sacrifice fly in the 3rd inning to put the
San Francisco Giants
on the board, then a grand slam in the 4th to take the lead for good over the
Colorado Rockies
. Giants pitchers have hit only two slams since the franchise moved to California (
Shawn Estes
, 2000), and it was the first home run by any Giants pitcher since Bumgarner hit one at Coors Field in 2012.
It was the first pitcher grand slam to turn a deficit into a lead since
Chris Hammond
of the Marlins hit one in a 1995 game against the
Houston Astros
.
Bumgarner's five RBIs were the most for any pitcher since
Chris Carpenter
had a three-run homer and a double for the Cardinals on October 1, 2009. Other than Estes (who also had five when he hit his slam), the last Giants pitcher to do it was Dave Koslo who homered twice against the Phillies on July 7, 1949.
Yu Darvish
retired the first 15 Astros batters before
Matt Dominguez
singled to start the 6th. That would be the only hit Darvish allowed, but because his
Texas Rangers
also failed to score, he did not pick up a win. The longest 0-0 tie in the history of the Rangers' stadium was finally broken by
Robinson Chirinos
' walk-off single in the 12th.
Matt Harvey
was the only starter last year to throw
eight or more innings of one-hit ball
without winning. Only one other pitcher in Rangers history had done it while also recording nine strikeouts: Pete Richert in 1965. Chirinos' hit was the team's first 1-0 walk-off since
Rusty Greer
singled home
Mike Lamb
on August 25, 2000.
The
Toronto Blue Jays
had just three singles, but turned two
Baltimore Orioles
errors into a pair of fourth-inning runs and won 2-0. It was the first time in franchise history that they'd won a
road
game on three or fewer total bases (they've done it six times at home). The Orioles were also the first team this year to lose a game allowing zero earned runs, something they've done just three other times in the past 20 seasons.
Grant Balfour
relieved
Tampa Bay Rays
starter
David Price
. He issued three walks, threw a wild pitch, and still got a save, becoming the first pitcher to do that since... Grant Balfour, last season with Oakland. There have only been 38 saves since 1969 to include that line, and Friday's was the first for the franchise. Balfour is the only pitcher with two of the 38.
Andrew Cashner
of the
San Diego Padres
threw the season's first complete game, a one-hit shutout of the
Detroit Tigers
which featured 11 strikeouts. It was the 20th complete-game one-hitter for the only remaining team to never throw a
no
-hitter, and their first with double-digit strikeouts since
Kevin Brown
in 1998.
Naturally the night couldn't end without the season's first "plunk-off"-- a game-ending hit-by-pitch with bases loaded.
New York Mets
reliever
Jeurys Familia
hit
Hank Conger
for a 5-4
Los Angeles Angels
win. It happens, on average, slightly more than once a year (24 in the last 20 seasons, though none in 2013), but Friday's was just the fifth in the Angels' 54-season history. They hadn't seen one since the Pirates' Brad Havens hit
Wally Joyner
(scoring Claudell Washington) on July 23, 1989.
July, 10, 2013
7/10/13
1:57
PM ET
By
Jeremy Mills, ESPN Stats & Info
| ESPN.com
AP Photo/Jim CowsertYoenis Cespedes, who earned a spot in Monday's Home Run Derby, looks to end his 15-game homerless drought, the second-longest streak of his career.
The
Oakland Athletics
and
Pittsburgh Pirates
complete a three-game series at PNC Park at 7 p.m. ET on ESPN/WatchESPN. Here are five stats that will surely be talked about on tonight's telecast.
1.
The Athletics have already won the series (their fifth straight series win) and will look to maintain their undefeated record all time against the Pirates.
According to the Elias Sports Bureau, Oakland's 11-0 mark against Pittsburgh is the best record without a loss for any team against another in the modern era (since 1900).
2.
Oakland was 13 games behind the
Texas Rangers
on June 30 last year before winning 57 of its last 83 games to capture the division.
The Athletics have kept the hot streak going into this season. They have 111 wins since June 30, 2012, six more than any other team in baseball.
3.
Yoenis Cespedes
has a spot in the Home Run Derby on Monday, but he might not be the most deserving player in this contest. Cespedes has gone 15 straight games without a homer, the second-longest streak of his career.
In the other dugout,
Pedro Alvarez
leads the National League with 13 home runs since the beginning of June.
In fact, his 23 home runs not only lead the team, but are the most by a Pirates player before the All-Star break since Willie Stargell hit 30 in 1973.
4.
The Pirates might be starting their annual summer swoon. Pittsburgh is 2-6 so far in July and has fallen 1½ games behind the
St. Louis Cardinals
after holding a two-game division lead on June 30.
The Pirates are 134-104 through June the last three seasons and 70-105 from July 1 to the end of the season.
5.
You should expect another low-scoring game tonight. Oakland won the first two games of the series 2-1. The A's have eight wins this season when scoring two or fewer runs -- that leads the majors (tied with the Pirates).
The Athletics now have 18 one-run wins this season. Only the
Arizona Diamondbacks
have more (19).
Misc.
•
Josh Reddick
had 20 home runs at the All-Star break last season, but he has hit only 16 in 135 games since then.
• A's closer
Grant Balfour
is 24-for-24 in save situations this year and has converted 42 straight save opportunities (his last blown save came on April 29, 2012). The 42 straight saves are a franchise record (the old mark was 40 straight by Dennis Eckersley).
• The Pirates have four players on the All-Star roster –
Andrew McCutchen
, Alvarez,
Jason Grilli
and
Jeff Locke
. It's the first time since 1981 that Pittsburgh has sent this many players to the Midsummer Classic.
•
Starling Marte
has 27 stolen bases, the most for the Pirates since
Tony Womack
had 31 in 1998.
July, 6, 2013
7/06/13
12:10
AM ET
By
ESPN Stats & Information
| ESPN.com
Francisco Liriano
may not be quite good enough to start the All-Star Game, but he's had a heck of a good first season for the
Pittsburgh Pirates
.
And
Grant Balfour
might not be the AL's All-Star closer, but he's a strong candidate to hear his name called when rosters are announced on Saturday.
Each did something of prominence on Friday. Let's review.
Liriano's Gem
Liriano's slider was a major key to his second career complete game, the first since his no-hitter in 2011.
He threw 51 of them in Friday's win over the Cubs, his most in any start in the last five seasons.
Liriano got 12 swings-and-misses with the pitch, which accounted for five of his seven strikeouts. His 52 strikeouts with his slider this season are third-most in the National League.
Liriano has found the Cubs to his liking. He's 3-0 with an 0.78 ERA in three starts against them this season.
The win dipped his ERA for the season to 2.20, and though he's only made 11 starts after missing the first month of the season due to injury, he's made a legit case to be an All-Star.
Liriano hasn't quite pitched to the level of a pitcher like
Clayton Kershaw
, but he's been only a notch below in a number of areas, as you can see in the chart on the right.
Should Liriano or his teammate
Jeff Locke
make the team and pitch in the game, they'd be the first Pirates starting pitcher to pitch in an All-Star Game since
Denny Neagle
in 1995.
Balfour's finish
It was a two-out save, certainly an easier one than most, but nonetheless a significant one from the perspective of those who close games.
Balfour
Balfour tied Dennis Eckersley's franchise record with his 40th straight save conversion in the Oakland Athletics' 6-3 win over the
Kansas City Royals
.
He's 22-for-22 in save chances this season and in a year in which
Jim Johnson
and
Fernando Rodney
have had their struggles, Balfour can make a decent case for being in the upper tier of AL closers with
Mariano Rivera
and
Joe Nathan
.
Balfour isn't as perfect as his saves mark would indicate. He issues walks (3.4 per 9 innings) and allows home runs (four in 34 2/3 innings) at rates that are a little high.
But he's been the master of getting out of trouble. Opponents are 7-for-55 against him with men on base.
Balfour's money pitch this season has been his breaking ball. He's allowed only three hits and one walk while netting 39 outs with those pitches, including the two that closed Friday's game.
Opponents have missed on nearly 46 percent of their swings against the pitches judged to be his curves and sliders. That's the third-highest rate among AL relievers trailing only
Al Alburquerque
and
Brett Cecil
.
December, 31, 2012
12/31/12
11:15
AM ET
With 2012 about to come to a close, we thought we'd take one more look at the baseball season.
We'll do so both in words and with heat maps-- visual images that may bring back a memory, or tell you something about the greatness of a particular moment or performances.
The Year of the Triple Crown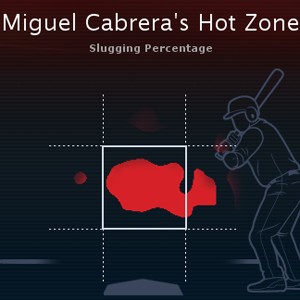 Miguel Cabrera
became the first player since Carl Yastrzemski in 1967 to win the Triple Crown. He produced one of the most memorable baseball seasons in recent memory.
Cabrera helped the
Detroit Tigers
all the way to the World Series, by outhitting and outsluggling everyone in his path.
He solidified his finish and the Tigers pennant hopes by hitting .333 with 11 home runs and 30 runs batted in in September/October.
Cabrera would go on to win the AL MVP in a much-discussed resounding victory.
The Year Buster Posey Returned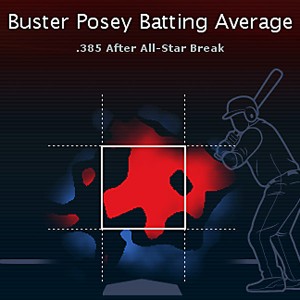 Sidelined for a good portion of 2011, Buster Posey returned to form in the latter part of 2012 to cop MVP honors and help the
San Francisco Giants
to the World Series.
Posey hit .385 after the All-Star Break, a batting average 35 points better than anyone else in the majors and a number topped only three times in Giants history.
The Giants have won two World Series in three seasons with Posey as of their most important figures. He's establishing very early in his career that he'll be a player not to be forgotten.
The Year of Trout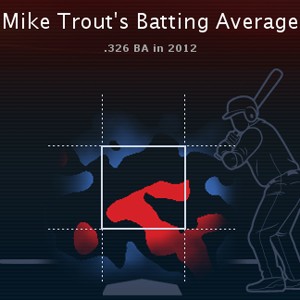 Mike Trout
lived up to his billing as one of baseball's most touted prospects. It didn't take long before he was the best player in the game.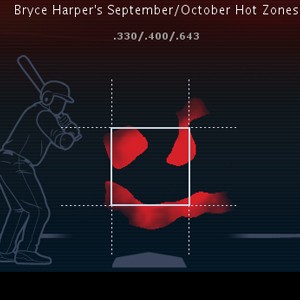 Trout was a five-tool player who seemed like he could do almost anything at bat or in the field.
He hit .326 and finished one stolen base shy of a 30-homer/50 steal season.
He also robbed four players of home runs with his running, leaping catches at the fence.
...and Harper
Bryce Harper
had some weaknesses in his game, but improved significantly upon those in helping the
Washington Nationals
to the NL East title.
Harper showed he would not be intimidated by stealing home after
Cole Hamels
hit him with a pitch.
His numbers in the season's final month were among baseball's best.
The AL and NL Rookies of the Year showed the ability that has many thinking they'll be two of the biggest stars of this generation.
Each brought an intensity and skill that wowed fans of all ages.
The Year of Josh Hamilton's Extremes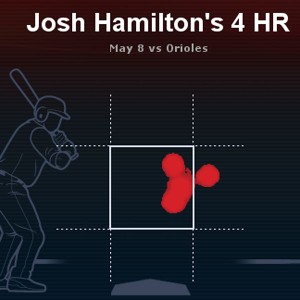 Texas Rangers
outfielder Josh Hamilton looked like he was going to be the one contending for the Triple Crown in the early part of the season.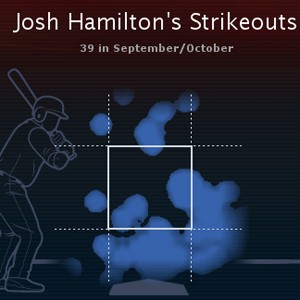 In his first 27 games, he hit .406 with 14 home runs and 36 RBI, capped by a four-homer game against the
Baltimore Orioles
.
What was most interesting about those four homers is that they came against pitches on the outer-third of the plate.
Those same pitches would give him quite a bit of trouble later in the season.
As good as Hamilton was early in the season, he struggled almost as much in the year's final weeks.
In his last 26 games (including the one-game playoff against those same Orioles), Hamilton struck out 39 times and missed on 45 percent of his swings.
Pitchers took advantage of his overeagerness repeatedly getting him to chase pitches out of the strike zone.
Hamilton went 2-for-17 in his last four games, a rough end to his Rangers career.
But his greatness was still enough to net him five years and $123 million from the Angels this offseason.
The Year of Perfection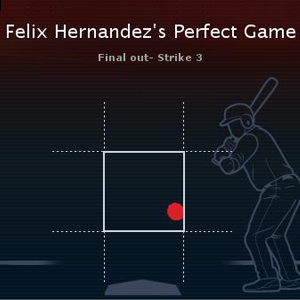 There were a major-league record three perfect games in 2012, thrown by
Philip Humber
,
Matt Cain
, and
Felix Hernandez
.
Humber's was special for its unlikely nature. His 11 wins entering his perfecto start were the second-fewest by anyone at the time of their perfect game.
Cain's was magical, remembered both for his strikeout total (14, tying Sandy Koufax's record for strikeouts in a perfect game) and the great defensive play by
Gregor Blanco
to save it.
Hernandez's was great because of his dominance with both his fastball and his offspeed pitches. All 12 of his strikeouts came with his offspeed stuff.
The Year of the Knuckleball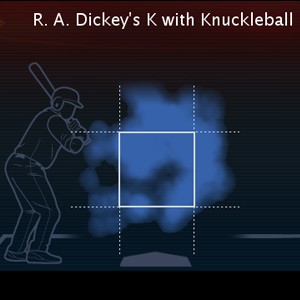 New York Mets
pitcher
R.A. Dickey
brought the knuckleball to new heights in 2012.
Dickey found a way to command and dominate with a pitch that baffled opposing hitters.
Dickey resorted to a few new tricks, throwing it a little harder than usual and a little higher than usual.
The image at right shows Dickey's success vs lefties. He whiffed as many in 2012 (110) as he did in 2010 and 2011 combined.
He finished with 230 strikeouts in all, becoming the first knuckleballer to win the Cy Young Award.
The Year the Orioles Flew High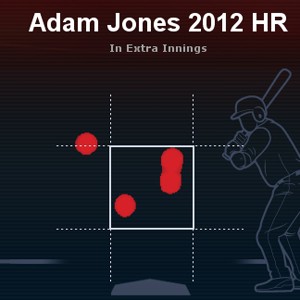 No one figured on the Baltimore Orioles making the postseason in 2012, but this overachieving group put together one of the more improbable runs on its way to winning a wild card spot.
Buoyed by timely hitting and a great bullpen, the Orioles won 16 straight extra-inning games.
The Orioles didn't have anyone who ranked among baseball's best in Wins Above Replacement, but their sum was greater than their parts.
Adam Jones
epitomized Baltimore's late-game magic by smacking four game-winning extra-inning homers.
The Orioles outlasted the Rays and challenged the Yankees for the AL East title, then took New York to five games in the ALDS.
The Year of the Unlikely Athletics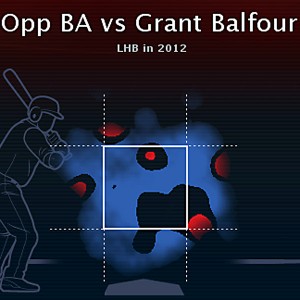 After a major offseason overhaul, the 2012
Oakland Athletics
roster was comprised of a cast of unlikely standouts, who somehow knocked off the Texas Rangers and
Los Angeles Angels
to win the AL West.
Grant Balfour
was among many who achieved beyond their usual means and had a little something left at season's end. He closed the season with seven saves and a win in his last 10 appearances.
Lefties hit .157 against Balfour in 2012. The last 13 to face him were retired.
The Year of the Scutaro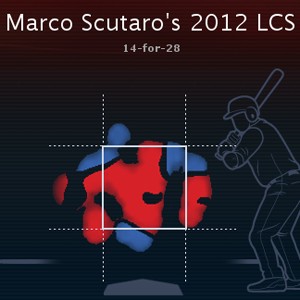 Marco Scutaro
was an afterthought to many in baseball after the Giants picked him up late in the season, but he'd be anything but an afterthought the rest of the way.
Scutaro hit .362 in the final 61 games of the regular season. Then, after nearly being taken out of the series on a hard slide from
Matt Holliday
, he bounced back up and finished as NLCS MVP with a .500 batting average.
To cap off the amazing end to the season, Scutaro got the winning hit for the Giants in extra innings in their World Series-clinching win against the Tigers.
October, 7, 2012
10/07/12
6:16
PM ET
Getty Images/Leon HalipDon Kelly's game-winning RBI warranted a celebratory hug from Prince Fielder.
Don Kelly
isn't the person you'd expect to come through in a big spot in the
Detroit Tigers
biggest game of the season. That's not his usual role.
Kelly's primary function in 2012 was to serve as what amounted to a defensive closer or mop-up man. The Tigers were 53-22 in the regular season when he played, 38-8 when he came in as a substitute (he was often called upon with the Tigers ahead).
Kelly scored the tying run on Ryan Cook's wild pitch, then drove in the winning run with a game-ending sacrifice fly. That capped an unlikely statistical success story, one that might not have happened had another team claimed him when he was designated for assignment in August.
The sacrifice fly was Kelly's first go-ahead RBI all season, his first since a go-ahead home run in Game 5 of the 2011 ALDS against the
New York Yankees
.
It's the first time he's EVER had a go-ahead RBI in the seventh inning or later.
How unlikely an RBI was this? Kelly had been unsuccessful in his previous eight tries at getting a runner in from third base with less than two outs. That included a turn against the same pitcher he faced Sunday--
Grant Balfour
-- on May 10.
But on this occasion, he was able to get enough of a 93-mile-per-hour fastball to muscle it deep enough to plate the winning run.
That too was unusual. Kelly had taken 55 swings against pitches of that speed or faster, but had only put 13 into play. His 24 percent "in-play rate" was 14 percentage points below the major-league average against those pitches.
Stat of the Day: An odd way to score runs
The Tigers scored five runs on Sunday with only two RBI. That's tied for the most runs scored in a postseason game with two or fewer RBI.
The Cardinals scored five runs with two RBI in Game 3 of the 2006 World Series against none other than the Tigers.
The Elias Sports Bureau notes it's the most runs scored by one team in a postseason game without an RBI hit.
January, 16, 2011
1/16/11
12:54
PM ET
Our weekly statistical take on some recent moves by major league teams
How good of a hitter is
Jim Thome
against right-handed pitching?

Thome
Historically he's among the best of the best, and statistically speaking, he's a needed fit for the Minnesota Twins, who re-signed him earlier this week.
Last year, Thome proved he still had his magic touch against right-handers, batting .302, with a 1.154 OPS against them. The only hitter in the American League who was better was
Josh Hamilton
(1.163).
Rank the top 50 seasons of OPS against right-handed pitching since 1974 and two names show up more frequently than any others. One is
Barry Bonds
(seven times). The other is Thome (six).
Of the top 15 seasons in the American League in that span, Thome has five of them.
Amazingly, last season was one of the best in Thome's career by that measure.
Baseball-Reference.com
has a means to compare a player's performance in a split-stat (such as versus right-handers) to the rest of his league, adjusting for ballpark.
Thome's OPS+ against right-handers was 204. The only season in which he rated higher was in 2002, when he hit 40 home runs against righties.
Last season, with Thome's help, the Twins rated fourth in the American League in OPS against right-handed pitching. They jumped seven points (from .768 in 2009 to .775 in 2010) despite a) moving into a less-hitter-friendly home ballpark and b) it was a season in which most offensive performance declined.
It was their highest AL rank in OPS against right-handers since being third-best in 1992. The last time the Twins were even in the top five in the AL in that stat was in 2003, when they rated fifth.
-- Mark Simon
Balfour not so bad
Newest
Oakland Athletics
reliever
Grant Balfour
finished the season in the Tampa Bay Rays' bullpen with the seventh-lowest FIP (an ERA estimate based on strikeouts, walks, and home runs allowed) of any American League reliever at 2.68, even lower than former teammate and now
New York Yankees
reliever
Rafael Soriano
.

Balfour
That's due primarily to his better strikeout rate (9.1 per 9 innings, compared to Soriano's 8.2) and a lower rate of home runs allowed per nine innings.
Left-handed hitters may have hit .267 against Balfour last season, but his ability in those three FIP stats, was a match for his performance against right-handers (who hit .174 against him). Of note: Of the 100 lefties he faced in 2010, he yielded only one home run.
Balfour rated at 1.2 Wins Above Replacement in 2010, according to
Fangraphs.com
, a match for both
Jonathan Papelbon
and
Scott Downs
, both of whom will make considerably more than the $4 million Balfour will be paid in 2011.
-- Ben Duronio
Farnsworth's unusual 2010 skill
Kyle Farnsworth
may not be the most obvious choice as a shutdown reliever for the Tampa Bay Rays, but last season Farnsworth was able to raise his game
when facing the toughest lineups
.
Against the teams that finished with a .500 or better record, Farnsworth finished with a 2.09 ERA, .611 opponents OPS, and a 5.3 strikeout-to-walk rate.
Against teams with sub-.500 marks, he had a 5.19 ERA, .670 opponents OPS, and 2.23 strikeout-to-walk rate.
-- Katie Sharp
October, 4, 2010
10/04/10
3:06
PM ET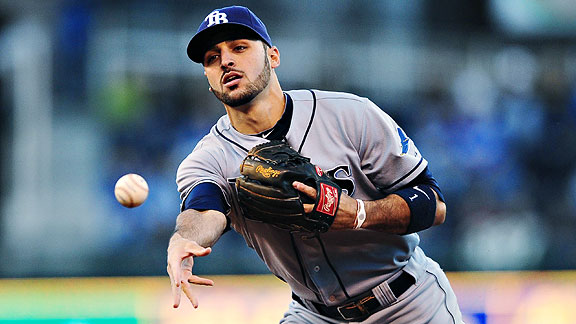 Mark J. Rebilas/US Presswire
Rays second baseman Sean Rodriguez had a knack for strong defensive play and clutch hitting, two factors that could be key in the postseason.
A capsule stat-based preview of the Texas Rangers-Tampa Bay Rays ALDS matchup.
Top things to know
The Rays led the American League in both walks and stolen bases, which partly accounts for how a team could finish near the bottom of the AL in batting average, yet near the top of baseball in runs scored (third-best in the majors).
The Rays also rank atop the majors by a huge margin in a Bill James-devised metric Baserunning Gain (ability to take an extra base on hits, outs and other plays). The Rangers rank second (+66 bases, 52 behind the Rays).
Josh Hamilton
had the greatest offensive season by a member of the Texas Rangers. He had the highest batting average (.359) of any player in Rangers team history (for a team that led the AL in the stat), as well as the best OPS+ (OPS compared to league average, adjusted for ballpark), a 174.
Deciding factor
The Rays had the second-best record in baseball when opponents started a left-handed pitcher, and they'll face left-handers in each of the first two games. They beat
Cliff Lee
three times during the regular season in 2010.
Evan Longoria
, currently battling an injury, led the way with a .956 OPS against lefties, followed by
B.J. Upton
's .919.
The Rangers bullpen won 32 games this season, most of any American League team. Their four most frequently used relievers who are available for the ALDS (
Neftali Feliz
,
Darren O'Day
,
Darren Oliver
and
Alexi Ogando
) combined for a 2.22 ERA, and had a strikeout-to-walk rate of 3.6 to 1.
Most interesting matchups
Vladimir Guerrero
has good numbers against almost every Rays reliever of note, albeit in a limited number of meetings. He's 5-for-9 against
Rafael Soriano
, 3-for-5 against
Dan Wheeler
, 3-for-6 against
Grant Balfour
, and 4-for-15 (with four walks and a .450 on-base percentage) against
Joaquin Benoit
. If Tampa Bay puts
James Shields
in the bullpen, Guerrero is good against him too (.394 BA, 1.030 OPS).
With the first two games taking place in the afternoon, it's worth noting that the Rays .587 win percentage in day games ranked sixth-best in baseball. The Rangers were 24th out of 30 (19-25, .432 win pct). The biggest impact seemed to be with Hamilton, who hit .384 with an 1.121 OPS at night, compared to .286/.819 during the day.
Statistical secrets
Rays second baseman
Sean Rodriguez
has all sorts of value to his team. His 18 defensive runs saved (a metric that measures ability to turn batted balls into outs, and turn double plays) rank best in baseball among second basemen.
Rodriguez also had an unusual knack for getting hits in big spots. He hit .400 (18-for-45) in "close and late" situations (defined by
Baseball-Reference.com
as plate appearances in the seventh inning or later with the batting team tied, ahead by one, or the tying run at least on deck).
The Rangers combination of
Elvis Andrus
and
Julio Borbon
bunt for hits better than almost anyone. Fangraphs.com charted Borbon as tied with
Erick Aybar
for the major league lead with 18 bunts hits. Andrus ranked third with 13. Combining bunt hits and infield hits, the Rangers rated tops in the majors, by Fangraphs calculations, with 187.
SIG's Picks
Albert Larcada of ESPN Stats & Info did statistical analysis of the last 10 postseasons, looking for the factors that most separate winning and losing teams. He found three -- power hitting, front-end starting pitching, and the ability to turn batted balls into outs. Using his findings, he was able to make a projection.
For the Rangers-Rays matchup, Larcada's system picks the Rays in four games. He gives the Rays a 56.6 percent chance to win the series.