Stats & Info:

Greg Jennings
September, 25, 2011
9/25/11
8:30
PM ET


In a rematch of last season's NFC championship game the
Green Bay Packers
defeated the
Chicago Bears
and improved to 3-0 for the first time since 2007.
Aaron Rodgers
threw for 297 yards and 3 touchdowns, all three of which went to tight end
Jermichael Finley
. Finley is the only Packers player to have three receiving touchdowns in a game against the Bears since 1960.
He's the first Packers player with three receiving touchdowns against any team since
Greg Jennings
against the Vikings last season, and just third to do so in the last 10 seasons.
The Bears vaunted defensive line struggled Sunday against the Packers, as Chicago was unable to get pressure on Rodgers when sending four or fewer pass rushers.
Rodgers threw all three of his touchdowns Sunday when the Bears brought four or fewer pass rushers. He threw shorter in those situations compared to last season and only attempted two of his 27 attempts facing standard pressure while under duress.
Rodgers' counterpart
Jay Cutler
threw two touchdown passes, but also had two interceptions, his first game with multiple interceptions this season.
Most of his struggles came when he threw deep. Cutler was just 2-of-8 with 2 interceptions when throwing at least 15 yards downfield Sunday. It's the sixth straight game Cutler has thrown an interception of that throw length against the Packers, including the 2010 NFC Championship game.
Since joining the Bears, Jay Cutler has now thrown 9 interceptions against the Packers on throws of 15 yards or more, including the playoffs. That's the most such picks by any player during that time period against a single opponent.
Elsewhere around the NFL:
•
Baltimore Ravens
rookie wide receiver
Torrey Smith
had his first three career TD receptions come on his first three career NFL receptions. Smith scored all three of his touchdowns in the first quarter, the first rookie in NFL history with three touchdowns in the first quarter of a game according to Elias.
• The
Arizona Cardinals
suffered a loss against the
Seattle Seahawks
, but there was still some reason for
Larry Fitzgerald
to smile. Fitzgerald brought in his 67th career touchdown reception, moving him into first place all-time in the franchises history for touchdown receptions.
•
Darren McFadden
had a career-high 171 rushing yards in the
Oakland Raiders
win over the
New York Jets
. McFadden became just the third player to rush for over 100 yards against the Jets since Rex Ryan took over as head coach. His 171 rushing yards are the most any player has had against the Jets during that span.
January, 5, 2011
1/05/11
1:00
PM ET
By
Trevor Ebaugh
| ESPN.com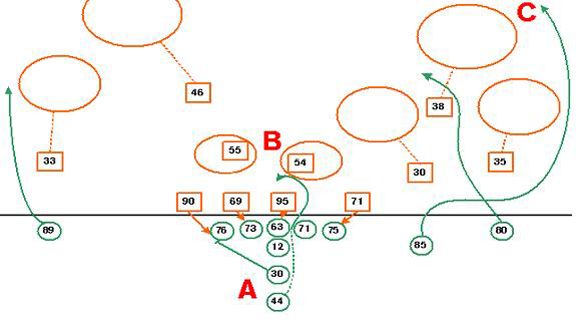 This week's edition of Chalkboard Stats focuses on a pivotal play in the Green Bay Packers' win over the Chicago Bears on Sunday. Greg Jennings hauled in a 46-yard reception to give the Packers 1st-and-goal from the one-yard line. According to AdvancedNFLStats.com, the play gave the Packers a 78 percent chance to win the game, the largest win probability for either team to that point in the contest.

Using the diagram above, let's take a closer look at the play and the accompanying statistical analysis.
A) Unorthodox personnel package plays into Packers' favor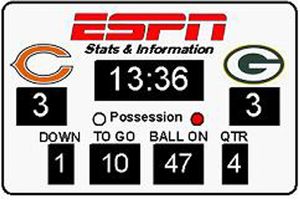 About 94 percent of all offensive formations this season included at least one tight end, yet the Packers lined up in a two-back, three-receiver set. This play marked the fifth time in the game the Packers had used this personnel grouping, with three of the previous four plays resulting in a pass (Rodgers had completed all three for 38 yards).
Although this distribution of skill-position players was rare,
Aaron Rodgers
was no stranger to its benefits. He entered Week 17 with a staggering success rate in two-back, three-receiver sets: among quarterbacks with at least 10 attempts, Rodgers ranked first in completion percentage (85.7), passer rating (114.4) and yards per attempt (11.5).
B) Play-action fake occupies linebackers Urlacher and Briggs
The Bears didn't appear to anticipate a run, as they lined up in their nickel package with only six men in the box. Packers' backs
James Starks
(#44) and
John Kuhn
(#30) also weren't strong candidates to get the ball; they had combined for only one yard on two carries the entire season in two-back, three-receiver sets.
However, entering Week 17 there were 4,488 first-down snaps taken in the NFL with two backs in the offensive backfield -- 2,941 of them were designed running plays. With an almost two-to-one chance of the Packers handing the ball off, linebackers
Brian Urlacher
(#54) and
Lance Briggs
(#55) had to at least respect the threat of a run.
The Packers faked the run, a move that's considerably more popular across the league than taking a straight drop in this situation.
In two-back sets on first down this season, NFL quarterbacks combined for 36 touchdowns, 24 interceptions and a 92.1 passer rating when using play-action (compared to 20 touchdowns, 21 interceptions, and a 77.4 passer rating when taking a straight dropback) entering Week 17.
C) Time in the pocket allows Rodgers to find his favorite deep threat
With the two linebackers holding down the middle of the field and the five defensive backs in pass coverage, that left only the Bears' formidable defensive front to rush the passer.
Kuhn stayed in to block, leaving six Packers to block four Bears. Defensive end
Julius Peppers
entered the game with seven sacks in four-man pass rushes, more than the Saints and Broncos entire teams' totals (six apiece).
Peppers is double-teamed by left tackle
Chad Clifton
(#76) and Kuhn. The added time in the pocket (Rodgers had approximately 4.4 seconds from snap to release, as timed by a member of ESPN Stats & Info), gave the Packers' quarterback the ability to work through his progression and hit Jennings (#85) with a deep strike. Jennings accounts for 13 of Rodgers' 21 targets and 76.4 percent of his passing yards on passes of 31 or more yards downfield.
December, 20, 2010
12/20/10
2:56
AM ET
It wasn't the most explosive performance of
Tom Brady
's career as he led the Patriots to a 31-27 win over the Packers, but it was enough to set a couple of NFL records.

Brady
Brady completed 15 of 24 passes for 163 yards and two touchdowns. That marks the seventh straight game with at least two passing touchdowns and zero interceptions, breaking a tie with Don Meredith for the longest such streak all-time. Brady has thrown 292 straight passes without an interception which also sets an NFL record for a single season.
Bernie Kosar
holds the longest streak spanning multiple seasons with 308 passes without an interception.
And for good measure, Brady also extended his own NFL record by winning his 27th straight regular-season home game.
Entering Week 15, Brady led the NFL in touchdowns and passer rating on throws of fewer than 15 yards downfield. Sunday night, Brady was matched up against the NFL's best defense against such throws. Helped by two touchdowns on throws of 14 yards or fewer, Brady posted a 110.6 passer rating on "short" throws - the best rating against the Packers this season.
With the inexperienced
Matt Flynn
starting at quarterback for the Packers, the Patriots dialed up blitz pressure to disrupt the Packers pass protection. The Patriots rushed five or more defenders on 17 of Flynn's dropbacks, the team's second-highest pressure total this season. The added pass pressure resulted in Flynn's only interception as well as four of the Patriots' five sacks.
The Patriots fell behind by 10 points in the 2nd quarter following a
Greg Jennings
TD catch with 2:20 left in the 1st half, but the ensuing kickoff was picked up by
Dan Connolly
, a Patriots offensive lineman who returned it for 71 yards, leading to a touchdown. Connolly's rumble is the longest kickoff return by an offensive lineman in NFL history.
October, 17, 2010
10/17/10
5:42
PM ET
The
Detroit Lions
have now lost 24 straight road games, tying their own record for the longest road losing streak in NFL history. (The Lions also lost 24 straight on the road from 2001-03.)

The Lions were coming off a Week 5 win over the
St. Louis Rams
, but failed to win Sunday at the
New York Giants
. The Lions have now gone 46 consecutive games without winning back-to-back games -- a streak that dates back to 2007.
• Before getting knocked out of the game against the
Atlanta Falcons
,
DeSean Jackson
had a 31-yard TD run and 34-yard TD reception. Since the merger in 1970, there have now been five instances where a player had a 30-yard rushing and receiving TD in the same game, but Jackson is the only one who has done it twice. (His first instance was Oct. 26, 2009 against the Redskins.)
• Kevin Kolb became the third quarterback in NFL history with three 300-yard passing games in his first five NFL starts, and the first since Kurt Warner in 1999.
• The Falcons are 0-2 in the state of Pennsylvania this season, 4-0 everywhere else.
• The
Green Bay Packers
'
Greg Jennings
now has four career touchdown receptions of at least 80 yards. That's the most in franchise history and tied with the Bills' Lee Evans for the most among active players.

• Including the postseason,
Mike Vrabel
has 12 career receptions and all 12 have gone for touchdowns.
• The
Chicago Bears
have yet to score a third-quarter point this season (outscored 15-0). They are the only NFL team that has not scored in all four quarters this season.
•
Miami Dolphins' Brandon Marshall has registered double-digit receptions now two games this season. The only other player in team history with multiple 10-reception games in a season is Tony Nathan, who had two in 1985.

• Granted one takeaway was on a hail mary at the end of regulation, but the Baltimore Ravens forced two turnovers and did not turn the ball over in their 23-20 overtime loss to the New England Patriots. It's just the third time in team history the Ravens have lost a game when forcing at least two turnovers and not committing one themselves and the first time since the 1998 season.

• From the Elias Sports Bureau: Ben Roethlisberger is now 11-1 (.917) against the Cleveland Browns. With a minimum of 10 starts, that's the second-highest win percentage against an opponent among active quarterbacks. Tom Brady is 16-1 (.941) against the Buffalo Bills.