December, 3, 2013
12/03/13
7:03
PM ET
By
ESPN Stats & Information
| ESPN.com
It was a very, very busy Tuesday in baseball and the priorities for the teams involved in making moves revolved around two areas- relief pitching and defense.
The Tigers made the biggest transaction of the day so far, signing free agent closer
Joe Nathan
to a two-year contract.
Nathan is the active leader in saves with 341, tied with Hall-of-Famer Rollie Fingers for 10th most all-time. Nathan comes off a season in which he had a 1.39 ERA and 43 saves. His four seasons with 43 or more saves rank tied for third-most all-time.
The upgrade in putting Nathan as closer ahead of
Joaquin Benoit
is tied to the history of each with regards to giving up home runs.
Benoit has allowed a homer every 30 at-bats over the last three seasons. Nathan has allowed one every 39 at-bats.
Athletics continue remake with Gregerson
The Athletics traded
Seth Smith
to the Padres for middle-relief specialist
Luke Gregerson
.
Gregerson brings durability, having made 70 or more appearances in four of the last five seasons. His 132 holds in that span are by far the most in the majors.
Gregerson succeeds despite not throwing that hard. His average fastball is 89 mph. He's thrown nearly 1,800 sliders over the last three seasons. The only reliever to throw more is
Carlos Marmol
.
Gregerson will pair with
Jim Johnson
to form a new back end of the Athletics bullpen.
Bell will toll for Rays
Heath Bell
will join his fourth team in as many seasons, as he's headed to the
Tampa Bay Rays
in a three-team trade.
After three straight 40-save seasons, Bell has sputtered the last two years with the Marlins and Diamondbacks.
Bell did have 72 strikeouts and 16 walks last season, a ratio comparable to what the Rays got from their closer,
Fernando Rodney
, in 2012.
But the focus for the Rays will be on keeping Bell's homer total down. He yielded 12 in 65 2/3 innings, or two more than he allowed in nearly 200 innings of work from 2010 to 2012.
Gentry goes to the Athletics
The Athletics obtained
Craig Gentry
from the
Texas Rangers
and could plug him into their outfield in a number of ways.
His best spot from a defensive perspective is centerfield. Gentry ranks 29th in innings at that position over the last three seasons, but rates tied for third with 32 Defensive Runs Saved in that same span.
Gentry doesn't hit for power but does have a .365 on-base percentage over the last three seasons.
He also can net extra bases after reaching, as he's 55 for 65 in stolen base tries over the last three seasons (an 85 percent success rate that rates 11th-best among those with 40 or more steals).
Hanigan to the Rays
A bunch of catchers changed teams, with
A.J. Pierzynski
signing with the Red Sox and
Jarrod Saltalamacchia
subsequently heading to the Marlins.
Those were offensive-minded moves in each case (as noted in the chart at right), but the Rays snuck in and made a prominent move for their defense.
The trade with the Reds for
Ryan Hanigan
gives the Rays a second catcher highly regarded for his pitch-framing (as noted in this Grantland
piece
) and throwing arm.
Opponents have 52 steals against Hanigan and have been caught 38 times by him (they were also caught nine times by pitchers) over the last two seasons. The 58 percent steal success rate was the second-lowest against a catcher, behind only the 56 percent success rate against
Yadier Molina
.
Hanigan hit only .198 last season, but he walked more than he struck out for the fifth time in the five seasons in which he's had at least 200 plate appearances. He had an on-base percentage of .350 or better in each season from 2009 to 2012.
December, 5, 2011
12/05/11
10:32
AM ET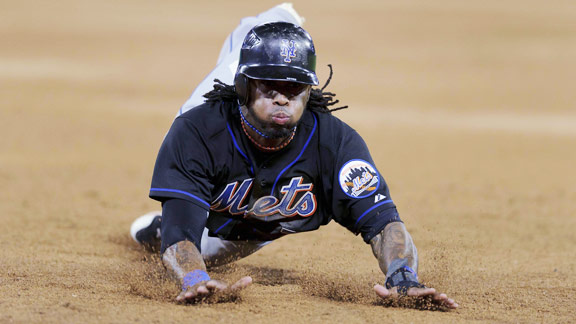 Steve Mitchell/US Presswire
Jose Reyes will bring his high-energy style of play to the Miami Marlins in 2012
Free-agent shortstop
Jose Reyes
and the
Miami Marlins
agreed to terms on a 6-year, $106 million contract Sunday. It's the second-largest contract in total value ever given to a shortstop behind the $252 million deal signed in 2000 by
Alex Rodriguez
, and it also more than doubles the largest contract ever given out by the Marlins.
It's been a busy last few months for the Marlins, beginning with the hiring of manager Ozzie Guillen in September. Since then, the team has unveiled new uniforms, a new ballpark and a name change, as well as signing free-agent closer
Heath Bell
.
The addition of Reyes means one of the year's top free agents is now claimed. Among free-agent position players, Reyes had the best 2011 season based on Wins Above Replacement, but injuries have been a concern lately. After playing in an average of 158 games a season from 2005 to 2008, Reyes has dealt with injury issues in each of the past three seasons, playing 36, 133, and 126 games from 2009 to 2011.
When he has played, he's been more productive at the plate in the last three years, however. From 2005 until 2008, Reyes batted .287 with an OPS of .783. In the last three seasons, those numbers have risen to .306 and .804 respectively.
In 2011, Reyes won the NL batting title with a .337 average, and his .379 average against fastballs, cutters and sinkers was the best in the National League.
His value on the bases is also a big upside; since 2005, Reyes ranks second among active players in stolen bases (338) and first in triples with 93. He ranks fourth among shortstops in that span with 30.5 Wins Above Replacement, trailing
Jimmy Rollins
(31.1),
Hanley Ramirez
(31.1) and
Derek Jeter
(30.8).
The addition of Reyes likely means that Hanley Ramirez will be moving to third base. Both have missed significant time due to injury in the last two years, but when they were on the field last season, Reyes was a more productive player. He posted a career-high BABIP of .353, well above his .314 career BABIP. Ramirez, however, saw a career-low BABIP of .275.
December, 4, 2011
12/04/11
10:30
AM ET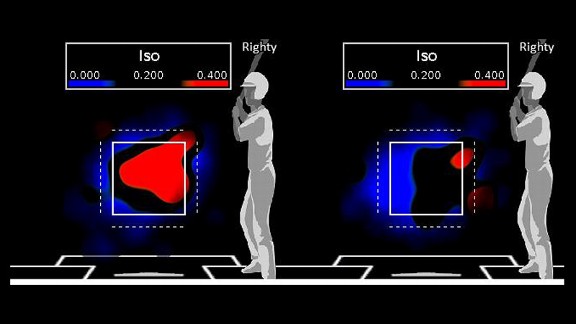 Left: Chris Iannetta's power hot/cold zones at Coors Field (2009-2011)
Right: Chris Iannetta's power hot/cold zones on the road (2009-2011)
Click here to create your own Iannetta heat maps

Each Sunday, ESPN Stats & Information reviews significant moves from the past week.
Marlins agree to terms with Heath Bell
Bell is the first free agent reliever to get a contract of at least three years from the Florida Marlins in their history, the first
pitcher
to do so since starter Alex Fernandez got a five-year deal in the 1996-97 offseason.
Bell's declining strikeout rate
may explain why his deal was a year shorter and for $23 million less than
Jonathan Papelbon
's with the
Philadelphia Phillies
.
That's largely due to the issues Bell had with his two-strike curveball from 2010 to 2011, as noted in the chart on the right.
--Mark Simon
Angels trade with Rockies for Chris Iannetta
Iannetta should bring much-needed offensive production behind the plate to the
Los Angeles Angels
, whose catchers last year had the third-worst OPS in the majors. Iannetta hit just .238 in 2011, but still managed a .370 on-base percentage.
Iannetta's 16 percent walk rate (third-best in MLB) comes from having the fourth-lowest chase percentage in the majors (17.4 percent) among players with at least 400 plate appearances.
However, Iannetta struggled at the plate away from the friendly confines of Coors Field. His road OPS of .587 was third-worst in the NL, compared to a home OPS of .975 that ranked ninth-best in the NL (minimum 200 PA).
The home-road differential of 388 points was the highest for anyone in the NL by more than 100 points (The next-highest
major leaguer
was Adrian Beltre's 341-point difference).
Check out the heat maps at the top of this story for more on the difference between Iannetta at Coors versus on the road.
-- Katie Sharp
Cubs sign David DeJesus to two-year contract
One of Theo Epstein's first moves as General Manager of the Boston Red Sox was the signing of
Bill Mueller
, a 32-year-old with above-average contact and on-base skills.
Epstein and
Chicago Cubs
GM Jed Hoyer have made a similar move early in their tenures with the signing of DeJesus to be the club's starting right fielder.
DeJesus, who turns 32 on December 20, brings a .284/.356/.421 career slashline to the Cubs, similar to Mueller's .286/.370/.399 entering 2003. DeJesus' .240 average in 2011 was a career-low, as was Mueller's .262 in 2002.
DeJesus posted a career-low Batting Average on Balls in Play (BABIP) in 2011, despite the fact that his batted-ball rates were mostly in line with his career averages.
DeJesus should be a defensive asset for the Cubs. His 13 Defensive Runs Saved in right field ranked third in baseball last year.
Baseball Info Solutions, the company that devised the Defensive Runs Saved metric, does video review of every play in every game.
They tag plays into 80 sub-categories of Good Fielding Plays (Web Gem-type plays that result in an unlikely out or deny baserunner advancement), and Defensive Misplays & Errors (in which the fielder does something identifiably wrong, which comes with a negative consequence).
DeJesus was also one of the best in the league Good Fielding Plays, with 29 in 2011, fourth among rightfielders
DeJesus also limited his mistakes. His Good Play/Misplay Ratio of better than 2-to-1 rated second-best (to Gold Glove winner Nick Markakis) among those who played 750-or-more innings played at the position.
--Dan Braunstein and Jacob Nitzberg
Tigers re-sign Ramon Santiago
Santiago has shored up some statistical deficiencies on defense the last two seasons (improving from -16 Defensive Runs Saved in 2008-2009 to 13 in 2010-11). He still has one offensive issue to focus on improving in 2012-- dealing with being behind in the count.
Santiago hit .093 against offspeed pitches (curveball, slider, changeup) in pitcher's counts last season, the fifth-worst rate in the majors, well below the major-league average, .196.
November, 3, 2011
11/03/11
3:46
PM ET
There are a number of quality back-end relief pitcher on the free-agent market this offseason, and a number of teams are expected to have heavy interest.
Here's a look at the cream of the crop, the best three closers available.
Heath Bell
Even if
Heath Bell
stays in San Diego and pitcher-friendly Petco Park, as expected, there are signs his future performance may not match that of his past performance.
Bell struck out just 19.9 percent of the batters he faced in 2011, his lowest rate in eight career seasons. That strikeout rate ranked just 85th among 144 qualified relievers (minimum 200 batters faced), and only three of the 19 closers with at least 30 saves had a lower strikeout rate than Bell.
Besides missing fewer bats than ever, Bell also benefited from some good fortune on balls in play. His BA on balls in play was .269 in 2011, a number that's likely to regress back toward his career mark of .307 next season.

Madson
Ryan Madson
Ryan Madson
has been one of the elite setup men in baseball for years, but after getting his first full-time shot to close in 2011, he seems poised to cash in as a free agent. Madson is a rare late-inning reliever who has the ability to miss bats and get ground balls.
He was one of only four right-handed relievers in 2011 (minimum 40 innings pitched) who struck out at least 25 percent of the batters he faced and got a ground ball on over half the balls in play.
Jonathan Papelbon
Jonathan Papelbon
is set to hit the free agent market coming off one of the best seasons of his career.
The right-hander had both the second-highest strikeout rate (34.1) and second-lowest walk rate (3.9) of his career in 2011.
These factors helped lead to a 2.16 xFIP last season, the best of his career.
August, 26, 2011
8/26/11
3:08
PM ET
The
New York Yankees'
three grand slams against the
Oakland Athletics
on Thursday have been well documented, but what about the team on the losing end of that 22-9 game?
The 22 runs were the most scored by the Yankees in a home game since July 26, 1931, but the A's pitching collapse was just as rare. Oakland's relief effort yielded 16 runs, all earned, the most by a bullpen in a nine-inning game in team history according to the Elias Sports Bureau.
Bruce Billings
was hit the hardest, giving up seven runs in 1⅓ innings. In 2011, that's tied for the second-most runs allowed by a reliever in a game, behind only
Vin Mazzaro
, who allowed a staggering 14 runs May 16 against the
Cleveland Indians
.
On Thursday, Billings threw 57 pitches, including 44 fastballs. Yankees hitters totaled four hits off the heater, a pitch that has been very ineffective this season for Billings. Of his 13 hits allowed in 2011, 11 have come off his fastball, a pitch he has used more than 72 percent of the time. While batters are hitting .524 against his primary pitch (worst in MLB, minimum 100 fastballs), his slider has yielded only two hits and one walk on 33 pitches.
What Could Have Been
Imagine for a minute that the
San Francisco Giants
were successful in acquiring closer
Heath Bell
. With the potential for a healthy
Brian Wilson
in September, the two would have provided a formidable duo. Since Bell became a full-time closer in 2009, he has a major-league leading 124 saves. Just behind him is Wilson with 121. Third is
Mariano Rivera
with 110.
The Giants already have an elite bullpen. Their 2.88 ERA ranks second in the majors behind the
Atlanta Braves
. San Francisco's relievers also have the second-best opponent OPS (.620) and have allowed the fewest home runs (23).
Double Trouble
Minnesota Twins
reliever
Alex Burnett
was a bright spot this week for a bullpen that has struggled this season. In three appearances, Burnett logged four scoreless innings, allowing just two hits and no walks.

Burnett
Burnett has excelled in several areas this season, most notably in his ability to throw consistently throw strikes. According to Inside Edge, Burnett throws his first pitch of an at-bat for a strike 62 percent of the time, 4 percent higher than the league average.
Burnett also has been economical -- 45 percent of his innings have been one-two-three, 10 percent higher than the average pitcher this season.
August, 5, 2011
8/05/11
2:50
PM ET

Wilson
The NL West battle continues to heat up in the dog days of summer, with the
San Francisco Giants
and
Arizona Diamondbacks
dueling for division title honors. The defending world champions struggle considerably on offense (393 runs scored ranks third-fewest in MLB), but shine on the mound. San Francisco's biggest asset is likely its bullpen, which leads the majors in saves (40) and ranks third in ERA (2.92).
The success of the bullpen stems primarily from closer
Brian Wilson
. No pitcher has more than his 33 saves this season, and over the last two years he has a total of 81. Aside from
Heath Bell
(78), no other pitcher in the majors has more than 63 in that span.
While his fastball has lost nearly two miles per hour compared to last season (averages 94 mph in 2011), that doesn't seem to be hurting its effectiveness. In 2011 opponents have an OPS of .597 against his heater. Last year that number was almost identical, at .601. But Wilson is reaching those numbers in different ways. Last season his fastball had a strikeout rate of 29.1 percent and a walk rate of just 8.2. In 2011 those numbers are 18.3 and 14.7 percent respectively.
Although his walk rate is up, opponents are posting a lower batting average versus his fastball. In 2010 that average was .223; this year it sits at .200. Clearly, Brian Wilson is continuing his roll from 2010, albeit via a slightly different path.
Fish Back in Water
Florida Marlins
closer
Leo Nunez
has already eclipsed his single-season career high in saves (30, set last season), but it's been an up and down season for the righty. After suffering through a rough June (5.79 ERA, 1.39 WHIP), Nunez settled down in July, notching an ERA of just 2.19.
The reason for the improvement can partly be attributed to his approach with two strikes. In June, Nunez threw 37 pitches on a two-strike count, but used his fastball just 12 times. Of those, he walked three batters and struck out just four. Compare that to July, when Nunez struck out six batters and walked none in the same situations. He also used his heater much more frequently (32 of the 55 times he faced a two-strike count).
More Marmol
After losing his status as
Chicago Cubs
closer midway through the season,
Carlos Marmol
has certainly made the most of his chances lately. Since Sunday, Marmol has notched four saves in as many appearances without allowing a run. In that stretch he's also given up just a single hit, walked none and struck out six.
August, 1, 2011
8/01/11
3:03
AM ET

Bedard
The MLB trade deadline came and went Sunday and on the final day of July, several teams made notable moves.
After their attempt to get Oakland A's pitcher
Rich Harden
fell through Saturday, the
Boston Red Sox
acquired
Erik Bedard
from the
Seattle Mariners
in a three-team trade involving the
Los Angeles Dodgers
. Boston also received minor league pitcher
Josh Fields
from Seattle in exchange for outfielders Trayvon Robinson and Chih-Hsien Chiang. This after the Dodgers traded Robinson to the Red Sox for three minor leaguers.
Bedard returns to the AL East where he pitched for Baltimore from 2002 to 2007. He was just 15-14 with a 3.31 ERA with Seattle and missed the entire 2010 season after undergoing shoulder surgery.
Now he'll be pitching at Fenway Park where he has struggled in the past posting a 6.99 career ERA there. That's the second-worst ERA of any stadium that Bedard has thrown at least 20 innings.
The
St. Louis Cardinals
also picked up veteran shortstop
Rafael Furcal
from the Dodgers on Sunday. Like Bedard, Furcal has also been hampered by injuries playing in just 283 out of a possible 486 games from 2008 to 2010. He played in 37 of 106 games this season with the Dodgers. Furcal went 0-1 as a pinch hitter in his Cardinals' debut Sunday.
Also it wasn't
Heath Bell
, but another Padres reliever
Mike Adams
who switched teams on Sunday. Adams went to the
Texas Rangers
in exchange for minor-league pitchers Robbie Erlin and Joe Wieland. Adams was just 11-9 with a 2.11 ERA in his career, but 3-1 with a 1.13 ERA this season. He struck out 49 batters while walking just nine.
Meanwhile,
Michael Bourn
who leads the league with 39 stolen bases was traded from the
Houston Astros
to the
Atlanta Braves
for
Jordan Schafer
and three minor leaguers. Bourn's speed helps the Braves who rank 27th in the league in steals with just 42. The two-time Gold Glove winner hit .303 this season with Houston.
Despite these deals, trading on the final day of the deadline was light compared to the last two years. Also, this was the first season since 1998, Brian Cashman's first year as General Manager, that the Yankees did not make any trades in July.
Among the notable players expected to be traded that were not: Heath Bell,
B.J. Upton
,
Wandy Rodriguez
,
Hiroki Kuroda
(invoked no-trade clause),
Josh Willingham
,
Carlos Pena
,
Jason Kubel
,
Denard Span
and
Drew Storen
.
May, 7, 2011
5/07/11
10:00
AM ET
Ethier Not the Only One Streaking

Bell
It didn't make front-page headlines, but Padres closer
Heath Bell
just finished an impressive roll. A roll to the tune of 41 straight saves be exact. Before Friday's blown save, his last came nearly a year ago (May 26) and the streak finished tied for the fourth longest in MLB history. Bell was a long way from catching all-time leader
Eric Gagne
, however, who racked up 84 straight saves between 2002 and 2004.
How has Bell been so dominant? Before Friday, Bell turned 0-1 counts into 0-2 ones 60 percent of the time, tied for tops among San Diego pitchers. That's even more impressive when you consider he's part of the best bullpen in baseball (2.28 bullpen ERA through Thursday). His offspeed pitches are hitting for strikes 68 percent of the time, seven percent better than league average.
A deeper look shows us what he's been doing to be successful during this recent run. During the saves streak that began on May 29, 2010, he allowed opponents a miniscule .516 OPS while striking out over 27 percent of batters faced. His fastball was his main weapon, utilizing that pitch 70 percent of the time.
Opponents hit just .211 against his heater, but his curveball was even more effective. Thrown 20 percent of the time, batters had an average of .085 and a slugging percentage of just .106 against it during his saves streak. Both pitches are no doubt a big reason why he's allowed as many as two earned runs just twice in his past 59 outings.
Rays Bullpen Limiting Bases
Tampa Bay's relief group has been able to avoid giving up extra-base hits, and it's paid big dividends so far in 2011. Rays relievers have allowed just 82 total bases, 12 fewer than any other unit in the big leagues this year, and their 2.73 ERA is second-best in the AL.
It starts with closer
Kyle Farnsworth
. In his 12 previous seasons, he's posted an ERA over 4.00 eight times, but it's hovering at 0.84 this year. Farnsworth relies on his slider over 40 percent of the time this season, which ranks sixth among AL pitchers who have thrown at least 100 pitches. He's allowed one hit off that pitch all season.
Better than League Average
Seattle's
Brandon League
has been on fire lately. In three appearances since April 30 (Saturday), League has racked up three saves while giving up no runs. He's struck out four and has not walked a hitter in that span. He's walked just two batters this year, a considerable reason why he's been able to finish 14 games in 2011, tied for the most in MLB.