Stats & Info:

Heisman Trophy
December, 13, 2013
12/13/13
10:31
AM ET
By
ESPN Stats & Information
| ESPN.com
Melina Vastola/USA TODAY SportsFlorida State fans have made their pick, but Jameis Winston is just one of six Heisman finalists.
Six Heisman Trophy finalists will head to New York for Saturday's ceremony, the most that have received invites to the ceremony since 1994, when there were also six. The last time there were more was in 1988, with eight.
Although the favorite entering the ceremony is
Florida State
QB
Jameis Winston
, all six have made a solid case for why they are the best player in the country this season.
QB Jordan Lynch, Northern Illinois

Although Northern Illinois' bid to be a BCS buster was ended in the MAC championship game, Lynch's dual-threat ability kept the Huskies in it all season. He had 321 rushing yards against Western Michigan, the most by a quarterback in FBS history, breaking his own record of 316 set earlier in the year against Central Michigan.
Lynch ended the season with 1,881 rushing yards, also an FBS record for a quarterback.
QB Johnny Manziel, Texas A&M
Manziel's bid to join Archie Griffin as the only other multiple Heisman winner saw a transformation of his game. While his 2012 season was built more on his legs, his 2013 campaign saw him develop as a passer.
Manziel added a yard to his yards per attempt (from 8.5 in 2012 to 9.5 in 2013). His touchdown percentage also increased from 6.0 percent in 2012 to 8.4 percent this year. Also in 2013, 63 percent of his completions this season have gone for a first down or a touchdown, compared to 57.6 percent last year.
RB Tre Mason, Auburn
Even after a 1,000-yard rushing season last year, Mason wasn't on the short list of Heisman contenders until he finished the season with five straight 100-yard rushing games, including 304 against Missouri in the SEC championship game, the fifth-highest total all-time in an SEC game.
Mason's 2,137 all-purpose yards this season broke the Auburn school record, previously held by Bo Jackson. Mason's 22 rushing TDs this season also set a school record.
QB AJ McCarron, Alabama
This is McCarron's third season as Alabama's starting quarterback, and he's improved every season. His opponent-adjusted QBR was 76.7 in 2011, 81.5 in 2012 and 83.5 this season.
He was even better against SEC competition. In conference games, McCarron had an 86.4 opponent-adjusted QBR, tied for the best in the conference. Fellow Heisman candidate Manziel was third (85.5).
RB Andre Williams, Boston College

This season, Williams became just the 16th player in FBS history to run for at least 2,000 yards in a season, and the first since Donald Brown did so for Connecticut in 2008.
Williams also showed big-play ability. He had 26 runs of at least 20 yards, the most by an FBS player since Kevin Smith had 26 in 2007. His 11 touchdowns on such runs are the most for any player in the last 10 seasons.
QB Jameis Winston, Florida State
Winston is the clubhouse leader for the Heisman, and as the FBS leader in opponent-adjusted QBR (90.9), he has good reason to be. The leader in opponent-adjusted QBR in three of the last six seasons went on to win the Heisman, including Manziel last year.
Winston has also showed a clutch presence on the field throughout the year. On third downs, Winston has a 98.9 Total QBR, leading all FBS quarterbacks. Over the last 10 seasons, the highest third-down Total QBR in a completed season was also 98.9, by Andrew Luck in 2010.
December, 9, 2011
12/09/11
6:06
PM ET
What is the Bowl record for teams of the soon-to-be number one pick in the NFL Draft (I.e. Newton, Manning, etc) -- asked by @Boydwonder
Of the last nine No. 1 picks in the NFL Draft, eight played in either a bowl game or BCS title game (the exception being Sam Bradford, who was injured when his team won the Sun Bowl). All eight of them won.
The last No. 1 pick who lost a Bowl game in the season prior to his being drafted No. 1 was quarterback David Carr, whose 2001 Fresno State team lost in the Silicon Valley Bowl to Michigan State.

Where does this year's Alabama defense rank among the all-time best? -- asked by @TheBlackerby:
Via ESPN BCS expert Brad Edwards: Alabama leads the nation in scoring, total, rushing and passing defense. The NCAA has been tracking those four major defensive categories since 1937, and only one team (Oklahoma in 1986) has ever finished a season ranked first in all four.
Alabama's yards per game allowed (191.3) would be the lowest since that '86 Oklahoma team.
Teams in the FBS are averaging 393.5 yards per game this season, which means its total defense is 51.4 percent better than the national average for offense. Since 1960, only one other team has a mark above 51 percent in this category, and as you might have guessed, it's '86 Oklahoma (51.9%).
How many Heisman winners have won the Davey O'Brien award? -- asked by @mgreenberg
The Davey O'Brien Award was first handed it out in 1981. Out of the 30 previous years in which the award was handed out, 14 different Davey O'Brien winners went on to win the Heisman trophy that season.
In fact, four of the past five seasons the Davey O'Brien Award winner has won the Heisman trophy as well. The only player during that span not to take home both was Colt McCoy in 2009.
Which quarterback has the highest ever yards per completion in their career? -- asked by @Ahay11
According to the FBS record book, Baylor quarterback J.J. Joe averaged 17.3 yards per completion, netting 5,995 yards on 347 completed passes.
If we up the minimum to 400, the answer is Ryan Dinwiddie of Boise State, who averaged 15.8 yards per completion from 2000 to 2003.
December, 11, 2010
12/11/10
10:06
PM ET
Only one quarterback has won both a Heisman Trophy and BCS Championship in the same year -- USC's Matt Leinart in 2004. Auburn junior quarterback
Cam Newton
now has a chance to be the second.

Newton won the award easily, as expected, on Saturday night in New York. His 729 first-place votes are the fifth-most in the history of the award, trailing O.J. Simpson,
Troy Smith
,
Reggie Bush
, and Charlie Ward and are the third-most by a quarterback winner. Newton joins Pat Sullivan (1971) and Bo Jackson (1985) as Heisman winners from Auburn.
The school's three Heisman winners is tied for fifth-most among collegiate programs. That's a good ways from the most all-time, seven, shared by Notre Dame, USC and Ohio State.
Though it was not among the widest margins of victory in voting history, it was by far Auburn's biggest. Newton won by 1,184 points. Sullivan and Jackson won by a combined 197 points when they took home the prize.
The Heisman has now been won by quarterbacks in nine of the last 11 years. Prior to that, it had been won a total of nine times by quarterbacks from 1970 to 1990.
Newton is the third player in the last four years to win the Heisman in his first season as a starter at the major-college level, following
Tim Tebow
(backup to Chris Leak as a freshman at Florida) and
Mark Ingram
(backup running back as a freshman). Remember that Newton backed up Tim Tebow as a freshman at Florida before starting at Blinn Community College last season.
Newton is also the second player to win the Heisman who wore uniform No. 2. The other:
Charles Woodson
of Michigan in 1997.
Speaking of No. 2, the runner-up for the award was Stanford quarterback Andrew Luck. It marked the second straight year that Stanford had the runner-up, following Toby Gerhart's second-place finish in 2009. The last school to have different players finish as the runner-up for the Heisman in back-to-back seasons was Purdue in 1968 and 1969 (Leroy Keyes and Mike Phipps).
December, 11, 2010
12/11/10
9:00
AM ET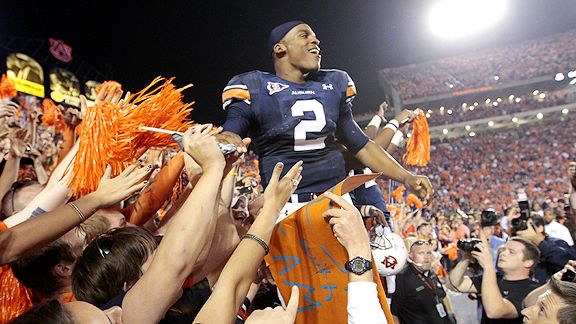 AP Photo/Dave Martin
Cam Newton hopes to be celebrating a Heisman Trophy win on Saturday night
Is winning the Heisman Trophy a championship curse?
If favored Auburn quarterback
Cam Newton
or Oregon running back
LaMichael James
wins, it will be the ninth time in 11 years that the Heisman winner has played in the BCS National Championship Game. Though
Mark Ingram
won both a Heisman and a BCS title last season, Heisman winners are just 2-6 in BCS Championship Games.
Newton is expected to win and do so in lopsided fashion. But let's give equal billing to the other candidates and look at five other noteworthy nuggets tied to college football's most prestigious award.
1.
The four finalists are James (a sophomore), Newton (a junior), Stanford sophomore quarterback
Andrew Luck
, and Boise State junior quarterback
Kellen Moore
, marking the first time in Heisman history (since 1935) that there hasn't been a senior among the top four finishers.
2.
Those four finalists led their teams to a combined record of 47-2. That's the second-best cumulative team winning percentage for the top four vote-getters in Heisman history. In 2004, the top four finishers (Matt Leinart, Adrian Peterson, Jason White and
Alex Smith
) came from three undefeated teams.
3.
This is the 76th Heisman Trophy. No freshman or sophomore won it the first 72 years it was awarded. Last year, Mark Ingram became the third straight sophomore to win it, following Tim Tebow in 2007 and Sam Bradford in 2008. James or Luck could make it four straight years with a sophomore winner.
4.
Newton won both the Maxwell Award and the Walter Camp Award, but neither of those two awards have been predictors of Heisman voting in recent years. Only one of the previous 10 Maxwell Award winners also won the Heisman Trophy (Tebow in 2007), and just four of the last 10 players to win the Walter Camp Award took home the Heisman later that weekend (Eric Crouch, Matt Leinart, since-vacated Reggie Bush, and Alex Smith). Colt McCoy won both of those awards last year and finished third in the Heisman race.
5.
This is the first time since 2003 that none of the top four vote-getters were among the previous year's top four finishers.