July, 16, 2013
7/16/13
11:13
AM ET
By
ESPN Stats & Information
| ESPN.com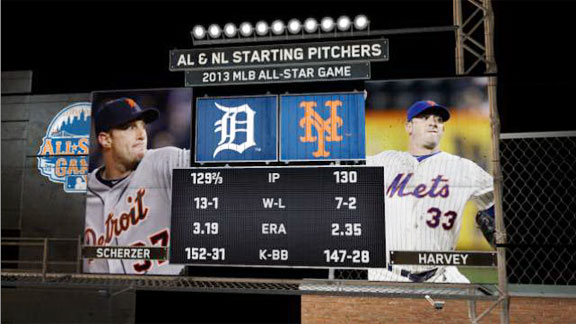 The National League and American League will meet in the All-Star Game for the 84th time on Tuesday night at 8 ET. Let's run through some of the notable storylines for this game.
Statistical overview
The NL leads the all-time series 43-38-2 and has won the past three games, but the AL won the previous seven. The winning league gets home-field advantage in the World Series, which is meaningful when you consider that teams with home-field advantage have won 22 of the past 27 World Series.
The NL has claimed both the All-Star Game and the World Series title in each of the past three years. According to the Elias Sports Bureau, should the NL win both again this year, it would tie the record (the NL also did it from 1979 to 1982).
The past five All-Star Games have been relatively low scoring, with the leagues combining for 32 runs. The AL has managed only two runs combined in the past three games, hitting a combined .189.
The NL will try for its longest All-Star Game winning streak since winning 11 straight from 1972 to 1982.
AL lineup: mashers galore
The AL has the advantage on paper in terms of offensive firepower in its starting lineup, with the top two home run hitters in the sport hitting cleanup and third in
Chris Davis
and
Miguel Cabrera
.
The NL starting lineup features seven batters with .300-or-better batting averages to the AL's six. But the AL has the advantage in home runs, 185-136, featuring six hitters with at least 19 homers this season.
Starting pitching matchup: Scherzer vs. Harvey
The starting pitchers Tuesday night will be
Max Scherzer
of the
Detroit Tigers
and
Matt Harvey
of the
New York Mets
.
Harvey, who at 24 will be the youngest pitcher to start the All-Star Game since 23-year-old Dwight Gooden in 1988, will hope to fare better than the last pitcher to start the All-Star Game in his home ballpark. As a member of the Houston Astros,
Roger Clemens
allowed six runs to the American League in the first inning of the 2004 All-Star Game at Minute Maid Park.
Scherzer has a statistical connection to Clemens as well. He was the first pitcher to start a season 13-0 or better since Clemens did in 1986. Clemens started and won the All-Star Game that year, taking home MVP honors for his three perfect innings en route to a win in the Astrodome.
Harvey (7-2) and Scherzer (13-1) have a combined .870 winning percentage this season. According to Elias, it's the third-highest percentage for opposing starters in an All-Star Game.
Randy Johnson
and
David Wells
combined for an .879 winning percentage in 2000, while Johnson and
Hideo Nomo
had a combined .882 percentage in 1995.
The Elias Sports Bureau notes that Harvey has 29 career starts on his résumé, the fewest of any All-Star Game starter since Nomo (13) in 1995.
For more on the pitching matchup, check out
our post from Monday afternoon
.
Rivera's last All-Star Game
Mariano Rivera
was named to his 13th All-Star Game, the second most for any pitcher in major league history, trailing only Warren Spahn's 17.
Rivera has actually appeared in eight All-Star Games. The only pitcher with more appearances is Clemens with 10.
Rivera has four All-Star Game saves, the most all time (one more than Dennis Eckersley), with his last coming in 2009. Rivera's All-Star Game ERA is 0.00, with one unearned run allowed in eight innings. The only pitcher with more career All-Star innings and no earned runs allowed is Mel Harder with 13.
Rivera is tied with
Derek Jeter
and Joe DiMaggio for the third-most selections in Yankees history. Only Mickey Mantle (20) and Yogi Berra (18) have more.
May, 21, 2012
5/21/12
11:50
AM ET
Jamie Moyer
will make his ninth start of the season for the
Colorado Rockies
on Monday when he faces the
Miami Marlins
.


Forty games into the season and the Rockies will look to the 49-year-old lefty to be the first Colorado pitcher to win back-to-back starts this season. (Moyer beat the
Arizona Diamondbacks
in his last start.)
The Rockies are the only team that does not have a pitcher who has won consecutive starts this season, according to the Elias Sports Bureau.
Moyer will oppose
Mark Buehrle
, marking the first time in almost four years that opposing starters had made a combined 1,000 starts. On Sept. 19, 2008,
Barry Zito
and the Giants beat
Greg Maddux
and the Dodgers, in what turned out to be the final loss of Maddux's career.
Also when Moyer takes the mound on Monday at Marlins Park, it will be the 50th major-league stadium he's pitched in during his 25-year career. The only active stadium that Moyer has not pitched in is Target Field in Minnesota. Among players to debut since 1900, Moyer has pitched at the most parks (regular-season games only), according to the Elias Sports Bureau.
The matchup will also feature a pitcher with more than 250 wins (Moyer, 269) against one who has thrown two no-hitters. According to Elias, the last time a pitcher with at least 250 wins opposed a pitcher with at least two no-hitters was June 21, 2005, when
Randy Johnson
faced
Hideo Nomo
.
- Kenton Wong, Doug Kern and Nate Jones contributed to this post.
July, 7, 2011
7/07/11
1:31
PM ET

Weaver

Kershaw
Two of the best pitchers in baseball will take the mound in Los Angeles on Thursday, only they won't face each other.
Clayton Kershaw
will pitch for the
Los Angeles Dodgers
looking to avoid their first ever four-game sweep at home against the
New York Mets
. Meanwhile across town
Jered Weaver
looks to finish off his stellar first half of the season as the
Los Angeles Angels
of Anaheim host the
Seattle Mariners
.
The Dodgers couldn't be happier to have Kershaw close the series as he is 6-1, 2.09 ERA at home. He enters having thrown a complete game with 10 or more strikeouts in each of his last two starts at Dodger Stadium -- and in three of his last four home starts overall.
He is the first Dodgers pitcher since
Hideo Nomo
in 1995 to do so in consecutive home starts. If he can make it three straight complete games with double-digit strikeouts, he would be the first Dodger to do so since Fernando Valenzuela in 1981.
In fact, since moving to L.A. in 1958 only one other Dodgers pitcher besides Valenzuela has had a streak of three such games at home. That was Sandy Koufax who did so on six separate occasions, including three times in which he stretched the streak to four.
Kershaw has dominated the Mets in his young career. Kershaw is 3-0 with a 1.85 in four career starts against New York. In his only career home start against the Mets, Kershaw pitched eight scoreless innings in a 1-0 victory (2010).
Like Kershaw, Weaver is looking to put himself in some historical team company. He enters Thursday's start with an American League-best 1.92 ERA going into his final start before the All-Star break.
If he can keep his ERA below 2.00, according to Elias, he would become just the second pitcher in franchise history to compile a sub-2.00 ERA entering the All-Star Game (minimum 10 starts). The only pitcher to do so was Jim McGlothin who had a 1.80 ERA entering the break in 1967.
Weaver has had an extremely streaky season. He went 6-0 with a 0.99 ERA in March and April. According to Elias he was the sixth pitcher in the modern era (since 1900) with six wins by the end of April.
Then in May he went 0-4, 3.38 ERA in six starts. During that stretch his K per 9 IP dropped from 9.7 in March-April to only 6.3 that month.
Even more startling was his miss percentage -- the rate of swing and misses out of total swings -- was cut nearly in half dropping from 29.8 to only 15.5 percent.
Weaver has bounced back in his last six starts going 4-0 with a 1.58 ERA. He has made four straight starts with 7+ IP and 1 ER or fewer. The last Angels pitcher with five straight was Mike Witt in 1986.
June, 25, 2010
6/25/10
11:58
PM ET
By
ESPN Stats
and
Info
| ESPN.com
The rash of pitching performances for the record books continued on Friday night with Arizona's
Edwin Jackson
no-hitting the
Tampa Bay Rays
.
It is already the fourth no-hitter/perfect game in the Majors this season, and the All-Star Game is still over two weeks away. The only other season in which there were four no-hitters prior to the All-Star break (since All-Star games began in 1933) was 1990.
Jackson joins
Randy Johnson
as Diamondbacks pitchers to throw a no-hitter. Johnson hurled a perfect game against the Braves in 2004.
On the other side, it's been a rough go for the Rays. Not only have they dropped seven of their last nine games – all against NL opponents, but Tampa Bay has now been the victim of three of the last five no-hitters in Major League Baseball. And all three of those have come in the last year, making the Rays the first team ever to be no-hit three times in a 12-month span. Tampa Bay was on the wrong side of perfect games by
Dallas Braden
on May 9 and
Mark Buehrle
on July 23, 2009.
To add insult to injury, Jackson used to be a member of the Rays. He went 19-26 in 2007-08 for Tampa Bay.
The no-hitter may be a historical feat, but it was far from a pretty pitching performance by Jackson – he threw 149 pitches, faced 36 batters and walked eight batters. Only Jim Maloney (10) in 1965 and
A.J. Burnett
(9) in 2001 gave more free passes in a no-no than Jackson did on Friday.
Seventy of Jackson's 149 pitches were balls – according to the Elias Sports Bureau, Jackson is the only pitcher to throw 70 balls in a game since records of pitch counts began in 2000. Only 53 percent of Jackson's pitches went for strikes.
Next-Level notes:
- Jackson relied on his offspeed stuff. Inside Edge classified 77 of his 149 pitches as fastballs, a season-low percentage of 51.7 for Jackson. Entering Friday's game, Jackson had averaged 63.1 percent of his pitches being fastballs.
- Jackson had success on low pitches, with five of his six strikeouts coming on pitches low in the zone or below it. The Rays missed on 10 of their 20 swings against pitches in the zone or below.
Additional no-hitter notes:
- The Rays have been no-hit four times since their inception in 1998, the most in the majors in that span.
- Tampa Bay is the first team since the 2001 Padres to be no-hit twice in the same season.
- It's the fourth no-hitter in interleague play. The last came on June 12, 2007 when Detroit's
Justin Verlander
held the Brewers hitless.
- The 149 pitches were the most by any pitcher since
Livan Hernandez
threw 150 for the Nationals in 2005.
June, 23, 2010
6/23/10
1:32
PM ET
By
Jeremy Lundblad, ESPN Stats & Info
| ESPN.com
Quick Hits
: The
Stephen Strasburg
show makes a matinee performance Wednesday as the Nationals have a 4:35 ET start against the Royals. With help from Dan Braunstein and the rest of ESPN Stats & Info, here's your viewing guide for Strasburg Mania IV.
Strasburg's opponent on Wednesday is Brian Bannister, son of former No. 1 overall pick Floyd Bannister. The elder Bannister finished with 134 career wins, fourth most for a top overall pick.
Already with the record for most strikeouts (32) in a pitcher's first three games, Strasburg looks to continue his record book assault. With one strikeout, he will tie Mark Prior, Gary Nolan and Hideo Nomo for fourth most through a pitcher's first four games. He needs eight to tied Herb Score's record of 40.
Opponents are just 1-38 against Strasburg in two-strike counts. Forty hitters have gotten to two strikes against Strasburg, and 32 have struck out.


According to the Elias Sports Bureau, Strasburg is the first pitcher in the modern era to have two 10-strikeout, no-walk games in his first three starts in the major leagues. Thus, if he did this in his fourth start, he'd be the first pitcher to do it in three of his first four starts.
Strasburg already has more 10-strikeout games than: Joe Niekro, Carl Pavano, Jarrod Washburn, and Doyle Alexander, among many, many others.
Opponents have a 40.5 swing and miss percentage against Strasburg this month. Opponents have failed to make contact on 51 of the 126 swings they have taken against him. That is easily the highest among pitcher in June with Francisco Liriano ranked second at 32.2 pct.
Strasburg has more strikeouts in 19 1/3 innings than recently demoted teammate John Lannan has in 75 innings.
Today's Trivia
: Stephen Strasburg, Brian Bannister and Floyd Bannister all have one batter faced in common. Who is it?
Today's Leaderboard
: The Royals have the second fewest strikeouts in the majors behind only the White Sox, whom Strasburg fanned 10 times in his last start. The Royals' lineup is stacked with contact hitters. The Royals' offense has the lowest swing and miss pct in the majors at just 15.8.
Key Matchups
: Stephen Strasburg will be the 1,150th pitcher that
Jason Kendall
has faced in his career. Always a tough player to strike out, that hasn't changed in the catcher's 15th season. Kendall has fanned just once per 11.0 plate appearances, which ranks eighth in the AL. Teammate
Alberto Callaspo
is fifth at one per 11.5 PA.
Manny Ramirez
faces a former teammate in
Joel Pineiro
on Wednesday. In 42 career plate appearances against the Angels' starter, Ramirez has hit .378 with four home runs. That's the most homers Pineiro has allowed to any batter. However, Ramirez is just one for his last nine against Pineiro.
Trivia Answer
: Of the 27 batters that Strasburg has faced,
Omar Vizquel
is one of just six who did not strike out once (he went 1-4). Vizquel is 0-2 against the younger Bannister and was 1-4 against the elder, but neither managed to strike him out.
May, 7, 2010
5/07/10
2:05
PM ET
By
Ryan McCrystal, ESPN Stats
and
Info
| ESPN.com
Today's Trivia: Today is the anniversary of Herb Score getting hit in the face by a line drive off the bat of the Yankees' Gil McDougald, effectively ending his promising young career. Two years prior, Score set a rookie record with 245 strikeouts which has since been topped only by Dwight Gooden. Since Score's 1955 season only Gooden and two other rookies have eclipsed the 225 strikeout plateau. Can you name them?

Quick Hits: Andre Ethier hit his sixth career walk-off home run on Thursday, all of which have come in the last three seasons. Here's a few notes to put that into perspective:

* It was the first Dodgers walk-off grand slam since Russell Martin on April 21, 2007 against the Pirates
* He's just the sixth player in baseball history with six walk-off homers in a three-year span. Roy Sievers and Jimmie Foxx are the only ones with seven
* He now trails only Duke Snider and Gil Hodges for the most walk-off home runs in Dodgers history. Snider and Hodges each hit seven
* Ethier is 2-2 with two grand slams with the bases loaded this season
* Over the past three seasons Ethier has a .452 OBP with the bases loaded

Today's Leaderboard: Kelly Johnson went deep for the 10th time on Thursday, and once again his home run came against a fastball. Eight of his 10 homers have been off of fastballs, and he currently leads the majors with a .847 slugging percentage against the fastball.

Key Matchups: Josh Hamilton is batting .400 with two HR and six RBI during his current six-game hit streak, but he'll have a hard time keeping that streak alive tonight. Hamilton is 0-13 in his career against Zack Greinke with seven strikeouts. All seven strikeouts have been of the swinging variety.

Expect Jim Thome to be in the Twins lineup when they take on Kevin Millwood tonight. In his career against Millwood Thome is hitting .625 with three home runs in just eight at bats. He's also walked four times.

Trivia Answer: Hideo Nomo (236 in 1995) and Kerry Wood (233 in 1998). The closest any rookie has come since Wood was Daisuke Matsuzaka with 201 strikeouts in 2007.
April, 17, 2010
4/17/10
10:05
PM ET
By
ESPN Stats & Info
| ESPN.com
Ubaldo Jimenez
just recorded the first no-hitter in Rockies history as Colorado blanked the Braves, 4-0.
This leaves the Mets (48 seasons), Padres (41 seasons) and Devil Rays/Rays (12 seasons) as the only franchises to not throw one. The Indians have gone 29 seasons since their last -- Len Barker's perfect game in 1981.
The last time the Braves were no-hit was Randy Johnson's effort on May 18, 2004. The Braves' franchise has now been no-hit 16 times in its history, trailing only the Phillies' 18.
Jimenez is the first pitcher whose first name begins with "U" to throw a no-hitter.
It's the earliest no-hitter thrown in a season since Hideo Nomo on April 4, 2001.
Jimenez is the fourth pitcher from the Dominican Republic to throw a no-no. He joins Juan Marichal, Ramon Martinez and Jose Jimenez. Other non-United States countries/territories to boast multiple no-hitters are Venezuela (Wilson Alvarez, Anibal Sanchez, Carlos Zambrano), Puerto Rico (Juan Nieves, Jonathan Sanchez), Ireland (Tony Mullane, One Arm Daily) and Japan (Hideo Nomo, 2).
Saturday is far and away the leading day of the week for no-hitters. Jimenez's was the 49th thrown on a Saturday. Wednesday (39), Friday (38) and Sunday (35) round out the top four.
The catcher and umpire from Saturday's no-hitter (Miguel Olivo and Jeff Kellogg) were BOTH behind the plate for Anibal Sanchez's no-hitter on Sept. 6, 2006.