Stats & Info:

Hisashi Iwakuma
November, 13, 2013
11/13/13
2:15
PM ET
By
ESPN Stats & Information
| ESPN.com
ESPN Stats & InformationClayton Kershaw dominated lefties and righties, putting him among the NL Cy Young Award finalists.
The National League and American League Cy Young Awards will be announced Wednesday night, with
Los Angeles Dodgers
starter
Clayton Kershaw
and
Detroit Tigers
starter
Max Scherzer
the favorites to win in their respective leagues.
Why they're favored
Kershaw was the dominant pitcher in the National League throughout 2013. He began his season with a shutout of the
San Francisco Giants
on Opening Day, which set the tone for one of the best seasons by a lefty in a long time.
Kershaw's highest ERA for the year at the end of any start was 2.14 on April 23. He finished with a major league-best 1.83 ERA, the best by any southpaw since Ron Guidry had a 1.74 ERA for the
New York Yankees
in 1978. He joined Sandy Koufax and
Greg Maddux
as the only NL pitchers to win three consecutive ERA titles.
According to the Elias Sports Bureau, Kershaw would be the fifth pitcher to win multiple Cy Young Awards before turning 26, joining
Bret Saberhagen
, Denny McLain,
Roger Clemens
and
Tim Lincecum
.
In the American League, Scherzer was 21-3, becoming the sixth pitcher in the modern era (since 1900) with at least 20 wins in a season in which he had three losses or fewer. He led the American League in WHIP and ranked second with 240 strikeouts. He pitched a career-high 214 1/3 innings and posted both the lowest home run rate of his career and the best strikeout-to-walk ratio.
According to Elias, since 1967, the first year that the Cy Young Award was handed out in both leagues, 13 other pitchers have finished a season at least 18 games above .500. Only one didn't win the Cy Young that year. In 1999,
Mike Hampton
went 22-4 for the
Houston Astros
but lost out to
Randy Johnson
.
Darvish, Iwakuma will be the first
No Japanese-born pitcher has ever finished in the top three in the Cy Young vote, but that is assured of being broken this season.
Texas Rangers
starter
Yu Darvish
and
Seattle Mariners
starter
Hisashi Iwakuma
are the other two finalists with Scherzer in the American League.
The previous high finish by a Japanese-born pitcher was fourth -- done twice by
Hideo Nomo
(1995, 1996) and
Daisuke Matsuzaka
in 2008.
Wainwright, Fernandez formidable finalists
The other NL finalists are
Adam Wainwright
from the
St. Louis Cardinals
and
Jose Fernandez
from the
Miami Marlins
.
Wainwright led the NL with 19 wins and 241 2/3 innings pitched. His season was fueled by a 17-start stretch spanning from mid-April to early July in which he had a 2.19 ERA and allowed only five homers in 127 2/3 innings pitched.
Fernandez, who won NL Rookie of the Year honors Monday, closed his debut season in strong fashion -- 10-3 with a 1.50 ERA in his last 18 starts. Fernandez would be the second player to win the Cy Young and Rookie of the Year in the same season, joining Fernando Valenzuela in 1981.
What the advanced stats show
Kershaw led the major leagues in Wins Above Replacement as a pitcher (7.9), a little bit better than
Cliff Lee
of the
Philadelphia Phillies
(7.3).
Iwakuma was the American League leader (7.0), though his margin was thin over
Chris Sale
(6.9) and Scherzer (6.7).
Did you know?
If Scherzer and Kershaw win, it would mark the first time that
both
Cy Young Award winners lost the game that knocked their team out of that year's postseason. Kershaw and Scherzer were the losing pitchers when the Dodgers and Tigers were eliminated in the championship series round.
August, 12, 2013
8/12/13
3:21
PM ET
By
Doug Kern, ESPN Stats & Info
| ESPN.com
The
Blue Jays'
Brett Lawrie
went single-double-triple in Monday's 3-1 win over
Seattle
, becoming the first Toronto hitter this season to even have a triple and a double in one game. Had he also homered, Lawrie would have recorded the Jays' first cycle since
Jeff Frye
on August 17, 2001.
In Tuesday's game, the
Astros
didn't need to steal any bases (although they did have two). The
Red Sox
-- specifically catcher
Ryan Lavarnway
-- were giving away bases.
Handling knuckleballer
Steven Wright's
first career start, Lavarnway was charged with four passed balls in the first inning alone, tying the major league record for one inning. It's happened twice before in the modern era, and also with knuckleballers: On August 22, 1987, the
Rangers'
Geno Petralli committed four while catching Charlie Hough; and on September 10, 1954, the
Giants'
Ray Katt did it while trying to catch Hoyt Wilhelm.
AP Photo/ElsaMatt Harvey threw his 1st career shutout on Wednesday against the Rockies.

Matt Harvey
, on the other hand, threw his first career shutout (and first complete game) on Wednesday, holding the
Rockies
to four singles as the Mets won 5-0. He also went through a start without walking a single batter, the eighth time this season he's done that. Only
Bartolo Colon
and
Hisashi Iwakuma
(with 10 each) have more walk-less starts this season, of any length.
Harvey also threw nine scoreless innings with zero walks against the
White Sox
on May 7, but got neither a decision nor a complete game because the Mets didn't score either and the game went to extras.
Clayton Kershaw
and
Chris Archer
are the only other pitchers with multiple such games this season.
He's the first
Mets
pitcher to have multiple starts of 8+ scoreless, walk-less innings since
Jason Isringhausen
in 1995; and the first with a pair of NINE-inning games since Craig Swan in 1979.
Thursday's limited slate brought us a matchup between
Detroit
and
Cleveland
at Progressive Field. Although the outcome wasn't in much doubt when the Tigers took an 8-0 lead after 3½ innings, the notable part of the boxscore was that both cleanup hitters (
Prince Fielder
and
Asdrubal Cabrera
) had two doubles and two runs driven in.
Strangely, it's only the second game in the past 20 years where BOTH cleanup hitters have had at least two doubles and two RBI. The other occurred when Fielder "teamed up" with the Rangers'
Adrian Beltre
to do it on May 19.
On Friday the Tigers had their 12-game winning streak (which matched their longest since 1934) on the line against the
Yankees
and
Mariano Rivera
. The Tigers, however, countered with
Miguel Cabrera
, who launched his 34th home run of the year - but first in the ninth inning or later - to tie the game.
It was only the second homer Rivera allowed to the Tigers in a save situation.
Bobby Higginson
hit the other way back on July 6, 1999.
In Sunday's finale between the Tigers and Yankees, the visitors from Motown trailed by two runs after eight innings. Enter Rivera. Enter Cabrera.
Same result as Friday as Cabrera hit his 36th home run of the season. By doing so, he became the first player ever to homer off Rivera in consecutive at-bats, and one of just five players to have multiple homers against Rivera.
Later that inning,
Victor Martinez
hit a solo homer to tie the game, handing Rivera his third consecutive blown save. Something he had never done in his career to that point.
Rivera was still officially the pitcher of record when
Brett Gardner
hit his first career walk-off home run in the bottom of the inning. This was the 18th time Rivera has won a game after blowing a save, and the first since August 13, 2007.
July, 9, 2013
7/09/13
2:24
PM ET
By
Kenton Wong, ESPN Stats & Info
| ESPN.com
Hisashi Iwakuma
gets the start for the
Seattle Mariners
' tonight against the
Boston Red Sox
.
Overshadowed in his own rotation by
Felix Hernandez
, it is Iwakuma that has the American League's best ERA at 2.60 and leads all qualified starters with a 0.88 WHIP. These numbers were enough to get him selected to the All-Star Game in just his second season since coming over from Japan.
Splitting the difference
A big reason for Iwakuma's success is his control over a devastating splitter. This season opponents are hitting .183 against the pitch -– the fifth lowest among starters who have thrown at least 100 splitters.
In 131 at-bats ending in an Iwakuma splitter, hitters have struck out 47 times and hit a ground ball 61 times. That means just 23 of 131 (18 percent) of hitters were able to elevate the pitch.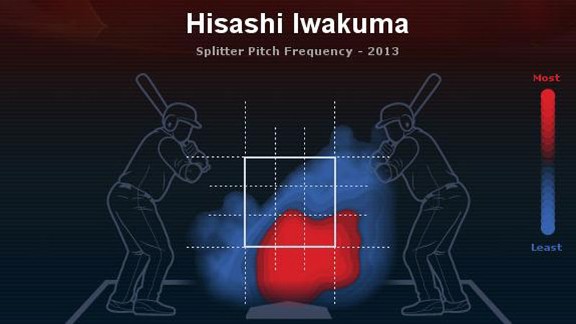 ESPN Stats & Information
Iwakuma has kept the majority of his splitters down in the strike zone or below it. The pitch has been most effective when he is able to start it at the bottom of the strike zone and allow the pitch's break to take it out of the zone by the time it crosses the plate.
This season hitters have combined to go 3-for-55 (.055) against Iwakuma splitters that have ended up below the strike zone.
One of the best displays of Iwakuma's splitter came back in May against the
Oakland Athletics
in which he allowed one run in seven innings. He finished off 11 at-bats with a splitter, six of which came via strikeout -– all swinging.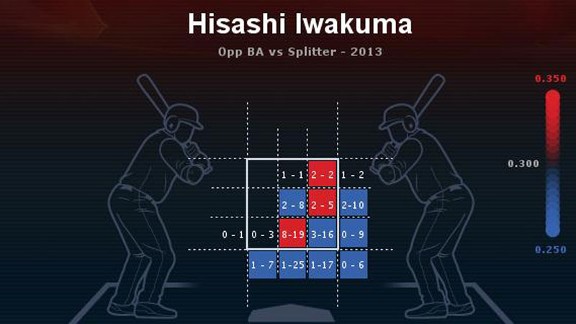 ESPN Stats & Information
Control freak
What forces hitters to bite on Iwakuma's splitter is the fact that he's nearly always around the plate. Over 55 percent of his pitches have been in the strike zone this season, the fourth-best rate in baseball among qualified starters.
This has helped Iwakuma induce the third-highest swing rate in the big leagues at 51 percent, behind only
Cole Hamels
and Jordan Zimmermann.
Home cooking
Iwakuma has a respectable 3.43 ERA and .240 opponent's batting average on the road, but he has been nearly unhittable at Safeco Park. The righty has 1.84 ERA at home and has allowed opponent's to hit .169.
Iwakuma has allowed fewer hits than innings pitched in each of his nine starts in Seattle this season. He'll look to continue that success tonight against a Red Sox team that leads the majors in runs scored.
November, 21, 2010
11/21/10
6:40
PM ET
By
Justin Havens
| ESPN.com

The
Oakland Athletics
won the bidding for Japanese right-hander Hisashi Iwakuma earlier this month, but reports Sunday indicated that the team and pitcher are at a negotiating standstill, with Iwakuma's group looking for a contract worth comparable to Barry Zito's $18 million per year.
Given that the Athletics boasted one of the best rotations in baseball last season and are on a strict budget, the question that comes to mind is why the need is so great for the team to sign Iwakuma.
Perhaps because it would be wise to expect some regression from the Athletics starters in 2011.
There are several indicators that suggest that the performance of the Athletics rotation in 2010 was not statistically sustainable. While the rotation ranked fourth in baseball in ERA at 3.47, it ranked a much more average 17th in Fielding Independent Pitching at 4.10 (according to
Fangraphs.com
).
Fielding Independent Pitching is an ERA estimator based around strikeouts, walks and home runs allowed, helping to understand how well a pitcher pitched, regardless of how well his fielders fielded. This gap between the team's ERA and FIP suggests that the team could experience some regression in 2011.
Further supplementing that point is that the team also posted the lowest Batting Average on Balls In Play in the Majors at .275, while the percentage of runners that were left on base by the team's pitchers was the fifth-best in baseball at 74.7 percent. While a strong defense is certainly at least partly responsible for the low BABiP, history says that it's a tough level of performance to maintain.
While the team might boast a frontline rotation at first glance, there are reasons why stockpiling pitching depth might actually be a good use of resources. Three of the team's primary rotation pieces from 2010 had significant gaps between their ERA and FIP, most notably
Trevor Cahill
,
Gio Gonzalez
and
Vin Mazzaro
, the latter of whom was traded to the Royals already this offseason. Of the top 35 qualified starters in baseball according to ERA, only
Jon Garland
had a higher FIP than Cahill.
In addition to the team's likelihood of regression in 2011, there's also two other factors to consider. First, the starter with arguably the most upside on the staff,
Brett Anderson
, also has experienced durability issues in his first two seasons. He threw just 131 ⅔ innings overall last season between the majors and minors and has never thrown more than 175 ⅓ innings in any professional season.
The team also is putting together a foundation built upon pitching and defense and, as part of that plan, the team is loading up on groundball-heavy pitchers. The pitching staff as a whole ranked fifth in MLB in groundball percentage at 48.2.
Not coincidentally, here's what ESPN.com's Keith Law wrote about Iwakuma:
"He pitches differently than most of the Japanese pitchers who have come over, with a more conventional delivery and a pitch-to-contact approach that yields ground balls and few walks but not many strikeouts."
So while at first glance the Athletics move to sign Iwakuma might seem redundant for a team that was so pitching-heavy last season and is in such desperate need for offense. But as has been demonstrated time after time, there's never enough pitching, particularly when the numbers suggest there's some regression ahead in 2011.