Stats & Info:

Home Run Derby
July, 8, 2014
Jul 8
11:26
AM ET
By
ESPN Stats & Information
| ESPN.com
Mike Ehrmann/Getty ImagesYoenis Cespedes will attempt to defend his 2013 Home Run Derby title.
The Gillette Home Run Derby (Monday, 8 p.m. ET, ESPN/WatchESPN) captains
Troy Tulowitzki
and
Jose Bautista
will announce their teams this evening on the 6 p.m. ET edition of "SportsCenter." The ESPN Home Run Tracker team put together the lineups it would most like to see, using data from every home run hit this season.
American League
Yoenis Cespedes
Yoenis Cespedes
hit a total of 32 home runs in last year's Home Run Derby, eight more than any other contestant. Target Field has a shorter power alley in left-center field than Citi Field (377 feet vs. 385 feet), although it does have a slightly longer distance to the foul pole (339 feet vs. 335 feet).
Of Cespedes' 32 homers in last year's derby, 26 were hit to the left of center field.
Nelson Cruz
Nelson Cruz
leads the majors with 28 home runs. He also has 19 homers off fastballs this season, four more than any other player.
Cruz has hit 2.1 miles worth of home runs this year, which leads the majors. He's also shown some of the most raw power in baseball, being tied for fourth in the American League with five homers of at least 425 feet.
Jose Abreu
Jose Abreu
has 27 home runs, second-most in MLB behind Nelson Cruz. Abreu is one of three players to hit two or more miles worth of home runs this year.
David Ortiz
David Ortiz
is one of four players to hit a 475-foot home run this season. Ortiz's 482-foot homer on April 22 traveled 119.9 mph off the bat, the highest for a home run this year.
Ortiz has 16 homers of at least 400 feet this season, tied for fourth-most in the league. The only players with more than Ortiz are
Edwin Encarnacion
(injured),
Mike Trout
(has already declined derby consideration) and
Giancarlo Stanton
.
National League
Giancarlo Stanton
Stanton's average home run to this point in the season has traveled 423.8 feet, the longest of any player with at least 10 homers. Stanton's average is no sample-size fluke either: His 21 homers are the most of the 11 players averaging at least 410 feet per home run.
Stanton has nine homers this year that traveled at least 425 feet, most of any player in the league. Stanton has five 450-foot home runs; no one else in the league has more than two. Stanton has more 450-foot home runs than any other team in MLB.
Michael Morse
Michael Morse
has eight 425-foot home runs, two 450-foot home runs and an average distance of 420.5 feet. All of those are second in the league behind Giancarlo Stanton.
Morse ranks in the top 10 in the National League in average distance, speed off the bat and apex among players with at least 10 home runs.
Justin Upton
Justin Upton
has hit four 440-foot home runs, trailing only Stanton and Morse for the most in the majors. His 477-foot homer on April 10 is the fourth-longest in baseball this season and the longest at Turner Field since September 2010.
Ian Desmond
The shortest of the 15 home runs hit by
Ian Desmond
this year was calculated at 387 feet, making him the only player who has hit at least 15 homers that all traveled at least 375 feet. His average home run distance is 416.4 feet, the fifth-longest in the majors (mininum 10 HR).
Desmond's 462-foot shot on April 21 is the second-longest home run recorded at Nationals Park since ESPN began tracking home runs in 2006.
July, 15, 2013
7/15/13
11:45
PM ET
By
ESPN Stats & Information
| ESPN.com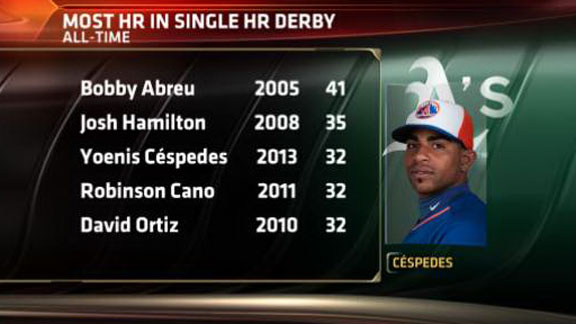 Yoenis Cespedes
was the best home run hitter from start to finish in this season's Home Run Derby.
Cespedes, the first non-All-Star to win the Derby, finished with 32 home runs and beat out
Bryce Harper
in the finals 9-8.
Here's a look at some of the statistical highlights from Monday's competition.
Hot at the right time
Cespedes' 32 homers tied for third-most in Derby history. His 17 homers in the first round were more than twice as many as any other Derby competitor this year and tied for third-most by anyone in a single round all time. He had more home runs in the first round than any other player did in the first two rounds combined.
Cespedes entered the All-Star break with no home runs in his past 19 games and only two home runs in his past 31 games (both came June 21 against the
Seattle Mariners
). He's homered in only three of the past 46 games he's played since May 22. Cespedes' current drought is 71 at-bats, which the Elias Sports Bureau notes is the second longest of his career and the longest current drought of any of the contestants this season.
Cespedes was the fourth straight AL player to win and ninth in the past 12 seasons. He's the first right-handed hitter to win the Derby since
Vladimir Guerrero
in 2007.
Harper consistent as runner-up
The 20-year-old Harper, the second-youngest entrant ever into the Derby (trailing only
Ken Griffey Jr
, by 42 days), was trying to become the competition's youngest winner. Elias tells us that mark is still held by
Juan Gonzalez
, who won in 1993 at age 23.
Harper hit eight home runs in each of the three rounds, hitting cutters thrown by his father, Ron. Harper is 12-for-29 in at-bats ending with cutters in regular-season games, with a pair of home runs.
No repeat title for Fielder
Prince Fielder was knocked out in the first round after hitting only five home runs, leaving Griffey Jr. as the only player to win the competition in back-to-back years (1998 and 1999). Fielder's 68 lifetime home runs in the Derby rank third-most all time, trailing Griffey's 74 and David Ortiz's 77.
Citi Field no deterrent
If there were concerns that Citi Field was going to keep the home run total down, they proved to be unfounded. The 103 home runs hit in the Derby were 21 more than were hit last year and the most in any Derby since 2008 (105).
July, 14, 2013
7/14/13
9:00
PM ET
By
ESPN Stats & Information
| ESPN.com
John Sleezer/Kansas City Star/MCT via Getty ImagesPrince Fielder will try to repeat as Home Run Derby champ.
The 2013 Chevrolet Home Run Derby kicks off at 8 p.m. ET Monday night on ESPN at Citi Field. History suggests that one of the five left-handed batters in the competition is going to win it.
Seven of the past eight and 14 of the past 17 Home Run Derby winners have been left-handed hitters, including each of the past five: Fielder,
Robinson Cano
(2011), David Ortiz (2010), Fielder (2009) and
Justin Morneau
(2008).
Since the first individual competition in 1995,
Frank Thomas
(1995), Sammy Sosa (2000),
Miguel Tejada
(2004) and
Vladimir Guerrero
(2007) are the only righties to win.
Let's take a quick look at each of this year's contestants.
Pedro Alvarez, Pittsburgh Pirates
Alvarez was a late addition to the Home Run Derby, replacing
Carlos Gonzalez
. He leads the NL with nine "no-doubt" home runs this season, meaning homers that our video-tracking crew deemed cleared the fence by at least 20 vertical feet and landed at least 50 feet past the fence.
He's trying to become the first player to win the Derby as a member of the Pirates.
Robinson Cano, New York Yankees
This will be the third straight Home Run Derby for Cano, who went homerless in the 2012 Derby as the competition's defending champ. Cano was the fifth player in the last 15 years to go homerless for a Derby.
Cano has two home runs in 57 at-bats at Citi Field. Each traveled an estimated 440 feet.
Yoenis Cespedes, Oakland Athletics
Cespedes will be making his Home Run Derby debut and the best argument for him winning would be in how the ball jumps off his bat upon contact. His average home-run distance and speed-off-the-bat are both best among Derby participants this season.
Cespedes is trying to be the first Athletics player to win the Derby since
Mark McGwire
in 1992.
Michael Cuddyer, Colorado Rockies
Cuddyer, a childhood friend of NL Derby captain
David Wright
, is making his first Home Run Derby appearance.
Only 10 of Cuddyer's 16 home runs this season would have been home runs at Citi Field, the fewest of any player.
Chris Davis, Baltimore Orioles
Davis will try to be the first Orioles player to win the Home Run Derby since Miguel Tejada in 2004.
Davis enters the All-Star Break with 37 home runs, tied for the second-most by anyone before the Break. The only player with more was
Barry Bonds
with 39 home runs in 2001.
Since the individual competition began in 1995, the major-league leader in homers at the break has never won the Derby.
Jose Bautista
came closest, as runner-up last year.
Prince Fielder, Detroit Tigers
Fielder is a two-time Derby winner and the defending Home Run Derby champ.
If Fielder was to win, he'd be the second repeat champ and the second three-time winner, joining Ken Griffey Jr. (1994, 1998, 1999) in both cases.
Fielder's 63 Derby homers rank fifth-most all-time. He's 14 behind the all-time leader, David Ortiz.
Fielder's average distance of 396.4 feet and average speed-off-the-bat (102.4 mph) are the lowest for any of the Derby entrants.
Bryce Harper, Washington Nationals
Harper will try to become the first Nationals/Expos player to win the Home Run Derby.
This is Harper's first major-league Derby, but he made a huge impact in a previous competition,
as a 16-year-old using a metal bat
at the 2009 High School Power Showcase.
Harper had one six-homer stretch in the competition in which his homers averaged 469 feet and 121 mph off the bat.
His longest homer in regular-season play was a 444-foot shot against the
Miami Marlins
last September.
David Wright, New York Mets
Wright will try to become the first Mets player to win the Home Run Derby (he was runner-up in 2006) and the first to win it in his home ballpark under the current Derby rules.
Wright enters with only three home runs in 159 at-bats at Citi Field this season. Since the ballpark opened in 2009, he's hit 37 homers at home and 50 on the road.
Here's a look at the home-run spray charts for Wright and the other entrants in this year's competition: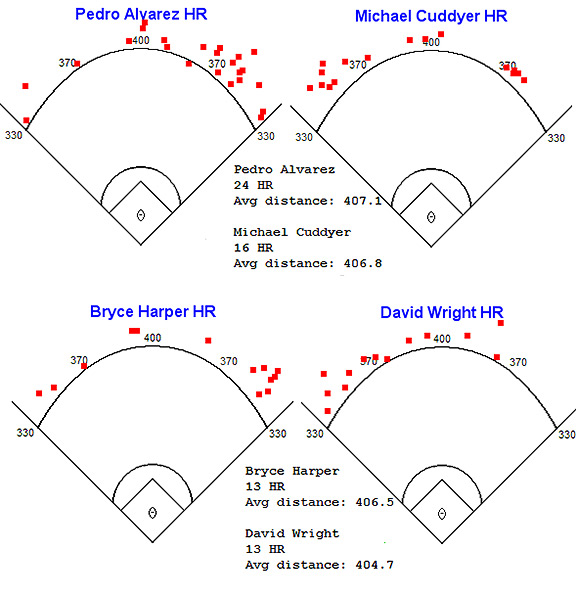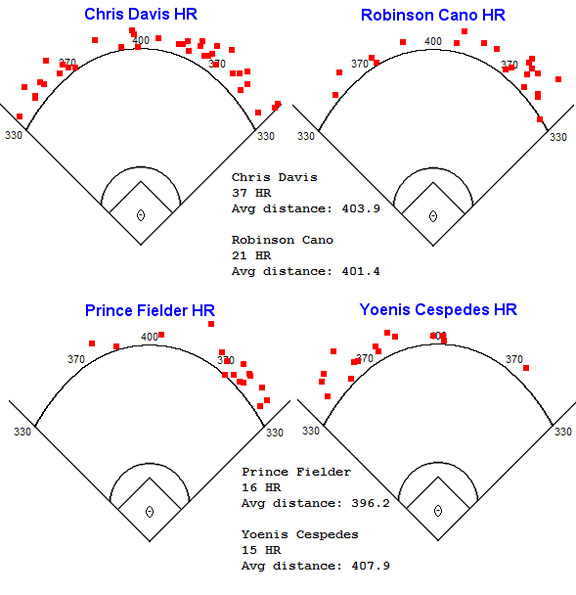 July, 10, 2012
7/10/12
12:58
AM ET
By
ESPN Stats & Info
| ESPN.com
John Sleezer/Kansas City Star/MCT via Getty ImagesPrince Fielder hit the four longest homers of the night to capture his second HR Derby crown.
After hitting just five home runs in the first round of Monday's Home Run Derby,
Prince Fielder
looked like he might not even advance to the next round. Fast forward to night's end and he was the one holding his second derby title.
In his fourth appearance at the event, Fielder bested
Jose Bautista
12-7 in the finals to become just the second player to ever win multiple derbies. Ken Griffey Jr. was a three-time champion.
For the
Detroit Tigers
first baseman, it was more than merely putting the ball in the stands. Fielder put on a show for the Kansas City crowd, blasting one towering drive after another with his uppercut swing. Not surprisingly, those massive cuts resulted in some eye-popping distances.
Fielder hit the four longest shots of the 82 hit in the evening, crushing two balls that traveled 476 feet and also hitting home runs of 464 and 461 feet. In total, Fielder smashed 28 homers with 10 measuring at least 440 feet. On the night, his home runs had an average distance of 432.3 feet "actual" feet.
The slugger's early struggles did not prevent him from catching fire in the second round, when his 11 blasts outpaced competitors
Carlos Beltran
,
Mark Trumbo
and Bautista. He then went on to clobber 12 home runs in the finals, tied for the most ever in the closing round with
Robinson Cano
, who did so last year.
Seven of the last eight winners have been left-handed batters, including the last 5 champions: Cano,
David Ortiz
,
Justin Morneau
and Fielder's pair.
CANO'S TOUGH NIGHT
Cano's attempt to defend his title Monday night did not go well. The
New York Yankees
second baseman and captain of the AL squad failed to hit a home run, joining
Brandon Inge
,
Jason Bay
,
Bret Boone
and
Troy Glaus
as the only players in the last 15 years to go homerless in the derby. In doing so, Cano became the first defending champion to come up with no home runs.
While Cano received plenty of negative reaction from the fans in K.C. for not choosing any Royals to participate in the derby, the crowd was fully behind Fielder, who has just 15 home runs in his first season with the Tigers. The lefty moved into fifth place all-time in derby homers with 63.
AMERICAN WAY
Matt Kemp
's NL squad did not have a chance of hanging with Fielder; his 28 homers were more than the four National Leaguers combined. The AL has won the event the last five years that the two leagues have competed head-to-head (1992, 1993, 1994, 2011, 2012).
In quality and quantity, Fielder owned the night.