Stats & Info:

Homer Bailey
September, 8, 2013
9/08/13
2:40
PM ET
AP Photo/Jeff RobersonClayton Kershaw has many different ways to get hitters out.
The Cincinnati Reds and Los Angeles Dodgers meet with the Reds trying for a series sweep on "Sunday Night Baseball" at 8 p.m. ET (ESPN). Here's a look at five statistical storylines our broadcast crew will surely be talking about.
1.
Despite a three-game losing streak, the Dodgers are 36-11 since the All-Star break. If they can maintain that pace, it would be the fourth-best second-half winning percentage by a team since the All-Star Game began in 1933. After a 30-42 start, the Dodgers are 53-16 in their past 69 games. Their starting pitchers entered Sunday with a 3.09 ERA, best in the majors. The Reds rank second with a 3.37 ERA.
2.
Clayton Kershaw
enters Sunday night with a 1.89 ERA, which would be the lowest by an NL lefty since Sandy Koufax's 1.73 in 1966.
Kershaw could be only the fifth pitcher to lead his league in ERA in three straight seasons (the first since
Greg Maddux
from 1993 to 1995) and only the third to lead the majors in three straight seasons (joining Maddux and Hall of Famer Lefty Grove, 1929 to 1931).
Kershaw is the only pitcher in the majors with at least 60 strikeouts on three different pitch types (69 slider, 68 curveball, 63 fastball).
Kershaw is coming off his worst start of the season. In his first start of September, he allowed more earned runs (five) than he did in five starts in August combined (four).
3.
Reds starter
Homer Bailey
is 5-0 with a 2.42 ERA in his past seven starts. Bailey enters this start with back-to-back outings of seven innings pitched and no earned runs allowed. The last Reds pitcher with three straight such outings was Jim Maloney in 1968.
4.
The Kershaw-
Joey Votto
matchup should be a good one. Lefties are hitting an NL-low .159 against Kershaw this season. Votto is 5-for-20 against Kershaw with 11 strikeouts, his most against any pitcher. He's also one of four left-handed hitters to hit a pair of homers against Kershsaw. (The others are
Adam Dunn
,
Carlos Gonzalez
and
Brad Hawpe
.)
5.
Each team has a rookie doing something notable from a historical perspective.
Yasiel Puig
is currently hitting .347. Over the past 80 years, the only players 22 or younger to finish a season with a batting average higher than that (minimum 300 plate appearances) are Ted Williams,
Alex Rodriguez
and Stan Musial.
Meanwhile, the Reds now have a unique offensive weapon in
Billy Hamilton
, who stole 75 bases in the minor leagues this season. The Elias Sports Bureau reports that Hamilton, who has not yet come to the plate in a major league game, is the first player in the modern era (since 1900) to record a stolen base in each of his first four major league games.
September, 4, 2013
9/04/13
12:21
AM ET
By
ESPN Stats & Information
| ESPN.com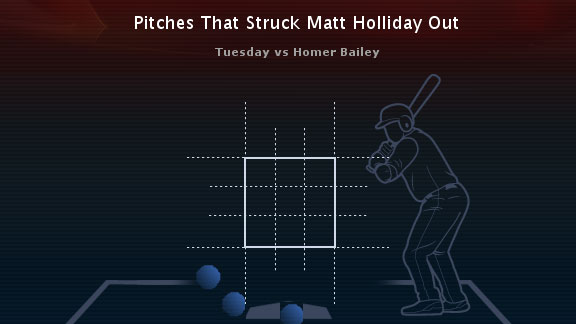 There were three pivotal matchups in the
Cincinnati Reds
1-0 win over the
St. Louis Cardinals
on Tuesday night.
Let's run through them from a statistical perspective and show how important they were to that victory.
Matt Holliday vs. Homer Bailey
Matt Holliday entered this season 11-for-25 in his career against Reds starter Homer Bailey, but Bailey has figured out how to get him out repeatedly in 2013.
Holliday is 1-for-10 against Bailey this season. He was 0-for-3 against him on Tuesday, striking out three times on pitches off the plate.
The big change in Bailey's approach against Holliday has been in where he's located his fastball. From 2009 to 2012, he threw 37 of 54 fastballs to Holliday to the inner half of the strike zone or off the inside corner. Holliday got seven hits and made only four outs against those pitches.
This season, when Bailey's thrown Holliday a fastball, there's been less predictability to it—half have been outer-half, half have been inner-half. Holliday has made five outs against it, without getting a hit. And he's flailed repeatedly against Bailey's offspeed stuff.
The strikeout pitches you see atop this article were the kind Bailey had working all night. He got 12 swings and misses on pitches out of the strike zone, tied for his second-most in any start this season.
Holliday would also strike out in the ninth inning against
Aroldis Chapman
, giving him four strikeouts in four plate appearances for the game. It marked only the second time in Holliday's career that he struck out in every plate appearance, batting at least four times. The other came against the Diamondbacks (
Micah Owings
and
Juan Cruz
) in 2008.
Billy Hamilton vs. Yadier Molina
With rosters now expanded to 40, the Reds dispatched their new weapon, speedster Billy Hamilton, as a pinch-runner with the score tied in the seventh inning.
Hamilton was up for the challenge in trying to get his first major-league steal. He's had 230 in the minors over the last two seasons.
Opponents had only stolen successfully against Molina 58.8 percent of the time this season entering the day, tied for the lowest rate for a catcher in the majors (matching that of
A.J. Ellis
of the
Los Angeles Dodgers
).
Molina had only allowed 20 steals in 932 innings this season. The seven other catchers who entered the day with 900 or more innings caught have averaged allowing 55 steals between them.
Hamilton was able to win that matchup and put himself in scoring position for
Todd Frazier
, who would drive him home with a double against
Seth Maness
.
Anyone vs Aroldis Chapman
We mentioned that Chapman struck out Matt Holliday. What we didn't mention was that he did so with a 103 mph fastball.
Chapman seems to be pitching as if he's on a mission to break the record for the world's fastest fastball.
Through his first 56 appearances this season, about one of every four Chapman heaters was clocked at 100-plus.
But in his last three games, he's thrown more than half of them at triple digits—34 of 60 to be exact.
Good luck to anyone trying to get a hit against one of those fastballs. Opponents are 3-for-57 this season when an at-bat against Chapman ends with a pitch thrown 100 mph or faster.
July, 2, 2013
7/02/13
11:42
PM ET
By
ESPN Stats & Information
| ESPN.com
Joe Robbins/Getty ImagesHomer Bailey had the look in his eye of a pitcher determined to throw a no-hitter.
Homer Bailey
threw the season's first no-hitter Tuesday against the
San Francisco Giants
, joining rare company in the process.
He's responsible for Major League Baseball's past two no-hitters. There have been only seven instances in MLB history in which consecutive no-hitters were thrown by the same pitcher. Nolan Ryan was the last to do that, in 1974-75.
The history
Bailey tossed the 273rd regular-season no-hitter in MLB history, becoming the 28th pitcher to throw multiple no-hitters in the process. He joined
Roy Halladay
,
Justin Verlander
and
Mark Buehrle
as the only active pitchers with at least two.
It was the 16th no-hitter in Reds franchise history, fourth-most behind the Dodgers (20), Red Sox (18) and White Sox (18).
The last pitcher to no-hit the Giants was
Kevin Millwood
as a member of the Phillies on April 27, 2003. It was the ninth time a pitcher has thrown a no-hitter against a defending champion (first since
Johan Santana
in 2012 against the
St. Louis Cardinals
).
Keys to the no-hitter
Bailey threw fastballs 77 percent of the time, the most in a start in his past three seasons. He averaged 94.5 mph on his fastball, his second-fastest fastball velocity in any start since 2010. And his velocity increased as the game progressed (93.1 mph in the first three innings, 94.4 mph in the fourth through sixth innings and 95.6 mph in the seventh through ninth innings).
He threw 18 of 22 breaking balls for strikes. His 81.8 percent strike rate with his breaking ball was his highest in a start since Sept. 3, 2011, at the Cardinals (83.3 percent). He netted eight outs with his breaking pitches.
Bailey walked one batter in each of his no-hitters. He is only the sixth pitcher since 1900 with multiple no-hitters in which he walked one or fewer batters, joining Roy Halladay, Mark Buehrle, Sandy Koufax, Virgil Trucks and Cy Young.
Did you know?
Bailey had only 42 career wins entering Tuesday. The Elias Sports Bureau noted that is the fourth-fewest career wins entering a pitcher's second no-hitter among those who debuted since 1900. Johnny Vander Meer had only nine career wins when he pitched his second no-hitter in 1938.
After Tuesday's no-hitter, Bailey has a 4.36 career ERA.
The Elias Sports Bureau tells us that's currently the worst career ERA for any pitcher in MLB history with multiple career no-hitters.
Previously, the worst was
Hideo Nomo
's 4.24 career ERA.
October, 9, 2012
10/09/12
10:46
PM ET
By
ESPN Stats & Information
| ESPN.com
Jonathan Daniel/Getty ImagesThe Giants' offense was quiet once again, but they did enough to survive to see Game 4.
The
San Francisco Giants
offense continued its struggles in the NLDS, but got some help to pull out a season-saving win despite just three hits.
The Giants' first run came without a hit in the third inning and their final run came courtesy of a
Scott Rolen
error in the 10th.
Giants Pull Out Rare Win
They are the first road team to win a postseason game with fewer than four hits since the 2001
New York Yankees
against the
Oakland Athletics
in Game 3 of the ALDS in the famous
Derek Jeter
relay game.
The Giants also became just the fifth team in MLB postseason history to win a game in which they were struck out 16 times and the seventh team in postseason history to win an extra-inning game in which the winning run scored because the batter reached on an error.
Hits Come Few and Far Between
The Reds pitching staff held the Giants to one hit through the first nine innings. According to the Elias Sports Bureau the Giants are the third team in MLB postseason history to win a game with only one hit through nine innings after getting two hits in the 10th. The 1974 Oakland Athletics and 1947 Brooklyn Dodgers both won in nine innings despite only having one hit.
After starter
Ryan Vogelsong
allowed three hits and a run in the first inning, the Giants pitching staff combined to allow just one hit over the final nine innings.
Homer Bailey Dominates
The against-the-odds win for the Giants wasted a stellar start by
Homer Bailey
, who rode the momentum from his no-hitter a couple of weeks ago by tying his career high with 10 strikeouts, while allowing only one hit (a
Marco Scutaro
single) in seven innings.
The only other pitchers to allow one hit or fewer in at least seven innings while striking out double-digits are
Roger Clemens
,
Orlando Hernandez
and
Mike Mussina
.
Bailey got ahead of Giants hitters, starting the first 13 and 19 of the 24 fitters he faced with a strike.
The 10 punch-outs set a Reds single-game postseason record -- besting the previous mark of nine shared by Hod Eller (1919 World Series against the
Chicago White Sox
) and
Jose Rijo
(1990 World Series against the Oakland Athletics).
According to the Elias Sports Bureau, Bailey also tied the postseason record with six consecutive strikeouts. It was done four times previously.
September, 28, 2012
9/28/12
10:44
PM ET
By
ESPN Stats & Information
| ESPN.com
AP Photo/Gene J. PuskarHomer Bailey had his best fastball working on Friday night.
There was some Homer history in Pittsburgh on Friday, but it had nothing to do with balls leaving the park. It had more to do with balls staying in the park and all of them being turned into outs.
Cincinnati Reds
starter
Homer Bailey
's no-hitter of the
Pittsburgh Pirates
was the seventh of the season, tying the modern major-league single-season mark, previously set in 1970 and matched in 1971.
The all-time record is still within reach -- eight were thrown in 1884.
The History
This was the first no-hitter by a Reds pitcher since Tom Browning threw a perfect game against the Dodgers in 1988.
He's the fourth Reds pitcher to throw a no-hitter since 1969, joining three well-known Reds pitchers—Jim Maloney (1969), Tom Seaver (1978), and Browning.
It was the first no-hitter against the Pirates since Bob Gibson threw one in 1971. The Pirates had gone the second-longest of any team without being no-hit in the regular season or postseason.
The team with the longest no-hitter avoidance is the Cubs, who were last no-hit
by Sandy Koufax (a perfect game) for the Dodgers in 1965.
How he did it
What made Bailey so good in this game?
His fastball gained in velocity as the game went on. It averaged 90 mph in the first three innings, 90.6 in innings four through six, but then jumped to 92.1 mph for the final three innings.
Bailey netted 19 outs with his fastball. He threw it for strikes 76 percent of the time. That sounds high, but it's actually his third-highest strike rate of the season. He threw it for strikes 81 percent and 77 percent of the time in two starts earlier this season.
Both came against the Pirates.
The friendly confines of PNC Park
Bailey has three career complete games in his career and all of them have come in Pittsburgh. He's 5-0 with a 1.40 ERA and .147 opponents' batting average in six starts there against the Pirates.
Bailey now has the lowest career ERA of anyone who has made at least five starts at PNC Park.
Pitching well on the road has been a big part of what's made Bailey a viable pitcher this season. He has a 2.41 ERA in 15 road starts. At the time the no-hitter was complete, that ranked second in the majors behind Jordan Zimmermann's 2.23.
Bailey's home ERA is 5.16. The 2.75 run difference between his home and road ERA is third-highest in the majors, trailing
Joe Saunders
and
Jon Lester
.
Did You Know?
Bailey is the sixth pitcher since 1969 with 10 strikeouts in a 1-0 no-hit win. The others are Dennis Eckersley (1977 Indians), Mike Witt (1984 Angels),
Kevin Millwood
(2003 Phillies),
Roy Halladay
(2010 Phillies), and Felix Hernandez (2012 Mariners).
This is the second season with three 1-0 no-hitters. They were thrown by the six Mariners pitchers in their combo effort, Hernandez, and Bailey. The other season with three was 1908.
The Reds' 15 no-hitters rank fourth-most all-time. The Dodgers lead the way with 20.
The loss clinched the Pirates' 20th straight non-winning season. Their last winning season was in 1992.
September, 24, 2012
9/24/12
2:01
AM ET
By
Lee Singer, Stats & Info Group
| ESPN.com

Gonzalez
The
Los Angeles Dodgers
kept pace in the Wild Card race by beating the
Cincinnati Reds
with the help of two big lefties;
Adrian Gonzalez
and
Clayton Kershaw
.
After homering in his first plate appearance with the Dodgers on August 25, Gonzalez went 105 at-bats before hitting his second one in the second inning Sunday.
According to the Elias Sports Bureau, it was the third-longest homerless at-bat streak of Gonzalez's career. He went 110 at-bats between home runs for the Padres in 2006 and had a drought of 109 at-bats earlier this season for the Red Sox.
Sunday was the 14th multi-home run game of Gonzalez's career, but it was the first in which both of his homers gave his team the lead. His second-inning homer put the Dodgers ahead 1-0 and his seventh-inning homer made it 2-1 Los Angeles.
Both of Gonzalez's homers also came early in the count, the first off a 1-0 fastball and the second off a first-pitch slider.
Gonzalez, like many hitters, has been at his best this season when he attacks early in the count.
Twelve of his 18 homers this season, including all three with the Dodgers, have come early in the count.
Plus, Gonzalez now has five career homers in just 15 at-bats against
Homer Bailey
, his most against any pitcher.
Kershaw took the mound for the first time in 12 days due to a hip injury. He was a bit rusty, especially with his fastball command.
Kershaw threw just 32 of his 62 fastballs (52 percent) for strikes, his second-lowest percentage in 147 career starts. He issued five walks for the first time this season and only the second time in the last two seasons.
However, Kershaw still was able to command his breaking pitches, and he was able to escape trouble by going to them in key situations.
Six of the seven curveballs Kershaw threw came with runners in scoring position. Reds hitters finished 1-for-9 in at-bats ending with his breaking balls and 2-for-8 with runners in scoring position.
Three of Kershaw's five strikeouts came with runners in scoring position, all with his breaking balls (two curveballs, one slider). Maybe the biggest coming from a slider that struck out
Joey Votto
with the bases loaded in the fourth inning.
It was the 10th time Votto has struck out against Kershaw in 17 career at-bats, his most against any pitcher. Six of the first seven strikeouts came on fastballs, but the last three strikeouts have come on breaking balls.
The Dodgers are off Monday, but finish the season with three games at the
San Diego Padres
, and six games at home. Three apiece vs the
Colorado Rockies
and rival
San Francisco Giants
.
August, 2, 2012
8/02/12
12:52
PM ET
Jim Cowsert/US PresswireRyan Dempster (right) has switched leagues, but will face a former rival in his Rangers' debut.
Ryan Dempster
will make his debut for the
Texas Rangers
on Thursday as they wrap up their four-game series with the
Los Angeles Angels
. Dempster switches leagues with the second-best ERA (2.25), trailing only the
San Francisco Giants
'
Ryan Vogelsong
.
Unfortunately for Dempster, the trade means he's back in the same division as
Albert Pujols
, who is 18-for-55 with seven home runs in his career against Dempster. It's also the most home runs Dempster has allowed to any batter, according to the Elias Sports Bureau.
Pujols has had no trouble with Rangers pitching during this series, going 7-for-15 with four home runs and eight RBIs. Pujols has been crushing fastballs since the All-Star Break -- he has as many home runs off fastballs in the last three weeks (7) as he had in the entire first half of the season.
Pujols entered play on May 15 hitting below .200 (.197). Since then, he's hit .332 with 21 HR and 59 RBI. In fact, Pujols' numbers are better through Aug. 1 with the Angels (.284, 22 HR, 71 RBI) than they were at this point last season with the
St. Louis Cardinals
(.280, 24 HR, 65 RBI).
Pujols' former teammate
Matt Holliday
has not been a welcome sight at his former home ballpark, Coors Field. In nine games at Coors Field since joining the Cardinals, Holliday is 13-for-30 with six home runs and 15 RBI. He's been even better the last two games, going 5-for-9 with 3 HR and 9 RBI.
All three of Holliday's hits on Wednesday came on pitches outside the strike zone. He's batting .279 on pitches outside the strike zone this season, and his .939 OPS on such pitches ranks third behind
Melky Cabrera
(.965) and
Ryan Braun
(.958).
Over in the National League, the
Cincinnati Reds
are a major-league best 16-3 since the All-Star Break, and have opened up a three-game lead on the
Pittsburgh Pirates
in the National League Central.
The Reds have allowed 383 runs this season, the second-lowest total this season behind the
Washington Nationals
. One key has been the continued development of
Johnny Cueto
.
Cueto posted a 2.31 ERA in 156 innings in 2011. If he had not fallen six innings short of qualifying for the ERA title, Cueto would have finished second in the majors to Clayton Kershaw's 2.28. Among qualified pitchers, Cueto has the lowest ERA since the start of last season.
Cueto's home ballpark has ranked in the top six in number of home runs hit each of the past two seasons. Despite that, he has allowed only 13 HR since the start of last season, and none in his last 11 starts. The only other qualified starter to allow fewer than 20 in that span is
Roy Halladay
with 19.
In nine starts at Great American Ballpark this season, Cueto has allowed just two home runs in 223 at-bats, and only 3.3 percent of his flyballs allowed have left the ballpark. Every other Reds starter this season has allowed home runs on at least 10 percent of his flyballs.
July, 15, 2012
7/15/12
3:03
PM ET
John Grieshop/Getty ImagesWith a league-leading 35 doubles, Reds All-Star Joey Votto is on pace to become the seventh player to hit 60 two-baggers in a season.
The Reds and Cardinals meet for the ninth time this season (8 ET on ESPN) with Cincinnati trying to sweep St. Louis for the first time since May 2011. If the Reds are to do that, they'll need a quality start from
Homer Bailey
. Bailey, who is replacing originally scheduled starter
Johnny Cueto
, is just 1-4 with a 5.86 ERA at home this season. That's the highest home ERA in the NL this season. Twelve of the 16 home runs he's allowed have come at home. Bailey's last win at the Great American Ball Park was nearly two months ago when he beat the Braves.
Despite Cueto being replaced, the Reds have still only used five starting pitchers this season. Only the Marlins have also only used five. The Elias Sports Bureau tells us the Reds' 29 players used and 20 different starters are both the fewest for any club in the majors this year.
Cardinals notes
The Cardinals have struggled against the league's better teams this season going 16-25 against teams with a .500 or better win pct and 30-17 against teams with losing records. They won three of the first four games vs the Reds this season, but have lost three of the last four. St. Louis has not been swept since May 18-20 vs the Dodgers and the final game of that series was also on Sunday Night Baseball.
Despite being just four games over .500 heading into Sunday's game, the Cardinals offense hasn't missed a beat without
Albert Pujols
.
Jake Westbrook
takes the mound for the Cardinals looking to improve to 2-0 vs the Reds this season. In his last outing against Cincinnati back in April, Westbrook went seven innings allowing just one unearned run for his first win.
Westbrook has the second-highest groundball percentage (60%) among NL starters and the third highest percentage of pitches down in or below the strike zone (53%) in the NL this season.
Reds notes
Joey Votto
has been a big reason for the Reds' success. Since 2010, Votto ranks in the top three in the NL in several major categories.
Votto is on pace for 65 doubles. Earl Webb holds the single-season record with 67. Votto led the NL with 40 doubles in 2011. He's already five shy of that total.
Even if he doesn't get to 67, Votto could become just the seventh player to hit 60 doubles in a season, and the first since Charlie Gehringer and Joe Medwick in 1936.
The Reds need more production from the top of their order. Their leadoff hitters have a combined batting average of .200 and a .244 on-base percentage, which ranks last in the NL. They are also near the bottom in slugging percentage, runs and walks.
April, 10, 2012
4/10/12
12:54
AM ET
Steve Mitchell/US PresswireBarry Zito tossed his first shutout since 2003 as the San Francisco Giants picked up their first win of the season.
The
San Francisco Giants
won for the first time in four games this season behind the arm of
Barry Zito
, who threw a shutout against the
Colorado Rockies
. He was just the second visiting left-handed pitcher to throw a shutout at Coors Field, joining
Tom Glavine
who did it twice.
Zito hadn't thrown a shutout since April 18, 2003. He made 274 starts between shutouts, the longest streak between shutouts in major-league history. According to the Elias Sports Bureau, it was the third-longest streak of consecutive streaks without a shutout, but
Tim Wakefield
and Kirk Reuter both ended their careers without breaking the streak.
Darvish overcomes shaky start
Yu Darvish
struggled early in his debut for the
Texas Rangers
, allowing four runs and seven runners to reach base (four hits, three walks) in the first inning. He settled down after that, allowing a single run on four hits and a walk in his final 4⅔ innings. With the Rangers scoring 11 runs, Darvish was able to pick up the win.
It's the second straight season that Darvish had some trouble shaking off the rust in the opener. In his first start with the Nippon Ham Fighters last year, he allowed seven runs in seven innings. In his other 28 starts, he didn't allow more than three runs in a game.
Quick hits
• The
Atlanta Braves
fell to 0-4 for the first time since 1988, when they lost their first 10 games. Dating to last season, the Braves have lost nine straight games.
•
Daniel Murphy
recorded his second career walk-off hit as the
New York Mets
improved to 4-0 for the fourth time in franchise history.
•
Homer Bailey
allowed three home runs to the
St. Louis Cardinals
in the first inning. It was the second time in his career that he allowed three homers in a game. The last time the Cardinals hit three home runs in the opening frame was a loss to the
Chicago Cubs
on July 24, 2005.
•
Derek Jeter
and
Matt Wieters
each recorded four hits in the
New York Yankees
win over the
Baltimore Orioles
. It was the 41st time that Jeter recorded at least four hits in a game but just the second time for Wieters.
• The
Boston Red Sox
scored three runs in the ninth inning to avoid starting back-to-back seasons at 0-4 for the first time in franchise history.
•
Starlin Castro
went 0-for-5, snapping his streak of reaching base safely at 43 games. That was one short of the most for the Cubs in the Live Ball Era (since 1920). Riggs Stephenson reach base safely in 44 straight games in 1928.
September, 18, 2010
9/18/10
12:05
AM ET
The clock. It controls so much of our everyday lives -- what time to wake up, what time to be at work or school, what time we can
leave
work or school.
In sports, baseball is one of the few that's not beholden to the clock. There's no 60- or 48- or 40-minute limit. There aren't timeouts to stop the clock. We could care less about tenths of a second. When you start a game, there's no telling when it will end. To some, it's the beauty of the game; to others, it's the biggest frustration.


In these days of commercials and warmup pitches and elaborate player routines (both at the plate and on the mound), even a two-hour game is the exception. Although most games come in under three hours, you can't bank on that. Rule changes to speed games up have largely been ignored. Seriously, have you
ever
seen a pitcher charged with an automatic ball for violating the "12-second rule" with nobody on base? Go ahead, we'll wait.

Here at Stats & Information, we've tracked the game times of every Major League Baseball contest this season. We can recommend some pitchers and teams to see, regardless of which side of the "clock argument" you fall on. For example, it's not a myth that the Chicago White Sox's Mark Buehrle pitches quickly. Or that the Boston Red Sox's Daisuke Matsuzaka takes forever. Or that you will get a marathon out of nearly any New York Yankees game.

While the official game times
do
adjust for rain delays, power outages and the occasional tornado outside Citi Field, there are obviously a few other factors at play. The speed of the pitcher's opponent isn't taken into account. A starter might get roughed up and turn things over to a slow- (or fast-) moving bullpen, but when you think of fast workers and slow workers, the list is pretty accurate.

Random fact: The total number of minutes consumed by all the games this season (through Thursday) is 383,639. That's more than 266 days. If you watched every game back-to-back, starting on Opening Night (April 4), you'd already have enough baseball to last you until Dec. 27. With no breaks.


Anyhow, this got us to thinking, which teams give you the most baseball for your money? If you want to watch as much baseball as possible in terms of time, which team's season tickets should you buy? Similarly, which teams are "cheating you" by playing really short games all the time?

Adjusting for extra innings, we can get the average length of a nine-inning home game for each team this season. We didn't adjust for home victories where the bottom of the ninth doesn't get played. (We figure you'd sacrifice those extra seven minutes in exchange for seeing the home team win.)

The Cleveland Indians have been involved in both the shortest and longest nine-inning games this season. The Detroit Tigers' Armando Galarraga's near-perfect game against the Indians on June 2 was the fastest nine-inning game played this season -- one hour, 44 minutes. As for the longest? The Indians and Yankees combined to score 24 runs on May 27, a game the Yankees won 13-11. That game lasted four hours and 22 minutes. There have been just four games this season played in less than two hours, compared with six games that have lasted longer than four hours.
August, 26, 2010
8/26/10
1:51
PM ET
By
Lee Singer
and
Dan Braunstein
| ESPN.com
In the Colorado Rockies' come-from-way-behind 12-10 victory Wednesday afternoon against the Atlanta Braves
, their win probability (based on teams throughout history in similar situations) dipped as low as 1.2 percent in the fourth inning:
• The Rockies trailed 3-0 after the top of the first, meaning their win probability was 28.9 percent even before they came to bat.

• After the top of the second, the Rockies trailed 7-0 - a win probability of 7.0 percent.
• When
Omar Infante
homered in the third inning to give the Braves a 10-1 lead, the Rockies' win probability fell to 2.2 percent.
• With the score still 10-1,
Brian McCann
doubled leading off the top of the fourth, and the Rockies' win probability dipped to its lowest point at 1.2 percent.
• Trailing 10-6 in the sixth inning, the Rockies' win probability sat at just 15.5 percent until a
Ryan Spilborghs
two-run double increased it to 30.8 percent, cutting the score to 10-8.
• The Rockies' win probability did not get above 30.8 percent until the eighth inning, when Carlos Gonzalez's two-run single tied the game at 10. The Rockies win probability jumped all the way from 24.9 percent to 61.2 percent with the hit.
• When
Troy Tulowitzki
followed with the go-ahead single to make it 11-10, the Rockies' win probability went up to 84.9 percent, and increased to 93.1 percent with Todd Helton's RBI single providing the final run.
• The Rockies' win probability did not dip below 90 percent from that time forward as they closed out the Braves in the 9th.
The Cincinnati Reds' 12-11 victory over the San Francisco Giants
on Wednesday featured several win probability swings:
• The Reds scored four runs in top of the first inning and had a win probability of 82.4 percent before the Giants even came to bat.

• After the Reds scored four more runs in the third inning to take an 8-1 lead, their win probability stood at 96.4 percent.
• When
Homer Bailey
singled to give Cincinnati a 10-1 lead in the fifth inning, the Reds' win probability was all the way up to 99.5 percent, its highest point until the game was over.
• The Giants cut the lead to 10-5 after six innings, but the Reds' win probability was still high at 97.4 percent.
• Even when
Juan Uribe
homered in the eighth to make it 10-8, the Reds still had a win probability of 85.2 percent.
• The biggest win probability jump of the game occurred on Andres Torres' eighth-inning double, which tied the game at 10 and knocked the Reds' win probability from 65.3 percent down to 26.2 percent.
• When Aubrey Huff's sacrifice fly in the eighth gave the Giants an 11-10 lead, the Reds' win probability fell to 14.6 percent.
• The Reds entered the 9th inning trailing 11-10. After
Ryan Hanigan
flied out leading off the top of the inning, the Reds' win probability was at its lowest point at just 8.3 percent.
• After
Drew Stubbs
reached second base on an error, Paul Janish's game-tying single in the 9th took the Reds' win probability from 21.9 percent up to 56.1 percent, the third-biggest jump of the game.
• The Reds took a 12-11 lead in the 12th inning on a
Joey Votto
single, which brought the Reds win probability from 48.1 to 84.9 percent, the second-largest win probability movement of the game.
• Torres came to bat in the ninth inning with runners on first and third and two out, with the Giants trailing 12-11. The Reds' win probability was at 80.9 percent at this juncture. Torres grounded out to end the game, bringing the Reds' win probability to 100 percent.
May, 13, 2010
5/13/10
4:12
AM ET
By
ESPN Stats & Info
| ESPN.com
Stephen Strasburg has pitched in 7 games between AA and AAA and thus far he's lived up to the hype. He's won 5 of 7 starts and hasn't allowed a run since being called up to Triple-A Syracuse. He has 40 strikeouts and only 8 walks during his time in the minors.
Why Rays starter
David Price
won:
- Highest ground ball percentage of any start in career (78.9 percent; previous high was 65.2)
- Highest percentage of pitches in the strike zone in career (65.8 percent; previous high was 61.0)
- Highest first strike percentage in any start this season (68 percent)
Why Reds starter
Homer Bailey
won:
- Efficiency: Threw just 90 pitches, 73 for strikes. Bailey's strike pct of 81.1 was the highest in a CG of 9 IP or more since
Johan Santana
in 2005 (92 pitches, 76 strikes, 82.6 strike pct). From Elias: the 17 balls are the fewest in a shutout of 9+ IP since 2000.
- Did not go to a three-ball count on any hitter. Threw just 12 pitches when behind in the count (eight on 1-0 and two each on 2-0 and 2-1).
- Bailey, as he normally does, relied almost exclusively on his fastball. He threw 71 of them Wednesday against Pittsburgh, 56 for strikes, despite the fact that just 38 were in the strike zone. Of the 33 fastballs Bailey threw out of the zone, Pirates hitters swung at 18, putting only three in play, with none going for hits.hitters swung at 18, putting only three in play, with none going for hits.
Miguel Olivo
is tonight's hitter of the night. The 31 year old Dominican catcher has found new life in the mile-high city this season, slugging .524 with an OPS of .850. Olivo has found much of his success this season against the fastball.