Stats & Info:

Ian Desmond
July, 8, 2014
7/08/14
11:26
AM ET
By
ESPN Stats & Information
| ESPN.com
Mike Ehrmann/Getty ImagesYoenis Cespedes will attempt to defend his 2013 Home Run Derby title.
The Gillette Home Run Derby (Monday, 8 p.m. ET, ESPN/WatchESPN) captains
Troy Tulowitzki
and
Jose Bautista
will announce their teams this evening on the 6 p.m. ET edition of "SportsCenter." The ESPN Home Run Tracker team put together the lineups it would most like to see, using data from every home run hit this season.
American League
Yoenis Cespedes
Yoenis Cespedes
hit a total of 32 home runs in last year's Home Run Derby, eight more than any other contestant. Target Field has a shorter power alley in left-center field than Citi Field (377 feet vs. 385 feet), although it does have a slightly longer distance to the foul pole (339 feet vs. 335 feet).
Of Cespedes' 32 homers in last year's derby, 26 were hit to the left of center field.
Nelson Cruz
Nelson Cruz
leads the majors with 28 home runs. He also has 19 homers off fastballs this season, four more than any other player.
Cruz has hit 2.1 miles worth of home runs this year, which leads the majors. He's also shown some of the most raw power in baseball, being tied for fourth in the American League with five homers of at least 425 feet.
Jose Abreu
Jose Abreu
has 27 home runs, second-most in MLB behind Nelson Cruz. Abreu is one of three players to hit two or more miles worth of home runs this year.
David Ortiz
David Ortiz
is one of four players to hit a 475-foot home run this season. Ortiz's 482-foot homer on April 22 traveled 119.9 mph off the bat, the highest for a home run this year.
Ortiz has 16 homers of at least 400 feet this season, tied for fourth-most in the league. The only players with more than Ortiz are
Edwin Encarnacion
(injured),
Mike Trout
(has already declined derby consideration) and
Giancarlo Stanton
.
National League
Giancarlo Stanton
Stanton's average home run to this point in the season has traveled 423.8 feet, the longest of any player with at least 10 homers. Stanton's average is no sample-size fluke either: His 21 homers are the most of the 11 players averaging at least 410 feet per home run.
Stanton has nine homers this year that traveled at least 425 feet, most of any player in the league. Stanton has five 450-foot home runs; no one else in the league has more than two. Stanton has more 450-foot home runs than any other team in MLB.
Michael Morse
Michael Morse
has eight 425-foot home runs, two 450-foot home runs and an average distance of 420.5 feet. All of those are second in the league behind Giancarlo Stanton.
Morse ranks in the top 10 in the National League in average distance, speed off the bat and apex among players with at least 10 home runs.
Justin Upton
Justin Upton
has hit four 440-foot home runs, trailing only Stanton and Morse for the most in the majors. His 477-foot homer on April 10 is the fourth-longest in baseball this season and the longest at Turner Field since September 2010.
Ian Desmond
The shortest of the 15 home runs hit by
Ian Desmond
this year was calculated at 387 feet, making him the only player who has hit at least 15 homers that all traveled at least 375 feet. His average home run distance is 416.4 feet, the fifth-longest in the majors (mininum 10 HR).
Desmond's 462-foot shot on April 21 is the second-longest home run recorded at Nationals Park since ESPN began tracking home runs in 2006.
June, 23, 2014
6/23/14
4:39
PM ET
By
ESPN Stats & Information
| ESPN.com
Tonight's matchup (8 ET on ESPN2 and WatchESPN) features a pair of first-place teams that rank tied for second (Nationals) and fourth (Brewers) in run differential in the National League this season.
LHP Gio Gonzalez at RHP Matt Garza

Garza
Gonzalez
Gonzalez has struggled this season, posting a 4.62 ERA thus far. His ERA has jumped in consecutive seasons after his 2.89 ERA mark in 2012, when he finished third in Cy Young voting. He's looking to earn his first win since April 18.
His biggest issues have come versus lefties; they're hitting .316 with a .913 OPS against him this year after he held them to a .217/.613 line over the previous two seasons.
On the other hand, Garza is on a roll, having thrown five straight quality starts, tied for the third-longest streak of his career. With one more quality start, he'll match his total from all of last season (11).
Garza's dominance has waned in recent years -- both his strikeout rate and percentage of opponent swings whiffed on have declined for three consecutive seasons. In 2011, his strikeout rate ranked 12th among qualifiers; this season it's down to 69th.
Ian Desmond's Power
Desmond leads the Nationals with 14 HRs this season -- only
Troy Tulowitzki
(18) has hit more among shortstops. Desmond's 59 HRs since 2012 are four more than any other shortstop.
He also has five more RBIs than any shortstop in that span, but his production has come at a cost: His 347 strikeouts (23 percent of plate appearances) are by far the most of any player at his position.
Carlos Gomez Continues to Improve
In terms of Wins Above Replacement, no player in the National League has been more valuable than Carlos Gomez since the start of last season. Gomez has produced a 12.0 WAR in that time, half a win more than
Andrew McCutchen
.
Gomez has become increasingly aggressive on the first pitch, and to great effect. He's gone from hitting .234 with a .383 slugging percentage on the first pitch (while swinging 39 percent of the time) back in 2009, to hitting .441 and slugging .763 with on a 55 percent swing rate on those pitches this year.
Ryan Braun Decline
Braun
Through his first 58 games this season, Braun is batting just .278 with a .815 OPS, both on pace to be career lows.
He simply isn't punishing pitches in the strike zone with anywhere near the authority he did in 2011 and 2012. He is slugging .595 on pitches in the zone over the last two seasons with a 5.3 home run percentage. He slugged .722 on pitches in the strike zone with a 8.4 percent home run rate in 2011 and 2012.
Shifting Perspectives
The Brewers have shifted their defense on 342 balls in play this season, fifth most in the majors. They are on pace to shift 720 balls in play, 182 more times than they did last season.
The Nationals are on the opposite side of the shifting spectrum. They have shifted on only 84 balls in play this season, the second-lowest total in baseball.
July, 10, 2013
7/10/13
9:03
PM ET
By
ESPN Stats & Information
| ESPN.com
Thearon W. Henderson/Getty ImagesYasiel Puig is hitting over .400 in his first 34 career games.
The National League's Final Vote has been widely discussed this week, as
Los Angeles Dodgers
rookie
Yasiel Puig
is in the mix despite not debuting in the majors until June 3. Puig has some tough competition against
Freddie Freeman
,
Ian Desmond
,
Hunter Pence
and
Adrian Gonzalez
.
YASIEL PUIG
Despite his lack of experience this season, does Puig deserve to win the Final Vote?
Some may disagree with the idea of Puig in the All-Star Game, but the numbers would suggest he deserves it. Although Puig has played in only 34 games - all four other candidates have played in at least 77 games - he leads them all in Wins Above Replacement. Limited experience does not in and of itself mean a player isn't deserving - Puig has contributed as much or more in his admittedly brief tenure than the other candidates have with significantly more playing time.
Puig has 55 hits in his first 34 career games, the third-most in the Live Ball Era (since 1920). Only Joe DiMaggio (59 in 1936) and Roy Weatherly (59 in 1936) had more hits in their first 34 career games.
Puig is the first player to hit .400 or better through his first 130 career at-bats since Tony Oliva (.423 spanning games from 1962-64), according to the Elias Sports Bureau. The Dodgers have never had a single player with a .400 or higher batting average at the All-Star break (minimum 100 AB). The highest was .377 by
Mike Piazza
in 1995.
FREDDIE FREEMAN
Freeman has three walk-off hits this season, tied with
Alex Gordon
for the most in either league.
IAN DESMOND
Ten of Desmond's 15 home runs this season have been to give his team the lead. Desmond's 10 go-ahead homers are tied with
Carlos Gonzalez
for third-most in the National League, trailing only
Paul Goldschmidt
(13) and
Pedro Alvarez
(11).
HUNTER PENCE
This season, Pence leads the majors in stolen bases (13) without being caught and is one of four players with at least 13 home runs, 13 stolen bases and 22 doubles, joining
Mike Trout
, Carlos Gonzalez and
Jason Kipnis
.
ADRIAN GONZALEZ
Gonzalez is "Mr. Consistency." Including this season, Gonzalez is one of six players with a batting average of at least .295 and OPS of at least .800 in each of the last four seasons, along with
Joey Votto
, Carlos Gonzalez,
Miguel Cabrera
,
Ryan Braun
and
Adrian Beltre
.
April, 21, 2012
4/21/12
7:36
PM ET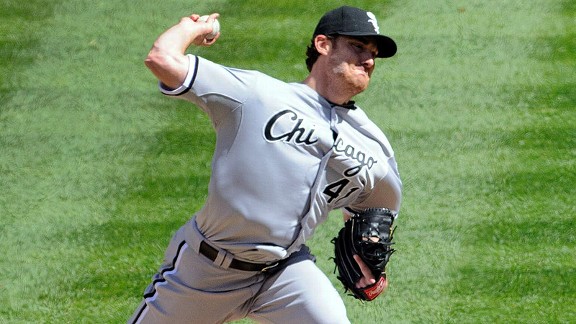 Steven Bisig/US PresswirePhilip Humber threw the 21st perfect game in MLB history against the Mariners on Saturday.
Philip Humber
became the 21st pitcher in major-league history to toss a perfect game as the
Chicago White Sox
beat the
Seattle Mariners
4-0 on Saturday afternoon.
It was the third perfect game in White Sox history. That ties the club with the
New York Yankees
with the most perfect games in MLB history. With Don Larsen throwing a perfect game in the World Series for the Yankees, the White Sox are the only franchise with three in the regular season.
Humber became the fourth pitcher to toss a perfect game in the last four seasons.
Roy Halladay
and
Dallas Braden
threw perfect games in 2010 after
Mark Buehrle
threw one for the White Sox in 2009.
It was the first complete game of his career, and he tied a career high with nine strikeouts.
In fact, Humber became one of the least experienced pitchers to toss a perfect game. This was his 30th start and 12th victory of his career. According to the Elias Sports Bureau, only one pitcher - Charlie Robertson in 1922 - had fewer wins and starts before retiring all 27 batters since 1900.
He recorded a game score of 96, the second-highest for the White Sox since the mound was lowered in 1969. Game score rates pitchers based on box score statistics, typically ranging from 0 to 100 with an average near 50.
Humber did not go to a three-ball count until the 9th inning. He was able to recover from both, striking out
Michael Saunders
and
Brendan Ryan
. His strikeout of Saunders was the first in Humber's career after falling behind 3-0 in the count.
One key to Humber's success was his slider. He threw 32 sliders against the Mariners, including 15 that ended at-bats with an out. Six of his nine strikeouts were on the slider, including both in the ninth inning. He induced batters to chase eight of 17 sliders outside the zone and miss on seven of 19 swings overall.
After throwing his slider on 5 of 37 pitches (14 percent) the first time through the order, he threw 27 on 59 pitches (46 percent) the rest of the game.
Around the Bases
• With
Matt Harrison's
win in the first game of their doubleheader,
Texas Rangers
starting pitchers improved to 10-0 this season. According to Elias, it is the first time in franchise history that their starters won their first 10 decisions. The last time it happened for any team was 2003, when the Yankees (16) and
San Francisco Giants
(10) each reached double figures.
• After blowing a three-run lead in the top of the 9th inning, the
New York Mets
won on a throwing error by Giants catcher
Buster Posey
. Elias confirms that it was the first win in Mets history in which the game ended on an error by the opposing catcher.
• The
Washington Nationals
beat the
Miami Marlins
on a walk-off sacrifice fly by
Ian Desmond
. It was their third walk-off win of the season, tops in the majors.
September, 12, 2011
9/12/11
1:29
AM ET

With their 6-5 come-from-behind win against the Angels Sunday, the
New York Yankees
increased their lead in the AL East to 3 ½ games in front of the
Boston Red Sox
.
Mariano Rivera
picked up his 40th save this season and 599th of his career. He's now one save away from joining
Trevor Hoffman
as the only players with 600 saves.
Prior to Sunday, the Yankees' biggest lead in the AL East at the end of any day's play this season was three games and their largest deficit was also three games. According to the Elias Sports Bureau, no major-league team has ever gone through an entire season without either leading or trailing in its division (or league before 1969) by more than three games at the end of any day's play. Since 1900, no other team had done that as far into a season as this year's Yankees.

Upton
The
Tampa Bay Rays
completed a sweep of the Red Sox after
B.J. Upton
blew the game open with a grand slam in the fifth inning. With
Justin Upton
having hit a bases-loaded homer on July 23, Elias also tells us the Uptons became the tenth pair of brothers to hit grand slams in the major leagues in the same season. The Molinas are the only other brothers to do that over the last ten seasons (Bengie and Jose in 2004, Bengie and Yadier in 2010). All three DiMaggio brothers (Joe, Dom and Vince) hit grand slams in 1941.
After 14 straight wins when
Vance Worley
has started, the
Philadelphia Phillies
finally lost Sunday with Worley on the mound, 3-2 to the Brewers. According to Elias, the 14 straight wins matched the longest such single-season streak for a rookie pitcher in the Live Ball era. The 1970 Reds won 14 straight behind Wayne Simpson, as did the 1944 Cardinals behind Ted Wilks.
Finally, in our nation's capital,
Ian Desmond
,
Rick Ankiel
and
Ryan Zimmerman
homered back-to-back-to-back as Washington beat the Astros 8-2. It was the first time the Nationals accomplished that feat since July 2009.
Stephen Strasburg
lasted just three innings and got another no-decision, the shortest start of his career.
April, 5, 2010
4/05/10
10:52
AM ET
By
Christina Kahrl, Baseball Prospectus
| ESPN.com
The six-month slog of the regular season can make any Opening Day roster error a footnote. Even so, with the regular season swinging into action, there are some problems that need fixing sooner rather than later. Here are five of the biggest crimes being committed in Opening Day roster construction.
1) Making the term "designated hitter" an oxymoron on the South Side:
Roster pressures have encouraged more than a few teams to stock the DH slot with "staff" and use the at-bats as a way to keep bench players fresh or give position players days off from fielding. But in a White Sox lineup that projects to finish 12th in the AL in true average and 12th in OBP, letting those at-bats go to
Mark Kotsay
(11 homers over the last three years) and
Andruw Jones
(.304 OBP in that time) just isn't going to fly. Recently-waived
Jack Cust
(25 homers, .356 OBP last year) may not be an Ozzieball ballplayer, but he'd make a nice fix to both problems in a lineup that could keep a quality rotation from winning a winnable division.
2) Demoting Brett Cecil:
Already looking like a club that might slip from the irrelevancy of fourth place to the ignominy of fifth, the Blue Jays have rounded out their rotation with veteran swingman
Brian Tallet
and the well-traveled
Dana Eveland
. While both have their uses, neither presents any real upside; they'll just help the Jays successfully complete a losing season. Cecil was already the organization's best pitching prospect, and last season's 17 starts in the big leagues showed he's figuring things out (6.7 K/9). Beyond that, an assignment to that hitting haven in Las Vegas is a terrible thing to do to a young pitcher. Skip the oregano, Cecil doesn't need any more seasoning.
3) Arizona tangling its own web:
Losing
Brandon Webb
for longer than expected puts the D-backs in a bit of a bind, but the club was expected to contend, and relying on
Ian Kennedy
(6.03 career ERA),
Rodrigo Lopez
(5.70 career ERA), and a Reno ace to be named later to fill the last three slots in the rotation makes it clear that Arizona needs to add somebody. Lopez is a guy you endure as a fifth, not count on as a fourth.
4) The Nationals muddling their middle infield:
To the credit of the Nats' brain trust, it's true:
Cristian Guzman
may not be all that, and
Ian Desmond
really should be given his shot at starting in the middle infield. But after a winter in which the other 29 teams had a chance to add
Adam Kennedy
and decided not to, he has no trade value to a club that needs to be thinking of how to convert veterans into prospects, whereas Guzman's value as a starting shortstop won't be helped if he's riding pine. A Guzman-Desmond combo up the middle makes far more sense.
5) L.A.'s long "relief":
The Dodgers' bullpen is a throwback to the days when relievers were just guys who failed in their bids to make it in the rotation. But both
Russ Ortiz
and
Ramon Ortiz
? And
Jeff Weaver
? Carrying Rule 5 pick Carlos Monasterios isn't a bad choice as a matter of retaining talent, but as a quartet, the team's middle-relief selections figure to deliver middling results. The matter of who's in this bullpen might be one of the more subtle symptoms of the Dodgers' divorce-enabled inactivity this winter.
Christina Kahrl is an author of Baseball Prospectus.