Stats & Info:

Ian Kennedy
July, 31, 2013
7/31/13
9:18
PM ET
By
ESPN Stats & Information
| ESPN.com
The MLB trade deadline passed quietly, with only four deals made Wednesday, tied for the fewest on July 31 in the last 10 seasons.
Over the previous five seasons, there has been an average of eight trades made each year on July 31. Last year on July 31, there were 10 trades that included 28 total players.
Who fits best statistically for deals made surrounding this season's trade deadline?
Jake Peavy
By acquiring Peavy, the
Boston Red Sox
have made it clear that starting pitching is their point of emphasis. The Red Sox rotation ranks third in the American League with a 3.77 ERA this season, a far cry from the 5.19 they posted in 2012.
Peavy looks not only to bolster a strong pitching staff in Boston but could perhaps become its ace. Since the 2012 season, his 6.3 Wins Above Replacement (WAR) is higher than any other starter currently on the team.
Alfonso Soriano
While we detailed what Soriano brings to the
New York Yankees
in an earlier
post
, it is worth briefly revisiting his impact on the Yankees lineup. He has already provided a spark with a home run and walk-off hit this past Sunday. No right-handed outfielder had homered for the Yankees since
Vernon Wells
on May 12.
Soriano brings right-handed power to a lineup that is currently tied for last in the major leagues with 26 home runs by righties.
Ian Kennedy
Ian Kennedy, who was
traded to the San Diego Padres
, hasn't been the same pitcher since finishing fourth in the NL Cy Young voting in 2011. He posted a 2.88 ERA that season but has a 4.47 ERA since, including 5.23 this season (88th out of 92 qualified starters in MLB)
One of Kennedy's issues has been, as a fly ball pitcher, he's prone to giving up the long ball. He's allowing 1.31 home runs per 9 innings this season, which ranks 75th among qualified starters.
The move from Chase Field to PETCO Park should help keep those fly balls in the yard. PETCO is tied for the fourth-friendliest pitcher's park this season, according to FanGraphs. Arizona's Chase Field, by comparison, is tied for the third-friendliest hitter's park.
The Padres are hoping Kennedy will be as successful pitching for them at PETCO as he has been as a visitor in the past. He's 3-1 with a 2.27 ERA in six career starts at the park, his second lowest ERA of any park in which he's made at least three starts.
April, 23, 2012
4/23/12
4:10
AM ET
Stats & Info insights into this morning's top sports stories.


1. LAKERS BEAT THUNDER IN WILD GAME:
The
Los Angeles Lakers
defeated the Oklahoma Thunder, 114-106, in double overtime. One of the best games of the season was marred by an incident late in the second quarter.
Metta World Peace
was ejected after he hit Thunder guard
James Harden
in the head with his elbow. The Lakers forward has been suspended 13 times, totaling 111 games, in his career.
2. KINGS COMPLETE HUGE UPSET:
The
Los Angeles Kings
shocked the
Vancouver Canucks
, 2-1, in overtime to win the Western Conference Quarterfinals in five games. According to Elias, Vancouver is the first Presidents' Trophy-winning team to be knocked out in the first round of the playoffs in fewer than six games.
3. YOUNG SEGUIN SAVES THE DAY:
The
Boston Bruins
defeated the
Washington Capitals
, 4-3, behind the first career playoff OT goal of 20 year-old
Tyler Seguin
. Each game in this series has been decided by one goal. According to Elias, the Bruins-Capitals series is the first in NHL playoff history in which each of the first six games were decided by a one-goal margin.
4. HAMLIN WINS AT KANSAS:
Denny Hamlin
won the NASCAR Sprint Cup Series race at Kansas Speedway. It's Hamlin's second win of 2012, and 19th of his Cup Series car. The win also marked the 199th Cup win for the #11 car, making it the winningest car in series history.
5. KENNEDY WINS AGAIN:
The
Arizona Diamondbacks
defeated the
Atlanta Braves
, 6-4, as
Ian Kennedy
improved to 3-0 this season. According to Elias, Kennedy has won his last nine regular-season decisions, tying him with
Clayton Kershaw
for the second-longest current winning streak in the majors, behind
Ivan Nova
(15).
December, 23, 2011
12/23/11
12:30
AM ET
Andy Lyons/Getty Images
Carlos Beltran
is headed to St. Louis after reportedly agreeing to a two-year deal with the Cardinals.
After spending the past seven seasons on the East and West Coast, Carlos Beltran is headed back to the Midwest. Beltran agreed to a two-year deal with the world champion
St. Louis Cardinals
Thursday, according to sources. The six-time All-Star batted .300 and hit 22 home runs with 84 RBI last season with the
New York Mets
and
San Francisco Giants
.
This will be Beltran's second stint with a team in the state of Missouri. He spent seven seasons with the
Kansas City Royals
winning Rookie of the Year in 1999.
While he's no longer a borderline MVP-candidate, Beltran's track record of productivity can be matched by few in the National League since 2005. Beltran ranks sixth in the NL among position players in Wins Above Replacement over that span.
Besides his offensive and defensive skills, Beltran has a history of excelling in the postseason. No player in MLB history with a minimum 75 plate appearances has a higher OPS in the postseason than Beltran's 1.302.
With Beltran joining the Cardinals, St. Louis now has the two best offensive switch-hitters in the majors from last year.
Lance Berkman
's OPS was .959 last season while Beltran's was .910.
Meanwhile, the
Oakland Athletics
traded All-Star pitcher
Gio Gonzalez
to the
Washington Nationals
for four prospects according to sources. The Nationals receive pitchers
Brad Peacock
, A.J. Cole, Tom Milone and catcher Derek Norris. Gonzalez had a career best in wins (16), ERA (3.12) and strikeouts (197) last season, but also led the league in walks (91).
Few pitchers have provided a greater value for the dollar than Gonzalez. Over the last two seasons, 13 pitchers have won at least 30 games. Of those, Gonzalez has been the most cost-effective option, earning $26,613 for every win since 2010.
Gonzalez is under team control through 2015, but he's about to get more expensive. MLBtraderumors.com projects a $4.2 million salary in 2012, the first of Gonzalez's four arbitration-eligible years.
With the acquisition of Gonzalez, the Nationals now have three pitchers (
Stephen Strasburg
,
Jordan Zimmermann
) who will all be age 26 or younger in 2012. They join two other franchises (Braves, Diamondbacks) who have at least three starters – all of whom were 25 or younger in 2011 - who posted a cumulative ERA better than 4.00 since the start of the 2010 season.
October, 7, 2011
10/07/11
10:52
PM ET

The
Milwaukee Brewers
entered Friday's winner-take-all game just 1-5 when in position to clinch a postseason series. They did not let history dictate their future overcoming the
Arizona Diamondbacks
in extra innings.
The last time the Brewers won a postseason series was October 10, 1982.
Nyjer Morgan
, who had the game-winning RBI Friday, was two years old. His RBI single in the 10th inning was the first walk-off hit by a Brewer in a postseason game. Morgan is the 11th player with a walk-off hit in a winner-take-all game and first to do it since
Aaron Boone
in Game 7 of the 2003 ALCS.
Another key storyline was the play of battery-mates
Yovani Gallardo
and
Jonathan Lucroy
. Gallardo allowed one earned run in six innings to move his career ERA versus the Diamondbacks to 1.23. That's the lowest of any pitcher against the Diamondbacks in the history of their franchise (regular season and postseason).
Although Gallardo didn't have the high strikeout total he did in his previous four starts (45 K), he was able to utilize his fastball and curveball enough to get the job done. Gallardo's fastball averaged 93.5 MPH, which was tied for his highest in a start this season. He used his curveball more than usual as he threw it 27 percent of the time in Game 5 compared to 20 percent in Game 1. It proved to be an effective pitch as 23 of his 30 curveballs were down in the zone and hitters were just 1 for 8 with two strikeouts in at-bats ending in curveballs.
Lucroy helped his pitcher, especially when receiving the curveball, recording 10 catcher blocks according to Baseball Info Solutions data. That's tied for his eighth-most in a game this season. Not an unusual stat as Lucroy ranked second among MLB catchers in blocks during the regular season.
The Diamondbacks failed to become the first National League team to come back from a 2-0 division series deficit. They lose two straight starts made by
Ian Kennedy
for the first time since June 27 to July 3. Overall, the team scored only seven runs in three games in Milwaukee, all losses. That's compared to 18 in their two wins in Arizona. They have now lost seven of their last nine postseason games.
Did you know:
The Brewers and
Detroit Tigers
(who advanced Thursday) are the first two teams ever to win a postseason series 3-2, where the score in the deciding game was also 3-2.
October, 7, 2011
10/07/11
12:10
PM ET
Mark Hirsch/Getty Images
Prince Fielder may be playing his last game with the Brewers. He'll be a free agent this offseason.
The first of two National League Division Series Game 5s begins in Wisconsin as the
Milwaukee Brewers
host the
Arizona Diamondbacks
. The Diamondbacks are the first team in the wild-card era (since 1994) to take an NLDS to a fifth game after trailing 2-0 in the series (the 1981
Los Angeles Dodgers
did it following a strike-shortened regular season).
Divisional Series History
Arizona is 1-0 all time in LDS Game 5s, with the win coming in 2001 against the
St. Louis Cardinals
. The Diamondbacks have won back-to-back games following a six-game postseason losing skid.
Milwaukee is 0-1 in LDS Game 5s, with its loss coming in 1981 to the
New York Yankees
. The Brewers, who went an MLB-best 57-24 at home this season, have won eight of their last 10 postseason home games.
On the Mound
Ian Kennedy
will take the ball for Arizona. Kennedy went 6 2/3 innings while allowing four earned runs in Game 1 of this series, his only career postseason start. Arizona is 14-2 in Kennedy's last 16 starts going back to the regular season
For Milwaukee,
Yovani Gallardo
will make his third career postseason start. He's 1-1 with a 0.60 ERA in his first three career postseason appearances (one earned run allowed in 12 innings in two starts). Including the postseason, Gallardo is 6-0 with a 1.18 ERA in six career starts against Arizona.
Player to Watch
Friday could be the final game for
Prince Fielder
with the Brewers, as he will be a free agent at season's end. Fielder ranks either first or second in Brewers history in on-base percentage, slugging percentage, OPS, home runs and intentional walks.
Notable Prince Fielder Moments
Sept. 25, 2007
-- Fielder reaches 50 home runs for the first time in his career in a win over the Cardinals.
July 13, 2009
-- Fielder wins the Home Run Derby, defeating
Nelson Cruz
6-5 in the final round.
Sept. 6, 2009
-- Fielder hits a game-winning home run to beat the
San Francisco Giants
, and upon landing on home plate, his teammates topple over onto the dirt.
May 20, 2011
-- Fielder hits a two-run, game-winning home run in the 14th inning, giving the Brewers a 7-6 win over the
Colorado Rockies
. The Brewers were 21-23 entering the day. They would finish the season as NL champs, with this game serving as one of the key sparks to the season.
July 12, 2011
-- Fielder's three-run home run helps the National League defeat the American League 5-1 in the All-Star Game. Fielder is named the All-Star Game MVP
Sept. 27, 2011
-- Fielder hits three home runs in a game for the first time in his career.
October, 1, 2011
10/01/11
3:45
AM ET
The
Arizona Diamondbacks
and
Milwaukee Brewers
kick off the National League Divisional Series on Saturday at 2:07 ET. It's a matchup of two teams that played nearly even against each other during the regular season.
Inside the Series
Arizona won the regular-season series, 4-3, but the teams finished identical in nearly every offensive category.
In their head-to-head matchup, they scored exactly 28 runs apiece, hitting nearly the same amount of home runs with eerily similar batting profiles.
Miguel Montero
starred for Arizona, batting .421 (8-for-19) with two home runs against Milwaukee. For the Brewers,
Ryan Braun
batted .417 (5-for-12) with a pair of home runs in just three games against Arizona.
On the Mound
Yovani Gallardo
gets the Game 1 call for the Brewers. The five-year veteran enters the postseason coming off a stretch where he struck out at least 10 batters in each of his final three starts (36 total). He became the first Brewers pitcher with double-digit strikeouts in three straight starts.
Gallardo finished with more than 200 strikeouts for the third straight season, the only pitcher in Brewers history with three 200-strikeout seasons.

Kennedy
Opposite Gallardo will be NL Cy Young Award candidate
Ian Kennedy
. Kennedy won 21 games during the regular season, tied for fifth-most in Diamondbacks history.
Kennedy was particularly locked in after the All-Star Break, posting a 12-1 mark with a 2.11 ERA and strikeout rate of 8.8 per nine innings pitched. His ERA after the break was more than a run better than before it (3.44 ERA before the All-Star Break).
Good When It's Close
Arizona-Milwaukee pits two of the best teams in baseball in one-run games.
The Diamondbacks finished an MLB-best 28-16 in one-run games. Last year they were just 19-23 in one-run games, sixth-worst in MLB.
Much of the credit is owed to Arizona's improved bullpen. They posted a 3.71 ERA and converted 82 percent of their save opportunities, second-best in NL.
It's a major turnaround from their 5.74 bullpen ERA in 2010, the worst by an NL bullpen since the end of World War II.
The Brewers didn't finish too far behind, however, posting a 30-18 record in one-run games (second-best in MLB).

Axford
Brewers closer
John Axford
anchored the Milwaukee bullpen, finishing the season with a franchise-record and NL-best 46 saves.
After blowing two saves in the first seven games, he converted his final 43 save opportunities of the season.
Fighting History
The Diamondbacks are the fifth team in MLB history to make the playoffs after dropping at least 96 games the previous season.
But such rebounds have yet to yield a World Series champion. Two teams, the 1991
Atlanta Braves
and 2008
Tampa Bay Rays
fell short in the World Series. The other two, the 1999 Diamondbacks and 2007
Chicago Cubs
, were eliminated in the NLDS.
September, 21, 2011
9/21/11
12:57
AM ET
With a 5-0 victory over the
Tampa Bay Rays
Tuesday night,
New York Yankees
starter
Ivan Nova
captured his 12th straight win. Nova went 7.2 innings and allowed six hits and no earned runs. His 12 straight wins by a rookie starter are the most since Larry Jansen of the 1947 Giants did the same.
The Yankees now have a six-game lead over the struggling
Boston Red Sox
, their largest margin of the season. New York can clinch a playoff berth with a win in one game of Wednesday's day-night doubleheader with the Rays.
Here's a next-level look at how Nova got the win:
Nova threw his fastball less often than he normally does. Fifty-three of his 103 pitches (51.5 percent) were fastballs, below his season average of 61.3 percent.
Rays hitters were 3 for 14 in at-bats ending with Nova's fastball. Overall, hitters are hitting .196 in at-bats ending with Nova's fastball in September; they hit .297 against it before that.
Left-handed hitters were 2 for 11 against Nova, and he had success keeping the ball away from those hitters.
Thirty-one of his 52 pitches to lefties (59.6 percent) were outside, above his season average of 50.9 percent entering Tuesday. Rays lefties were 0 for 5 in at-bats ending with an outside pitch from Nova.
Rays hitters were 1 for 15 against Nova with men on base, including two double plays.
Nova stayed out of hitters' counts. Fourteen of his 103 pitches (13.6 percent) came when he was behind in the count, his second-lowest percentage in a start this season.

Elsewhere in the AL East, the Red Sox could not take advantage of the Rays loss and remained two games ahead of Tampa Bay in the American League wild card race. Starter
Erik Bedard
struggled against the
Baltimore Orioles
, throwing 76 pitches in 2.2 innings of work and allowing four runs (one earned), in a 7-5 loss. This is the 14th straight game in which the Red Sox did not get a quality start.
The Red Sox are now 5-15 in September, which is as many losses as they had in September and October of last season.
According to the Elias Sports Bureau, the Red Sox have gone 22 straight games without winning two in a row. That's their longest such streak since the 1994 team had a 28-game run in May and June of that season.
The Red Sox used seven pitchers in their Tuesday loss to the Orioles. Since rosters expanded on September 1, the Red Sox have used at least five pitchers in a game nine times. They have used at least five pitchers in 45 percent of their 20 games this month.
Jonathan Papelbon
recorded his second blown save of season. He'd converted 25 straight save chances and allowed his first run since July 16.
Meanwhile in Los Angeles,
Clayton Kershaw
got the better of
Tim Lincecum
and picked up his 20th win in the
Los Angeles Dodgers
' 2-1 win over the
San Francisco Giants
. The loss snapped the Giants' eight-game win streak and moved the Dodgers above .500 for the first time since they were 14-13 before games of April 30.
The Elias Sports Bureau tells us Kershaw is the fourth-youngest pitcher in Dodgers history to win 20 games in a season and the third since 1942 to defeat the Giants for win number 20 of the season.
Kershaw (20-5, .800) joins
Justin Verlander
(24-5, .828) and
Ian Kennedy
(20-4, .833) as pitchers with at least 20 wins and a winning percentage of .800 or better in 2011. There have been only two seasons in major-league history in which at least three pitchers won 20 or more games with a winning percentage of .800 or higher: 1910 (Russ Ford of the Yankees, King Cole of the Cubs and Chief Bender of the A's) and 2002 (
Barry Zito
of the A's,
Randy Johnson
of the Diamondbacks and
Pedro Martinez
of the Red Sox).
Dan Braunstein contributed to this story.
September, 14, 2011
9/14/11
2:08
PM ET
By
Scott Randall
| ESPN.com
Stephen Dunn/Getty Images
Clayton Kershaw looks to become the 9th pitcher to win the triple crown since 1956.
Los Angeles Dodgers
starting pitcher
Clayton Kershaw
(who pitches Wednesday) leads the National League in strikeouts (231), is tied for first with
Johnny Cueto
of the
Cincinnati Reds
in ERA (2.36) and trails
Ian Kennedy
of the
Arizona Diamondbacks
by one for the most wins (Kershaw has 18).
Eight pitchers have won the pitching triple crown (wins, ERA, and strikeouts) a combined 11 times since the Cy Young Award was first given out in 1956. All 11 of those seasons resulted in a first-place finish in Cy Young voting.
If Kershaw were to win, it wouldn't be shocking for the award to go to a player from a losing team (the Dodgers are currently three games under .500). It's happened 15 times including each of the last three seasons. The
Seattle Mariners
Felix Hernandez
(2010) and
Zack Greinke
of the
Kansas City Royals
(2009) won the AL Cy Young, and the
San Francisco Giants
Tim Lincecum
took home the NL award in 2008.
However, if teammate
Matt Kemp
were to win MVP he would become just the sixth winner from a losing team since the Baseball Writers started giving the award in 1931.
If Kemp and Kershaw were to pull off the double they would be the 19th set of teammates to do so but could be the first from a losing team.
Seventeen of the previous 18 teams that had both a Cy Young Award winner and a league MVP went to the playoffs with the exception being the 1962 Dodgers, who won 102 games but lost a best-of-three playoff to the Giants for the pennant. The worst team in terms of win percentage was the 1980
Philadelphia Phillies
, who were 91-71 (.562).
August, 18, 2011
8/18/11
9:03
AM ET
By
Carolyn Costa
| ESPN.com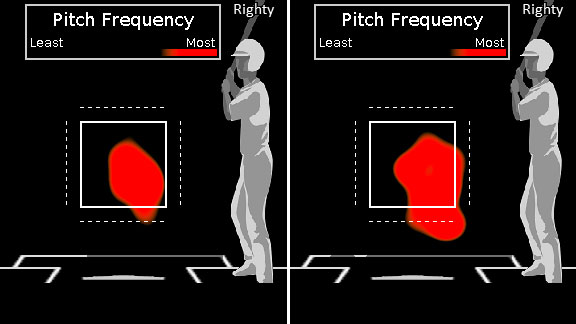 Left: Where Clayton Kershaw most frequently located his slider to right-handed hitters in 2010
Right: Where Kershaw located his slider most often to right-handers in 2011
One of the few bright spots for the
Los Angeles Dodgers
this season has been
Clayton Kershaw
. His 14 wins leave him behind only
Roy Halladay
and
Ian Kennedy
in the National League. Kershaw's 193 strikeouts trails only
Justin Verlander
for the major league lead.
What has brought him into the NL Cy Young picture? One answer the improved effectiveness of his slider against right-handed hitters.
Kershaw is using the pitch significantly more in 2011 against right-handed batters than he did in 2010. After throwing it an average of around 10 times per start to them last season, he's thrown the slider about 17 times per start so far this season.
As our heat maps above show, Kershaw has kept the pitch lower in the zone and farther inside against righties this season, making it a tougher pitch to hit. Kershaw has registered a MLB-best 111 of his 193 strikeouts (58 percent) using the slider. He's one of just three pitchers with over 100 strikeouts using the pitch. That success has increased his overall strikeout rate to 9.9 per nine innings compared to 9.3 in 2010.
Though he's allowed two home runs with his slider against right-handers this season (he yielded none last year) Kershaw still got the win in both outings where he allowed a blast off the pitch. He's getting better than eight outs for every hit he's allowed with his slider this season(opponents batting average: .107), largely because it's been so effective with two strikes. Last season he allowed a hit for every six outs he got with his slider.
Kershaw's outstanding season brings him into the race for the National League Cy Young award. With a Wins Above Replacement of 4.9 (already higher than his 2010 WAR), compared to Halladay's 6.7, he is in the thick of the race for baseball's highest pitching honor.
June, 10, 2010
6/10/10
2:44
AM ET
By
ESPN Stats & Info
| ESPN.com
If you like close baseball games, Wednesday would have been a great night to catch a movie - especially if you're a fan of the American League.
Of the night's seven AL games, six were decided by more than two runs and a whopping four were decided by at least
nine
runs.
Here's a look at some of the pitching performances that helped lead to some wide margins:
Why Diamondbacks starter Ian Kennedy deserved to win:
- Kept the ball away. Braves hitters were 1-9 (.111) on pitches on the outside third of the plate, including 0-7 on fastballs away.
- Had a solid fastball overall. Braves hitters were 2-13 (.154) against the Kennedy heat, chasing 27.0 pct of fastballs out of the zone (22.8 MLB avg fastball chase pct).
- Threw a nasty changeup. Atlanta batters were 0-8 on Kennedy's changeup, and missed five of their 13 swings (38.5 pct; MLB average miss pct on changeups is 30.1).
Why Angels starter Joe Saunders won:
- Changeup was deadly. Saunders held the Athletics to 1-11 (.091) with a single on his changeup, including 0-8 on changeups down in the zone.
- Threw hard inside. Oakland batters were 1-7 (.143) on inside fastballs against Saunders, including 1-6 (.167) inside to right-handed hitters.
- Finished off Oakland hitters effectively. The Athletics were 0-7 in two-strike counts, chasing 42.9 pct of pitches outside the zone with two strikes (MLB average 35.8 chase pct with two strikes).
Why Yankees starter CC Sabathia won:
- Threw his slider well. On a night when Baltimore hit .462 (6-13) on his fastball, Sabathia was effective with his slider, holding the Orioles to 1-7 (.143) with four strikeouts.
- Induced swings. Sabathia got Baltimore hitters to chase 33.9 pct of pitches out of the zone (Sabathia's 2010 chase pct - 27.4). Baltimore hitters chased 43.5 pct of non-fastballs (MLB avg 28.6 pct). Orioles hitters also missed on 30.2 pct of their swings, well above Sabathia's 21.1 average miss pct.
- Controlled the count. Sabathia threw one of his first two pitches for strikes 91 pct of the time Wednesday, better than the 85 pct MLB average.
Why Indians starter Justin Masterson got his first shutout:
- Kept the ball on the ground. Masterson induced 17 groundball outs, a career best. Overall, Boston hitters were 1-11 (.091) on pitches down in the zone.
- Got hitters to chase. The Red Sox chased 27.1 pct of pitches out of the zone against Masterson Wednesday, their sixth-highest percentage in a game this season. However, the 27.1 chase pct was actually below Masterson's season average (28.9).
- Mixed in a dominant slider. Masterson held Boston batters to 0-9 on his 18 sliders Wednesday, including 0-5 away vs. righties and 0-3 inside vs. lefties. This season, batters are 9-48 (.188) on Masterson's slider.
Why Rays starter David Price won:
- Pounded inside. Price held Blue Jays hitters to 0-5 on inside pitches, the fifth start this season he hasn't allowed a hit on an inside pitch.
- Threw high and hard. Price held Toronto batters to 0-5 on pitches up in the zone, with an average velocity of 94.4 MPH on high pitches (92.6 average velocity Wednesday).
- Controlled the count. Price only went to one 3-ball count Wednesday, and his 67 first-pitch strike pct was well above the 58 pct MLB average.
And here's one note from the hitters:
Tampa Bay's
Carlos Pena
hit his 128th home run as a member of the Rays on Wednesday, tying him with
Aubrey Huff
for the Tampa Bay franchise record. However, Pena's home run, which traveled 333 feet down the line in left field at Tropicana Field, would not have been a home run in any other major league ballpark.