July, 23, 2014
7/23/14
12:41
AM ET
By
ESPN Stats & Information
| ESPN.com
AP PhotoNeil Walker rounds the bases after hitting the first of the Pirates' three home runs on Tuesday.
It had been a long time since the Pirates had hit three home runs in a game. Since Pittsburgh last did this April 17 against the Brewers, every other team in the majors has hit three homers in a game at least once. The Blue Jays have done it 13 times.
Gregory Polanco
went 2-for-4 with a home run, three runs and three RBIs. The home run was his first since July 2, a span of 14 games. Over that span Polanco went without an extra-base hit and hit .158 with two RBIs.
During his slump, Polanco struggled in particular with the inside pitch, going just 1-for-18 (.056) in at-bats ending with a pitch on the inner half. Both of his hits on Tuesday came on inside pitches.
Another Pirate to break a homerless drought was
Ike Davis
, who went deep for the first time since June 9. Over 32 homerless games Davis hit .205 with a .582 OPS.
During his homerless stretch, Davis oddly hit nearly 150 points better on pitches out of the strike zone (.313) than he did on pitches in the zone (.177). Davis' home run on Tuesday came on a fastball in the strike zone.
Neil Walker
also homered for the Pirates, though he has not had trouble with the long ball as of late. His 15th homer of the season was his fourth in his last 10 games, and leaves him one shy of his career high.
The three homers all came off Dodgers starter
Josh Beckett
, who struggled in his return from the disabled list. Beckett, who had allowed just two home runs in his previous six starts combined, lasted a season-low 3 2/3 innings on Tuesday.
Pittsburgh is now 28-17 since the start of June (second-best in the National League) and has closed within 2.5 games of the Brewers in the NL Central. The Pirates have enjoyed playing at PNC Park this season, improving to an NL-best 33-21 at home, including wins in 13 of their last 16 games.
The rubber game of the series comes on Wednesday night as
Dan Haren
takes on
Francisco Liriano
. The Pirates will look to continue their power surge against Haren, who has allowed 20 home runs this season, which is tied for second-most in the major leagues.
April, 22, 2014
4/22/14
12:07
AM ET
By
ESPN Stats & Information
| ESPN.com
Monday's matchup between the
Cincinnati Reds
and
Pittsburgh Pirates
was a wild, evenly played contest with a host of dramatic moments befitting a playoff-worthy game, so let's give it a playoff-worthy breakdown.
McCutchen is clutch
Andrew McCutchen
had three hits and two walks and hit a game-tying homer in the eighth inning against Reds reliever
Manny Parra
. It marked the first time that McCutchen hit a game-tying home run that late in a game.
Walker is too
Neil Walker
had his second straight three-hit game. His walk-off hit was the second of his career, both of which have come this season. The other was a home run on Opening Day.
Walker's hit was just out of the reach of Reds second baseman
Brandon Phillips
. Phillips has ranked in the top 10 among second basemen in Defensive Runs Saved in five of the last six seasons.
Inside the at-bat: Davis' grand slam
Eduardo Perez
pointed out on Baseball Tonight that one of
Ike Davis
' flaws has been timing, and he noted that on Davis' grand slam his timing seemed to be better. Davis started his swing earlier, allowing him to turn on an inside fastball from
Mike Leake
and hit it over the fence.
Davis has two hits on inside pitches (those on the inner-third of the plate or off the inside corner) in three games with the Pirates. In 2012 and 2013, he hit .161 in at-bats that ended with pitches to that area.
Davis
The Elias Sports Bureau noted that Davis became the third player in major-league history to hit two grand slams against a team in a season with the home runs coming for two different teams (in this case the
New York Mets
and Pirates).
The other two are Ray Boone (grandfather of ESPN's
Aaron Boone
, who pointed out that his grandfather's nickname was Ike) and
Mike Piazza
.
How they got him out: Joey Votto
Reds first baseman Joey Votto was 0-for-5 in the loss. Votto saw 21 pitches in the game, 16 of which were on the outer third of the plate or off the outside corner.
All five of Votto's outs came against those pitches. Votto has missed outside pitches at a rate that is nearly twice as often as he has missed other pitches thrown to him this season (26 percent versus 14 percent).
Votto's .348 batting average against the Pirates entering the day was the highest among active players.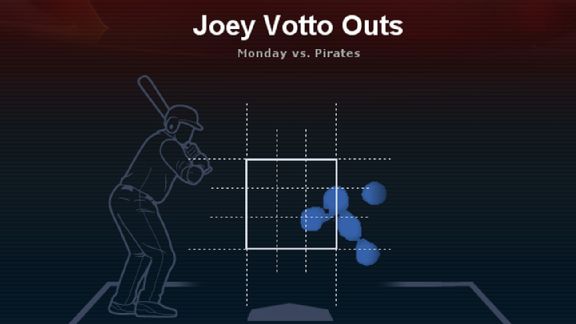 April, 6, 2014
4/06/14
3:10
PM ET
Our weekly look at the interesting and unusual in baseball stats
Happy New Year! (And this isn't the kind you want to celebrate by dropping a ball.)
You might have heard that MLB's regular season started in earnest this week. And while the season openers did provide their share of interesting nuggets, you can turn just about anything into a factoid by adding "on Opening Day" to it.
So while a few of our favorites are listed below, we're going to jump ahead to stuff you might have missed from later in the week.
********
On Friday,
Charlie Blackmon
joined a fairly exclusive club by recording
a six-hit game
, just the third in the majors since the start of 2010, and the second in
Colorado Rockies
history (
Andres Galarraga
, 1995). But it was the makeup of those six hits that was unique.
Shawn Green
's four-homer game for the Dodgers in 2002 was the last six-hit game with four of them for extra bases. The combination of three homers and a double has been done several times. But Blackmon's mix of one homer and three doubles had never been done before in major-league history.
We will, however, give a shout-out to Larry Twitchell, who had a home run and three
triples
in his six-hit game for the Cleveland Spiders on August 15, 1889.
********
Saturday's most dramatic moment was provided by the
New York Mets
, who trailed the
Cincinnati Reds
3-2 going to the bottom of the 9th, loaded the bases, and then got
a walk-off grand slam
from
Ike Davis
.
It was the seventh walk-off slam in franchise history, but just the second by a pinch hitter. And the man who hit the first one was on the field again Saturday. That's Tim Teufel, who is now the Mets' third-base coach. He launched one in the 11th inning to beat Philadelphia on June 10, 1986.
The Reds had opened their season with
four one-run games
, something they had seen only twice before (1943 and 1924). Had Davis done anything except go deep, they would likely have set a franchise record.
********
On Wednesday,there was both
a game-ending wild pitch
and
a game-ending bases-loaded walk
. The "bounce-off" was the first for the
Chicago White Sox
since Ozzie Guillen scored from third on July 4, 1997, while the walk was the 13th such play in
Texas Rangers
history. Their previous one was issued by the Diamondbacks to
Todd Zeile
-- scoring
Rusty Greer
-- on July 16, 1999.
********
Having acquired infielder
Brandon Hicks
out of the Mets' farm system over the offseason, the
San Francisco Giants
now boast three Brandons with Belt at first base and Crawford at short. On Saturday Bruce Bochy wrote them
6-7-8 in the batting order
, a sequence with which the Dodgers' guest PA announcer, actor Jason Bateman, had a little fun by introducing "another Brandon!".
There have been just 40 Brandons to play in the majors, and not a single one before 2000. The Diamondbacks had pitchers Lyon, Medders, and Webb for several years. But only once before had three of them ever batted in succession-- and Hicks was part of that trio as well. He got a brief callup from Oakland in 2012, and on June 27 that year, he followed Inge and Moss batting 6-7-8 in
a 2-1 win over Seattle
.
Those Athletics also had pitcher McCarthy and a three-game appearance by first baseman Allen, to set the record with five Brandons in a season.
********
Speaking of the
Oakland Athletics
, they made news for an unusual reason this week.
Their Tuesday game was postponed by rain, their first rainout at home since May 5, 1998. That broke a string of 1,276 home games played as scheduled. They started a new streak with a day/night doubleheader on Wednesday... and that streak ended at three. Friday's game was unable to be played due to the soggy condition of the field from rain earlier in the day.
They were the 99th and 100th rainouts in the entire history of the five California MLB teams. The Giants lead the way with 32, including the last time there were two in a season: Back-to-back days in April 2006.
May, 24, 2012
5/24/12
12:50
PM ET
Jesse Johnson/US Presswire Dan Haren has lost four straight starts for the second time in his career.

Dan Haren
of the
Los Angeles Angels
will be looking to change his fortunes around when he gets the nod tonight against the
Seattle Mariners
(10:10 ET). He enters having lost four straight starts for the second time in his career, having previously done it in 2005. While Haren does have a 5.79 ERA in that stretch, the Angels have managed a total of two runs in those four games.
The Angels are 1-8 in his nine starts, and only Haren and
Chris Volstad
of the
Chicago Cubs
have seen their team lose eight of their starts this season. In addition, only teammate
Ervin Santana
has received worse support in the AL. The Angels have scored more than three runs just once in Haren's nine starts.
Ike Davis Slumping
The
New York Mets
are four games over .500 despite
Ike Davis
having one of the worst seasons in the majors. Davis has the second-lowest batting average among qualifying players, including a .065 average at home, and based on WAR, Davis is the least valuable player in the majors.
When he is making contact this year, Davis has seen a very high percentage of his balls in play turn to outs. Among all players this season, Davis' .188 batting average on balls in play is the lowest.
Last year, Davis found considerable success against the fastball, batting .343 with an OPS of 1.100. This year, those numbers have dropped to .157 and .448.
Other Key Notes
-
Ichiro Suzuki
was just 2-18 vs
Dan Haren
last season. He's a .227 career batter vs Haren.
-
Hunter Pence
is 7-12 (.583) in his career vs
Jake Westbrook
.
-
Philip Humber
has a 7.86 ERA since his perfect game.
-
Albert Pujols
has 3 HR, 8 RBI in his last nine games.
-
Cincinnati Reds
have a season-high five-game win streak.
April, 4, 2011
4/04/11
1:56
PM ET
Today's Trivia:
With the
Minnesota Twins
and
New York Yankees
set to square off on Monday Night Baseball. Who are the only two players with 40 or more home runs for both franchises?
Quick Hits
-- A look back at some fun home runs numbers from an eventful opening weekend:

Kendrick
• There have been 17 home runs hit by second basemen this season, most of any position. That includes three from the
Los Angeles Angels
of Anaheim's Howie Kendrick. He has more home runs than all shortstops combined (2).
•
Cincinnati Reds
catchers
Ryan Hanigan
and
Ramon Hernandez
are a combined 9-12 with 3 HR and 7 RBI. By contrast, the
Tampa Bay Rays
are 12-91 with 1 HR and 3 RBI.
• The
Texas Rangers
have 3 HR with the count full. Last season, the
Seattle Mariners
had just 5 HR coming on full counts.
• Ike Davis' home run on Sunday came on a 3-0 count. The
New York Mets
didn't have a home run on a 3-0 count last season, and
Carlos Delgado
in 2009 was the last player to do it for New York.
• Scott Rolen's home run on Saturday came on an 0-2 count. Last season, the Reds only had one 0-2 homer.
• The
Boston Red Sox
have allowed at least three home runs in three straight games. Last season, the Red Sox never allowed three home runs in back-to-back games, much less three in a row.
• The Rangers hit 11 home runs in three games against Boston. According to the Elias Sports Bureau, only one other team in MLB history hit as many as 11 home runs in its first three games of a season. That was the 2006
Detroit Tigers
with 15.
• Also from Elias: Boston tied the 1955 Milwaukee Braves' record for home runs allowed in a team's first three games of a season.
• Texas' 11 HR are already more than either the Mariners or
Houston Astros
had last April (both had 9).

Buchholz
•
Clay Buchholz
allowed four home runs Sunday after allowing nine all last season. He's allowed 37 HR in his career, but 12 of those have come in three starts.
• The Angels have more extra-base hits (20) than runs (18). That's in part due to eight of their nine home runs coming with the bases empty. In fact, they have more solo home runs (8) than hits with runners in scoring position (7-42).
• There have been 108 HR hit through 46 games. There were 98 hit through 47 games last year.
Trivia Answer:
Chuck Knoblauch
and Roy Smalley are the only players with 40+ home runs for both the Twins and Yankees. Dave Winfield (31 HR for the Twins) came close.
September, 8, 2010
9/08/10
12:01
AM ET
Tuesday saw three pitchers come into games with extended amounts of success against the teams they were facing. Unfortunately, all three saw their notable streaks come to an end.

New York Yankees
'
CC Sabathia
: lost for the first time in nine starts against the
Baltimore Orioles
. He also lost at Yankee Stadium for the first time since July 2, 2009. That was a stretch of 21 consecutive home starts without a loss, which tied Whitey Ford for longest streak in franchise history. As for the pitcher who has suffered the most home losses July 2, 2009? The
Cleveland Indians
'
Fausto Carmona
, who is 8-12 in 24 starts at Progressive Field.
Chicago White Sox
's
Freddy Garcia
: lost for the first time as a visitor at Comerica Park since Aug. 20, 2002 when he was with the
Seattle Mariners
. The White Sox had won all nine previous starts of Garcia's in Detroit prior to Tuesday's defeat.
Atlanta Braves
'
Tim Hudson
: entered Tuesday with a 3-0 record while giving up just one unearned run in his last three starts against the
Pittsburgh Pirates
. On Tuesday, Hudson allowed four runs in 6⅓ innings and took the loss in the Braves 5-0 defeat in Pittsburgh.
Tuesday's notables:
•
New York Mets
'
Dillon Gee
took a no-hitter into the sixth inning in his major-league debut against the Washington Nationals (he allowed two hits in seven innings). Gee is the third Mets pitcher to take a no-hitter through five innings in his major-league debut, joining Randy Sterling (Sept. 16, 1974: five innings at Montreal Expos) and
Brian Bannister
(April 5, 2006: 5⅓ innings vs Nationals). Gee also is the first Mets pitcher to drive in a run in his debut.
Staying with the Mets,
Ike Davis
hit his 18th home run. He's two shy of joining Darryl Strawberry (26 in 1983) as the only Mets to hit at least 20 HR in their rookie season.
• The
Colorado Rockies
'
Carlos Gonzalez
became the first player in the National League to 100 RBI on Tuesday. The last time a Rockies player was the first to 100 RBI in the NL in a season was
Preston Wilson
in 2003.
• The
Toronto Blue Jays
have now hit at least three HR in 33 games this season. That's the most such games by a team since the
Texas Rangers
had 35 such games in 2005.

• The
Minnesota Twins
'
Jim Thome
hit his 586th career HR, tying Frank Robinson for eighth on the all-time list. It's also the 40-year-old veteran's third straight game with a HR. He's the first 40-year-old to homer in three straight games since
Barry Bonds
in 2006. The last 40-year-old Twins player to hit an HR in three straight games was Dave Winfield in 1993.
April, 29, 2010
4/29/10
4:18
AM ET
By
ESPN Stats & Info
| ESPN.com
During the Mets' 9-1 homestand, two significant changes were made to the middle of their lineup:
Ike Davis
was called up and put into the sixth spot in the lineup, and then in the fifth game,
Jose Reyes
was moved to the third spot. The result has been the middle of the lineup being more aggressive and taking better advantage of scoring opportunities. The Mets 3 through 6 hitters are hitting .313 with six extra base hits in their last 10 games with runners in scoring position. By contrast, they had no extra base hits and a .132 BA in their first 12 games with runners at second and third.
Why Jon Lester dominated:
Threw his best fastball of the season: Lester's heater averaged 93.5 MPH, a tick higher than his season average of 92.6. His command on the pitch was excellent, and he was able to miss bats while staying in the strike zone.
Why James Shields won:
- Dominant changeup generated a career-high 14 swinging strikes (of 17 changeups swung at), eight strikeouts, and no hits
- Generated 22 total swinging strikes, also a career-high and double his previous 2010 season high of 11
- Finished off 15 of 16 hitters that reached two strikes (94 percent; MLB avg: 72)
- Averaged 3.48 pitches per plate appearance (lowest in last 10 starts) and went to a 3-ball count to just four of 29 hitters faced
Why Tim Lincecum should have won:
- Dominant change: Lincecum had his change working today and he knew it, throwing the pitch a season-high 36 times. Phillies hitters went just 1-14 against Lincecum's change. He generated 13 swings-and-misses and eight strikeouts on the pitch, both tops for any start in baseball this season. His changeup has been nearly unhittable his last four starts.
April, 28, 2010
4/28/10
2:03
PM ET
By
Jeremy Lundblad, ESPN Stats & Info
| ESPN.com
Today's Trivia
: Who is the winningest active National League pitcher age 26 or under?
Quick Hits
: The numbers don't always hold great meaning, but there are some fascinating win-loss trends that have held true thus far. Thanks to both Baseball-Reference.com and BaseballMusings.com, here are some of those quirky records:
* The Braves are 8-2 when
Jason Heyward
gets a hit and 0-10 when he doesn't.
* The Braves are 7-1 when they hit a home run and 1-11 when they don't.
* Six of the Pirates' 12 losses have been by eight or more runs. Last season, it was only nine of their 99 losses.
* Last season, the Mariners rode a 35-20 record in one-run games, best in the majors. This season? Just 2-5. Only the Orioles have more losses.
* The Red Sox are 4-4 when allowing four or fewer runs. Last season, they were 70-17.
* Then again, Boston is 6-6 when allowing six or more runs, when they were just 11-37 last season.
*
Scott Linebrink
has a 1.13 ERA and 11 strikeouts in eight innings, but the White Sox are 0-6 when he makes an appearance and 8-6 when he doesn't.
* The Reds are 9-7 when
Scott Rolen
appears in a game and 0-4 when he doesn't.
* The Rockies are 2-6 when
Chris Iannetta
starts, compared to 9-4 with
Miguel Olivo
behind the plate. Iannetta was demoted to the minors on Tuesday.
* The Royals are 2-10 when
Zack Greinke
,
Brian Bannister
or
Gil Meche
start, and 6-2 otherwise.
* The Mets are now 8-1 with
Ike Davis
appearing in the game.
* The Mets are 0-7 when allowing a home run and 12-2 otherwise.
Today's Leaderboard
: The A's and the Padres are two of the more surprising teams early in 2010. Even the Pirates, at 8-12, are probably exceeding expectations. A big reason for all three? Success in close games. The Pirates are 4-1 in one-run games, the best winning percentage in the majors. Last year, Pittsburgh was an MLB-worst 12-22. Meanwhile, the Red Sox have already played an amazing nine one-run games, including five straight going into Wednesday. According to the Elias Sports Bureau, the Red Sox haven't played six straight one-run games since May 1964.
Key Matchups
: Quite simply,
Paul Maholm
owns
Prince Fielder
. Fielder was hitless in his first 12 at-bats against the lefty, and is just 3-for-33 (.091) lifetime. That includes 10 strikeouts and just one walk. That .091 average is Fielder's worst against any pitcher he has faced 20 times. No pitcher has fanned Fielder more than Maholm, who is not exactly known as a strikeout pitcher.
Very few pitchers make
Chase Utley
look bad. Very few pitchers are as good as
Tim Lincecum
. Utley is just 2-for-17 (.118) against Lincecum, but even that doesn't tell the whole story. Utley's two hits came in his first four at-bats against Lincecum, and they were in the future Cy Young winner's first month in the majors. Since then, Utley is 0-for-13 with six strikeouts.
Trivia Answer
: With 50 career wins, 26-year-old
Cole Hamels
has the most among NL pitcher 26 or under. Tim Lincecum, his opponent on Wednesday, is tied with teammate
Matt Cain
for third with 44 wins.
Felix Hernandez
, still only 24, has the most in the majors with 60 wins, closely followed by 26-year-old Scott Kazmir's 59.
April, 20, 2010
4/20/10
10:06
AM ET
By
John Perrotto, Baseball Prospectus
| ESPN.com
If the Mets' marketing people are smart, "I Like Ike" T-shirts will be on sale tonight at the Citi Field souvenir stands. The Mets might as well capitalize on one of the few bits of good news they have had in recent seasons.
First baseman Ike Davis made his major league debut Monday night and helped the Mets to a 6-1 victory over the Cubs by going 2-for-4 with an RBI after being called up from Triple-A earlier in the day. It was something to excite Mets fans who have suffered through a lot the past couple of years.
The book on the 23-year-old son of former major league reliever Ron Davis coming into spring training was that he would need a full season at Buffalo learning to hit off-speed pitches and hanging in better against left-handers. (He had a .672 OPS against minor league southpaws in 2009.) However, the left-handed hitter showed in spring training and during the first two weeks of the International League season that he was making rapid progress. Thus, the Mets did not hesitate to call him up Monday, and Davis showed an ability to hit non-fastballs and lefties in his debut.
In his first plate appearance Davis saw a slider, a changeup, a sinker and another change from Cubs starter
Randy Wells
before getting his first fastball, which he took for a ball. Davis then flared a soft single into right field on a 2-2 change.
Wells refused to challenge Davis during his second time up in the fifth inning, as he threw a sinker and then a slider that resulted in a routine fly out to left field. Wells came with a first-pitch fastball an inning later, though, and Davis nearly made him pay by hitting the 89 mph pitch to deep right-center field, where right fielder
Xavier Nady
ran it down. It would have been a home run in many other major league parks, but not in cavernous Citi Field.
Davis faced his biggest challenge in the seventh inning, when Cubs manager Lou Piniella brought in left-hander
Sean Marshall
to face the rookie with runners on first and third. Marshall started the at-bat with three straight curveballs, falling behind 2-1 before Davis laced a slider into center field for a single and his first career RBI.
In all, Davis saw 13 pitches and only two were fastballs. Yet he managed a pair of hits on non-fastballs, making for a solid debut for Davis and good news for the Mets, whose first basemen had combined for the second-worst OPS (.516) in the National League before Monday, ahead of only the Pirates (.391).
More nights like that and the Citi Field denizens will have plenty of reasons to like Ike.
John Perrotto is editor-in-chief of Baseball Prospectus.
March, 29, 2010
3/29/10
9:00
AM ET
By
Mark Simon, ESPN Stats & Info
| ESPN.com
Those who got excited by Daniel Murphy's performance at the end of the season for the 2008 Mets had great expectations for 2009. Those have since been replaced by the anticipation for the next well-hyped Mets prospect, Ike Davis, whose Citi Field ETA has been moved up after a great spring.

But Murphy could still be One2Watch4 in 2010. Here's why:

Let's presume that the real Daniel Murphy is something between the machine-like hitter that fans saw for 49 games in 2008, and the oft-impatient, left field struggler-turned defensively adventuresome first baseman of 2009. The numbers (.382 BABIP) would tell you he might have been lucky in 2008. The eye test would seem to indicate he's got the ability to rope line drives and take advantage of the big outfield in Citi Field.

The latter is something Murphy did once the pressure was off at the end of the season, and it probably helped that by that point Murphy's comfort level at first base had improved. Under less-stressful circumstances, Murphy's swing returned to 2008 form.

Once Murphy found his swing, he became a doubles-hitting machine. After netting 19 doubles in his first 349 at-bats, he had 19 in his last 159, a pace that if carried over for 500 at-bats, would net 60 doubles.

That total has been unreached since 1936 (Hall of Famers Charlie Gehringer and Joe Medwick). The Mets record for doubles? A mere 44 by Bernard Gilkey in 1996. That would seem to be very much in Murphy's range if he can produce at a reasonable level. Citi Field's park factor rating scores high for triples (20 percent more at home than on the road), but not doubles (five percent fewer), but for Murphy that's okay. Triples for some are likely doubles for someone with Murphy's average speed.

The other thing to watch: Murphy's plate patience. His pitches per plate appearance dropped about 10 percent from his rookie year to his sophomore campaign. Pitchers exploited Murphy's inability to lay off low offspeed pitches (his "chase percentage" of 39 percent was six percent worse than the MLB average).

Murphy went from walking in almost 12 percent of his plate appearances in that small sampling in 2008 to doing so in just seven percent in 2009. Over the course of the season, that's about 25 potential times on base (and scoring chances) that Murphy and the Mets lost out on.

Lastly, keep an eye on Murphy's defense, since he talked of working with Keith Hernandez this spring. Baseball Info Solutions charted Murphy with among the best +/- ratings in baseball, which seemed odd. Range isn't always easy to evaluate though, so it's certainly possible that Murphy gets to balls well. Another year of data might help make a better evaluation, though new Mets third base/infield coach Chip Hale sounds like he thinks the numbers are legit.

"Just looking at film of him this offseason, I could see how talented he was, and his feet were as good as any middle infielder," Hale said while being interviewed on a Mets spring training telecast on Saturday." When you have a guy with feet like that, you can work with him. He's been unbelievable. To me, he's been as good as you can get at first base. I think people in New York are going to be pleasantly surprised at how well he plays."

Believe this: He's got room for improvement. Digging deeper, we found that Murphy had 32 defensive "misplays" by their scoring system (BIS charts every play of every game, using a system devised in tandem with Bill James). Only Adam Dunn collected more among first basemen. That won't be tolerated for much longer with a bat like Davis's waiting for a turn.