Stats & Info:

Ivan Rodriguez
April, 19, 2012
4/19/12
1:05
PM ET
By
Jeremy Lundblad, ESPN Stats & Info
| ESPN.com
US Presswire
Edwin Jackson (left and starting tonight) and Gio Gonzalez (right) are part of a pitching staff that leads all starting units in ERA.
The 10-3
Washington Nationals
are in first place in the NL East, the latest into a season that this franchise has been in first place since July 2005, the first season in Washington. That team would up finishing last in the NL East.
And they are 10-3 despite hitting just .249 and averaging 3.8 runs per game. In addition, the Nationals are 3-1 when trailing to start the eighth inning this season. Last year, they were 7-64 under those circumstances.
So what has been one of the main reasons the Nationals are an early-season surprise? The starting pitching staff sports a 1.65 ERA, the lowest by any starting unit in the majors.
In addition, here are some other reasons the Nationals are off to a hot start.
• Opponents are hitting .181 at Nationals Park
• Opponents are hitting .168 with RISP
• Opposing cleanup hitters are hitting .151 with a .367 OPS.
• In 13 games, the Nationals have allowed two HR. By contrast, the
Boston Red Sox
and
Toronto Blue Jays
have allowed 18.
Derek Jeter's Resurgence
Derek Jeter
hit his fourth home run of the season on Wednesday. He hit just six home runs in 2011, and didn't hit his fourth until July 25 (his 79th game of the season).
It's been a far different April for Jeter this season, who had a .272 slugging percentage in April 2011. So what changed?
Jeter is also hitting to the opposite field with authority. Already this season, Jeter has 11 hits to the opposite field, the most in the majors (
David Ortiz
is second with nine).
One more look back at Pudge's career
On April 23,
Ivan Rodriguez
will announce his retirement at Rangers Ballpark in Arlington. He's the all-time leader at catcher in hits, runs and games played. Let's take a look at some other Pudge facts.
• Pudge caught Nolan Ryan (born in 1947) and
Stephen Strasburg
(born in 1988)
• Pudge has more hits (2,844) than the two active hits leaders at catcher COMBINED.
A.J. Pierzynski
and
Ramon Hernandez
have 2,829 between the two of them
• All active catchers have combined for nine Gold Gloves. Rodriguez won 13
• Among catchers to debut in 1991, the last other than Rodriguez to appear in a game was
Tony Eusebio
in 2001
• Pitchers who threw to both Rodriguez and Johnny Bench: Charlie Leibrandt, Jeff Russell, Jay Howell
• His first manager was Bobby Valentine, who was the same age then (40) that Pudge is now
• Ironically, he was closer in age to his first manager (21 years younger than Bobby Valentine) than his last manager (28 years younger than Davey Johnson)
• 2011 will go down as the final season for Pudge,
Jason Varitek
and
Jorge Posada
. Those three combined to catch 5,489 games
Matchup of the Day - Joey Votto vs Adam Wainwright
The best hitter in the NL Central will face arguably the division's best pitcher.
Votto is just 1-for-12 with four strikeouts in his career against Wainwright. That includes 0-for-6 with three strikeouts on at-bats ending in Wainwright's curve.
April, 19, 2012
4/19/12
6:09
AM ET
Stats & Info insights into this morning's top sports stories
1. MEMORABLE CAREER:
Legendary Tennessee women's basketball coach Pat Summitt is stepping down as head coach and will take the title of "head coach emeritus." Long-time assistant coach Holly Warlick will be promoted to head coach to take Summitt's position. Summitt won more games than any other coach – men's or women's – in Division I basketball history. She led Tennessee to eight national titles and she was a seven-time NCAA Coach of the Year.

2. A LOT OF SCORING:
By scoring 10 goals against the
Philadelphia Flyers
, the
Pittsburgh Penguins
tied a franchise record for goals in a playoff game and the two teams helped make NHL history. Pittsburgh and Philadelphia have combined for 45 goals, the most in the first four games of a series in Stanley Cup Playoff history. And they've done their scoring early – 20 of the 45 goals have come in the first period. That's also an NHL record.
3. RECORDS TIED: FROM ELIAS:
The Penguins tied two NHL playoff records in the process. Their 10 goals equaled the record for most goals in a Stanley Cup playoff game by a road team, a mark set by the Kings in a 10-8 win at Edmonton in 1982 and matched by the Oilers with a 10-2 victory at Calgary in 1983. Pittsburgh also equaled the record for goals by one team in a playoff game in which it faced elimination. That standard was established by the Canadiens with a 10-3 win on home ice in Game 5 of their series against the Maple Leafs in 1945.
4. LEADING THE WAY:
The
Boston Celtics
clinched their fifth straight Atlantic Division title by beating the
Orlando Magic
. They did it without
Rajon Rondo
, who sat with a sore lower back injury.
Paul Pierce
picked up the assists load by dishing out a career-high 14. The Celtics' five straight titles are their most consecutive division titles since they won five straight from the 1983-84 to 1987-88 seasons during the Larry Bird era.

Rodriguez
5. PUDGE TO RETIRE:
Reports indicate that Ivan Rodríguez will announce his retirement on Monday and will do so at Rangers Ballpark in Arlington. He will retire as a 14-time All-Star who caught the most games of any player all time. Known as the best defensive catcher ever, Rodríguez won 13 Gold Glove awards, most among catchers.
April, 18, 2012
4/18/12
8:52
PM ET
Ivan Rodriguez wore the catcher's equipment more often than anyone who played the position.
When
Ivan Rodriguez
made his major league debut as a 19-year-old on June 20, 1991, the opposing catcher that day was future Hall of Famer Carlton Fisk.
Two decades later, Rodriguez finished his career with numbers that were of a similar caliber to Fisk's.
Sources tell Jerry Crasnick that Rodriguez will announce his retirement on Monday in Texas. Let's take a look back at some of the statistical highlights of his career.
Rodriguez was one of four position players from Manati, Puerto Rico, who made their major league debuts in the 1990s. The other three are
Jose Valentin
,
Javier Valentin
, and
Carlos Beltran
.
All four players enjoyed careers of at least 10 years, and the quartet combined for 913 home runs.
Rodriguez had the best career of the group. He was a 14-time All-Star, 13-time Gold Glove Award winner and seven-time Silver Slugger Award winner.
His 67.3 wins above replacement is tied with Fisk for second-best among catchers, trailing only Johnny Bench.
Rodriguez is the all-time leader in games caught with 2,427. He hit 311 home runs, 304 as a catcher, which ranks fifth-best all-time.
Rodriguez won the 1999 AL MVP when he hit .332 with 35 home runs and 113 RBIs. He also had 25 stolen bases that season, making him the only player to have a 20-home run/20-stolen base season as a catcher.
In 2003, Rodriguez signed with the Florida Marlins and he would go on to help that team to its second World Series title.
Rodriguez had 17 RBIs in 17 postseason games, held on in a violent collision with
J.T. Snow
for the final out of the NLDS, and was named MVP of the NLCS after the Marlins rallied from a 3-1 series deficit to beat the Cubs.
Rodriguez ranks first among Puerto Rican-born players in games played, at-bats and doubles, and second in hits, trailing only Roberto Clemente.
Rodríguez is one of five players in MLB history with a .290 batting average, 2,500 hits, 550 doubles, 300 home runs and 1,300 RBIs.
The others? Babe Ruth, Hank Aaron, George Brett and Barry Bonds.
Is Rodriguez headed to Cooperstown? Consider this: There are 16 players who have been inducted to the Hall of Fame as catchers. None has as many hits as Rodriguez's 2,844.
May, 25, 2011
5/25/11
12:36
PM ET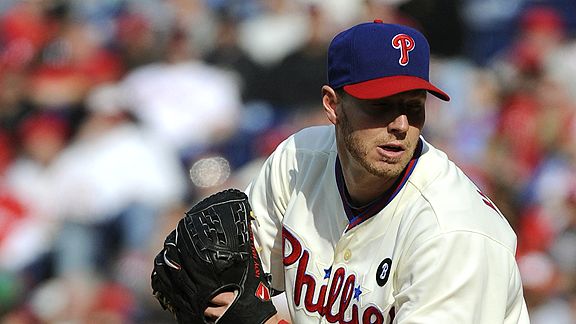 Barbara Johnston/US Presswire
Roy Halladay will face the Reds for the first time since he no-hit Cincinnati in the 2010 NLDS.
(The Philadelphia Phillies host the Cincinnati Reds at 7 p.m. ET on ESPN2.)
On Tuesday, the Reds snapped an eight-game losing streak (including playoff games) to the Phillies.
On Wednesday, the Reds have one more streak to break -- getting a hit off
Roy Halladay
. The last time Halladay faced the Reds, he threw the second postseason no-hitter in baseball history.
Halladay leads all of baseball with 80 strikeouts and is averaging 9.3 strikeouts per nine innings. That's well above his career high of 7.9 set last season. Only three Phillies have averaged better than a strikeout per inning and qualified for the ERA title:
Curt Schilling
in 1997 and 1998,
Brandon Duckworth
in 2002 and
Cole Hamels
last season.
This will be Halladay's sixth regular-season start with umpire Tony Randazzo working behind the plate. In his first two starts (2000 and 2004), Halladay was 0-2 and allowed 10 runs in 10 innings. In his past three (all since the start of 2010), Doc is 2-1 with a 1.44 ERA (four earned runs, 25 innings), 21 strikeouts and three walks.
Several Reds have had success against Halladay, highlighted by
Ramon Hernandez
. His .351 (13-37) average against Halladay is the fourth-highest among players with at least 30 at-bats:
Kevin Youkilis
(.375),
Ivan Rodriguez
(.359) and
B.J. Upton
(.357).
Opposing Halladay will be
Travis Wood
, who took a perfect game into the ninth inning in his only career start against the Phillies before allowing a leadoff double in the ninth. Halladay was the opposing starter in that game, too.
Wood is unbeaten in his past three starts but has failed to pitch seven innings in each of his past nine starts.
The Reds are third in the National League with a .262 batting average but are hitting just .254 against right-handed pitching. Furthermore, Cincinnati is hitting just .239 on the road, compared to .282 at home.
August, 7, 2010
8/07/10
1:32
PM ET
A lot of history was made on Saturday north of the border in the MLB's highest-scoring game of the season. The Toronto Blue Jays hit eight home runs, two shy of their franchise and major-league record 10 set back in 1987 against Baltimore.

The biggest story of the 17-11 win for the Jays over the Tampa Bay Rays was a player making his major-league debut. J.P. Arencibia had 31 HR in 379 AB at Triple-A Las Vegas this season before being called up Wednesday when
John Buck
(right thumb) went on the 15-day DL. The 24-year old was the 21st overall pick in the 2007 draft and Arencibia made the most of his day at the plate, hitting two HR, including one off of the first pitch he ever saw as a big leaguer. He's the second player to do that this season, the other being Boston's
Daniel Nava
on June 12.
Arencibia is the 6th player in the last 30 seasons to have 4+ hits in his MLB debut, and the second this season joining
Wilson Ramos
, then of the Twins. He is also the first player with 2+ HR in his MLB debut since the Royals'
Mark Quinn
in 1999. Both homers were on first-pitch fastballs.
The Elias Sports Bureau tells us that Arencibia is the first player in the modern era (since 1900) with four hits AND two HR in his major-league debut.
It's unfair to expect him to keep that pace up in the majors but it's worth nothing that his minor-league .639 slugging clip this season has been topped by 300-AB catchers just three times in MLB history:
Javy Lopez
(2003),
Ivan Rodriguez
(2000) and Rudy York (1937).
For those curious, his last name is pronounced "air-in-SEE-bee-uh". If he's going to become a household name, we better start learning how to say it.
And then there's James Shields, who allowed six of those Toronto homers before being pulled after four innings. Shields is just the 3rd pitcher in the Divisional Era (since 1969 when the mound was also lowered) to give up six HR in a game. Shields surpasses
Rodrigo Lopez
and
Dan Haren
for the ML HR allowed lead with 28.
Six homers are a lot. But the three NON-home runs that Shields allowed on Saturday were all doubles. Thus he gave up nine hits, ALL for extra bases. Since 1920, the
Florida Marlins
'
Ricky Nolasco
is the only other pitcher to do that (9+ H, all XBH). That was April 17, 2008, when he allowed four HR, four doubles, and a triple.
July, 26, 2010
7/26/10
8:48
PM ET
By
ESPN Stats & Info
| ESPN.com
Twins 19, Royals 1
Joe Mauer
(5-5, HR, 7 RBI) had his second five-hit game of the season (fourth of career) and drove in a career-high seven. According to Elias, Mauer is the third catcher with a 5-hit, 7-RBI game, joining
Victor Martinez
(2004 Indians) and Walker Cooper (1949 Reds). Rookie
Danny Valencia
(4-4, 4 R, 4 RBI) became the fourth rookie this season whose first career home run is a grand slam (
Brennan Boesch
,
Mike Stanton
,
Daniel Nava
). Valencia and Mauer are the first teammates in MLB this season with at least 4 hits and 4 RBI in the same game, and the first Twins since
Jacque Jones
and
Luis Rivas
in 2002.
Delmon Young
had four more hits and is hitting .427 in July (38-89).
Francisco Liriano
throws seven scoreless innings for the second straight start and wins his third straight start. For the Royals, the 18-run loss matches the largest defeat in franchise history. (Also lost by 18 to the A's in 2000, 21-3.)

Zack Greinke
allows a season-high eight earned runs, the most he's allowed in a start since June 3, 2008. One bright spot for the Royals as
Jason Kendall
became the 5th player in MLB history to catch 2,000 career games (
Ivan Rodriguez
, Carlton Fisk, Gary Carter and Bob Boone).
White Sox 6, Mariners 1
John Danks
wins his fourth straight start as the White Sox win a season-high eighth straight home game. Danks is 3-0 with a 1.14 ERA in three starts this season against the Mariners.
Felix Hernandez
allows four runs in a start for the first time since June 8th and is now 7-7 on the season. The Mariners have scored a total of five runs in Hernandez's last three starts.
Alexei Ramirez
and
Juan Pierre
each had three hits for the Sox.
Blue Jays 9, Orioles 5
Toronto has won 9 straight and 12 of its last 13 home games vs the Orioles dating back to 2009. They are 10-0 vs Baltimore this season... their 10-game win streak is the longest vs the Orioles since a team-record 13-game win streak from April 11, 1999 to May 10, 2000.
Jose Bautista
hit his MLB-leading 28th HR. That is as many HR as he had in his last two seasons combined.
Brandon Morrow
improves to 6-1 at home (1-5 on road).
Brad Bergesen
has lost his last 5 starts and last 7 decisions. The Orioles have lost 9 of their last 11 games.
Yankees 3, Indians 2
The quest for 600 continues. The Yankees used home runs from
Nick Swisher
and
Curtis Granderson
as they defeat the Indians 3-2.

For Swisher, the solo HR was his 18th of the season and 4th in his last 11 games.
Alex Rodriguez
went 0-4 as he continues to struggle at Progressive Field, as he is now homerless in 32 at bats in Cleveland since 2008. He has now had 17 AB since hitting his 599th home run. Of the 6 players with 600 home runs, Willie Mays took the longest in between 599 and 600, needing 21 AB to reach the milestone. The Yankees face Josh Tomlin tomorrow who Rodriguez has never faced.
July, 7, 2010
7/07/10
1:25
PM ET
By
Jeremy Lundblad, ESPN Stats & Info
| ESPN.com
Quick Hits
:
Alex Rodriguez
smacked his third grand slam of the season on Tuesday. It's the fourth time he's had multiple grand slams in a season, a feat only Jimmie Foxx can match according to the Elias Sports Bureau. With 21 in his career, A-Rod is tied with
Manny Ramirez
for second all-time behind Lou Gehrig (23). Let's take a look at how others have fared with the bases loaded.
According to Elias, the Yankees' nine grand slams before the All-Star break are a record. Three teams had eight slams before the break: the 2000 A's, 2005 Red Sox and 2006 Indians.
Already, those nine grand slams are tied for the second-most in Yankees history.
With 123 RBI with the bases loaded, the Yankees already have more than 16 teams had all of last season. They are on pace for 240. Over the last 35 years, the only team with 200 bases loaded RBI in a season was the 2000 A's with 203.
The Yankees are also hitting .422 with the bases loaded. Over the last 35 years, the highest bases-loaded batting average belonged to the 1976 Phillies (.410), according to STATS LLC.
Mark Reynolds has averaged about one home run per 16 at-bats in his career, but he is homerless in 46 bases-loaded at-bats with 21 strikeouts.
David Ross is just 1-for-3 this season with the bases loaded, but has managed seven RBI. Confused? Ross also has three walks and a hit by pitch with the bases full. In fact, three of his 12 walks this season have been with the bases loaded.
Torii Hunter is a perfect 6-for-6 with the bases full, leading to 14 of his 60 RBI on the season.
Hunter faces Freddy Garcia tonight. He has never allowed a grand slam to the 109 batters that he's faced with the bases loaded, most of any active pitcher.
Half of Francisco Cervelli's 30 RBI have come with the bases loaded.
B.J. Upton is 0-for-10 with the bases loaded this season after hitting .429 last season.
Ivan Rodriguez has grounded into a MLB-most four double plays with the bases loaded.
Today's Trivia
: Among active players, who has the most career home runs without a grand slam?
Today's Leaderboad
: The Rockies are hitting just .200 with the bases loaded this season, and join the Mets, Blue Jays and A's as the only teams without a grand slam. In fact, the Rockies have one more bases-loaded strikeout than the Yankees, despite 42 fewer plate appearances.
Key Matchups
:
Tim Lincecum
and
Ryan Braun
debuted within three weeks of each other in May 2007, and they've faced one another each year since. Braun has owned the matchup between the two phenoms, having hit .462 with a pair of home runs in 13 at-bats. In fact, Braun's seven RBI are the most of anyone against Lincecum, despite the fact that the Giants' ace has faced 49 batters on more occasions.
Torii Hunter hasn't faced Freddy Garcia since 2006, but he sure would like to pick up where he left off. In 2006, Hunter went 7-for-12 with three home runs against Garcia. Overall, he's a .400 hitter with four long balls. Estaban Loaiza (5) is the only pitcher he has taken deep more often.
Trivia Answer
:
Orlando Cabrera
has yet to hit a grand slam in a career that has included 117 home runs. His 168 plate appearances with the bases loaded are also the most for any active player without a grand slam.
June, 29, 2010
6/29/10
3:13
PM ET
By
Jeremy Lundblad, ESPN Stats & Info
| ESPN.com
Quick Hits
: Sure, they are having great seasons, but that doesn't mean they don't have a weakness. With help from ESPN Stats & Info's Mark Simon and Dan Braunstein, here are some top performers who have one very specific split where they are not producing.
Today's Trivia
:
Jim Thome
is two home runs away from tying Harmon Killebrew for 10th on the all-time list. Killebrew turns 74 today. He is one of four players to have 140 RBI and 140 walks in the same season. Who are the other three?
Today's Leaderboard
:
Josh Hamilton
still has two games to go in June, but is hitting .470 for the month. He's on pace for the fifth-best June batting average over the last 25 years. In 2004,
Ivan Rodriguez
hit .500 for the month while with the Tigers. Yet, Hamilton is not even the highest Ranger on this list.
Mark McLemore
hit .472 for Texas in June 1996, but hit just .261 in every other month of that season.
Key Matchups
:
Andre Ethier
is 18-for-33 (.545) lifetime against
Matt Cain
, whom he faces on Tuesday. According to the Elias Sports Bureau, that is the fourth-highest batting average for an active NL batter against a current NL pitcher (min. 25 AB). The best belongs to Albert Pujols, who is a .593 hitter against
Paul Maholm
.
Kevin Youkilis
is just 3-for-28 in the regular season against
James Shields
, a .107 average that is his second worst against any pitcher he's faced 20 times (.050 against
Erik Bedard
is his worst). He was actually hitless in his first 18 at-bats against Shields. But ironically, Youkilis crushed Shields in the 2008 postseason, going 3-for-6 with a home run.
Trivia Answer
: Babe Ruth, Ted Williams and
Mark McGwire
are the only other players with a 140-RBI and 140-walk season. Ruth is the only player to accomplish it twice.
April, 19, 2010
4/19/10
6:43
PM ET
By
Chris Fallica, ESPN Stats & Info
| ESPN.com
The season is only 2 weeks old, but some surprising names find themselves atop some statistical categories entering Monday.
Who has the most hits in baseball? Odds are prior to the start of the season, you wouldn't have said
Scott Podsednik
,
Placido Polanco
or
Franklin Gutierrez
would lead baseball in hits with 21 on this date. Podsednik leads baseball with a .457 BA.
Even more bizarre,
Ivan Rodriguez
leads the NL with a .444 BA.
I'm sure everyone thought
Jorge Cantu
would be the player with the most RBI with 16.
No
Joe Nathan
, no problem. The Twins
Jon Rauch
has the most saves with 6.
Felix Hernandez
or
CC Sabathia
have to lead the AL in strikeouts, right? Wrong. That honor goes to the Orioles
Brian Matusz
with 23, one fewer than
Tim Lincecum
's ML-leading total 24.
Of course Lincecum leads baseball in K per 9 then... Wrong again. Fellow Giants starter
Jonathan Sanchez
has a higher K per 9 than any starter in baseball (12.41).
Your ML leader in XBH? None other than Blue Jays SS
Alex Gonzalez
with 11. In fact 11 of his 17 hits have gone for extra bases.
Stop the presses, a Nationals pitcher leads baseball in ERA. We told you Stephen Strasburg was the real deal. Wait. It's not Strasburg you are talking about? Nope.
Livan Hernandez
has yet to allow a run in 16 innings this season. In case you missed it, Hernandez' ERA is almost 6 over the last two years.
Matt Garza
leads the AL in ERA at 0.75.
Obviously the Blue Jays knew
Ricky Romero
would have the lowest opponent BA among AL starters at this point (.143). Why else would they have traded
Roy Halladay
? And if you guessed a Cardinals starter led the majors in Opp BA, you guessed right. Except it's not
Adam Wainwright
or
Chris Carpenter
we're talking about. We'd be talking about
Jaime Garcia
, who has held opponents to a .116 BA this season.
April, 14, 2010
4/14/10
2:09
PM ET
By
Jeremy Lundblad, ESPN Stats & Info
| ESPN.com
Today's Trivia
: Happy Birthday to the 1995
Atlanta Braves
. Well, three of them at least.
Greg Maddux
,
David Justice
and
Steve Avery
were all born on April 14. Maddux posted an NL-best 1.63 ERA in 1995. Can you name the two other pitchers on that team that won an ERA title at some point in their career?
Quick Hits
: April has not been kind to leadoff hitters thus far, a trend spotted by Baseball Tonight researcher Mark Simon. With the obligatory acknowledgement that we are only 10 days into the season, let's take a look at the hole at the top spot in the order.
* Apparently, leadoff is the new seventh. Leadoff batters are hitting .249 with an OBP of .316. Meanwhile, the seventh spot is a collective .250 with an OBP of .316
* The No. 1 hitter in the
Texas Rangers
lineup is 1-28 with no walks.
Cincinnati Reds
pitcher Mike Leake had more hits than that in his MLB debut. The No. 1 hitter for the Braves is 2-29.
Arizona Diamondbacks
pitcher
Edwin Jackson
had two hits in an inning.
* The primary culprits have been
Julio Borbon
(1-25),
Melky Cabrera
(2-26), and a pair of Padres:
Everth Cabrera
(1-15) and Tony Gwynn, Jr. (1-11).
* In all, ten teams are hitting under .200 from the top spot in the order.
* Thirteen No. 1 hitters have an on-base percentage below .200 (minimum 15 PA)
* Though
Carlos Gonzalez
has the highest leadoff average (.393),
Jimmy Rollins
has arguably been the most productive leadoff hitter thus far. He's hitting .391 with a .516 on-base percentage. The catch? Rollins appears on his way to the disabled list.
Shane Victorino
, his likely replacement atop the lineup, is a career .227 hitter from the top spot.
Key Matchups
:
Bobby Abreu
has nine career home runs against
Javier Vazquez
, which is five more than he has against any other pitcher. However, that's just the tip of the iceberg. The Elias Sports Bureau unearthed a fascinating element to their head-to-head history. Abreu has three multi-homer games against Vazquez, making him the first to do that against one pitcher since Willie McCovey against Bob Buhl.
Looking to guide the Astros to their first win,
Brett Myers
is 4-2 in his career against the Cardinals. However, the current Cardinals lineup might indicate a different story. Six Cardinals regulars have faced Myers before, and they've combined to hit .392 with nine home runs in just 79 at-bats. For once
Albert Pujols
is bringing down the rest of the group. He is a .310 hitter against Myers with "only" two homers in 29 at-bats.
Today's Leaderboard
: Five players that have made at least 20 plate appearances have yet to strikeout this season. The most surprising would have to be Ivan Rodriguez, who fanned 92 times last season. With one strikeout in 34 PA,
Chase Utley
just missed the list. He had 110 strikeouts last season.
Trivia Answer
: If you guessed
Tom Glavine
and
John Smoltz
... sorry, they never led the league in ERA. Alejandro Pena (1984) and
Jason Schmidt
(2003) would be the correct answers.
April, 12, 2010
4/12/10
3:07
PM ET
By
Kenton Wong, ESPN Stats & Info
| ESPN.com
Week 2 of the baseball season means poll number 2 for the TMI panel. This week we ranked which bearers of the "tools of ignorance" are hardest to ignore.
Catcher is the most demanding position in baseball. Taking hits from balls, bats, players - these human backstops have to also manage the game, keep their pitcher sane and at the same time be competent with a bat in their hands.
Who does it best? If you've watched any baseball the last few years you know it's not really close.
Joe Mauer
hit .365 last season and through Sunday was hitting .381 this season. Oh, and he's the 2-time reigning AL Gold Glover. He received all 8 first-place votes from our panel.
Here's the rest of our top 10:
Others receiving votes:
Miguel Olivo
,
Gerald Laird
,
Miguel Montero
,
Mike Napoli
,
Ryan Hanigan
,
Chris Iannetta
,
Ivan Rodriguez