May, 22, 2013
5/22/13
4:24
PM ET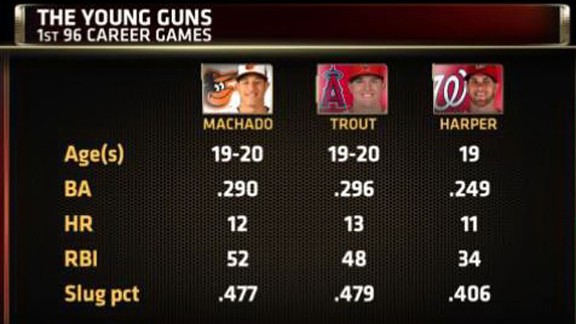 Manny Machado has had a better start to his career than Mike Trout or Bryce Harper.
Hiroki Kuroda
takes the hill for the
New York Yankees
against the
Baltimore Orioles
on Wednesday Night Baseball (ESPN, 7 ET).
Kuroda is 2-1 with a 1.93 ERA in four career starts against the Orioles (including the postseason), all coming since he joined the Yankees. He's pitched at least seven innings in each of those outings and thrown a pitch in the ninth inning in three of them.
In his start this season, he threw a 5-hit shutout, including just two hits over his final 23 batters faced.
Kuroda has done a number on righties this season, holding them to a .399 OPS, which is 55 points lower than the next-closest starter. He's struck out 21 righties and walked just 3 (18 strikeouts, 11 walks vs LHB).
He's also been great against the middle of the order this season. He's allowed a .384 OPS to opposing 4-7 hitters, the lowest among starters in the American League.
One of those righties will be Orioles third baseman
Manny Machado
. The 20-year-old is hitting .348 against right-handed pitchers this season --
Miguel Cabrera
is the only AL righty hitting higher against righties.
Machado was the youngest Opening Day starting 3B since
Adrian Beltre
in 1999 for the Dodgers. He was the youngest in the AL since Brooks Robinson in 1957.
You can see above how Machado compares to other young stars.
Matchups to Watch
The Yankees bullpen has combined to post a 1.73 ERA (11 ER, 57 1/3 IP) and hold opponents to a .200 (38-for-205) batting average with 60 K and just 13 BB in May. The winning run last night was the first run allowed by the Yankees bullpen on the road this month (in 27 2/3 IP).
Power Up the Middle
Two of the top three middle infielders in home runs since the start of the 2011 season are in this game -- Yankees second baseman
Robinson Cano
(first with 70) and Orioles shortstop
J.J. Hardy
(third with 60).
He's Going Streaking
Ichiro Suzuki
has an active 20-game hit streak at Camden Yards dating to April 2008, hitting .391 (34-87) in that span.
According to the Elias Sports Bureau, a hit tonight would tie him with
Joey Votto
(at Minute Maid Park) for the longest active hit streak at a single park and put him one behind
Jacoby Ellsbury
(from August 2008-August 2012) for the longest hit streak at Camden Yards.
Cutting Down on Ks
In a season where strikeouts are at an all-time high, the Orioles have cut down on the strikeouts from last season. They struck out at the third-highest rate in the AL last season (21% of PA). This year, they have the AL's second-lowest K rate behind Texas (17%).

•
Chris Davis
cut his K rate from 30% to 25%
• Manny Machado cut his from 19% to 14%
• J.J. Hardy cut his from 15% to 10%
•
Nick Markakis
cut his from 11% to 8%
•
Nate McLouth
cut his from 18% (with BAL last year) to 12%
•
Mark Reynolds
signed with the Indians (30% last season)
October, 30, 2012
10/30/12
10:30
PM ET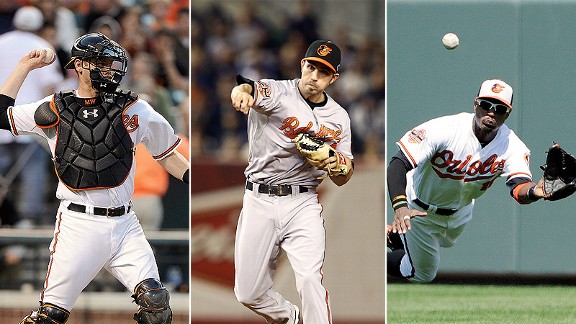 Getty ImagesMatt Wieters, J.J. Hardy and Adam Jones were rewarded for their defensive prowess this season.
The
Baltimore Orioles
returned to winning in 2012 and they returned to their successful past in putting a trio of players on the Gold Glove winners list.
The Orioles had three victors in 2012- catcher
Matt Wieters
, shortstop
J.J. Hardy
and centerfielder
Adam Jones
.
Wieters and Jones each won for the second time in their careers.
Hardy won his first award and became the first Orioles shortstop to win the award since
Cal Ripken
Jr. in 1992. Of the three, he put up the best defensive numbers-- he finished second to
Brendan Ryan
of the
Seattle Mariners
among AL shortstops in Defensive Runs Saved and was finished first in fielding percentage.
Wieters threw out 36 percent of baserunners attempting to steal, second-best in the AL.
Jones didn't fare well in the advanced defensive metrics, but led all outfielders in putouts by a wide margin. His 439 were 56 more than the man with second-most,
Michael Bourn
.
The Orioles of the 1960s and 1970s, with the likes of Brooks Robinson and Paul Blair, used to regularly put three or more players on the Gold Glove squad.
Last year's team had two (Wieters and
Nick Markakis
), but this marked the first time Baltimore had three winners in the same season since 1998, when
Mike Mussina
,
Rafael Palmeiro
and
Roberto Alomar
won.
All-Yankees right side of the infield
For the third straight year, the AL winners on the right side of the infield came from the same team. For the second time, that combo was
New York Yankees
first baseman
Mark Teixeira
and second baseman
Robinson Cano
.
For Teixeira, who led major-league first basemen with 17 Defensive Runs Saved, it was his fifth Gold Glove Award. He previously won in 2005, 2006, 2009 and 2010. Teixeira is the eighth player to win at least five Gold Glove Awards at first base.
Cano joined Bobby Richardson, who won five times, as the only Yankees second basemen to win multiple Gold Glove Awards (the Gold Gloves have been awarded since 1957).
Other Winners
Notes and nuggets on the other Gold Glove winners …
The vote for pitcher finished tied for the first time. Both
Jake Peavy
and
Jeremy Hellickson
won their first career Gold Glove Awards.
Peavy's win extended a streak of four straight years that a
Chicago White Sox
pitcher won.
Mark Buehrle
won it the previous three years. Hellickson became the first pitcher in Rays history to win one.
Texas Rangers
third baseman
Adrian Beltre
won his fourth Gold Glove and second straight. He and Buddy Bell are the only Rangers third basemen to win the award.
Both of the corner outfielder selections led their respective positions in Defensive Runs Saved.
Kansas City Royals
leftfielder Alex Gordon did so by a wide margin with 24, which helped him win for the second straight season. Gordon's stats were helped by his 17 assists, most by an AL leftfielder.
Oakland Athletics
rightfielder Josh Reddick led those at his position with 22 Defensive Runs Saved and tied for second with 14 outfield assists. He's the first Athletics outfielder to win a Gold Glove since Dwayne Murphy in 1985.
July, 14, 2012
7/14/12
9:53
PM ET


It was a game of comebacks at Oriole Park at Camden Yards, as the
Baltimore Orioles
outlasted the
Detroit Tigers
8-6 in 13 innings.
It was the fourth time this season that the Orioles played at least 13 innings. That's the most in the majors, and Baltimore is a perfect 4-0 in such games this season.
The O's are 10-2 in extra innings this season, the most wins in the majors. Since the start of the 2010 season, the Orioles have 31 extra-inning victories, also tops in MLB. The
Cincinnati Reds
, who beat the
St. Louis Cardinals
in 10 innings Saturday, are third on the list with 27.
The hero was
Taylor Teagarden
, who made his Orioles debut by entering the game as a defensive replacement in the 11th inning. Teagarden's two-run homer provided the winning margin and was his first career walk-off hit.
Teagarden bailed out Baltimore closer
Jim Johnson
, who allowed a season-high three runs in picking up his second blown save of the season. Entering the game, Johnson had allowed only five runs in 37⅓ innings.
J.J. Hardy
and
Adam Jones
also got into the action with game-tying hits in extra innings. Jones tied the game in the 11th and leads the majors with four game-tying or go-ahead hits in extra innings this year. Hardy hit a solo homer in the 13th, the first time in his career that he has tied a game by going deep after the ninth inning.
There have been nine home runs hit in the 13th inning or later in the majors this season, and the Orioles have four of them.
That offset the efforts of
Quintin Berry
, who was in line to be the hero for the Tigers. After picking up his first career game-tying ninth-inning hit to force extra innings, he got his second career extra-inning go-ahead hit in the 13th.
Diamond Dust
• The hero in Cincinnati was less of a surprise.
Ryan Ludwick
hit his fifth career walk-off home run as the Reds downed the Cardinals 3-2 in 10 innings.
• The
Atlanta Braves
rallied late to cost
R.A. Dickey
the win, but he has made 15 straight starts without a loss. That's the fourth-best streak in
New York Mets
history. Tom Seaver (1969-70), Dwight Gooden (1985) and
Johan Santana
(2008-09) all have 18-game streaks without a loss.
•
Andrew McCutchen
homered in three straight games for the first time in his career. Since he hit his first long-ball of the season on May 8, only
Jose Bautista
has more home runs.
May, 11, 2012
5/11/12
12:34
AM ET
By
ESPN Stats & Information
| ESPN.com

Strasburg
In his first start against the
Pittsburgh Pirates
since striking out 14 in his MLB debut, falling one shy of the MLB record for strikeouts in a debut,
Stephen Strasburg
fanned 13 in just 6 innings Thursday night.
Strasburg deftly mixed up his fastball and off-speed pitches against Pittsburgh, registering seven strikeouts with a fastball and holding Pirates hitters to one hit with six strikeouts in eight at-bats ending with off-speed pitches.
He also kept the ball away, with 52.4 percent of his pitches (54 of 103) over the outer part of the plate. The Pirates were hitless with five strikeouts in six at-bats ending with pitches away.
And while Strasburg fell one punch-out short of his career high, he did set a personal record with 20 pitches resulting in swings-and-misses.
Strasburg's start Thursday was the 24th of his career, making him the fifth pitcher to strike out 13 or more hitters twice his first 25 career games in the divisional era and first since
Kerry Wood
in 1998.
Thursday was the fourth time in Strasburg's career he struck out at least 10 batters in a game, the most such games by a Nationals pitcher since the franchise moved to Washington in 2005. He also became the first pitcher in the history of the Nationals or Expos to register 13 strikeouts in six of fewer innings.
Elsewhere in the majors Thursday:
•
Josh Hamilton
homered in his second game since tying an MLB record with 4 HR on Tuesday. Hamilton, who became the first player with 6 HR in a series since
Hee Seop Choi
in 2005 according to Elias, now has more HR since Monday than
Jose Bautista
,
Alex Rodriguez
,
Joey Votto
and
Albert Pujols
have all season.
•
Josh Beckett
allowed 7 runs in just 2⅓ innings as the
Boston Red Sox
lost to the
Cleveland Indians
. It was Beckett's first start since 2008 in which he allowed at least 7 runs in fewer than 3 innings. Boston's six straight losses at Fenway Park matches its longest home losing streak since losing 12 home games in a row in 1994.
• Elias tells us the
Baltimore Orioles
became the first AL team to open a game with back-to-back-to-back HR when
Ryan Flaherty
,
J.J. Hardy
and
Nick Markakis
homered to start the bottom of the first inning. All five of the Orioles hits were HR Thursday, making Baltimore just the third team to have five or more hits with all hits being homers in the live-ball era (since 1920).
May, 14, 2011
5/14/11
12:42
AM ET
Justin Verlander
almost had more in common with Johnny Vander Meer than just initials.

Verlander
In his first start since throwing a no-hitter last Saturday, Verlander took another bid into the sixth inning Friday against the
Kansas City Royals
before allowing a triple to
Melky Cabrera
with two outs.
According to Elias, Verlander's bid was the longest in the start immediately following a no-hitter since
Mark Buehrle
also went 5 ⅔ innings without giving up a hit in 2009. If Verlander had made it through the sixth, it would've been the longest since Mike Scott in 1986.
There have been 165 no-hitters thrown including playoffs since Vander Meer threw consecutive ones on June 11 and 15, 1938. In fact, the last pitcher to throw consecutive no-hitters before another pitcher threw one was Nolan Ryan in September 1974 and June 1975.
Entering Friday, Verlander was definitely in position to make a run at Vander Meer's historical accomplishment. Verlander is now 11-2 with a 2.47 ERA in his career against the Royals. The victory also gives him 20 career wins in May, the most he has in any month.
Verlander was not the only one to take a no-hit bid into the sixth on Friday.
Ricky Romero
of the
Toronto Blue Jays
also went 5 ⅔ innings before giving up a single to
Denard Span
of the
Minnesota Twins
.
It's the third day in the last eight calendar days in which at least two pitchers had a no-hit bid of at least 5 ⅔ innings.
At the complete opposite end of the spectrum is
Seattle Mariners
closer
Brandon League
, who gave up a two-out, two-run homer in the bottom of the ninth to
Travis Hafner
of the
Cleveland Indians
.
It's just the latest implosion in what has been a nightmare week for League.
Consider League's last four outings:
• Allows three earned runs in 1 ⅓ innings in a loss Sunday to the
Chicago White Sox
.
• Blows his first save and takes another loss Tuesday, giving up two runs in the 13th inning at the
Baltimore Orioles
.
• Gives up a two-run single to
J.J. Hardy
in the bottom of the 12th to the Orioles on Thursday, his third straight loss.
• Surrenders three runs Friday for his third straight blown save and fourth straight losing decision.
League's totals over this brutal four-game stretch: 0-4, 30.00 ERA and a .600 opponent's batting average.
December, 12, 2010
12/12/10
9:00
AM ET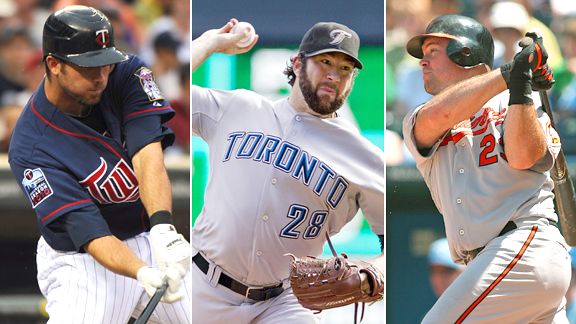 Getty Images
J.J. Hardy, Shaun Marcum and Ty Wigginton were among the under-the-radar players on the move last week.
With more than $750 million committed by major league teams, plus a slew of significant trades, it's been a busy offseason. Here are some quick takes on notable moves that took place in the last seven days.
Jason Bartlett (Padres)
Bartlett was consistently below average as a Ray in his ability to turn double plays. According to Baseball Info Solutions, it is estimated that Bartlett cost his team four runs in 2009 (worst in the majors) and three runs in 2010 (second-worst) because of his poor performance when attempting to turn double plays.
-- Katie Sharp
Carl Crawford (Red Sox)
If a good statistical benchmark for Carl Crawford over the next seven seasons is 250 steals and 100 home runs, consider this: The last player to do that over seven seasons was
Marquis Grissom
(1992-1998).
-- Mark Simon
Jack Cust (Mariners)
Cust fills a significant need for the Mariners. His .395 on-base-percentage, .438 slugging percentage, .166 isolated power and .371 weighted on-base average (wOBA) for the
Oakland Athletics
in 2010 all would have been the best on the Mariners.
-- Justin Havens
Jeff Francoeur (Royals)
Francoeur posted the second-worst on-base percentage of any outfielder in 2010. That runs counter to one area of improvement for Kansas City. The Royals tied for ninth in the AL in walks last year, after finishing in the bottom two in the previous three seasons.
-- Paul Carr
Tony Gwynn Jr.(Dodgers)
Gwynn finished fourth in Net Rating (a measure from Baseball Info Solutions that looks at approximately 30 categories of Good Fielding Plays and 50 categories of Misplays). Gwynn's signature defensive play was a game-saver on June 6, with the Padres leading by a run in the bottom of the 10th inning. He threw out
Placido Polanco
trying to go first-to-third on a single with one out. That's the kind of play the Dodgers could use. Their assist total from centerfielders dropped from 14 in 2009 to three in 2010, tied for fewest in the majors.
-- Mark Simon
J.J. Hardy (Orioles)
Last year's Orioles left side of the infield averaged a home run every 71 at-bats and a walk every 25. Hardy and Mark Reynolds netted a homer every 22 at-bats and a walk every eight.
-- Justin Havens
Shaun Marcum (Brewers)
It will be interesting to see if Marcum's ability to generate swings-and-misses is as good in the NL. Batters missed on 50 percent of their swings against his changeup and chased over 40 percent of those offerings, both ranking among the top five in the AL. His changeup putaway rate (strikeouts/two-strike changeups thrown) of 25.9 percent was the fourth-highest in the league.
-- Katie Sharp
Mark Reynolds (Orioles)
Reynolds' league-worst .198 batting average last season was unusual -- more than 50 points worse than the his .250 over the two previous seasons. Though Reynolds' contact rate and in-play percentage were consistent from 2008-10, he didn't have good fortune when putting balls in play. His BABIP of .257 in 2010 was the fourth-lowest in the NL, far below his mark of .330 from 2008-09.
-- Katie Sharp
Ty Wigginton (Rockies)
Wigginton may mesh well with Coors Field. Inside Edge tracks well-hit average (a subjective rating that favors line drives and long fly balls) and ranked Wigginton 33rd in that stat (.263). However, he ranked 95th in slugging percentage (.415). For comparative purposes, new teammate
Troy Tulowitzki
had a well-hit average one point higher than Wigginton (.264) and ranked eight-best in the majors in slugging.
-- Mark Simon
March, 5, 2010
3/05/10
1:05
PM ET
By
Eric Seidman, Baseball Prospectus
| ESPN.com
Most of the baseball talk in Minnesota these days revolves around
Joe Mauer's
contract extension saga, and for good reason: He is the best catcher in baseball and the face of a franchise with hopes of contending. The Twinkies potential to make the playoffs does not rest squarely on Mauer's shoulders, however, as GM Bill Smith made sure to improve what was arguably the team's most glaring weakness a season ago.
By trading for shortstop
J.J. Hardy
and signing second baseman
Orlando Hudson
, Smith not only brought in two of the better defenders at their respective positions, but solid hitters who look extra tasty when compared to who they will be replacing.
The Twins managed to rally back to a tie for the AL Central at the end of last season and went onto win a one-game playoff to qualify for the playoffs, but that was in spite of the awful performance they got from the men in the middle of the diamond.
Orlando Cabrera
,
Alexi Casilla
,
Nick Punto
and
Matt Tolbert
each saw their fare share of time at shortstop and second base, and their overall
True Average (TAv)
amounted to a pathetic .229 mark. Hardy and Hudson, although on different teams, combined for a .262 TAv that vastly exceeded the Twins in-house options. So what does the new keystone combo for the Twins project to produce this season?
Baseball Prospectus' PECOTA projection system sees Hudson as capable of putting up a .271 TAv with Hardy coming in at .261. Weighted together, their .266 TAv would rank sixth amongst middle-infield combos in the junior circuit:
The acquisitions of Hudson and Hardy represent a very important point in the world of statistical analysis: A team does not need to acquire a superstar at one position to improve more than marginally. The Twins brought in two solid players who might not get picked first in a sandlot game, but are certainly above average, and being above average is Ruth-ian compared to who they penciled in at those spots last year. If Gardenhire's gang once again plays meaningful baseball into October, Joe Mauer is likely to be a big reason why, but do not underestimate the contributions of Hudson and Hardy and the upgrade they will provide.

Eric Seidman is an author of Baseball Prospectus