July, 28, 2012
7/28/12
1:27
PM ET
Getty Images/Jim McIsaac PhelpsJustin Upton and the Diamondbacks are hanging in the race for a postseason spot.
The epic end of the 2011 regular season will go down in baseball lore -- the
Boston Red Sox
's collapse, the Atlanta Braves' faltering to lose the Wild Card,
Evan Longoria
's walk-off to put the
Tampa Bay Rays
in the postseason.
Lost in the amazement of Sept. 28 was the bigger picture before that, when the
Arizona Diamondbacks
staged a remarkable stretch run over the final 62 games to overtake the
San Francisco Giants
in the NL West.
The D'backs finished on a tear -- 41-21 (.661), including a nearly incredible 29-13 (.690) against NL West opponents. They went from trailing the Giants by four games to winning the division by eight.
Justin Upton
, who had been averaging a home run every 27 plate appearances, lowered that frequency to 16½ -- mostly by crushing fastballs at a .376 clip (after a respectable .318 earlier in the year).
Gerardo Parra
hit better than .300 for the final two months.
The team traded second basemen with Toronto, sending
Kelly Johnson
northward in exchange for
Aaron Hill
, who promptly led the team with a .315 batting average the rest of the season.
Ian Kennedy
won 10 of his last 12 starts en route to a 21-4 overall record. As a team Arizona cut its strikeout-to-walk ratio from 2.53 to 2.11, and raised its on-base percentage from .314 to .336.
J.J. Putz
converted his last 24 save opportunities, had an ERA equal to his WHIP (0.77), and averaged nearly 11 strikeouts per nine innings.
Could a similar charge by the Diamondbacks be in order this season?
Friday's 11-5 win against the Mets was Arizona's 100th game of the season. And the 2012 numbers compare favorably to those at 100 games in 2011.
Despite three fewer wins, the team's batting average is 18 points higher, scoring is up slightly, and hitters are more patient than last season.
The remaining schedule is fairly light, with half of the games being against sub-.500 teams, including 16 against the
San Diego Padres
and
Colorado Rockies
, who bring up the rear of the division.
It remains to be seen whether this season holds similar Diamondbacks in the rough, but there are a few with potential.
Paul Goldschmidt
has been feasting on left-handed pitching; his average (.368), slugging percentage (.755), and OPS (1.189) are all among the NL leaders.
Free-agent pickup
Jason Kubel
is your NL RBI leader with 72, and 11 of his 22 homers have come in July.
Kubel has been a lot more selective on inside pitches this season; his swing rate has gone down four points, and his average has jumped from .179 to .258. And after a slow start,
Miguel Montero
is hitting .331 since mid-June and chasing a lot fewer pitches out of the zone.
As 2011 taught a lot of teams, a 5½-game lead in either the division or Wild Card can easily be overcome. So if the final pieces in the puzzle fall into place, the NL West could be an interesting division over these last 62 games.
May, 1, 2012
5/01/12
10:45
AM ET
Stephen Dunn/Getty ImagesMatt Kemp is the fifth player in history to hit at least 12 home runs before May 1.
ESPN's Home Run Tracker analyzes video of each home run hit this season and as far back as 2006. Each month, the tracker will detail the best and worst home runs, as well as some other interesting statistics pertaining to the long ball. Below are the notable home runs for the month of April.
Power Surge:
(Player with highest combined HR distance)
2011 Winner:
Jose Bautista
March/April Winner:
Matt Kemp
Kemp is off to a torrid start, with 12 home runs that have traveled a true distance of 4,802 feet. That's a longer true distances than the Padres, who have hit 11 home runs, and the Cubs, who have hit the fewest HR (9) entering May. Kemp's 12 home runs are two shy of the record set by Albert Pujols in 2006 and Alex Rodriguez in 2007 for the most home runs by April 30.
No Doubter
(Longest true distance)
2011 Winner:
Prince Fielder
(486 feet)
March/April Winner:
Travis Hafner
(481 feet)
On April 15, Cleveland's DH hit a home run of the Royals
Luis Mendoza
, the longest HR of his career. Hafner's previous long was 454 feet in 2006. The 481-foot shot is the longest HR by an Indian since the beginning of our database (2006).
Wall-Scraper
(Shortest true distance)
2011 Winner:
Asdrubal Cabrera
(320 feet)
March/April Winner:
B.J. Upton
(323 feet)
On April 24, Upton hit a home run off
Ervin Santana
that hit off the left-field foul pole.
Chris Iannetta
hit a 324-foot HR off
Phil Hughes
, the only other player this season to hit a home run less than 345 feet.
Moonshot:
(Highest Apex - maximum vertical height a ball reaches)
2011 Winner:
Mark Reynolds
(161 feet)
March/April Winner:
Todd Helton
(162 feet)
On April 14, Helton hit a walk-off home run off
J.J. Putz
. The ball hung in the air for 6.92 seconds, the highest apex HR since
Alex Rodriguez
reached 169 feet on Sept 11, 2009.
Liner:
(Lowest Apex)
2011 Winner:
Carlos Peguero
(39 feet, twice)
March/April Winners:
Curtis Granderson
/
Luke Scott
(49 feet)
Ervin Santana, who gave up the shortest HR of the month, also gave up the lowest apex. On April 13, Santana served up a 349-foot solo shot to Granderson that had an apex of 49 feet. Scott matched Granderson with a 387-foot laser off
Mark Lowe
, which also never got higher than 49 feet off the ground.
Mother Nature:
(Most climate-impacted HR)
2011 Winner:
Luke Scott
March/April Winner:
Miguel Cabrera
Even the best need help from time to time. On April 26, Cabrera hit a 382-foot home run off
Hector Noesi
, but a 15 mph wind gust helped the ball carry an extra 62 feet. Without the wind, it would have been a routine fly out.
Server:
(Pitcher who allowed the greatest cumulative distance)
2011 Winner:
Bronson Arroyo
March/April Winner:
Ervin Santana
In addition to giving up the shortest and the lowest apex home runs, Santana's 10 home runs allowed traveled a total distance of 3,844 feet.
Launching Pad:
(Greatest cumulative distance in one stadium)
2011 Winner:
Rangers Ballpark in Arlington
March/April Winner:
Rogers Centre
Thirty-eight HR have been hit in Rogers Centre thus far, with a total distance of 15,072 feet. Chase Field in Arizona finished second, totaling 12,803 feet. Conversely, only six HR were hit at AT&T Park in April.
May, 28, 2011
5/28/11
10:09
AM ET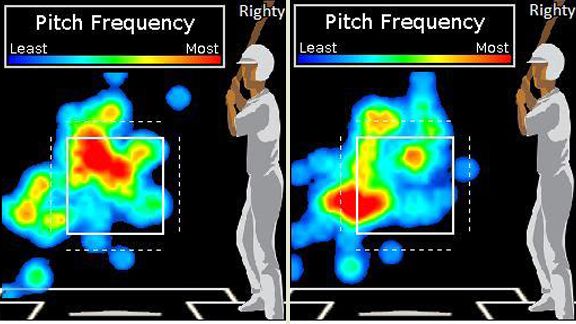 The heat maps above show Jesse Crain's slider usage against right-handed hitters. The image on the left shows his pitch location in April. The image on right shows his pitch location in May.

Crain
Jesse Crain
of the
Chicago White Sox
had the strongest month among middle relievers, as thus far he's the only non-closer in May to make at least 10 appearances and not give up a single run. In that span he's held opponents to a batting average of just .135, allowing only five hits in 11 1/3 innings. Crain also collected six holds.
What was his go-to pitch? As usual, Crain utilized his slider to near perfection. He threw that pitch 82 times in May, nearly as often as his fastball (92), and only once did a batter get a hit off it. While that pitch was very effective in April as well (only two hits in 81 pitches), Crain is keeping his slider down and away this month against right-handed hitters.
The heat maps at the top of the piece show Crain's slider location to righties. The image on the left shows his usage in April, the image on the right shows his usage in May. Notice the difference in the red shading, which indicates where Crain threw his slider to right-handers most frequently.

Mariners Keeping Things Economical:
After a sluggish start to the season, Seattle is back around .500 as the calendar nears June. While the bullpen's ERA is merely average at best (3.84), Mariners relievers have been keeping at-bats economical. Through Thursday's games, the Seattle bullpen averaged just 3.59 pitches per plate appearance, the fewest in baseball.
David Pauley
's 3.37 pitches per plate appearance is best on the team, minimum 15 innings. He also sports a 0.89 ERA this season in over 30 innings of work. According to Inside Edge, over 50 percent of Pauley's innings go the minimum, well above the league average of 35 percent.
Putz Continues to Roll:

Putz
Arizona Diamondbacks
closer
J.J. Putz
continued to dominate this week, collecting five saves while allowing no hits and just one walk since last Saturday. His 15 saves are the most in the majors among players without a blown save in 2011, and he's allowed just one run in the month of May.
The 15 straight saves are already tied for the 2nd-most in Diamondbacks franchise history, and according to Elias, he's seven shy of matching the franchise mark set by
Gregg Olson
in 1998. Putz's fastball has lost over a full mile per hour compared to last season, but it's been much more effective this year. In 2010 opponents posted an OPS of .636 against his heater. This year it's at just .450 in 207 pitches.
April, 8, 2011
4/08/11
3:00
PM ET
By
Thomas McKean
| ESPN.com

A team already off to a good start in the relief department has been the
Arizona Diamondbacks
. After posting the 6th-worst relief ERA in the Divisional Era (since 1969) according to Elias, the Diamondbacks bullpen has turned it around early in 2011. Arizona relief pitchers lead baseball with a 10.38 strikeout per 9 innings ratio and have a combined ERA of 2.77. In three of five games they have not allowed an earned run.
Newcomer and closer
J.J. Putz
has not allowed a baserunner in his two appearances, and according to Inside Edge, is throwing his first pitch for a strike 83 percent of the time. There are areas of concern however. Relievers are allowing a .288 batting average, with a WHIP of 1.62.

The
Boston Red Sox
terrible start to the season has been well documented to this point, and the bullpen should bare a huge portion of the blame. Through the first week of play, Red Sox relievers have posted the highest ERA in baseball (8.04) and have allowed only two fewer runs than they've scored as an offense.
Much of the problem stems from Boston's newcomers,
Dennys Reyes
and
Dan Wheeler
. Granted, it's still very early, but the two have been less than effective thus far. Reyes' primary pitch is the fastball, but he's only converting it into a strike 33 percent of the time this season according to Inside Edge, down from 57 percent in 2010. Reyes has since been designated for assignment.
Meanwhile Dan Wheeler had been one of the best middle relievers in baseball for the
Tampa Bay Rays
over the last three seasons. His .195 opponent batting average was tied for 3rd among relievers with 20 or fewer saves and at least 150 innings pitched according to Baseball Reference. But this year, Wheeler has already allowed two home runs in his first three outings, both off of his fastball. Last year, Wheeler gave up seven home runs all season. That is a concern, as Fangraphs tells us that his ground ball-fly ball ratio has been under 1.00 in every season since 2005. As a pitcher that relies on fly-ball outs, Wheeler may struggle in a park like Fenway, which had an ESPN Park Factor of 1.083 last year (a rate higher than 1.000 favors the hitter), 7th-highest in baseball.

Clippard
The underrated bullpen performer of this past week is arguably
Tyler Clippard
of the
Washington Nationals
. After a rough start to his career with the
New York Yankees
, Clippard has found a home in Washington. This past week he didn't get credited with a run allowed in six innings of relief. In each of his four appearances, Clippard entered the game with runners in scoring position. Twice he allowed a runner to score but both were via outs. So far only two of the 11 batters to face him with runners in scoring position have reached base and both were via a walk.
March, 8, 2011
3/08/11
5:18
PM ET
Arizona Diamondbacks
general manager Kevin Towers made several offseason changes, but Arizona still enters this season with numerous question marks, with the bullpen chief among them.
A roster overhaul was needed after a 65-97 record in 2010, especially to a bullpen that posted a 5.74 ERA. Not only was it more than a full run worse than any other team last season, but according to the Elias Sports Bureau it was the sixth-worst bullpen ERA in the divisional era (since 1969), and the worst by any National League squad.
Arizona blew 24 saves last season; only the
Baltimore Orioles
(27) and
Florida Marlins
(25) blew more.
Enter
J.J. Putz
, who will likely take over the closing role from
Juan Gutierrez
(who became the team's closer after the Diamondbacks traded
Chad Qualls
to Tampa Bay).
Putz was strong in relief with the
Chicago White Sox
last season, although he was not used much in save situations (3 saves, 4 blown). Putz was above the league average in many categories last season, and most importantly, he finished off batters when he needed to. When Putz had two strikes against a hitter, according to Inside Edge, he converted an out 85 percent of the time, 12 percent higher than league average. That was also four percent better than any Diamondback pitcher last season.
Putz was also very economical, as 54 percent of opponent plate appearances ended in three pitches or fewer (MLB average was 45 percent). Compare that to Gutierrez, who only had 44 percent of his plate appearances last three pitches or fewer. Putz also did a better job of keeping the ball in the ballpark, allowing only four home runs in 54 innings. Gutierrez allowed 13 in 56 2/3 innings – the most among pitchers who threw fewer than 60 innings. Left-handed batters also had an OPS of .721 against Putz, a significant upgrade from Gutierrez's .927. Gutierrez remains in the Arizona bullpen for this season, but in a less prominent role.
Putz used fastballs to his advantage last season, utilizing the pitch 63 percent of the time. He relied on his heater when he was behind in the count -- 84 percent of the time in those situations. It proved wise, as 70 percent of his fastballs were strikes, 6 percent above league average. His strike percentage on offspeed pitches was lower (63 percent), and only 2 percent above the MLB average.
While Putz's opponent average against fastballs was .265, it was significantly better than Gutierrez's (.294), as well as several other Arizona relievers in 2010, including
Sam Demel
(.291),
D.J. Carrasco
(.285) and
Aaron Heilman
(.293).
Chase Field is a very hitter-friendly venue (ESPN Park Factor ranked 9th last season), so adding Putz to the closer role makes sense. According to
Baseball-Reference.com
, Putz was able to force grounders more than fly balls last year: 27 percent fly ball hits allowed, compared to 39 percent on the ground. That's crucial if a player wants to have success in a hitter-friendly park.
July, 21, 2010
7/21/10
3:30
PM ET
By
Mark Malzewski, ESPN Stats & Info
| ESPN.com
Today's Trivia
: Cubs manager Lou Piniella announced Tuesday that he will retire at the end of the season. Piniella made his managerial debut on April 8, 1986 when his Yankees hosted Kansas City. Who was the opposing starting pitcher?
Quick Hits
: A quick look at some newsworthy hits from around baseball:
There were four games on Tuesday in which a team won after trailing by at least four runs. It's the first time four teams came from behind to win in that fashion on the same day since April 19, 2006:
TUESDAY'S MLB COMEBACKS
Red Sox at Athletics: Oakland trailed Boston 4-0 after two innings, but shut down the Red Sox the rest of the way. The A's won the game with 2 outs in the 10th inning for their fifth walk-off win of the season.
Giants at Dodgers: Down the coast in LA, the Dodgers jumped all over
Tim Lincecum
and led 5-1 after five innings before the Giants came back, capped by a bizarre 3-run 9th inning for a 7-5 win.
Rays at Orioles: In Baltimore, the Orioles trailed 8-4 AND overcame ninth-inning and extra-inning deficits in their 11-10 win over the Rays. Baltimore's the only team that's won a game this season when trailing in both the ninth inning and in extra innings.
Astros at Cubs: At Wrigley, it looked as if it was going to be another long night for the Cubs. Houston led 6-0 and 7-1 before
Aramis Ramirez
exploded for three home runs in the Cubs' 14-7 win.
There were seven ejections (player/manager/coach) on Tuesday, the most in a single day this season: NYY
Joe Girardi
, PIT John Russell, LAD Bob Schaefer, LAD
Clayton Kershaw
, LAD Joe Torre, OAK
Coco Crisp
, BOS John Farrell
Aramis Ramirez hit three home runs and drove in seven in the Cubs' 14-7 win over Houston. It was the fourth three-HR game of his career, the most by a third baseman in the live ball era (1920). He's the first Cub to hit three HR in a game since
Alfonso Soriano
on Sept. 6, 2008, and the first Cub with three HR and at least RBI in a game since
Sammy Sosa
(3 HR, 9 RBI) on Aug. 10, 2002. Aramis Ramirez, who had six HR and 23 RBI through the month of June (53 games), has nine HR and 24 RBI in 15 games this month.
From the Baltimore Sun: In Tuesday's second inning against Tampa Bay's
Matt Garza
, the Orioles hit three consecutive homers for the first time since doing it against the California Angels on Sept. 5, 1995 — the same day
Cal Ripken
Jr. tied Lou Gehrig's record of consecutive games played at 2,130. In that game, it was Jeff Manto,
Mark Smith
and
Brady Anderson
who went deep consecutively. On Tuesday, it was
Luke Scott
,
Ty Wigginton
and
Adam Jones
who homered to give the Orioles a 3-0 lead.
FROM ELIAS:
Chris Carpenter
got the win and
Andrew Carpenter
the loss in the Cardinals' 7-1 win over the Phillies. The last game in which the winning and losing pitchers each had the same surname was when
Jeff Weaver
bested his brother Jered on June 20 of last season.
From Chicago Tribune: White Sox reliever
J.J. Putz
, returning to his first major league city, set a franchise record by making his 25th consecutive scoreless outing.
From the Miami Herald: A victory by
Ricky Nolasco
on Wednesday would give him 50 as a Marlin and move him into second on the team's all-time list behind
Dontrelle Willis
, who recorded 68. But Nolasco has done his best pitching on the road, not at home. Nolasco has gone 30-18 with a 4.23 ERA on the road but only 19-19 with a 4.78 ERA at Sun Life Stadium, and all four of his career complete games have been on the road.
From the Philadelphia Daily News: The Phillies have scored 3 or fewer runs in 45 of their 93 games this season, 48.4 percent.
Today's Leaderboard
: The
Baltimore Orioles
(four) and
Tampa Bay Rays
(three) combined to hit seven solo HR in the O's 11-10 extra-inning win Tuesday night. Tampa Bay and Baltimore are now fifth and tied for sixth, respectively, in the AL in team solo HR. With his 2 solo HR, Baltimore's Luke Scott moved into a tie for 4th in the AL in most solo HR this season.
Key Matchup
: The Cubs'
Derrek Lee
is hitting .469 (15-for-32, 3 HR) in his career against Houston's
Brett Myers
. His average against Myers is the second-highest of his career against any of the 33 pitchers he's had at least 30 plate appearances against. Only his .486 average (17-for-35) against
Jason Marquis
is better. Lee is 0-for-3 against Myers this season.
Trivia Answer
: Current San Diego manager Bud Black. Black, who spent 15 years in the majors with five teams, went seven innings, allowing six hits and four earned runs as he took the loss. As a side note, Black's former pitching coach in San Francisco, Dave Righetti, earned the save in New York's 4-2 win.