July, 6, 2011
7/06/11
12:50
AM ET
Tuesday saw several notable historic achievements around Major League Baseball. Below is a series of notes and tidbits from Tuesday's slate of action.
1. Throwback night for the New York Yankees

In the Yankees' 9-2 win over the
Cleveland Indians
, both
Curtis Granderson
and
CC Sabathia
joined the ranks of history. Granderson hit two home runs, giving him 25 on the season. Not only does that already exceed his total from all of 2010, but it gives both he and
Mark Teixeira
25 HR on the season.
The Elias Sports Bureau confirmed that the only other time in which the Yankees had two players with at least 25 HR before the All-Star break came in 1961. That season, Roger Maris and Mickey Mantle did so en route to Maris' then-record-setting 61 home run season.
On the pitching side of the ledger, Sabathia became the fifth pitcher in the last 20 seasons to win at least 12 games before the All-Star break in consecutive seasons. Sabathia also firmly established himself in Yankees history, as he and Ron Guidry in 1978 are now the only Yankees pitchers with 2 straight starts of 10 or more strikeouts and zero runs allowed. Some additional details on how Sabathia won on Tuesday:
• Once again, Sabathia had his slider working. He had nine strikeouts with the pitch, his most since July 13, 2008. The Indians swung at 16 Sabathia sliders, missing on 13, the most misses by a team against Sabathia's starter since that start in 2008. The Indians missed on 81.5 percent of their swings against Sabathia's slider, highest by a team against Sabathia since 2006 in a start in which he threw at least 12 sliders.
• Sabathia went to his slider with two strikes more than in any of his starts in the last three seasons. Sixteen of his 27 two-strike pitches were sliders (59.3 percent), his highest percentage of two-strike sliders in the last three seasons. Indians hitters were 0 for 12 in at-bats ending with a slider; all of those at-bats ended in two-strike counts. The 12 outs with his slider are the most in a start by Sabathia since July 13, 2008.
• He had even more success with his slider when he kept it down. Twenty of Sabathia's 28 sliders were down in the zone or below it, and Sabathia got eight of his nine slider strikeouts on those low pitches. Indians hitters missed on 11 of 12 swings against Sabathia's slider when it was low.
• Sabathia had more velocity on his fastball than in any start this season. His fastball Tuesday averaged 95.6 MPH, almost a full mile per hour more than in any previous start this season. Sabathia's fastball has averaged more than 94.1 MPH three times this season, all in the last three starts.
2. The Good and the Bad in Reds-Cardinals


With his 23rd home run of the season,
Lance Berkman
now has 350 career home runs. That ties him with Chili Davis for fourth all-time among switch hitters. On the flip side, the starter for the
Cincinnati Reds
--
Edinson Volquez
-- once again struggled in the first inning.
He entered Tuesday with a 12.00 first-inning ERA and six first-inning home runs allowed. On Tuesday, Volquez yielded two more first-inning home runs. His road ERA now stands at 6.35 for the season.
3. Pirates Up, Brewers Down in NL Central


The
Pittsburgh Pirates
won their 45th game this season and, consequently, moved four games above .500. Last season, Pittsburgh did not get win No. 45 until September 3. It's the first time since April 26, 2009 that the Pirates are four games above .500.
The
Milwaukee Brewers
' loss Tuesday was their second straight home loss. They hadn't lost two straight home games all season. They had been the only team this season not to lose consecutive home games.
4. Another night, more struggles for Adam Dunn
In a season that has seen his OPS drop 282 points from 2010, Adam Dunn once again struggled on Tuesday. Dunn went 0-5 with three strikeouts in the
Chicago White Sox
loss to the
Kansas City Royals
. That marks Dunn's 75th game over the last 10 seasons where he went hitless with three or more strikeouts. That is easily the most such games during that span, a full 25 games ahead of second-place
Jack Cust
. It was Dunn's 12th such game this season.
December, 12, 2010
12/12/10
9:00
AM ET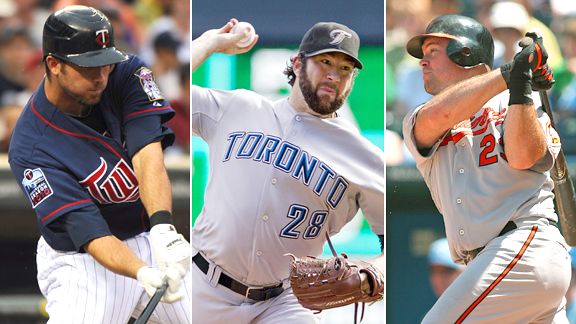 Getty Images
J.J. Hardy, Shaun Marcum and Ty Wigginton were among the under-the-radar players on the move last week.
With more than $750 million committed by major league teams, plus a slew of significant trades, it's been a busy offseason. Here are some quick takes on notable moves that took place in the last seven days.
Jason Bartlett (Padres)
Bartlett was consistently below average as a Ray in his ability to turn double plays. According to Baseball Info Solutions, it is estimated that Bartlett cost his team four runs in 2009 (worst in the majors) and three runs in 2010 (second-worst) because of his poor performance when attempting to turn double plays.
-- Katie Sharp
Carl Crawford (Red Sox)
If a good statistical benchmark for Carl Crawford over the next seven seasons is 250 steals and 100 home runs, consider this: The last player to do that over seven seasons was
Marquis Grissom
(1992-1998).
-- Mark Simon
Jack Cust (Mariners)
Cust fills a significant need for the Mariners. His .395 on-base-percentage, .438 slugging percentage, .166 isolated power and .371 weighted on-base average (wOBA) for the
Oakland Athletics
in 2010 all would have been the best on the Mariners.
-- Justin Havens
Jeff Francoeur (Royals)
Francoeur posted the second-worst on-base percentage of any outfielder in 2010. That runs counter to one area of improvement for Kansas City. The Royals tied for ninth in the AL in walks last year, after finishing in the bottom two in the previous three seasons.
-- Paul Carr
Tony Gwynn Jr.(Dodgers)
Gwynn finished fourth in Net Rating (a measure from Baseball Info Solutions that looks at approximately 30 categories of Good Fielding Plays and 50 categories of Misplays). Gwynn's signature defensive play was a game-saver on June 6, with the Padres leading by a run in the bottom of the 10th inning. He threw out
Placido Polanco
trying to go first-to-third on a single with one out. That's the kind of play the Dodgers could use. Their assist total from centerfielders dropped from 14 in 2009 to three in 2010, tied for fewest in the majors.
-- Mark Simon
J.J. Hardy (Orioles)
Last year's Orioles left side of the infield averaged a home run every 71 at-bats and a walk every 25. Hardy and Mark Reynolds netted a homer every 22 at-bats and a walk every eight.
-- Justin Havens
Shaun Marcum (Brewers)
It will be interesting to see if Marcum's ability to generate swings-and-misses is as good in the NL. Batters missed on 50 percent of their swings against his changeup and chased over 40 percent of those offerings, both ranking among the top five in the AL. His changeup putaway rate (strikeouts/two-strike changeups thrown) of 25.9 percent was the fourth-highest in the league.
-- Katie Sharp
Mark Reynolds (Orioles)
Reynolds' league-worst .198 batting average last season was unusual -- more than 50 points worse than the his .250 over the two previous seasons. Though Reynolds' contact rate and in-play percentage were consistent from 2008-10, he didn't have good fortune when putting balls in play. His BABIP of .257 in 2010 was the fourth-lowest in the NL, far below his mark of .330 from 2008-09.
-- Katie Sharp
Ty Wigginton (Rockies)
Wigginton may mesh well with Coors Field. Inside Edge tracks well-hit average (a subjective rating that favors line drives and long fly balls) and ranked Wigginton 33rd in that stat (.263). However, he ranked 95th in slugging percentage (.415). For comparative purposes, new teammate
Troy Tulowitzki
had a well-hit average one point higher than Wigginton (.264) and ranked eight-best in the majors in slugging.
-- Mark Simon
April, 5, 2010
4/05/10
10:52
AM ET
By
Christina Kahrl, Baseball Prospectus
| ESPN.com
The six-month slog of the regular season can make any Opening Day roster error a footnote. Even so, with the regular season swinging into action, there are some problems that need fixing sooner rather than later. Here are five of the biggest crimes being committed in Opening Day roster construction.
1) Making the term "designated hitter" an oxymoron on the South Side:
Roster pressures have encouraged more than a few teams to stock the DH slot with "staff" and use the at-bats as a way to keep bench players fresh or give position players days off from fielding. But in a White Sox lineup that projects to finish 12th in the AL in true average and 12th in OBP, letting those at-bats go to
Mark Kotsay
(11 homers over the last three years) and
Andruw Jones
(.304 OBP in that time) just isn't going to fly. Recently-waived
Jack Cust
(25 homers, .356 OBP last year) may not be an Ozzieball ballplayer, but he'd make a nice fix to both problems in a lineup that could keep a quality rotation from winning a winnable division.
2) Demoting Brett Cecil:
Already looking like a club that might slip from the irrelevancy of fourth place to the ignominy of fifth, the Blue Jays have rounded out their rotation with veteran swingman
Brian Tallet
and the well-traveled
Dana Eveland
. While both have their uses, neither presents any real upside; they'll just help the Jays successfully complete a losing season. Cecil was already the organization's best pitching prospect, and last season's 17 starts in the big leagues showed he's figuring things out (6.7 K/9). Beyond that, an assignment to that hitting haven in Las Vegas is a terrible thing to do to a young pitcher. Skip the oregano, Cecil doesn't need any more seasoning.
3) Arizona tangling its own web:
Losing
Brandon Webb
for longer than expected puts the D-backs in a bit of a bind, but the club was expected to contend, and relying on
Ian Kennedy
(6.03 career ERA),
Rodrigo Lopez
(5.70 career ERA), and a Reno ace to be named later to fill the last three slots in the rotation makes it clear that Arizona needs to add somebody. Lopez is a guy you endure as a fifth, not count on as a fourth.
4) The Nationals muddling their middle infield:
To the credit of the Nats' brain trust, it's true:
Cristian Guzman
may not be all that, and
Ian Desmond
really should be given his shot at starting in the middle infield. But after a winter in which the other 29 teams had a chance to add
Adam Kennedy
and decided not to, he has no trade value to a club that needs to be thinking of how to convert veterans into prospects, whereas Guzman's value as a starting shortstop won't be helped if he's riding pine. A Guzman-Desmond combo up the middle makes far more sense.
5) L.A.'s long "relief":
The Dodgers' bullpen is a throwback to the days when relievers were just guys who failed in their bids to make it in the rotation. But both
Russ Ortiz
and
Ramon Ortiz
? And
Jeff Weaver
? Carrying Rule 5 pick Carlos Monasterios isn't a bad choice as a matter of retaining talent, but as a quartet, the team's middle-relief selections figure to deliver middling results. The matter of who's in this bullpen might be one of the more subtle symptoms of the Dodgers' divorce-enabled inactivity this winter.
Christina Kahrl is an author of Baseball Prospectus.
April, 3, 2010
4/03/10
4:35
PM ET
By
Doug Kern, ESPN Stats & Info
| ESPN.com
It's a relatively slow Friday afternoon, and the conversation in our newsroom ended up turning to first-pitch strikes. (Yes, we're an odd group.) You may have noticed that all of our ESPN.com boxscores had this stat added at last season's All-Star Break. It's something we continue to track throughout the year as an indicator of how well a pitcher is able to get ahead in the count.

S&I's Marty Callinan, who normally works on our NFL data team, jokingly suggested that in addition to tracking first-pitch strikes this season, we should track "seventh-pitch balls". That prompted us to stumble onto this interesting data, courtesy of our friends at Inside Edge.

If you sort all of last year's pitches by which pitch of the plate appearance they were, you notice a couple really neat trends. The strike percentage (which includes foul balls and balls put in play) rises on every pitch. The percentage of balls that are swung at rises with each successive pitch (three-fourths of all first pitches were taken by batters last year).


We often talk about hitters being patient at the plate, but one of the more surprising trends was the dramatic rise in the chase percentage. This stat reflects the number of bad balls (i.e., out of the strike zone) that a hitter swings at. Sure, a pitcher isn't going to throw one right over the heart of the plate when he's already battled for nine or ten pitches. And long counts favor the hurler anyway. But maybe that's not because of anything the pitcher's doing. Maybe the hitters are more eager to swing at junk pitches, if only just to foul one off and stay alive. Even the most patient hitters eventually lose it.


By the way, the best hitter last season on the first pitch was Oakland's Jack Cust (30-for-52 including seven dingers). The best hitter from the 10th pitch onward? Todd Helton (6-for-10).


And the longest plate appearance last season? It's a tie. Freddy Sanchez (April 16) and Aubrey Huff (July 29) both battled for 17 pitches. They both swung at pitch number 17. And they both made outs.

March, 25, 2010
3/25/10
12:00
PM ET
By
Doug Kern, ESPN Stats & Info
| ESPN.com
All week on
Baseball Tonight
, we've been taking a look at some "next-generation" statistics-- things like Value Over Replacement Player and Runs Saved-- but let us not forget the old real-estate adage: "Location, location, location." For a batter, having an idea of which pitch is coming, and where it's likely to be, is key to being able to hit it (or at least not looking too foolish when you miss). Likewise for a pitcher, knowing whether to work a hitter inside, outside, with certain pitches, etc., is the trick to getting him out. This research of each other's strengths and weaknesses goes on every day between managers, players, advance scouts, and even us here at ESPN.

Our friends at Inside Edge Scouting Services charted every one of the 187,079 plate appearances in the major leagues during the 2009 regular season. That's almost three-quarters of a million pitches. Below are some things we can learn from that data.


1. Mauer Power is not a myth. The Twins' Joe Mauer was the best hitter in the majors last season if you isolate only those plate apparances that end on a fastball. (As we'll see later, don't throw him one down and in, either.) Since most pitchers' fastballs don't have a lot of movement, the key for hitters is simply catching up to it. As you'd expect, most of these leaders are your traditional "power hitters". Albert Pujols ranks eighth on the chart below.

2. Hitting an off-speed pitch is not the same as hitting a fastball. To catch up to a fastball, you need bat speed. On the other hand, the best off-speed hitters aren't power guys. They're batters with good eyes who can follow the movement on the pitch. And last season's leaders include some names who wouldn't roll off the tip of your tongue.

3. Know the hot zones. We've all seen those 3x3 charts that look like a tic-tac-toe board or a telephone keypad. Every ESPN GameCast has them when a batter comes to the plate. Sometimes it's a batter's stance that influences whether they can hit high heat or low "nasty" stuff. You've often seen pitchers with good control who can "lead" a batter, gradually throwing pitches farther and farther outside/inside/up/down until the hitter can't reach them anymore. Different batters have different zones. And waiting for a pitch that's in one of them-- or not throwing him a pitch there-- is a huge part of the strategy.


The best moral, though, is that if you can't hit it, don't try. You'll end up on a highlight reel-- and not in a good way.

4. Strike early. A long at-bat becomes a battle of wits between hitter and pitcher. Some players prefer to just get it over with. Although the conventional wisdom frowns upon swinging at the first pitch, a select few have done very well at it.
5. Strike early. It's true for pitchers also. You've heard that "the best pitch in baseball is strike one." Getting ahead in the count puts the batter on the defensive and allows the pitcher more flexibility. But for some hitters, it's a challenge they can rise to.
6. Being "clutch" is, well, clutch. It's fun to watch Albert Pujols rip one out of the park. But only 35% of the runs scored last season actually came on homers. A hitter who can drive runners in, especially with two outs, can often be the unsung hero on his team. These are the quiet guys who don't make a lot of home-run noise, but the team would flounder without them.

7. It all starts with contact. Some of the toughest outs are hitters who refuse to swing at bad pitches. It requires a good eye and a lot of self-restraint. But when a pitcher is forced to stay in the zone, the batter ends up with more pitches to hit. "Chase percentage" measures the number of pitches outside the strike zone that a batter swings at. "Swing-and-miss percentage" measures a batter's ability to make contact, whether inside the strike zone or out. A hitter can be equally selective by not swinging at pitches he knows he can't hit.
We'll keep analyzing pitch types and locations throughout the 2010 season on Baseball Tonight and here in The Max Info. Studying what a pitcher throws, and where, often provides clues to why he had a great outing. Studying a batter's hot and cold zones, along with favorite pitch types, adds insight to a great day at the plate (or a terrible one), a hitting streak or slump, or just that amazing walk-off homer.