June, 29, 2010
6/29/10
11:48
AM ET
By
Jack Moore, FanGraphs
| ESPN.com
On April 12, the
Minnesota Twins
claimed possession of first place in the AL Central with a 5-2 win against the
Boston Red Sox
. Since then, the Twins have been in sole possession of first for 76 days and tied for one. For the first time since then, Minnesota is no longer atop the Central after losing to the
Detroit Tigers
, 7-5, on Monday night. Although the Twins battled back to within a run in the eighth inning, Twins ace
Francisco Liriano
's four-run, first-inning meltdown was simply too much for the Twins to recover from.
Liriano started the inning by hitting
Austin Jackson
with a pitch. It was downhill from there,
as the game log shows.
It certainly doesn't appear that Liriano was getting burned by dribblers through the infield. Three of the five hits in the inning were classified as line drives by Baseball Info Solutions; another,
Miguel Cabrera
's double, was a deep fly ball. It also doesn't appear that Liriano's velocity was down in the first inning, either. He threw 13 fastballs in the inning, averaging 93.8 mph. That's almost exactly in line with his fastball velocity on the year.
Liriano put himself in a very bad situation with the hit batsman and then a bunt hit by
Ramon Santiago
. Then, as happens to even the best pitchers, he was burned by good hitters and poor location. After a single by
Ryan Raburn
loaded the bases, Cabrera hit a slider which was down out of the strike zone for a double. In the next at-bat, Liriano's second
pitch to
Brennan Boesch
was simply asking to be hit for extra bases.
Allowing cheap baserunners is particularly problematic for Liriano, as he struggles from the stretch relative to the rest of the league. The average pitcher has allowed batters to slug .396 with the bases empty this year, and .415 with runners on. Against Liriano this season, the opposition is slugging .313 with no one on base and .374 with men on. So even though the lefty is better than the league with runners on, the gap between his performance with the bases empty versus men on is larger than most.
This four-run inning by the Tigers raised their win expectancy to 78.8 percent before the Twins even got to the plate. Liriano managed to throw five strong innings despite his poor opener, but it simply wasn't enough. The Tigers scored enough early and managed to hang on. As a reward, Detroit is now in first, and the race is on.
Jack Moore is a writer for FanGraphs.
June, 10, 2010
6/10/10
12:45
PM ET
By
Jack Moore, FanGraphs
| ESPN.com
Recently,
Tampa Bay Rays
manager Joe Maddon has employed an unorthodox strategy against pitchers with great change-ups. Ever since
Dallas Braden
and his nasty change threw a perfect game against the Rays, Maddon has stacked his lineups with players who bat with the same hand as the starting pitcher in order to neutralize that pitch. The change-up is a pitch that is typically used to neutralize opposite-handed hitters, and so Maddon is attempting to take away this advantage from pitchers with great change-ups by reducing the number of opposite-handed hitters in the lineup. So far, the strategy has worked pretty well.
Most notably, on May 29, the Rays torched White Sox lefty
John Danks
for eight runs with a lineup that included four left-handed hitters. On Wednesday night, the Rays faced right handed change-up specialist
Shaun Marcum
of the
Toronto Blue Jays
, who had a 2.77 ERA entering the gme. The Rays lineup still included three left-handed hitters, as it's essentially impossible for the Rays to remove
Carl Crawford
,
Carlos Pena
, and
Reid Brignac
from their line-up at this point. However, the Rays sent up switch-hitters
Ben Zobrist
and
Dioner Navarro
to bat right handed against Marcum, and even more telling was that they not only used right-handed catcher
Kelly Shoppach
as the DH, but they hit him clean-up.
Did it work? Marcum's line -- four innings, 10 hits and seven earned runs -- certainly suggests it did. Shoppach, Navarro, and Zobrist were a combined 3-for-6 against Marcum, including a home run by Navarro.
A look at the Pitch F/X data suggests that Marcum still threw his change-up as often as he normally does, so he didn't alter his game plan much. In his 12 previous starts, Marcum threw 21.1 percent change-ups, and 14 of his 67 pitches (20.9 percent) were change-ups on Wednesday night. It was still effective, as he threw 10 of the 14 (71.4 percent) for strikes and drew swinging strikes on three (21.4 percent) of them, both marks well above the league average. However, that swinging strike mark is five points below his average for the season, suggesting that hitters weren't fooled quite as often by the pitch.
Despite the early success, Joe Maddon may not exactly be on solid ground with these decisions. In their careers, both Marcum and Danks aren't significantly better against opposite-handed battters. Instead, they have performed at roughly the same level against these hitters, showing no real platoon split. The "Danks Theory," as some are calling the strategy, has worked, but it may take switch hitters out of their comfort zones, and it's possible that neutralizing the change-up may come at the cost of making a pitcher's fastball or curveball more effective. It will be interesting to see whether the Rays continue to trot this odd strategy out there even if they get shut down a few times.
Jack Moore is a writer for FanGraphs.
June, 6, 2010
6/06/10
9:30
AM ET
By
Jack Moore, FanGraphs
| ESPN.com
As Tim Kurkjian
writes in his column today
,
Chipper Jones
is a unique player. Not only has he starred for the team that drafted him No. 1 overall, but he has stayed with that team for his entire career. And isn't that what you're looking for with the first pick, a player to build your franchise around? So this got us wondering, is Jones the "truest" franchise player? In other words, of all the No. 1 overall picks of all time, has he delivered the most value to the team that drafted him? Let's find out.
To figure this out, we are going to add up the total number of wins above replacement (WAR) that each No. 1 pick produced for the team that drafted him.
Adrian Gonzalez
, for example, has been a very valuable player, but he has produced almost all of his value for the Padres, not the Marlins, the team that drafted him. With that in mind, here are the five players who have produced the most WAR for the club that drafted them.
5. Harold Baines, 30.3 WAR, Chicago White Sox, No. 1 pick in 1977
Baines was a consistently above-average hitter, as his wOBA never dipped below .333 during either of his first two stints with the White Sox. For a time, he was a decent defensive right fielder, but never great, and he spent the last 10 years of his career primarily as a DH. As such, he only topped 5.0 WAR in a season once, in 1984, when he hit 29 HRs with a .304/.361/.541 line. He was a lock for between 2.0 and 4.0 WAR for 10 years. As a consistently above-average player, Baines was quite valuable to the White Sox, but his age and lack of defensive value hurt him later in his career, when he split time between Chicago as well as Texas, Oakland and Baltimore.
3. (tie) Darryl Strawberry, 36.7 WAR, New York Mets, No. 1 pick in 1983
Strawberry had a fantastic run with the Mets from 1983 to 1990. He won the Rookie of the Year in 1983 with a 26 home run, .371
wOBA
, 3.0 WAR season and never looked back. All eight of his seasons with the Mets were worth at least 3.0 WAR, as he combined great power -- isolated power above .240 every year from '85 to '90 -- with great discipline -- he walked more than 10 percent of the time in every year with New York. He even mixed in some great defense, producing a plus-35
TotalZone
between 1989 and 1990. Various problems derailed Strawberry's career after he left the Mets to sign with the
Los Angeles Dodgers
in free agency. Strawberry would only put up 6.5 WAR over the rest of his career.
No. 3 (tie) Alex Rodriguez, 36.7 WAR, Seattle Mariners, No. 1 pick in 1993
This era of Rodriguez's career saw him as among the better defensive shortstops in the majors (plus-22 TotalZone from 1996 to 2000) and
the fantastic hitter we still know today. He would win four Silver Sluggers with Seattle, putting up wOBAs of .444, .379, .399, .397, and
.433. These are fantastic numbers for any position but are eye-popping for a solid defensive shortstop. As such, it only took Rodriguez five full seasons to equal the performance of Strawberry over nine.
No. 2 Ken Griffey Jr., 72.4 WAR, Seattle Mariners, No. 1 pick in 1987
Back in the day, Griffey was in a class all his own. He was among the best defensive center fielders in the game, including a staggering plus-32 TotalZone in 1996. He had more seasons with a wOBA above .400 then below .400. Griffey was simply a dominant force in baseball for 11
years after his call-up in 1989, excelling at every facet of the game. His performance through age 30 compared extremely favorably with those
of Hank Aaron,
Barry Bonds
and Willie Mays, three of the best outfielders to ever play the game. Unfortunately, injuries derailed the rest of his career and his return to Seattle was simply not productive at all. Still, a team can't ask for more out of a first overall pick than what Ken Griffey Jr. gave Seattle from 1989 through 1999.
1. Chipper Jones, 83.6 WAR, Atlanta Braves, No. 1 pick in 1990
Jones has been the best of both worlds for the Braves, spending his entire career in Atlanta and producing over that span. Jones has never put up any of the eye-popping seasons like Griffey's 10.2 WAR 1996, but he's been consistently excellent. Since 1995, Jones hasn't put up a season with fewer than 2.9 WAR, and he's eclipsed 7.0 WAR four times (including his 1999 MVP season) and 6 WAR eight times. Jones is the prototypical combination of power and discipline, putting up isolated power scores above .200 and walk rates above 11 percent every year of his illustrious career. As it turns out, the numbers also tell us that Jones is the "truest" franchise player.
For a broader view, here's a look at every No. 1 overall pick who has made an All-Star team, and how they fared for the team that drafted them relative to everyone else. This only includes position players.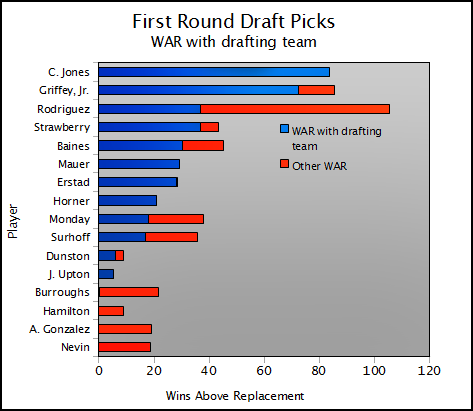 Jack Moore is a writer for FanGraphs.
April, 29, 2010
4/29/10
12:36
PM ET
By
Jack Moore, FanGraphs
| ESPN.com
The White Sox acquired Jake Peavy from the Padres at last year's trade deadline to be their ace for 2010 and onwards. In 2010 so far, Peavy has performed nowhere near the part, and that continued Wednesday night when he allowed six runs in 6 2/3 innings during a 6-5 loss to the Rangers. But a close look at Peavy's performance shows that's it pretty obvious why he's is struggling.
Simply put, the 28-year-old right-hander is not finding the strike zone. So far, Peavy has hit the zone on just 46.1 percent of his pitches, a mark which places him in the bottom third of the league among starting pitchers. There are some successful pitchers down there with him, including teammate Mark Buehrle and Royals ace Zack Greinke. However, when Peavy has missed the strike zone, hitters simply haven't chased. Buehrle has induced swings on over one-third of his pitches out of the zone, and Greinke on more than 27 percent. Peavy has managed to induce out-of-zone swings only 24 percent of the time.
Naturally, this has led to a career high 38.2 percent of his pitches to be balls and a career high 6.28 walks per nine innings. Peavy's strikeout rate has also plummeted to a career low 6.91 per nine, after being above a strikeout per inning every year but one since 2004. This combination of missing the strike zone and an inability to avoid contact has allowed players to sit back on a misplaced pitch in the heart of the strike zone and to simply take a walk if that pitch doesn't come.
One possible explanation is an increased use of his changeup, which he had an extraordinarily difficult time controlling in Wednesday night's start against Texas. He's thrown it 12.6 percent of the time this year after not topping 9.4 percent with that offering since 2005. He threw the pitch 11 times against the Rangers and only managed to get three called strikes and one swinging strike. Meanwhile, all of his other pitches were strikes at least 58 percent of the time. He had similar struggles with the pitch the outing before against Tampa Bay, only throwing 40 percent of his 20 changeups for strikes. His curveball use is down to account for this rise in changeups, and the curveball has been a pitch he's been able to get strikes with this season, drawing 71 percent and 61 percent strikes respectively in his last two starts.
Regardless of the reason, Peavy needs to start finding the strike zone, and fast. The White Sox have already fallen five-and-a-half games behind the Twins, and if they don't have the ace that they traded four prospects for last season, their playoff door will close in a hurry.
Jack Moore is a writer for FanGraphs.