Stats & Info:

Jair Jurrjens
July, 22, 2011
7/22/11
4:07
PM ET


The
Seattle Mariners
bring their 12-game losing streak to Fenway Park tonight for a three-game series with the
Boston Red Sox
. The 12-game losing streak is tied for the second-longest in team history, two games shy of the record set by the 1992 team.
According to the Elias Sports Bureau, the last team to end a losing streak of 12-or-more games with a win against the Red Sox was the 1982 Rangers, who dropped 12 straight games before beating Boston, 1-0, in Arlington.
However, it's been more than 50 years since a team carrying a losing streak of at least 12 games defeated the Red Sox in Fenway Park. That last happened on September 11, 1959, when the Kansas City Athletics, losers in their previous 13 games, won in Boston, 8-6.
Despite the home-field advantage of the Red Sox, the Mariners likely have the edge in the pitching matchup between
Felix Hernandez
and
John Lackey
.
Hernandez, who was on the mound the last time the Mariners won a game on July 5, has pitched brilliantly at Fenway during his career. He's posted a 3-0 record and 1.49 ERA in five career starts there. That's the lowest ERA as a visitor at Fenway Park for any active pitcher who has thrown at least 30 innings there.
Lackey has really struggled at home this season. He's posted a 7.68 ERA and opponents have a .891 OPS against him in eight starts at Fenway. The highest home ERA by any Red Sox pitcher for a full season (min. 75 IP) is 6.48 by Jack Lamabe in the 1964 season.
Ichiro Suzuki
may be having a down season, on pace for fewer than 200 hits for the first time in his career, but he's nearing a significant milestone.
Combining his MLB and Japanese League totals, he needs one hit to tie Stan Musial's career hit total at 3,630 hits. Ichiro currently sits at 3,629 combined hits (2,351 in MLB; 1,278 in Japan) which is the fifth-most combined between MLB and Japanese League all-time.
What Else To Watch For Tonight

Pujols
• The
St. Louis Cardinals
and
Pittsburgh Pirates
kick off their three-game series with the NL Central title up for grabs.
Albert Pujols
is 19-for-33 (.576) lifetime against Pirates probable
Paul Maholm
. That's the second-highest batting average in any batter-pitcher matchup with at least 30 at-bats among active players, according to Elias.
• The
Atlanta Braves
and
Cincinnati Reds
face off in Cincinnati as
Jair Jurrjens
brings his NL-best 2.26 ERA to the mound looking for his NL-leading 13th win. Jurrjens is coming off his worst start this season, having allowed six runs against the Nationals on July 17.
• The
Detroit Tigers
face the
Minnesota Twins
in the second game of a four-game set in Minnesota. Tigers have 10 straight wins over Twins, the longest win streak by Detroit against Minnesota in team history.
July, 7, 2011
7/07/11
9:32
AM ET

Schierholtz
In a game that featured a combined 36 strikeouts -- a modern-era record for a game lasting 14 innings or fewer -- the
San Francisco Giants
defeated the
San Diego Padres
on a walk-off home run by
Nate Schierholtz
in the 14th inning.
It was his second home run of the game, the first Giants player with a multi-homer game that included a walk-off home run since
Bengie Molina
did it in April of 2008, also against the Padres.
Schierholtz, who hit his first home run in the fourth inning, became the first Giants player to hit two homer 10 innings apart in the same game since
Barry Bonds
who did so in September of 2001.
It marked the latest walk-off home run in the history of AT&T Park. In fact you have to go back to 1996 for the last time a Giants player hit a walk-off home run in the 14th inning or later. That was
Tom Lampkin
, whose three-run home run in the bottom of the 15th inning lifted the Giants to a win over the
Florida Marlins
.

Speaking of the Marlins they notched a walk-off victory on
Mike Stanton
's solo home run in the 10th inning to defeat the
Philadelphia Phillies
. It was Stanton's first career walk-off home run, and a rather special one according to Elias.
At 21, Stanton was the third-youngest player since 1900 to hit a walk-off home run against the Phillies. Eddie Mathews was 20 years old in 1952 when he hit a game-ending homer for the Boston Braves, and
Alex Gonzalez
was a "younger 21" than Stanton when he did the same for the 1998 Marlins.
While these games provided some late heroics, no game was more exciting on Wednesday than the tilt between the
Cincinnati Reds
and the
St. Louis Cardinals
. The Reds narrowly escaped with a 9-8 victory in 13 innings -- after holding an 8-0 lead through five innings.
Elias tells us it was the first time in 57 years that the Cardinals lost a game after erasing a deficit of eight or more runs. On July 17, 1954 at the old Busch Stadium, St. Louis rallied from down 9-0 to tie the Giants, but New York won in 11 innings, 10-9.
Elsewhere Around the Diamond:
Jair Jurrjens
continued his stellar 2011 campaign with six innings of one-run ball as the
Atlanta Braves
defeated the
Colorado Rockies
. Jurrjens heads into the All-Star break with a 12-3 record and a 1.87 ERA. According to Elias he is the first Major League pitcher to head into the break with 12 or more wins and an ERA below 2.00 since
Randy Johnson
in 2000.
Perhaps more impressive, he is just the third Braves pitcher all-time to have accomplished the feat joining
Greg Maddux
in 1998 and
Tom Glavine
in the 1991 season.
Jurrjens is a strong possibility to start for the National League in the All-Star Game, something Maddux and Glavine each did that season.
July, 2, 2011
7/02/11
12:26
AM ET
By
Dan Braunstein
| ESPN.com
There were a number of strong performances on the mound Friday. Here's an in-depth look at how some of Friday's pitchers got the job done:

Jurrjens
How Atlanta Braves pitcher Jair Jurrjens shut out Baltimore:
• Jurrjens kept the ball down, with 63 of his 112 pitches (56.3 percent) tracked down in the zone or below it. Jurrjens got 15 of his outs and six of his eight strikeouts on low pitches. For the season, Jurrjens is 5-0 with a 1.00 ERA in five starts this season when more than 50 percent of his pitches are low.
• Jurrjens took advantage of a generous strike zone. He got 11 called strikes on pitches out of the strike zone, tying his most in a start in the last three seasons. Six of Jurrjens' eight strikeouts came on pitches out of the zone, tying his most in a start in the past three seasons. Five of those strikeouts were on pitches the Orioles chased out of the zone.

Masterson
How Cleveland Indians pitcher Justin Masterson beat Cincinnati:
• Masterson benefited from a Reds lineup that included just three left-handed hitters, matching the fewest against Masterson this season. Entering Friday, left-handers were hitting .313 against Masterson, while righties were hitting just .189 this season. But Friday, lefties were 1-for-9 with two double plays against Masterson.
• Including double plays, Masterson got 13 outs on groundballs, his most in a start since his first start of the season, on April 3.

Ogando
How Texas Rangers starter Alexi Ogando rebounded against Florida:
• Ogando's slider was an important pitch for him Friday. Thirty-five of his 102 pitches (34.3 percent) were sliders, his second-highest percentage of the season. With two strikes, 57.6 percent of Ogando's pitches were sliders, the first start of his career where more than half of his two-strike pitches were sliders.
• Six of Ogando's strikeouts were with his slider, three more than in any of his previous starts this season. Marlins hitters were 2-for15 in
at-bats ending with an Ogando slider.
• He started 20 of 27 hitters with a first-pitch strike (74.1 percent), the highest percentage of his career. He went to just one 2-0 count, matching the low of any of his previous starts.
June, 26, 2011
6/26/11
12:41
AM ET
Justin Verlander
joined
CC Sabathia
in the 10-win club Saturday night, with a dominating performance against the
Arizona Diamondbacks
in Detroit. Verlander struck out a career-high 14 and walked just one batter in eight innings as he won his sixth consecutive start.
Verlander now has 19 career 10-strikeout games, passing Denny McLain for the fourth-most such games by a Tigers pitcher in the Live Ball Era (since 1920). His 14 strikeouts are tied for third-most in an Interleague game, surpassed only by 16-strikeout games from
Curt Schilling
in 1997 and
Pedro Martinez
in 1999.
Verlander has allowed two earned runs or fewer in each of his last six starts, all of them wins. It's the longest streak of its kind by a Tigers pitcher since Doyle Alexander had six straight starts like that in 1987.
Verlander is now 5-0 in June with a 0.86 ERA, and has one start remaining in the month. According to the Elias Sports Bureau, if he keeps this pace up, he could become the first pitcher to go 6-0 with a sub-1.00 ERA in a calendar month since the Rangers'
Kenny Rogers
went 6-0 with 0.98 ERA in May 2005.
He would also join Alexander (0.71 ERA in September 1987), Jack Morris (0.54 ERA in July 1986) and Frank Lary (0.86 ERA in September 1956) as the only Tigers pitchers since 1950 with a sub-1.00 ERA in a month with at least five starts.
Elsewhere around the majors on Saturday night:
• Balls were flying out of the ballpark in Baltimore as the Reds and Orioles combined for 10 home runs in the Reds' 10-5 win. It is the most homers in a game by two teams since the Red Sox and Rangers hit 10 longballs on August 12, 2010.
Bronson Arroyo
became the first Reds pitcher to allow four homers in a game and win since Jim Maloney in 1966.

•
Cole Hamels
allowed only two earned runs in eight innings but took the loss in Philly, the sixth time in his career he has lost despite pitching at least eight innings and allowing two or fewer runs. Since 2006, Hamels' first year in the league, the only other pitcher with as many such losses is
Roy Halladay
.
•
Jair Jurrjens
threw six innings of one-run ball as the Braves routed the Padres 10-1 and Jurrjens earned his 10th win of the season. Jurrjens is the first NL pitcher with 10 wins this season, and he is the first Braves pitcher to the be the first to 10 wins in the NL since
Greg Maddux
in 1998.
May, 29, 2011
5/29/11
10:12
AM ET
By
Mark Simon & David Bearman
| ESPN.com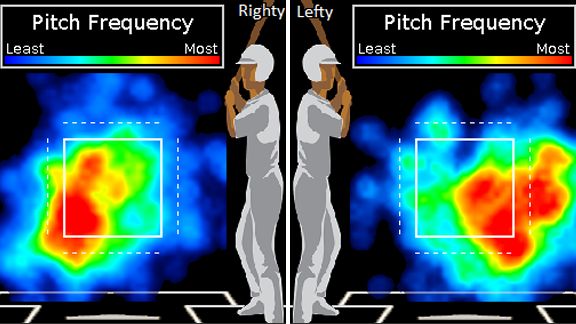 The heat maps above show Jair Jurrjens' frequency of pitches on the outside half of the plate this season. He has pitched on the outside half effectively, particularly with the changeup.
The
Atlanta Braves
and the
Cincinnati Reds
are set to meet in a rubber match on Sunday Night Baseball. The good news for Atlanta:
Jair Jurrjens
takes the hill, sporting a 6-1 record to go along with an NL-best 1.56 ERA.

Jurrjens
According to Elias, since the Braves moved to Atlanta in 1966, only three of their pitchers have had a lower ERA over their first eight starts of a season: Buzz Capra in 1974 (1.06),
Greg Maddux
in 1994 (1.13) and
Tom Glavine
in 2002 (1.50).
Jurrjens' eight straight starts of six-plus innings pitched with two or fewer earned runs is the longest such streak by a Braves pitcher to start the season in the live ball era (since 1920).
Why has Jurrjens been so effective? His ability to work on the outside of the plate has really helped him flourish this season. Taking a look at the heat maps above, Jurrjens' highest frequency in pitch location is on the outside corner of the plate to hitters.
His key pitch has been his changeup; 66.1 percent of the changeups he has thrown on the outside half of the plate have resulted in strikes, among the highest percentage for any pitcher this season. Entering Friday, only four pitchers had a higher percentage using the changeup on the outer half of the plate.
In his last start, 18 of his 27 changeups were thrown for strikes as he pitched 7⅔ scoreless innings in a win over the Pirates. On the season as a whole, he's throwing his changeup for strikes 64.5 percent of the time.
Opposing batters are hitting just .209 in at-bats ending in a Jurrjens changeup, down from .330 last season.
He has also placed his fastball well on the outer half of the plate. In fact, 62.3 percent of his fastballs toward the outer half of the plate have resulted in strikes, ranking eighth in the National League among starters with a minimum of 200 such pitches through Thursday.
Another key to Jurrjens' success has been his ability to control the top of the order against his opponents. Batters in the top four of the lineup are hitting just .183 against Jurrjens. In fact, cleanup hitters are only 1-for-23 with two walks against him this season (.043 BA, best in MLB), including 0-for-their-last-9 (
Ryan Howard
has the only hit).
So what's Jurrjens kryptonite? No. 7 hitters are 10-for-23 against him, including 9-for-their-last-16. Among those to bop Jurrjens are
Yuniesky Betancourt
,
Juan Miranda
, and
Chris Snyder
, each of whom went 2-for-3 against him.
Opposing Jurrjens will be
Johnny Cueto
. Cueto has won six of his last seven decisions in the month of May. He was 4-0 with a 1.59 ERA last May.
The matchup to watch for Cueto is against Braves catcher
Brian McCann
. He has homered in each of the starts he's made against Cueto.
McCann is a Reds killer. After his four-hit game Saturday, he's now hitting .351 for his career against Cincinnati.
May, 8, 2011
5/08/11
9:34
AM ET


The following is a preview of the Sunday Night Baseball (ESPN, 8 ET) meeting between the Atlanta Braves and Philadelphia Phillies, with Jair Jurrjens scheduled to start against Cole Hamels.
The Phillies' rotation gets all the attention, but the Braves have a claim to the title of National League's best. Atlanta's rotation has the best ERA, the most innings pitched and the lowest opponents' batting average in the National League.
The Phillies' starters lead the NL in complete games and strikeouts, have the fewest walks and rank second to the Braves in ERA and innings pitched, and the Philadelphia pitching staff has a league-leading six shutouts.
And they've pitched better as this young season has progressed, cutting their ERA nearly in half and bumping their strikeouts per nine innings pitched up over nine in the past 16 games.
The reason the Braves sit in third place in the division, four-and-a-half games behind the first-place Phillies, is that they rank near the bottom of the league in hitting.
They've been timely when they do hit, however, ranking first in the league in batting average with runners in scoring position.
Hamels Matchups to Watch
Dan Uggla
was 3-for-his-first-11 versus Hamels. He has since gone 3-for-his-last-29, including 1-for-his-last 9 against him. Uggla does not have a hit this season on an outside pitch by a left-handed pitcher and only one hit off a lefty's fastball.
Jurrjens Matchups to Watch
Jimmy Rollins
is 1-for-his-last-16 against Jurrjens. Amazingly, he's hitting just .154 against Jurrjens (4-for-26), but has never struck out against him.
Shane Victorino
is 1-for-his-last 15 against Jurrjens.
The Phillies have won eight of their past 11 meetings with the Braves, and have won seven of their past nine games overall. The Braves, on the other hand, have won six of seven, the only loss coming Saturday night to the Phillies.
As far as statistical oddities go, these are two that are tough to explain; one is good news for the Braves, the other is not. The Phillies are 10-0 in day games this season, making them 12-10 at night. But they are 4-7 in series openers, meaning they are 18-3 in all other games.
The latter has held true against the Braves; the Phillies have dropped both series openers and have won the other three games.
-- Mark Simon and David Bearman contributed to this report
September, 9, 2010
9/09/10
11:08
PM ET
Some notes from Thursday's early baseball games:


Cardinals 11, Braves 4
• The
St. Louis Cardinals
win for just fourth time in their last 16 games. The
Atlanta Braves
have lost six of their last eight.
•
Adam Wainwright
snapped his four-game losing streak and improved to 6-0 in his career vs the Braves (best W-L vs them of any active pitcher). He's the first pitcher to start his career 6-0 against the Braves since Ron Robinson (1984-89).
•
Albert Pujols
, who entered with one HR in his last 11 games, hit his first HR vs the Braves since August 24, 2008. He now has 99 RBI, one shy of his 10th straight 30 HR/100 RBI season.
•
Colby Rasmus
tied a career-high with four hits and had his second career multi-homer game. The last Cardinal with a four-hit, two-homer game against the Braves was George Hendrick in 1978.
•
Jair Jurrjens
lost at home for the first time this season (now 6-1).


Rockies 6, Reds 5
• The
Colorado Rockies
win their 12th straight September game against the
Cincinnati Reds
, as they sweep their four-game series.
• The Reds have now been swept in a four-game series on the road by both the Rockies and the
Philadelphia Phillies
.
•
Chris Nelson
, in his seventh MLB game, won the game with his first career steal of home. It was a straight steal in bottom of the eighth inning. He's the third rookie to steal home this season.
• Nelson was inserted as a pinch runner after
Jason Giambi
drew a walk. Nelson was then replaced at 1B by
Todd Helton
to start the ninth. Thus Nelson's ONLY appearance in the boxscore is as a pinch runner who stole home.
• According to Elias, the last time this happened was June 11, 1985. Gary Pettis ran for Bob Boone in a California Angels loss to the
Texas Rangers
. He stole home and then was replaced by Jerry Narron in the field.
•
Aroldis Chapman
got his first career hold, getting
Carlos Gonzalez
to ground into a double play with the bases loaded in the seventh-inning. His 12 fastballs averaged 100.3 MPH and maxed out at 103.0 MPH.
• The Rockies get their 19th last at-bat win, tying the Reds for 4th-most in MLB.
• The Reds blew a five-run lead. It's their 21st blown lead resulting in a loss this season, which is tied for second fewest in MLB.
• According to the Elias Sports Bureau it was the fourth time this season that the Rockies won a game after trailing by at least five runs, tying the Tigers for the most such wins in the majors. It was the third time this season that the Reds lost a game after leading by at least five runs, tying the Red Sox, Rangers and Nationals for the most such losses in the majors.


Rangers 4, Blue Jays 2
• Texas Rangers' starter
Colby Lewis
snapped his seven-game losing streak and four-game road losing streak.
•
Mitch Moreland
had a career-high 3 RBI.
•
Neftali Feliz
became the fourth rookie in MLB history with a 35-save season and is two shy of the MLB rookie record set by Kaz Sasaki in 2000.
• Jose Bautista hit his 44th HR, which is tied for third most in a season in Blue Jays history. His 28 HR at home are the 2nd most in Blue Jays history.


Tigers 6, White Sox 3
• The
Detroit Tigers
win their third straight and have won six of their last eight games.
• The Tigers had 13 hits, all singles. That is the most hits in a game without an extra-base hit by the Tigers since May 11, 2004 when they 14 singles in a loss vs the
Oakland Athletics
- their last win in such a game was June 12, 1993 vs Toronto (15 singles).
•
Johnny Damon
had a team-high four hits, his 36th career four-hit game and first as a Tiger.
• Rick Porcello improves to 4-0 in his last four starts (5-11 in first 20 starts). He now sports a 4.09 ERA since returning from his minor league demotion. He and teammate Max Scherzer have both been much improved since returning to the club after being sent down following early struggles.
• The
Chicago White Sox
have lost three straight after winning seven in a row.
September, 5, 2010
9/05/10
12:11
AM ET

Despite losing their ninth straight game, the
San Diego Padres
will remain in first place in the National League West once play concludes on Saturday. The last time a first-place team lost nine straight games this late in the season and remained in first was the 1995 California Angels.
• The White Sox won both ends of their day-night doubleheader against the
Boston Red Sox
by identical 3-1 scores. It's the first time they've won both ends of a doubleheader by the same score since Sept. 8, 1992 against the
Detroit Tigers
(4-3).

• Speaking of the Tigers,
Rick Porcello
is showing signs of turning things around after a disastrous start to his sophomore season. After going 5-11 with a 5.76 ERA in his first 20 starts, Porcello is 3-0 with a 2.14 ERA in his last three.
• The
Los Angeles Angels
'
Jered Weaver
was, once again, a hard-luck loser. He lost his fourth straight start, a 3-1 decision to the
Oakland Athletics
. However, it was the first time in Weaver's last four starts that that the Angels were not shut out.
• How did the
Atlanta Braves
'
Jair Jurrjens
pick up his first road win of the season? He got 24 called strikes against the
Florida Marlins
, his most in a start this season, and four called strikeouts. Florida batters also went 0-for-11 when Jurrjens was ahead in the count.

•
Roy Halladay
allowed four home runs for the first time in his career, yet he still picked up the win in the
Philadelphia Phillies
5-4 win over the
Milwaukee Brewers
. Halladay joins
Dan Haren
as the only two pitchers to allow four HR in a win this season. He's the second Phillies pitcher in the divisional era (1969) to win a start despite allowing at least four home runs. In 2004,
Eric Milton
allowed four HR against the
Chicago White Sox
, but was the winning pitcher.
August, 5, 2010
8/05/10
2:19
PM ET
• The White Sox
Juan Pierre
stole his 500th career base on Thursday against the Tigers. He's the 37th player in MLB history to reach the milestone.
Pierre has the most stolen bases among active players, 100 more than the next closest player, Tampa Bay's
Carl Crawford
.
Notes on some of Thursday's starting pitchers:
• The Angels
Dan Haren
is winless in his last nine starts (0-6), the longest start streak he's gone in his career without a win. His last win was June 12 against the Cardinals. Camden Yards might be the best place for Haren to end his drought. He's 3-0 with a 1.67 ERA in four starts at Baltimore.
•
Texas Rangers
starter
Tommy Hunter
will pitch tonight in Seattle for the first time this season following a loss (8-1). He's allowed nine home runs in 11 starts, but eight of them have come in his last five outings. And while he's been perfect at home (6-0, 2.53 ERA), Hunter's road ERA is 5.21.
• Hunter will face off against the Mariners
Felix Hernandez
. Seattle's ace has a 2.90 ERA, but he's winless in his last four starts (0-3), thanks in large part to a lack of run support. In his last four starts, the Mariners have scored a total of five runs. Hernandez's run support this season is 3.30, which ranks fifth in the American League, among pitchers who have made at least 15 starts. Oddly enough, the top two in the A.L. are Hernandez's teammates:
Ryan Rowland-Smith
is first (2.95 run support) and
Jason Vargas
is second (3.00).
•
Tim Lincecum
has yet to allow more than one home run in any of his 22 starts this season. In fact, you have to go back to July 20, 2008 (a span of 68 starts) to find the last time Lincecum gave up two home runs in a start.
• The Braves'
Jair Jurrjens
is scheduled to start tonight at home against the Giants. He has a 1.71 ERA at home (3-0), and a 7.63 ERA on the road (0-4).
• After allowing three home runs on May 31 to the Diamondbacks,
Chad Billingsley
has gone nine straight starts without allowing an opposing hitter to go deep.
August, 5, 2010
8/05/10
12:07
PM ET
By
Stats & Info
| ESPN.com
Today's Leaderboard:
It's odd to see a record like 6-13 next to Roy Oswalt's name this season, especially since it's paired with a 3.53 ERA. But there's a reason that Oswalt has that unsightly mark despite pitching numbers that are generally strong otherwise – he leads the league in tough losses. Let's check out your MLB leaders in tough losses (losses in quality starts) and cheap wins (wins in non-quality starts) this season and the run support they've received.
Now for those living right in 2010:
Key Matchups:
•Roy Oswalt faces possibly his biggest nemesis in the league tonight when he'll pitch against
Hanley Ramirez
. Of the 97 players who have at least 20 career at-bats against Oswalt, Ramirez has the highest BA (.455, 10 hits in 22 AB) and OPS (1.342) against him.
•Looking for a sign that
Jair Jurrjens
could win tonight's pitching matchup with
Tim Lincecum
? Jurrjens hasn't allowed a home run to any of the Giants batters he'll face tonight, and those batters are a combined 9-41 (.220 BA) against Jurrjens in his career.
Pat Burrell
is the worst offender, 2-12 against Jurrjens.
•If anyone can solve
Felix Hernandez
, it's
Michael Young
. Young's 67 career PA against Hernandez are the most of any batter and 12 more than second place
Vladimir Guerrero
. That means that if Young and Guerrero are in the lineup tonight, Hernandez will face his two most frequent foes. Combined, Young and Guerrero are batting .302 (35-116) against Hernandez, and in Vlad's last AB against King Felix (on June 8), he took him deep for a two-run bomb.
April, 13, 2010
4/13/10
2:31
AM ET
By
ESPN Stats & Info
| ESPN.com
Some big-time performances Monday. Here are reasons why some pitchers won and lost as well as our Hitter of the Day:
Why Rays Starter Matt Garza won:
-Commanded his fastball: threw 69.2 percent of his fastballs for strikes, his fifth highest mark since last April. That number shot up to an incredible 84.8 against right-handed batters, a higher percentage than that of any of Garza's starts last season.
-Used slider as his out pitch: Garza threw his slider 14 times, nine of which came with two strikes. Four of his five strikeouts were on sliders with all of them swinging. Orioles hitters were 0-5 against the pitch.
-Dominated righties (again): Right-handed batters chased 43.5 percent of Garza's pitches out of the strike zone (24.8 percent in 2009). Through two games, righties are hitting just .185 against Garza (.271 in 2009).
Why Athletics Starter Justin Duchscherer won:
-Polished off Mariners hitters with two strikes. Twelve Seattle hitters went to two-strike counts against Duchscherer, and he retired ten (H, BB the exceptions). Duchscherer had similar success in his last start on April 7 against these same Mariners, holding Seattle hitters to 2-11 in two-strike plate appearances (3-23 with a BB on the season).
-Stayed in command of the count. Duchscherer went to 3-0 only once all game (to
Jose Lopez
), and the strike he threw on the next pitch gave him his only 3-1 count of the day as well. Lopez grounded out softly to second base on the fifth pitch.
-Runners on base stayed on base. Duchscherer retired nine out of ten hitters he faced with men on base, walking one. Seattle hitters went 0-5 with RISP (4 groundouts, 1 strikeout).
Why Cardinals Starter Adam Wainwright won:
-Never reached a 3-0 count. Went to a 2-0 count on just one of 29 hitters.
-The Astros were 1-17 against Wainwright's slider and curveball. All seven of his strikeouts came on those pitches.
Why Braves Starter Jair Jurrjens lost:
-Didn't finish off Padres hitters. Went to a two-strike count 11 times, with six reaching base (1 BB). In Jurrjens' last start against the Cubs, he went to a two-strike count 15 times, with only 4 reaching base (2 BB).
-His changeup didn't fool anyone. Jurrjens threw 16 changeups in the strike zone and Padres hitters only missed once. They slugged .875 against his changeup in the strike zone. In 2009, hitters slugged only .340 against Jurrjens' changeup in the strike zone, the lowest of his four pitches.
Hitter of the Night:
Scott Rolen
, CIN: 3-5, 2 HR, 3 RBI, 2 R
Rolen's 2010 batting average (.318) looks similar to the .305 clip he put up in 2009, but the rest of his numbers show a marked, albeit early, improvement in both approach and result. Rolen's power in particular has improved this year with three home runs by April 12; a total he didn't reach in 2009 until May 5. Rolen is slugging .727 this season (.455 last season). Rolen has struck out just 4.0 percent of the time this season (11.6 percent last season).
March, 24, 2010
3/24/10
9:00
AM ET
By
Tom Tango, Inside The Book
| ESPN.com
Clayton Kershaw
(2.79 ERA),
Felix Hernandez
(2.49),
Jair Jurrjens
(2.60) and
Tommy Hanson
(2.89) had their breakout seasons in 2009. Can we expect them to repeat those performances in 2010? If history is a guide, the answer is no.
To clarify, I'm defining a breakout season as one in which the pitcher allows runs at less than 80 percent of the league average. For example,
John Danks
broke out at 72 percent in 2008, and
Matt Cain
(78 percent) and
Chad Billingsley
(71 percent) broke out in 2007. What happened to these young pitchers the year after their breakouts? Billingsley kept pace at 73 percent, while Danks regressed to 83 percent and Cain to 84 percent.
From 1920 to 2008, 93 pitchers had their breakout season at age 23 or younger, the same as our 2009 quartet. Their average breakout level was 72.5 percent. Those 93 pitchers, in the season after their breakout, gave up runs at 88.5 percent of the league average.
Historically speaking, in the year after their breakout seasons, young pitchers will increase their ERA by about 20-25 percent on average. In fact, only 11 of the 93 improved from their breakout level, with Dwight Gooden leading the way. Gooden had his breakout season in his rookie year in 1984 and followed with one of the best seasons of all time the next year. However, another 19 pitchers gave up more runs than the league average in their postbreakout year, with the 2004 versions of Ollie Perez and
Zack Greinke
being the worst of the bunch.
Do young pitchers worsen? No. This is a result of a phenomenon called regression toward the mean. Basically, you are never as good as the results show, and you are never as bad as the results show. If a group of young pitchers gave up runs at far below the league average, they benefited from more good breaks than bad breaks. As a group, the breaks will even out for them the next season.
Getting back to our 2009 quartet, expect their ERA as a group to rise by 20-25 percent, with a 10 percent chance of one of them improving his ERA and a 10 percent chance of one's ERA worsening by more than 34 percent.
Tom Tango writes for Inside The Book.