Stats & Info:

Jamaal Charles
December, 15, 2013
Dec 15
9:34
PM ET
By
ESPN Stats & Information
| ESPN.com
Cary Edmondson/USA TODAY SportsJamaal Charles set personal and franchise records against the Raiders on Sunday.
The
Kansas City Chiefs
defeated the
Oakland Raiders
56-31 on Sunday, and Chiefs running back
Jamaal Charles
did a number on both the franchise and NFL record books, and did so while only playing three quarters.
Charles' final line – 195 receiving yards, four touchdowns catches, 20 rush yards, one rushing touchdown – was remarkable for a number of reasons. Charles became the first player in NFL history to have four touchdown receptions and a touchdown run in a single game, and also became the first running back in NFL history with four touchdown receptions in a game.
Charles became the fifth player in the last 50 seasons with five touchdowns and 200 yards from scrimmage in a game, joining Gale Sayers (1965),
Jerry Rice
(1990),
Shaun Alexander
(2002) and
Clinton Portis
(2003). He is also the second player in Chiefs franchise history to score five touchdowns in a game against the Raiders, joining Abner Haynes in 1961, when the franchise was known as the Texans.
Charles set a career-high for receiving yards with 195, the most by a running back in a game since Week 16 of 1999, when
Marshall Faulk
tallied 204. That mark was achieved thanks in large part to his work after the catch. His 172 yards are the most since the start of 2006, and 48 more than any other player in a game this season.
Charles is the first player this season with three touchdowns of at least 35 yards. He joins
Doug Martin
,
Darren McFadden
,
Chris Johnson
and
Adrian Peterson
as players with three rushing or receiving touchdowns at that length since the start of 2001. From a fantasy perspective, Charles' 51 points in ESPN standard leagues is tied for the sixth-most in a game since 1960 according to Tristan H. Cockcroft, tying Doug Martin from last season and
Corey Dillon
in 1997.
It wasn't all Charles, though.
Alex Smith
set a career-high with five touchdown passes, the third quarterback in Chiefs history with a five-touchdown, zero-interception game, joining Len Dawson (1967) and
Trent Green
(2002).
Smith also became third quarterback since 2000 to complete 85 percent of his passes while also throwing for five touchdowns in a game, joining
Tom Brady
and
Drew Brees
, the latter of whom did so twice. Smith is also the only quarterback to throw three 35-yard touchdown passes in a game this season. Not surprisingly, Charles caught the ball all eight times he was targeted by his quarterback.
Bigger picture; The Chiefs as a team clinched a playoff spot, and became the third team in NFL history to win 11 games a season after winning two or fewer. The 56 points scored is tied for the second-most in Chiefs franchise history, while the 56 points allowed is a new franchise record for the Raiders.
September, 23, 2012
9/23/12
6:02
PM ET
By
ESPN Stats & Information
| ESPN.com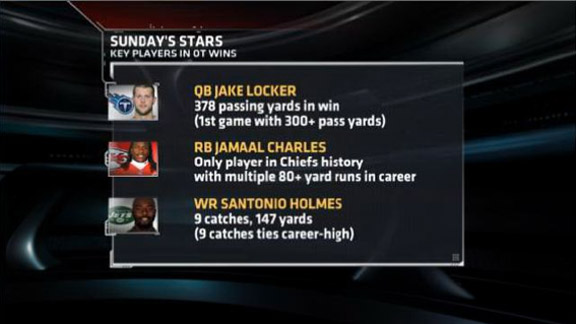 The wildest afternoon of NFL games so far this season featured three overtime games among the day's early contests.
It's the first day with three overtime contests since November 7, 2010.
Let's take a look at the key stats in each one.
Tennessee Titans 44, Detroit Lions 41
The Titans survived an epic comeback attempt by the Lions in one of the most unusual NFL games in recent memory.
How odd was it? Consider these notes from the Elias Sports Bureau:
The Titans became the first team in NFL history to have five touchdowns of at least 60 yards in length in a single game.
The Titans are the second team in NFL history to score a punt-return touchdown, a kickoff-return touchdown, a fumble-return touchdown, and a passing touchdown in the same game, joining the 2002 Chiefs.
The Lions became the first team in NFL history to score two touchdowns in the final 18 seconds of regulation to either take a lead or force overtime.
The 46 combined points in the fourth the quarter of the Lions (25) and Titans (21) matchup are the second-most in a fourth quarter in league history trailing only the 48 from Lions (34) and Bears (14) in 2007.
One of the keys for the Titans was the play of quarterback Jake Locker, who completed 22-of-31 passes against four-or-fewer pass rushers for 317 yards and two touchdowns. Sunday marked the first time Locker has thrown for multiple touchdowns against four-or-fewer pass rushers in a game.
Kansas City Chiefs 27, New Orleans Saints 24
The Saints fell to 0-3 with the loss. Under the current playoff format, only three of 113 teams to start 0-3 have recovered to make the postseason.
They are the eighth team in the Super Bowl era to start 0-3 the season after winning 13 or more games.
The Chiefs had lost 31 straight games when trailing by at least 10 points entering the fourth quarter. The Saints had their NFL-best 19-game winning streak when leading at halftime snapped.
It was a franchise-record-setting day for Chiefs kicker
Ryan Succop
(six field goals) and
Jamaal Charles
(91-yard touchdown run is the longest run from scrimmage in Chiefs history).
Charles rushed for 233 yards. He's one of four players in NFL history with multiple games of 230-or-more rushing yards. Jim Brown has the most (three). Charles, Corey Dillon and O.J. Simpson each have two.
New York Jets 23, Miami Dolphins 20
The theme of this game may have been the Jets good fortune in snapping a three-game road losing streak.
They won despite quarterback
Mark Sanchez
completing 21 of 45 passes.
They are the first team to win a game in which their quarterback threw at least 45 passes, and completed less than 50 percent of them since the 2002 Giants (
Kerry Collins
).
The Jets were also fortunate in that Dolphins kicker
Dan Carpenter
missed field goals of 47 yards in the fourth quarter and 48 in overtime.
Carpenter is 13-for-27 on field goal attempts of at least 47 yards since the start of the 2009 season. His 14 misses are the most in the NFL in that span.
The biggest positive for the Jets:
Santonio Holmes
was key when the Dolphins decided to send five-or-more pass rushers. Holmes had four receptions for 81 yards when the Dolphins blitzed with at least five rushers.
October, 31, 2011
10/31/11
4:27
PM ET


In a divisional rematch that looks much better than it did early in the season, the
San Diego Chargers
visit the
Kansas City Chiefs
on Monday Night Football (ESPN, 8:30 ET).
Back in Week 3 the Chargers beat the Chiefs to improve to 2-1 while Kansas City dropped to 0-3. A Chiefs victory tonight, coupled with the Raiders' bye this week, would create a three-way tie atop the AFC West.
The Chiefs would become the first team since the 2000
Pittsburgh Steelers
to start a season 0-3 and win its next four games.
Kansas City's turnaround can be attributed to ball security; they turned the ball over nine times in the first two games and got outscored 89-10. In the past four games, starting with their three-point loss to the Chargers in Week 3, the Chiefs have three turnovers total.
Despite the loss of star RB
Jamaal Charles
to injury for the season, the Chiefs have not abandoned the running game.
During their 0-3 start they averaged fewer than 25 rush plays per game (T-17th in NFL), but during their 3-0 resurgence, they're averaging 35 rush plays, the most per game during that span.
The Chargers are one of just six teams in the NFL to allow fewer than 300 yards per game but are just 18th in scoring defense. A few of the reasons are their inability to sack the quarterback, create turnovers and stop teams on third down.
On the offensive side, rookie
Blaine Gabbert
is the only qualified quarterback other than
Philip Rivers
who has not thrown a touchdown pass against five or more pass rushers this season. Over the previous three seasons, Rivers had the third-best touchdown-to-interception differential against added pass pressure.
The loss of
Darren Sproles
and the injury to
Antonio Gates
took away Rivers' two most targeted receivers on throws within 10 yards of the line of scrimmage. Without Sproles and with Gates injured, Rivers has had to look elsewhere in 2011 and is getting intercepted more.
He's thrown six picks within 10 yards of the line of scrimmage -- twice as many interceptions as touchdowns after throwing just eight picks on throws of that distance the previous three years combined.
Rivers has thrown nine interceptions in six games this season, the most ever for him in a six-game span (according to the Elias Sports Bureau). Because of that, Rivers is just 15th in the NFL in Total QBR this season, just one spot ahead of his opponent,
Matt Cassel
.
January, 8, 2011
1/08/11
12:30
PM ET

Flacco
In his three-season NFL career,
Joe Flacco
has only thrown an interception every 65.6 pass attempts when facing five or more pass rushers. His total of seven picks against the extra pressure in that time is the fourth fewest in the NFL among quarterbacks with at least 200 pass attempts in those situations since 2008.
But now it's the playoffs, and things have been a little different for Flacco and the
Baltimore Ravens
in the postseason.
Flacco has thrown an interception every 12.3 pass attempts in his postseason career when facing five or more rushers. He has also failed to throw a touchdown when facing the extra pressure, giving him a miniscule 6.7 passer rating.
Fortunately for Flacco and the Ravens, the
Kansas City Chiefs
brought five or more pass rushers on just 26.7 percent of opposing pass plays this season, under the league average of 33.3.
Flacco will have to watch for the Chiefs bringing a defensive back, because Kansas City had the NFL's top pass defense in the regular season when they blitzed a defensive back.
The Chiefs led the league in opponents' completion percentage, yards per pass attempt and passer rating when they brought a DB, not to mention that they didn't allow a single touchdown this season when blitzing a defensive back.
Flacco's passer rating when facing a blitzing defensive back this season was 95.5, seventh among quarterbacks with 50 or more attempts in that situation. That's also nearly double what the Chiefs allowed when they blitzed a defensive back.

Charles
On the other side of the ball, the focus will be on how
Jamaal Charles
handles the Ravens run defense. Charles averaged 6.4 yards per rush this season, best among running backs and tied for the 17th-best mark in NFL history, according to
pro-football-reference.com
.
Amazingly, Charles averaged the same 6.4 yards per rush when facing seven or more defenders in the box, also best in the NFL among players with at least 50 carries in those situations.
The Ravens defense, predictably, had another great year against the run, ranking fifth in the NFL, allowing 93.9 yards per game. If they load the box against the Chiefs, Charles will have his work cut out for him, as opponents averaged just 3.7 yards per rush against Baltimore when the Ravens had at least seven men in the box.
Let's not forget the Ravens performance in last year's Wild Card playoff game against the
New England Patriots
, when Baltimore held the Patriots to 64 yards rushing on 3.6 yards per rush in a
33-14 win
.
November, 20, 2010
11/20/10
12:30
PM ET
With tight end
Dallas Clark
out for the season,
Peyton Manning
has seen his fair share of heavy pass rushes in the last three games. As a result, his production in those situations has dropped.


In the last three games, opponents have brought at least five pass rushers on 38 percent of Manning's drop backs. Manning's been sacked four times and his completion percentage is 54.2. In the Colts' first six games, Manning faced five pass rushers or more 21.9 percent of the time with a 61.1 completion percentage and was sacked just three times.
While Manning and the Colts miss Clark,
Tom Brady
and the Patriots are making the most of their tight ends. Brady has eight touchdown passes and no interceptions when targeting his tight ends with a passer rating of 130.5. Only
Philip Rivers
and
David Garrard
have higher passer ratings this season when targeting tight ends.
Brady was not sacked on Sunday against the
Pittsburgh Steelers
and has been sacked 13 times this season. The Colts have, by far, the most conservative defense in terms of pass-rush numbers. Indianapolis has sent five pass rushers or more on less than 17 percent of opponent pass plays. The next lowest percentage is the Chiefs at 23 percent.
Packers at Vikings
Brett Favre
leads the NFL with 16 interceptions. One reason for his high total is the fact that he's underthrown receivers more often this season.
Half of his 16 picks are classified as passes that were underthrown, and five of those eight interceptions were on throws that were more than 10 yards downfield.
Last season, Favre was nearly perfect against the Packers' blitz, completing 16 of 18 attempts with three touchdowns. However, in their Week 7 matchup last month, Green Bay blitzed more often and Favre was far from perfect, throwing two interceptions against the added pass rush.
Browns at Jaguars
Jaguars QB
David Garrard
has thrown 14 touchdowns and just one interception in five wins this season. In three losses (Garrard did not play in the Jaguars' loss to the Chiefs), he has one TD pass and six picks.
Early in the season, Garrard struggled on passes that were more than 10 yards downfield, but has improved greatly over his last two games. He's averaging more than 20 yards per pass attempt on throws 11 yards-or-more downfield with three touchdowns and no interceptions.
October, 8, 2010
10/08/10
4:07
PM ET

The
Kansas City Chiefs
' 3-0 start has surprised most, but even the most optimistic Chiefs fan would not have predicted they would be the last unbeaten team in the NFL.
Coming off their bye week, the Chiefs have two tough road tests against the
Indianapolis Colts
and
Houston Texans
. After that is a seven-game stretch against teams that are all currently .500 or worse: Jaguars, Bills, at Raiders, at Broncos, Cardinals, at Seahawks and Broncos.
Here are three other reasons for the Chiefs to be optimistic about their future:
Cornerstone at left tackle
Since drafting
Branden Albert
15th overall in 2008, he has been the brightest star on an otherwise-maligned offensive line. Albert's impact on the Chiefs running game has been apparent since he entered the league. Since 2008, the Chiefs have averaged 6.3 rush yards per attempt on runs to the left side. Not only is that the best in the NFL, but it's 1.5 yards better than the league average.
Four-Man Rush That Can Get To The Quarterback
In 2009, the Chiefs registered 14 sacks when sending four pass rushers or fewer, good for 24th in the NFL. After Week 3, the Chiefs had registered seven sacks (out of eight total) using four pass rushers or fewer, which was tied for best in the NFL at the time with the Packers, Colts and Eagles.
Return on Investments
In 2008, the Chiefs selected a quartet of players who are making an impact in 2010: Albert,
Brandon Flowers
,
Jamaal Charles
and
Glenn Dorsey
. To this point, the best to boast of from 2009 is Mr. Irrelevant, place-kicker
Ryan Succop
. However, their draft class of 2010 has produced immediate results, and it's
Dexter McCluster
and
Tony Moeaki
who've had the biggest impact. The duo has combined to score four touchdowns -- only the Detroit Lions have more TDs this season from rookies (five).