Stats & Info:

James Jones
October, 15, 2012
10/15/12
2:10
AM ET
By
Stats & Information Group
| ESPN.com
Rodgers
Entering Sunday,
Aaron Rodgers
had just 10 touchdown passes through five games this season. He had a coming out party against the
Houston Texans
, tossing six touchdowns on Sunday night alone.
That tied the
Green Bay Packers
franchise record for most in a single game -- set last season by
Matt Flynn
.
Five of Rodgers' six touchdowns came against five or more pass rushers, marking the first time this season that a quarterback has thrown at least four touchdowns against extra pressure in a single game.
Rodgers is the only quarterback to throw five touchdown passes without an interception against five-or-more pass rushers since the start of the 2008 season.
Rodgers also racked up 338 yards as he recorded the fifth game in NFL history with 330 pass yards, six pass touchdowns and zero interceptions (Tom Brady twice,
Mark Rypien
and Y.A. Tittle).
Those eye popping numbers led him to a 95.8 Total QBR. That is Rodgers' best in 2012 and 18th game with a Total QBR of 90 or more over the last five seasons (T-most in the NFL).
Rodgers completed half of his pass attempts and had four touchdowns on throws that traveled at least 15 yards downfield.
That was a huge improvement because entering Week 6, Rodgers had the third-lowest completion percentage on throws of that distance among qualified quarterbacks.
James Jones
and
Jordy Nelson
were the two biggest recipients of Rodgers' performance.
Jones notched his third straight game with multiple touchdown catches, tying Don Hutson's franchise record set in 1943.
Nelson caught three touchdowns for the second time in his career. He's needs one more game with three receiving touchdowns to match
Sterling Sharpe
for the most in franchise history since 1960.
Next week the Packers play the 3-3
St. Louis Rams
on the road. Meanwhile the Texans, who allowed six passing touchdowns for the first time in franchise history, will host the
Baltimore Ravens
.
July, 7, 2012
7/07/12
5:26
PM ET
By
Ryan Feldman, ESPN Stats & Info
| ESPN.com
ESPN.com IllustrationRay Allen has agreed to join LeBron James, Dwyane Wade and Chris Bosh in Miami.
With
Ray Allen
agreeing to sign with the
Miami Heat
, the NBA champions have added one of the greatest shooters in league history.
How will Allen fit in with the Heat?
Using Synergy Sports Technology to analyze Allen's potential role with the Heat, it seems that he will fit in just fine.
OPEN JUMPERS FOR THE HEAT
The acquisitions of
LeBron James
and
Chris Bosh
created more open jumpers for the Heat. The year before the Big Three formed, only 41 percent of the Heat's catch-and-shoot jumpers were unguarded, the fifth lowest percentage in the league. But that percentage has increased over the past two seasons.
During the 2010-11 season, 57 percent of the Heat's catch-and-shoot jumpers were unguarded, the second highest percentage in the NBA. And last season, 63 percent were unguarded, which ranked third.
Four of the Heat's current players that were in Miami prior to the Big Three era --
Mario Chalmers
,
Dwyane Wade
,
James Jones
and
Udonis Haslem
-- have received a significant increase in unguarded catch-and-shoot jumpers over the past two seasons as compared to the season before the Big Three formed.
Only 30 percent of Wade's shots were unguarded in 2009-10, but that percentage doubled to 60 percent last season. Nearly four of every five Chalmers catch-and-shoot jumpers last season were unguarded.
LeBRON & BOSH MAKE TEAMMATES BETTER
Chalmers, Wade, Jones and Haslem saw an immediate improvement on catch-and-shoot jumpers after LeBron and Bosh arrived. The most dramatic improvement was Wade, who went from a 28 percent shooter on catch-and-shoot jumpers in 2009-10 to 37 percent in 2010-11.
RAY ALLEN CATCH-AND-SHOOT JUMPERS

Allen has improved his field goal percentage on catch-and-shoot jumpers over the past two seasons as compared to the previous three seasons. He shot less than 43 percent and ranked outside of the top 50 (among the 200-plus players with at least 100 attempts) in each season from 2007-08 to 2009-10, but he shot 45 percent and ranked in the top 25 in each of the past two seasons.
Allen has also improved his field goal percentage on unguarded catch-and-shoot jumpers in each of the past two seasons. In 2009-10, he shot 42 percent on those shots. That percentage jumped to 51 percent in 2010-11 and 52 percent last season, which ranked sixth of the 68 players with at least 100 attempts.
Over the past few years, Allen has been left open more often on catch-and-shoot jumpers. In 2005-06, only 31 percent of those shots were unguarded. That percentage increased in each of the next three seasons. In 2010-11, he was left open on 49 percent of his catch-and-shoot jumpers, and last season 53 percent of those attempts were unguarded.
CONCLUSION
The Heat have had more open jumpers since LeBron and Bosh came to Miami. And the Heat's most prominent shooters that were in Miami prior to the Big Three era became better shooters after LeBron and Bosh arrived. Allen was just as good of a shooter (if not better) last season as he was a few years ago. Part of this is because Allen has been left open more over the past two seasons.
If the pattern continues, expect Allen to receive even more open jumpers in Miami.
November, 29, 2011
11/29/11
11:21
PM ET
By
John McTigue
| ESPN.com

Rodgers

Brady
The 2007
New England Patriots
finished the regular season 16-0, a feat the
Green Bay Packers
may be trying to accomplish in 2011. Both
Tom Brady
in 2007 and
Aaron Rodgers
in 2011 got out to fast starts, completing over 71.0 percent of their passes, throwing for over 3,400 yards and over 30 touchdowns.
The Patriots kept winning even though Brady's production eventually dipped. Over his last five games Brady completed 61.3 percent of his passes while averaging 1.5 yards per attempt fewer and throwing just as many interceptions as he did in his first 11 games.
It is yet to be seen if Rodgers will be able to keep pace or even exceed Brady's production and winning, but there are distinguishing factors at play that could give Rodgers an edge over Brady.
Maybe the biggest difference between Brady and Rodgers is mobility. During the entire 2007 campaign, Brady attempted only 16 of his 578 passes from outside the pocket, completing four of them. Rodgers has three games this season with four completions from outside the pocket.
The lack of mobility may have hurt Brady in 2007. Brady attempted a pass under duress 34 times over his last five games after attempting a pass under duress 43 times prior. On the season, Brady was able to get outside the pocket on five of his attempts under duress. Rodgers has 51 attempts under duress this season, but 30 have come outside the pocket.
Rodgers also has an edge on Brady with the deep ball. Rodgers is completing 67.6 percent of his throws at least 21 yards downfield this season, best in the NFL. Brady completed 52.6 percent of such throws in his first 11 games of 2007, but finished the season going 8 of 24 (33.3 percent), in large part due to teams honing in on
Randy Moss
.
Over half of Brady's throws of 21 yards or more were to Moss and in the first 11 games, the duo connected on 11 of 20 attempts for seven scores and no picks. Over the last five games though, Brady and Moss connected on just three of 15 attempts, two of which going for touchdowns and two getting intercepted.
Rodgers has the luxury of multiple deep threats.
Greg Jennings
(2),
Jordy Nelson
(3) and
James Jones
(4) have brought in Rodgers' nine touchdowns on 21-plus yard throws, and all three, as well as
Jermichael Finley
, have at least four receptions on such throws. Three Patriots finished 2007 with four such receptions from Brady.
The Packers are just the second defending champion to start the season 11-0, joining the 1998 Broncos. The Broncos first loss that season came on the road against the Giants in Week 15. The Packers play the Giants this week in New York.
February, 3, 2011
2/03/11
10:30
AM ET
By
Trevor Ebaugh & John Parolin
| ESPN.com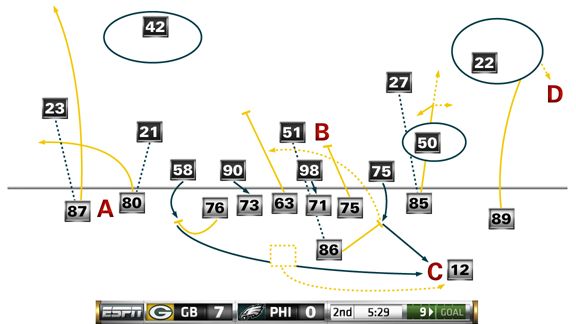 On Tuesday, we previewed the Pittsburgh Steelers' big-play offense in 3rd-and-long situations. Thursday's Super Bowl edition of Chalkboard Stats takes a statistical look at the Green Bay Packers' versatile offense.

Facing 1st-and-goal from the Eagles' 9-yard line, with just over five minutes left in the second quarter, Aaron Rodgers hit James Jones in the end zone while on the move to give Green Bay a 14-0 lead.

Using the diagram above, let's take a closer look at the play and accompanying analysis. Afterward, watch the play unfold in real time.
A) Packers Threw Eagles a Curveball

Green Bay ran exactly 1,000 offensive plays in the regular season -- but did not use this particular formation once (tight end in backfield, two wide receivers on either side of the line). Tight end
Donald Lee
(No. 86) initially lined up on the left side of the offensive line, then motioned next to
Aaron Rodgers
as a possible extra blocker.
In order to defend the four-wide set, the Eagles lined up their nickel package, kept only five men in the box and put linebacker
Ernie Sims
(No. 50) on
Greg Jennings
(No. 85). Philadelphia rushed its front four and kept linebacker
Jamar Chaney
(No. 51) in the hang role.
The four-man pass rush played into the Packers' advantage. Rodgers has decimated pass rushes of four or fewer players this postseason: 76.3 completion percentage (45-59), five touchdowns and he's picked up a first down every 2.1 attempts. Unfortunately for Rodgers, only nine teams used a four-man pass rush less than the Steelers did during the regular season.
B) Screen Fails to Develop
Center
Scott Wells
(No. 63) and right tackle
Bryan Bulaga
(No. 75) each moved into the second level of the defense, with Bulaga blocking Chaney. After chipping the pass-rushing
Juqua Parker
, Lee released with the pair of offensive linemen in front of him and open space to the end zone. Chaney sniffed out the screen pass, however, and converged on Lee.
This forced Rodgers to deal one-on-one with Parker, who went unblocked once Lee ran his route. With the play design officially broken, Rodgers was given the opportunity to do something his Super Bowl counterpart does so well: improvise.
C) Rodgers Escapes Pocket Under Duress

Rodgers
Rodgers froze Parker with a pump fake, evading the rush by escaping the pocket to his right. By keeping his eyes glued to the end zone while on the move, Rodgers forced Sims into making a decision: stay in his coverage zone or pursue the sack. On the previous play, Rodgers had scrambled for an eight yard gain, so Sims had to respect the possibility of a run.
When under duress, some quarterbacks can hang tough in the pocket and find receivers downfield. For Rodgers, it's all about escaping the pocket. During the regular season, Rodgers threw zero touchdowns and two interceptions when under duress inside the pocket, compared to three touchdowns and one interception outside the pocket. His passer rating, conversion percentage and yards per attempt all improved when he moved outside the tackle box.
Sims chose to make a break for Rodgers, which opened up the front-right corner of the end zone.
James Jones
(No. 89), the only receiver in the vicinity, was in a one-on-one battle with
Asante Samuel
(No. 22).
D) Jones Adjusts Route, Gets on Same Page with Rodgers
Once the play broke down, Jones realized Rodgers was in trouble and abandoned his route in the back of the end zone, coming back toward the line of scrimmage to make himself a target. Rodgers found his receiver and put the ball in a spot where only he could catch it. While underthrown, Rodgers got enough on the pass for Jones to make a play on the ball and corral it before it hit the ground.
With the Packers quarterback learning quickly from mistakes and remaining composed under pressure, the Steelers will have their work cut out for them trying to stop this versatile playmaker.