Stats & Info:

James Loney
December, 14, 2013
12/14/13
7:14
PM ET
By
ESPN Stats & Information
| ESPN.com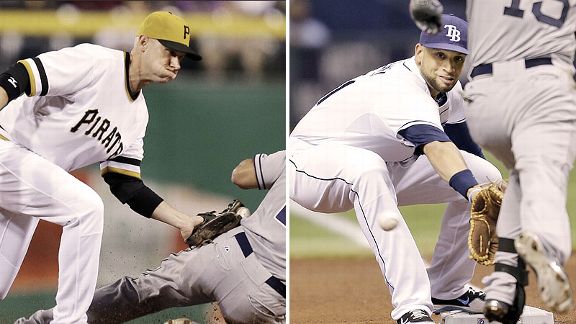 AP PhotoClint Barmes and James Loney are capable of making the tough defensive play.
Most of the time when we look at notable MLB moves, we look at how they improve a team's offense or pitching. But what about how they impact a team on defense? We'll go around the diamond and devote our weekly signings roundup to that subject this week.
Loney handles first base well
First baseman
James Loney
signed on for three more years with the
Tampa Bay Rays
after a season in which he posted his best OPS since 2007. But Loney contributes on the other end too.
Loney doesn't have overwhelming defensive numbers, but he's rated positively in Defensive Runs Saved in each of his eight seasons in the major leagues.
Baseball Info Solutions, a company that does video tracking for major league teams and media, likes certain aspects of Loney's play.
Loney's 259 "Good Fielding Plays" (think: Web Gem nominees) rank second-most among first basemen over the last four seasons, trailing only Joey Votto's 268.
There are certain things that Loney does very well defensively. His long reach comes in handy with foul balls by the stands.
He's made a dozen catches over the last four seasons in which he reached into the seats to pull back a foul ball, the most among first basemen. He's also started the most double plays at that position in that span (50) and has the third-most Good Fielding Plays for handling difficult throws (such as those in the dirt and that required him to reach off the base to get an out), 151.
Loney does make some mistakes, but not enough to offset what he brings. His ratio of Good Fielding Plays to Defensive Misplays & Errors rates 10th-best in that span. In 2012, Rays first basemen averaged 2.3 Good Fielding Plays per Defensive Misplay. Loney had 68 Good Plays and 22 Misplays & Errors, for a ratio of better than 3-to-1 in 2013.
Cano a standout
The Mariners acquisition of
Robinson Cano
should provide them a defensive boost too.
Cano has 21 Defensive Runs Saved over the past two seasons, the fourth-most of any second basemen. He has excelled in ranging far to his left and right to make plays. Cano's 119 "Out of Zone plays" over the last two seasons edge out
Dustin Pedroia
for the most at that position.
Mariners second basemen rated exactly major-league average last season (0 Defensive Runs Saved).
Pirates bring back defensive specialist
Clint Barmes
is about as good as they come defensively. He's not as flashy as someone like
Andrelton Simmons
of the Braves, but Barmes makes up for that with consistency.
Barmes has 89 Defensive Runs Saved as a shortstop since 2003 (which is both the year the stat was first compiled and the season in which Barmes debuted). He rates third among shortstops in that stat and also ranks third when looking at that number on a per-inning basis. Barmes has seven seasons in which he's been credited with at least 10 Defensive Runs Saved (which includes his time playing second baseman). Only
Adrian Beltre
has more, with eight.
He hasn't slowed down at all. His 39 Defensive Runs Saved over the last three seasons rank third in the majors, trailing only Andrelton Simmons (60) and
Brendan Ryan
(51).
-- Mark Simon
Uribe solid at the hot corner
Juan Uribe
, who was reportedly close to an agreement with the Dodgers, had quite a contract year for them after being below replacement level in his first two seasons of his deal.
He ranked third among third basemen with a career-best 15 Defensive Runs Saved last season.
Handling the hot corner means facing a lot of screaming liners, and when it came to Good Fielding Play-grabs of liners, Uribe was tied for third among third basemen last season with five. Only Evan Longoria (8) and Josh Donaldson (6) had more.
-- Kenton Wong
Davis adds to Tigers depth
The Tigers added a capable outfielder, signing
Rajai Davis
to a two-year contract.
Davis will likely platoon with current left-fielder
Andy Dirks
. The two have similar defensive profiles, though Davis rated slightly better in a small sample of games at the position last season.
Last year in just under 400 innings, Davis secured outs on all 63 balls hit into his fielding zone (areas in which more than half of batted balls are turned into outs), and made a defensive misplay or error (per video review by BIS) once every 64 innings, compared to once every 48 innings for Dirks.
Davis will also be a capable backup in center for
Austin Jackson
or right for
Torii Hunter
. He has played 3,200 innings as a centerfielder and 670 as a rightfielder, contributing above-average defense at both positions in his career.
-- Katie Sharp
September, 29, 2013
9/29/13
10:25
PM ET
Given that the regular season
isn't officially over
, we're going to wait and recap our favorite nuggets of the season a little later on. As for this past week, the home stretch brought us a bunch of notable home runs.
•
Will Middlebrooks
of the
Boston Red Sox
had two hits in
Wednesday's 15-5 win at Coors Field
. They were a grand slam and a three-run homer, giving him 7 RBI for the game. Teammate
Shane Victorino
had one of the season's other six 7-RBI games
back in August
, the first time two Red Sox hitters have done it since 1987 (
Ellis Burks
, Wade Boggs, and Todd Benzinger). And the last Boston hitter with three- and four-run homers in the same game? Carlton Fisk on September 6, 1977.
•
Brad Miller
had
a multi-homer game
out of the leadoff spot on Saturday, the 15th of the season for the
Seattle Mariners
who led the majors in that category. It was Miller's third multi-homer game of the year; he's the first Seattle leadoff hitter ever with three in a season.
On Wednesday
Mike Zunino
had
one of their other 14
; his was notable because, in the alphabetical rolls of over 18,000 major-leaguers, Zunino is followed by only five other players. Only one of them-- perennial trivia answer Dutch Zwilling-- ever had a multi-homer game, and that was in the short-lived Federal League. That makes Zunino the last player (alphabetically) with a multi-homer game in either American or National League history.
• On Monday, the
Tampa Bay Rays
'
James Loney
hit
a pinch-hit walk-off
against the
Baltimore Orioles
. It was the Rays' only pinch-hit homer (walk-off or not) of the entire season; meanwhile, the Orioles ended up as the only team to
not
have one. It was the first pinch-hit walk-off surrendered by the Orioles since May 9, 1995, when Wes Chamberlain of the Red Sox hit one off
Armando Benitez
.
• On Tuesday it was
Jason Giambi
's turn to hit one for the
Cleveland Indians
as they
downed the White Sox 5-4
. Giambi had three of Cleveland's four pinch-hit homers this year, two of them walk-offs. On July 29 he broke Hank Aaron's mark as
the oldest player to hit any walk-off homer
.
Well, by September 24 he's just getting older. So at 42 years 259 days, Giambi extended his own record. He now has 11 total pinch-hit homers in his career, more than any other active player (
Eric Hinske
has nine). And his six
pinch-hit
walk-off homers are believed to be the most in major-league history; no other active player has more than one!
As for two pinch-hit walk-offs in a season, that hadn't been done since Chris Jones of the Mets in 1995.
• At the other end of the spectrum,
Jurickson Profar
hit his first walk-off homer
for the
Texas Rangers
on Thursday. At 20 years 218 days, he missed by two weeks becoming the youngest player in the live-ball era to hit a
pinch-hit
walk-off homer; Hall-of-Famer Jimmie Foxx did it on May 14, 1928 (pinch-hitting for another Hall-of-Famer, Mickey Cochrane).
• The
Pittsburgh Pirates
clubbed six home runs in
Saturday's game against the Reds
. That was their most in a game since 2007, and it tied the record for a visiting team at Great American Ball Park. Reds starter
Bronson Arroyo
allowed the first five, becoming the only pitcher this season to allow five homers in a game. The last hurler to allow that many to the Pirates in one game was Don Sutton, who gave up five solo shots in a 5-4 Dodgers loss on May 7, 1973.
• The Pirates also had a notable home run in
Sunday's finale in Cincinnati
-- notable because it didn't leave Great American Ball Park.
Jordy Mercer
hit the season's sixth inside-the-park home run, and the second for Pittsburgh (
Pedro Alvarez
).
But when Mercer added a triple and a single later in the game, he became the first Pirate since 1985 with three hits
including
a triple and an inside-the-parker. It was done by Marvell Wynne on June 22 that year against the Astros. The occurrence before that? May 19, 1971, by Roberto Clemente.
September, 23, 2013
9/23/13
9:40
PM ET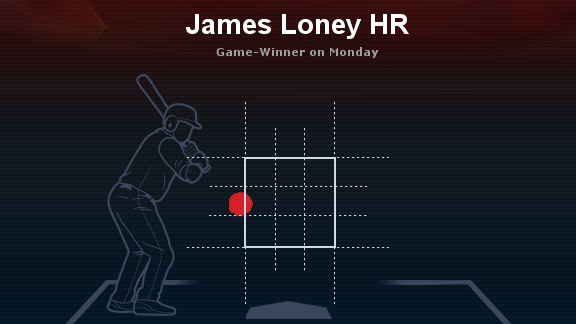 James Loney was able to get around on an inside pitch to win the game for the Rays.
Tampa Bay Rays
first baseman
James Loney
has had quite an offensive turnaround this season.
Powered by an amazing April, Loney has continued the trend of the Rays getting maximum value out of "buy-low' first baseman, a group that includes Loney and one of his predecessors at first base, Casey Kotchman.
That continued on Monday as Loney's pinch-hit walk-off homer powered the Rays to a four-game sweep of the
Baltimore Orioles
and moved them a step closer to garnering a Wild Card spot.
Inside the At-Bat
Loney hit the home run on an inside fastball, noteworthy because he has struggled mightily against pitches to that area for the last three-and-a-half months.
The chart on the right shows Loney's struggles since mid-June on pitches from right-handers that were on the inner-third of the plate or off the inside corner.
The home run against
Tommy Hunter
was his second career walk-off homer, his first since he hit one in 2010 against the
New York Mets
.
The Improved Season
Loney entered the day with a .760 OPS this season, a 130-point improvement from how he fared in 2012 for the Dodgers and Red Sox. That made him one of five players who had at least 400 plate appearances last season and this season to have an OPS jump of at least 130 points from 2012 to 2013.
That group is headed by Orioles slugger
Chris Davis
and also (entering Monday) included
Colby Rasmus
,
Eric Hosmer
, and
Jhonny Peralta
.
Much of that can be attributed to Loney's start to the year. He was hitting .385 with 11 doubles through his first 96 at-bats. He's had a more modest .276/.326/.400 slashline with 12 homers and 17 doubles in 428 at-bats since then.
As we previously noted, Loney's improvement is similar to that of
Casey Kotchman
, who got off to a great start in 2011. Kotchman's batting average jumped 89 points and his OPS jumped 184 points from the previous year in his lone season with Tampa Bay.
Coming through in a pinch
Loney wasn't the only one to come through in a pinch for the Rays, who got big performances every time they needed it in this sweep.
Jake Odorizzi
was given the game ball in Friday's 18-inning win by
Evan Longoria
after pitching 3⅔ innings of relief in Tampa Bay's win. The Rays' bullpen combined for 22⅔ innings in this series and allowed three runs and 10 hits.
Sunday
Enny Romero
, who volunteered to pitch via Twitter after Friday's marathon, pitched 4⅔ scoreless innings of one-hit ball in another victory. In Monday's win,
Tim Beckham
had a hit, a run scored and an RBI filling in at second base.
Those three players had a combined eight games of major-league experience before this series began.
July, 27, 2013
7/27/13
12:10
AM ET
By
Katie Sharp
| ESPN Stats & Information
For the first time since June 10 of last season, the
Tampa Bay Rays
are alone atop the AL East after a 10-6 win over the
New York Yankees
.
That sentence seemed like a pipe dream for Rays fans less than one month ago, following a June 28 loss to the
Detroit Tigers
that dropped them to seven games back in the division race.
Now the Rays are officially the hottest team in baseball, having won 20 of their last 23 games, the first time they have done that in franchise history.
According to the Elias Sports Bureau, the Rays are the first AL East team since 1995 to move from seven games back to sole possession of first place in fewer than 25 games.
What has fueled this rapid rise to the top of the standings?
Starting pitching
The Rays rotation has a 2.13 ERA since June 29, by far the best mark in the majors and a full run better than any other AL team. They have accounted for an MLB-best 16 wins during this stretch and have held opponents to a .208 batting average, also the best in the majors since June 29.
Friday's starter,
Jeremy Hellickson
, has been nearly flawless during this run, going 4-0 with a 2.40 ERA in five starts.
Hellickson started this season in a slump, with a 5.67 ERA in his first 14 starts through the middle of June.
His turnaround started 10 days before the Rays' recent run, throwing six innings of two-run ball on June 19 at Fenway Park. Over his last seven starts, Hellickson is 6-0 with a 2.09 ERA.
On Friday, the righty held the Yankees to just one hit in six at-bats with runners in scoring position, continuing a trend of success for Hellickson in that situation. Over his last seven starts, opponents have six singles in 31 at-bats with RISP and have put the ball on the ground two-thirds of the time.
Hot bats
It was no surprise to see
Wil Myers
and
James Loney
contributing a combined four hits and five RBI in Friday night's win. Since June 29 Loney is hitting .347 and Myers is at .346, the second- and third-best batting averages on the team and among the top 10 in the American League.
Myers has been even hotter in his last 10 games, going 20-for-41 (.488) with nine RBI. Both of his hits on Friday night came off fastballs, which he is crushing to the tune of a .522 batting average and a .870 slugging percentage in those 10 games.
Loney's two hits against the Yankees were both line drives, including his homer in the seventh inning. That's a formula that has worked well for him this season -- Loney ranks second in the majors in line drive percentage (27.2) and his 63 line-drive hits are tied for the second-most in MLB.
October, 6, 2012
10/06/12
11:30
AM ET
By
Justin Havens
| ESPN.com
Joey Votto
is the rare breed of hitter who not only possesses devastating power but also exhibits some of the best plate discipline in the league and a penchant for recording high batting averages.
He's a complete hitter. No player in baseball has posted a higher on-base percentage in the past three seasons than Votto (.433); in other words, no player has avoided recording outs as well as Votto has.
So just how do you get him out?
Over the past three seasons, no left-handed batter has recorded a higher OPS against left-handed pitching than Votto.
In fact, his lead over second-best (
Adrian Gonzalez
) is equal to the gap between Gonzalez and the ninth-best option. But even taking that into consideration, Votto does appear to have a (relative) weakness: soft stuff on the outer half from those left-handers.
Since the start of 2010, 43 left-handed batters have seen at least 400 off-speed pitches on the outer half of the plate from left-handed pitchers.
The group hit .195 with a .529 OPS and a home run rate of 2.1 percent.
Votto ranks 34th out of that group in batting average (.150), 30th in OPS (.440) and 31st in HR rate (0.7 percent). Even
James Loney
has a higher batting average in such scenarios.
It gets even worse when looking at Votto's performance against those pitches with two strikes.
Votto has seen 218 off-speed pitches from lefties on the outer half with two strikes in the past three years. He has exactly nine hits to show for it, good for a .095 batting average.
Only two left-handed batters have seen more such pitches and come up with fewer hits -–
Adam Dunn
and
Carlos Pena
.
The good news is that although this remains a distinct weakness, Votto seems to be improving against this plan of attack.
From 2010 to 2011, Votto hit .144 with a .409 OPS and a 31.2 percent strikeout rate. In 2012, those numbers are up to a .200 batting average, a .646 OPS and a 21.4 percent strikeout rate.
As you can see by the heat maps below, he has managed to do some damage with the pitches that have stayed on the upper/outer half but remains susceptible to down and away.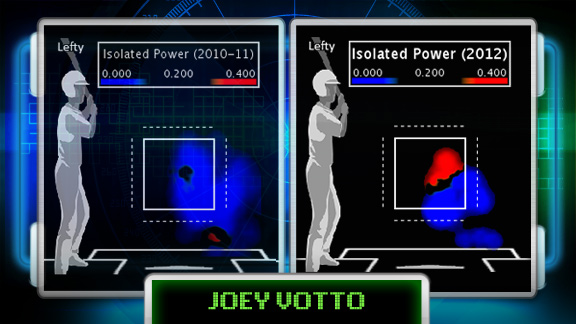 April, 26, 2011
4/26/11
3:17
PM ET
Today's Trivia:
It was 50 years ago today that Roger Maris hit the first of his 61 home runs in 1961. (He went homerless in his first 10 games of the season.) Maris would win his second straight American League MVP that year. Who is the only player to win back-to-back American League MVP awards since?
On Monday, we looked at American League hitters who were slumping. Here's a look at the numbers behind some of the notable slumps in the National League:

Gonzalez
• The Rockies
Carlos Gonzalez
is just 3-for-34 on at-bats ending in a fastball. At .088, that's the lowest of any regular in the majors this season. Last season, he hit .379 with 14 home runs on at-bats ending in a fastball.
• The
Los Angeles Dodgers
James Loney
(.170 BA) is swinging at 53.5 percent of pitches, way up from 42.2 percent last season. It's most noticeable on the first pitch where he's swinging at 39.4 percent compared to 21.9 percent in 2010.
• It's the soft stuff getting to the
Pittsburgh Pirates
Pedro Alvarez
(.216). He's 2-for-17 on at-bats ending in a change-up and 2-for-14 on sliders.
• Marlins' shortstop
Hanley Ramirez
(.194) actually is 5-for-14 with three doubles against left-handed pitching, but righties have been a different story. A career .313 hitter against right-handers, Ramirez is hitting .151 against them this season. Of his swings against right-handed pitching, 27.1 percent have been swings and misses, up from 19.9 percent last season.
•
Dan Uggla
has a .174 batting average on balls in play (BABIP), which puts him ahead of only
Angel Pagan
among 99 National League qualifiers. (The league average is .297.) However, that's not just a matter of luck. Only 10.8 percent of Uggla's hits have been line drives, down from 22.5 percent in 2010.
• When you look at the National League players who hit the highest percentage of ground balls, speedsters
Jose Tabata
and
Michael Bourn
not surprisingly top the list. But sixth on that list is
Raul Ibanez
(.179) who is hitting 60.0 percent grounders, up from 44.6 percent in 2010.
• Given that he hit .196 in 2010, it's hard to call
Carlos Pena
's .169 batting average a slump. However, the fact that he has only one extra-base hit (a double) would qualify as a power slump. All 28 of his home runs in 2010 came on pitches middle-away. This season, he's hitting just .125 on those pitches.
Trivia Answer:
Frank Thomas
(1993-94) is the only player to win back-to-back American League MVP awards since Maris.
April, 18, 2011
4/18/11
7:46
PM ET
By
Scott Randall
| ESPN.com

In a bold move to help improve their struggling offense, the
Los Angeles Dodgers
called up prized prospect
Jerry Sands
.
He will make his major league debut tonight against the
Atlanta Braves
, batting seventh and playing left field.
So who is Jerry Sands, and what can Dodgers fans expect from the 23-year old?
Sands hit .301 with 35 home runs and 93 RBI last season en route to winning the Dodgers minor league player of the year award.
But his 2010 season was split between Class A and Double-A, seemingly still a year away from any contributions at the big league level.
However after opening his 2011 Triple-A season with home runs in three straight games, Sands proved he might have been ready sooner rather than later.
This came after Sands led all Dodgers players with a .999 OPS in 22 games this spring (minimum 20 AB).
He looks to be a power hitter that can also hit for average, something the Dodgers are sorely lacking outside of
Matt Kemp
and
Andre Ethier
.
So where can Sands fit in with the major-league team right now?
Over 50 percent of his minor league games have been played at a corner outfield position while also spending time at first base.
Thus far left field in Dodger Stadium has been manned by the vaunted trio of
Tony Gwynn
Jr.,
Marcus Thames
and
Xavier Paul
, who was sent down to make room for Sands.
James Loney
, who is hitting .150 and has yet to show significant power in his career, has been the lone first baseman.
Although it was against Triple-A competition, in 10 games Sands has outproduced what Dodgers left fielders and first baseman have combined to do in 32 games.
In fact, you can combine their slugging percentages (.219 and .344) and Sands would still be outslugging them by more than 300 points.
Dodgers manager Don Mattingly has compared Sands physically to
Matt Holliday
, who never hit more than 16 home runs in a minor league season.
Another comparison could be made between the two -- Holliday played just six career games in Triple-A before being called up by the
Colorado Rockies
in April of 2004.
September, 3, 2010
9/03/10
2:13
PM ET
Today's Trivia:
It was 20 years ago today that Bobby Thigpen broke the single-season saves record by picking up number 47 (he finished with 57). Who held the record before Thigpen?

Quick Hits:
The
Minnesota Twins
had 15 hits on Thursday (all singles, by the way), but
Denard Span
went 0-for-6. It's not the first time Span has watched a hit parade from the sidewalk. On May 22, the Twins had 13 hits, but Span went 0-for-7. Then on August 4, he was hitless in six at-bats despite 10 hits for the Twins. Span is the only player in the majors with three games of no hits in at least six at-bats this season. In that spirit, let's take a look at the most improbable oh-fers this season.
• The
Oakland Athletics
Chris Carter
had a forgettable 0-for-19 start to his career before being sent down in August. Now on the minor-league disabled list, that oh-fer might stick. It's not all bad news though. The last AL player to finish a season hitless in 19 or more at-bats was
David Ortiz
in 1999. A September call-up, Big Papi went 0-for-20 for the Twins, striking out 12 times.
• Carter's 0-for-August was the worst in that month since
Jason LaRue
went 0-for-24 in 2007. According to STATS LLC, the worst oh-fer in any month over the last 35 years belongs to
Mark Smith
. In 1998 with the
Pittsburgh Pirates
, Smith went 0-for-27 in April and didn't collect his first hit until May 19.

•
B.J. Upton
is hitless in 12 at-bats with the bases loaded. Over the last 30 years, the worst oh-fer with the bases loaded was Jose Cruz Jr. (0-15) in 2003.
•
Mark Kotsay
is 0-for-24 against left-handed pitchers this season. This from a player who hit .336 against lefties in 2004 with Oakland. Over the last 35 years, only one position player had a bigger oh-fer against lefties. In 2000,
John Mabry
was 0-for-25 while splitting the season between Seattle and San Diego.
•
Mark Reynolds
leads the majors with 55 starts in which he didn't pick up a hit. However, the strikeout king will avoid another mark of infamy. Over the last 90 years, the most oh-fer starts belongs to Bob Meacham, who was hitless in 84 starts for the Yankees in 1985 (though he did have a pair of four-hit games).
• In 13 appearances,
Cleveland Indians
reliever
Justin Germano
has yet to allow a hit to the first batter that he's faced (though he did walk one). In 2005, the first batter facing the Mets
Juan Padilla
went 0-for-22.
Today's Leaderboard:
Josh Hamilton
has 51 games with two or more hits this season, third in the majors behind
Ichiro Suzuki
and
Martin Prado
. However, Hamilton's 24 three-plus hit games are six more than any other player. Interestingly, Ichiro only has 12 three-hit games. His career-low is 17.

Key Matchups:
James Loney
is hitting just .207 with a .605 OPS since the All-Star break. That includes a .192 average against lefties and a .195 average at home. All that spells trouble for Loney with
Barry Zito
coming to town. In 26 career plate appearances against the
San Francisco Giants
lefty, Loney has just 2 hits and no walks. That's a batting average of .077, his lowest against anyone he's faced at least 20 times.
The Elias Sports Bureau notes that
Brandon Morrow
has a chance at history on Friday. In his four previous starts against the
New York Yankees
, Morrow has 36 strikeouts in 24 1/3 innings, a rate of 13.3 K per 9. Elias says that the highest single-season rate against the Yankees (min. 20 IP) is 12.6 by
Pedro Martinez
in 2001.
Curtis Granderson
has been Morrow's primary victim with seven strikeouts in nine at-bats this season.
Trivia Answer:
Dave Righetti's 46 saves in 1986 broke Bruce Sutter's mark set two seasons before. Thigpen's record stood for 18 years before
Francisco Rodriguez
picked up 62 saves in 2008.
July, 21, 2010
7/21/10
5:21
AM ET
By
ESPN Stats & Info
| ESPN.com
There were seven ejections Tuesday, which is the most this season. Here's a recap of players and managers who got to take an early shower:
- The Yankees
Joe Girardi
was ejected by Paul Emmel in the bottom of the 5th for arguing a safe/out call.
- The Pirates John Russell was ejected by D.J. Reyburn in the bottom of the 6th for arguing.
- The Dodgers Bob Schaefer was ejected by Adrian Johnson in the bottom of the 6th for arguing.
- The Dodgers
Clayton Kershaw
and Joe Torre were ejected by Adrian Johnson in the Top of the 7th because Kershaw hit the Giants
Aaron Rowand
after both teams were warned.
- The A's
Coco Crisp
was ejected by Bob Davidson in the Bottom of the 10th for arguing.
- The Red Sox's John Farrell was ejected by Bob Davidson in the bottom of the 10th for arguing a check swing.
According to the Elias Sports Bureau, the last time seven or more players and managers were ejected on the same day was May 15 of last year.
The Joe Torre ejection in the Giants-Dodgers game in part led to the Giants beating the Dodgers 7-5. Bench coach Don Mattingly - thrust into the manager's role after Torre was tossed - was charged with two trips to the mound, despite leaving the dugout only once. With the Dodgers leading 5-4 in 9th, the Giants had the bases loaded with one out. Mattingly went to the mound to discuss strategy. Mattingly left the mound and headed back to the dugout, but then stepped back on the mound when
James Loney
asked him a question. This constituted two trips to the mound, forcing closer
Jonathan Broxton
out of the game. With no time to warm up,
George Sherrill
's gave up a double to the left-center gap by
Andres Torres
, giving the Giants a 6-5 lead.
June, 17, 2010
6/17/10
1:10
PM ET
By
Jeremy Lundblad, ESPN Stats & Info
| ESPN.com
Quick Hits
: Ubaldo Jimenez takes his mind-boggling road statistics (7-1, 0.76 ERA) over to Target Field on Thursday. He's put himself on pace for numbers not seen since 1968, "The Year of the Pitcher." Let's take a closer look at Ubaldo's road dominance:
Jimenez's seven road wins equal the Orioles' total number of road wins (7-27).
At his current pace, Jimenez is on track to win 17 games on the road alone. Over the last 50 years, that's only been done twice according to STATS LLC, both in 1968: Juan Marichal (18-4) and Denny McLain (17-2).
The last pitcher to even win 14 on the road was Scott McGregor, who went 14-1 for the Orioles in 1983.
His 0.76 road ERA is nearly half Roy Oswalt's 1.50, which ranks second in the majors.
The lowest qualifying road ERA over the last 50 years? Bob Gibson's 0.81 in his historic 1968 season.
Jimenez has allowed just five earned runs in 59.1 innings on the road. There have been 393 starts this season in which a pitcher has allowed at least five runs.
Jeff Samardzija has pitched only a third of an inning on the road this season, and has allowed the same number of earned runs (5) as Jimenez has in over 59 innings of work.
Opponents are hitting just .152 against Jimenez in these games. The last pitcher to pull that off on the road was Luis Tiant (.145) in 1968.
Jimenez already has a pair of road shutouts. The last pitcher with more than three was Jack McDowell (4) in 1993.
Today's Trivia
: Arguably the top two active starters from the Dominican Republic face each other on Thursday, as Ubaldo Jimenez and Francisco Liriano will do battle. With neither Pedro Martinez or Bartolo Colon on a roster, who is the winningest active pitcher born in the Dominican Republic?
Today's Leaderboard
: Though opponents are hitting just .152 against Jimenez when he is on the road, he has issued 22 walks in those games. As a result, he ranks just fourth in the majors in opponents' on-base percentage in road games. Roy Oswalt's .217 opponents' OBP is the best in the majors.
Key Matchups
: Manny Ramirez has only faced his former teammate Bronson Arroyo once (a flyout). However, the other hitters in the heart of the Dodgers order are licking their chops. Andre Ethier (.368), Matt Kemp (.455) and James Loney (.471) have hit a combined .426 against the Reds' veteran. For Loney, it's his second highest average against a pitcher he has faced at least 15 times.
Adrian Beltre is a .410 career hitter against Dan Haren, having faced him extensively as AL West foes. However, the two have not squared off since 2007 and Beltre is hitless in his last five at-bats against him. Yet, Beltre may not be the Red Sox hitter most excited to see Haren. Victor Martinez is a .538 hitter against Haren, the highest average for anyone who has faced the Diamondbacks' ace at least 15 times.
Trivia Answer
: At 95-110, Nationals' reliever Miguel Batista has more wins than any other pitcher from the Dominican currently on a roster. He ranks ninth all-time among pitchers born in that country.
April, 16, 2010
4/16/10
1:44
PM ET
By
Jeremy Lundblad, ESPN Stats & Info
| ESPN.com
Today's Trivia
: Tomorrow is the 50th anniversary of the Indians trading Rocky Colavito to the Tigers for Harvey Kuenn. At the time, Colavito was just 26 and the reigning AL home run champ. Kuenn lasted just one season with the Tribe before he too was shipped off. Can you name the only four players with last names beginning in the letter C who have more career home runs than Colavito?
Quick Hits
: Some players have already entered uncharted waters this season.
*
James Loney
has stolen third base three times this season, which leads the majors. Loney had never even attempted to steal third prior to this season.
* In 16 plate appearances,
Ryan Raburn
has been hit by three pitches. In 669 plate appearances entering the season, he'd only been hit twice.
*
Jeff Mathis
already has two bunt hits. Last season,
Gerald Laird
was the only catcher with more than two bunt hits. He had seven.
* Howie Kendrick has grounded into four double plays, tied for the most in the MLB. Last year, Kendrick only had eight GIDPs.
*
Chris Young
has three game-winning RBI. He had four all of last season.
* In 8 2/3 innings
Tyler Clippard
has allowed three sacrifice flies, tied for the MLB lead. He had allowed one sacrifice fly in his first 97 2/3 innings.
*
David Price
has allowed two triples. He had never allowed a triple before this season.
*
Trevor Hoffman
has already allowed more extra-base hits (8) than he did all of last season (7).
*
Chris Carpenter
has already been the victim of more unearned runs (2) than he was all of last season (1).
*
Ryan Rowland-Smith
went all of last season (96 1/3 innings) without allowing a stolen base. He has already allowed two this season.
Today's Leaderboard
: In his debut, opponents swung at 38.7 percent of Mike Leake's first pitches. That's the third highest rate among starers this season. Given the seven walks he issued in his debut, that seems destined to change today.
Key Matchups
: When
Jason Bay
opted to return to the National League, he had to know it meant facing Chris Carpenter again. As NL Central rivals, they clashed regularly from 2004 to 2006, with Carpenter often coming out on top. Bay is a career .077 hitter against Carpenter with 12 strikeouts in 26 at-bats. He is hitless in his last eight at-bats with six strikeouts. No pitcher has struck him out more (
Doug Davis
also has 12 K), and the .077 average is Bay's worst against a pitcher he has faced 20 times.
It's a similar story for
Carlos Pena
against
Josh Beckett
. Last season, Pena struck out in all eight at-bats against Beckett, though he did manage a walk. Overall, Pena is 3-for-25 with 16 strikeouts against Beckett.
Trivia Answer
:
Jose Canseco
(462), Joe Carter (396), Orlando Cepeda (379) and Norm Cash (377) are the only players beginning in C with more homers than Colavito (374), who is the next player
Albert Pujols
will pass on the all-time list.