Stats & Info:

Jared Sullinger
March, 28, 2012
3/28/12
1:52
AM ET
By
ESPN Stats & Information
| ESPN.com
Elsa/Getty ImagesThad Matta and the Ohio State Buckeyes celebrate their first trip to the Final Four since 2007.
The
Ohio State Buckeyes
are back in the Final Four for the first time since losing to the
Florida Gators
in the 2007 championship game. ESPN Stats & Information takes a look at the keys to success for the Buckeyes in New Orleans.

Key Player
The key to the Buckeyes run to the Final Four has been sophomore forward
Deshaun Thomas
. Thomas scored a career-high 31 points in the Round of 64 win against
Loyola-Maryland
, and has averaged 21.7 points in this year's NCAA tournament.
Thomas leads the tournament with 48 points in the paint and 28 second-chance points.
Kansas
has allowed six players to score 10 or more points in the paint during its last three games.
The All-American
When the Buckeyes traveled to Lawrence to take on Kansas in December,
Jared Sullinger
missed the game with back spasms. He'll be in the lineup in the Final Four for a star-studded matchup with fellow All-American
Thomas Robinson
.
Sullinger leads the nation with 279 points on post-up plays this season while shooting 47 percent. If the Jayhawks can force him farther from the basket, the advantage shifts their way. Opponents are shooting 27 percent on jump shots guarded by Robinson, third-best among Big 12 players.
Sullinger has made 27 free throws in the tournament, the most for any player. After scoring 26 percent of his points from the line during the regular-season, he has scored 38 percent of his points from the line in the last four games.
X-Factor
While Sullinger is the All-American and Thomas has been the hot hand, it was a lesser-known Buckeye who came out of nowhere to help Ohio State win in the Elite Eight and advance to New Orleans.
Lenzelle Smith Jr.
scored just 10 total points in Ohio State's two games in Pittsburgh as the Buckeyes advanced to the Sweet 16. In the team's games in Boston, he scored 17 points against
Cincinnati
and 18 against
Syracuse
while making three 3-pointers in each game.
The Gunner
Senior
William Buford
leads the team in shots and 3-point attempts this season. During the NCAA tournament, more than half of his shots have been contested by a defender and he has connected on less than 15 percent of those attempts.
As the competition has gotten tougher, more of Buford's shots have been contested. In Ohio State's first two games, only nine of 24 shots were contested. Against Cincinnati and Syracuse, 14 of his 20 shots were over a defender.
The Defensive Specialist
Aaron Craft
leads the nation with 57 turnovers forced as an on-ball defender this season. No other player in the country forced more than 50.
When the teams met in December, Craft was able to shut down
Tyshawn Taylor
as a scorer. Taylor scored just 9 points in the game, one of four times this season he was held in single digits.
With Craft guarding him, Taylor had six turnovers and made just one of five shots. The Kansas senior did finish with a career-high 13 assists in the contest.
March, 27, 2012
3/27/12
12:00
AM ET
By
ESPN Stats & Information
| ESPN.com
After upsets leading into the Final Four the past two seasons, this year's event is for blue bloods only.
According to the Elias Sports Bureau, this is the first time that every national semifinalist has made at least eight prior Final Four appearances.
The only other Final Four in which each team had made more than five previous semifinal appearances was 1993. That year was the 11th appearance for
North Carolina
while
Kansas
and
Kentucky
were making their 10th trip and
Michigan
its sixth.
Rematches provide rare second chances
For the first time since 1964, the national semifinals will feature two rematches of regular-season contests.
That season,
Duke
avenged an early-season loss to Michigan and
UCLA
beat
Kansas State
for the second time. The Bruins beat the Blue Devils in the championship game to finish the season 30-0 as John Wooden won his first title.
Both of this year's matchups occurred in December.


On Dec. 10, Kansas beat
Ohio State
78-67 in Lawrence, handing the Buckeyes their first loss of the season.
Thomas Robinson
scored 21 points to lead the Jayhawks while
Tyshawn Taylor
dished out a career-high 13 assists.
One big difference this time around will be
Jared Sullinger
, who did not play in December because of back spasms. Ohio State shot just 39 percent from the floor while Kansas shot 58 percent.


Kentucky and
Louisville
met on New Year's Eve in Lexington. In the first matchup between the two as top-five teams since Rick Pitino arrived in Louisville, the Wildcats won by seven points.
Michael Kidd-Gilchrist
scored 24 points and pulled down 19 rebounds, becoming the first Kentucky player to have a 20-15 game against a top-five opponent in 15 seasons.
Russ Smith
scored a career-high 30 points off the bench for Louisville, but no starter scored in double figures.
Seeing the game from both sides
Louisville head coach Rick Pitino spent eight years at Kentucky, leading the Wildcats to three Final Fours and a national championship in 1996. His semifinal matchup with Kentucky will be just the second time that a Final Four game pits a coach against a former team. In 2008, Roy Williams and North Carolina lost to Kansas in a semifinal.
ACC left out of party
What this year's Final Four doesn't have is a team from the Atlantic Coast Conference. It's just the second time since the tournament expanded in 1985 that the ACC has failed to have a Final Four team in consecutive years -- the other was 2006-07.
That makes four times in the last seven years that the ACC hasn't had a Final Four representative, matching the number of times the national semifinals were played without an ACC team in the 21 years from 1985-2005.
Championship ring redux
Looking ahead, it's possible that the national championship game will feature two coaches who have already won a title. If Louisville and Kansas win on Saturday, Monday's title game will be the sixth in the last 50 years between coaches with championship rings.
March, 2, 2012
3/02/12
10:31
AM ET
By
Jeremy Lundblad, ESPN Stats & Info
| ESPN.com
The latest College Basketball Nation
Player of the Year Straw Poll
shows a dead heat between
Kentucky
's
Anthony Davis
and
Kansas
's
Thomas Robinson
.
If Davis wins any of the three major awards, it would be historic even compared to Kentucky's storied past. No Wildcat has ever won the Wooden Award, Naismith Award or AP Player of the Year. Among freshmen, only
Kevin Durant
has taken home the hardware, winning all three awards in the 2006-07 season.
Danny Manning
was the last Jayhawk to win national player of the year, claiming both the Naismith and Wooden Awards after the 1987-88 season. No Kansas player has ever won the AP award, which was first awarded in 1961.
The advanced metrics are split on who the top player has been this season.
Davis leads the nation in
Player Efficiency Rating (PER)
, a metric established by John Hollinger to measure overall effectiveness. Davis has a PER of 36 this season while Robinson's PER is 29, 18th in the nation and second in the Big 12 behind
Missouri
's
Ricardo Ratliffe
.
KenPom.com's Player of the Year standings
favor Robinson for the top spot. Davis comes in fourth in these rankings, behind
Draymond Green
and
Jared Sullinger
.
Case for Anthony Davis
Davis changes the game with his defense. Through 29 games, he has blocked 139 shots. He has a chance to set both the national freshman record, currently held by
Marshall
's
Hassan Whiteside
with 182 in 2009-10, as well as the overall SEC record, set at 170 by
Mississippi State
's Jarvis Varnado.
Davis is less polished on the offensive end of the floor, where he averages 14 points per game. The only AP National Player of the Year to average less than 15 points was
Patrick Ewing
for
Georgetown
in 1984-85.
Davis makes 66 percent of his shots from the field, among the best in the nation. If he keeps up his current pace, he'll be the first player to average 14 points, nine rebounds and four blocks since
Connecticut
's
Emeka Okafor
in 2003-04.
Case for Thomas Robinson
While Davis is the nation's top shot-blocker, Robinson is near the top in rebounding. He is second nationally in rebounds per game and first in defensive rebounding percentage.
With a small increase in rebounds per game, Robinson could join Kansas legends Wilt Chamberlain and Clyde Lovellette as the only players in school history to average 17 points and 12 rebounds in a season. The last three power six conference players to reach both thresholds are
Blake Griffin
,
Michael Beasley
and
Tim Duncan
.
Robinson is second in the nation and first among power six conference players with 21 double-doubles this season. Only three players in Big 12 history have recorded more in a season – Griffin, Beasley and
Drew Gordon
.
Robinson averaged less than 8 points per game last season. No AP Player of the Year winner has ever averaged fewer than 10 points per game the previous season.
March, 1, 2012
3/01/12
10:52
AM ET
By
Jeremy Lundblad, ESPN Stats & Info
| ESPN.com

Player of the Night – Jared Sullinger
In a heartbreaking result for
Northwestern
, Sullinger's turnaround with 3 seconds to go gave
Ohio State
a 75-73 victory. The sophomore finished with 22 points and a season-high 18 rebounds. Sullinger is the first Big Ten player with those totals in a conference game since
Penn State
's Jarrett Stephens in 2000. He equaled Northwestern's rebounding total, as the Buckeyes held a 44-18 advantage on the glass.

Senior of the Night – Tyler Zeller
Zeller made his final home game a memorable one, as
North Carolina
beat
Maryland
88-64. Zeller went 20-for-23 at the line, breaking Tyler Hansbrough's Smith Center record for free throws made. He fell one make shy of York Larese's school record set in 1959. Zeller finished with 30 points, eight rebounds and three blocks.

Stat Sheet Stuffer – Andrew Nicholson
St. Bonaventure
locked up a bye in the A-10 Tournament with a 98-93 double-overtime win over
Saint Joseph's
. It's the Bonnies' second win in their last 19 meetings with the Hawks. Nicholson helped solidify his A-10 Player of the Year candidacy with 32 points and 14 rebounds. He's averaging 30 points and 12 rebounds over the Bonnies' past four games, all wins. Nicholson is now just six points shy of 2,000 for his career.

Breakout Performance – Jaquon Parker
Cincinnati
can feel a whole lot safer about the bubble after a 72-61 win over
Marquette
. The Bearcats have their signature win, and can now claim six wins over the RPI Top 50. The story of the game was the emergence of Parker, who finished with a career-high 28 points. He'd averaged just 6 points over his previous 14 games.

Ugly Stat Line – Russ Smith
Louisville
put up an ugly performance at home, shooting just 34 percent in a 58-51 loss to
South Florida
. Primarily coming off the bench, Smith is Louisville's second-leading scorer at 12 points per game. But Wednesday, he went 0-for-8 from the field in 17 minutes of action. Over their past three home games, the Cardinals are averaging 53 points and shooting 36 percent from the field.
February, 14, 2012
2/14/12
12:37
PM ET
By
Ryan Feldman, ESPN Stats & Info
| ESPN.com


On Saturday,
Michigan State
presented the model for stopping
Jared Sullinger
- make him catch the ball outside the paint and put the ball on the floor. That's what
Minnesota
will look to do when it hosts
Ohio State
(9 ET on ESPN).
Sullinger had a nightmarish game Saturday, turning the ball over 10 times while shooting 5-for-15 from the floor. He was the first Big Ten player with double-digit turnovers since former Buckeye
Evan Turner
two seasons ago.
The Spartans kept Sullinger out of the paint and attacked him once he put the ball on the floor. Of his 10 turnovers, seven occurred when catching the ball outside of the paint and five after dribbling the ball. Six of the 10 turnovers came when the Spartans double-teamed him.
Despite playing the full 40 minutes, Sullinger did not catch the ball in the post inside the paint a single time against the Spartans.
Michigan State's game plan exposed a weakness Sullinger has had all season long. He has 24 turnovers this season when catching the ball outside of the paint and 23 turnovers after putting the ball on the floor.
Conversely, he has just four turnovers when posting up in the paint and hasn't had a single turnover on those plays in his last six games.
Matt Ryerson/US PresswireJared Sullinger is one of the best post-up players in the nation.
Limiting Sullinger's turnovers has been a key for the Buckeyes. They're 13-0 this season when he has one or fewer turnovers.
Sullinger is one of the best post-up players in college basketball. Among players with at least 100 post-up plays this season, he ranks fifth with 1.08 points per play. He draws a shooting foul on 19 percent of his post-ups, which ranks fourth in the country.
In his two games prior to the Michigan State loss, Sullinger caught the ball four times in the post inside the paint and got fouled on all four plays.
Without good position, Sullinger isn't as effective. The further he is from the basket, the more he needs to dribble to create offense, which in turn opens up the possibility of turnovers.
Ohio State hasn't lost back-to-back games since starting Big Ten play at 0-2 during the 2009-10 season. To avoid breaking that streak, the Buckeyes need to get the ball to Sullinger where he is more likely to succeed.
February, 13, 2012
2/13/12
11:29
AM ET
By
Jeremy Lundblad, ESPN Stats & Info
| ESPN.com
Player of the Weekend - Miles Plumlee

Plumlee came off the bench to haul in 22 rebounds in
Duke
's win over
Maryland
. It's the most rebounds in a game in the Coach K era at Duke, and most for a Blue Devil since Randy Denton's 25 in 1970. The last player with more rebounds off the bench?
North Carolina
's Sean May had 24 on Senior Night against Duke in 2005 (a pair of Tar Heel seniors started and played one minute).
Freshman of the Weekend - Tony Mitchell

Mitchell had 22 points and 20 rebounds, but
North Texas
fell short of
Florida Atlantic
in double overtime. Mitchell is the first freshman with a 20-20 game since Michael Beasley. With six blocks and five assists, Mitchell is the first freshman with 20 points, 20 rebounds, five blocks and five assists since
Seton Hall
's Eddie Griffin in 2000.
Scoring Star – Jamal Olasewere

Olasewere went 11-for-11 from the field and scored a career-high 32 points as
Long Island
beat
St. Francis (NY)
. That matched
Vermont
's
Luke Apfeld
for the most field goal attempts without a miss this season. Olasewere is the first player to score 30 or more while going at least 11-for-11 from the field since
Oklahoma State
's Marshall Moses last season.
Stat Sheet Stuffer - Scott Machado

With 10 points, 10 assists and 11 rebounds, Machado notched the second triple-double in
Iona
history in an 83-74 win over
Marist
. The previous triple-double came from Nakiea Miller in 2000. Machado is on track to be the first player to average double-digit points and assists since 1988 when Avery Johnson and Anthony Manuel did it.
Ugly Stat Line of the Weekend – Jared Sullinger

The good news? Sullinger had a triple-double in
Ohio State
's 58-48 loss to
Michigan State
. The bad news? One of those categories was turnovers. Sullinger had 17 points and 16 rebounds, but his other numbers stick out more: 10 turnovers and a 33 field goal percentage. Of course, the rest of the Buckeyes shot just 24 percent. Sullinger is the first Big Ten player with 10 turnovers since Evan Turner in 2009.
February, 12, 2012
2/12/12
5:47
AM ET
A scan of the college basketball box scores each night guarantees all kinds of statistical oddities and standout performances. Here are some we found from Saturday.
Indiana State 78, Southern Illinois 68
Indiana State made all 12 of its 3-point attempts Saturday, the most 3-pointers without a miss in a single game in NCAA history. The previous record for most threes without a miss was nine, done by Minnesota against Penn State on Jan. 11, 2009.
Lipscomb 99, Stetson 91 (OT)
Lipscomb scored 25 points in the extra session, one shy of the NCAA Division I record for points in an overtime period. The record of 26 was done by Vermont on Jan. 24, 1998, against Hartford.

Duke 73, Maryland 55
Duke's
Miles Plumlee
had 22 rebounds in 28 minutes off the bench, the most rebounds by a bench player since Sean May had 24 against Duke on March 6, 2005 (May did not start that game because it was North Carolina's Senior Day). Plumlee is the first player this season with at least 20 rebounds in fewer than 30 minutes of playing time.
Michigan State 58, Ohio State 48
Ohio State's
Jared Sullinger
had 17 points, 16 rebounds and 10 turnovers in the Buckeyes' loss Saturday. It's the first "triple-double" using points, rebounds and turnovers in Division I this season. Jerrell Williams of La Salle had the last one on Jan. 19, 2011, against Duquesne.
Kansas 81, Oklahoma State 66
The Jayhawks'
Jeff Withey
had 18 points, 20 rebounds and seven blocks in the win. He's the first player to reach all three of those levels in the same game since VCU's Larry Sanders put up the exact same line on March 9, 2009, in the CAA championship game against George Mason.

Texas 75, Kansas State 64
Texas attempted 48 free throws to Kansas State's 12. That free-throw differential of 36 is the largest in a game involving a Big 6 team this season and the third-largest overall. Texas' 48 free-throw attempts are the second most by a Big 6 team on the season (Washington attempted 59 on Jan. 10 against Seattle).
Texas Tech 65, Oklahoma 47
Oklahoma scored just six points in the paint, the fewest points in the paint in a game by a Big 6 team this season.
St. Bonaventure 69, Duquesne 48
Florida Atlantic 86, North Texas 81 (2OT)
St. Bonaventure's
Andrew Nicholson
scored 21 points and grabbed 23 rebounds in the Bonnies' win, and North Texas'
Tony Mitchell
scored 22 points and grabbed 20 rebounds in the Mean Green's double-overtime loss. They became just the sixth and seventh players this season to record a 20-20 game. Nicholson's 23 rebounds are the second most in a game this season, trailing only
Cameron Moore
of UAB who had 24 on Dec. 28.
Seattle 100, Longwood 99 (OT)
Seattle's
Chad Rasmussen
was 6-for-17 from the field in the Redhawks' win, with all of his attempts coming from 3-point range. That is the most 3-pointers attempted in a game without attempting a 2-point field goal.
Arkansas-Pine Bluff 64, Southern 58
Trillion of the Night:
Jamar Harris
of Arkansas-Pine Bluff played 12 minutes without accumulating a single stat in his team's 64-58 win over Southern.
February, 11, 2012
2/11/12
9:27
PM ET
By
ESPN Stats & Info
| ESPN.com
Saturday's action in college basketball featured four games between teams in the top 20 of the ESPN/USA Today Coaches Poll, all four from different conferences.
It's that time of the year when resumes need to be padded, so who did themselves favors on Saturday?
(12) Michigan State 58, (3) Ohio State 48
Michigan State took advantage of a sloppy day by Ohio State
to snap the Buckeyes' 39-game home win streak, which was the second-longest such streak in the country behind
Kentucky
.

Ohio State finished the game with 15 turnovers, and 14 made field goals, shooting 26 percent from the field.
One of the key contributors to the turnovers was
Jared Sullinger
, who had 10, tied for the most by an Ohio State player over the last 15 seasons.
Sullinger also recorded 17 points and 16 rebounds, making him the first player with the dubious points, rebounds and turnovers triple-double in Division I this season.
(4) Missouri 72, (6) Baylor 57
Missouri improves to 3-0 this season against AP top-10 teams
, with two wins coming against Baylor, and another against
Kansas
. That's more wins against top-10 teams than the Tigers had in their last seven seasons combined.
Before this week, the last time Missouri defeated two top-10 teams in a week was in January 1998. The last time the Tigers beat three top-10 teams in the same season was 1989-90.
Meanwhile, Baylor drops to 0-4 this season against Big 12 foes Kansas and Missouri, allowing 80.3 points per game. Against all other teams, the Bears are 21-0 and allow 60.5 points a game.
(16) UNLV 65, (14) San Diego State 63

In a matchup of ranked teams from the Mountain West Conference,
UNLV comes away with a win
to improve to 14-0 at home this season. That's UNLV's best home start since also starting 14-0 in 1991-92.
That 1991-92 team finished 26-2 but was banned from postseason play.
San Diego State's six-game win streak against the Rebels comes to an end. It's also the Aztecs' first loss in their last 48 games when allowing 70 points or less.
(5) North Carolina 70, (20) Virginia 52
North Carolina rebounds from Wednesday's dramatic loss to Duke
despite shooting just 35.3 percent from the field.

How did they overcome that number? In large part, it was thanks to hitting the offensive glass, as the Tar Heels grabbed 23 offensive rebounds and scored 23 second-chance points.
Doing it against Virginia is especially impressive, as the Cavaliers entered the game allowing the fewest offensive rebounds (7.6) and second-chance points (6.6) per game of any ACC team this season.
It was the 664th career win as head coach for Roy Williams, tying John Wooden for the 23rd all-time among men's Division I coaches. Next up on the list is Gary Williams with 668.
February, 3, 2012
2/03/12
2:10
PM ET
By
Katie Sharp, ESPN Stats & Info
| ESPN.com
Defense takes center stage on Saturday when the
Ohio State Buckeyes
and
Wisconsin Badgers
face off in Madison, Wis., (2 ET on ESPN) with first place in the Big Ten on the line.
The Buckeyes and Badgers rank first and second, respectively, in the country in adjusted defensive efficiency, according to kenpom.com, and both rank among the top 25 teams nationally in field goal percentage allowed.


Points will certainly be at a premium: nine of the combined 45 opponents this season for Wisconsin and Ohio State have scored better than the national average of one point per possession.
When Ohio State Has the Ball
Jared Sullinger
is one of the most dominant big men in the country. Nearly half of his possessions result in a post-up play, and he has the second-best points per play average when posting up in the Big Ten (minimum 25 plays).
However, he had one of his worst games in the post Sunday against
Michigan
, a team that started four guards and no player taller than 6 feet, 8 inches. Sullinger made just 1-of-5 shots and scored only four points on seven post-up plays in the Buckeyes'
15-point win
.
Sullinger will be challenged to bounce back when he faces a physical Wisconsin frontcourt led by
Jared Berggren
, who has flourished as the team's defensive stopper in the paint. He's allowed 0.58 points per play as an on-ball defender, the best rate among Big Ten players at least 6 feet 10 inches tall (minimum 100 minutes played).
He ranks fourth in block percentage in the Big Ten, and opponents are averaging less than half a point per play on 21 percent shooting when posting up against Berggren.
Cody Zeller
and
Tyler Zeller
, arguably two of the best centers in the nation, were a combined 1-for-6 in their matchups with Berggren.
When Wisconsin Has the Ball
Jordan Taylor
got off to a slow start this season, averaging just 12 points per game during the Badgers' non-conference slate. In conference play, Jordan has increased his scoring by nearly five points per game.
Taylor's much-improved play in isolation has fueled this recent surge. He's averaged one point per play or better in isolation in six of his 10 conference games, after doing so in just five of 13 non-conference games.
Taylor will face one of the toughest on-ball perimeter defenders in the league with
Aaron Craft
likely to match up against the Badgers' senior point guard. Craft has the highest steal percentage in the Big Ten, and has allowed his opponent to score 0.67 points per play this season.
Craft's aggressive play defending in isolation has created turnovers on nearly one of every three such plays. His ball-hawking tactics might not be enough to contain Taylor, however, who has turned the ball over at a rate of fewer than once every 17 isolation plays this season.
December, 9, 2011
12/09/11
2:50
PM ET
By
Evan Kaplan & Katie Sharp
| ESPN.com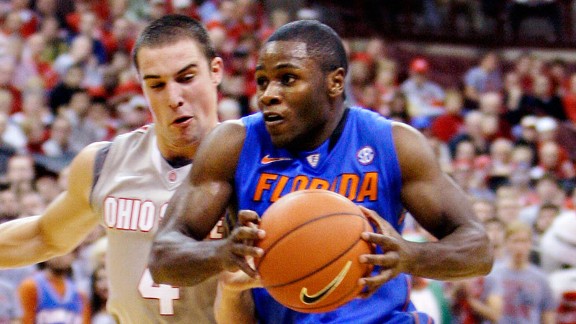 AP Photo/Jay LaPreteAaron Craft could cause issues for Kansas with his defense on Saturday.
Saturday's clash between the
Ohio State Buckeyes
and
Kansas Jayhawks
features a pair of notable matchups to watch-- a highly publicized one in the frontcourt, and an intriguing one in the backcourt.
Let's take a closer look with help from our Synergy Sports video review tool:
Jared Sullinger (Ohio State) vs Jeff Withey & Thomas Robinson (Kansas)
Sullinger has had significant success with post-up moves in the Buckeyes offense this season.
Video review shows that he is getting to the foul line nearly 40 percent of the time on post-up plays, going 26-for-28 when he gets there. When he gets his shot off, he's making it better than half of the time.
Kansas head coach Bill Self has to decide which of his two big men he'll put on Sullinger. Chances are that both will be put to use.
Withey could have a tough time because, statistically speaking, he doesn't defend post-ups well. Withey has yielded 0.81 points-per-post-up play, a rate that ranks 11th out of the 14 players in the Big 12 that have defended at least 10 such plays.
Withey and Robinson are both shot blockers. Withey is blocking two-point shots at a rate of about one for every seven taken against him, which ranks third in the Big 12. Robinson is averaging 1.5 blocks per game, which is more than double his average from last season and third-best in the Big 12 (one spot behind Withey's 2.9).
Because of Robinson's shot-blocking prowess, opposing players are taking more outside jumpers when guarded by him, but with little success.
Opponents are 3-for-24 on jump shots while defended by Robinson. He is allowing 0.43 points per play when in these situations, ranking first in the Big 12 (minimum 20 plays defended).
He'll have done his job if he can force Sullinger into taking shots away from the hoop. Sullinger is 5-for-15 on jumpers in seven games this season.
Robinson's strength is that he can limit Sullinger's putbacks (which have accounted for 18 of his points in the seven games tracked).
Robinson has dominated the opponents' glass grabbing 32 percent of available defensive rebounds while on the floor, the second-best mark in Division I.
Tyshawn Taylor (Kansas) vs Aaron Craft (Ohio State)
Taylor will face a great challenge in going up against Craft, who rates very well in two defensive areas important to the matchup.
Taylor is scoring at a good rate this season (16.8 points per game), but has significant ballhandling issues.
Among the 80 players in the "Power 6" Conferences with at least 25 assists, Taylor is just one of four that has more turnovers (32) than assists (29).
He has turned the ball over on at least 28 percent of his personal possessions in each of the last five games and was at his worst in the Jayhawks' loss to Duke. In that game he set a school record with 11 turnovers, coughing the ball up nearly 50 percent of the time.
Taylor has really struggled to hold onto the ball on pick-and-roll plays. He has turned it over on eight of his 32 possessions as the pick-and-roll ball handler, a 25-percent turnover rate that ranked eighth-worst in Division I and worst in the Big 12 (for players with a minimum of 30 plays tracked on video review).
Four of those eight turnovers came in the Duke game, including three on high pick-and-roll plays (those taking place beyond the foul line).
Craft is tied for the Big Ten lead with 23 steals and is forcing turnovers at a high rate-- 28 percent of the time as an on-ball defender.
He has been most effective in creating miscues when defending the pick-and-roll ball handler –- the same thing that is Taylor's Achilles heel.
Craft is forcing a turnover on 39 percent of those plays, which is tops in the Big Ten and sixth-best in the nation (minimum 15 plays reviewed).
Craft is also a whiz at preventing his opponent from scoring on catch-and-shoot plays.
The chart on the right notes the effectiveness of both players in those situations. Taylor will be challenged to match his prior performance in this matchup.
Mark Simon and Paul Carr also contributed to this post
November, 30, 2011
11/30/11
1:48
AM ET


Two heavy hitters squared off Tuesday in the Big Ten/ACC Challenge as second-ranked Ohio State hosted fourth-ranked Duke.
Ohio State burst out of the gate with an 11-0 run and although Duke rallied early, the Buckeyes rolled to a 22-point rout over the Blue Devils. The victory gave Ohio State its 29th-straight home win, which is the fourth-longest active streak in Division I.
Jared Sullinger
, who is one of five players in D-I averaging at least 19 points and 10 rebounds per game, led four Buckeyes in scoring with 21 points. Sullinger did most of his damage near the rim as het got 12 touches in the lane and went 6-9 with 12 points on possessions in that location.
Sullinger had 14 touches outside the lane and went 2-5 with eight points, as the Blue Devils had more success defending him away from the basket.
Aaron Craft
chipped in 17 points and eight assists, but it was his defense that helped shut down Duke. Led by Craft, Ohio State held Duke to season lows in points and three-point field goals and did so by controlling the Blue Devils in the halfcourt.
Duke guards combined to score four points on 2-8 shooting when being defended by Craft with four turnovers. Entering the game, Craft had allowed opponents to shoot 25 percent from the floor as an on-ball defender this season, best in the Big Ten.
Entering this game Duke had won 35 consecutive games in the month of November, but the 22-point loss is Duke's worst in a regular season non-conference game since February 26, 1995, when they lost 100-77 to UCLA. It is also the Blue Devils' second-worst loss ever against a current member of the Big Ten.
Austin Rivers
scored a career-high 22 points in defeat. He and
Mason Plumlee
were the only two consistent offensive contributors as they combined for 38 points while the rest of the starters combined to score just seven and did not attempt a free throw.
Ryan Kelly
who entered averaging 14.6 PPG and
Andre Dawkins
(10.1) were each held scoreless.
Duke's next game is Wednesday versus Colorado State while Ohio State takes on Texas-Pan American on Saturday.