December, 11, 2012
12/11/12
2:02
PM ET
By
Justin Page
and
Katie Sharp, ESPN Stats & Information
| ESPN.com
Jim McIsaac/Getty ImagesThe Knicks and Nets renew their rivalry tonight at the Barclays Center.
The Battle of the Boroughs II tips off tonight at 7 ET on ESPN, with the
Brooklyn Nets
hosting the Eastern Conference-leading
New York Knicks
for the second time this season. The Knicks are looking for revenge after losing the first matchup in overtime, 96-89.
The Nets and Knicks enter this game headed in opposite directions. The Knicks have won six of their last seven games since that overtime loss to the Nets on November 26. Brooklyn has lost four straight games after starting the season 11-4.
At 15-5, the Knicks have matched their third-best 20-game start in franchise history. They sit in the top spot in the Eastern Conference through at least 20 games for the first time since April 1994, according to the Elias Sports Bureau. That 1994 team won 57 games and lost in the NBA Finals.
Live and Die by the Three
The Knicks are one of most efficient offensive teams this season and a key part of their success has been their prolific shooting from beyond the arc.
New York leads the NBA in 3-point field goals made per game (11.9), 3-point field goal attempts per game (24.9) and percent of points from 3-pointers (34.7). Each of those stats would be an NBA single-season record if the Knicks can maintain their pace.
The Knicks have also been hitting those long distance shots with consistency, ranking third in the NBA in 3-point field goal percentage (40.5).
Jason Kidd
has been the most efficient Knick from beyond the arc, making 51 percent of his treys, the second-best mark among qualified players.
The Nets will present a stiff challenge to the Knicks "live-and-die by the three" offensive strategy. Brooklyn is allowing just 16.3 3-point attempts per game, the fewest in the NBA. Its opponents are making 34.6 percent of those shots, 11th-best in the league.
Missing Lopez
Brook Lopez
will miss his sixth straight game tonight due to a foot injury. The Nets have dropped four of five games without Lopez so far this season and his absence has really been felt on the defensive end.
Their opponents are shooting 50.7 percent from the field over that five-game span, compared to 44.9 percent during the first 14 games of the season.
As an on-ball defender, Lopez has held his man to just 0.72 points per play, 12th-best among 141 players this season with at least 150 plays.
The Nets have really missed him as the big defender in the pick-and-roll. In those situations, Lopez ranks third in points per play allowed when defending the ball handler.
Stat of the Game
Knicks are 33-11 since Mike Woodson took over as head coach on March 14. Win or lose tonight, Woodson will set the record for most wins by a Knicks coach in his first 45 games with the team, according to the Elias Sports Bureau.
That record was shared by Jeff Van Gundy, Pat Riley, Stu Jackson and Don Nelson, who were all 29-16 in their first 45 games as head coach of the Knickerbockers.
December, 6, 2012
12/06/12
11:29
AM ET
By
Ernest Tolden, ESPN Stats & Information
| ESPN.com
Anthony Gruppuso/US PresswireJason Kidd leads the league this season in 3-point field goal percentage (51.1).
The
New York Knicks
visit the
Miami Heat
tonight in a meeting of the two best records in the Eastern Conference. The Heat have revenge on the mind, as the Knicks served them with their worst loss of the season, a 20-point defeat in early November.
In five home meetings last season (two regular season, three postseason), however, the Heat had no trouble against New York, winning by an average of 15.8 points.
Tonight will feature a matchup of two of the most efficient offenses in the NBA this season. The Knicks are tied for first in the NBA averaging 110.9 points per 100 possessions, while the Heat are third averaging 110.1.
The Knicks (13-4) are off to their best 17-game start since beginning the 1995-96 season 13-4. A significant reason behind their success has stemmed from long-distance. The Knicks average an NBA-high 11.8 three-point field goals made this season, and New York has relied on long-distance buckets, as 34.4 percent of their total points have come from three-point field goals, by far the most in the NBA.
No other team has more than 26.5 percent.
A significant contributor from long range has been
Jason Kidd
, who leads the NBA this season in 3-point field goal percentage (51.1).
Much of the turnaround in New York is thanks to Mike Woodson. Since he took over as Knicks head coach, the team is 31-10 in regular-season games, and only the Spurs have recorded a higher win percentage over that span.
James Continues to Power Heat
LeBron James
has recorded at least 20 points in 16 consecutive games to start the season, the longest streak in his career. According to Elias, James is just the third different player since the 2000-01 season with a streak that long to start a season. What's more, James has eight games this season with at least 20 points and 10 rebounds, two more than any other player.
James has helped power an offense that ranks first in field goal percentage (49.3), second in three-point shooting (41.3) and second in scoring offense (104.4 PPG).
Despite their success on offense, however, the Heat have taken a step back defensively this season.
Miami ranks 20th in defensive efficiency allowing 103.2 points per 100 possessions, a category that the Heat ranked among the top five in during each of the first two seasons of their "Big 3" era.
December, 1, 2012
12/01/12
6:09
PM ET
By
Kenton Wong
| ESPN Stats & Information
Russ Isabella/US PresswireDamian Lillard is one of the early favorites for Rookie of the Year.
Damian Lillard
came out of a school not known for basketball greatness in Weber State. Prior to Lillard, no player out of Weber had ever averaged over 6.5 PPG or 1.7 APG in their NBA career. Lillard, through 16 games, is averaging 18.4 PPG and 5.9 APG for the
Portland Trail Blazers
.
Although Lillard will almost assuredly be the best player ever to come out of Weber State, he should be setting his career goals to the heights of other great point guards to come out of his hometown: Oakland, California.
Oakland's finest
Lillard starred at Oakland High School a couple of decades after two Bay Area legends patrolled high-school courts:
Jason Kidd
at Saint Joseph of Notre Dame HS in Alameda and
Gary Payton
at Skyline HS in Oakland. Lillard actually started high school at Kidd's alma mater before transferring.
So far in his career, Lillard has proven to be a better scorer than either Payton or Kidd were as rookies – averaging nearly 10 more points per game 16 games into his career.
Pure shooter
A big reason for Lillard's success has been his outside shot. He's shooting 51 percent from 15-24 feet and 37 percent from outside of 25 feet – both above the league average this season.
Last season for Weber State, Lillard did a lot of his damage on 3-pointers, making nearly three per game while shooting 41 percent from that range. The adjustment to the NBA 3-point line hasn't hurt his production from deep much. He's making two-and-a-half 3-pointers per game and connecting on 40 percent of them.
Good value
The Trail Blazers average 102 points per 100 possessions with Lillard on the court as opposed to 97 per 100 possessions without him.
Lillard has already established himself as one of the most valuable point guards in the league this season. In terms of the 'Value Added' metric, Lillard is one of the top 10 most valuable point guards in the league this season.
Value Added is the estimated number of points a player adds to a team's season total above what a 'replacement player' (for instance, the 12th man on the roster) would produce.
If Lillard continues this pace as an impressive scoring point guard, he'll quickly join the conversation as one of the top young floor generals in the league. Mike Conley is the only point guard averaging at least 15 points and five assists per game with a higher 3-point percentage this season than Lillard.
It's been a while since Portland has had a point guard like Lillard. The last time a Trail Blazer averaged 15 points and five assists while shooting 40 percent from 3-point land? Terry Porter in 1992-93.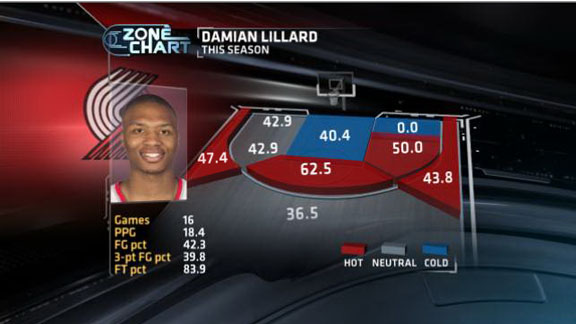 ESPN Stats & Information
July, 26, 2012
7/26/12
10:51
PM ET
By
Micah Adams & Gregg Found
| ESPN Stats & Info
No lockout means a return to normalcy in this year's schedule, where each team visits each city at least once and no team has to play a back-to-back-to-back. Last season, there were 40 back-to-back-to-backs.
Also this year, the regular season will start almost two months earlier (October 30) and will end nine days earlier (April 17) than last season.
SCHEDULE TIDBITS
• NBA Finals rematches: Christmas Day in Miami, Valentine's Day in Oklahoma City.
• Eastern Conference Finals rematches: October 30 in Miami, January 27 in Boston, March 18 in Boston, April 12 in Miami.
• Western Conference Finals rematches: November 1 in San Antonio, December 17 in Oklahoma City, March 11 in San Antonio, April 4 in Oklahoma City.
• Check out the notable "return" games this season in the chart at right, including Carmelo Anthony making his first trip to Denver this year. Because of the lockout-adjusted schedule, the Knicks did not play at the Nuggets last season.
• Teams appearing the most frequently on ESPN networks:
Los Angeles Lakers
(16),
Miami Heat
(15),
Oklahoma City Thunder
(15),
New York Knicks
(15),
Los Angeles Clippers
(14),
Chicago Bulls
(12),
Boston Celtics
(11).
DEFENDING THEIR TITLE
• The Heat and Celtics will play each other on Opening Night, October 30 in Miami. Not only will it be Ray Allen's first game against his most mates, LeBron James is 0-3 vs Celtics in season-openers (0-1 with the Heat in 2010, 0-2 with the Cavaliers in 2008 and 2009).
• Based on last season's records, the toughest months of the season schedule-wise for the Heat will be the start of their season in October-November. But they'll follow that with their easiest month in December. And that includes a Christmas Day showdown with the Thunder.
• It hasn't been easy for teams to defend their title recently. There's been only one repeat champion in the last 10 years (Lakers 2009 and 2010). The last two teams defending their titles were bounced in the 1st Round (2012 Mavericks) and Conference Semifinals (2011 Lakers). The last time the Heat defended their title, in the 2006-07 season, they were dealt injuries to
Dwyane Wade
and Shaquille O'Neal and knocked out in the 1st Round.
February, 13, 2012
2/13/12
12:38
AM ET
By
Stats & Info
| ESPN.com

Bryant
Sunday was a day in which
Kobe Bryant
made like Magic Johnson and
Rajon Rondo
made like both Johnson and Larry Bird.
In the afternoon's first game, Bryant hit the game-winning shot with 4.2 seconds remaining to give the
Los Angeles Lakers
a 94-92 win over the
Toronto Raptors
.
It was the 16th time that Bryant hit a game-winning shot in the final five seconds of the fourth quarter or overtime, since his career began in 1996-1997. That's the most in the NBA in that span- two more than Carmelo Antony.
Rondo raised his game a level in a 95-91 win over the
Chicago Bulls
, with 32 points, 15 assists and 10 rebounds. A check of Basketball-Reference.com shows that he's the fifth player with a 30-15-10 game since 1990, the other four being Johnson,
Jason Kidd
,
Baron Davis
, and
LeBron James
.
The last Celtic with a 30-15-10 game was Bird against the then-Washington Bullets in April, 1987.
The
Boston Celtics
have now allowed fewer than 100 points in 25 straight games. The Elias Sports Bureau notes that's the longest single-season streak by any team since the 2004-05 Bulls (26 straight) and the seventh-longest streak in the shot-clock era, which dates to the 1954-55 season.
The NBA record is 36 straight games, set by the 2003-04
Detroit Pistons
.
Elsewhere around the league the
Miami Heat
blew out the
Atlanta Hawks
, marking the sixth time this season, the Heat won by at least 20 points. Only the Bulls and
Philadelphia 76ers
have more blowout wins than Miami. However, the Sixers have been the on the receiving end of two of the Heat's routs.
LeBron James finished with 23 points, 13 rebounds and six assists for his 106th career-game with 20-10-5. Since 2003, his rookie season, James has the second-most such games behind
Kevin Garnett
.
Plus-Minus Note of the Night
Washington Wizards
guard
John Wall
finished a +28 in a 98-77 win over the Detroit Pistons. It was the best plus-minus for Wall in his 97-game NBA career.