Stats & Info:

Jeff Francoeur
December, 12, 2010
12/12/10
9:00
AM ET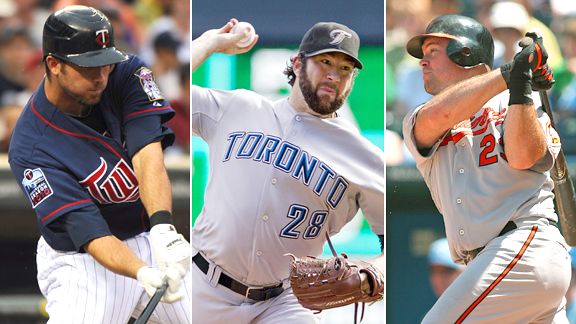 Getty Images
J.J. Hardy, Shaun Marcum and Ty Wigginton were among the under-the-radar players on the move last week.
With more than $750 million committed by major league teams, plus a slew of significant trades, it's been a busy offseason. Here are some quick takes on notable moves that took place in the last seven days.
Jason Bartlett (Padres)
Bartlett was consistently below average as a Ray in his ability to turn double plays. According to Baseball Info Solutions, it is estimated that Bartlett cost his team four runs in 2009 (worst in the majors) and three runs in 2010 (second-worst) because of his poor performance when attempting to turn double plays.
-- Katie Sharp
Carl Crawford (Red Sox)
If a good statistical benchmark for Carl Crawford over the next seven seasons is 250 steals and 100 home runs, consider this: The last player to do that over seven seasons was
Marquis Grissom
(1992-1998).
-- Mark Simon
Jack Cust (Mariners)
Cust fills a significant need for the Mariners. His .395 on-base-percentage, .438 slugging percentage, .166 isolated power and .371 weighted on-base average (wOBA) for the
Oakland Athletics
in 2010 all would have been the best on the Mariners.
-- Justin Havens
Jeff Francoeur (Royals)
Francoeur posted the second-worst on-base percentage of any outfielder in 2010. That runs counter to one area of improvement for Kansas City. The Royals tied for ninth in the AL in walks last year, after finishing in the bottom two in the previous three seasons.
-- Paul Carr
Tony Gwynn Jr.(Dodgers)
Gwynn finished fourth in Net Rating (a measure from Baseball Info Solutions that looks at approximately 30 categories of Good Fielding Plays and 50 categories of Misplays). Gwynn's signature defensive play was a game-saver on June 6, with the Padres leading by a run in the bottom of the 10th inning. He threw out
Placido Polanco
trying to go first-to-third on a single with one out. That's the kind of play the Dodgers could use. Their assist total from centerfielders dropped from 14 in 2009 to three in 2010, tied for fewest in the majors.
-- Mark Simon
J.J. Hardy (Orioles)
Last year's Orioles left side of the infield averaged a home run every 71 at-bats and a walk every 25. Hardy and Mark Reynolds netted a homer every 22 at-bats and a walk every eight.
-- Justin Havens
Shaun Marcum (Brewers)
It will be interesting to see if Marcum's ability to generate swings-and-misses is as good in the NL. Batters missed on 50 percent of their swings against his changeup and chased over 40 percent of those offerings, both ranking among the top five in the AL. His changeup putaway rate (strikeouts/two-strike changeups thrown) of 25.9 percent was the fourth-highest in the league.
-- Katie Sharp
Mark Reynolds (Orioles)
Reynolds' league-worst .198 batting average last season was unusual -- more than 50 points worse than the his .250 over the two previous seasons. Though Reynolds' contact rate and in-play percentage were consistent from 2008-10, he didn't have good fortune when putting balls in play. His BABIP of .257 in 2010 was the fourth-lowest in the NL, far below his mark of .330 from 2008-09.
-- Katie Sharp
Ty Wigginton (Rockies)
Wigginton may mesh well with Coors Field. Inside Edge tracks well-hit average (a subjective rating that favors line drives and long fly balls) and ranked Wigginton 33rd in that stat (.263). However, he ranked 95th in slugging percentage (.415). For comparative purposes, new teammate
Troy Tulowitzki
had a well-hit average one point higher than Wigginton (.264) and ranked eight-best in the majors in slugging.
-- Mark Simon
October, 29, 2010
10/29/10
6:00
PM ET


A preview of Game 3 of the World Series between the San Francisco Giants and the Texas Rangers.
FROM THE ELIAS SPORTS BUREAU:
The last 12 teams to win the first two games of a World Series at home went on to win the championship. The 1981 Yankees were the last team to lose a Series after winning Games 1 and 2, both at home. That year, Los Angeles went on to win the next three games at Dodger Stadium and closed out the Series at Yankee Stadium with a 9-2 victory in Game 6.
FROM THE ELIAS SPORTS BUREAU:
San Francisco has outscored Texas 20-7 through Games 1 and 2 of the Series. The Rangers are the fifth team to be outscored by at least 13 runs through the first two games of a World Series. The others were the 1937 Giants, 1987 Cardinals, 1996 Yankees and 2007 Rockies. The 1996 Yankees were the only one of those teams that rebounded to win the Series.
Jonathan Sanchez
will be looking for his first career postseason victory against
Colby Lewis
as the series shifts to Arlington. Lewis has been stellar thus far in the postseason, coming off an eight-inning gem against the
New York Yankees
that clinched the ALCS for the Rangers. Lewis will take the mound to attempt to win the franchise's first World Series game ever, and hopefully reverse the fortunes of this series in their favor.
JONATHAN SANCHEZ
The curveball has been the out pitch for Sanchez late in the season. Since Sept. 16 – a span of seven starts – Sanchez has allowed two hits in 39 at-bats (.051) with his curve.
Despite throwing fewer curveballs per start during this stretch – 17.7 per start versus 21.7 per start before Sept. 16 – he is actually striking out more people with the pitch. He is averaging 3.7 strikeouts per start with the curveball during this span (only 2.7 strikeouts per start before).

Lewis
COLBY LEWIS
Lewis is throwing his curveball more often and with more effectiveness late in the season.
Before Sept. 15, Lewis was throwing 11.2 curveballs per start and opponents were hitting .304 against it. Since Sept. 15, Lewis is throwing 14.6 curveballs per start and opponents have only one hit in 18 at-bats (.056).
Lewis has thrown even more curveballs in the postseason – 18.7 curveballs per start in his three playoff outings.

Sanchez
Sanchez has only faced two Rangers hitters in his career –
Jeff Francoeur
and
Jorge Cantu
– but only Francoeur is in the Game 3 lineup. Francoeur is just 2-for-14 with 5 K against Sanchez, but Cantu has two hits, including a double, in six at-bats.
Francoeur hit almost 70 points higher this season against lefties than he did against righties, and nearly 30 points higher against lefties than
David Murphy
– who would play if Francoeur didn't -- did during the regular season.
Lewis has only faced three Giants hitters a total of 10 times in his career. But he'll need to beware of
Aubrey Huff
, who is 2-for-4 lifetime against him with a home run.
October, 28, 2010
10/28/10
1:27
PM ET
By
John Fisher
| ESPN.com


A quick preview of Game 2 of the World Series between the Texas Rangers and San Francisco Giants.
The Giants will try and sweep the first two games of the World Series at home, although history is not on their side. The American League team has won Game 2 in each of the last eight seasons. The last National League team to win a Game 2 is the 2001
Arizona Diamondbacks
.
Thirteen previous teams have won the World Series in their first appearance, as the Rangers are trying to do this year. Six of those teams came back to win that series after losing Game 1. And two of them did it against the Giants.
The winner of Game 1 of the World Series has won six of seven and 11 of the last 13 Fall Classics. There have been 101 Best-of-7 World Series all-time and the Game 1 winner has won the series more than 62 percent of the time.

Cain
Matt Cain
takes the hill for the Giants, his first start since holding the Phillies to no runs and two hits in seven innings nine days ago. Cain's undefeated in two postseason starts and has not allowed an earned run yet. And he's had a lot of success against the Rangers' hitters.
The biggest decision facing Ron Washington in Game 2 is whether to start
Vladimir Guerrero
in right field. If Vlad doesn't get the call, expect it to be the left-handed
David Murphy
(who would play left, with
Nelson Cruz
in right) over the right-handed
Jeff Francoeur
. Not only does Murphy have the platoon advantage -- although he is hitless in four career at-bats against Cain -- but Francoeur is 0-14 lifetime against the Giants hurler. His 15 plate appearances are the most among all hitters who are hitless against Cain.

Wilson
The Rangers counter with
C.J. Wilson
, who is 1-1 in three postseason starts. Texas has lost Wilson's last two starts, both in the ALCS against the
New York Yankees
, with Wilson allowing eight earned runs in twelve innings, and walking as many batters as he struck out. He's only faced players on the Giants roster 18 times in his career, but
Pat Burrell
has two hits (both doubles) and a walk in three career plate appearances against Wilson.
Neither pitcher will be particularly excited to see Sam Holbrook calling balls and strikes tonight. Wilson has a 5.40 ERA in seven relief appearances, while Cain is 1-3 with a 5.06 ERA in four career starts with Holbrook behind the plate.
October, 14, 2010
10/14/10
11:24
AM ET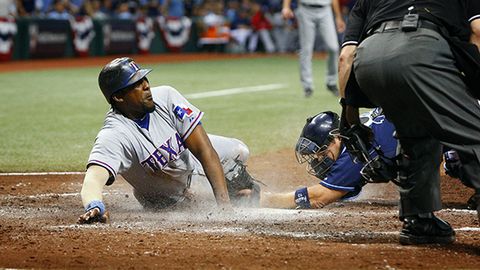 Kim Klement/US Presswire
One Ranger who's had success against the Yankees is Vladimir Guerrero.
Top Things To Know
The
Texas Rangers
have lost nine straight postseason games against the
New York Yankees
. They were outscored in the last six of those contests, 23-2. The good news: None of the hitters from those 1998-1999 Rangers teams are still playing for Texas.
The Yankees significantly outrate the Rangers from a historical perspective with their 27 World Series titles, but on the field, they were even-steven this season, with each team winning four times when they matched up head-to-head. Home-field proved to be key: the Yankees swept three games at home against the Rangers, while the Rangers went 4-1 in their home meetings with the Yankees and were 51-30 at home during the regular season.
Neither of the 2010 AL MVP candidates --
Josh Hamilton
and
Robinson Cano
-- were factors against the other team during the regular season. Hamilton hit .250 with one RBI in five regular-season games against the Yankees. Cano hit .233 with one RBI in eight games. Cano, who had some struggles against left-handed pitching towards the end of the regular season, was 3-for-7 against lefties in the ALDS. Hamilton is still looking to right himself after going 2-for-18 in the ALDS. He went 1-for-11 at Yankee Stadium this season, but was 7-for-14 there in 2009.
Deciding Factor
The Yankees would seem to have a significant edge in the back of the bullpen.
Mariano Rivera
righted himself in the ALDS after some late-season struggles, while
Neftali Feliz
looked a bit nervous in his ALDS appearances. Both closers were vulnerable against their respective opponents in the regular season. Rivera's experience, and an 0.99 ERA in the ALCS features only one year with any blips -- 2004. Other than that, he's a perfect 10-for-10 in LCS save chances.

If the 22-year-old Feliz can get a save at Yankee Stadium, he'd be the youngest pitcher to record one against the Yankees there in the postseason. The current mark is held by 23-year-old Steve Howe, who closed out the Yankees to win the 1981 World Series for the Los Angeles Dodgers in the Bronx.
Most Interesting Matchups
Derek Jeter
is a .432 career hitter combining regular season and postseason play against
Cliff Lee
. That's the highest batting average against Lee for any hitter with at least 25 plate appearances against him.
If the game is close in the late innings, Rangers DH
Vladimir Guerrero
has good experience against both
Kerry Wood
and Rivera. He's 8-for-15 in his career against Wood, mostly from Wood's days as a flamethrower for the Cubs. He's also 4-for-11 against Rivera, though Rivera did get him to ground out with the tying run on third base to end a 7-6 Yankees' win on Aug. 11.
Decisions, Decisions
The Yankees chose to pitch
Phil Hughes
in Game 2 and
Andy Pettitte
in Game 3, rather than the other way around. That may have something to do with Hughes having good history in Rangers Ballpark in Arlington. In 15⅓ innings there, he's never allowed an earned run. Pettitte, early in his career, had some dreadful appearances in that stadium (8.22 ERA there), and is being pushed back to Game 3.
Pettitte has never pitched a postseason game in that ballpark, though he's faced Texas three times at Yankee Stadium. That sets up an interesting Game 7 scenario that would put Pettitte against Lee. Pettitte has never started in Game 7 of a postseason series for the Yankees.
The Rangers have to decide if they're going to play
Jeff Francoeur
in right field against both
CC Sabathia
and Pettitte. Francoeur was 8-for-20 with no strikeouts against left-handed pitchers in the regular season after being traded by the Mets to the Rangers. He opened the scoring in Game 1 of the LDS with an RBI hit against lefty
David Price
.

Stat of the Day
Lee enters this series with the Yankees with a 6-0 career postseason record. According to the Elias Sports Bureau, the best unbeaten postseason record for a pitcher whom the Yankees beat in a postseason game was 4-0, by former Milwaukee Braves starter Lew Burdette, and ex-Red Sox ace
Pedro Martinez
.
June, 27, 2010
6/27/10
9:16
PM ET
By
Doug Kern ESPN Stats & Information
| ESPN.com
You often hear talk about "five-tool players" in baseball. We had plenty of hitting for average on Sunday (
Jose Guillen
and
Josh Hamilton
both extended their hit streaks to 21 games). We had some power-- more than 70 extra-base hits and two dozen home runs (including the longest one by distance this season). Fielding and throwing didn't give us too many issues.
Baserunning, on the other hand...
No matter which game you watched, there was bound to be at least one of those "head-scratcher" plays. The ones where you look at your TV and say, "what was he thinking?" At the risk of Monday-morning, er, Sunday-night quarterbacking, we present a sampling of the unnecessary, and sometimes obscure, outs that were run into on the basepaths Sunday.
Tampa:
Justin Upton
on third.
Chris Young
grounds back to the pitcher. Upton gets run back and tagged out. Young thinks the defense isn't paying attention and tries to take second, where he's also tagged out.
Tampa: Pinch runner
Carl Crawford
doubled off first when
Sean Rodriguez
lines one to third base.
Chicago:
Gordon Beckham
strikes out, but his backswing gets in the way of
Geovany Soto
as he tries to nail a stealing
Alexei Ramirez
. Ramirez gets called out for the interference of his teammate.
Cincinnati:
Corky Miller
thrown out trying to stretch a single into a double.
Anaheim:
Jason Giambi
thrown out at third trying to advance on a pitch in the dirt.
New York:
Jeff Francoeur
thrown out trying to tag and take third on a ball to shallow right.
Oakland:
Jose Tabata
's ground ball hits runner
Pedro Alvarez
between first and second. Oh, by the way, it's the final out of a one-run game.
(Bonus question: If you're keeping score, how do you write THAT down?)
Florida:
Jorge Cantu
is called for interference while trying to break up a double play at second base. The batter,
Dan Uggla
, is called out as a result.
Milwaukee:
Rickie Weeks
thrown out trying to stretch a single into a double.
Baltimore:
Miguel Tejada
thrown out trying to stretch a single into a double.
Baltimore: In the bottom of the eighth in a tie game,
Julio Lugo
legs out a double and then immediately gets himself picked off second.
(Bonus answer: Infield single for the batter. The putout is awarded to the closest fielder, in this case the first baseman.)
** The trunk with the Mets' bats in it finally arrived back at Citi Field. Six consecutive Mets batters went double, homer, homer, triple, single, single, during the fifth inning on Sunday. That's 15 total bases in a single inning. The Mets hadn't had 15 total bases in a GAME since last Tuesday.
** The aforementioned triple was off the bat of
Jason Bay
, marking his 1,000th career hit. The last time a player had a triple for his 1,000th career hit was almost exactly three years ago, when then-Oriole
Aubrey Huff
did it on June 29, 2007.
** The Pirates committed four errors and managed to lose Sunday's game to Oakland without allowing an earned run. Even for them, that's impressive. They haven't done that since June 29, 2002, when the Tigers scored on a missed catch at home plate and a passed ball to beat them 2-1.
** One afterthought on the Oakland/Pittsburgh series: On Saturday, the two teams donned "throwback" uniforms from the 1970s. (They say styles have a 30-year cycle, so watch for neon green to make a comeback soon.) But you have to forgive those two teams for wanting to "turn back the clock". During the '70s they combined for five world championships, including four straight from 1971-74. Since then, they have ONE (Oakland's in '89).
**
Jamie Moyer
didn't quite pitch IN the '70s, but at the rate he's going, he might well pitch INTO his 70s. Moyer became the all-time leader in home runs allowed on Sunday when
Vernon Wells
took him deep in the third inning.
Bonus question #2: Those 42 parks include ALL of the current 30 stadiums except two. We'll spot you Target Field because it just opened. What's the other current park where Moyer has yet to surrender a dinger? ** After being no-hit by
Edwin Jackson
on Friday, the Rays put together a two-hit attack against Arizona on Sunday. They did at least score a run this time. Ironically, the last team that was held to two or fewer hits twice in a series was these same Diamondbacks. That was in late May against the Giants.
** Combined with their amazing five-hit performance on Saturday, the Rays ended up with seven base hits over the entire three-game series. The Elias Sports Bureau tells us that the last team to finish with seven or fewer hits in a three-game series was the 1965
New York Mets
. They were one-hit by the Milwaukee Braves on both September 10 and 11 before "exploding" for five hits (and a 1-0 victory!) in the series finale on the 12th.
Bonus answer #2: Busch Stadium in St Louis. Moyer surrendered three long balls in the PRIOR Busch Stadium (which closed in 2005), but has made only two visits to the current building.
June, 24, 2010
6/24/10
11:18
AM ET
By
Ben Jedlovec, Baseball Info Solutions
| ESPN.com
Rewind to the first week of the season, when the San Diego Padres visited their NL West rivals the Colorado Rockies. With nobody out and Padres shortstop
David Eckstein
on first in the top of the 14th inning,
Adrian Gonzalez
hit a fly ball to deep right field.
Rockies right fielder
Brad Hawpe
, who is not known for his defense, couldn't get to the ball in time and failed to cut it off before it trickled to the wall. Knowing that Eckstein represented the potential winning run, Hawpe came up gunning for home but overthrew the first cutoff man (
Melvin Mora
). The ball bounced twice before reaching
Todd Helton
, but it was too late to nab Eckstein, whose run made the difference in the game.
Doug Glanville
writes Thursday about
outfield defensive fundamentals
, drawing on his own experiences from high school through his nine-year big league career. The University of Pennsylvania alumnus emphasized hitting the cutoff man and getting the ball in quickly to prevent runners from advancing extra bases. These fundamental defensive plays go unnoticed by most fans but are often just as important as the offensive highlights, Glanville says.
Unnoticed no longer. Baseball Info Solutions tracks these sorts of unheralded defensive plays as part of our defensive misplays (DM) and good fielding plays (GFP) records. We track 54 types of defensive misplays, and 28 different good fielding plays. For example, BIS marks missing the cutoff man as "DM 47" or taking a bad route to a fly ball as "DM 26," both examples that Glanville cites.
On the flip side, there are things a fielder does that we don't always expect, and we record those, too. For example, when an outfielder cuts a ball off in the gap and thus prevents runners from advancing extra bases, he gets a "GFP 22." Using this data, we can accurately determine the best fielders in baseball.
Twins right fielder
Michael Cuddyer
is the 2010 leader in GFPs that prevent extra bases. He has cut the ball off or gotten it back in quickly to hold the runners at their bases seven times this season. Angels right fielder
Bobby Abreu
is the anti-Cuddyer, with a league-leading five defensive misplays on extra-base attempts.
As you might expect, youngsters are particularly prone to mental errors. Sophomore
Colby Rasmus
leads all outfielders with seven defensive misplays on throws. In fact, every outfielder with at least six throwing DMs is under age 30. We'll expect each of these players to make fewer mistakes with more experience and coaching, as Glanville did as his career progressed.
We don't have to rely solely on GFPs and DMs to tell us who's doing all the little things right.
Adam Jones
, whom Glanville mentions as an example of a fielder who takes good angles to cut balls off in the gap, has thrown out three runners in extra-base situations already this season. Additionally, runners have taken the extra base just 41 percent of the time off Jones (21-for-51), tying him with
B.J. Upton
as the lowest rate among regular center fielders this season.
Marlins left fielder
Chris Coghlan
has thrown out six extra-base seekers, tops in the league so far. BIS estimates that he's saved five runs defensively with his throwing arm so far this season, also the best in baseball. Although he's having a hard time reproducing his rookie of the year season offensively, Coghlan is finding a way, albeit with less fanfare, to help his team on the other side of the ball.
Ben Jedlovec is a research analyst for Baseball Info Solutions.
April, 18, 2010
4/18/10
12:47
AM ET
By
ESPN Stats & Info
| ESPN.com
Ubaldo Jimenez
threw the Rockies' first no-hitter in franchise history Saturday night against the Braves. However, that game may not have been the most noteworthy of the day.
The Mets outlasted the Cardinals, 2-1, in 20 innings at Busch Stadium. Here are some of the notable nuggets:
This was the second time in history that a 20-inning game and a no-hitter occurred on the same day. On April 27, 2003, Philadelphia's Kevin Millwood no-hit the Giants, while St. Louis and Florida played a 20-inning game.
The game lasted 6 hours and 53 minutes. When Jaime Garcia threw the first pitch at 4:14 p.m. EDT, the first of four NBA playoff games (Bulls-Cavs) was at halftime. Since then, 10 quarters of NBA basketball were played (2nd half, plus entire Bucks-Hawks and Heat-Celtics games) before the game finally ended.
The game was scoreless for the first 18 innings. It was the first MLB game to go that long without a run since the Expos and Dodgers went 21 scoreless frames on Aug. 23, 1989. Los Angeles won, 1-0, in 22 innings on a Rick Dempsey home run.
The Cardinals used TWO position players as pitchers. Infielder Felipe Lopez threw a scoreless 18th inning and Joe Mather pitched the last two innings. The Elias Sports Bureau tells us that it's the first time a team used two position players as pitchers in a game since July 20, 1990, when Dave Martinez and Junior Noboa pitched for Montreal.
Mather gave up two runs (both on sacrifice flies) and took the loss, becoming the first non-pitcher to get a decision since San Diego's Josh Wilson picked up a loss last season in an 18-inning game with Florida on June 7.
Cardinals pitcher Kyle Lohse entered the game as a defensive replacement in left field in the 18th inning. He recorded two putouts.
Angel Pagan went 3-for-6 in the game. The rest of the Mets were 6-for-55 (.109).
The teams combined to go 1-for-25 with runners in scoring position. The Cardinals were 1-for-18 and the Mets 0-for-7.
Jeff Francoeur knocked in one of the Mets runs but his average dropped 76 points (.457 to .381) after an 0-for-7 effort.
Of the 20 innings pitched by the Mets, 19 of them were scoreless. The only pitcher to give up a run was Francisco Rodriguez – and he got the win!
The teams combined to use 46 players. The Mets used every player except Friday's starter Oliver Perez. Even Sunday starter John Maine made a pinch-running appearance. Mike Pelfrey picked up his first career save.
The Mets went 1-for-30 against fastballs. They entered the day 21st in the majors hitting .269 against fastballs, and are now down to 26th, hitting just .238 against heaters! Just as shockingly, they hit .357 against sliders and changeups (3-9 and 2-5, respectively). They entered the game hitting just .250 against those two pitches.
April, 11, 2010
4/11/10
1:34
AM ET
By
Scott Regan, ESPN Stats & Info
| ESPN.com
With all due respect to
Willy Taveras
(4 RBI) and
Willie Harris
(game-saving catch), the true star for the
Washington Nationals
in their 4-3 win over the
New York Mets
at Citi Field on Saturday was
Tyler Clippard
.
Clippard's final stat line: 3 IP, H, 0 ER, 7 K (all swinging)

Not only did Clippard match his career high in total strikeouts in a game (7/25/09 vs SD), but it was the most swinging strikeouts he has produced in his career. Judging from his career success against the Mets hitters who struck out, we shouldn't be surprised.

Of the 40 pitches that Clippard threw Saturday, 29 of them were strikes (73 percent). This was considerably better than his career rate of 59 percent. In addition to the pitches that were swung on and missed, Clippard's ability to get the Mets hitters to chase pitches outside of the zone was a key to his success.
March, 24, 2010
3/24/10
3:15
PM ET
By
Katie Sharp, ESPN Stats & Info
| ESPN.com
Erick Aybar
is on the move...
After hitting primarily in the second and ninth spot in the order last season, Aybar is slated to replace
Chone Figgins
at the top of the lineup – which makes him One2Watch4 in 2010. So what can Halos fans expect from Aybar in the leadoff spot this season?
One key part of Aybar's offensive toolbox is his ability to lay down bunts. Last season
he led all major league players with 18 bunt hits
.
Aybar's overall speed and baserunning smarts will also be an asset once he reaches base from the leadoff spot. According to baseball-reference.com, Aybar advanced an extra base (more than one base on a single and more than two bases on a double)
62% of the time when possible, which ranked fourth among players
with at least 550 plate appearances last season. However, there are several areas of Aybar's approach at the plate that do not fit the typical high-walk, patient, disciplined profile of a leadoff guy:
" Aybar walked in just 5.4 percent of his plate appearances, the 17th-worse mark in the majors. The guy he's replacing – Figgins – walked in 17.9 percent of his plate appearances, the 17th-BEST mark in the majors.
" Aybar saw just 3.47 pitches per plate appearance, the 16th-lowest rate in the majors. Not surprisingly, Figgins was one of the most patient hitters in the league, with 4.21 pitches seen per plate appearance, the 11th-BEST rate in MLB.
" Aybar swung at
36.3 percent of pitches outside of the strike zone
, the 5th-highest rate in the majors.
" Finally,
Aybar's first-pitch strike percentage of 65.3 percent
was the highest in the majors last season.
Yet, don't give up hope, all you SoCal halo fans out there. While Aybar chases a lot of pitches and often finds himself behind in the count, he's proven to be resilient in those situations:
" Aybar makes contact on a whopping 79.7 percent of those pitches chased out of the zone, which ranks eighth in MLB.
" Aybar had a batting average of .314 after 0-1 counts, the 5th-best mark in the majors in those situations.
If Aybar can continue to use his speed to get on base and advance on the basepaths, while also improving his discipline and patience at the plate, he'll be One2Watch4 as the Angels' new and exciting leadoff batter in 2010.