October, 11, 2012
10/11/12
9:04
PM ET
By
ESPN Stats & Information
| ESPN.com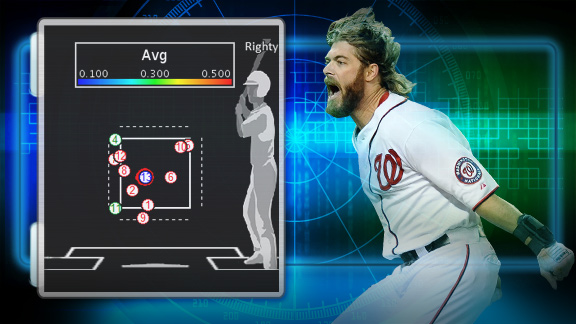 ESPN.com IllustrationJayson Werth's walk-off home run against Lance Lynn came on the 13th pitch of the at-bat.
Over the past five years, no one has seen more pitches per plate appearance than
Jayson Werth
.
That patience paid off on Thursday. Werth needed 13 pitches to etch his name in Nationals lore.
Werth's walk-off solo home run gave the
Washington Nationals
a 2-1 win, forcing a Game 5 against the
St. Louis Cardinals
.
It was the first postseason walk-off home run ever hit in Washington, DC.
He's just the third player to hit a postseason walk-off home run against the Cardinals, joining
Jeff Kent
(2004 NLCS) and Mickey Mantle (1964 World Series).
Werth is also just the fifth leadoff hitter with a postseason walk-off home run, and the first since Scott Podsednik in the 2005 World Series.
Facing the first batter of the inning,
Lance Lynn
got ahead to an 0-2 count. Werth hadn't hit a home run after falling behind 0-2 this season.
But 11 pitches later, Lynn threw a 96 mile-per-hour fastball right down the middle.
In his career, Lynn had thrown 371 pitches of at least 95 mph. This was the first that wound up in a home run.
The 13 pitches matched the longest plate appearance of Werth's career, and he once hit a home run on the 12th pitch against
Oliver Perez
. The last known walk-off homer on the 13th pitch or later was by
Garret Anderson
on September 15, 1997.
Werth now has 14 career postseason home runs, one shy of tying Babe Ruth for eighth all-time. Only Albert Pujols (18) has more postseason home runs in the National League.
It is the 12th walk-off home run hit with a team facing postseason elimination. Of the previous 11, all but Carlton Fisk's 1975 Red Sox went on to win the series.
April, 10, 2012
4/10/12
5:27
PM ET
By
Justin Havens, ESPN Stats & Info
| ESPN.com
AP Photo/Tony Gutierrez
Despite signing similar contract extensions, Ian Kinsler has out produced Brandon Phillips in every season since 2007 by Wins Above Replacement.
Two of the premier second basemen in baseball have signed contract extensions over the last 24 hours. Late Monday, the
Texas Rangers
and
Ian Kinsler
agreed to a multiyear extension. Then, Tuesday afternoon, the long-rumored extension between the
Cincinnati Reds
and
Brandon Phillips
came to fruition.
Given that both play the same position, are of similar ages and signed deals of both similar value and similar length, a comparison seems natural.
Kinsler's contract is a five-year, $75 million deal with a sixth-year option. Phillips' is a six-year, $72.5 million deal. However, both teams functionally have their second basemen under control for at least six years, given that Kinsler's extension does not kick in until 2013, whereas Phillips' begins this season.
Even though the two players will be compensated in similar fashion over the next five or six seasons, the quality of their play leading up to the extensions has been of much different quality. While Kinsler may get overshadowed on a star-studded team and Phillips may garner attention for his Twitter and fielding antics, Kinsler is the far superior player.
Kinsler has out produced Phillips in every season since 2007 by WAR. In fact, Kinsler (23.2 WAR) outranks the likes of
Robinson Cano
(22.6 WAR) and
Dan Uggla
(13.4 WAR) in terms of production since 2007.
Very few second basemen retain this sort of high-level value deep into their 30's. Kinsler will be locked up for both his age-34 and 35 seasons (as well as 36 if the option is picked up), while Phillips will be under contract in his age 34-to-36 seasons, also. The number of second basemen since 1900 who have contributed seasons of 3+ WAR at age-34 or older is exclusive and limited to some of the greatest players to play the position in MLB history.
Among second basemen, only Eddie Collins (1921-26),
Jeff Kent
(2002-07), Charlie Gehringer (1937-40), Lou Whitaker (1991-93) and Joe Morgan (1980-83) have at least three straight seasons of 3+ WAR since 1900. No one else has done it more than twice (Willie Randolph and Eddie Stanky have done it twice). A 3-WAR season already assumes some skill degradation for Kinsler and would actually constitute an improvement for Phillips over the last few seasons. Yet they will be paid as if 3+ WAR is almost assumed.
April, 7, 2010
4/07/10
11:16
AM ET
By
John Perrotto, Baseball Prospectus
| ESPN.com
What the Marlins' middle infielders -- second baseman
Dan Uggla
and shortstop
Hanley Ramirez
-- have been able to accomplish since being paired in 2006 would have been unheard-of less than two decades ago. The duo has combined to hit 224 home runs, an average of 56 a year.
Until the 1990s, middle infielders, with very few exceptions, were in the lineup for their defense. The second basemen and shortstops of yore were supposed to be seen and not heard when they stepped into the batter's box -- they were asked to do little more than hit a few opposite-field singles, make contact on the hit-and-run and drop down an occasional bunt. The Marlins' middle infield pair is one a few that has been posting historic home run rates in the last two decades.
No middle-infield combination combined for 50 homers in a season until 1958, but that was mainly due to shortstop Ernie Banks hitting 47 for the Cubs while second baseman Tony Taylor added six. The 55-homer plateau wasn't reached until 1969 by the Red Sox as shortstop Rico Petrocelli had a 40-homer season and second baseman Mike Andrews went deep 15 times. It took until 1999 before a middle-infield tandem reached the 60-homer mark as shortstop
Alex Rodriguez
(42) and second baseman
David Bell
(21) combined for 63 for the Mariners.
And it's been a different story since then. All 11 of the top combined home run totals by middle infielders have occurred since 1999, including six in the past five seasons. Rodriguez is on the list four times and Uggla and Ramirez are on it three times, combining for at least 55 in each of the past three seasons.
Going beyond home runs, a handy metric for measuring a player's overall offensive contribution is Value Over Replacement Player (VORP). The concentration of top-10 seasons by double-play combination according to VORP is not as restricted to recent seasons as those on the home runs list. However, all 10 come from the divisional play era, which began in 1969. The general rule of thumb is that 10 points of VORP is worth the equivalent of one victory.
John Perrotto is editor-in-chief of Baseball Prospectus. BP's Eric Seidman provided research for this story.