Stats & Info:

Jeff Keppinger
March, 27, 2013
3/27/13
3:43
PM ET
By
Mark Simon, ESPN Stats & Info
| ESPN.com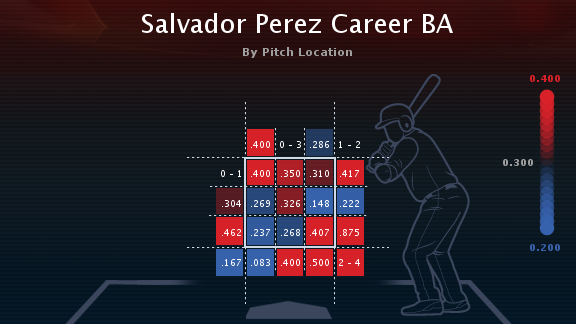 ESPN Stats & Information
Five stats to know about
Kansas City Royals
catcher
Salvador Perez
.
He can hit
Perez has played a little less than three-quarters of a season (115 total games) in the last two years, and his numbers rate very well.
His .310 batting average and .471 slugging percentage are a near-match for what
Yadier Molina
has done in the same span (albeit in more than twice as many at-bats).
He can hit anything
Perez is one of the game's best contact hitters. Last season, he put 55 percent of his swings in play, the fifth-highest rate among players with at least 250 plate appearances.
He was able to do this because he was very adept at hitting pitches outside the strike zone. Perez put half of his swings against those pitches into play, the highest rate in the majors.
All right vs lefties
Perez's contact numbers are even better against left-handed pitchers. In two seasons, he's hitting .393 with as many home runs as strikeouts (6) in 112 at-bats against lefties.
In the first 200 swings Perez has taken against left-handed pitching, he's missed only 10 times. That 5 percent miss rate is bettered over the last two seasons by only
Jeff Keppinger
.
A good glove
Perez has brought value on the defensive end. Last season, he finished with nine Defensive Runs Saved. Perez threw out 15 of 40 runners attempting to steal, the best rate among any American Leaguer who caught at least 50 games. His five pickoffs were the most of any catcher in baseball.
Lots of value
In his 115 games, Perez has been worth 4.2 Wins Above Replacement. The five other players who have caught games for the Royals in that two-year span have combined for 0.4 Wins Above Replacement.
Perez's 4.2 WAR is tied for 11th-best among catchers. It's the same total as
Milwaukee Brewers
catcher
Jonathan Lucroy
, but in half as many games.
September, 22, 2010
9/22/10
3:15
PM ET
Today's Trivia:
On this date in 1993, Nolan Ryan made the final appearance of his career. No active pitcher even has half of his career strikeout total. However, four active pitchers have 2,000 career strikeouts. Can you name them?

Quick Hits:
On Tuesday, the
Arizona Diamondbacks
struck out six times to reach 1,403 on the season. That broke the single-season record of 1,399 set by the 2001
Milwaukee Brewers
.
• The Diamondbacks have played 65 games this season where they have struck out at least 10 times; that's 17 more than the team with the second most. Even that 2001 Brewers team only had 56 of them. Not surprisingly, the Diamondbacks are just 15-50 when fanning at least 10 times.
• They've only had nine games of striking out five times or fewer. Since 1920, the fewest such games is 17 by those 2001 Brewers. This season, the
Florida Marlins
have the next fewest with 24. By contrast, the
Chicago White Sox
have 82.
• They've already set a record by having five players with 130 or more strikeouts. The 2002
Chicago Cubs
and 1991 and 1992
Detroit Tigers
claimed the old record with four.

•
Mark Reynolds
already has his third straight 200-strikeout season, but he's all but secured an even more embarrassing statistic. With 202 strikeouts and a .203 batting average, it seems extremely likely that he won't hit his strikeout total. Even Rob Deer didn't do that back in 1991 when he struck out 175 times and hit .179. In fact, the "record" total of strikeouts that was above a player's batting average belongs to pitcher Dean Chance. In 1968, he struck out 63 times while hitting .054. Among position players, it's never happened to a player who actually recorded a hit.
• Reynolds has fanned 629 times since 2008. Among pitchers, only
Tim Lincecum
,
Dan Haren
,
CC Sabathia
and
Justin Verlander
have more strikeouts than that.
• In 2002, the
Los Angeles Angels
won the World Series after striking out only 805 times in the regular season. Even if you didn't count their outfielders, the Diamondbacks have already exceeded that total.
• As researcher Mark Simon points out, the Diamondbacks are averaging a strikeout every 4.1 plate appearances. That's roughly equal to the career rate of
Jim Thome
, the man with the second most strikeouts of all time.
Today's Leaderboard:
Not surprisingly, Reynolds strikes out at the highest rate in the league in addition to having the most strikeouts. So who is the toughest to strike out? Among qualifying players, that distinction belongs to Jeff Keppinger.
Key Matchups
• On July 31, the
Texas Rangers
beat the Angels 2-1 as
Rich Harden
outdueled
Dan Haren
, who was making his second start since getting traded. At that point the Rangers were 25-22 on the road. Since then, Texas is just 10-19 away from home. Which brings us back to Haren, who is scheduled to start Wednesday against the Rangers. The key hit in that July game was a two-run home run by
Vladimir Guerrero
. He's a .414 career hitter against Haren, and no one has more career home runs (three) or RBI (10) against the Angels hurler.
• Just 9-11 in September, the
Atlanta Braves
look to avoid the sweep against the
Philadelphia Phillies
. They'll have to deal with
Roy Oswalt
, who is 7-0 with a 1.41 ERA in his last eight starts. However, Oswalt is 0-3 with a 7.58 ERA in seven career starts against the Braves, the only NL team (besides Houston) that he's yet to defeat. Atlanta might find its offense from an unlikely source.
Alex Gonzalez
is 10-for-23 lifetime against Oswalt with a pair of homers. That .435 average is fourth-best among those who have faced him 20 times.
Trivia Answer:
Jamie Moyer
,
Javier Vazquez
,
Andy Pettitte
and
Tim Wakefield
are the only active pitchers with 2,000 career strikeouts. Moyer is one of three active players who struck out against Ryan.
April, 19, 2010
4/19/10
1:44
PM ET
By
Jeremy Lundblad, ESPN Stats & Info
| ESPN.com
Today's Trivia
:
Joe Mauer
turns 27 today. Who is the only player younger than Mauer who has more career hits?
Quick Hits
: Early on, there are some interesting names who currently reside as team statistical leaders:
* After closing out Saturday's marathon,
Mike Pelfrey
now leads the Mets in wins (two) and saves (one).
*
David Ortiz
only has six hits on the season, but with five doubles, he leads the Red Sox.
* Despite pitching solely out of the bullpen,
Casey Janssen
leads the Blue Jays with three wins. According to the Elias Sports Bureau, he was the first pitcher in 18 years to win three of his team's first six games. The last to do it was Jose Melendez for the 1992 Padres.
*
Joey Votto
leads the Reds with four stolen bases, which matches his total from last season.
*
Jeff Mathis
is tied for the Angels' team lead with two stolen bases, which matches his career-high.
*
Lyle Overbay
might be hitting just .080, but he leads the Blue Jays in triples. Granted he's hit the team's only triple thus far.
*
Jeff Keppinger
leads the Astros with 17 total bases.
*
Cliff Pennington
, who never hit more than eight homers in the minors, leads the A's with two.
*
Tyler Clippard
, who has only appeared as a reliever, leads the Nationals in strikeouts with nine.
Key Matchups
:
Bobby Abreu
, one of the most patient hitters in the game, has faced
Dontrelle Willis
35 times in his career and only walked once. To be fair, the two haven't squared off since 2005. Willis was the runner-up for the NL Cy Young that year, and hadn't yet begun to struggle with his control. However, Abreu has only faced two pitchers more without drawing multiple walks. Both
Roy Halladay
(39 PA, 0 BB) and
Curt Schilling
(44 PA, 1 BB) are famous for pinpoint control.
After missing the final 129 games of 2009,
Conor Jackson
is still getting back in the groove for Arizona. He has hit safely in 10 of 11 games, but only has one extra-base hit and one multiple hit game. Against
Brad Penny
, Monday could be a breakout game. Jackson is a .474 career hitter against Penny, his second highest average against any pitcher he's faced 15 times.
David Wright
(.579) is the only hitter with a higher average against Penny with at least 20 plate appearances.
Today's Leaderboard
: Early in 2010, Joel Pineiro, who starts Monday against the Tigers, has continued his renaissance by using the ground ball to his advantage. He currently has a 6.50 ground out to air out ratio, which is nearly double that of any other pitcher, according to Baseball-Reference.com.
Trivia Answer
:
Jose Reyes
turns 27 in June and has 105 more hits than Mauer, though in 645 more plate appearances.
Miguel Cabrera
almost qualifies, but he turned 27 yesterday.