September, 8, 2013
9/08/13
12:06
AM ET
By
ESPN Stats & Information
| ESPN.com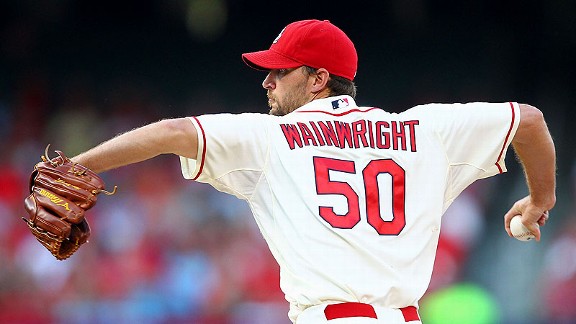 Dilip Vishwanat/Getty ImagesAdam Wainwright bounced back Saturday after poor outings in his past two starts.
After struggling in his past two starts,
Adam Wainwright
got back on track Saturday, and in doing so, helped the
St. Louis Cardinals
move back in to sole possession of first place in the NL Central with their win against the
Pittsburgh Pirates
.
Wainwright went seven scoreless innings, striking out eight after entering the day with a 16.88 ERA in his previous two starts.
Three keys that powered his bounce back:
• His curveball was vintage Wainwright. He induced eight swings and misses on it, tied for his most with the pitch this season. Five of his eight strikeouts came on his curveball, tied for his fourth-most in a start this season.
• 59 percent of his pitches were down or below the zone, tied for his highest percentage this season. Pirates hitters were 0-for-13 against pitches down or below the zone, and seven of his eight strikeouts came in that location.
• After allowing six hits, including two homers, with his cutter in his last two starts, Wainwright had improved command with the pitch Saturday. He threw only three of his 25 cutters in the upper half of the zone, his lowest percentage this season. Both homers he allowed with the pitch in his previous two starts were in that location.
The Cardinals lead the Pirates by a half-game in the NL Central; St. Louis hadn't had sole possession of first place in the division since August 29.
Also showing flashes of his old self was
David Freese
, who drove in the game's first run on a sacrifice fly in the fourth inning and later added a solo home run in the sixth.
Freese has two home runs in his last three games. He had two home runs in his previous 66 games prior to this recent power surge.
Locke
Meanwhile,
Jeff Locke's
return from the minors did not go well.
Locke is now 0-3 with a 6.57 ERA in his past eight starts. His season ERA has jumped from a season-low 2.01 on June 19 to 3.23 after Saturday.
One could say his struggles have really just been a regression to the mean.
Before these past eight starts, Locke led MLB with a .226 batting average on balls in play. But since, it's skyrocketed to .424, easily the highest among pitchers since July 26 (minimum eight starts).
One reason: the soft-hit balls that were finding Pirates gloves when all was going well are now dropping for hits.
Through July 25, Locke had a BABIP of .107 on soft-hit balls; it's jumped to .290 in his past eight starts. For context, league-average BABIP on soft-hit balls is .139.
Sunday marks the season finale between the Cardinals and Pirates, a season series already won by Pittsburgh (10-8 entering Sunday).
Down the stretch, Pittsburgh has nine of its final 20 games against opponents with winning records (including six games against the Cincinnati Reds). St. Louis closes its schedule with 16 of its final 19 games against sub-.500 opponents.
July, 21, 2013
7/21/13
10:50
PM ET
By
ESPN Stats & Information
| ESPN.com
Sunday was quite a day for good starting pitching. Thirteen different starters went at least seven innings and six pitchers who can make a case as a Cy Young contender pitched great en route to an eventual victory.

Here's a statistical snapshot of what those pitchers did best.

Kershaw makes them chase
Los Angeles Dodgers starter Clayton Kershaw held the Washington Nationals to two runs and two hits in seven innings in Sunday's sweep-completing win.

Kershaw made Nationals hitters chase his pitches. They swung at 22 of 50 thrown out of the strike zone. Kershaw's 44 percent chase-rate was his highest in any start this season.

Nationals hitters were 0-for-9 against the pitches they chased, with six strikeouts.

They missed on nine of 18 swings they took against Kershaw's curveball and slider.

Harvey dominant
What made NL All-Star starter Matt Harvey so good against the Philadelphia Phillies? Try this combo:

23 swings-and-misses, 1 shy of his career high set April 3, 2013 vs Padres

An average fastball of 97.4 mph (career-best)

Nine strikeouts with offspeed pitches (ties career-high)

Four strikeouts with his changeup (ties career-high)

Went to 2-0 count on only one hitter in seven innings

Harvey has owned the Phillies from the start of his career.

He's yielded only four earned runs in 33 1/3 innings against them.

Locke's key: shutting down righty bats
Pittsburgh Pirates starter Jeff Locke dropped his ERA to 2.11 with a six-inning effort in which he allowed one run and one hit in a win over the Cincinnati Reds that averted a Reds sweep.

Locke shut down the Reds right-handed hitters, holding them to 0-for-11 in this contest.

Righties are hitting .186 against Locke this season, the lowest of any of the 29 lefties who are currently qualified for the ERA title.

Wainwright handles Padres … again
Adam Wainwright beat the San Diego Padres, holding them to two runs over eight innings. He's now 5-2 against the Padres with a 1.47 ERA and 4-0 with an 0.84 ERA in four home starts against them.

Wainwright won without his best curveball/slider combo. He allowed six hits with those pitches, his most in any start in the five seasons for which we have pitch-performance data.

Wainwright has thrived recently because of his escapability. In his last six starts, he's held opponents to a .161 batting average and .434 OPS with men on base.

Colon cruising
Bartolo Colon threw his third shutout of the season, and his second since he turned 40 on May 24. In the past 25 seasons, only 3 other pitchers threw multiple shutouts in the same season after turning 40—Nolan Ryan (1989, 1990, 1991), Dennis Martinez (1995) and Randy Johnson (2004).

Colon won in his usual method, by spotting a fastball that he threw 101 times in 110 pitches and was tough to hit far. Colon induced 12 fly ball outs. In his last three starts, Colon has generated 23 fly balls. Of those, 22 have been caught.
Also consider this about Colon: His road ERA (2.54) is almost identical to his home ERA (2.50). Eighteen other ERA-title qualifiers have an ERA as good or better than Colon at home this season. But only seven have a road ERA as low as his.

Astros easy work for King Felix
Felix Hernandez pitched six scoreless innings in a win over the Houston Astros. Hernandez has a 1.54 ERA and 1.06 WHIP in his last five starts.

Like with Wainwright, Hernandez has found a way to escape tough situations. In his last five starts, opponents are 1-for-16 against him with multiple men on base, including 0-for-3 on Sunday.

July, 10, 2013
7/10/13
1:57
PM ET
By
Jeremy Mills, ESPN Stats & Info
| ESPN.com
AP Photo/Jim CowsertYoenis Cespedes, who earned a spot in Monday's Home Run Derby, looks to end his 15-game homerless drought, the second-longest streak of his career.
The
Oakland Athletics
and
Pittsburgh Pirates
complete a three-game series at PNC Park at 7 p.m. ET on ESPN/WatchESPN. Here are five stats that will surely be talked about on tonight's telecast.
1.
The Athletics have already won the series (their fifth straight series win) and will look to maintain their undefeated record all time against the Pirates.
According to the Elias Sports Bureau, Oakland's 11-0 mark against Pittsburgh is the best record without a loss for any team against another in the modern era (since 1900).
2.
Oakland was 13 games behind the
Texas Rangers
on June 30 last year before winning 57 of its last 83 games to capture the division.
The Athletics have kept the hot streak going into this season. They have 111 wins since June 30, 2012, six more than any other team in baseball.
3.
Yoenis Cespedes
has a spot in the Home Run Derby on Monday, but he might not be the most deserving player in this contest. Cespedes has gone 15 straight games without a homer, the second-longest streak of his career.
In the other dugout,
Pedro Alvarez
leads the National League with 13 home runs since the beginning of June.
In fact, his 23 home runs not only lead the team, but are the most by a Pirates player before the All-Star break since Willie Stargell hit 30 in 1973.
4.
The Pirates might be starting their annual summer swoon. Pittsburgh is 2-6 so far in July and has fallen 1½ games behind the
St. Louis Cardinals
after holding a two-game division lead on June 30.
The Pirates are 134-104 through June the last three seasons and 70-105 from July 1 to the end of the season.
5.
You should expect another low-scoring game tonight. Oakland won the first two games of the series 2-1. The A's have eight wins this season when scoring two or fewer runs -- that leads the majors (tied with the Pirates).
The Athletics now have 18 one-run wins this season. Only the
Arizona Diamondbacks
have more (19).
Misc.
•
Josh Reddick
had 20 home runs at the All-Star break last season, but he has hit only 16 in 135 games since then.
• A's closer
Grant Balfour
is 24-for-24 in save situations this year and has converted 42 straight save opportunities (his last blown save came on April 29, 2012). The 42 straight saves are a franchise record (the old mark was 40 straight by Dennis Eckersley).
• The Pirates have four players on the All-Star roster –
Andrew McCutchen
, Alvarez,
Jason Grilli
and
Jeff Locke
. It's the first time since 1981 that Pittsburgh has sent this many players to the Midsummer Classic.
•
Starling Marte
has 27 stolen bases, the most for the Pirates since
Tony Womack
had 31 in 1998.
July, 8, 2013
7/08/13
11:27
PM ET
By
ESPN Stats & Information
| ESPN.com

In a battle of division leaders and All-Star pitchers, the
Oakland Athletics
continued their dominance of the
Pittsburgh Pirates
with a 2-1 win on Monday night.
The A's are now a perfect 10-0 vs the Pirates all-time, the best record by any team vs another in the modern era (since 1900), according to the Elias Sports Bureau.
Oakland improved to 17-11 in one-run games this season, the second-most one-run wins among AL teams. Their overall record stands at 53-37, the franchise's best 90-game mark since 1990 (57-33). That 1990 squad was the last Oakland team to make the World Series.
Colon Keeps Winning
Bartolo Colon
emerged as the winner in a pitcher's duel between two of the unlikeliest All-Star pitchers this season.
He is now 12-3 this year, his most wins in a season since he went 21-8 and won the Cy Young Award in 2005. His 12 wins before the break are the most by an A's pitcher since
Mark Mulder
had the same amount in 2004.
Colon has thrown 11 straight starts of at least six innings pitched and no more than three runs allowed, compiling a 9-1 record and 1.71 ERA in that span.
Nine of those starts have come since he turned 40 years old on May 24. Elias tells us that is the longest such streak by a player aged 40 or older since
John Smoltz
had a 10-game streak in 2007.
Colon got the Pirates to swing at 21 of the 50 pitches (42 percent) he threw out of the strike zone, his highest chase rate in any start over the last five seasons.
He went to a two-strike count on 17 of 30 batters faced and retired 14 of them, allowing only two singles and a walk in those counts. In his previous five starts he had allowed batters to hit .318 with two strikes.
Locke Finally Loses
Jeff Locke
entered this game without a loss in his last 16 starts, the second-longest undefeated streak by a Pirates starting pitcher in franchise history. Despite allowing only two runs on three hits, Locke suffered his first loss since April 7.
The game-winning RBI was a sacrifice fly by
Josh Donaldson
in the fourth inning. It was the sixth sacrifice fly allowed by Locke this season, one shy of the most in the majors.
Stat of the Game
Grant Balfour
converted his 41st consecutive save, breaking the franchise record previously held by Dennis Eckersley. Balfour has not blown a save since April 29, 2012 at Baltimore and has posted a 1.93 ERA during the streak.