Stats & Info:

Jeff Niemann
May, 9, 2012
5/09/12
2:02
PM ET
(The New York Yankees host the Tampa Bay Rays, Wednesday at 7 ET on ESPN)
Curtis Granderson
has reached base in 28 straight games, which is the longest active streak in baseball.


However, if the Tampa Bay Rays'
Jeff Niemann
pitches against the Yankees -- and Granderson -- like he has in the past, then Granderson's streak could come to an end Wednesday night in Yankee Stadium.
In five starts against the Yankees, Niemann is 3-0 with a 3.10 ERA. He hasn't allowed more than four earned runs in any of those five starts.
Current members of the Yankees are a combined 21-94 (.223) against Niemann. Granderson is 1-14 (.071) against Niemann, matching his lowest batting average against an American League pitcher (minimum 15 plate appearances.)
This season, Niemann has yet to allow more than three earned runs in any of his five starts; however, he has also failed to complete six innings in any start.
Niemann is having a hard time getting through the lineup the third time around. He's averaged less than 23 batters faced per start (the league average for a starting pitcher is 25.3), and hasn't faced more than 25 in a start.
Conversely, the Yankees have jumped on opponents early. They have scored 24 first-inning runs, matching the most they have scored in an inning this season. (They have also scored 24 runs in the seventh inning.)
Opponents are hitting .400 this season against Niemann the third time through the order, compared to .214 the first time and .132 the second time through the order.
Niemann has won his last two starts at Yankee Stadium, but this season on the road he's winless (0-3). In those three games the Rays have provided a total of four runs of support.
One Yankee who has hit Niemann well is
Derek Jeter
, who is 6-13 with two doubles.
Only
Josh Hamilton
(.406) and
Matt Kemp
(.404) have a higher average this season than Jeter's .392. He's also hitting .500 in the first inning (14-28, 2 2B, 2 HR, 2 K), that's the highest average among hitters with at least 25 first-inning plate appearances.
Jeter is hitting to the opposite field with authority, and leads the league in that category as well with 19 hits the other way.
February, 4, 2012
2/04/12
8:09
PM ET
By
Justin Havens, Stats & Info
| ESPN.com
While the Hot Stove season is largely dominated by free agency and trade talks, an overlooked aspect of every MLB offseason is the arbitration process. If a player is eligible, the team and the player submit figures for the upcoming season's salary. If the two sides cannot agree on a compromise, they advance to a process that is resolved by an arbiter, who picks one of the two figures submitted.
The 2011-12 arbitration season has brought with it two statistical and historical storylines - the potential end of the Cleveland Indians' streak of avoiding arbitration and the unbeaten run of the
Tampa Bay Rays
.
Indians & Arbitration: Like Oil & Water

While it looked like it might be snapped any number of times, the Indians have not gone to arbitration with a player since 1991. Thanks to Maury Brown's
Business of Baseball
website, we can tell you that is the longest such streak in the Major Leagues. The last time the Indians went to arbitration was 1991, when the team did so with
Greg Swindell
and Jerry Browne.
Why is this relevant? The Indians currently have one arbitration-eligible player unsigned – SS
Asdrubal Cabrera
. The Indians and Cabrera are continuing discussions on a long-term contract, but without a resolution on that front, the team and player will likely head to arbitration. Cabrera's camp has requested a 2012 salary of $5.2 million, while the Indians have countered with an offer of $3.75 million.
For additional context, the landscape of Major League Baseball was noticeably different in 1991 than it is in 2012. The Indians played their home games in Cleveland Stadium and resided in the AL East. The team's Opening Day payroll was $18,270,000, roughly one-third of what it projects to be in 2012.
The last time the Indians went to arbitration, the highest Opening Day payroll in baseball was held by the
Oakland Athletics
- $33,632,500. The Athletics have a projected Opening Day payroll for 2012 of $38,765,500.
The last time the Indians went to arbitration, the Opening Day payroll of the
New York Yankees
was $27,815,835. That represents just 13.7 percent of the $202,689,028 payroll the team had for 2011.
Rays: Great on the Field, Better off it

While the Rays track record on the field has been impressive enough under the Andrew Friedman regime, no team can match the success of Friedman and the rest of the front office at the arbitration table.
The team's arbitration win over starting pitcher
Jeff Niemann
earlier this week improved the Rays franchise to 6-0 all-time in arbitration, the best win percentage in MLB.
The Rays have as many arbitration wins in six all-time cases (6) as the
Detroit Tigers
have in 20 all-time cases (6-14). In all, the Rays have defeated Niemann (2012),
B.J. Upton
(2010),
Dioner Navarro
(2009),
Josh Paul
(2006, 2007) and
Esteban Yan
(2002).
August, 30, 2011
8/30/11
12:00
PM ET

In their last 14 games,
Tampa Bay Rays
' starting pitchers have put up great numbers: they are 6-5 with a 2.55 ERA and 105 innings pitched. They have also allowed only 80 hits and garnered 101 strikeouts.
The Rays starting pitchers are challenging the
Philadelphia Phillies
starting pitchers for the title of best rotation in the majors. The Rays and Phillies are the only two major league teams to have four pitchers who have made at least 15 starts, and who all have ERAs of 3.50 or lower.
Here are some notes on the adjustments each Rays starter has made this season to reach this point:

Price
•
David Price
has increased the use of his changeup in his last four starts, nearly doubling its usage. He's thrown it about 21 pitches per start over his last four starts.
This came after a seven-start slump in which Price had an ERA of 5.18.
With the changeup added to his arsenal, Price has now beaten the
New York Yankees
,
Boston Red Sox
and
Toronto Blue Jays
, and lost 2-1 to the
Detroit Tigers
. In those four starts, he's allowed three runs in 31 innings.
• In his last start,
James Shields
pitched his 10th complete game of the season, becoming the second pitcher since 2000 to throw 10 complete games in a season (
CC Sabathia
had 10 in 2008).
As we noted earlier this season, Shields changed his pitching pattern this season. He's gone from throwing first-pitch fastballs 65 percent of the time (2010) to just 51 percent of the time in 2011. It's worked.
He's pitched nearly the same number of innings as last season, but decreased his runs allowed from 128 to 71 and home runs allowed from 34 to 22.

Niemann
•
Jeff Niemann
is 8-1 with a 2.57 ERA since returning to the rotation on June 20, averaging eight strikeouts per nine innings in that stretch. That's a significant jump from the 6.5 strikeouts per nine innings he's averaged in the first three seasons of his career.
Niemann has changed the pattern of breaking balls he throws. He's gone from throwing his curveball one in seven pitches to one in four. He's already got more strikeouts with his curveball this season (40) than last season (37) despite having thrown 62 fewer innings.
•
Jeremy Hellickson
is 4-2 with a 2.72 ERA in his last eight starts. That followed a four-start slump in which he was 0-4 with a 4.74 ERA.
Hellickson has succeeded recently by coming further inside to right-handed hitters. During his slump (heat map on left), right-handed hitters were 7-for-13 with three home runs against inside fastballs.
During his hot streak (heat map on right), righty hitters are 5-for-32 against inside pitches. They've increased the rate by which they've chased such pitches from 27 percent to 40 percent.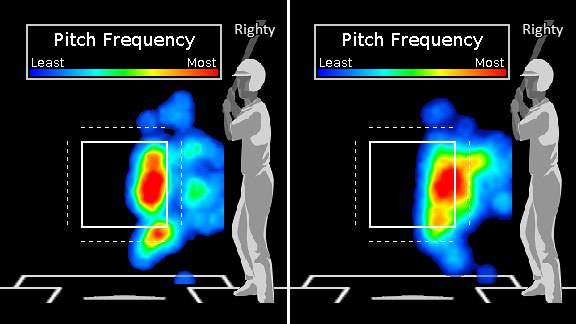 On left: Hellickson's struggles with his fastball during his four-game slump.
On right: Hellickson's success with his fastball over his last eight starts.
Dan Braunstein, Mark Simon and Lee Singer contributed to this story.
July, 18, 2011
7/18/11
8:50
AM ET


Sunday Night Baseball turned into Monday Morning Baseball as the
Boston Red Sox
defeated the
Tampa Bay Rays
1-0 in 16 innings. This marked just the fourth game since 1990 to last 16 or more innings with only one run being scored.
It was the longest 1-0 game in Red Sox history (by inning) and the second-longest scoreless inning game in Red Sox history (longest was July 14, 1916, a 17-inning scoreless tie against the St. Louis Browns).
It matched the longest game in Rays history by innings, a 9-8 loss in 16 innings on April 1, 2003, also at home to the Red Sox.
One of the more remarkable things from Sunday night's game is neither pitching staff allowed more than five hits in the 16 innings pitched.
Before that only one team had pitched 16 or more innings and allowed five hits or fewer in the Divisional Era (since 1969).
Dustin Pedroia
matched the Rays himself with three hits. He went 3-for-7, while the rest of the Red Sox players were 2-for-45.
In charge of shutting Tampa Bay down was
Josh Beckett
. He allowed just one hit in eight innings of work, after throwing a one-hit shutout in his last appearance against the Rays.
Beckett is the second pitcher in the Live Ball Era (since 1920) with consecutive starts against an opponent in which he went at least eight innings and allowed no more than one combined hit and walk in each.
As good as Beckett was,
Jeff Niemann
of the Rays matched him allowing just two hits in eight innings, while striking out 10 batters.
According to Game Score -- a metric devised by Bill James assigning a pitcher points using innings pitched, strikeouts, hits, walks, and runs -- Beckett and Niemann each had a Game Score of 86. This was arguably the best pitchers duel in 2011 as their combined Game Score of 172 was the highest by two pitchers in the same game this season.
It was the highest combined Game Score by opposing starters since July 10, 2010, when
Travis Wood
(93) and
Roy Halladay
(85) combined for 178 in a game the Phillies won 1-0 in 11 innings.
Beckett had success keeping the ball away from Rays hitters. Fifty-five of Beckett's 106 pitches were on the outer third of the plate or further outside, the highest percentage for Beckett this season. He got 13 outs in at-bats ending on those pitches, his highest total of the season.
Niemann got Red Sox hitters to expand their strike zone. Hitters swung at 38 percent of Niemann's pitches out the zone, his second highest in a start this season. Ten of his career-best 14 swings and misses and seven of his career-best 10 strikeouts came on pitches out of the zone.
The teams played another eight innings once the starters were taken out, with the total game time lasting 5 hours and 44 minutes. It was the second-longest game this season in terms of time played, with only the Reds-Phillies game on May 25 that lasted over six hours besting it. Coincidentally, both games were played on ESPN.
July, 17, 2011
7/17/11
1:47
PM ET
By
Jason McCallum
| ESPN.com

Beckett
The Tampa Bay Rays host the Boston Red Sox on Sunday at 8 p.m. ET on ESPN.
Josh Beckett
has had a very successful season, and when you boil it down to his performance against division rivals, it gets even better.
In seven starts against American League East opponents, Beckett is 6-0 with a 1.88 ERA. In his three starts against the
New York Yankees
and Tampa Bay Rays, he's 3-0 with a 0.00 ERA. His only start against Tampa Bay this season was a one-hit shutout. (No pitcher has ever thrown two shutouts in the same season against the Rays.)
Beckett's success has been well-rounded this season, no matter what pitch he throws. The opponent batting average against three of his four main pitches (fastball, cutter, changeup) ranks in the top seven in the American League among starting pitchers. His curveball currently ranks ninth.
The pitch-by-pitch dominance has translated into overall dominance. What's left out is how economical Beckett's been. He ranks in the top four in ERA, opponent BA and WHIP, but throws only 97.7 pitches per outing, well down the MLB leaderboard.
When Beckett has gotten in trouble, he's done a great job of stranding runners. He leads the AL in left on base percentage, stranding 82.2 percent of the runners he's allowed on base.
Beckett's 2.27 ERA at the All-Star break was his best pre-break ERA of his career -- by far. In 2009, he posted a 3.35 ERA before the break for his previous best mark.
While Beckett's been lights out against division opponents, it's Boston's power surge that's helped it move to the top of the AL East. Since June 30, the Red Sox are 11-2, averaging 6.7 runs per game. In those 13 games they've hit 27 home runs, including four from
Jacoby Ellsbury
.
The American League leader in stolen bases, Ellsbury has 10 home runs from the leadoff spot in the order -- only
Ian Kinsler
(15) has more among AL leadoff hitters. Ellsbury is one of three Red Sox who rank in the top six in the American League in most wins above replacement this season.
Facing the Red Sox will be
Jeff Niemann
, who is 3-0 in four starts since coming off the disabled list. (He was 1-4 in six starts with a 5.75 ERA before going on the DL with a back injury.)
However, Niemann has had his share of struggles at home this season. His home ERA is more than two runs greater than his road ERA (5.53 versus 3.46), and he's allowing opponents to hit .325 at Tropicana Field.
September, 18, 2010
9/18/10
12:05
AM ET
The clock. It controls so much of our everyday lives -- what time to wake up, what time to be at work or school, what time we can
leave
work or school.
In sports, baseball is one of the few that's not beholden to the clock. There's no 60- or 48- or 40-minute limit. There aren't timeouts to stop the clock. We could care less about tenths of a second. When you start a game, there's no telling when it will end. To some, it's the beauty of the game; to others, it's the biggest frustration.


In these days of commercials and warmup pitches and elaborate player routines (both at the plate and on the mound), even a two-hour game is the exception. Although most games come in under three hours, you can't bank on that. Rule changes to speed games up have largely been ignored. Seriously, have you
ever
seen a pitcher charged with an automatic ball for violating the "12-second rule" with nobody on base? Go ahead, we'll wait.

Here at Stats & Information, we've tracked the game times of every Major League Baseball contest this season. We can recommend some pitchers and teams to see, regardless of which side of the "clock argument" you fall on. For example, it's not a myth that the Chicago White Sox's Mark Buehrle pitches quickly. Or that the Boston Red Sox's Daisuke Matsuzaka takes forever. Or that you will get a marathon out of nearly any New York Yankees game.

While the official game times
do
adjust for rain delays, power outages and the occasional tornado outside Citi Field, there are obviously a few other factors at play. The speed of the pitcher's opponent isn't taken into account. A starter might get roughed up and turn things over to a slow- (or fast-) moving bullpen, but when you think of fast workers and slow workers, the list is pretty accurate.

Random fact: The total number of minutes consumed by all the games this season (through Thursday) is 383,639. That's more than 266 days. If you watched every game back-to-back, starting on Opening Night (April 4), you'd already have enough baseball to last you until Dec. 27. With no breaks.


Anyhow, this got us to thinking, which teams give you the most baseball for your money? If you want to watch as much baseball as possible in terms of time, which team's season tickets should you buy? Similarly, which teams are "cheating you" by playing really short games all the time?

Adjusting for extra innings, we can get the average length of a nine-inning home game for each team this season. We didn't adjust for home victories where the bottom of the ninth doesn't get played. (We figure you'd sacrifice those extra seven minutes in exchange for seeing the home team win.)

The Cleveland Indians have been involved in both the shortest and longest nine-inning games this season. The Detroit Tigers' Armando Galarraga's near-perfect game against the Indians on June 2 was the fastest nine-inning game played this season -- one hour, 44 minutes. As for the longest? The Indians and Yankees combined to score 24 runs on May 27, a game the Yankees won 13-11. That game lasted four hours and 22 minutes. There have been just four games this season played in less than two hours, compared with six games that have lasted longer than four hours.
May, 25, 2010
5/25/10
11:57
AM ET
By
John Perrotto, Baseball Prospectus
| ESPN.com
One can use a traditional method to make the point that the
Tampa Bay Rays
have the best starting rotation in the major leagues. The Rays' starters lead the majors in earned run average by a healthy margin, despite
Wade Davis
getting tagged for five runs in 3 2/3 innings by the Red Sox on Monday night.
Another way to state the Rays' case is to look at SNLVAR (support neutral league value above replacement), a Baseball Prospectus metric that measures how many more wins a starting pitcher has provided over the course of the season than would a replacement-level player who could be claimed off waivers or purchased from a Triple-A roster.
A total of 57 major league pitchers have accumulated at least a 1.2 SNLVAR with just a little more than a quarter of the season gone. A pitcher who finishes with a 5.0 mark or better is considered to have had a very good season. The Rays have the only rotation in which each member has at least a 1.2 SNLVAR.
The Rays are one of only two teams with three starters ranking in the top 25, along with the
San Francisco Giants
, who have
Tim Lincecum
(fifth),
Jonathan Sanchez
(17th) and
Barry Zito
(24th).
The teams that come closest to matching the Rays' rotation depth are the Giants,
St. Louis Cardinals
,
San Diego Padres
,
New York Yankees
and
Chicago Cubs
. Each has four starters with at least a 1.2 SNLVAR.
Here is how those teams' rotations break down:
Giants:
Lincecum, 2.5; Sanchez, 1.9; Zito, 1.8; Cain, 1.5;
Todd Wellemeyer
, 0.2
Cardinals:
Jaime Garcia
, 2.4;
Adam Wainwright
, 2.1;
Chris Carpenter
, 1.6;
Brad Penny
, 1.2;
Kyle Lohse
, minus-0.4
Padres:
Clayton Richard
, 1.9;
Mat Latos
, 1.9;
Wade LeBlanc
, 1.4;
Jon Garland
, 1.4;
Kevin Correia
, 0.4
Yankees:
Andy Pettitte
, 1.9;
Phil Hughes
, 1.8;
CC Sabathia
, 1.2;
A.J. Burnett
, 1.2;
Javier Vazquez
, minus-0.1
Cubs:
Tom Gorzelanny
, 1.3;
Randy Wells
, 1.3;
Ryan Dempster
, 1.3;
Carlos Silva
, 1.2;
Ted Lilly
, 0.5
All good rotations, to be sure, but none quite as deep as the one the Rays spin through every five games.
However, there is reason to believe the Rays' rotation can't keep up quite the torrid pace it has been on through the first 45 games of the season. Tampa Bay's starters rank seventh in the majors in SIERA (skill-interactive earned run average), which estimates ERA through walk rate, strikeout rate and ground ball rate while eliminating the effects of park, defense and luck. Thus, we can expect some regression to the mean by the Rays as the season plays out.
John Perrotto is editor-in-chief of Baseball Prospectus.
May, 17, 2010
5/17/10
1:17
AM ET
By
Vince Masi, ESPN Stats & Info
| ESPN.com
Sunday proves once again why baseball is such a great game. You'll see things you either have never seen or haven't seen in some time. Here are just a few of the many rarities that occurred across MLB on Sunday:
Mariano Rivera
He allowed a grand slam in a home game for the first time since 1995 against the Athletics (Geronimo Berroa). His streak of 51 straight saves at home comes to an end and he also walked a runner with the bases loaded for the first time since 2005.
Marlins Sweep Mets
It was just the second time in team history in which the Marlins swept a four-game series from their division rivals and the first time since 2004 in New York.
Jake Westbrook Throws a Complete Game?
He allowed one run in a complete game for the first time since August 9, 2006. He's won consecutive starts for the first time since 2007.
Cardinals out, Reds in
The Reds defeated the Cardinals Sunday to move into first place. That's somewhere Cincinnati hasn't been this late into a season since the 2006 season.
Be Proud of Prado
Martin Prado
had four hits, two of which were homers in the Braves' 13-1 thumping of the Diamondbacks. He became the first Braves leadoff hitter to have two homers and four hits in a single game since Felipe Alou on April 26, 1966, against the Giants.
Cliff Lee
He threw a complete game with 10 strikeouts in a hard-luck loss to the Rays. He's the first Mariners pitcher with 10 strikeouts in a complete-game loss since
Freddy Garcia
on August 7, 1999. But while it was rare in recent years, that was something
Randy Johnson
did eight times with the Mariners.
Wade LeBlanc
Another ho-hum strong start from a Padres pitcher. LeBlanc unfortunately took the loss when he allowed 1 ER in 7 IP against the Dodgers. But he did extend his streak of starts with 2 ER or fewer to 6 straight from the start of the season. That's the longest streak by a Padres pitcher to begin a year since
Jake Peavy
had a team-record 10 straight to start the 2004 season.
You Complete Me
Five pitchers threw complete games on Sunday (Lee, Westbrook,
Joel Pineiro
,
Brett Myers
and
Bronson Arroyo
). Sounds rare right? Actually it happened on July 10, 2009, when
Jeff Niemann
,
Dan Haren
,
Zach Duke
, Arroyo and
Jonathan Sanchez
did so. Sanchez threw a no-hitter that day.
April, 30, 2010
4/30/10
2:12
PM ET
By
Jeremy Lundblad, ESPN Stats & Info
| ESPN.com
Today's Trivia
: The Mets and Phillies square off on Friday with first place in the NL East on the line. Who are the only two pitchers with 20 career wins for both franchises?
Quick Hits
: A player's history in a given month isn't always a harbinger of things to come. Just ask
Adam LaRoche
, a .195 career hitter in April, who is hitting .299 thus far. Or how about
Troy Tulowitzki
? He came into the season with a .194 April batting average, but is currently hitting at a .318 clip. But for every surprise, there are several players who are true to form.
Jhonny Peralta
and
Gavin Floyd
are characteristically starting slow, while
Ryan Theriot
and
Kosuke Fukudome
are off to traditionally hot starts. So what does history tell us that May has in store?
*
Cody Ross
has only played 51 games in May, but he has 15 home runs. Only
Ryan Howard
hits them out more frequently in May.
* Even though it's his worst month from a batting average perspective, an incredible 40 of Howard's 97 hits have been home runs.
*
Ichiro Suzuki
is a .365 hitter in May, best among active players and his highest average in any month.
*
Hunter Pence
is a .358 hitter in May and a .270 hitter in every other month.
*
Brian McCann
has a .350 May average and just .283 otherwise.
* May is when it usually all falls apart for Howie Kendrick. A .321 hitter in April, Kendrick has hit just .171 in the second month of the season. No non-pitcher with 100 plate appearances in May has a lower average.
*
Jason Bay
loves May. He has 45 home runs in the month, 10 more than he has in any other month. His 1.008 May OPS is behind only
Albert Pujols
and
Lance Berkman
among those with 200 plate appearances.
* Troy Tulowitzki only has two home runs in 55 career games in May.
*
Felix Hernandez
is just 6-12 in May with a 5.25 ERA. It's his only month with a losing record or an ERA over 3.50.
*
Mike Pelfrey
is just 2-9 in the month and 30-23 otherwise.
*
Hideki Okajima
has a mind-blowing 0.68 ERA in 40.0 career May innings.
* Pitching in the majors for the first time since 2007,
Colby Lewis
is 3-0 with a 3.80 ERA. Let's see how he fares in May though. Lewis has a 12.69 career ERA in the month.
* With 164 wins, the Red Sox were the winningest team of last decade in May. They had nine more wins than the Yankees.
Today's Leaderboard
:
Tim Lincecum
, a perfect 7-0 in May, is the only active pitcher with 10 starts in the month that has never lost.
Key Matchups
:
Alex Rodriguez
is hitless in his last 19 at-bats. Good thing
Freddy Garcia
is coming to town. Rodriguez has reached base in six consecutive plate appearances against the White Sox starter. In his career, A-Rod has five home runs and a 1.485 OPS against Garcia. That is the second highest OPS against Garcia among those with 20 plate appearances and
Bobby Higginson
is the only other player with five homers.
Jeff Niemann
simply dominated the Royals last season. He went 2-0 with a 0.53 ERA, striking out 16 and walking only one in 17 innings. The lone blemish was a solo home run by
David DeJesus
. In fact, current members of the Royals have hit just .089 against Niemann. As a staff, the Rays were 9-1 with a 2.40 ERA against Kansas City last season.
Trivia Answer
: Tug McGraw won 47 for the Mets and then was traded to Philadelphia where he won 49 games. Meanwhile, Jerry Koosman is one of the only three Mets pitchers with 100 wins. He finished his career off with the Phillies, winning 20 games over two seasons.
April, 8, 2010
4/08/10
12:58
PM ET
By
Jeremy Lundblad, ESPN Stats & Info
| ESPN.com
Today's Trivia
: It was 36 years ago today that Hank Aaron hit his 715th career home run, surpassing Babe Ruth's career total. Who was the opposing pitcher that gave up the historic home run?
Quick Hits
*
Bronson Arroyo
heads into his today's start looking for his 14th straight quality start dating back to last July. According to Elias, his streak matches the longest by a Reds pitcher since
Jose Rijo
recorded 15 consecutive quality starts in 1993. Arroyo has posted only a 5-4 record during his streak.
* Random Fact: The Tigers have only had one player named Woods. Outfielder Ron Woods debuted for the Tigers in 1969, playing 17 games before getting dealt to the Yankees.
* From the Elias Sports Bureau:
Garrett Jones
and
Vernon Wells
share the major-league lead (with
Placido Polanco
) with six RBIs this season. Jones and Wells had three RBIs in each of their team's first two games and each is in position to set a major-league record today. No player has ever had three or more RBIs in each of his team's first three games of a season. (RBIs have been officially recorded in the major leagues since 1920.)
Today's Leaderboard
:
Brian Bannister
takes the hill today for the Royals, and it's the fact that it's a day game that's key. Bannister holds one of the stranger day/night splits. In his career, he is 17-8 in day games compared to 13-30 at night. Meanwhile,
C.J. Wilson
, making his first start since 2005 this afternoon, is just 2-8 in day games. Bannister's 17-8 mark is impressive given his struggles otherwise, but it's just the 8th best among active pitchers (min. 20 decisions).
Jered Weaver
is 17-4 in his career in day games. Next on the list is
Gavin Floyd
at 18-5. Floyd draws a night game tonight. He is just 18-24 in those.
Key Matchups
:
Joe Mauer
is welcoming
Joel Pineiro
back to the American League with open arms. The reigning AL MVP is 13-for-18 (.722) in his career against the Angels starter. According to the Elias Sports Bureau, there is only one active batter-pitcher matchup with at least 15 at-bats that has produced a higher batting average.
Magglio Ordonez
is 12-for-15 (.800) against
Chad Durbin
.
Matt Wieters
hasn't been around long enough to say that he owns a pitcher. That said, his limited track record against
Jeff Niemann
suggests just that. Wieters is 5-7 in his career against Niemann. Throw in a walk, and Wieters has a .750 on-base percentage in 8 plate appearances. Wieters' 5 hits and 3 RBI against Niemann are tied for his most against any pitcher.
Trivia Answer
: Dodgers pitcher Al Downing is probably best known for giving up Aaron's 715th home run. However, he may prefer you remember his accomplishment on August 11, 1967. Facing the Yankees in the bottom of the 2nd, Downing struck out the side on 9 pitches, something that has only been accomplished 40 times.