Stats & Info:

Jeff Withey
March, 15, 2013
3/15/13
3:29
PM ET
By
Mark Malzewski, ESPN Stats & Information
| ESPN.com
A glance at several matchups tonight as conference tournaments continue:
Maryland vs Duke (ESPN2, 7 ET)
The
Duke Blue Devils
will need to be ready near the basket tonight, as
Maryland
is the third-best rebounding team in the nation, averaging 40.9 per game. Maryland also averages 35.8 PPG in the paint, fourth-most among Power Six Conference schools.
On the other side, Duke's starters are averaging 68.2 PPG, second-most in the nation. Off the bench, the Blue Devils are getting only 10.6 PPG, which is 327th (out of 347 teams) in Division I. Duke also takes care of the basketball, turning the ball over on 15.9% of its possessions this season, the lowest percentage in the ACC and eighth lowest in the nation.
Iowa State vs Kansas (ESPNU, 7:30 ET)
Iowa State
scores 37.1% of its points from three-point range, eight-highest in the nation. The Cyclones lead the nation in three-point field goals made (316) and are second in attempts (845). Iowa State also averages a Big 12-best 79.8 points per game.
The Cyclones are one of four teams in the nation that average at least 110 points per 100 possessions while playing at a pace of at least 70 possessions per game.
Iowa State might have trouble scoring, however, as
Kansas
leads the nation in opponents' field goal percentage at 35.9%. It might be especially difficult down low, considering
Jeff Withey
has 127 blocks this season, second-most in the nation. All but 12 of Withey's blocks have been kept inbounds (91%), with Kansas recovering 95. The Jayhawks have scored 86 points off those 95 blocks.
Florida State vs North Carolina (ESPN2, 9 ET)
Florida State
is shooting a league-best 74.3% from the free throw line in ACC play, and gets a league-high 22.6% of its points at the charity stripe during ACC play. The transition game will be key for
North Carolina
; the Tar Heels are averaging 18.3 transition points per game in their 22 wins and 10.9 in their nine losses.
Prior to North Carolina's first meeting with Duke, the school switched to a four-guard lineup. Since that time, the Tar Heels have lost only twice and seen their opponents score just over two points fewer per game. Switching to the four-guard lineup has also helped in transition defense. In the first 23 games of the season, UNC allowed 13.5 transition PPG, but since making the switch, they are allowing 8.9 per game.
December, 1, 2012
12/01/12
12:26
AM ET
By
Jeremy Lundblad, ESPN Stats & Info
| ESPN.com
Lance King/Getty ImagesMason Plumlee had a huge month for the Blue Devils, averaging 19.9 PPG and 11.0 RPG.
Player of the Month – Mason Plumlee, Duke Blue Devils

Plumlee was the key to Duke's 7-0 start, which included three wins over top-five schools. He averaged 19.9 points per game and 11.0 rebounds per game during the month. There's a long season ahead, but it's worth nothing that only Tim Duncan (twice) and Ralph Sampson averaged 19 and 11 in the ACC over the previous 30 years.
Plumlee's month included multiple 20-point, 17-rebound efforts. Over the last 15 years, the only other major conference players to do that before the end of November were Michael Beasley and Blake Griffin.
Leading Scorer of the Month – C.J. McCollum, Lehigh Mountain Hawks
Topping 30 points on three occasions, McCollum averaged 26.3 points per game to lead the nation in November.
If history is any indication, McCollum could be lottery-bound this June. That's where the past five players to lead the nation in scoring in November were eventually selected.
Defensive Player of the Month – Jeff Withey, Kansas Jayhawks
Withey averaged 5.7 blocks in November, the most blocks per game by a player in November since Mississippi State's Jarvis Varnado in 2008. Withey alone had twice as many blocks (40) as Kansas's opponents combined (20).
Could Withey average 10 points and five blocks this season? The last major conference players to do that were Shaquille O'Neal and Alonzo Mourning in 1991-92.
Freshman of the Month – Marcus Smart, Oklahoma State Cowboys
Smart led the Cowboys to a 5-0 November, averaging 13.4 PPG, 7.0 RPG and 5.8 APG. Just how complete is Smart's game? The last freshman to reach all three of those averages in November was Dwyane Wade in 2001.
Free Throw Shooter of the Month – Jordan Adams, UCLA Bruins

Adams was the bright spot in a forgettable month for the Bruins, and he did a big part of his damage from the line. The freshman went 35-36 (97.2 percent) on free throws. Having made his last 33, Adams stands 10 shy of Darren Collison's school record.
3-Point Shooter of the Month – Ryan Sypkens, UC Davis Aggies
The Aggies senior averaged 5.3 3-point field goals per game, the most for a player in November since
Rotnei Clarke
in 2009 for Arkansas. Sypkens also made 63.6 percent of his attempts, the highest for any player with at least 20 attempts.
Rebounder of the Month – Jamelle Hagins, Delaware Fightin Blue Hens
Hagins led the nation in rebounds per 40 minutes and ranked second in defensive rebounding percentage. His 23 rebounds against Lafayette were the most for a Division I player in November since 2009.
Distributor of the Month – Michael Carter-Williams, Syracuse Orange

Carter-Williams tallied 46 assists in five games to lead the nation at 9.2 APG. That's the most assists-per-game in November for a Big East point guard (min. three games) since Omar Cook's 10.0 in 2000.
November, 27, 2012
11/27/12
11:45
AM ET
By
Jeremy Lundblad, ESPN Stats & Info
| ESPN.com
Player of the Night – Jeff Withey
Withey recorded the second official triple-double in Kansas history with 16 points, 12 rebounds and a school-record 12 blocks in the Jayhawks' win against San Jose State.

It was the most blocks by a power six conference player in a triple-double since Stanford's Brook Lopez also had 12 in 2007. In the last 15 years, the only other player with a 16-12-12 game was Northwestern State's D'or Fischer in 2001 against Siena.

Scorer of the Night – Isaiah Canaan
Two nights after scoring 30 against Old Dominion, Canaan scored a season-high 32 points in Murray State's 88-79 win against Lipscomb. He's the only player with back-to-back 30-point games this season, and the first Murray State player to do so since Isaac Spencer in 1999.

Stat Sheet Stuffer – Ed Daniel
While Canaan took on the bulk of the scoring, Daniel did the dirty work for Murray State.

He recorded his fourth straight double-double, finishing with 20 points, 18 rebounds and five blocks. That included a double-double in the second half alone (11 points, 11 rebounds). Daniel joins James Singleton (2002) and Cuthbert Victor (2004) as the only Racers with a 20-15-5 game in the past 15 years.
Duo of the Night – Jerian Grant and Eric Atkins
Notre Dame had two players with double-digit points and assists in the Irish's 92-65 win against Chicago State.

Grant scored a career-high 22 points to go with 10 assists, and Atkins scored 13 points to go with a career-high 11 assists. In the last 15 years, only one other pair of teammates had points and assists double-doubles in the same game: Connecticut's Jerome Dyson and Kemba Walker in 2010 against Notre Dame.

Bench Star – Jaye Crockett
For the third straight game, Crockett came off the bench to lead Texas Tech in scoring. On Monday, he had 20 points and eight rebounds in just 23 minutes in a comeback win against Jackson State. Over the last three games, Crockett is averaging 19.7 points and 10.7 rebounds.
November, 21, 2012
11/21/12
1:05
PM ET
By
Jeremy Lundblad, ESPN Stats & Information
| ESPN.com
Player of the Night (non-Jack Taylor edition) – Jeff Withey
Withey became just the fourth player in Big 12 history with 25 points and seven blocks in a game, as Kansas topped St. Louis 73-59. It's been 10 years Colorado's David Harrison became the last Big 12 player to pull it off. In his case, it was a triple-double. Before Harrison, both Chris Mihm and Kelvin Cato posted at least 25 points and seven blocks.
Freshman of the Night – Kellen Dunham
Dunham scored 14 of his 17 points in the second half as Butler held off a late rally to upset UNC 82-71 in Maui. In the span of less than five minutes, he connected on four 3-pointers to keep the Tar Heels at arm's length. Dunham showed why his ESPN 100 recruiting profile called his shooting "akin to a master craftsman applying his trade."
Strange Stat Line of the Night – Brian Barbour
Columbia stunned Villanova 75-57, to give the Lions their first win over a Big East opponent in 27 years. It came courtesy of a bizarre game from leading senior Brian Barbour. He sunk all 12 of his free throws, but went just 1-for-12 from the field. That included missing all eight of his 3s. The last player with an even more striking disparity between free throws and field goals was Vermont's Tony Orciari in 2000. He went 0-for-10 from the field and 14-for-14 from the line in a game against Maine.
Stat Sheet Stuffer – Anthony Hickey
Hickey had something of a breakout game in LSU's 102-95 win over Northwestern State. The sophomore guard finished with 21 points, seven rebounds, six assists and five steals. He's the first SEC player to reach all of those numbers since Florida's Corey Brewer in 2006. The last LSU player with a 20-5-5-5 game was Torris Bright in 2000.
April, 3, 2012
4/03/12
1:32
AM ET
By
ESPN Stats & Info
| ESPN.com
Richard Mackson/US Presswire
Anthony Davis cuts down the nets after winning Most Outstanding Player and leading Kentucky to its eighth national championship with a game that no player has ever had in the NCAA Tournament.
The
Kentucky Wildcats
outscored the
Kansas Jayhawks
20-9 in transition, the sixth straight game Kentucky outscored its opponent in transition and the fifth time in six tournament games it scored 20 transition points.
The win gives the Wildcats their eighth national championship, second only to UCLA (11), and their 38th win of the season, the most ever in Men's Division I Basketball. (Memphis went 38-2 in 2008 but later had all its wins vacated).
No. 1 seeds improve to 7-2 against No. 2 seeds in the national title game since seeding began in 1979. Kentucky is the second top overall seed to win the title since the overall seeding began in 2004 (Florida – 2007).
Anthony Davis
finished with 6 points, 16 rebounds, 5 assists, 6 blocks, 3 steals. He's the first player in NCAA Tournament history to reach those marks in a single game.
He's the fourth freshman to be named Most Outstanding Player in the Men's Basketball Championship, and first since Carmelo Anthony in 2003.
He scored just 24 points in the Final Four, the fewest by the Most Outstanding Player since Patrick Ewing scored 18 en route to Georgetown's national title in 1984. Only three other players have scored fewer points in the Final Four and won the award.
Davis blocked six shots and altered two more -- both of them on attempts by
Jeff Withey
-- tying Joakim Noah in 2006 for the most blocks in a national championship game. He also set the freshman record for blocks in a season with 186.
He blocked or altered 18.2 percent of Kentucky's opponents' 2-point field goal attempts during the tournament, including 15.7 percent against Kansas on Monday. Davis finished tied for the second-most blocks (29) ever in a single tournament and altered an additional 28 shots.
The Wildcats blocked 11 shots as a team, the most ever in the national championship game. The previous record was 10 by 2011 UConn and 2006 Florida.
According to the Elias Sports Bureau, it was the third national title game featuring a rematch between coaches who had previously met in the national title game, and the first in 50 years. John Calipari is the first of the three coaches to lose the first matchup and win the rematch.
Kansas shot a season-worst 33.3 percent on 2-point field goals, including just 11-for-25 on dunks and layups (44 percent). The Jayhawks shot 36.4 percent inside the arc earlier this season against the Wildcats, their second-worst 2-point field goal percentage in a game this season.
Thomas Robinson
finished with 18 points and 17 rebounds, just the sixth player in the past 40 years -- and third from Kansas -- to put up a line like that in the title game. Nick Collison, Ed O'Bannon, Danny Manning, Akeem Olajuwon and Bill Walton are the others.
Withey had just 5 points, but added 7 rebounds and 4 blocks, passing Noah for the most blocks in a single NCAA Tournament (31).
Kansas lost in the national title game for the sixth time, tied with Duke for the most ever.
April, 1, 2012
4/01/12
6:53
PM ET
By
ESPN Stats & Info
| ESPN.com
For the first time, all three Final Four games will be regular-season rematches.
Kentucky beat Kansas
, 75-65, at Madison Square Garden back on Nov. 15.
Monday's national championship game will be the third meeting between the
Wildcats
and
Jayhawks
in the NCAA tournament. In 1999, Kentucky beat Kansas in the Round of 32, 92-88. Kansas won the other meeting in 2007, 88-76, also in the Round of 32.


Kentucky was the selection committee's top overall seed, marking only the third time since 2004 — when the committee began ranking the four No. 1 seeds — that the top overall seed reached the title game. In 2005, Illinois lost in the final and the 2007
Florida Gators
won the national championship.
Kansas head coach Bill Self won his first title four years ago, beating John Calipari's
Memphis Tigers
. According to the Elias Sports Bureau, this will be the first time in exactly 50 years (and third time overall) that the national title game will feature a rematch between coaches who have previously met in the national title game.
In 1962, Cincinnati's Ed Jucker beat Ohio State's Fred Taylor for the second straight season. In 1953, Indiana's Branch McCracken beat Phog Allen of Kansas -- just as he had done in 1940.
There will be two AP First-Team, All-Americans on the court Monday: Kentucky freshman
Anthony Davis
and Kansas junior
Thomas Robinson
. Since seeding began in 1979, this will be only the fourth national championship game with two First-Team All-Americans on the court, and the first time since 1999 (Duke's Elton Brand and Connecticut's Richard Hamilton).
Davis, the AP Player of the Year, has blocked 11 shots in Kentucky's last two games. This season he has 180 blocked shots, two shy of Hassan Whiteside's freshman single-season record set in 2009-10.
For the 2012 Men's Basketball Championship, Davis has blocked 18 shots in the paint and altered another 23.
Davis also is one of only three players, along with Joakim Noah (2006) and Kevin Love (2008), to score at least 75 points, grab 50 rebounds and block at least 20 shots in a single NCAA tournament (since blocked shots became an official stat in 1985-86).
In this tournament, however, Davis has been outdone by Kansas'
Jeff Withey
, who blocked a Final Four record seven shots against Ohio State. What's more, Withey kept each of his blocked shots in bounds, and has kept all but 15 of his 136 blocks this season in bounds
Withey has blocked 27 shots in the 2012 NCAA tournament, two shy of the single-tournament record set by Noah in 2006.
Finally, if the Wildcats beat the No. 2 seeded Jayhawks, they will be the fourth straight team to win the national title without having played a No. 1 seed. From 1979 to 2008, only six teams won it all without having to play a No. 1 seed along the way.
March, 28, 2012
3/28/12
11:08
PM ET
By
ESPN Stats & Info
| ESPN.com
Dilip Vishwanat/Getty ImagesKansas head coach Bill Self (second from left) will try to guide the Jayhawks to their second national championship in five seasons.
The
Kansas Jayhawks
will make their 14th Final Four appearance when they take on
Ohio State
on Saturday. It's the fifth-most appearances in NCAA tournament history.
Here are five things to watch for Kansas this weekend.
THE STAR
National player of the year candidate
Thomas Robinson
has been the steady hand guiding Kansas during the tournament.
He's averaging 15.8 points and 12.5 rebounds during the tournament, posting a double-double in three of the four games. For the season, his 26 double-doubles leads all Division I players.
Much of his offense has come in the painted area. Robinson leads players in the field with 47 field goal attempts in the paint, eight more than any other player.
THE SENIOR
Senior guard
Tyshawn Taylor's
2012 NCAA tournament get off to a slow start.
Taylor averaged just 8.7 points in Kansas' first three games, 8 points under his season average.
But the guard showed up big in the Jayhawks' Elite Eight
win
against
North Carolina
. He poured in a game-high 22 points, filling up the box score with six rebounds, five assists and five steals.
But Taylor did commit three turnovers, and has committed a total of 13 turnovers in the 2012 NCAA tournament, tied for the most in the field.
For Kansas to be successful Saturday, they'll need Taylor to be more efficient in the half court. Twelve of his 13 turnovers in the tournament have come in half-court situations.
THE STOPPER
Jeff Withey
has blocked 20 shots in four NCAA tournament games to lead all players. Ten came in Kansas'
3-point win
against
North Carolina State
in the Sweet 16.
Withey helps anchor a Kansas defense that has allowed just 24.5 points in the paint per game, tied with Louisville for tops among the Final Four teams.
BILL SELF
Self has not been afraid of changing things up these past few games, twice switching to a triangle-and-two hybrid zone defense to help win a tournament game.
In the third round against
Purdue
, Kansas went to its hybrid zone down eight points in the second half and
won by three
. In the Elite Eight, Kansas made the switch leading by five and won by 13.
Entering the NCAA tournament, the Jayhawks played zone 36 times this season; they've played zone 30 times in their last three games.
SECOND CHANCES
Kansas leads all tournament teams with 59 offensive rebounds and 61 second-chance points. The Jayhawks have scored 23 percent of their points on second chances during the tournament, the highest by any team that played two games, and up from 15 percent during the regular season.
Robinson leads the team with 15 offensive rebounds in the NCAA tournament, followed by
Kevin Young
(12).
March, 24, 2012
3/24/12
3:53
AM ET
By
Stats & Info Group
| ESPN.com
The
Kentucky Wildcats
and
Kansas Jayhawks
advanced to the Elite Eight, but both teams took very different paths to get there.
(1) Kentucky 102, (4) Indiana 90

Kentucky avenged one of its two losses with a fast-paced attack that the
Indiana Hoosiers
were unable to slow down.
In fact, Kentucky's 102 points are the most ever against Indiana in the Men's Basketball Championship.
Kentucky scored 24 points in transition and has now scored 20-plus transition points in each of its three Men's Basketball Championship games. Kentucky's 70 total transition points are the most of any team in the tournament.
Another factor in becoming the only tournament team this year to score 100 points was that Kentucky made 35 of 37 free throws.
That's the most makes for the Wildcats in a Men's Basketball Championship game. The 94.6 free throw percentage is the highest in tournament history of any team with at least 30 attempts.
Overall it's Kentucky's 12th 100-point game in the Men's Basketball Championship, giving the Wildcats sole possession of second place.
Kentucky advances to the Elite Eight for the third straight season and will face the
Baylor Bears
Sunday for a trip to the Final Four.
(2) Kansas 60, (11) NC State 57

Kansas advanced to the Elite Eight for the seventh time in the last 11 seasons, but had to fend off a late
North Carolina State Wolfpack
surge to get there.
What ultimately won the game for Kansas was its domination down low. The Jayhawks controlled the interior by taking 42 shots from inside the paint and outscoring the Wolfpack, 44-22.
Kansas' presence down low was also a major factor on the defensive side of the ball as
Jeff Withey
registered 10 blocked shots.
That's tied with former Jayhawk Cole Aldrich for second-most in Men's Basketball Championship history. Only Shaquille O'Neal (11) had more blocks than Withey and Aldrich in a single tournament game.
Also of note was
Thomas Robinson
who dropped an 18-point, 15-rebound performance. That gave Robinson 26 double-doubles, breaking Drew Gooden's single-season school record of 25, set in 2002.
Kansas now moves on to play the
North Carolina Tar Heels
for a chance at the Final Four.
March, 13, 2012
3/13/12
4:03
PM ET
Fab Melo
's absence from the Men's Basketball Championship will no doubt hurt Syracuse's chances to win its first title since 2003.
Statistically how will Syracuse be impacted by the loss of Melo?

He missed three games during the season, including the Orange's first loss of the season at Notre Dame. In those three games, Syracuse averaged 60.3 PPG (76.0 with him) and had a -11.0 rebound differential (-0.4 in the 29 games he played).
In the three games the 7-footer missed this season, Syracuse – understandably – saw a significant decline in specific areas of its offense. With Melo, the Orange averaged 35.4 points per game in the paint, but just 28.7 without him. Their second-chance PPG also dropped from 13.5 with Melo to 6.3 without.
Melo's 7.8 PPG ranked sixth on the team this season, but the void he'll leave on the defensive end might be where Syracuse sees the biggest impact.
In the three games Syracuse played without Melo, opponents averaged nearly 10 more points per 100 possessions, had a slightly higher field goal percentage and their offensive rebound percentage went from 39.1 to 42.2.
Melo's 2.93 blocks per game ranks fifth among players in this year's Men's Basketball Championship. Melo had 37.6 percent of Syracuse's blocked shots this season (88 of 234). With Melo out, Syracuse's leading shot blockers are
James Southerland
and
Baye Keita
, both of whom averaged 0.9 BPG.
(Syracuse is one of the nation's best teams at converting defense into offense. The Orange average 1.23 points for every forced turnover, which is the second highest rate among schools in the Big Six conferences.)
Syracuse's BPI this season was 89.7, but in the three games he missed, the Orange's BPI was 73.1. (That number was brought down significantly by the 11-point loss to Notre Dame.) If you believe that Syracuse without Melo is a 73.1 BPI team, then that would drop the Orange from second to 41st in the season-long rankings, just ahead of West Virginia.
February, 14, 2012
2/14/12
11:04
AM ET
By
Jeremy Lundblad, ESPN Stats & Info
| ESPN.com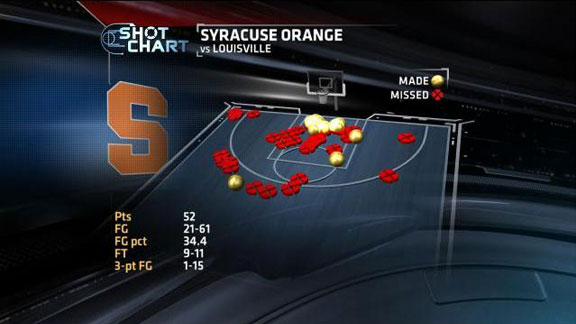 ESPN Stats & InformationSyracuse picked up a one-point victory against Louisville on Monday night despite making just two shots from outside the paint.

Player of the Night - Jeff Withey
Withey fell one block shy of a triple-double as
Kansas
topped
Kansas State
59-53 in Manhattan. He finished with 18 points, 11 rebounds and nine blocks, becoming just the fifth Big 12 player to reach all three of those totals in a game. Over the past three games, Withey has looked like one of the top players in the nation, averaging 20 points, 12 rebounds and six blocks.

Freshman of the Night - Quincy Miller
Averaging 6 points over the first three games of February, it looked like Miller had hit the freshman wall. But following up on a 20-point performance against
Missouri
, Miller had 16 points and matched a career-high six assists in
Baylor
's 79-64 win over
Iowa State
. At 12.4 points per game, he's the Big 12's second leading freshman scorer.

Bench Star - Cor-J Cox
Just 1-11 entering January, it was nearly impossible to envision
Mississippi Valley State
as a tournament team. Since then, the Delta Devils have gone 13-0 in the SWAC, including last night's 58-53 win at
Southern
. Cox was again a difference maker off the bench with 11 points and nine rebounds. Among those with one start or fewer, Cox ranks second in the nation in rebounding and tied for fifth in scoring.

Ugly Stat Line of the Night (Player) - Angel Rodriguez
Rodriquez went 0-for-8 from the field with seven turnovers in Kansas State's loss. That's tied for the third most turnovers without a point by a Division I player this season.

Ugly Stat Line of the Night (Team) - Syracuse Orange
Syracuse beat
Louisville
52-51, but the Orange did it without any semblance of outside shooting. Just 1-for-15 from beyond the arc, it was the second worst 3-point shooting game by Syracuse over the past 15 seasons. Including that 3-pointer, Syracuse made two shots from outside the paint all night. In fact, 18 of the Orange's 21 field goals were either layups or dunks.
February, 14, 2012
2/14/12
4:27
AM ET
By
ESPN Stats & Info
| ESPN.com
A scan of the college basketball box scores each night guarantees all kinds of statistical oddities and standout performances. Here are some we found from Monday:
Kansas 59, Kansas State 53
Kansas'
Jeff Withey
had nine blocks and Kansas State's
Jordan Henriquez
had six blocks Monday night. They are the second pair of opposing players each with at least six blocks in the same game this season. On Dec. 31, Louisville's
Gorgui Dieng
and Kentucky's
Anthony Davis
each had six blocks.

Belmont 106, Stetson 93
Belmont shot 12-for-20 (60 percent) on 3-pointers and 20-for-21 on free throws (95.2 percent) en route to scoring 106 points in Monday's win. The Bruins are the first team this season to shoot at least 60 percent from three and 90 percent from the foul line, taking at least 20 attempts from each. The last team to accomplish that against a Division I opponent was Arizona on Feb. 12, 2009, against USC.
Utah Valley 70, Montana Tech 60
Utah Valley committed just five fouls in the win, matching the fewest number of fouls committed by a team this season. Boston College (Dec. 11) and Portland State (Dec. 3) are the others.
February, 12, 2012
2/12/12
5:47
AM ET
A scan of the college basketball box scores each night guarantees all kinds of statistical oddities and standout performances. Here are some we found from Saturday.
Indiana State 78, Southern Illinois 68
Indiana State made all 12 of its 3-point attempts Saturday, the most 3-pointers without a miss in a single game in NCAA history. The previous record for most threes without a miss was nine, done by Minnesota against Penn State on Jan. 11, 2009.
Lipscomb 99, Stetson 91 (OT)
Lipscomb scored 25 points in the extra session, one shy of the NCAA Division I record for points in an overtime period. The record of 26 was done by Vermont on Jan. 24, 1998, against Hartford.

Duke 73, Maryland 55
Duke's
Miles Plumlee
had 22 rebounds in 28 minutes off the bench, the most rebounds by a bench player since Sean May had 24 against Duke on March 6, 2005 (May did not start that game because it was North Carolina's Senior Day). Plumlee is the first player this season with at least 20 rebounds in fewer than 30 minutes of playing time.
Michigan State 58, Ohio State 48
Ohio State's
Jared Sullinger
had 17 points, 16 rebounds and 10 turnovers in the Buckeyes' loss Saturday. It's the first "triple-double" using points, rebounds and turnovers in Division I this season. Jerrell Williams of La Salle had the last one on Jan. 19, 2011, against Duquesne.
Kansas 81, Oklahoma State 66
The Jayhawks'
Jeff Withey
had 18 points, 20 rebounds and seven blocks in the win. He's the first player to reach all three of those levels in the same game since VCU's Larry Sanders put up the exact same line on March 9, 2009, in the CAA championship game against George Mason.

Texas 75, Kansas State 64
Texas attempted 48 free throws to Kansas State's 12. That free-throw differential of 36 is the largest in a game involving a Big 6 team this season and the third-largest overall. Texas' 48 free-throw attempts are the second most by a Big 6 team on the season (Washington attempted 59 on Jan. 10 against Seattle).
Texas Tech 65, Oklahoma 47
Oklahoma scored just six points in the paint, the fewest points in the paint in a game by a Big 6 team this season.
St. Bonaventure 69, Duquesne 48
Florida Atlantic 86, North Texas 81 (2OT)
St. Bonaventure's
Andrew Nicholson
scored 21 points and grabbed 23 rebounds in the Bonnies' win, and North Texas'
Tony Mitchell
scored 22 points and grabbed 20 rebounds in the Mean Green's double-overtime loss. They became just the sixth and seventh players this season to record a 20-20 game. Nicholson's 23 rebounds are the second most in a game this season, trailing only
Cameron Moore
of UAB who had 24 on Dec. 28.
Seattle 100, Longwood 99 (OT)
Seattle's
Chad Rasmussen
was 6-for-17 from the field in the Redhawks' win, with all of his attempts coming from 3-point range. That is the most 3-pointers attempted in a game without attempting a 2-point field goal.
Arkansas-Pine Bluff 64, Southern 58
Trillion of the Night:
Jamar Harris
of Arkansas-Pine Bluff played 12 minutes without accumulating a single stat in his team's 64-58 win over Southern.
December, 9, 2011
12/09/11
2:50
PM ET
By
Evan Kaplan & Katie Sharp
| ESPN.com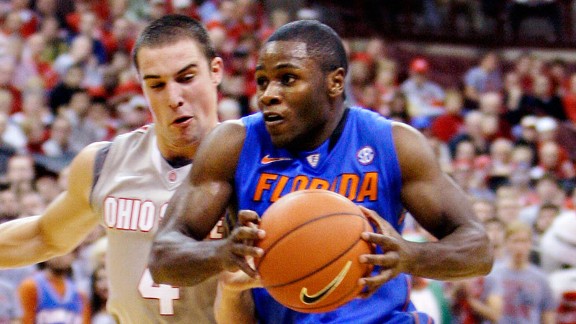 AP Photo/Jay LaPreteAaron Craft could cause issues for Kansas with his defense on Saturday.
Saturday's clash between the
Ohio State Buckeyes
and
Kansas Jayhawks
features a pair of notable matchups to watch-- a highly publicized one in the frontcourt, and an intriguing one in the backcourt.
Let's take a closer look with help from our Synergy Sports video review tool:
Jared Sullinger (Ohio State) vs Jeff Withey & Thomas Robinson (Kansas)
Sullinger has had significant success with post-up moves in the Buckeyes offense this season.
Video review shows that he is getting to the foul line nearly 40 percent of the time on post-up plays, going 26-for-28 when he gets there. When he gets his shot off, he's making it better than half of the time.
Kansas head coach Bill Self has to decide which of his two big men he'll put on Sullinger. Chances are that both will be put to use.
Withey could have a tough time because, statistically speaking, he doesn't defend post-ups well. Withey has yielded 0.81 points-per-post-up play, a rate that ranks 11th out of the 14 players in the Big 12 that have defended at least 10 such plays.
Withey and Robinson are both shot blockers. Withey is blocking two-point shots at a rate of about one for every seven taken against him, which ranks third in the Big 12. Robinson is averaging 1.5 blocks per game, which is more than double his average from last season and third-best in the Big 12 (one spot behind Withey's 2.9).
Because of Robinson's shot-blocking prowess, opposing players are taking more outside jumpers when guarded by him, but with little success.
Opponents are 3-for-24 on jump shots while defended by Robinson. He is allowing 0.43 points per play when in these situations, ranking first in the Big 12 (minimum 20 plays defended).
He'll have done his job if he can force Sullinger into taking shots away from the hoop. Sullinger is 5-for-15 on jumpers in seven games this season.
Robinson's strength is that he can limit Sullinger's putbacks (which have accounted for 18 of his points in the seven games tracked).
Robinson has dominated the opponents' glass grabbing 32 percent of available defensive rebounds while on the floor, the second-best mark in Division I.
Tyshawn Taylor (Kansas) vs Aaron Craft (Ohio State)
Taylor will face a great challenge in going up against Craft, who rates very well in two defensive areas important to the matchup.
Taylor is scoring at a good rate this season (16.8 points per game), but has significant ballhandling issues.
Among the 80 players in the "Power 6" Conferences with at least 25 assists, Taylor is just one of four that has more turnovers (32) than assists (29).
He has turned the ball over on at least 28 percent of his personal possessions in each of the last five games and was at his worst in the Jayhawks' loss to Duke. In that game he set a school record with 11 turnovers, coughing the ball up nearly 50 percent of the time.
Taylor has really struggled to hold onto the ball on pick-and-roll plays. He has turned it over on eight of his 32 possessions as the pick-and-roll ball handler, a 25-percent turnover rate that ranked eighth-worst in Division I and worst in the Big 12 (for players with a minimum of 30 plays tracked on video review).
Four of those eight turnovers came in the Duke game, including three on high pick-and-roll plays (those taking place beyond the foul line).
Craft is tied for the Big Ten lead with 23 steals and is forcing turnovers at a high rate-- 28 percent of the time as an on-ball defender.
He has been most effective in creating miscues when defending the pick-and-roll ball handler –- the same thing that is Taylor's Achilles heel.
Craft is forcing a turnover on 39 percent of those plays, which is tops in the Big Ten and sixth-best in the nation (minimum 15 plays reviewed).
Craft is also a whiz at preventing his opponent from scoring on catch-and-shoot plays.
The chart on the right notes the effectiveness of both players in those situations. Taylor will be challenged to match his prior performance in this matchup.
Mark Simon and Paul Carr also contributed to this post