Stats & Info:

Jesus Montero
January, 13, 2012
1/13/12
9:29
PM ET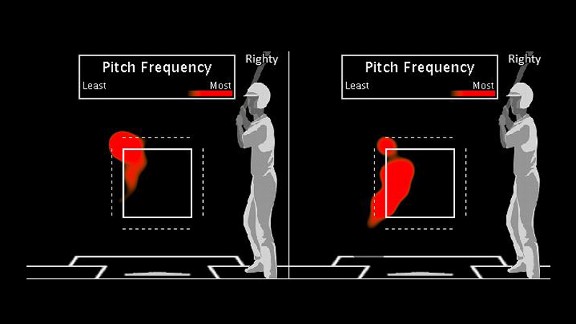 Left: Most frequent locations for Michael Pineda's fastball strikeouts (52)
Right: Most frequent location for Pineda's slider strikeouts (47)
Click here to create your own Pineda heat maps
It was a surprisingly busy late Friday night in the majors, with the
New York Yankees
and
Seattle Mariners
swinging a major swap of highly regarded prospects. The Yankees added on to that by signing a notable free-agent starting pitcher.
Let's take a closer look at these moves.
What the Yankees Got: Michael Pineda
In obtaining right-hander Michael Pineda, the Yankees got a pitcher who looked very promising early in the season, then statistically faded at the end of 2011.
Pineda was 8-6 with a 3.03 ERA prior to the All-Star break, 1-4 with a 5.12 ERA after the All-Star break. The primary culprit was his home run rate, which went from one allowed every 11.3 innings to one every 7.3 innings afterwards.
Pineda was also considerably better in Safeco Field, a pitcher-friendly park. He was 5-4 with a 2.92 ERA and .182 opponents' batting average there last season, 4-6 with a 4.40 ERA and .234 opponents' batting average on the road.
Pineda's fastball averaged nearly 95 mph, tied for the fifth-fastest average velocity among starting pitchers in the majors. Hitters missed on 20 percent of their swings against that pitch, also the fifth-best among starters.
That helped Pineda hold right-handed hitters to a .184 batting average, the best of any pitcher who faced at least 200 right-handers last season.
Pineda made nine starts against the AL East last season and he got hit pretty hard, posting a 4.73 ERA and allowing eight home runs in 53 1/3 innings.
What the Yankees Got: Hiroki Kuroda
Kuroda finished ninth in the National League last season with a 3.07 ERA, but was second in the league with 16 losses. That was partly due to making 13 starts in which the Dodgers scored two runs or fewer.
The Yankees' offense figures to provide more support. The Yankees were second in the majors last season with 867 runs scored.
One of Kuroda's trademarks is pinpoint control. Over the last three seasons, he's walked an average of 2.1 hitters per nine innings, tied for the 10th-best rate in the majors in that span.
Kuroda relied on getting batters to swing at his pitches out of the strike zone in order to get outs. Hitters chased 31 percent of pitches thrown out of the zone, which ranked seventh among 81 qualifying NL starters, and he retired 71 percent of the batters that swung at a pitch out of the strike zone, the eighth-best rate in that group.
Kuroda allowed 24 home runs last season, the most he's allowed in any season. He now moves home ballparks from Dodger Stadium, which was 6 percent harder for a hitter to homer in than the average ballpark over the last three seasons, to Yankee Stadium, the second-most friendly home run park in the majors since 2009 (31 percent more homer-friendly than average).
What the Mariners Got: Jesus Montero
The Mariners get one of the most highly regarded young prospects in baseball.
They were a team in great need of power. The Mariners ranked last in the majors in batting average (.233), slugging percentage (.348), OPS (.640) and runs scored (556), and were sixth-worst in home runs (109).
The 2011 Mariners had the lowest batting average in the majors in the DH era (since 1973) in a non-strike season, breaking the mark set by the 1976 Angels (.235).
Montero has significant power potential (.590 slugging percentage, four home runs in 69 plate appearances in 2011) but the right-hander will find it difficult to replicate that power in his new home park, Safeco Field.
According to the ballpark factors referenced earlier, over the last three seasons (2009-11), it was 25 percent
harder
for a right-handed batter to homer at Safeco than at the average ballpark (park factor of 75, ranked 13th in AL).
At Yankee Stadium, it was 17 percent easier for a right-handed batter to homer (park factor of 117, ranked 4th in AL).
Montero showed plenty of power to the opposite field last season, hitting three of his four home runs to right field after his recall But it's worth noting that of the 49 home runs hit to right field at Safeco in 2011, only three were hit by right-handed batters.
April, 27, 2010
4/27/10
2:25
PM ET
By
Kevin Goldstein, Baseball Prospectus
| ESPN.com
In his column today,
Doug Glanville takes a look at Mark Teixeira
, a player who didn't find a position until he got to the majors. Not finding a true defensive home until reaching the majors is nothing new. When it comes to signing amateur players, tools and athleticism rule the day, and the difficulty of each position needs to be accounted for. The best athlete on a high school team plays shortstop, but once you drop that player into professional baseball, he might only be a first baseman. With that in mind, here are five big-name prospects who will likely end up at a different position than the one they are playing in the minors.
Dustin Ackley, 2B, Mariners:
The second overall pick in the 2009 draft might just be the most interesting defensive case in the minors. He was primarily a first baseman during his college career at North Carolina, but that was because he was recovering from Tommy John surgery and couldn't throw. He's a plus-plus runner with up-the-middle athleticism, and while most teams thought center field was his most logical landing spot, the Mariners initial play is second base, a position at which he has no experience. Though he's been struggling with his bat at Double-A this year (he's hitting .153), scouts say he looks surprisingly comfortable with the glove.
Pedro Alvarez, 3B, Pirates:
Like Ackley, Alvarez is also a second overall pick (2008) with questions about his ultimate defensive home. Nobody has questions about his bat, but at 6-foot-3, 225 pounds (and probably more than his listed weight), his range at the hot corner is a bit limited, although his hands and arm are solid. The Pirates kept him out of winter ball in the offseason so he could focus solely on conditioning, but they're likely just holding off the inevitable move to first base. Expect a Jim Thome-like transition where at least the first few big league years are spent at third.
Jesus Montero, C, Yankees:
Montero is one of the best hitters in the minors, period. But if the 20-year-old can't stick at catcher, it's difficult to figure out where his future lies for the Yankees other than as a massive trade chip. First base is Montero's only other option, and Teixeira is signed through 2016. To his credit, Montero wants to be a catcher, and he's putting the time in to improve, but the 6-foot-4, 225-pounder is slow behind the plate, and he's thrown out just one out of 14 attempted base stealers this year at Triple-A Scranton. Few believe he can stick at catcher, but many think he could help in the big leagues at DH this year. However, Montero currently has a .715 OPS, so it's not as if he is banging down the major league door.
Miguel Sano, SS, Twins:
Sano was the biggest prize in last year's International market, and the Twins surprised many by giving him a $3.15 million signing bonus. He's listed as a shortstop, but one will notice that few players signed at 16 years old are ever listed as anything but shortstops or outfielders. At 6-foot-3 and 200 pounds, Sano has almost already grown out of shortstop, and could make his debut later this year at third base, with some thinking that right field could be his final destination. He is yet to play a professional game, so this will play itself out over the next few years.
Josh Vitters, 3B, Cubs:
The third overall pick in 2007, Vitters is in some ways a younger version of Alvarez. Scouts are mixed on his defense. Some see a solid-but-unspectacular defender at third base that projects as an acceptable big leaguer, while others think he's destined for a move to first base or the outfield. From years of experience covering prospects I've learned that if there are even whispers of a defensive move for a prospect, they tend to happen, as the bar at the big league level is higher than we often realize. Therefore, don't expect Vitters (or Alvarez for that matter) to stick at third.
Kevin Goldstein is an author of Baseball Prospectus.