Stats & Info:

Jhonny Peralta
November, 24, 2013
11/24/13
4:28
PM ET
St. Louis Cardinals
have agreed to a four-year, $52 million contract with free agent shortstop
Jhonny Peralta
.
Peralta is coming off one of the best seasons of his career, though it was one abbreviated for a suspension for violing the major-league drug policy.
The Cardinals felt that he provided significant value to their quest to get back to the World Series in 2014.
Unusually large deal for the Cardinals
The Cardinals do not have a history of plucking free agents from other teams at a hefty price.
Peralta's deal will be the largest the Cardinals have ever given to a free agent from another team in terms of total value (remember that
Matt Holliday
was already a Cardinals player when they signed him to a seven-year, $120 million deal).
The last time the Cardinals gave a contract of four years or longer to a player from another team was when they signed closer
Jason Isringhausen
away from the
Oakland Athletics
in the 2001-2002 offseason.
They haven't plucked away a hitter from another team with a deal of that length since signing
Ron Gant
from the Reds to a five-year deal in the 1995-1996 offseason.
If you're looking for a reason why the Cardinals made such a move, the chart on the right illustrates their desire for an offensive-minded shortstop.
Peralta hit .303 with 11 homers last season. The Cardinals have only had two players, whose primary position was shortstop, hit at least .300 with double figures in home runs— William Bones Ely in 1894 and Edgar Renteria in 2002 and 2003.
Peralta also shores up a Cardinals weakness from last season. They hit .238 with a .672 OPS against left-handed pitching, both of which ranked in the bottom five in the majors in 2013.
Peralta hit .352 with a .964 OPS against lefties last season. That was only the second time in his career that he hit better than .275 against left-handed pitching.
The move gives the team some stability. The Cardinals have used six different opening day shortstops the last six years. That's more than they used in their previous 26 seasons combined. The Cardinals and the Twins are the only two teams to use a different opening day shortstop each of the last six years. From 1982 to 2007, the Cardinals used only five different opening day shortstops, tied with the Orioles for the fewest of any team.
Line-drive success
Different statistical sources have differing numbers for performance on line drives (due to differing definitions). But they are in agreement that Peralta performed well above his norms when hitting one.
Peralta got hits on 90 percent of his line drives in 2013, the highest success rate in the majors (an average player gets hits on about 70 percent of his line drives).
Peralta's success wasn't necessarily due to hitting line drives harder. One thing shown in the chart on the right is that Peralta actually hit line drives classified as "hard-hit" (by video review) less often than he had in the previous three seasons.
In this case, less turned out to be worth more for him.
Lee Singer also contributed research to this post
The
July, 17, 2013
7/17/13
12:57
AM ET
By
ESPN Stats & Information
| ESPN.com
Robert Deutsch/USA Today SportsIn Mariano Rivera's final All-Star Game, pitching ruled the day.
Pitching, pitching and more pitching was the dominant statistical storyline in the 2013 MLB All-Star Game.
This year's contest was, like last year's, a shutout, marking the first time in All-Star Game history that consecutive games were shutouts.
The three runs scored were the fewest combined by the two teams in an All-Star Game since 1990, when the AL won 2-0. The teams combined to hit .197 with the NL managing only three hits, tied for the second-fewest in an All-Star Game.
With the win, the AL will hold home-field advantage in this year's World Series.
Let's run through some of the highlights.
Mariano Rivera the MVP
Mariano Rivera won MVP honors, which wasn't so much for this game (in which he pitched a scoreless eighth inning), but was more of a lifetime achievement award to commemorate his great career.
Rivera pitched nine innings in his All-Star career and allowed one unearned run. The only pitcher to pitch more All-Star innings without allowing an earned run was Mel Harder, who pitched for the
Cleveland Indians
in the 1930s and 1940s.
Rivera got a "hold" in this game and not a save. His four All-Star Game saves are the most all-time.
Rivera is the first pitcher who was primarily used by his major league team as a relief pitcher to earn All-Star Game MVP honors. He's the second to pitch in relief in the game and earn MVP, joining Jon Matlack, a starter on the 1975
New York Mets
who shared MVP honors in that year's All-Star Game.
Rivera is the first pitcher to win All-Star Game MVP since
Pedro Martinez
in 1999 and the second Yankees player to win it, joining Derek Jeter in 2000.
Elias notes that he'll join
Cal Ripken
Jr. as the only players to win All-Star Game MVP in their final seasons.
The young guys were very impressive
NL starter
Matt Harvey
, the first New York Mets pitcher to start the All-Star Game since Dwight Gooden in 1988, looked sharp after letting the first two hitters reach base. He was the first Mets pitcher to throw two scoreless innings in an All-Star Game since Gooden in 1984.
Harvey continued a run of dominance by Mets pitchers making their All-Star debuts. The 11 pitchers have combined for 12 2/3 scoreless innings, with 20 strikeouts.
White Sox pitcher
Chris Sale
earned the win. He was the first AL pitcher to throw two perfect innings in an All-Star Game since
Roger Clemens
in 2001. He's the first White Sox pitcher to win an All-Star Game since
Mark Buehrle
in 2005.
Miami Marlins
pitcher
Jose Fernandez
struck out a pair of hitters in the sixth inning to become the third pitcher age 20 or younger with multiple strikeouts in an All-Star Game, joining Gooden (1984) and Hall of Famer Bob Feller.
The combined line for those three -- five innings pitched, one hit allowed, seven strikeouts. The trio has 93 career starts between them.
Teamwork
The AL benefited from a couple of nifty examples of teamwork en route to the win.
Jhonny Peralta
,
Prince Fielder
and
Miguel Cabrera
each had at least one hit in the game. It's the first time that the
Detroit Tigers
have had three different players get a hit in an All-Star Game.
On the pitching side,
Toronto Blue Jays
relievers
Brett Cecil
and
Steve Delabar
combined for the last two outs of the seventh inning by striking out left-handed hitting
Domonic Brown
and right-handed hitting
Buster Posey
.
Cecil has held lefties to a .154 on-base percentage this season, the lowest for anyone in the majors this season.
Delabar has struck out 150 batters in 108 innings over the last two seasons. His rate of 12.5 strikeouts per 9 innings is eighth-best in the majors in that span.
Did You Know?
The NL finished with only four baserunners, the fewest in a game for either team since 1995 and the fewest for the NL in an All-Star Game since 1968.
The AL grounded into an All-Star Game-record four double plays.
Joe Nathan
recorded the save. The only other Rangers pitcher to record a save in an All-Star Game was John Wetteland in 1999. You might remember Wetteland as the pitcher who preceded Rivera as Yankees closer.
June, 21, 2013
6/21/13
1:55
AM ET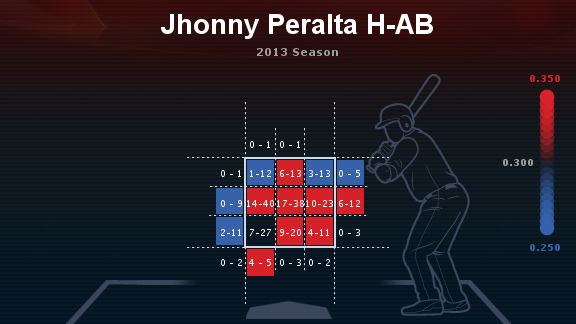 Jhonny Peralta has done a lot of damage within the strike zone this season.
Jhonny Peralta's amazing season continued on Thursday night with a walk-off home run against Red Sox closer
Andrew Bailey
.
Miguel Cabrera
has been consistently great, but it's his left-side infield mate who has joined him in the offensive barrage.
What has been the key to Peralta's success?
Punishing Mistakes
Peralta's home run came on a hanging slider. Our video-review data marked that as Peralta's 19th hit this season against a breaking pitch located in the strike zone.
He
totaled
18 such hits last season.
That's been a theme for Peralta all season. He's hitting .398 against fastballs thrown over the plate, 130 points higher than what he hit against them last season.
Power vs Right-Handers
Peralta has re-found his power stroke against right-handed pitching. He had seven homers in 377 at-bats against righties last season, but now already has six in 2013.
Everything falling right
Peralta makes for an interesting statistical study in that he's missed on his swings more often than last season, but is hitting 90 points higher than he did in 2012.
Our data on hard-hit balls shows a near-match in the frequency of those in 2013 as compared to 2012.
But things have broken right for Peralta, particularly when it comes to hitting line drives. We've noted that in the chart on the right.
Did You Know?
Peralta has a walk-off home run with his team trailing in each of the last two seasons.
The only other player to have multiple walk-off homers with his team trailing since the start of last season is
Freddie Freeman
of the
Atlanta Braves
, who had such a homer against the
New York Mets
earlier this week.
October, 13, 2012
10/13/12
2:19
PM ET
By
ESPN Stats & Info
| ESPN.com
Anthony Gruppuso/US PresswireOnly one American League pitcher had a better called strikeout percentage than Doug Fister.
The New York Yankees host the Detroit Tigers in Game 1 of the ALCS, which can be heard Saturday starting at 7 p.m. ET on ESPN Radio.
The Yankees and Tigers will meet in the postseason for the third time, and second time in as many years. However, this is the first time they will meet in the ALCS.
New York's ace delivered the Yankees to the ALCS on Friday, and now they will turn to an old stand-by in the series opener on Saturday.
Forty-year-old
Andy Pettitte
will make his 44th career postseason start, and Game 1 will be his 15th in the League Championship Series. With the Yankees, Pettitte is 7-2 with a 3.63 ERA in 12 LCS starts.


If Pettitte earns one more win in the LCS, he will tie Dave Stewart (8-0) for the most wins in LCS history.
Two Tigers have had Pettitte's number in the past, and we're not talking about
Miguel Cabrera
or
Prince Fielder
. Including the postseason,
Delmon Young
is 13-for-24 (.542 BA) against Pettitte, the highest batting average among players who have faced him at least 20 times.
Jhonny Peralta
is 7-for-18 (.389 BA) against Pettitte, with six extra-base hits, including three home runs.
As for Cabrera, he's a lifetime .383 hitter at New Yankee Stadium, with seven home runs in 56 plate appearances.
Opposing Pettitte will be
Doug Fister
. His called strike percentage during the regular season was 37.7 percent, the sixth-best among starting pitchers. In the second half of the season, Fister had an American League-best 39 called strikeouts. Overall, 61 of his 137 strikeouts were called (44.5 percent), the second-highest percentage among American League starters (see chart).
With Fister's ability to get called third strikes, will that impact whether
Alex Rodriguez
is in the starting lineup? He is 1-for-9 against Fister with three strikeouts, including an 0-for-4 in last season's ALDS. What's more, Rodriguez led the Yankees with 37 called strikeouts during the regular season.
October, 12, 2011
10/12/11
12:02
AM ET


The
Detroit Tigers
won for the seventh time in their last nine postseason home games to cut their ALCS deficit against the
Texas Rangers
to two games to one.
The Tigers tied a team single-game postseason record with three home runs. They hadn't hit that many home runs in a postseason game since Game 5 of the 1984 World Series.
Victor Martinez
(fourth career postseason homer),
Jhonny Peralta
(third career LCS home run) and
Miguel Cabrera
(sixth career postseason home run) all found the seats for the home team.
The Tigers have won eight of their last nine Game 3s, and are 5-0 all-time in Game 3 of the ALCS. They went on to win two of the previous four series, but they lost both series when they won Game 3 after losing the first two games of the series.
Colby Lewis
entered the game with a 4-0 record in five postseason starts and hadn't allowed more than two runs in a game. The Tigers handed Lewis his first postseason loss, as he allowed a postseason career high in runs (4) and hits (8).
Austin Jackson
entered the game with three hits in 25 postseason at-bats. He went 3-for-5, matching the most by a Tigers centerfielder in a postseason game. The others were Hall of Famer Sam Crawford (twice), Doc Cramer (twice) and
Curtis Granderson
.
Yorvit Torrealba
had just three at-bats in the Rangers first six postseason games, but replaced
Mike Napoli
behind the plate Tuesday. He became the first catcher to get three hits without recording an out in a postseason game since
A.J. Pierzynski
in 2005.
Doug Fister
went 7⅓ innings to pick up his second win of the postseason. That's an average day at the park for Fister. According to the Elias Sports Bureau, he pitched at least seven innings and allowed two-or-fewer runs in seven of the 10 starts he made for the Tigers during the regular season after making his debut with the team on August 3rd.
The Tigers still have a tough road to climb. Only 13 of 71 teams that lost the first two games in a best-of-seven series have come back to win the series.
July, 1, 2011
7/01/11
8:00
AM ET
Curtis Granderson is well on his way to a career high in home runs this season. And, according to ESPN's Home Run Tracker, Granderson also hit the highest round-tripper in the month of June.

Moreland
No Doubter: Longest true distance (Mitch Moreland, Texas Rangers)
Moreland's June 20 blast off the Astros'
Mark Melancon
traveled 472 feet. That matched the distance of last month's winner,
Mark Trumbo
. Among players with at least 10 home runs hit this season, Moreland is second in average distance per HR (422.3 feet).
Wall-Scraper: Shortest true distance (Adam Lind, Toronto Blue Jays)
On June 16, Lind's HR off
Kevin Gregg
went 333 feet. Believe it or not, this is not even Lind's shortest home run of the season. On May 1, Lind hit one that went 330 feet off
Ivan Nova
.
Moonshot: Highest apex (Curtis Granderson, New York Yankees)
On June 9, Granderson took
Josh Beckett
deep at Yankee Stadium. The first-inning shot traveled just 364 feet, but was hit 147 feet in the air. It took 6.35 seconds to leave the yard, and rode an 8 mph gust of wind out of the park.
Line Drive: Lowest apex (Carlos Peguero, Seattle Mariners)
Like Yogi Berra once said, "this is like deja vu all over again." Peguero's June 25 line drive off
Chris Volstad
went 344 feet, 1 foot shorter than his award-winning shot in May off
Scott Baker
. June's award-winner registered an apex of 39 feet, and left the ballpark in 2.96 seconds.

Morse
Fast-Ball: HR with fastest speed off bat: (Michael Morse, Washington Nationals)
On June 5, Morse took
Joe Paterson
very deep at Chase Field -- a true distance of 454 feet that registered 117 mph off the bat. All of Morse's home runs this season have measured in the triple digits for speed off the bat, averaging 106.78 mph.
Mother Nature: HR impacted greatest by climate (Brent Lillibridge, Chicago White Sox)
His June 1 HR off
Tim Wakefield
was aided by a 22 mph wind gust, carrying the ball an extra 55 feet. Without that gust, Lillibridge's home run -- which registered a speed off the bat of just 91.7 MPH (which was the third slowest this season) -- would have been a lazy fly ball, traveling 315 feet.
Player Power Surge: Greatest Combined Distance (Carlos Pena)
Pena totaled 4,054 feet of home runs in June, besting
Prince Fielder
by 27 feet and
Paul Konerko
by 85 feet. All three players tallied 10 home runs, but Pena managed to hit 6 of his 10 over 409 feet.

Matusz
Server: Pitcher Who Allowed Most total HR distance (Brian Matusz)
Matusz had a rough June, allowing 3,589 feet of total home run distance. The main culprit for Matusz? Interleague play. Of the nine home runs he allowed last month, seven came against National League opponents.
Launching Pad: Stadium that totaled the greatest HR distance (Oriole Park at Camden Yards)
Someone ordered the fireworks early in Baltimore, as Oriole Park at Camden Yards allowed 47 home runs for a total distance of 18,826 feet. No other stadium in baseball came close to topping that total in June.
August, 17, 2010
8/17/10
2:55
PM ET
By
Stats & Information
| ESPN.com
FROM THE ELIAS SPORTS BUREAU:
The
Boston Red Sox
's
Dustin Pedroia
, who turns 27 Tuesday, is expected to be activated from the disabled list and play for the first time since June 25. On that date, Boston was three games back of the Yankees and tied with the Rays for the wild-card lead. Since then, Boston is 23-21 while Tampa Bay has the best record in baseball at 29-16. The Sox were averaging 5.5 runs per game before Pedroia was injured. Without him in the lineup, they have been averaging 4.5 runs.
Today's Trivia:
In a matchup of the National League Wild-Card leaders, the
Philadelphia Phillies
host the
San Francisco Giants
in a three-game series. The Phillies are one of the seven teams that have never been the NL Wild Card representative. Can you name the other six?
TUESDAY'S KEY MATCHUPS:
•
Tigers at Yankees:
Only one batter has struck out more against
Justin Verlander
than the Yankees' Nick Swisher - who has whiffed 14 times. The only player to fan more against Verlander is teammate
Jhonny Peralta
, who has 20 strikeouts.
•
Giants at Phillies:
Raul Ibanez
knows how to end a hit streak in style, or lack thereof. Since the last game of his 18-game hit streak, Ibanez is 0-18 with four strikeouts. And it's not likely to get better tonight against
Barry Zito
. Ibanez has an OPS of .486 against Zito in 47 at-bats. That's Ibanez's worst against any pitcher he's faced at least 40 times.
•
Angels at Red Sox, White Sox at Twins:
Good luck to the right-handed batters in the Angels and Twins lineups. The American League's two toughest pitchers against right-handed hitters – Boston's
Clay Buchholz
and Chicago's
John Danks
-- toe the rubber. Buchholz is allowing a .523 OPS to righties and Danks is close behind with a .529.
•
Rangers at Rays:
Since throwing a no-hitter on July 26, the Rays
Matt Garza
is winless in three starts (0-2, 3.05 ERA).
•
Blue Jays at Athletics:
Toronto's
Brandon Morrow
makes his first start since coming within one out of a no-hitter on Saturday against the Rays. As for the A's, they have been no-hit through at least six innings in each of their last two games.
MORE FROM THE ELIAS SPORTS BUREAU:
•
Ichiro Suzuki
has hits against 629 different major league pitchers, but the one he enjoys seeing most is
Kevin Millwood
, who is scheduled to start for Baltimore on Tuesday. Ichiro has 30 hits off Millwood, the most against any pitcher he's faced. The only active player who Millwood has surrendered more hits to than Suzuki is
Vladimir Guerrero
(33).
• Arizona's
Daniel Hudson
(starting Tuesday against the Reds) will try to win his fourth straight start since joining the Diamondbacks. With a victory, Hudson would join Philadelphia's
Roy Halladay
as the only pitchers this season to get a victory in each of their first four starts with a new team.
• The Mets'
Johan Santana
brings a 16⅓-inning scoreless streak to the mound tonight against the Astros. Santana has won each of his last two starts, going at least seven innings in each game without allowing a run. No Mets pitcher has ever had three consecutive starts like that. Santana has made seven starts this season with no runs allowed in seven innings or more, tying Halladay for the league lead. The last Mets pitcher with more scoreless starts of seven or more innings in one season was Dwight Gooden, who had 11 in 1985.
• With a win tonight at Tampa Bay, the Rangers'
Tommy Hunter
will join
Ubaldo Jimenez
and
Phil Hughes
as the third pitcher this season to win 10 of his first 11 decisions.
Trivia Answer:
The six teams other than the Phillies that have never been the NL Wild Card representative are: Braves, Reds, Padres, Diamondbacks, Nationals and Pirates.
June, 22, 2010
6/22/10
1:40
PM ET
By
Jeremy Lundblad, ESPN Stats & Info
| ESPN.com
Quick Hits
:
Jamie Moyer
gets the start against the Indians on Tuesday with history looming. The southpaw has allowed 504 home runs in his career, one shy of Robin Roberts' record. Using Baseball-Reference.com's Home Run Log, let's take a look at the 504 that got away:
The player that has faced Moyer the most times without a home run happens to be a likely future Hall of Famer. Roberto Alomar was homerless in 49 plate appearances.
Moyer has 478 career at-bats without hitting a home run himself. Only three active players have a longer career drought: Reggie Willits (863 PA), Ryan Dempster (548), and Ben Sheets (496).
Moyer has allowed 87 home runs in the first inning alone. Christy Mathewson allowed 89 over the course of a 17-year career.


Moyer is 149-67 in his career when not allowing a home run, and 116-134 when he does.
Moyer has allowed seven grand slams, which is not even the most among active players. Brad Penny, Kevin Millwood and Cliff Lee have all been victimized eight times. Lee has allowed 368 fewer home runs than Moyer, yet more grand slams.
Manny Ramirez has the most home runs against Moyer with 10, followed by Carlos Delgado's eight.
The only player to homer in his lone plate appearance against Moyer? Kurt Abbott in 1993.
In part because of his extended time in the AL, Moyer has never allowed a home run to a pitcher. By contrast, Phil Niekro allowed 12.
The lone walk-off home run against Moyer belongs to Alfonso Soriano in the bottom of the 18th inning on June 24, 2004. Soriano also has one of the 18 home runs off of Moyer to lead off a game.
Today's Trivia
: Which current manager hit the first home run that Jamie Moyer gave up?
Today's Leaderboard
: The Indians, whom Moyer faces on Tuesday, have only managed nine home runs against lefties this season, tied for fourth fewest in the majors. The Dodgers are last with only seven, while the Red Sox and Yankees share the league lead with 28. The Indians' nine have come in 739 at-bats. The rate of one HR per 82.1 AB vs lefties in second worst in the majors. Meanwhile, the Red Sox have one per 23.5 AB.
Key Matchups
: So who is the most likely culprit to go deep against Moyer on Tuesday? A pair of Indians have a history of success against Moyer.
Jhonny Peralta
is the only current Indian with a home run against Moyer, and has a lifetime .500 average in 10 at-bats against him, while
Austin Kearns
is 7-for-16 (.438) against Moyer. If it's anyone other than Peralta that takes Moyer deep, it would mark the 322nd different batter to homer off of him.
Kevin Kouzmanoff
is swinging one the hottest bats in the majors at the moment, and Tuesday he gets to face the pitcher he does the most damage against. In June, Kouzmanoff is hitting .418 (4th in the AL) with five HR (t-4th in AL). In 16 career at-bats against
Bronson Arroyo
, he's hit .688 with a pair of long balls. That batting average is by far his best against any pitcher he's faced at least 10 times.
Trivia Answer
: Juan Samuel, current interim manager of the Orioles, hit the first homer off of Jamie Moyer almost exactly 24 years ago today (June 23, 1986). He wasn't the only current manager to appear in that game. Terry Francona came on as a defensive replacement for Moyer's Cubs.
June, 15, 2010
6/15/10
1:55
PM ET
By
Jeremy Lundblad, ESPN Stats & Info
| ESPN.com
Quick Hits
: With about 100 games to go on each team's schedule, several players are on pace for history. Yesterday, we touched on hitters, and today it's the pitchers' turn.
Today's Trivia
:
Tim Lincecum
and
Andy Pettitte
were both born on this day -- albeit 12 years apart. Who are the only two active players who have been teammates of both players?
Today's Leaderboard
:
Roy Halladay
and
CC Sabathia
square off in the Bronx tonight. Since Sabathia broke into the majors in 2001 only Halladay has more wins.
Key Matchups
:
Jhonny Peralta
has appeared in 33 straight games for the Indians, only coming off the bench in one of those. If there was ever a night to give him a rest, it would be when
Johan Santana
takes the mound. Peralta has struck out in 22 of 28 at-bats against the Mets' ace and is hitting just .107. Even more amazing? In his last 23 at-bats against Santana, Peralta has 3 hits and 20 strikeouts. Not one out has been recorded in the field.
Roy Halladay has a 2.84 career ERA against the Yankees and -- at 18-6 -- has the third best winning percentage against the Bombers among pitchers with at least 20 decisions. A big reason is his neutralization of
Derek Jeter
, who has more strikeouts (24) against Halladay than any other pitcher he's faced. A lifetime .242 hitter against Halladay, Jeter has just five hits in his last 43 at-bats against him, a .116 batting average.
Trivia Answer
:
Randy Winn
and
Aubrey Huff
are the only active players who have been teammates of both Lincecum and Pettitte.
June, 1, 2010
6/01/10
9:00
AM ET
By
Ben Jedlovec, Baseball Info Solutions
| ESPN.com
Now that Memorial Day has passed, let's look back at May's top defensive plays, according to the Plus/Minus system. The top Plus/Minus plays aren't always the flashiest plays; sometimes, the fielder was positioned perfectly or got a tremendous read on the ball off the bat and was able to make the play with relative ease. We'll go position by position:
First Base --
Ryan Raburn
,
Detroit Tigers
, May 26, Bottom 7:
Michael Saunders
hit a hard ground ball that traveled over the base and into foul territory. Raburn (only 42 career innings at first base) dove, made the play and flipped to
Jeremy Bonderman
covering first. Not only does it go for a hit 97.5% of the time, but also that ball usually goes for a double.
Second Base --
Mike Aviles
,
Kansas City Royals
, May 25, Top 4:
Vladimir Guerrero
is enough of a pull hitter that the Rangers employed the rare right-handed shift on him a few times last season. Apparently, Mike Aviles has been doing his homework, since he was ready for him. On a ground ball to the shortstop side of second base, Aviles ranged way beyond what is normal range for a second baseman and threw out the red-hot Guerrero. Aviles received a +0.99 for that play.
Shortstop --
Stephen Drew
,
Arizona Diamondbacks
, May 15, Bottom 7:
Martin Prado
sent a rocket toward the 3B/SS hole that seemed destined for left field; in fact, hard ground balls at that angle go for hits 99.3% of the time. Drew laid out, came up with the ball and threw from his knees to nab Prado at first base. Drew also received +.99 plus/minus points for the play.
Third Base-
Jhonny Peralta
,
Cleveland Indians
, May 24, Top 8 and
Don Kelly
, Tigers, May 12, Top 6: Here's an example where the flashy play isn't necessarily the higher-rated play. Kelly's play definitely looked harder, but Peralta was positioned closer to the line and managed to range deeper into foul territory and stay on his feet. Kelly's play was made just 6% of the time over the past year, but Peralta's play was made only 1% of the time and saved a certain double.
Left Field-
Conor Jackson
, Arizona Diamondbacks, May 25, Bottom 5: At Coors Field, Conor Jackson tracked down a
Brad Hawpe
fly ball deep in the left-center field gap. Had his momentum not carried him so far away from the infield, Jackson also would have doubled
Todd Helton
off of first. It wasn't a flashy play, but Jackson had to cover a lot of group to save a sure RBI and extra-base hit. Similar balls fall for hits 88% of the time.
Center Field-
Nate McLouth
,
Atlanta Braves
, May 14, Top 2: After struggling with deep-hit balls near the wall earlier in his career (see the in-depth study in The Fielding Bible – Volume II), McLouth has played noticeably deeper, and it shows.
Chris Young
sent a deep fliner to left-center which McLouth caught at a dead sprint before crashing into the wall. Similarly-hit balls were caught only 11% of the time over the past year.
Right Field-
Shin-Soo Choo
, Cleveland Indians, May 1, Top 9: With no-pop
Drew Butera
up in the ninth, Choo cheated in a bit; he should have cheated more. Butera placed a soft fliner in shallow right, but Choo made a diving catch to save the hit, garnering a +.875 plus/minus score on the play.
March, 9, 2010
3/09/10
10:30
AM ET
By
Bryan Smith, FanGraphs
| ESPN.com
While losing 97 games last season, the
Cleveland Indians
were the worst team in baseball at the two facets of run prevention. No other team ranked in the bottom five of Major League Baseball in both Fielding Independent Pitching
(28th of 30)
and
Ultimate Zone Rating
(26th), signaling problems with their pitchers and fielders alike. That's bad, but is it fixable?
A lot of last year's pitching problems can be blamed on trial and error, as the Indians tried an AL-leading 29 different pitchers on the mound. The hurlers projected to make up this season's rotation, led by stalwart
Jake Westbrook
, provide a telling comment on the organizational philosophy for better run prevention in 2010: groundballs.
An average Major League Baseball team turns a groundball into an out about 67% of the time; it's the most pitcher-friendly ball in play. The Indians rotation, not coincidentally, is built around pitchers that throw sinkers and induce grounders. Westbrook's return from injury paves the way for this strategy, but he's joined in practice by
Fausto Carmona
,
Justin Masterson
and
Aaron Laffey
. Together, the four have a career GB/FB rate of 2.46 versus the approximate league average of 1.7.
To collect all the wormburners this staff is sure to produce, the Tribe have put together an infield of shortstops. Along with incumbent shortstop
Asdrubal Cabrera
, third baseman
Jhonny Peralta
and second baseman
Luis Valbuena
both have experience at that position. Like the Mariners, an organization that has built an outfield with two centerfield-caliber defenders (
Ichiro Suzuki
and
Franklin Gutierrez
), the Indians are hoping an infield featuring three players with experience at shortstop will be far more efficient at turning grounders into outs. The key to Cleveland's success is whether these are the correct three infielders. All three ranked below average in Ultimate Zone Rating a year ago, combining to cost the Indians 15.6 runs with their glove.
However, most statheads will tell you that you need at least three years of fielding data to reach an accurate conclusion, and none of these three infielders have played more than 127 games at their current spot. Therefore, we can't say they are below-average fielders based on UZR just yet. But if you put any faith in the
fan projections
featured at FanGraphs, there isn't much reason for optimism: The trio is projected by our readers to cost the club -3.6 runs collectively. The jury's still out on this threesome, and the groundball-inducing staff will be praying that all of them can live up to their shortstop pedigree. If not, it's going to be another long year at Jacobs Field.
Bryan Smith is an author of FanGraphs