Stats & Info:

Jimmy Graham
January, 11, 2014
Jan 11
9:00
PM ET
By
ESPN Stats & Information
| ESPN.com
Harry How/Getty ImagesMarshawn Lynch set a Seahawks postseason record with 140 rushing yards in Saturday's win.
The
Seattle Seahawks
entered Saturday having lost their previous four divisional playoff games, and their 2-6 record all-time in the round was tied for the second-worst mark among teams with at least three divisional playoff appearances.
But Seattle rode another "beastly" effort from
Marshawn Lynch
, along with a stellar performance from its defensive secondary, to pick up
the 23-15 win
over the
New Orleans Saints
and secure a spot in the conference championship for the third time in franchise history.
Seahawks offensive key: Marshawn Lynch
Lynch finished the game with a Seahawks postseason-record 140 rushing yards, breaking a mark he previously shared with
Shaun Alexander
. Lynch now has three of the four highest single-game rushing yardage totals in Seahawks history.
For his career, Lynch now has three 130-yard rushing games in the postseason. Under the current NFL playoff format (dating back to 1990), only
Terrell Davis
and
Thurman Thomas
have more such games.
Lynch did the majority of his work going right up the middle, with 19 of his 28 rushes to that area, for 108 yards (5.7 yards per rush). On the nine rushes outside the tackles, Lynch gained just 32 yards, for 3.6 yards per carry. Thirty-one of those yards came on his fourth-quarter touchdown run.
In true "Beast Mode" form, Lynch finished with 66 rush yards after contact. In Seattle's Week 13 victory over the Saints, Lynch finished with just 45 total rush yards on 16 carries.
Seahawks defensive key: limiting Jimmy Graham and screen passes
During the regular season,
Jimmy Graham
led the Saints in receptions and receiving yards and scored a team-high 16 touchdowns (no other player scored more than five). On defense Saturday, Seattle managed to limit the Saints tight end to just one reception for eight yards on six targets.
At the two-minute warning in the fourth quarter, New Orleans quarterback
Drew Brees
was 0-for-4 when targeting Graham, with all four incompletions having been broken up by Seahawks defenders.
Thanks in part to Seattle limiting Graham, the Saints finished just 3-for-12 (25 percent) on third down. During the regular season, the Saints were third in the NFL and tops in the NFC, converting 43.9 percent of their third downs.
New Orleans also struggled with screen passes, usually a strength of the team. The Saints ran six screen passes Saturday, gaining positive yards on only one of those plays.
During the regular season, the Saints led the league in screen-pass completions to running backs with 59, 14 more than any other team, and were third in yardage on screen passes to running backs.
December, 6, 2013
12/06/13
1:08
PM ET
By
ESPN Stats & Information
| ESPN.com
What are the key statistical matchups in the Sunday night clash between the
Carolina Panthers
and
New Orleans Saints
? We'll give you one for each quarterback, as well as an under-the radar noteworthy matchup on special teams.
Cam Newton vs the blitz
Cam Newton has faced five or more pass rushers on 42 percent of his dropbacks this season, the highest rate in the NFL.
But he's handled that pressure very well during the Panthers eight-game winning streak. He's completed 64 percent of his throws against it, with seven touchdowns, two interceptions and only eight sacks. His Total QBR against pass rushes of five or more was 11.1 in the first four games of the season, but 90.0 during the winning streak.
The Saints have sacked opposing quarterbacks on 8.5 percent of dropbacks, the second-highest percentage in the NFL (trailing only the
Buffalo Bills
, 8.7 percent).
Newton has been a little shaky in the two games in which the Panthers have played a winning team on the road (the opponents being the
San Francisco 49ers
and
Arizona Cardinals
). His Total QBR is 10.4
Panthers secondary vs. Drew Brees deep throws
Drew Brees has excelled on throws at least 15 yards downfield, but last week against the Seahawks, he struggled significantly with them, going 0 for 8.
Brees had completed at least three such throws in every other game this season, and had completed at least half of those passes in each of his previous five games. For the season, he has 13 touchdowns and two interceptions on throws of that length, the plus-11 differential tied with
Nick Foles
for the best in the league.
It would be unlike Brees to have two bad games in a row on these throws, but the Panthers are well equipped to stop him.
The Panthers have the highest rate of interceptions per attempt on throws at least 15 yards downfield (11 percent). They've picked off nine throws of that length this season, including at least one in four of the last five games. And they've only allowed three touchdowns.
Also of note for the Panthers with regards to stopping
Jimmy Graham
: Panthers opponents have completed 68 percent of their passes when targeting tight ends. That's a high success rate-- the 10th-highest against any team in the NFL.
Under-the-Radar Key: Thomas Morstead vs Ted Ginn Jr.
Saints punter Thomas Morstead and his coverage team will face a challenge this week in Ted Ginn Jr., who ranks sixth in the NFL at 12.2 yards per punt return.
The Saints have netted an average of 43 yards per punt this season, the second-highest average in the NFL. Opponents have had an average post-punt field position of the 23-yard line. Only two teams have put their opponents in a tougher position.
Ginn has four punt returns of at least 20 yards this season. The Saints are one of four teams to not allow a return of 20 yards or longer.
December, 2, 2013
12/02/13
10:59
AM ET
By
John Parolin
| ESPN.com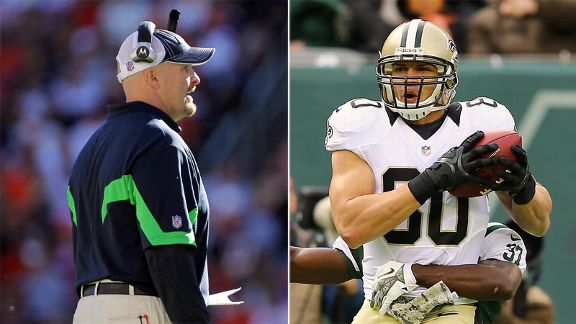 Getty ImagesSeahawks assistant Dan Quinn (left) might have the right personnel to contend with Jimmy Graham.
A
Seattle Seahawks
win on Monday night stamps Seattle's ticket to the playoffs, but the implications of Monday night's showdown are much bigger.
A Seattle win Monday puts the Seahawks two games ahead of everyone else in the race for home-field advantage in the NFC, while the
New Orleans Saints
could make the last four weeks interesting by handing Wilson his first home loss.
Both teams excel at home --
Russell Wilson
is 13-0 at Seattle's CenturyLink Field, while the Saints are 14-0 in the Superdome in the last two seasons with Sean Payton as head coach (not including 2012, when Payton was suspended).
What do the Saints look like on the road? Let's take a look, along with three other statistical matchups to watch on Monday night.
The Saints vs CenturyLink Field
The Saints' point differential at home (+104) is 99 points higher than their road differential (+5), the third-biggest disparity in the league.
New Orleans has held opposing quarterbacks to a Total QBR under 20 in four of the six games played at the Superdome. The Saints' Total QBR allowed jumps from 29 at home to 51 in road games.
There's also a noticeable dip in
Drew Brees'
performance on the road. Any quarterback would rather play at home, but Brees' completion percentage at home leads the league. His completion percentage in road games ranks 12th.
CenturyLink Field is no ordinary road venue, either. Since it opened in 2002, Seahawks opponents have been flagged for 208 delay of game or false start penalties in Seattle, the most of any venue.
The Seahawks' point margin is 937 points higher at home (+635) than on the road (-302), the second-biggest disparity in the league.
Jimmy Graham vs Dan Quinn
Seahawks defensive coordinator Dan Quinn is tasked with coming up with a plan to stop
Jimmy Graham
, who leads tight ends in targets, catches, yards and touchdowns.
Graham hasn't been a particularly versatile tight end, running a pass route on almost two-thirds of his snaps (65 percent). Graham has run 254 routes lined up as a receiver (either slot or outside) compared to 63 lined up as a traditional tight end.
Graham's worst game of the season came in Week 6 against the Patriots, who used cornerback
Aqib Talib
on Graham instead of a linebacker. Brees completed more passes to Talib than Graham, finishing 0-for-6 with an interception targeting the tight end.
Richard Sherman
(6'3, 195 pounds) could play a similar style as the 6'1, 205-pound Talib did on Graham. If Quinn uses Sherman on Graham, Sherman's length and physicality could give Graham fits and limit Brees' most effective weapon.
Russell Wilson vs Saints' pass rush
No one has a better completion percentage, yards per attempt average or Total QBR on throws at least 15 yards downfield than Wilson. Those routes typically take time to develop, and so far in his career Wilson has had the necessary time.
In his rookie year, Wilson averaged 4.08 seconds before throwing a pass, the highest average among quarterbacks by 0.29 seconds.
In his second season, Wilson has been quicker to release the ball. Wilson's 3.86 seconds before pass is "only" seventh slowest in the league. Thirty one percent of Wilson's passes have taken longer than four seconds to release, a higher percentage than 23 quarterbacks and a problem given this week's opponent.
The Saints defense has 24 sacks in four seconds or less this season, tied with the Ravens for most in the league. New Orleans' defense has sacked opposing quarterbacks on nine percent of dropbacks in its first year with Rob Ryan as defensive coordinator, the highest rate in the league.
Seahawks LBs vs Saints' screen game
Brees has thrown 45 screen passes this season, third most in the league.
Pierre Thomas
and
Darren Sproles
rank first and second in receiving yards on screen passes since Sproles signed with the Saints in 2011. During that same span, no one has defended screens better than the Seahawks.
Seattle has allowed 4.5 yards per screen attempt, best in the league and over a yard and a half fewer per attempt than the league average. Seattle is one of two teams that hasn't allowed a screen-pass touchdown in the last three seasons along with the
Green Bay Packers
.
Bobby Wagner
and
K.J. Wright
are the two most likely candidates tasked with slowing Thomas and Sproles, who missed last Thursday's game against the Falcons with an ankle injury.
November, 22, 2013
11/22/13
12:23
AM ET
By
ESPN Stats & Information
| ESPN.com
What were the keys to victory for the
New Orleans Saints
in their 17-13 win over the
Atlanta Falcons
?
For the Saints, it was a matter of just following up on everything that they've done all season.
Brees on play-action
Drew Brees was 7 for 11 for 100 yards when utilizing a play-action fake. Both of his touchdowns in this game came via play action, giving him 10 such touchdown passes for the season. That's one shy of Peyton Manning for the most in the NFL.
Brees picked on the right team. Entering Thursday, the Falcons had allowed a 91.5 Total QBR on play-action passes, the worst defensive rating in the NFL.
Graham's record-tying day
Tight end
Jimmy Graham
had one of those play-action touchdowns, a 44-yard reception. Graham finished with exactly 100 receiving yards, giving him six 100-yard games this season. That tied Tony Gonzalez's NFL record for most 100-yard games in a season by a tight end (done in both 2000 and 2004).
Those six games are tied with
A.J. Green
for the most in the NFL by any player this season
He now has six touchdowns on throws 15 or more yards downfield this season, and four receiving touchdowns of 40 yards or longer (combining yards on and after the catch), the most in the league.
Graham also had a career-high 26 yards after contact.
The Saints defense did its job
Matt Ryan
may have completed 30 of 39 passes, but he also took a season high five sacks.
The Saints have sacked opposing quarterbacks on 9.0 percent of dropbacks. That is tied with the Rams for the highest rate in the league.
Cameron Jordan
had a season-high 2.5 sacks, giving him 9.5 this season, the most he's had in any season of his career.
Entering Thursday, Ryan had been sacked on 4.4 percent of his dropbacks, the fourth lowest rate among NFL quarterbacks.
The Saints also forced their 12th fumble of the season. They had a total of 11 forced fumbles in 2013.
October, 13, 2013
10/13/13
9:48
PM ET
By
ESPN Stats & Information
| ESPN.com
AP Photo/Stephan SavoiaTom Brady threw a game-winning touchdown pass with five seconds remaining in the fourth quarter.
Tom Brady
still has some late game magic left in him.
When it looked like the game might be over, Brady led the
New England Patriots
on a game-winning drive in the final minute of the fourth quarter to shock the
New Orleans Saints
.
The Patriots took over possession with 1:13 left in the fourth quarter. Brady completed 5 of 8 passes on a 70-yard drive that lasted 68 seconds, capped by a 17-yard touchdown strike to rookie
Kenbrell Thompkins
with five seconds remaining.
It's the latest fourth-quarter go-ahead touchdown pass of Brady's career. It's only Brady's third career go-ahead touchdown pass with less than 30 seconds remaining in the fourth quarter. He threw a game-winning, 20-yard touchdown pass to
David Patten
in 2002 to beat the
Chicago Bears
, and he threw an 8-yard score to
Aaron Hernandez
in a game against the
Dallas Cowboys
in 2011.
Brady was five seconds away from having zero touchdown passes in consecutive games for the first time since 2006, but instead he threw his 342nd career touchdown pass to tie Fran Tarkenton for fourth on the all-time list.
Brady still struggling on deep throws
Brady was 1-of-9 for 23 yards on throws deeper than 20 yards downfield, continuing his season-long struggles.
Brady has completed 18 percent of his throws at least 20 yards downfield this season with no touchdowns and two interceptions on those passes. Fifty-five percent of his pass attempts at least 20 yards downfield have been off target this season.
What went wrong for the Saints?
Jimmy Graham
had been an important key for the Saints over their previous four games, accumulating at least 100 receiving yards in each of those games. But it was quite the opposite on Sunday. Graham was held without a catch for the first time since his rookie season in 2008 (Week 10).
The Patriots defense held
Drew Brees
to 0-for-6 passing with an interception targeting Graham. It was the first game of Graham's career with multiple targets and no catches.
October, 1, 2013
10/01/13
1:08
AM ET
By
ESPN Stats & Information
| ESPN.com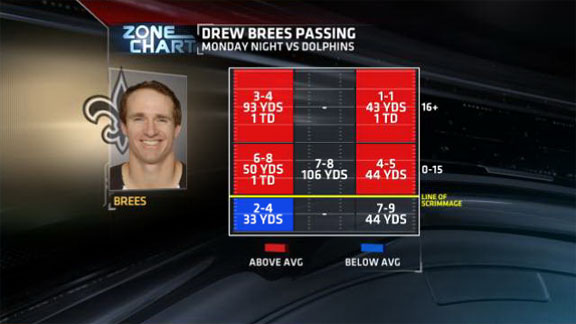 Drew Brees
had another dominant Monday Night Football game for the
New Orleans Saints
.
Let's run through all the accolades of his ninth straight Monday Night win, a rout of the
Miami Dolphins
.
Brees had his 21st game with at least four touchdown passes, tying
Dan Marino
for the third-most all-time. Only
Peyton Manning
(24) and
Brett Favre
(23) have more.
Brees had his 10th game with at least 400 passing yards. The only quarterback with more is Marino, who has 13. All 10 of those games came since joining the Saints in 2006. No other quarterback has more than five 400-yard games in that span.
It was also Brees' ninth straight game with at least 300 passing yards. That ties the NFL record for the longest such streak, a mark he set in 2011 and 2012. No other NFL quarterback has had more than six straight.
Brees has five games on Monday Night Football with at least four touchdown passes, tied with Marino for the most all-time.
The 400-yard, four-touchdown combo on Monday Night Football is a special one. It's been done by five quarterbacks: Marino in 1983,
Randall Cunningham
in 1998, Manning in 2000,
Tom Brady
in 2011 and now Brees.
Lastly, the nine-game winning streak on Monday nights is impressive too. It's tied with
Joe Montana
for the third-best ever, trailing only Ken Stabler (11 straight) and
Steve Young
(10).
How he dominated
Brees won this game with long and mid-range throws. He was 8-for-10 for 201 yards and two touchdowns on passes traveling more than 10 yards downfield.
The supporting cast
Darren Sproles
had both his first rushing and receiving touchdowns of the season and cleared 100 yards receiving by the end of the first half. He's the fourth player to have at least 100 receiving yards, a touchdown catch and touchdown run in a Monday Night Football game. The other three are Tony Galbreath (1979),
Jerry Rice
(1994) and
Marshall Faulk
(2000).
Jimmy Graham
caught two touchdown passes and now has a touchdown catch in five straight games dating back to last season (only
Wes Welker
, with six straight, has a longer active streak).
Graham joined
Antonio Gates
(2010) as the only tight ends with six touchdown catches in his first four games of a season.
September, 30, 2013
9/30/13
1:47
PM ET
By
ESPN Stats & Information
| ESPN.com
Derick E. Hingle/USA TODAY SportsSean Payton (left) and Drew Brees (right) look to start 4-0 for the 1st time since 2009.
The
Miami Dolphins
and
New Orleans Saints
meet tonight on Monday Night Football (8:25 ET/ESPN). This will be the Dolphins' 79th appearance on Monday Night Football, the most all-time since the series began in 1970 (the
Dallas Cowboys
are next with 74 appearances). The Dolphins are 40-38 on Monday Night Football.
Here are five stats Mike Tirico and Jon Gruden might touch on tonight during the telecast.
1
. This is the first time that two teams will meet on Monday Night Football with records of 3-0 or better since Oct. 5, 1998, when the 4-0 Vikings defeated the 4-0 Packers, 37-24, at Lambeau Field, according to the Elias Sports Bureau.
The Dolphins are looking to become the fifth franchise to have at least seven 4-0 starts since the NFL-AFL merger in 1970, joining the Rams (nine), Vikings (eight), Colts (seven) and Cowboys (seven).
The Saints are looking to start 4-0 for the fourth time in franchise history and first since starting 13-0 in 2009 when they went on to win the Super Bowl.
2
.
Drew Brees
has won eight straight starts on Monday Night Football, with 24 touchdown passes and five interceptions. Brees is 10-2 on Monday night since joining the Saints in 2006.
Ken Stabler (11 from 1975-80),
Steve Young
(10 from 1995-99) and
Joe Montana
(nine from 1988-94) are the only starting quarterbacks with longer win streaks on Monday Night Football.
3
. The Saints' defense has made remarkable strides under new coordinator Rob Ryan. They rank fourth this season with 295.7 yards allowed per game after allowing a league-record 7,042 yards (440.1 per game) in 2012.
In addition, the defense has surrendered 17 points or fewer in all three games after allowing just over 28 points per game in 2012.
4
. The Dolphins will be without pass rusher
Cameron Wake
, who's expected to miss two to three weeks with a sprained left MCL. Since the start of 2010, Wake has 40 sacks, third in the NFL behind
DeMarcus Ware
and
Jared Allen
.
As a team, Miami has sacked or put the opposing quarterback under duress on 35 percent of dropbacks this season, the best mark in the league.
5
.
Jimmy Graham
caught nine passes for 134 yards and two touchdowns in the Saints' win against the
Arizona Cardinals
in Week 3.
According to the Elias Sports Bureau, combined with his 179-yard performance in Week 2 against the
Tampa Bay Buccaneers
, Graham has recorded the highest yardage total (313) by a tight end in two consecutive games since 1996, when
Shannon Sharpe
posted games of 153 and 161 yards for the
Denver Broncos
(314 total).
January, 20, 2013
1/20/13
7:08
PM ET
By
ESPN Stats & Info
| ESPN.com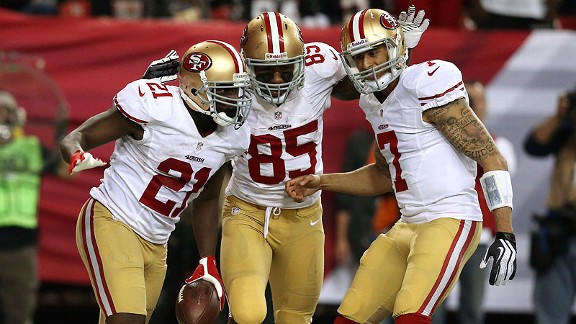 Matthew Emmons/USA TODAY SportsColin Kaepernick (right) and Vernon Davis (middle) gave the Falcons fits for most of the game.
For the second straight week, the
Atlanta Falcons
let a big lead at home get away from them.
Only this time they were not able to come from behind and win.
According to the Elias Sports Bureau, the
San Francisco 49ers
' 17-point comeback (they trailed 17-0) is the third largest road comeback in postseason history. The record is owned by the 1957
Detroit Lions
, who came back from a 20-point deficit at San Francisco. It was the second largest deficit overcome to win a conference championship game. That record is held by the 2006
Indianapolis Colts
, who overcame an 18-point deficit against the
New England Patriots
.
The 49ers' win snapped their five-game playoff road losing streak, winning on the road for the first time since beating the Bears in Chicago in the 1988 NFC Championship Game.
Davis does damage
Vernon Davis
had been virtually nonexistent leading up to the NFC Championship Game. In the previous seven games, Davis had seven receptions for 105 yards and no touchdowns. Against the Falcons, Davis had five receptions for 106 yards and a touchdown -- his first TD reception from
Colin Kaepernick
since Week 11, which was Kaepernick's first start.
Davis was targeted six times on Sunday, this after being targeted an average of three times per game in Kaepernick's first eight starts.
Atlanta struggled defending tight ends this postseason. During the regular season, only one tight end (
Jimmy Graham
) had 100 yards receiving against the Falcons. This postseason, they allowed two such games. (Seattle's
Zach Miller
had 142 yards in the divisional round.)
Containing Ryan's deep throws
Matt Ryan
threw for 271 yards and three touchdowns in the first half. However, after halftime he had 125 yards passing and turned it over twice with an interception and a fumble. Ryan's 396 yards passing are a franchise record in a playoff game, breaking the previous record of 366 set by
Jeff George
in 1995.
In the first half, Ryan was 11-for-12 with two touchdowns on throws more than 10 yards downfield and averaged more than 18 yards an attempt. However, in the second half he attempted just six throws and completed four of them, averaging just more than 12 yards an attempt.
Colin Kaepernick was kept in the pocket on 21 of his 23 dropbacks (91.3 percent), his highest rate of the season, but he averaged 11.5 yards per pass attempt inside the pocket. That was his highest rate since his first start in Week 11 (13.5 yards per attempt).
Also of note
Also according to Elias, the Falcons are the first home "dome" team to lose the conference championship game since the 1998
Minnesota Vikings
, who lost to the Falcons.
The Falcons also are the first No. 1 seed from the NFC to lose in the conference championship game since the 2003
Philadelphia Eagles
.
San Francisco will be going to its sixth Super Bowl, and its first since the 1994 season.
The 49ers have never lost in the Super Bowl (5-0); however, history is not on their side. No team has ever won the Super Bowl without winning at least three straight games during that regular season. And the 49ers did not win three straight games in 2012.
April, 25, 2012
4/25/12
2:20
PM ET
By
Doug Clawson
and
Jason York, ESPN Stats and Info
| ESPN.com
Kevin Hoffman/US PresswireRob Gronkowski (left) and Jimmy Graham (right) are leading the new wave of the way tight ends play in the NFL. Both finished in the top 7 in receiving yards last season with over 1,300 yards.
The evolution of the modern-day tight end has made it possible for NFL teams to view the position as much more than an extra offensive lineman who catches the occasional pass. Tight ends have become primary options in the passing game.
Tight ends such as the
New England Patriots'
Rob Gronkowski
(second round, 2010) and
Jimmy Graham
of the
New Orleans Saints
(third round, 2010) often line up in the slot or at wide receiver because of their ability to make plays.
Six tight ends who lined up in the slot or at wide receiver in 2011 had more than 500 yards receiving (including playoffs). Both Graham (938) and Gronkowski (876) had more than 800 yards each.
There has been a dramatic increase in 100-yard receiving games at the position since the 2001 season. Last season, there were 28 100-yard receiving games by tight ends compared to just four such games in 2001.
Tight ends have also become downfield threats. Since the start of the 2008 season, 30-plus yard receptions for tight ends have progressively risen from 64 in 2008 to 107 last season.
Who among this year's draft prospects at tight end could blossom into a high-end contributor? ESPN NFL Draft Analyst Todd McShay thinks Stanford's
Coby Fleener
"is most ready" to contribute right away (check out the
breakdown of the 2012 TE class
).
Fleener was effective stretching the field last season, catching 15 of 24 targets (62.5 percent) with seven touchdowns on throws -- from expected No. 1 overall pick
Andrew Luck
-- traveling at least 15 yards downfield. Fleener caught 10 touchdowns for Stanford last season, most of any tight end in FBS.
Fleener, who is 6-6 and nearly 250 pounds, did not work out at the NFL Scouting Combine, but at Stanford's Pro Day, he ran 4.45 seconds in the 40-yard dash and is widely considered a first-round pick.
In addition to Fleener,
Dwayne Allen
of Clemson and Georgia's
Orson Charles
are two other draft prospects that have a "good chance" to contribute as rookies in 2012. There are prospects beyond Fleener, Allen and Charles who could be worth a draft pick, according to McShay. Oklahoma's
James Hanna
ran 4.49 seconds in the 40-yard dash and had a 36-inch vertical leap at the Combine.
The evolution of tight ends, according to McShay, has started to alter the ways NFL teams are evaluating defensive backs as well. Teams might be forced to look for and draft bigger defensive backs as a counter-measure to the more versatile tight end corps in the NFL.
November, 28, 2011
11/28/11
1:30
PM ET


When the
New Orleans Saints
and
New York Giants
meet on Monday Night Football several streaks will be on the line:
• The Saints have won five straight Monday Night Football games, while the Giants have won their last three appearances on Monday night.
• The Saints have won four straight home games to start the season. New Orleans has started 5-0 at home only once, back in 2009 when it went on to win Super Bowl XLIV.
•
Drew Brees
has thrown a touchdown pass in 37 straight games, the second-longest streak in NFL history.
• He has also completed 20 passes in an NFL-record 30 straight games.
The last time the Saints and Giants met, back in 2009, Drew Brees threw for 369 yards and four touchdowns in a 48-27 Saints victory.
Expect more of that tonight as Drew Brees has torched the Giants in his career. Brees is 3-0 as a starter against New York, and has thrown seven touchdowns and zero interceptions in those games.

Brees
Brees enters tonight's game with 3,326 passing yards, the most by any player through 10 team games in NFL history. He needs to throw for 302 yards against the Giants the set the record through 11 games, which is currently held by
Tom Brady
with 3,627 yards this season.
Brees has been so productive in large part to a new found weapon in tight end
Jimmy Graham
. Graham has been Drew Brees' most targeted receiver on throws 15 yards or more downfield. He is tied for the seventh-most receptions on such throws this season and leads all NFL tight ends.
Brees isn't the only quarterback in this game looking to keep streaks alive.
Eli Manning
needs 48 passing yards and two touchdown passes to give him 3,000 passing yards and 20 pass touchdowns for the seventh consecutive season. Drew Brees extended his streak earlier this year and has now done so in eight consecutive seasons.
Manning would be just the fifth player in NFL history to accomplish the feat, joining elite company including Brees and Eli's brother Peyton, who did so an NFL-record 13 straight seasons (1998-2010).
This game takes on more family importance for Eli Manning as he grew up in New Orleans watching his father Archie play for the Saints.
While this will be a nice homecoming for the Giants QB, the players to watch for New York are in the backfield, where the Giants have been struggling without injured RB
Ahmad Bradshaw
.
The Giants are averaging only 83.2 rushing yards per game, their fewest over a full season since 1945 (76.9 a game) nor has their per-carry average been this low since 1953 (2.64). The Giants rank in the bottom two in both rushing yards per game and yards per rush attempt.
In addition, the Giants haven't ranked next to last or worse in rush yards per game since 1953 (last with an 87.4-yard average) and they haven't ranked last in rush yards per attempt since 1975 (3.4).
November, 9, 2011
11/09/11
7:55
PM ET
By
Michael Landrigan
| ESPN.com
AP Photo/Michael DwyerJake Ballard goes up high to catch an Eli Manning pass and keep the Giants game-winning drive alive

Jake Ballard
caught the game-winning TD for the
New York Giants
against the
Patriots
, and has become one of
Eli Manning
's favorite targets over the past five weeks.
After being targeted only five times by Manning over the first three weeks of the season, the undrafted second-year tight end out of Ohio State has been targeted 25 times in the past five.
Ballard's season-to-date totals may not blow you away (23 receptions, 3 touchdowns), but he has become an invaluable weapon for Manning in moving the chains, including his 28-yard grab in traffic on third down that sustained the Giants game-winning drive.
In a year with tight ends
Jimmy Graham
,
Jermichael Finley
and
Rob Gronkowski
having outstanding seasons, it is Ballard who has the highest yards per reception (17.2) of all qualified tight ends. Almost 80 percent (78.3) of his receptions have gone for first downs, the third-highest percentage among qualified tight ends.
How did Ballard drop in Jerry Reese's lap as an undrafted free agent? A main reason is that the Jim Tressel-led Buckeyes rarely featured the tight end during his tenure, as evidenced by Ballard's 34 catches and 3 touchdowns in his four seasons at Ohio State.
Last season,
Kevin Boss
was fourth on the Giants in both receiving yards and receiving touchdowns. Ballard has more than filled the void created by Boss' departure, ranking third on the team in receiving yards and tied for second in TD.
October, 24, 2011
10/24/11
6:06
PM ET
By
John McTigue
| ESPN.com
AP Photo/Bill Feig
Drew Brees leads the highest-scoring offense in the NFL.
The
New Orleans Saints
have scored a league-high 239 points after their 62-7 drubbing of the
Indianapolis Colts
Sunday night.
Drew Brees
led the charge with five touchdowns passes and no interceptions, recording 300-plus passing yards for the fifth straight game.
Big plays have been the highlight of the Saints' passing game over the years, but Brees and the Saints have used the short pass to help open up the downfield passing game.
The Saints have been very effective when they do go deep. Brees is completing a league-best 62.5 percent of his throws 21 yards or more downfield this season. Since the start of the 2008 season, he leads all quarterbacks in completions, completion percentage and touchdowns on such throws.
Despite the success, only 8.0 percent of Brees' attempts this season have been over 20 yards. That's the 25th highest rate among 34 qualified quarterbacks. Only
Colt McCoy
is averaging fewer air yards per attempt than Brees this season.
Darren Sproles
and
Jimmy Graham
have been two keys in the short passing game for the Saints this season. Sproles is tied with
Wes Welker
for the most targets within 10 yards of the line of scrimmage (54) and Graham is fourth with 43.
Brees has targeted running backs on 90 percent of his league-high 30 screen attempts this season. Across the NFL this year, only 57.1 percent of all screen passes have been to running backs.
Sproles has been an upgrade over
Reggie Bush
in the screen game. In 2010, Bush's 36 receiving yards were the fewest on screen passes among running backs with 10 such receptions. Through seven weeks, Sproles has almost doubled Bush's full-season screen yardage total from last year.
Sproles has also made an impact splitting out wide. Entering Week 7, Sproles was targeted 31 times when lining up as a wide receiver, catching 22 passes for 172 yards. No other running back had more than nine targets or receptions when splitting out wide.
Play-action passing is another key to the offense, with Brees attempting the most such passes this season. While most teams – including the Packers,
examined here last week
-- use play action to go over the top, the Saints go even shorter.
The average air yards per pass attempt in the NFL this season is 7.3, which jumps to 8.7 on play-action passes. Brees is averaging 6.8 air yards per play-action attempt this season, slightly below his average of 7.0 air yards on all passes.
Brees' favorite play-action target is his tight end. Graham leads all NFL tight ends in targets (19), receptions (13) and yards (175), and is tied for the lead in touchdowns (3) on play-action passes.