August, 6, 2014
Aug 6
1:00
PM ET
By
ESPN Stats & Information
| ESPN.com
Dilip Vishwanat/Getty Images
Shelby Miller and the St. Louis Cardinals take on the Boston Red Sox on "Wednesday Night Baseball."
Joe Kelly
and
Shelby Miller
, who were teammates one week ago, face off this week as opposing starting pitchers on "Wednesday Night Baseball" (8 p.m. ET on ESPN).
Here are the top stats to know about Wednesday's starters.
Joe Kelly (2-2, 4.37 ERA)
Kelly will make his first start for the
Boston Red Sox
after being dealt by the
St. Louis Cardinals
at the trade deadline Thursday. Kelly, a 26-year-old righty, posted a 3.03 ERA in 31 starts from 2012-13 but had an ERA north of 4.0 in seven starts with the Cardinals this season.
Kelly's struggles in 2014 start with the fastball.
In the two previous seasons, Kelly threw 24 percent of his fastballs up in the zone and allowed a .281 batting average. Thirty-two percent of Kelly's fastballs have been up in the zone this season, and opponents are teeing off at a .349 clip (MLB average is .273 in 2014). His groundball percentage on fastballs dropped 10 percent as a result.
While the heater has been a problem for Kelly, his curveball continues to improve.
Kelly's curveball usage has increased in each of the past three seasons. His batting average allowed on curveballs has decreased from a generous .346 in 2012 to a stingy .146 in 2014 (MLB average is .222 in 2014).
Shelby Miller (8-8, 4.14 ERA)
Miller's ERA is up more than a full run this year compared to last, while his strikeout and walk percentages are heading in the wrong direction.
Miller ranked 19th out of 81 qualified starters in strikeout percentage with a below average walk percentage in 2013. Miller's strikeout percentage ranks 79th out of 95 qualified starters, while his walk percentage is the highest in baseball this season.
Those trends have put Miller in the bottom tier of the league in strikeout-to-walk ratio. Miller's 1.47 strikeout-to-walk ratio is the third-worst in Major League Baseball this season. Only
Jarred Cosart
(
Miami Marlins
) and
Roberto Hernandez
(
Philadelphia Phillies
) have been worse among 95 qualified starters.
October, 25, 2013
10/25/13
7:22
PM ET
By
ESPN Stats & Information
| ESPN.com
The
St. Louis Cardinals
evened the World Series with the
Boston Red Sox
at one game apiece as the series turns to St. Louis. Here are the top stats to know as we approach Game 3 on Saturday:
Jake Peavy stats to know
Peavy is coming off one of the worst starts of his career, one in which he allowed seven runs in three innings in a loss to the Tigers in Game 4 of the American League Championship Series. Peavy enters this start with a 10.31 ERA in 18⅓ career postseason innings.
If Peavy allows seven or more runs again, he'll be the second pitcher in postseason history to allow seven runs in consecutive starts, joining Hall of Famer Mordecai Brown, who did so 103 years ago for the Cubs against the Athletics in the 1910 World Series.
Carlos Beltran
should look forward to facing Peavy. He's 8-for-20 against him. In their last meeting on June 13, 2012, Beltran went 3-for-3 with a home run against Peavy.
Joe Kelly stats to know
Kelly has allowed eight earned runs in 16⅓ innings in three postseason starts, without a win to show for his work.
The loss of Mike Napoli
With no designated hitter in play for the next three games in St. Louis, Napoli will move to the bench with
David Ortiz
stepping in at first base. The loss of Napoli doesn't just impact the Red Sox on the offensive end, but on the defensive side as well.
Napoli was credited with 10 defensive runs saved during the regular season, the most among American League first basemen in 2013 and fourth-best in the majors. Specifically, Napoli rated above average at fielding balls hit down the first base line, converting them into outs at a higher rate than most first basemen.
Ortiz has played 39 innings at first base this season, 104 innings at first base over the last three seasons, and has been credited with costing his team two runs with his defensive play.
The Red Sox were 79-52 in the regular season when Napoli started, and 18-13 when he didn't start.
Red Sox bullpen historically good
The Red Sox bullpen has an ERA of 1.00 this postseason, which is second all-time among bullpens that have pitched at least 30 innings in a postseason.
Ortiz going deep
Ortiz has two home runs in the first two games of this series. With one more homer, he would join Carl Yastrzemski -- who did it in 1967 -- as the only Red Sox with three home runs in a single World Series.
Ortiz has five homers this postseason, tied with himself in 2004 and
Todd Walker
in 2003 for the most home runs by a Red Sox player in a single postseason.
How important is Game 3?
In the divisional era (since 1969), the Game 3 winner in a World Series tied 1-1 has won 16 of the 18 series, according to the Elias Sports Bureau. In that span, the only Game 3 winners in a World Series tied 1-1 to lose the series that year were the 2003 Yankees and 1979 Orioles.
October, 11, 2013
10/11/13
11:46
AM ET
Getty ImagesDon Mattingly will manage his first LCS, while Mike Matheny has made it both years as a manager.
The
St. Louis Cardinals
host the
Los Angeles Dodgers
in Game 1 of the NLCS tonight (8:37 ET/ESPN Radio). It should be quite the pitcher's duel between
Zack Greinke
and
Joe Kelly
.
Since the All-Star break (including the postseason), Greinke ranks second and Kelly third in the National League in ERA among qualified starters.
The only NL pitcher with a better ERA during that span is Greinke's teammate
Clayton Kershaw
.
Let's take you through some storylines for tonight's game.
Joe Kelly stats to watch
Kelly gets the ball in Game 1 for the Cardinals after a strong close to the season. Including his postseason start, Kelly is 7-2 with a 2.03 ERA in 57⅔ innings in his last 10 appearances (nine starts).
One of the keys to that: 57 percent of the balls in play against him were ground balls, compared to 47 percent in his first 27 appearances.
One of Kelly's forte's all season has been his ability to escape trouble. He allowed a .161 batting average with runners in scoring position, the fifth-lowest batting average among the 157 pitchers who faced at least 100 batters in those situations.
Zack Greinke stats to watch
Greinke has plenty of familiarity with the Cardinals. He's 6-2 with a 3.18 ERA against them in the past three seasons.
He's also 5-0 with a 1.39 ERA in his last eight road starts. In those, he's allowed only two home runs in 51⅔ innings pitched.
The first 12 starts of Greinke's Dodgers tenure (including a post-brawl injury) looked like a disappointment. But he's been even better than advertised since, posting a 1.65 ERA over his last 17 starts, spanning 114⅔ innings pitched.
The big bats: Beltran and Ramirez
Carlos Beltran's
BA/HR combination is rare in postseason history. Not only does he have the second most home runs (16) in NL postseason history (trailing only Albert Pujols' 18 home runs), he's one of five players to have a career .330 batting average and 10 home runs in the postseason.
The others are
Albert Pujols
(.330 BA/18 HR), Steve Garvey (.338 BA/11 HR), George Brett (.337 BA/10 HR) and Lou Gehrig (.361 BA/10 HR).
Hanley Ramirez
hit .345 with a 1.040 OPS and 20 home runs in only 86 games for the Dodgers this season. He's continued that strong performance into the postseason, registering one of the highest OPS marks in the history of the NLDS.
Matchup to watch: Carpenter vs Greinke
Matt Carpenter
was an MVP candidate for the Cardinals this season, thanks to a .318 BA, .873 OPS and 126 runs scored.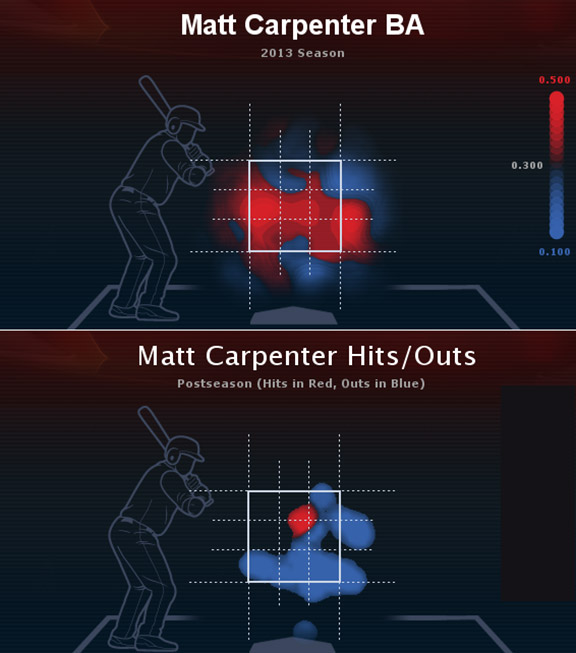 But he's struggled mightily in the Division Series, going 1-for-19. A big part of his problem appears to be pitches on the outer half. He's swinging and missing at more than double the rate that he did in the regular season.
Figure that Zack Greinke is armed with that knowledge, and if so, he may go with his changeup often to Carpenter.
Lefties hit .417 off Greinke's changeup in his first 12 starts and .130 in his next 17. Nearly 92 percent of his changeups to lefties have been located on the outer half of the plate in those last 17 starts.
September, 22, 2013
9/22/13
3:16
PM ET
The final Sunday Night Baseball telecast of the 2013 season pits the St. Louis Cardinals against the Milwaukee Brewers with the NL Central race still very much up for grabs (8 PM ET, ESPN). Here are five stats our broadcast crew will be talking about today.
1--
The Cardinals clinched at least a Wild Card berth with a Nationals loss earlier this afternoon.
Mike Matheny
becomes the fifth manager in Cardinals history to lead the team to the postseason in back-to-back seasons. He's the second to do so in his first two full seasons as the club's manager, joining Gabby Street (1930-31).
2--
Joe Kelly
will look to stay hot for the Cardinals. Since the start of July he's gone 9-1 over 13 starts with a 2.18 ERA. He's been one of 12 Cardinals pitchers in his age 25 season or younger (age as of June 30) to pitch for them this season, most of any team in MLB.
Kelly averages 94.8 mph with his fastball, eighth-fastest among starters this season. His mound opponent,
Wily Peralta
, is right behind him at 94.7 mph.
3--
Matt Carpenter
could be the fifth Cardinal in the modern era (since 1900) to lead the league in hits, doubles and runs in the same season. The last to do so was
Albert Pujols
in 2003.
Carpenter has fallen behind with an 0-2 count 126 times this season. In those plate appearances, he's batted .339 with a .357 on-base percentage and .545 slugging percentage, by far the best in baseball. The major-league average slashline after falling down 0-2 is .167/.196/.248.
4--
Carpenter's teammate,
Matt Holliday
, his hitting .343 since returning from the disabled list on July 27. Holliday's 70 hits and 44 RBI are the most in the majors in that span.
5--
Brewers centerfielder
Carlos Gomez
is having a fantastic season. He has a career high 21 home runs and is four steals shy of becoming the 30th different player (and first with the Brewers) to have a 20-homer/40-steal season He ranks second in the NL in Wins Above Replacement (7.8) this season.
Gomez leads all major-league centerfielders in Defensive Runs Saved with 37 this season. No other centerfielder has more than 25.
August, 27, 2013
8/27/13
11:30
AM ET
Today on Sweet Spot,
Anna McDonald profiled five
of the
St. Louis Cardinals
top young arms who could be key to the team's hopes of a division title.
We looked at each of those pitchers from a statistical perspective (and threw in one other,
Kevin Siegrist
). Here's our take on what they've done and what to watch for moving forward.
Joe Kelly
Kelly
What's to like:
Kelly is 5-0 with a 1.79 ERA in his last seven starts, dating back to July 12. One of the keys to that has been a changeup, against which opponents have made 44 outs and allowed 12 baserunners. Opponents are 2-for-their-last 23 with two walks against that pitch.
Room for improvement:
Kelly is not a strike thrower. He's struck out 24 and walked 18 (one intentional) in 40 1/3 innings in this seven-start stretch. Within that timeframe, Kelly is getting misses on only 13 percent of the swings taken against him, the second-worst rate of any pitcher in that stretch.
Seth Maness
What's to like:
Maness is just about as good as it gets at inducing ground balls. His ground-ball rate of 72 percent is second-best in the majors, half-a-percentage point behind Diamondbacks submariner
Brad Ziegler
. Maness allowed a run in his last outing, snapping a streak of 14 2/3 innings of scoreless work.
Room for improvement:
Maness is very hittable. Nearly half of the swings against him have been put into play, a rate that ranks among the 10 highest in baseball. Both lefties and righties hit him equally well, combining for a .294 batting average against him.
Shelby Miller
What's to like:
The Stats & Info blog has
written about
Miller's strengths
a few times, most notably a fastball that gets hitters to miss on about one-fourth of their swings.
Room for improvement:
Miller has been up and down as the season has moved along. He had a 1.91 ERA in his first 12 starts this season, but a 4.06 ERA in his last 13. The primary culprit has been home runs.
He's yielded 12 in his last 64 1/3 innings, including four in his last three starts.
Trevor Rosenthal
Rosenthal
What's to like:
Rosenthal is among the game's hardest throwers. His fastball averages 97.3 mph, which ranks third-best among those with at least 50 innings pitched. Only
Aroldis Chapman
(98 mph) and
Nate Jones
(97.5) throw harder. Rosenthal is using that pitch to average 12.6 strikeouts per 9 innings, sixth-best in the majors.
Room for improvement:
If Rosenthal does eventually transition into the starting rotation, he'll likely need to throw his breaking ball more. Rosenthal has thrown 72 curves and sliders this season and they've combined to yield eight baserunners, while netting only nine outs.
Kevin Siegrist
What's to like:
Siegrist currently has a 12 1/3 inning scoreless streak during which he hasn't allowed any inherited runners to score either.
Opponents are 9-for-88 against him, with right-handed hitters being as meek (5-for-44) as lefties (4-for-44). Thus far, he's been able to get away with throwing his fastball over the heart of the plate. He's thrown exactly 100 heaters into the area covering the middle-third of the strike zone, width-wise and gotten 25 outs, yielding only one baserunner.
Room for improvement:
Siegrist is a little wild. He's walked 15 in 27 innings, mainly because when he throws the ball below the knees, hitters know to let it go. Of the 99 times he's thrown a pitch to that area, he's only gotten 10 "chases" (swings at pitches out of the strike zone), well-below the major-league average of 27 percent.
Michael Wacha
Wacha
What's to like:
Wacha had two good starts in three appearances after initially being recalled in late May. In his second stint with the team, he's held opponents scoreless in four of five relief appearances. Wacha has shown he can get hitters out from the left side. Lefties are 12-for-59 against him with 14 strikeouts and two walks.
Room for improvement:
Wacha has had three games this season in which he significantly struggled at getting right-handed hitters out. Overall, they're 15-for-52 against him with eight extra-base hits and four walks.
August, 29, 2012
8/29/12
10:50
AM ET
By
Will Cohen, ESPN Stats & Information
| ESPN.com


The
Pittsburgh Pirates
and
St. Louis Cardinals
meet tonight (ESPN, 7 ET) with the season series tied 7-7. Since their 19-inning marathon which the Pirates won 10 days ago, the two teams have gone in opposite directions. The Pirates have dropped six of eight while the Cardinals have won six of eight.
Cardinals Need Yadier Molina
Cardinals catcher
Yadier Molina
will likely be out for tonight's game after taking a hit at the plate from
Josh Harrison
Tuesday.
St. Louis likely cannot afford to go without Molina for long, as he's already set a career high with 17 homers. He needs just three more RBI to tie his career high of 65, and he's stolen a career-high 11 bases.
He's also on pace to set a career high in batting average (.325) and OPS (.886). What's more, he leads all catchers with 13 Defensive Runs Saved this season.
Cardinals Heating Up
The Cardinals are getting hot at the right time, and after spending most of the season leading the MLB in run differential, the wins are finally starting to come. Since July 1st, St. Louis is 31-20, the sixth-best record in the MLB in that span. Much of that success can be attributed to St. Louis pitching. Since June 9th, the Cardinals have a 3.30 ERA from their starting rotation, tops in baseball in that span.
Tonight's starter,
Joe Kelly
, has been effective for the Cardinals this season in his rookie year posting a 3.26 ERA in 14 games (12 starts). Kelly throws his fastball very hard (94.1 miles per hour average), and has been good at keeping the ball in the park by keeping it on the ground. Kelly has a groundball percentage of 57 against his heater, tied for the second-highest percentage in the NL.
Wandy Rodriguez Relies on Curveball
No player has thrown more curveballs this season than
Wandy Rodriguez
, who opposes Kelly tonight. In fact, he's led the league in curveballs thrown in each of the previous three seasons, and since 2009, he's thrown 809 more curveballs than any other pitcher in baseball.
Since being acquired by Pittsburgh in late July, however, Rodriguez hasn't been what the Pirates had hoped. He has a 4.86 ERA with Pittsburgh after posting a 3.79 ERA with the
Houston Astros
, and is winless in five starts.