Stats & Info:

Joe Montana
September, 20, 2013
9/20/13
12:47
AM ET
By
ESPN Stats & Information
| ESPN.com
Andy Reid's return to Philadelphia was a triumphant one.
The
Kansas City Chiefs
improved to 3-0 by beating the Eagles 26-16. The Chiefs became the first team to start a season 3-0 after winning two or fewer games the previous season (in a non-labor-shortened season) since the 2002 Panthers.
Mr. Smith goes to Kansas City … and wins
Alex Smith
became the first Chiefs quarterback to win his first three starts with the team since
Joe Montana
won his first four starts with the Chiefs in 1993.
Smith won with the short passing game, going 21-for-31 for 258 yards on throws of 10 yards or fewer.
Smith was 7-for-7 when throwing to
Donnie Avery
, and was 4-for-4 (for 107 yards) when throwing to Avery on third down.
Avery had 80 yards after the catch on four third-down receptions.
Justin Houston dominates on 'D
Justin Houston had 3.5 sacks for the Chiefs, giving him 6.5 through three games this season. He's the third Chiefs player to have at least 3.5 sacks in a game, joining
Derrick Thomas
(who did so twice, including the single-game record of seven) and
Neil Smith
.
Houston may actually have had 4.5 sacks in the game (one was initially ruled a sack, then changed).
If the NFL were to rescore the play and rule that a sack, Elias tells us that Houston would be the first NFL player with at least 7.5 sacks through three games since Mark Gastineau had eight for the
New York Jets
in 1984.
Eagles offense working fast
Chip Kelly's offense has been operating faster and faster in each game this season.
The Eagles' average time of possession in between plays against the Chiefs was 19.9 seconds, half-a-second faster than in Week 2.
The person for whom the offense is working best is running back
LeSean McCoy
, who rushed for 158 yards, the third-best single-game total in his career. Two of his top three rushing performances have come this season.
The Elias Sports Bureau notes that McCoy's 395 rushing yards through his first three games are the most through the first three games of the season in Eagles history (Wilbert Montgomery held the previous record of 346 in 1981).
Michael Vick
also had a 61-yard run, the longest of his career. But Vick struggled against standard pass pressure, going 10-for-23 for 158 yards and an interception (along with three sacks) when the Chiefs sent four or fewer rushers at him.
Vick was 26-for-39 for 219 yards, with three touchdowns, no interceptions and one sack against standard pressure in the first two weeks of the season.
Elias Sports Bureau Note of the Night
Reid is the fourth head coach in NFL history to start a season 3-0 after missing the playoffs the prior season with a different team (Marty Schottenheimer, Dan Reeves, George Allen).
October, 30, 2012
10/30/12
12:04
AM ET
By
ESPN Stats & Information
| ESPN.com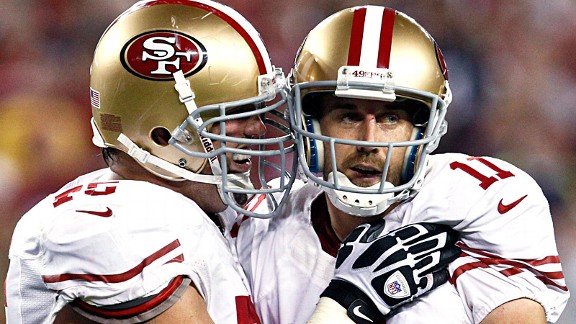 Ross Franklin/AP Photo
Alex Smith
(right) had one of the best days by a quarterback in NFL history.
Some of the success that the San Francisco Giants pitchers had in helping their team to a World Series title rubbed off on their football counterpart.
San Francisco 49ers
quarterback Alex Smith had the best day of his career, one that was
Joe Montana
and
Steve Young
-like in terms of statistical accomplishments.
For much of the night, it looked like Smith was playing a game of catch with his receiving teammates. Giants pitchers had what baseball folks call "swing-and-miss" stuff. Smith had can't-miss stuff.
Let's look some of the highlights of the 49ers easy win over the
Arizona Cardinals
.
Just shy of perfection
Smith was 18-for-19 on his pass attempts, setting a mark for passes thrown in a game with no more than one incompletion. The Elias Sports Bureau tells us that the previous mark of 18 was set by Fran Tarkenton in 1977 and matched by Craig Morton in 1981.
Montana's most accurate day, with at least that many pass attempts, was an 84.4 percent success rate, when he went 27-for-32 against the Falcons in 1983.
Montana's fewest incompletions in a game with as many attempts as Smith was three. He went 16-for-19 against the Falcons in 1989.
Young's best was two incompletions, in an 18-for-20 game against the
Detroit Lions
in 1991. He also had a 15-for-16 game in 1994, as noted in the chart above.
What was the key to Smith's performance?
Smith was 7-for-8 for 113 yards when the Cardinals sent at least five pass rushers, the only incompletion being a drop by
Delanie Walker
.
His level of success against that kind of pressure isn't that surprising. Smith entered the day with the fourth-best Total QBR in the NFL against pass rushes of five or more defenders.
Milestone for Moss
49ers receiver
Randy Moss
looked like his old self on a 47-yard touchdown reception in the third quarter. It was Moss' 156th career touchdown, tying
Terrell Owens
for fourth-most all-time.
Moss has 18 touchdowns in 19 appearances on Monday Night Football, with five of them going for at least 40 yards.
His 18 receiving touchdowns are third-most all-time, trailing Jerry Rice's 34 and Terrell Owens' 20.
Moss has 45 touchdown receptions that gained at least 40 yards, easily the most by anyone currently playing in the NFL.
Santana Moss
ranks second with 20.
The defense had a good game too
The 49ers defense held the Cardinals to three points. It marked the fourth time in the last five games that the 49ers allowed six points or fewer. San Francisco's four such games are the most for all NFL team since the 49ers themselves had five in 2009.
August, 31, 2012
8/31/12
9:52
PM ET
By
Ryan Feldman, ESPN Stats & Info
| ESPN.com
Getty ImagesBy any standard, Tom Brady and Joe Montana are two of the greatest quarterbacks in NFL history.
Who's the better quarterback?
Tom Brady
or
Joe Montana
?
New England Patriots
owner Robert Kraft
thinks Brady is better.
What do the statistics tell us?
To compare the careers of Brady and Montana, let's look at their first 12 seasons. Montana finished the 1990 season at 34 years old, the same age at which Brady finished last season. By that time, Montana had played 166 regular-season games in 12 seasons. Brady has played 161 games in 12 seasons.
REGULAR-SEASON NUMBERS
Comparing Montana through 1990 to Brady side-by-side, Brady has the statistical advantage in every category. Brady has more passing touchdowns, passing yards and completions, a higher completion percentage and fewer interceptions. He also has more wins and fewer losses than Montana.
In some of the categories, it's not even close. Brady has 24 more wins and four fewer losses than Montana. Brady has 58 more passing touchdowns and eight fewer interceptions in over 700 more pass attempts.
But it's unfair to compare Brady and Montana without taking their eras into account. The current NFL is a more pass-heavy league than it was during Montana's career – teams average 11 more passing yards and two more pass attempts per game.
From 1979-1990, Montana led the NFL in passing yards, passing touchdowns (only
Dan Marino
was even within 40 of him), completions (nobody was within 400 of him) and completion percentage (minimum 100 attempts).
By comparison, Brady is fourth in passing yards, second in passing touchdowns, fourth in completions and ninth in completion percentage (minimum 100 attempts) during his career.
So while Brady has better raw statistics, Montana was better when ranked against his peers in the era he played.
POSTSEASON
The postseason is where Montana truly distinguished himself. He was undefeated in four Super Bowls, while Brady is 3-2 in Super Bowls, losing each of his last two.
Montana has a career Super Bowl-record 11 passing touchdowns and no interceptions for a 127.8 Super Bowl Passer Rating, also a record. Brady holds the Super Bowl record for career completions (127) and passing yards (1,279) and has nine touchdowns with one interception.
From 1979 to 1990, Montana had more than twice as many postseason passing touchdowns (39 to Marino's 18) and over 2,000 more postseason passing yards (4,758) than anyone else.
Since 2000, Brady leads the NFL with 38 passing touchdowns and 5,285 passing yards in the postseason, but his lead margins aren't anywhere near Montana's.
CONCLUSION
Comparing their stats side-by-side, it looks clear that Brady has the upper hand. But by taking a deeper look at how they compared to their peers in their own eras, Montana fares better. Brady can't compare to Montana's perfect 4-0 Super Bowl record and 11-0 touchdown-to-interception ratio. If Super Bowls are your ultimate measuring stick, Montana is your guy.
March, 20, 2012
3/20/12
12:11
PM ET
The
Denver Broncos
won the AFC West and a playoff game in 2011 with
Tim Tebow
as their starting quarterback.
Manning
However, based on 10,000 season simulations by AccuScore, the 2011 Broncos -- with Tebow as their starting QB -- made the playoffs in only 17.1 percent of simulations. With
Peyton Manning
under center, not only would the Broncos have been favored to win the AFC West, but their playoff chances would have increased to 83.8.
AccuScore also projects that Manning would have thrown for 3,936 yards and 30 touchdowns.
Peyton's Payday
If the
terms being reported are accurate
, Manning would be the highest paid player in the NFL. His average annual salary of $19.2 million eclipses what
New England Patriots
quarterback
Tom Brady
averages annually.
It's also nearly $3 million more than what younger brother Eli earns with the
New York Giants
($16.3M).
Denver's Latest Odds
Denver initially opened at 75-to-1 odds to win the 2013 Pro Football Championship, but has made a remarkable jump since Monday's announcement by Manning. According to MGM Resorts International, Denver moved on Monday to 10-to-1 after Manning instructed his agent to negotiate with the Broncos. That number now is at 8-to-1. Green Bay remains the favorite at 5-to-1.
2012 Milestones Within Reach
Manning has won a record four AP NFL MVP awards. Now that he's a Bronco, Manning is the fifth different player (all quarterbacks) to join a new team after winning multiple MVP awards with one team. He's the first to change teams since three-time MVP
Brett Favre
was traded from the
Green Bay Packers
to the
New York Jets
before the 2008 season.
The other three quarterbacks to change teams after winning multiple MVP awards with one team: Johnny Unitas,
Joe Montana
and
Kurt Warner
.
• Manning's next touchdown pass will be the 400th of his career, only Favre (508) and
Dan Marino
(420) have more in NFL history.
• Manning and Marino share the record for most 300-yard passing games with 63.
• He has 22 career games with at least four touchdown passes, one shy of the record held by Favre.
Class of '98
Manning and
Hines Ward
were drafted by the Colts and
Pittsburgh Steelers
, respectively, in 1998. Manning is about to become a Denver Bronco and Ward on Tuesday announced his retirement.
According to the Elias Sports Bureau, there is only one player from the 1998 draft class who remains with the team that selected him: Bears long-snapper
Patrick Mannelly
, who was a sixth-round pick out of Duke.
March, 6, 2012
3/06/12
8:04
PM ET
Tom Hauck/Getty ImagesPeyton Manning and the Colts will head their separate ways for the 2012 season.
The
Indianapolis Colts
and
Peyton Manning
will reportedly part ways on Wednesday, with the Colts declining a roster bonus that will make Manning a free agent.
This will end Manning's association with the franchise with which he made his mark in the NFL. Let's take a look at the news from a few statistical perspectives.
What Manning meant to the Colts
From 1984 to 1997, the Colts won less than 40 percent of their regular-season games and just one division title. With Manning at quarterback from 1998 to 2010, they won nearly 70 percent of the time, won their division eight times, and won a Super Bowl.
The Colts tied an NFL record with nine straight playoff appearances from 2002 to 2010, matching the mark set by the
Dallas Cowboys
from 1975 to 1983. Their run of nine straight seasons with at least 10 wins in that span is tied for the second best in NFL history, behind the
San Francisco 49ers
' run of 16 straight from 1983 to 1998.
Manning's 54,828 passing yards and 399 touchdown passes for the Colts are the third most in NFL history by a quarterback for a single team. He trailed only Brett Favre's contributions to the
Green Bay Packers
and Dan Marino's totals for the
Miami Dolphins
in both of those stats.
Career in historical perspective
Manning is tied for the NFL's all-time record for most career games with at least 300 passing yards with 63 and holds the NFL mark for most seasons of at least 4,000 yards passing with 11. His 141 wins as a starter are the fourth most in NFL history, 45 behind Favre.
Manning is the only player in NFL history to win four NFL MVP awards, as voted on by The Associated Press.
Manning started the first 208 games of his NFL career. That's the second-longest streak by a quarterback at any point in his career in NFL history, behind only Favre's 297.
Manning's Future
Manning will turn 36 on March 24. How have quarterbacks fared in their "age 36 season" (meaning they were 36 by Dec. 31)?
There were 34 quarterbacks with at least 300 pass attempts at age 36:
- 16 led their team to the postseason
- 15 threw at least 20 touchdown passes
- 12 threw for more than 3,000 yards.
The Elias Sports Bureau provided us with a list of notable passing stats for any quarterback since 1970 who played in the NFL, then missed at least one entire season, and then returned to the NFL.
Of those, Gary Danielson had the most passing yards (3,223) and most wins (9) after returning, doing so for the 1980 Lions.
One of the key questions when Manning returns will be about his ability to throw the deep ball. Over the three seasons from 2008 to 2010, Manning rated below average on pass attempts of 20 yards or more, completing just 32 percent. That ranked 28th among the 47 quarterbacks with at least 50 such throws in that span.
The Miami Dolphins,
Washington Redskins
and
New York Jets
are among Manning's rumored suitors. The Dolphins have had 16 starting quarterbacks since the start of the 2000 season, tied with the Bears for the most in the NFL in that span.
Manning figures to be a Hall of Fame inductee when his career is done. Only three Hall of Fame quarterbacks have won the Super Bowl with one team, than finished their career with another -- Johnny Unitas, Joe Namath and
Joe Montana
.
October, 18, 2011
10/18/11
4:39
PM ET
Andy Lyons/Getty Images
Carson Palmer leaves Cincinnati ranked in the top 3 in most of the team's career passing lists.
Carson Palmer
was traded to the
Oakland Raiders
for a first-round pick in the 2012 draft and a second-round pick in the 2013 draft from the
Cincinnati Bengals
. Since 1990, 12 other non-rookie quarterbacks were traded for a first round pick, including
Drew Bledsoe
(2002),
Brad Johnson
(1998),
Joe Montana
(1993) and
Brett Favre
(1992).
Palmer is coming off a difficult 2010 season in which he tied a career-high with 20 interceptions and went 4-12 as the Bengals starter. His 23 turnovers in 2010 were the fourth most in the NFL behind
Eli Manning
(30), Favre (24) and
Drew Brees
(24). In fact, Palmer hasn't been among the NFL's statistically elite quarterbacks since 2007, the season before he missed 12 games with a serious elbow injury.
Palmer leaves Cincinnati ranked in the top three in franchise history in completion percentage (first at 62.9), completions (second with 2,024), pass yards (third with 22,694) and TD passes (third with 154). He'll be reunited with Raiders head coach Hue Jackson, the Bengals wide receivers coach during Palmer's first three years as a starter in Cincinnati.
The Raiders were in the market for a QB after losing starter
Jason Campbell
to a broken collarbone in Week 6 that could ultimately end his season. The only options at QB were
Kyle Boller
and rookie
Terrelle Pryor
. Boller has thrown more interceptions (51) than touchdowns (48) in his career while Pryor has yet to see the field. He was suspended for the first five games of the season for NCAA violations he committed while at Ohio State.
Palmer had a 50.0 Total QBR from 2008 to 2010, which ranks as 26th best in the NFL during that span, minimum 100 action plays (total of 75 qualifiers). Campbell's Total QBR was 49.7 over that span.
After trading their 2012 first-round pick to the Bengals, the Raiders have now traded away their first, second, third, fourth and seventh round picks in next spring's draft. They could become the first team since the 1989 Raiders to make no picks in the first four rounds of a draft. That year, the Raiders traded away their draft picks in each of the first five rounds.
At 4-2, the Raiders have a good chance to finish the year with a winning record for the first time since 2002, when they went 11-5 and advanced to the Super Bowl. Oakland is one of three teams (along with the
Detroit Lions
and
San Francisco 49ers
) to not have a winning record in each of the last eight seasons.
The Raiders eight season playoff drought is the longest in franchise history. Only three teams have played more seasons since their last postseason trip – the
Buffalo Bills
and Lions (11) and
Houston Texans
(nine).
For exclusive video, stories and blogs about quarterbacks from every level of competition, check out ESPN's "Year of the Quarterback" page.