Stats & Info:

Joe Southwick
September, 17, 2013
9/17/13
11:03
AM ET
By
Sharon Katz, ESPN Stats & Info
| ESPN.com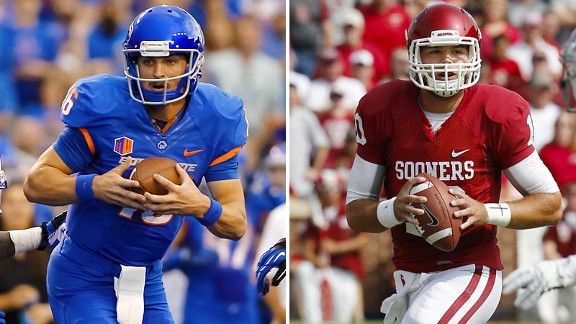 AP PhotoJoe Southwick and Blake Bell were among the best performers of the past week.
Week 3 of the 2013 college football season will largely be remembered for
Alabama's
49-42 victory against
Texas A&M
in what became a matchup of two high-powered offenses.
Texas A&M gained 628 total yards and 31 first downs against Alabama, but Johnny Manziel's two interceptions – each of which dropped Texas A&M's chances of winning by 12 percentage points – proved too costly for the Aggies to overcome.
For a complete analytical breakdown of Alabama's victory against Texas A&M, see Analytics Specialist Alok Pattani's description
here
.
As significant as Alabama's win was for the national title race, there were 61 other games involving FBS teams this week. Of those games, which individual and team performances were most impressive?
Best Individual Performances
Taylor Heinicke (99.5 Total QBR)
of
Old Dominion
posted the highest Total QBR of Week 3 after throwing for 406 yards and accounting for five total touchdowns against
Howard
.
Heinicke helped Old Dominion set a new school record in points (76) in only its third game as a transitioning member of the FBS.
Joe Southwick (98.8 Total QBR)
had a career-high Total QBR in
Boise State's
42-20 win against
Air Force
on Friday. It was the highest Total QBR by a Boise State quarterback in the last 10 seasons, and 1.2 points higher than any game recorded by former Boise State quarterback Kellen Moore.
Marcus Mariota (97.5 Total QBR)
recorded his third straight game with a Total QBR of 97 or above in
Oregon's
victory against
Tennessee
. In the last 10 seasons, Mariota is the first player (minimum 20 action plays per game) to open the season with three straight games with a Total QBR of 97 or above.
Blake Bell (96.7 Total QBR)
threw for 413 yards and four touchdowns in Oklahoma's 51-20 win against
Tulsa
. Bell's 96.7 Total QBR was the highest by an
Oklahoma
quarterback since Sam Bradford posted a 99.0 against
Baylor
on Oct. 4, 2008. Bell proved to be more than a goal-line "Belldozer" by adding the fourth-most expected points on passing plays of any FBS quarterback in Week 3.
Blake Bortles (94.8 Total QBR)
threw for 288 yards and three touchdowns in
UCF's
34-31 upset win at
Penn State
. Bortles converted 5-of-6 passes on third down, including two touchdowns, and completed a career-high six passes of 20 yards or longer against the Nittany Lions.
Best Team Performances
Offense –- Florida State:
After trailing 7-3 to
Nevada
early in the second quarter, Florida State scored 59 straight points to end the game, including 45 points on eight second-half drives. The Seminoles' offense added 31 expected points in the second half, the most by any team in the last 10 seasons.
Defense –- Texas Tech:
The Red Raiders are normally known for their offense, but on Thursday, their defense held
TCU
to 10 points and contributed about 16 net points toward their 10-point margin of victory.
Texas Tech stopped TCU on 15 of its 18 third- or fourth-down chances and forced a punt or turnover on all six of the Horned Frogs' first-half drives.
Special Teams – Vanderbilt:
The Commodores lost 35-25 to
South Carolina
on Saturday, but it could have been a lot worse if not for their special teams unit. Vanderbilt's special teams added about 15 expected points, the most of any team in a game this season.
Overall, Vanderbilt started its drives 20 yards closer to the end zone than South Carolina did largely because of two fourth-quarter fumbles forced by its special teams unit.
Deeper look at final play of Arizona State-Wisconsin
In potentially the strangest play of the season,
Wisconsin
quarterback
Joel Stave
attempted to center the ball on the
Arizona State
15-yard line with about 15 seconds remaining to set up a game-winning field goal attempt. The Arizona State players covered the ball, claiming that Stave was not down and therefore had fumbled.
Although officials ruled Stave down, the ball was not set in time for Wisconsin to spike the ball, stop the clock and attempt a field goal. Just how much did that play cost the Badgers?
In the last 10 seasons, the FBS average conversion percentage on 32- or 33-yard field goal attempts is 76 percent. Accounting for the slim chance of a kickoff return touchdown or turnover, Wisconsin had a 72 percent chance of winning the game prior to Stave's two-yard loss.
Therefore, as time ran out, Wisconsin's chance of winning fell from 72 percent to 0 percent, the second largest swing for any play this season behind only the 75-yard rush touchdown by Ole Miss against Vanderbilt to take the lead in the fourth quarter (75 percent swing).
Wisconsin must regroup before taking on Purdue (Saturday, 3:30 p.m. ET on ABC), No. 4 Ohio State and No. 18 Northwestern in the next three weeks.
For a complete explanation of ESPN's new CFB storytelling metrics, click
here
.
August, 8, 2013
8/08/13
10:54
AM ET
By
Sharon Katz
| ESPN.com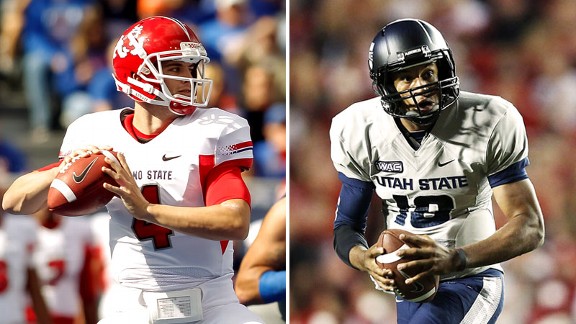 Derek Carr (left) and Chuckie Keeton (right) are among the top returning quarterbacks in the MWC.
The
SEC returns 11 of 14 starting quarterbacks
, including the reigning Heisman Trophy winner, the winner of two-straight BCS National Championships and the player on pace to break every major SEC passing record.
Yet, the SEC may not be returning the best crop of quarterbacks in the country. That honor could belong to the newly-revamped Mountain West Conference.
Nine of the 12 teams in the Mountain West Conference return their starting quarterbacks. Six of those quarterbacks were named to the
Manning Award watch list
, the most from any conference.
The Manning Award Watch List names the top 30 returning quarterbacks based on their 2012 Total QBRs.
Unlike other traditional quarterback stats, Total QBR uses all of a quarterback's plays (passing, rushing, sacks, fumbles and penalties) and accounts for the context of the game (down, distance, score).
As a result, dual-threat quarterbacks, such as
Nevada's
Cody Fajardo
, are graded on both their passing and rushing abilities.
Of these top 30 quarterbacks, six will be in the Mountain West Conference next season –
David Fales
(San Jose State),
Chuckie Keeton
(
Utah State
), Fajardo,
Brett Smith
(
Wyoming
),
Joe Southwick
(
Boise State
) and
Derek Carr
(
Fresno State
). No other conference had more than five players named to the list.
Unlike traditional statistics, Total QBR accounts for the strength of opposing defenses. As a result, the SEC quarterbacks are rewarded for facing tougher competition.
Even with this opponent adjustment, the top five returning quarterbacks in the Mountain West Conference averaged almost exactly the same Total QBRs as the top five returning quarterbacks in the SEC. They also averaged more total yards per game and accounted for more of their team's total offense than the group of SEC QBs.
The top three quarterbacks in the SEC –-
Johnny Manziel
, A.J. McCarron and
Aaron Murray
– are in a class of their own, but after Murray there is a big drop off in the next group of SEC passers.
Connor Shaw
, the SEC's fourth-ranked quarterback (23rd ranked returner overall), is coming off an injury and will likely split snaps with backup
Dylan Thompson
next season.
In comparison, the Mountain West Conference has five of the top 16 returning quarterbacks, and half of its quarterbacks rank in the top 25.
The additions of Fales and Keeton to the Mountain West Conference add depth. Fales completed an FBS-best 72.5 percent of his passes last season, and Keeton ran for 619 yards and eight touchdowns while leading the Aggies to 11 wins.
They will look to dethrone Carr, the unanimous first-team All Mountain West Conference selection who threw 37 touchdowns and seven interceptions last season. Southwick, Fajardo and Smith will all look to build upon strong 2012 seasons and contend for the title in the toughest quarterback conference in the country, according to QBR.
December, 22, 2012
12/22/12
8:02
PM ET
By
Sharon Katz
| ESPN.com
This is becoming a familiar pattern for the
Boise State Broncos
-- win at least 11 games and end the season with a win in the MAACO Bowl Las Vegas.
The Broncos won for the third straight year, eking out a win over the
Washington Huskies
. Here are the top notes to know from this contest.
1--
Boise State quarterback
Joe Southwick
completed 80 percent of his passes from inside of the pocket, including both of his touchdown throws.
The key for Southwick was the success he had on third down, as noted in the chart on the right.
Washington's
Keith Price
struggled from inside of the pocket, throwing two interceptions and completing less than 55 percent of his passes from inside of the pocket.
2--
Boise State also had the edge when it came to throws of 15 yards or longer. The Broncos were 7-for-13 for 179 yards and a touchdown on those passes (the score came on Chris Potter's 34-yard touchdown throw to
Holden Huff
on a wide-receiver throwback).
Price, who had not thrown an interception on his 68 pass attempts of longer than 15 yards entering the day, threw two in this contest, and was just 2-for-7 on those pass attempts.
3--
Bishop Sankey
rushed for 205 yards in defeat, a Washington bowl record. He was able to find lanes along the outside, averaging 7.5 yards before first contact on 13 rushes outside of the tackles.
Stat of the Game
Boise State had a 15-point lead in the first half. The Broncos have won 22 straight games in which they led by at least 15 (last loss was to
Nevada
in 2010).
Washington has lost 34 straight games in which it has trailed by at least 15 and hasn't overcome a deficit of 15 or more to win since 2006 against
UCLA
.
August, 31, 2012
8/31/12
12:26
AM ET
By
ESPN Stats & Information
| ESPN.com


For the fourth straight season
Boise State
is opening with a top-20 opponent, as the 24th-ranked Broncos face 13th-ranked
Michigan State
on Friday at 8 ET on ESPN.
However, this will be the first time the Broncos have played a true road game in the season opener since a loss at Georgia in 2005.
BOISE STATE
Over the last 10 seasons, no team has won more games or had a better win percentage than Boise State.
And the Broncos have been at their best against AP Top 25 opponents, winning six of seven games since the start of 2009. They're 5-0 in these games when they have more than two weeks to prepare, including 3-0 in season openers. Boise's passing has been the key. The Broncos are averaging 270.6 pass yards per game against AP Top 25 teams since the start of the 2009 season.
The Broncos have won six straight and eight of their last nine games against BCS teams. Of those eight wins, six have been against ranked teams.
But this is a different team than it was the last four years.
Joe Southwick
will be Boise State's starting quarterback. He has big shoes to fill, as he tries to replace Kellen Moore, the all-time winningest quarterback in FBS history with 50 victories.
Southwick does have some playing experience. He has played in 16 games as a backup over the last two seasons, completing 40-of-54 passes for 400 yards with two touchdowns and an interception.
This is just the second time the Broncos will face a Big Ten team – they lost at Wisconsin in 1997.
Boise State's average drive started at its own 39-yard line last season, the best starting field position in FBS. Its opponents started at their own 24, which was the best defensive field position.
MICHIGAN STATE
Field position may be tough to come by at Spartan Stadium, where Michigan State's 14-game home win streak is the fourth-longest active streak among FBS teams. The last time the Spartans lost at home was in 2009 against Penn State.
Boise State isn't the only team in this matchup with a new quarterback replacing a stalwart.
Andrew Maxwell
will be Michigan State's starting quarterback. He will be replacing Kirk Cousins, the Spartans' all-time leader in wins, passing yards and passing touchdowns.
In addition to losing Cousins, the Spartans also lost their top-four pass catchers (by receiving yards) from last season: B.J. Cunningham, Keshawn Martin, Keith Nichol and Brian Linthicum. Specifically the loss of Cunningham will hurt the Spartans downfield attack as Cunningham had 17 more 20-plus yard receptions than any other Spartans receiver since the start of 2010.
Michigan State is opening the season against a ranked opponent for the first time since 1998. That season, the Spartans hosted 15th-ranked Colorado State and lost 23-16.
The Spartans are ranked 13th in the preseason AP Poll. That is the highest the Spartans have been ranked in the preseason since 1979 when they were ranked 10th.
Michigan State is ranked in the preseason AP Poll for the second straight season, something that hasn't happened since 1997-98.