Stats & Info:

Joel Hanrahan
April, 11, 2013
4/11/13
12:43
AM ET
By
ESPN Stats & Information
| ESPN.com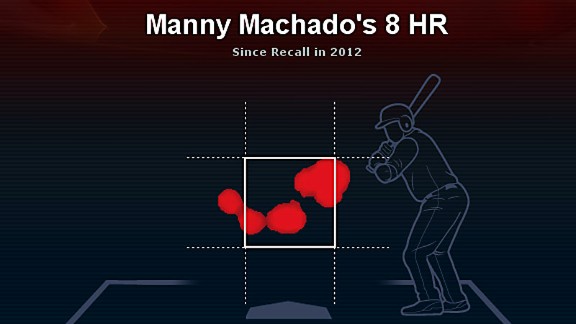 Manny Machado has hit four of his eight home runs on pitches up and in, including Wednesday's game winner.
On the day the
Boston Red Sox
's Fenway Park sellout streak ended, some of the good vibes from their start to 2013 came to a sudden, surprising halt as well.
The
Baltimore Orioles
won Wednesday in a manner similar to how they've been winning games since the start of last season (or as Red Sox fans might say, since the final game of the 2011 season).
Here are some quick takes on the notable stats from the Orioles' magical rally from two runs down with two outs in the ninth inning.
Machado comes up big
Perhaps this go-ahead ninth-inning home run is the cure for Manny Machado's early-season struggles.
Machado became the first player age 20 or younger to hit a go-ahead home run at Fenway Park since
Andruw Jones
for the 1997
Atlanta Braves
.
The pitch against which Machado hit the home run was thrown to what has been a sweet spot for him -- up and in.
Four of Machado's eight career home runs now have come against pitches that were in the upper half and inner half of the strike zone, as noted in the image above.
The home run was the first hit Machado has had on the dozen fly balls he has hit this season.
Davis' homer-hitting barrage continues
Chris Davis
set up Machado's big moment with a home run earlier in the ninth inning. The Elias Sports Bureau notes Davis is the first player in franchise history with five home runs in the team's first eight games of the season.
Not a good day for Joel Hanrahan
It's only April, but there are some early red flags for Red Sox closer Joel Hanrahan. He has faced 12 batters in the past two games and allowed three home runs, including the two in the ninth inning Friday.
Hanrahan allowed only one home run to the 274 batters he faced in 2011. But he now has allowed 11 to the 277 batters he's faced since the start of the 2012 season.
Bradley luster wearing off
Although Jackie Bradley Jr. impressed Red Sox fans in the first couple of days of the season, he's hit his first blip.
Bradley was 0-for-2 with a walk and a pair of weak groundouts. Bradley is hitless in his past 12 at-bats, dropping his batting average to .130. The past eight balls he has put into play all have been hit on the ground.
March, 1, 2013
3/01/13
10:58
AM ET
AP Photo/David GoldmanThe Red Sox will look to
Ryan Dempster
in 2013
With Baseball Tonight at
Boston Red Sox
spring training camp today, here's a look at notable "Stats to Know" about a team that was very active in the offseason in an effort to avoid duplicating the disaster that was 2012.
How bad was it?
The Red Sox went 69-93 in 2012. Their .426 winning percentage was their worst since going 62-100 (.383) in 1965. 2012 snapped a streak of 45 straight seasons without 90 losses, which was the longest active in the MLB.
The Red Sox top player by Wins Above Replacement was
Dustin Pedroia
(4.7). The Red Sox have had only one other season in the last 50 in which their WAR leader's total was so low—in 1980, when Fred Lynn paced the team with 4.5 WAR.
New faces at the plate
The Red Sox projected Opening Day starting lineup contains five new position players from last season's debut lineup. Among the acquisitions,
Shane Victorino
and
Jonny Gomes
will play the corners in the outfield,
Mike Napoli
first base,
Stephen Drew
shortstop, and fill-in reserves
David Ross
and
Mike Carp
will catch and play first base respectively.
The acquisitions of Gomes, Napoli and Victorino
should help the Red Sox against left-handed pitching
. The latter three all rank in the top 30 among active players in career slugging percentage against lefties.
The Red Sox went 26-25 in games against lefty starting pitchers in 2012.
Ross has a reputation as a good defensive catcher, a thought backed up by this stat: opponents have a 64 percent career stolen-base success rate against Ross, fourth-lowest against active catchers with at least 300 games behind the plate.
The most trepidation comes with Napoli, who had to settle for a one-year deal after hip issues uncovered with his physical torpedoed a potential 3-year contract.
Napoli went from striking out in 20 percent of his plate appearances in 2011 to a career-high 30 percent rate in 2012 (seventh-highest in the majors). His effectiveness against breaking pitches declined sharply as well, as noted in the chart on the right.
New faces on the mound
The Red Sox made two significant additions to their pitching staff in starter Ryan Dempster and closer
Joel Hanrahan
.
Boston hopes to get the version of Dempster who pitched for the Cubs last season to a 2.25 ERA and 1.04 WHIP, rather than the one who had a 5.09 ERA and 1.44 WHIP in 69 innings with the Rangers. The key stat tied to his struggles: he allowed only nine home runs with the Cubs, but yielded 10 in 35 fewer innings with the Rangers.
The Red Sox are betting that Dempster's track record of consistency will help lower the starting rotation's 5.19 ERA from last season (a franchise-worst in the Live-Ball Era). His strikeout, walk, and homerun numbers have been consistent over the last four seasons, during which his
FIP
(an ERA estimator that uses those stats to measure effectiveness) has ranged from 3.69 to 3.99.
Hanrahan had 36 saves and a 2.72 ERA last season. However, a couple of key indicators were outliers for him.
Hanrahan's percentage of baserunners stranded (89.7 percent) and
BABIP
(.230) both ranked in the top five among NL relievers with at least 50 innings last season and were far removed from his career averages of 75 percent and .306.
December, 30, 2012
12/30/12
11:18
AM ET
By
ESPN Stats & Information
| ESPN.com
AP Photo/Gene PuskarWas Joel Hanrahan's 2012 success abberational?
Each week, the Stats & Information blog reviews MLB transactions. This weeks review focuses on Joel Hanrahan and the Brewers effort to fix their bullpen issues.
Joel Hanrahan traded to Boston Red Sox
The Red Sox acquired their 2013 closer by trading for Hanrahan last week –- a decision likely based on the 36 saves and 2.72 ERA he posted last year. But does he really have the stuff of an elite ninth-inning guy?
Let's look closer at his stats.
Hanrahan's sub-3.00 ERA and batting average allowed of .187 were supported by an unusually high strand rate and low BABIP, two factors that will make it difficult for Hanrahan to replicate his 2012 season in 2013.
His percentage of baserunners stranded (89.7 percent) and BABIP (.230) both ranked in the top five among NL relievers with at least 50 innings last season and were far removed from his career averages of 75 percent and .306.
Though Hanrahan had an above-average strikeout rate in 2012, his walk rate jumped from six percent in 2011 to 14 percent in 2012 (fifth-highest in MLB) and his groundball rate fell by nearly 15 percentage points over the last two seasons.
This combination of statistics partly contributed to a 4.45 FIP (an ERA estimate based on strikeouts, walks, and home runs allowed), which ranked 118th out of 134 relievers with at least 50 IP
The difference between his ERA and FIP was 1.74 runs.
What does that mean for Hanrahan's 2013 campaign?
In 2011, five relievers with at least 50 IP had a FIP that was at least 1.5 runs higher than his ERA, and then pitched at least 35 innings the following season (
Luis Ayala
,
Scott Downs
,
Alfredo Aceves
, Eric O'Flaherty,
Francisco Cordero
).
Each of them, except for Ayala, had their ERA nearly or more than double in 2012.
-- Katie Sharp
Brewers sign Mike Gonzalez to finish bullpen revamp
The Brewers continued their bullpen revamp by signing well-traveled lefty Mike Gonzalez earlier this week. Milwaukee spent almost all of last season with one lefty in its bullpen (
Manny Parra
), but will now likely have two with the signings of Gonzalez and swingman
Tom Gorzelanny
.
They join right-hander
Burke Badenhop
as newcomers brought in to shore up one of Milwaukee's biggest weaknesses and give the Brewers multiple specializations.
Left-handed hitters had a .763 OPS against Brewers relievers last season. The only teams whose relievers fared worse against lefty hitters were the
Miami Marlins
and
Chicago Cubs
.
Gonzalez has held opposing lefties to a .200 batting average and .555 OPS over the last two seasons, 34 points and 96 points better than the major-league averages in those stats respectively. His forte is a slider that nets about four lefties out for every one he allows to reach base.
Gorzelanny has comparable numbers in that stretch (a .203 opponents' batting average and .606 opponents' OPS). Reds slugger
Joey Votto
figures to face Gorzelanny in big spots a few times this season. He's 3-for-20 against the new Brewers lefty.
When Badenhop is going well, he excels against hitters from the
right
side. They were 3-for-their-last-31 against him in 2012.
He's an interesting option against lefties too, particularly when a ground ball is needed. Last season, lefties hit .300 against him (up from .250 over the previous three seasons combined), but were only 1-for-30 when hitting a ground ball.
The Brewers infield defense, another liability at times last season, will have to be on its toes for Badenhop. His 57 percent ground-ball rate the last two seasons is considerably above the major-league average (46 percent).
-- Mark Simon
July, 19, 2012
7/19/12
1:33
PM ET
By
ESPN Stats & Information
| ESPN.com
Jared Wickerham/Getty ImagesAndrew McCutchen and the Pirates are hoping to reach the postseason for the first time since 1992.
The
Pirates
entered play Thursday 11 games above .500 and tied with the
Reds
atop the National League's central division. At 51-40, they were tied with the
Giants
and Cincinnati for the second-best record in the NL and tied for fourth in all of Major League Baseball.
They have been one of baseball's hottest teams over the last two months, posting an NL-best .634 win percentage since June 1 (only the
Yankees
at .732 have been better). Following wins against the
Rockies
on Tuesday and Wednesday, all is well in Pittsburgh. That is, unless you flash back a season ago.
The Pirates were all alone in first place of the central division on Tuesday, July 19, 2011, and were hoping to finish off a sweep of the Reds the following day. Pittsburgh had won three straight and five of its past six games and were sitting a season-best seven games above .500.

Unfortunately for the Pirates, that would be the high-water mark for a 2011 season that unraveled and unraveled quickly. Beginning on July 20, the Pirates lost 15 of their next 18 games and would eventually finish 24-games back of division-winning
Milwaukee
. Their .313 win percentage (21-46) after July 19 was the worst in the National League.
But what's different this time around?
Andrew McCutchen
leads the majors in batting average (.369), slugging (.649), and OPS (1.072) and the MVP candidate has been the catalyst for the Pirates during their summer surge.
Since June 1, he has a league-high 66 hits, is hitting a league-best .410, and is tied for the league lead with 40 runs batted in. Last season, McCutchen was hitting .280 on July 19 with 14 home runs. He has 14 home runs since June 1 of this season.

Hanrahan
The Pittsburgh bullpen is also much improved. The Pirates are 43-0 this season when leading after seven innings (five such losses by this time last season) and
Joel Hanrahan
is second in the NL with 26 saves. As a team, they have seen improvement in bullpen ERA (2.64 vs 3.06), opponent batting average (.220 vs .245) and WHIP (1.23 vs 1.30) compared to this point last season.
Finally, their remaining schedule is more manageable this time around. Pittsburgh opponents have a combined win percentage of .466 the rest of the way in 2012. Their opponents' combined win percentage after July 19 was .512 last year.
Only time will tell whether the Pirates can hang on and make their first playoff appearance since 1992. But for now, some encouraging pieces seem to be falling into place.
July, 25, 2011
7/25/11
1:53
PM ET
(The Atlanta Braves host the Pittsburgh Pirates on Monday at 7 p.m. ET on ESPN. It's Pittsburgh's first game on ESPN since Sept. 22, 2004.)


Currently in a three-way tie for first place in the National League Central, this could be the biggest week in the Pittsburgh Pirates' season.
They start a seven-game road trip Monday with four games in Atlanta (which is tied with the
San Francisco Giants
for the second-best record in the NL) followed by three against the team with the best record in baseball, the
Philadelphia Phillies
.
This is Pittsburgh's first trip to Atlanta this season; the Pirates are 0-2 against the Braves in 2011.
James McDonald
is on the mound for the Pirates. He's been great at home this season (2.83 ERA in 10 starts at PNC Bank Park), but on the road McDonald's allowing almost three more runs per game with a 1.72 WHIP, and has allowed eight home runs in 46.2 innings.
Pirates closer
Joel Hanrahan
enters the day tied for third in the league in saves (28) and two shy of becoming the first Pirate with at least 30 saves in a season since
Jose Mesa
in 2004. Hanrahan has five saves against the Braves in his career, tied for second among all teams he's pitched against.
Facing the Pirates is
Tim Hudson
, who's 4-0 with a 1.96 ERA in his past six starts. In that span, opponents have hit a combined .145 against Hudson's offspeed pitches (league average is .229). And we may see more of the same Monday. The Pirates have hit .205 against nonfastballs this season (29th in MLB) and rank 28th or worse in extra-base hits (73), slugging percentage (.288) and OPS (.537).
June, 29, 2011
6/29/11
11:50
AM ET
By
Joshua Parcell
| ESPN.com
An almost exclusive reliance on his fastball has turned
Joel Hanrahan
of the
Pittsburgh Pirates
from a middling relief pitcher with a penchant for walking batters into a viable candidate to play in his first All-Star Game.
Named the Pirates' closer after a spring training competition with 2010 All-Star
Evan Meek
, Hanrahan has 23 saves, tied for the second-highest total in the majors and three more than his career total entering the season. His 1.24 ERA is tied for fifth-best in the majors among relief pitchers.

Hanrahan
Hanrahan, who entered the season with a career 4.12 ERA, threw his slider 13 percent of the time in 2010 when he was behind in the count. He faced 294 batters last season and fell behind in the count 58 times. In those situations, hitters posted a .603 on-base percentage and ended up walking 24.1 percent of the time. This season, throwing his fastball 100 percent of the time when he's behind, Hanrahan is limiting hitters to a .382 OBP and walks on only 11.8 percent of those at-bats.
Batters this season are putting more balls into play -- 54 percent of the time on hitters' counts compared to 35 percent last year. That's meant fewer walks, and the Pirates' defense has shown a turnaround almost as remarkable as Hanrahan's.
Last season, he had an abysmal .439 batting average against him on balls put in play when he was behind in the count, far above the league average of .305. This season, Hanrahan is limiting opponents to .276 in those situations. (The league average through Tuesday is .301.)
The Pirates have their most reliable bullpen option in nearly a decade, and has Hanrahan in position to threaten the club's single-season record of 46 saves set by
Mike Williams
in 2002.