Stats & Info:

Joel Peralta
September, 20, 2011
9/20/11
11:52
AM ET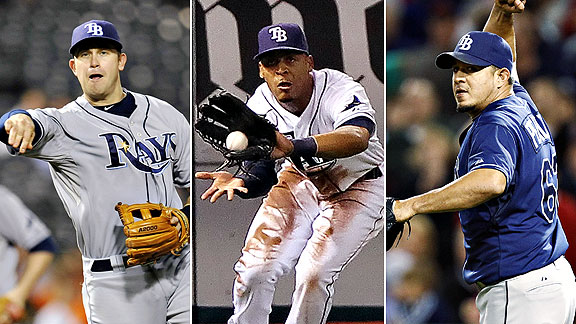 U.S. Presswire/AP PhotoEvan Longoria, Desmond Jennings, and Joel Peralta have all been vital to the Rays in September.
What will it take for the
Tampa Bay Rays
to overtake the
Boston Red Sox
in the wild card chase?
It won't be easy, as the Rays have two series remaining with the
New York Yankees
, and the Red Sox have a pair with the
Baltimore Orioles
.
Let's examine three key factors that have helped the Rays down the stretch and will be vital to their success these last 10 days.
Evan Longoria's clutch hitting
Evan Longoria
had an amazing series against the Red Sox last weekend, going 6-for-15 with two home runs, six RBI, and a stolen base.
Longoria's season batting average of .244 is not overwhelming, but he's had a knack for the timely hit. Of the last 10 home runs he's hit, nine have come with the score within two runs.
Over the two-week period from September 5-18, no American League player's plate appearances had more value than Longoria.
Longoria hit .324 with 13 RBI in that stretch, leading the league in Win Probability Added, which measures offensive contribution on a play-by-play basis, based on how much that player contributed to winning or losing.
Defense
The Rays showed why they lead the majors in Defensive Runs Saved on a few occasions in the Red Sox series, with fine glovework turned in by Longoria and
Desmond Jennings
.
The Rays rank second-best in the majors in No. 1 Web Gems this season with 11, and second in total Web Gem Points (a formula based on giving five points to Baseball Tonight's best gem of the day, one point to its No. 5 gem) to the Indians.
Tampa Bay's defense is predicated on being in the right spot at the right time and the payoff for that is shown in its opponents' batting average on balls in play -- .267, 15 points better than the next-closest team in the majors.
The chart on the right,
inspired by an article in the blog DRays Bay
, shows which areas the Rays have defended best this season.
Joel Peralta
The signing of reliever Joel Peralta for $900,000 was an
afterthought to most in baseball circles
, but the Rays right-hander has shown to be worth every penny.
After a year in which he dominated right-handed hitters, Peralta has converted his skills into success against lefties, who are hitting .152 with 33 strikeouts and six walks against him. Peralta ranks second in baseball in both opposing left-handers batting average and on-base percentage (.198).
Dating to July 9, Peralta has faced 40 left-handed hitters, giving up just two hits and one walk.
He'd retired 22 straight before allowing Jacoby Ellsbury's ninth-inning double Sunday, thanks largely to a dominant splitter. Since the All-Star break, Peralta has induced misses on nearly one-third of swings by lefties. That rates fifth-best among more than 100 AL right-handed pitchers.
What's also working for Peralta is that when a lefty hits a ball on the ground, the Rays defense makes it an automatic out. Of the 24 lefties to hit a ground ball against Peralta, only one has a base hit.
He's ground up opponents just as the Rays have, in pursuit of an unlikely postseason spot.
December, 19, 2010
12/19/10
9:00
AM ET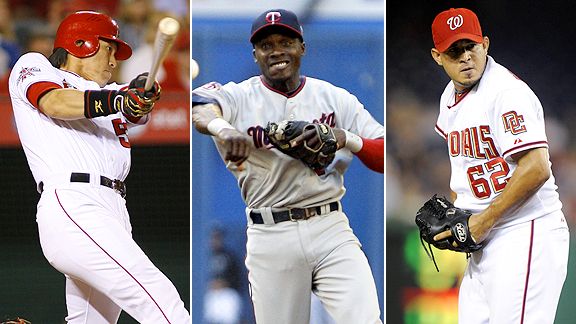 Getty Images
Hideki Matsui, Orlando Hudson, and Joel Peralta all have skill sets that should benefit their new teams.
There were other free agents signings besides Cliff Lee's last week. Here's a quick take on a few whose value may not match Lee's, but may be quite meaningful to their new employers.
Two teams on opposite coasts each made a one-year commitment to bats with a history of performing best when it matters most.
There are multiple stats that measure clutch performance and all agree that Athletics DH Hideki Matsui's numbers are very good.
He ranks first among active players by Elias's performance in batting average in "Late-Inning Pressure Situations" at .335 and sixth via
Baseball-Reference.com's
"Late-and-Close" metric at .318, seven points behind leader
Joey Votto
. His .955 OPS in the latter stat rates fifth-best.
Such a stat doesn't value new Yankees catcher Russell Martin's .737 OPS as highly, but another does. Statistician Tom Tango devised a means to look a player's performance based on the importance of the situation (known as
leverage
).
A low-leverage plate appearance has little determination on the outcome of the game (say a turn in the fifth inning with a team up, 5-0). A high-leverage situation is one in which the probability of winning the game can swing widely (such as batting in certain innings with multiple men on base and the score tied or within a run).
High-leverage situations make up about 10 percent of a player's plate appearances in a given season and they represent his most valuable turns. These appearances don't necessarily have to come late in the game. They just have to be ones in which a team's win probability can dramatically turn with success or failure.
Martin ranks 12th among all players in batting average (.324) and eighth in on-base percentage (.437) in high-leverage situations since 2002 (the first year for which
Fangraphs
has data), numbers that if maintained, will make him very popular among Yankees fans, perhaps almost as popular as Matsui, who similarly thrived in such situations.
-- Mark Simon
---
While
Orlando Hudson
's offense might be in decline, his defense remains excellent and that's what appeals most to the
San Diego Padres
, who signed him to a two-year deal.
Hudson tied Rays second baseman
Sean Rodriguez
for the major-league lead in the metric
Defensive Runs Saved
.
There was some concern entering 2010 that Hudson's defensive reputation had begun to outpace his performance.
Between 2008 and 2009, Hudson had fallen to middle-of-the-pack defensively after an extended run near the top of the leaderboard. The 2010 season served as a statistical bounceback.
-- Justin Havens
---
This winter is turning into the Offseason Of The Relief Pitcher.
Eleven relievers have signed multi-year free agent contracts. Only three offseasons since the winter of 1990 have seen more such signings –- 1999-2000 (15), 2003-2004 (15), and 2005-2006 (16) -- and only two have seen more money spent than the current $127 million (2005-06 leads with $213 million).
But it's a fiscally prudent signing that is most interesting.
Joel Peralta
joins a depleted
Tampa Bay Rays
bullpen after dominating righties for the
Washington Nationals
last season, holding them to a .145 batting average and .174 on-base percentage -– both of which were topped only by the former closer in Tampa Bay,
Rafael Soriano
.
Peralta had career-best numbers last year -- a 2.02 ERA and .521 OPS, both of which ranked in the top 10 among NL relievers. A .219 batting average on balls in play (third-lowest in the majors), along with a strand rate of 84.9 percent (10 points better than his career rate), might suggest that a repeat performance in Tampa Bay is unlikely.
However, Peralta's other peripherals –- his strikeout rate, walk rate and chase percentage -- also were the best of his career, indicating some improvement that made him, in the Rays view, worth the $900,000 investment. His fastball, against which opponents hit .140 and his split-fingered fastball (which got misses 49 percent of the time, according to Inside Edge) could be capable replacements for
Joaquin Benoit
's nasty changeup.
-- Katie Sharp