January, 23, 2013
1/23/13
2:03
PM ET
By
ESPN Stats & Information
| ESPN.com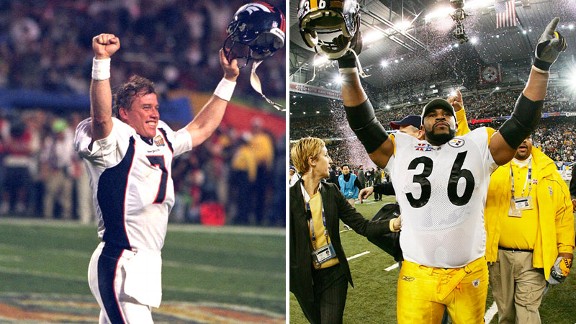 Getty Images
John Elway
and
Jerome Bettis
are among those to cap their career with a championship.
Ray Lewis
says that Super Bowl XLVII will mark the end of his NFL career.
A number of players have played their final game on the sport's biggest stage, but not all have claimed victory on the way out.
Here are some of the game's greats who said farewell after the big game.
Otto Graham, 1955 Cleveland Browns
Graham's career pre-dated the Super Bowl, but we felt he merited mention here. Not only did Graham win NFL MVP honors in 1955, but he closed out his career with a 38-14 win in the NFL Championship game against the Los Angeles Rams.
Graham threw for two touchdowns, ran for two more, and survived a day in which he threw three interceptions.

Graham
Graham retired young, at age 34, having won seven NFL titles.
He actually won his pre-retirement game twice. Graham retired after the 1954 season, one in which he also led the Browns to a title, then came out of retirement in time for the start of the 1955 season.
Graham was out of football briefly, then returned to the sport as a head football coach and athletics director for the United States Coast Guard Academy, and a three-season stint with the
Washington Redskins
.
Mel Renfro, 1977 Dallas Cowboys
Renfro spent all 14 seasons of his career with the Cowboys, retiring after the 1977 campaign. Renfro was four seasons removed from his last selection to the Pro Bowl, but was still important to the Cowboys defensive success.
Renfro's final game would be Super Bowl XII against the Broncos. As he recalls
in this article
, he missed considerable time with a knee injury that season, but suited up and was part of a unit that held Broncos quarterbacks Craig Morton and Norris Weese to only 61 yards passing in a 27-10 win over the
Denver Broncos
at the Superdome.
Renfro was elected to the Pro Football Hall of Fame in 1996.
Jackie Smith, 1978 Cowboys
Smith had the worst possible ending to what was a terrific NFL career that spanned from 1963 to 1978 as a tight end. He would be inducted into the Pro Football Hall of Fame in 1994.
AP PhotoJackie Smith had a great career, but is often remembered for this drop.
Smith's only Super Bowl appearance came in Super Bowl XIII with the Cowboys against the
Pittsburgh Steelers
. At this point in his career (age 38), he was no longer a primary target (he didn't have a catch all season). But the Cowboys looked his way trailing by a touchdown in the third quarter.
Smith was wide open in the end zone, but could not hang on to Roger Staubach's throw. Announcer Verne Lundquist would call Smith "the sickest man in America" as cameras showed him lamenting the drop. The Cowboys would end up with a field goal instead of a touchdown on the drive and lose the game, 35-31.
Smith isn't the only prominent player to lose in the Super Bowl in his final NFL game. Elias tells us that others include wide receivers Carroll Dale (who won two Super Bowls with the Green Bay Packers, but lost with the Minnesota Vikings), Cris Collinsworth (Cincinnati Bengals), Steve Watson (Denver Broncos) and running backs Bill Brown (Minnesota Vikings and John L. Williams (Steelers)
Russ Grimm, 1991 Washington Redskins and Gary Zimmerman, 1997 Denver Broncos
We list these two together, as they are two of the most prominent offensive linemen to go out as the ultimate winners. Grimm was a guard on four Super Bowl champs, the last of which was the Redskins team that beat the Buffalo Bills. Zimmerman was a Hall-of-Fame tackle for the Vikings and Broncos, whose only Super Bowl appearance was the last game of his career.
John Elway, 1998 Denver Broncos
Elway's career-ender is the standard-setter for the sport. He led the Denver Broncos to their second consecutive Super Bowl victory, this one a 34-19 win over the
Atlanta Falcons
in Super Bowl XXXIII, his final game.
Elway threw for 336 yards (his second-most ever in a postseason game) and a touchdown (an 80-yarder to
Rod Smith
), and ran for another score. It was his fifth start at quarterback in a Super Bowl, tied with
Tom Brady
for the most all-time.
Jerome Bettis, 2005 Pittsburgh Steelers
Bettis reached the end of his career as a valued member of the Steelers ground attack, though with a reduced role from what he'd seen in his younger days.
Bettis was actually talked into playing another season (somewhat similar to Graham) after
planning to retire a year earlier
.
Bettis had a rushing touchdown in each of three Steelers road playoff wins leading up to the Super Bowl.
In Super Bowl XL against the
Seattle Seahawks
, playing in his hometown of Detroit, Bettis had 14 carries for 43 yards as part of a ground game that gained 181 yards (93 by
Willie Parker
).
Michael Strahan, 2007 New York Giants
Strahan, a Hall of Fame finalist this year after 15 seasons in the NFL, finished his career in the best possible way, with the Giants' Super Bowl win over the
New England Patriots
.
Strahan had nine of his 141½ regular-season sacks that year, and his big contribution came via sack in that last contest.
With the Patriots leading 7-3 in the third quarter, Strahan sacked
Tom Brady
on a 3rd-and-7 from the Giants 25-yard line. The Patriots would not tack on to their lead on that drive, and the Giants would eventually rally for their 17-14 win.
November, 21, 2012
11/21/12
9:30
AM ET
By
Micah Adams, ESPN Stats & Info
| ESPN.com
US Presswire/Getty ImagesAndrew Luck (left) and Robert Griffin III are two of the best rookie QBs we've seen in a while.
Are
Andrew Luck
,
Robert Griffin III
and the other Class of 2012 quarterbacks on par with storied the QB classes of 1983 and 2004?
While this week's Hot Read compares the three classes in their respective infancies, we decided to see how they stack up relative to the eras in which they played through 10 career starts.
Class of 1983:
Dan Marino
,
John Elway
,
Jim Kelly
, Todd Blackledge, Ken O'Brien, Tony Eason
Class of 2004:
Eli Manning
,
Ben Roethlisberger
,
Philip Rivers
,
Matt Schaub
,
J.P. Losman
Class of 2012: Luck, RG3,
Brandon Weeden
,
Russell Wilson
,
Ryan Tannehill
The NFL has become a pass-happy league since the Class of 1983 made its debut. From 1983 to '86, NFL offenses passed on roughly 53 percent of their plays. So far this season, that number is more than 58 percent. (NOTE: Keep in mind that this includes QB scrambles as rush attempts instead of broken pass plays, as that data is not historically available.)
If that kind of increase doesn't seem like much, consider this: From 1980 to '89, there were 14 instances of a QB throwing for 4,000-plus yards in a single season. In the '90s that number rose to 22. Since 2000? It's happened 61 times.
In addition to throwing more often for more yards, quarterbacks are completing a higher percentage and throwing far more touchdowns than interceptions in the current era.
Since that is all NFL passer rating takes into account (Total QBR wasn't available pre-2008), it makes sense that the league-wide passer rating is 12 points higher now than it was in the mid-1980s (and nearly six points higher than it was from 2004 to '06).
Looking at the QB classes in a vacuum, the Class of 2004 in its infancy rates the best statistically, as it has the highest completion percentage, touchdown-to-interception ratio and passer rating of any of the three groups. Up next would be the current crop, which also had a better completion percentage, TD-INT ratio and passer rating than the 1983 group.
But what happens when we adjust for the eras in which they played?
Through 10 career starts, the classes of 1983 and 2004 put up better cumulative statistics than their respective league averages. That's not the case for the current crop.
Entering Week 12, the Class of 2012 has a completion percentage nearly 2.5 points lower than the league average. While its TD-INT ratio of 1.22 isn't bad at face value, it's actually 26 percent lower than the current league average. The group's cumulative passer rating of 80.5 -- which would have ranked 13th in the NFL in 1983 -- is more than six points below the current league average.
Of course, there is more to quarterback play than throwing. Led by Luck and Griffin, the current rookies have rushed for 1,059 yards and 12 touchdowns, more than the two previous classes combined at this same early point in their careers.
So it would seem logical that Total QBR -- which measures everything a quarterback does (passing, avoiding sacks, sustaining drives, fumbles, etc.) and at what point in the game he does it -- would paint a more flattering picture for the Class of 2012. While the rookies' Total QBR measures closer to the league average than other metrics, the current group's cumulative rating of 55.1 is still below the current league average of 56.1.
November, 18, 2011
11/18/11
1:10
PM ET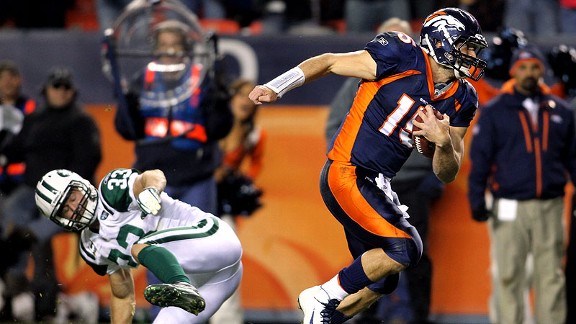 Chris Humphreys/U.S. PresswireTim Tebow has steamrolled opponents in his four wins this season
Who's the best fourth-quarter quarterback in the NFL this season?
Statistically speaking,
Denver Broncos
quarterback
Tim Tebow
just misses rating the best.
The fourth-quarter QBR leaders feature an unlikely top three, with Tebow (86.4) sandwiched between
New York Giants
quarterback
Eli Manning
(86.9) and
Buffalo Bills
quarterback
Ryan Fitzpatrick
(86.2).
Those three rank just ahead of two quarterbacks who would be expected to be on this list, since they rank 1-2 in Total QBR--
Drew Brees
(83.3) and
Aaron Rodgers
(82.1).
Tebow sits second, on the strength of the Broncos fourth-quarter comeback wins over the
Miami Dolphins
and
New York Jets
.
Some notes on topics related to Tebow's comeback magic:
Tebow vs Elway
When comparing the first eight starts in the careers of Tebow and John Elway, Tebow compares quite favorably, as you can see in the chart on the right.
The win over the Jets was the already third fourth-quarter comeback for Tebow in his first eight starts.
Elway didn't have his first fourth-quarter comeback effort until his ninth start.
That was a doozy: a 21-point fourth-quarter rally to beat the Baltimore Colts, 21-19 on December 11, 1983.
Tebow the passer vs Tebow the runner
Tebow's QBR on his pass attempts this season is a meager 12.2. How bad is that? It ranks 36th among the 37 quarterbacks who met the qualifier of 100 action plays, ahead of only
Indianapolis Colts
quarterback
Kerry Collins
(10.4).
Tebow's QBR on rushes and scrambles is 77.7, which trails only now-injured
Kansas City Chiefs
quarterback
Matt Cassel
(83.9) and
Josh Freeman
(81.1)
How good should the Broncos be?
Tebow ranks 29th among quarterbacks in Total QBR at 35.1 (one spot behind
Mark Sanchez
), 30.3 in the five games he's started. Based on using that number as an estimated winning percentage (one of the purposes of the stat), the Broncos should have won no more than two of the five games. They've won four of them.
In each of the four wins, Tebow has completed fewer than half of his passes. According to the Elias Sports Bureau, he's the second starting quarterback to win four games in which he had a completion percentage below 20 percent. The other was
Aaron Brooks
in 2003. The last quarterback with more such wins was
Phil Simms
with five for the 1986 Giants.
Looking beyond Tebow
There are other factors involved in the Broncos recent success:
• Broncos runners other than Tebow are averaging 4.6 yards per carry (137.8 rush yards per game) in the last five games, after averaging 4.3 yards per carry (94.4 rush yards per game) in their first five.
• The Broncos defense has allowed just five offensive touchdowns in the four wins with Tebow starting (they allowed 14 in the five games scored by
Kyle Orton
).
The Broncos pass defense has been above-average. They have allowed a Total QBR of 41.2, in these five contests (12th-best in the NFL), and had a key interception return for a touchdown in the win over the Jets.
• Key special teams plays accounted for the go-ahead scores in two of the Broncos wins: Matt Prater's 52-yd game-winning field goal in overtime against the Dolphins and Eddie Royal's 85-yard punt return in the fourth quarter against the
Oakland Raiders
.
September, 12, 2011
9/12/11
3:03
PM ET
AP Photo/Brian Blanco
Tom Brady needs 4 completions to become the 15th player in NFL history with 3,000 for his career.
The 2011 edition of ESPN's Monday Night Football kicks off tonight from South Florida as the
Miami Dolphins
host the
New England Patriots
(ESPN, 7 ET). These teams met on MNF in Week 4 last season, a 40-14 Patriots win that saw New England become the first team in NFL history to score a TD on a kickoff return, blocked FG return and INT return in the same game.
History could once again be made as
Tom Brady
needs only four completions to become the 15th player to reach 3,000 for his career, but only the sixth to get 3,000 for one team (according to the Elias Sports Bureau). He would join
Brett Favre
(5,377 with the
Green Bay Packers
),
Dan Marino
(4,967 with the Dolphins),
Peyton Manning
(4,682 with the
Indianapolis Colts
),
John Elway
(4,123 with the
Denver Broncos
) and Dan Fouts (3,297 with the
San Diego Chargers
).
In addition, Brady has thrown an NFL-record 335 straight regular-season passes without an interception. The last pick he threw was in Week 6 last season against the
Baltimore Ravens
.
The Patriots added some big names after the lockout, acquiring
Albert Haynesworth
from the
Washington Redskins
for a fifth-round pick,
Chad Ochocinco
from the
Cincinnati Bengals
for fifth and sixth-round picks and signing free agent
Shaun Ellis
, formerly of the
New York Jets
. The three have a combined 10 Pro Bowl selections, with Ochocinco making six appearances and Haynesworth and Ellis two apiece.
For Miami, this game will be the Dolphins' 77th appearance on Monday Night Football, the most of any team. Miami is 40-36 all-time on MNF, the most losses by any franchise and the second-most wins behind the
Dallas Cowboys
(42).
This is just the second time in franchise history that Miami has started its season at home on Monday Night Football. According to the Elias Sports Bureau, back in 1975, the
Oakland Raiders
beat the Dolphins, 31-21, in a matchup of future-Hall-of-Fame head coaches, John Madden besting Don Shula (remarkably, quarterbacks Ken Stabler and Bob Griese combined for no touchdown passes and seven interceptions!).
The Dolphins are 9-13 against the Patriots under Bill Belichick, but they have won six of the 11 meetings in Miami.