Stats & Info:

John Grabow
July, 1, 2013
7/01/13
3:30
PM ET
By
Mike Veneziano, ESPN Stats & Info
| ESPN.com
G Fiume/Getty ImagesChris Davis hit 12 home runs in June, increasing his major league-lead to 31.
If June taught us anything about the way home runs were hit, it would be the fact they come in many shapes and sizes.
On June 22,
Jay Bruce
hit the longest home run of the month, a 472-foot shot off
Patrick Corbin
at Chase Field. That tied him for the third-longest home run hit this season and since the beginning of ESPN Home Run Tracker in 2006, only
Adam Dunn
has hit longer home runs as a left-handed batter off a left-handed pitcher.
Dunn hit a 504-foot HR off
Glendon Rusch
on September 27, 2008 and launched a 474-foot shot off
John Grabow
on April 6, 2006.
Masher of the Month
Mark Trumbo
his six June home runs, averaging 423.8 feet per homer. His longest was a 457-foot home run off
Jordan Lyles
, and all but two went over 425 feet. For the season, Trumbo is averaging 417.2 feet per home run, second-longest in baseball to
Justin Upton
(427.9 feet, min. 15 HR).
On the flip side,
Dustin Pedroia
hit the shortest home run of the month, a 330-feet dinger off
Alexi Ogando
at Fenway Park that barely snuck over the Green Monster. Three of the four shortest home runs in June have come at Fenway Park.
Hitting Homers in Different Ways
Chris Davis
had the most home runs in June (12) and leads the majors with 31 overall. Davis has shown power to all fields this season, as nine of his home runs have gone to either left or left center field.
Domonic Brown
is second in the National League with 21 home runs, however all but one has gone to either right or right center field (he finally hit a home run to center field on June 27). Brown's average home run distance is 381.4 feet, the shortest for any player with 10-or-more home runs.
Check out the home run spray chart for Davis and Brown: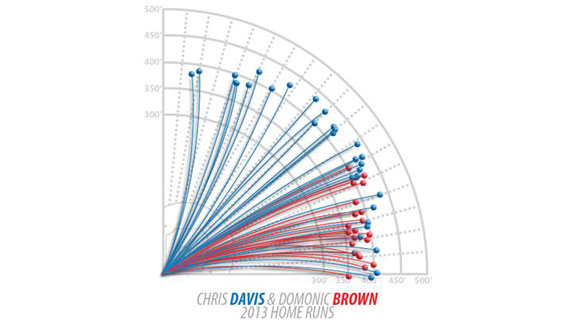 Where Have the Long Home Runs Gone?
On June 8,
Jeff Baker
hit a 440-foot home run in Toronto, the 16th home run at Rogers Centre to go at least 440 feet this season, by far the most in baseball.
It was also the only time this month Rogers Centre yielded a 440+ foot home run. There have been 23 other home runs hit at least 440 feet in June.
Vastly Different Paths Lead to Same Result
On June 19,
Hanley Ramirez
hit a home run at Yankee Stadium that went 353 feet. Six days later,
Juan Francisco
hit a home run at Miller Park that also went 353 feet.
The significance? Ramirez's home run left the ballpark in 3.03 seconds, the second fastest a home run has left any park this season. Francisco's home run was in the air for 7.25 seconds, the longest hang time for a home run since the beginning of ESPN Home Run Tracker in 2006.
Check out the trajectories of each home run (Ramirez top, Francisco bottom):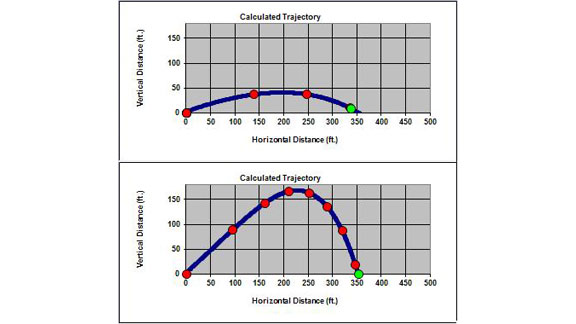 March, 19, 2010
3/19/10
3:49
PM ET
By
Justin Havens, ESPN Stats & Info
| ESPN.com
The expectations are high for the
Chicago Cubs
entering the 2010 season. The championship drought continued in 2009, but the team returns a majority of its veteran core for another go-round. And while much of the focus will be on 3B
Aramis Ramirez
, OF
Alfonso Soriano
and SP
Carlos Zambrano
, the real key could be a lefty pitcher acquired from the
Pittsburgh Pirates
last July 30. No, not
John Grabow
, who signed a 2-year, $7.5M deal this offseason to stay with the Cubs. Rather, it will be former top prospect
Tom Gorzelanny
.
Once upon a time, Gorzelanny was the young stud arm upon whom the Pirates were placing their future. After a very promising start to his career, things went south for Gorzelanny, which is how he ended up as an afterthought in a trade deadline deal. And while he might still be under-the-radar, the fact remains he flashed significant potential in a starter's role last season. His 10.2 K-per-9 rate would have been best among lefty starters if he had qualified for the ERA title:
While Gorzelanny fell well short of the innings pitched threshold for the ERA title, it shows what he can do – no lefty starter who DID qualify reached 10.0 K/9, with
Jon Lester
leading the way with 9.96. And while his OPS against was noticeably higher, that is likely at least somewhat caused by the clearly elevated batting-average-on-balls-in-play. Most BABIP regress towards .300 – such a treatment for Gorzelanny would likely make his OPS against much more palatable. Regardless, the strikeout potential is there.
While it's been a few years since Gorzelanny flashed the type of production that made him one of the assumed cornerstones of the next great Pirates team, the fact that he has at least shown the ability to be an above-average starter is more than most pitchers can say. In fact, in the last 5 years, only 4 left-handed starters age 24 or younger have posted a season with at least 200 innings pitched, 14+ wins, an ERA under 4.00. Needless to say, Gorzelanny's potential is unique: