Stats & Info:

Jon Garland
July, 15, 2011
7/15/11
1:36
PM ET
On Thursday
Chicago Cubs
closer
Carlos Marmol
blew his seventh save of the season, the most in the majors. Entering the game with a 2-0 lead against the
Florida Marlins
, Marmol allowed five earned runs while failing to get a single batter out.
He walked four batters, and eight of his first nine pitches in the inning went for balls. His first two walks came on the slider, a pitch that has spelled control issues throughout 2011. Among relievers who have utilized the slider at least 100 times this year, Marmol's walk rate of 12.8 percent is the highest in baseball, and second-highest including starters. The Cubs closer has thrown the slider over 100 times more than any other reliever this season, so it's certainly a concern.
Marmol blew only five saves in over 77 innings of work last year, a mark he has equaled in just his last 20 appearances this season.
Gone in a New York Minute
Fans will see
Francisco Rodriguez
in a different uniform for the second half of the season after the closer was traded from the
New York Mets
to the
Milwaukee Brewers
. It was huge news when New York signed Rodriguez as a free agent in December of 2008, and opinions will likely vary on his level of success with the Mets. In his years as the Mets closer Rodriguez's 83 saves ranked as the ninth-most in the majors. That number pales in comparison to his previous three seasons with the
Los Angeles Angels
, when he notched a staggering 149 saves and posted an ERA of just 2.24.
According to Inside Edge, there have been several areas where Rodriguez is finding success this season. He's allowing just 8 percent of runners to score, 4 percent below league average. He's also using his offspeed pitches effectively: his changeup and curve have been converting for strikes 70 percent of the time (league average is 61 percent).
Stranger Than Fiction
Elias had an interesting note that came from the All-Star Game this week:
Tyler Clippard
was the winning pitcher, the second straight year a
Washington Nationals
pitcher was credited with the win (
Matt Capps
earned the win last season). Both Clippard and Capps won by pitching just 1/3 of an inning. Clippard got the All-Star Game win even though he faced only one batter –
Adrian Beltre
. He gave up a single to Beltre, but
Jose Bautista
was thrown out at home plate on the play to end the inning. That feat (pitcher faces exactly one batter, gives up hit, gets the win) has never happened in any other All-Star Game or in any postseason game.
November, 28, 2010
11/28/10
10:00
AM ET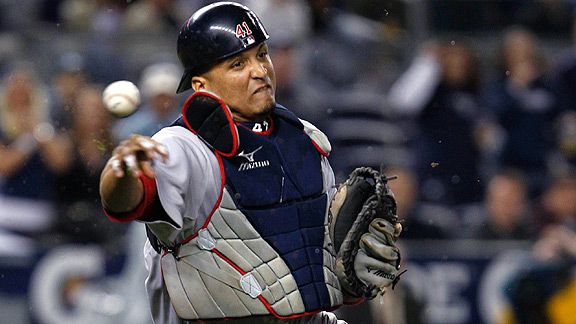 AP Photo/Kathy Willens
A move from catcher to DH is coming for Victor Martinez as part of his signing with the Detroit Tigers.
Earlier this week
, we took a look at the Tigers signing of
Victor Martinez
and how his performance compared to that of Tigers catchers. But recent comments from general manager Dave Dombrowski indicate that he'll be used primarily as a DH.
That makes sense. According to Baseball Info Solutions, Martinez has cost his teams 47 runs combined during his career. In 2010, he allowed 99 stolen bases, while throwing out just 21 percent of base runners.
In the last three seasons, the Tigers production from their DHs has been limited, just as it has been from their catchers. In 2008 and 2009, their Wins Above Replacement (based on a weighted version of on-base average) totaled 0.3 and though that number jumped to 1.9 in 2010, it ranked about average (sixth-best) in the American League.
Over the last three seasons, Tigers DHs rank next-to-last in batting average, slugging percentage and OPS. So Martinez will be a huge upgrade there and his defense is a non-factor.
If Martinez isn't catching who is? Due to Gerald Laird's inability to hit (.207 BA, .263 OBP in 2010), highly-praised second-year man
Alex Avila
should see more time.
The most noteworthy stat for him in 2010: He threw out 32 percent of runners attempting to steal, fifth-best among the 31 players who caught 250 or more innings in 2010.
--Derek Czenczelewski
Huff winded by season's end?
While
Aubrey Huff
's 2010 season was very good, he regressed in the latter part of the year, suggesting the
San Francisco Giants
may have committed $22 million for two years on the basis of a very good first four months, for a team that happened to win the World Series.
What caused it?
Huff's biggest issue at the end of last season was that he had a lot of trouble with breaking pitches thrown by left-handers. The drop-offs were stark across Huff's entire stat line. From April-July, he swung and missed at about one of every four breaking pitches from a lefty. The rest of the season, he missed at one of every three.
When Huff made contact, the results were weak. His slugging percentage against those pitches from August 1 on was .278, nearly a 400-point drop from earlier in the year.
But the good version of Huff showed up again at just the right time. Huff got the biggest hit of the season against a slider from Braves' left-hander
Mike Dunn
, singling with two outs in the ninth inning to tie Game 3 of the NLDS. Turns out it may have been worth more than just a postseason win.
--Justin Havens and Mark Simon
Garland's durability covers potential issue
Jon Garland
's ability to eat innings continues to allow him to find work, his latest employment coming from a one-year contract from the
Los Angeles Dodgers
. However, Garland continues to walk a very fine line. Among pitchers with at least 700 innings over the last four seasons, Garland's strikeout-to-walk rate of 1.64 is third-worst in baseball.
The Dodgers did pick up a durable pitcher, one who had a 1.71 ERA in Dodgers Stadium in three starts there in 2009. Garland and
Chicago White Sox
starter
Mark Buehrle
are the only two pitchers to throw 190 innings or more in each of the last nine seasons.
--Justin Havens
Put Down Your Dukes
While Garland may have pitched better than his peripheral numbers, new
Arizona Diamondbacks
starter
Zach Duke
pitched worse. The traditional stats say that Duke ranked last in 2010 among NL pitchers in ERA, opponents batting average and OPS.
However, a closer look at his peripherals (strikeout/walk rate, groundball rate, contact percentage, chase percentage, first-pitch strike percentage) reveal that he was a similar pitcher to the one that had a 4.06 ERA in 2009.
What changed from 2009 to 2010 that caused an ERA spike?
A .347 BABIP that was the highest in the NL and 51 points higher than his 2009 BABIP did significant damage. Duke had the fourth-highest home run rate (1.42), his percentage of flyballs that were home runs was 13.7, highest in the NL and significantly higher than his career rate of 10 percent.
Perhaps the most telling stat that indicates Duke can only improve is his 2010 xFIP of 4.48 –- an ERA-like metric based on strikeouts, walks and a normalized home run per flyball rate –- that was not far from his career mark of 4.40 and the 4.31 he posted in 2009.
--Katie Sharp
November, 21, 2010
11/21/10
6:40
PM ET
By
Justin Havens
| ESPN.com

The
Oakland Athletics
won the bidding for Japanese right-hander Hisashi Iwakuma earlier this month, but reports Sunday indicated that the team and pitcher are at a negotiating standstill, with Iwakuma's group looking for a contract worth comparable to Barry Zito's $18 million per year.
Given that the Athletics boasted one of the best rotations in baseball last season and are on a strict budget, the question that comes to mind is why the need is so great for the team to sign Iwakuma.
Perhaps because it would be wise to expect some regression from the Athletics starters in 2011.
There are several indicators that suggest that the performance of the Athletics rotation in 2010 was not statistically sustainable. While the rotation ranked fourth in baseball in ERA at 3.47, it ranked a much more average 17th in Fielding Independent Pitching at 4.10 (according to
Fangraphs.com
).
Fielding Independent Pitching is an ERA estimator based around strikeouts, walks and home runs allowed, helping to understand how well a pitcher pitched, regardless of how well his fielders fielded. This gap between the team's ERA and FIP suggests that the team could experience some regression in 2011.
Further supplementing that point is that the team also posted the lowest Batting Average on Balls In Play in the Majors at .275, while the percentage of runners that were left on base by the team's pitchers was the fifth-best in baseball at 74.7 percent. While a strong defense is certainly at least partly responsible for the low BABiP, history says that it's a tough level of performance to maintain.
While the team might boast a frontline rotation at first glance, there are reasons why stockpiling pitching depth might actually be a good use of resources. Three of the team's primary rotation pieces from 2010 had significant gaps between their ERA and FIP, most notably
Trevor Cahill
,
Gio Gonzalez
and
Vin Mazzaro
, the latter of whom was traded to the Royals already this offseason. Of the top 35 qualified starters in baseball according to ERA, only
Jon Garland
had a higher FIP than Cahill.
In addition to the team's likelihood of regression in 2011, there's also two other factors to consider. First, the starter with arguably the most upside on the staff,
Brett Anderson
, also has experienced durability issues in his first two seasons. He threw just 131 ⅔ innings overall last season between the majors and minors and has never thrown more than 175 ⅓ innings in any professional season.
The team also is putting together a foundation built upon pitching and defense and, as part of that plan, the team is loading up on groundball-heavy pitchers. The pitching staff as a whole ranked fifth in MLB in groundball percentage at 48.2.
Not coincidentally, here's what ESPN.com's Keith Law wrote about Iwakuma:
"He pitches differently than most of the Japanese pitchers who have come over, with a more conventional delivery and a pitch-to-contact approach that yields ground balls and few walks but not many strikeouts."
So while at first glance the Athletics move to sign Iwakuma might seem redundant for a team that was so pitching-heavy last season and is in such desperate need for offense. But as has been demonstrated time after time, there's never enough pitching, particularly when the numbers suggest there's some regression ahead in 2011.
September, 14, 2010
9/14/10
2:39
PM ET

Today's Trivia:
The
St. Louis Cardinals
'
Adam Wainwright
(18-10, 2.38 ERA), who pitches tonight, and the
Philadelphia Phillies
'
Roy Halladay
(18-10, 2.44 ERA) have a good chance at 20 wins and an ERA below 2.50. Can you name the last National League pitcher with both of those qualifications who did not win the Cy Young?
On Monday, we took a peek at the American League Cy Young contenders. Today it's the National League's turn.
• There are currently four NL pitchers with an ERA below 2.50. The last time that happened was 1998. In three of the previous four seasons, there wasn't one.
• It would not be unrealistic for Halladay to reach all of the following milestones: 20 wins, 250 innings, 200 strikeouts and an ERA below 2.50. Since 1975, only seven pitchers have done that. All won the Cy Young.
• Though wins and losses are certainly not great indicators of a pitcher's effectiveness, the fact remains that they are key components in the minds of many voters. So too are losses. Consider that of the last 32 Cy Young winners in both leagues, only
Pat Hentgen
in 1996 had 10 or more losses.

• Wainwright and Halladay both have 18 wins and an ERA under 2.50. Both also have double-digit losses. So how does 18-6 with a 2.30 ERA sound? Well, that's what
Josh Johnson
could be if the
Florida Marlins
bullpen hadn't blown seven of his wins this season. According to the
Elias Sports Bureau
, that's the most in the majors.
• Both Wainwright and Halladay should probably have 20 wins already. Each has only two no-decisions, but all four of them should have been wins. Wainwright has a 0.62 ERA in his two no-decisions, while Halladay's is 1.17. Amazingly,
Johan Santana
has a 2.10 ERA in nine no-decisions.
• At 18-6, the
Colorado Rockies
'
Ubaldo Jimenez
leads the NL in winning percentage (.750), though he is just 3-5 since the All-Star break. However, the last four pitchers with at least 18 wins and six or fewer losses have won the Cy Young. The last to miss out was
Mark Prior
is 2003, a year in which closer
Eric Gagne
won the award.
• Will the stretch run eliminate the Cardinals' candidates? Over the last month,
Chris Carpenter
has a 3.96 ERA, while Wainwright checks in at 4.50. Similarly, Jimenez is just 1-3 with a 3.51 ERA despite Colorado's surge. Meanwhile, Halladay is 4-2 with a 2.89 ERA.
• In 2008,
Tim Lincecum
had the lowest opponent OPS in the majors. He did so again last year. Both seasons brought home the Cy Young. So who is it in 2010? Mat Latos' .561 opponent OPS ties Lincecum's 2009 number for the lowest by a qualifying starter since
Roger Clemens
(.544) in 2005. Clemens finished third that year with Chris Carpenter winning.
• Carpenter leads the NL with 24 quality starts, but five pitchers are just one behind. However, if you make the qualifications seven innings and two earned runs of fewer, a clearer picture emerges. Halladay has 18 such starts, while no other pitcher has 16.
Key Matchups:
The
Colorado Rockies
'
Carlos Gonzalez
has nine career hits against the
San Diego Padres
'
Jon Garland
, three more than he has against any other pitcher. In fact, six of those nine hits are doubles. That means he has as many doubles off of Garland as he has hits off any other pitcher. He doesn't have more than two doubles off any other pitcher. In his last eight at-bats against Garland, "CarGo" has four doubles and a single.
Facing a must-win series against the
Minnesota Twins
, the
Chicago White Sox
send
John Danks
to the mound. Though he leads the team with 13 wins, the White Sox are just 2-6 in his last eight starts. The lefty will have to contend with
Michael Cuddyer
on Tuesday. He's hit .467 against Danks with five home runs in 45 at-bats. That's two more home runs than he has against any other pitcher. However, all five came last season, as Danks has kept him in the park in all 15 at-bats this season.
Trivia Answer:
The last five NL pitchers with at least 20 wins and an ERA below 2.50 have won the Cy Young. The last to come up short was
David Cone
in 1988, despite a 20-3 record and 2.22 ERA. Of course, the man he lost out to, Orel Hershiser, also had those marks with a 23-8 record and 2.26 ERA.
September, 9, 2010
9/09/10
2:33
PM ET
Today's Trivia:
Among active managers, who has managed the most games without making the postseason?
Quick Hits:
As the playoff races heat up, several players have some added incentive to extend the season. Here's a look at notable players with an eye on October, who have never played in the postseason.

•
Randy Winn
just can't find himself a playoff team. He's played 1,698 career games without appearing in the postseason. That's the most for any active player, and 37th most all-time according to
Baseball-Reference.com
. Winn joined the
Seattle Mariners
just after their early-decade dominance. Then he found himself with the
San Francisco Giants
as they transitioned away from
Barry Bonds
. After 12 seasons in the bigs, Winn still hadn't tasted the postseason. Signing with the
New York Yankees
in the offseason would change that, right? New York released him in May after he hit just .213. Again, Winn had his chance to sign with a contender. On June 5, he signed with the first-place
St. Louis Cardinals
– a team that is now six games out.
•
Michael Young
may finally see his long wait come to an end. Making his debut the season after the
Texas Rangers
' last playoff appearance, Young has the second-most career games among active players who haven't made the postseason.
• The Giants'
Aubrey Huff
, who is third behind Winn and Young, could also find himself playing late into October for the first time. Prior to this season, Huff's teams were 546-776 in games in which he appeared.
• Among all active pitchers,
Francisco Cordero
has appeared in the most games without appearing in the postseason. Like Young, he made his Rangers debut the year after their last postseason appearance.

•
Roy Halladay
has a Cy Young Award and perfect game, but
Boof Bonser
,
Jorge Sosa
and
Brian Duensing
all have something he does not: A playoff start. No active pitcher has made more starts without appearing in the postseason.
Today's Leaderboard:
Adam Dunn, who will be a free agent at the end the season, actually has the fourth-most career homers for a player with no playoff experience. With another typical season for him, he'll be second behind the all-time leader. Ernie Banks has both the most career games and home runs without making the postseason.
Key Matchups:
With a pivotal series about to begin in San Diego, the Giants need their bats to come alive. San Francisco has posted a 2-9 record against the
San Diego Padres
this season, largely courtesy of a .219 batting average in those games. Thursday's starter,
Matt Cain
, has certainly suffered. The Giants offense has managed a total of five runs in his three starts against San Diego. So who might step up Thursday?
Jose Guillen
, who has four hits in his last eight at-bats, might be the man to give San Francisco a spark. He is 9-for-19 in his career against
Jon Garland
, though it's been two years since they met.


• After snapping their three-game losing streak on Wednesday, the
Atlanta Braves
host the Cardinals in a matchup of faltering contenders.
Adam Wainwright
has had a great deal of success against the team that drafted him 10 years ago. He is a perfect 5-0 in five starts against Atlanta, having never allowed more than three earned runs.
Derrek Lee
, hitting .400 in his last five games, has only four hits in his last 26 at-bats against Wainwright.
Trivia Answer:
Ned Yost, who took over as
Kansas City Royals
manager in May, has managed 1,063 games in the majors, but never brought his team to the postseason. Of course, part of the reason for that was his 2008 season in Milwaukee. Yost was fired with 12 games to go and his team tied for the Wild Card lead. Dale Sveum took over and the
Milwaukee Brewers
went just 7-5 but made the postseason.
September, 1, 2010
9/01/10
6:06
PM ET
Today's Trivia:
Since September 1, 2009,
Jose Bautista
has 53 home runs. In the last decade, only three AL players hit 53 HR from one September through the following August. Can you name them?
Quick Hits:
With August in the books, let's take a look back at the statistical oddities of the month.
•
Miguel Cabrera
was intentionally walked 13 times in August. Only the Philadelphia Phillies (17) and San Francisco Giants (14) had more intentional walks as a team. In fact, over the last 50 years, only Barry Bonds' 15 IBB in August 2004 exceeded Cabrera's total in that month. Over the previous 50 years, no Detroit Tigers player had more IBB than Bill Freehan's six in August 1967.
• The Los Angeles Dodgers did not have a triple in August. Their last triple-less month was June 1985.
•
Eric Young Jr.
had 66 at-bats in August and did not record an RBI. That's the most in a calendar month without an RBI since
Willy Taveras
had 72 in September 2006.
• Overall, only 808 HR were hit in August, 170 fewer than 2009. In fact, it was the fewest home runs hit over a full August of MLB action since 1993.
• In his first full month in the majors, Houston Astros first baseman
Brett Wallace
was hit by more pitches (six) than anyone else. Over the last 50 years, Craig Biggio's 10 HBP in August 1997 are the only greater total by an Astros player.
•
Felix Hernandez
had a 0.82 ERA and 51 strikeouts last month. Over the last 50 years, only Tom Seaver (1973 Mets), J.R. Richard (1979 Astros) and
Roger Clemens
(1998 Blue Jays) have had 50+ K and an ERA below 1.00 in August. Would you believe King Felix's two losses were not unprecedented in such a month? Seaver was 3-3 despite a 0.99 ERA.
•
Fausto Carmona
allowed five sacrifice flies in August. Prior to 2010, he'd never allowed more than four over the course of an entire season.
• With 12 HR and 24 RBI, Jose Bautista led the AL in both categories in August. The last AL player to do that in August (without being tied in either category) was
Rafael Palmeiro
in 1999 (15 HR, 39 RBI).
•
Aramis Ramirez
hit .579 (11-19) with runners in scoring position. He had entered the month hitting just .220 with RISP.
Today's Leaderboard:
From the perspective of opponents' batting average, August's top four pitchers come from two teams and one state. Oakland's duo of Dallas Braden and Gio Gonzalez were tops in baseball, while the Padres' Mat Latos and Jon Garland were the best in the NL.
Key Matchups:
It's good to be
Brian McCann
right now. For one, he is 7-for-10 with a pair of HR in his last three games. That figures to continue Wednesday against
Mike Pelfrey
, the pitcher he has faced the most in his career. McCann is 18-for-37 (.486 BA) against Pelfrey, including a single, two doubles and a home run in his last four at-bats against him. McCann's eight doubles are twice as many as any other batter against Pelfrey.
Among those glad to see August in the rearview mirror,
Tim Lincecum
ranks among the happiest. Entering the month at 11-4 with a 3.10 ERA, he went 0-5 with a 7.82 ERA. Will September be kinder? Standing in the way on Thursday is Colorado, a team he's 0-2 against this season. With a .455 BA,
Todd Helton
has been a tough out for Lincecum. However, it's
Chris Iannetta
who has been the toughest out. In 22 plate appearances, the Rockies catcher has six hits and eight walks against Lincecum. That's good enough for a .727 on-base percentage.
Trivia Answer:
From September 2001 to August 2002,
Alex Rodriguez
had 60 HR. Through those same months in 2005-06,
David Ortiz
had 58 HR and
Travis Hafner
had 53.
June, 14, 2010
6/14/10
1:59
PM ET
By
Jeremy Lundblad, ESPN Stats & Info
| ESPN.com
Quick Hits
: With the exception of the Phillies, every team now has 100 or fewer games remaining in the season. As the season draws on, several players are on pace to make rather obscure history. Here are some to keep an eye on:
Today's Trivia
: Ichiro Suzuki and
Albert Pujols
will be in opposing dugouts for just the 7th time (not including All-Star Games) on ESPN's Monday Night Baseball. Both won their league's Rookie of the Year in 2001 and have been destroying the record books since. Pujols holds the record for home runs in a player's first 10 seasons, while Ichiro holds that distinction for hits. Who holds the record for most RBI in his first 10 seasons?
Today's Leaderboard
:
Jon Garland
takes the mound against the Blue Jays while sporting the league's best ERA at home. Garland has a 1.15 ERA at home compared to 4.39 away from Petco. Meanwhile,
Adam Wainwright
brings his 1.62 home ERA up against the Mariners.
Key Matchups
: A nine-year veteran of the AL, Jon Garland is 11-2 all-time against the Blue Jays. His team has won 13 of his last 15 starts against Toronto. Garland saw a lot of
John Buck
as AL Central rivals. Buck picked up only one hit in his first 12 at-bats against Garland, but since then, he is hitting .363 with four doubles in 24 at-bats.
Adam Wainwright is looking to extend his record streak of 20 straight quality starts at home. He'll face the Mariners for the first time in his career. However, opponents have posted six straight quality starts against the Mariners, who have only exceeded 4 runs once in their last 14 games.
Trivia Answer
: Joe DiMaggio had 1,277 RBI in his first 10 seasons, two more than Al Simmons. Pujols is currently 102 RBI behind Ted Williams for third on the list.
May, 19, 2010
5/19/10
2:25
PM ET
By
Ryan McCrystal, ESPN Stats
and
Info
| ESPN.com
Quick Hits: Yesterday in Quick Hits we took a look at batters who are crushing fastballs this season. Today we'll focus on guys who have excelled against off-speed pitches.

* Joey Votto is batting .529 (9-17) against changeups.

* Ryan Sweeney has yet to swing and miss on a curveball this season. He's made contact on all 20 he has offered at, and is batting .357 against curves.

* Andrew McCutcheon is batting .647 (11-17) against curves thrown in the strike zone.

* Ryan Zimmerman is batting .520 against sliders (13-25) with four home runs. He has also missed a league-low 11.4 percent of curveballs he's swung at.

* Derek Jeter is batting.219 against sliders this season, but it could just be bad luck. He leads the league with a .375 well-hit average against sliders.

* Alfonso Soriano is batting .395 (15-38) against sliders with 10 extra-base hits (eight doubles, two home runs).

Today's Trivia: Vernon Wells tied Joe Carter for the 2nd most home runs in Blue Jays history yesterday. He now trails only Carlos Delgado. Since Wells debuted in 1999, he and Delgado have each hit over 200 home runs with the Blue Jays, over 100 more than the next player on the list. Who has the third most home runs for the Jays during that time span?

Today's Leaderboard: On yesterday's leaderboard, Franklin Gutierrez ranked among the leaders in slugging percentage against fastballs 93 mph or faster. Today, he shows up on essentially the opposite list. He's batting .500 against pitches less than 80 miles per hour, which trails only Andrew McCutcheon.

Key Matchups: In two career starts at U.S. Cellular Field, Angels starter Joe Saunders is 2-0 with a stellar 1.66 ERA and a 0.83 WHIP. In 2009, Saunders was 1-1 against the White Sox with a 2.63 ERA. To get a jump on Saunders, the White Sox may want to think about starting pinch hitter Jayson Nix, who was 3-5 versus Saunders last season with three home runs

Wednesday will mark the fourth time the Los Angeles Dodgers have seen Padres starter Jon Garland since 2009, and Garland likely wouldn't mind seeing them a bit more. The Dodgers have only hit .231 against Garland in those three previous starts, and his fastball in particular has been rough on Los Angeles hitters. The Dodgers are hitting .226 against Garland's fastball, well below the team's .297 average vs fastballs since the start of the '09 season, and 58 points below the major league average in that same time span (.284).

Trivia Answer: Jose Cruz Jr. hit 97 home runs for the Blue Jays from 1999 to 2002. Trailing him on the list are Alex Rios (81), Tony Batista (80) and Eric Hinske (78).
April, 23, 2010
4/23/10
1:36
PM ET
By
Jeremy Lundblad, ESPN Stats & Info
| ESPN.com
Today's Trivia
: Justin Smoak, a South Carolina native, is expected to make his MLB debut on Friday. Who has the most career home runs for a player born in South Carolina?
Quick Hits
:
Reggie Willits
appeared in his 300th game on Thursday, and a career-long trend continued. He went 0-for-3, and still does not have a home run in his career. The active position player with the next most career games without a homer is
Jose Morales
with 55. In fact, Willits has more career plate appearances without a home run (819) than any pitcher.
Ryan Dempster
is next at 518. So with that in mind, and the help of STATS, here are some notable "most withouts" among active players:
*
Angel Pagan
has the most plate appearances (881) without being hit by a pitch.
*
Chase Utley
has 83 stolen bases, but has never even tried to steal third.
*
Alex Rios
has the most stolen bases (120) for a player that has never been picked off.
*
Ryan Garko
has been on base more times (602) than any other player without a stolen base.
*
John McDonald
has nearly twice as many plate appearances (1,889) as the next player who has never been intentionally walked.
*
Ramon Castro
has the most plate appearances (1,400) without a triple.
*
Edinson Volquez
has the most plate appearances (77) without a walk.
Tommy Manzella
(45) has the most for a position player.
*
Ryan Perry
has the most appearances (60) and innings (69 2/3) without a win.
*
Cla Meredith
has the most relief appearances (270) without a save.
*
Scott Olsen
and
Claudio Vargas
have the most starts (114) without a complete game.
*
Andrew Bailey
has pitched the most innings (88 1/3) without hitting a batter.
*
Jon Garland
has pitched the most innings (1,851 1/3) without a balk.
*
Carlos Silva
has the most innings (1,147 2/3) without a pickoff. Interestingly,
Matt Cain
and
Tim Lincecum
are next.
*
George Sherrill
has the most innings (256) without allowing a triple.
*
Brad Ziegler
has the most innings (142) without a wild pitch.
Today's Leaderboard
: In the spirit of today's theme, CC Sabathia's 292 starts are the most for an active pitcher without a relief appearance. He's followed by Ben Sheets (225) and Jake Peavy (219).
Carlos Zambrano
has 21 relief appearances to his name, but none since 2002. His streak of 241 straight appearances as a starter is likely to be broken this weekend. The Elias Sports Bureau notes that Zambrano's streak is the fifth longest among active pitchers. Livan Hernandez's last 415 appearances have been as a starter.
Key Matchups
: The top five hitters that the Royals used yesterday are 41-94 lifetime against
Carl Pavano
. That's a .436 batting average. It's no wonder that Pavano is just 4-5 with a 7.84 ERA in his career against Kansas City.
Adrian Beltre
is just 1-for-18 in his career against
Jeremy Guthrie
. That .056 batting average is his worst against any pitcher he has at least 20 plate appearances against.
Whenever
Albert Pujols
meets Tim Lincecum, it warrants mentioning. Pujols is 3-for-8 in his career against Lincecum, but has just one hit in their last seven meetings at the plate.
Trivia Answer
: Jim Rice's 382 home runs are the most for a player born in South Carolina. He's followed by
Reggie Sanders
(305). The active leader?
Orlando Hudson
with 78.
March, 29, 2010
3/29/10
5:34
PM ET
By
Doug Kern, ESPN Stats & Info
| ESPN.com
Starting Off On The Right Foot... er, Arm

Let's just admit it, Opening Day is fun. It's a new season filled with new players, new storylines, new hope, a new stadium or two, over 2,400 games waiting to be contested. Every team is tied for first place. It's not just fun for the fans, it's fun for the players too. One of the biggest honors for a pitcher is to be named a team's opening-day starter. It's usually the staff's "ace", the one who will take those hopes on his shoulders - literally- and start a new chapter. Start that run to the championship (you know, the one that every team says they're really going to make this year). And over the years, it's become a great privilege to throw the first ball of the season.


It's also probably the last time this season you'll see so much talent on display on the same day. Aside from NL wins (Adam Wainwright), both leagues' leaders in every category below will be pitching on Monday. (As an added bonus, Zach Duke also led the National League in losses.)


And there will be some new faces, too. A full third of this season's opening-day starters-- including surprises like Zack Greinke ("he's never started an opener?") and Vicente Padilla ("he's starting the opener?")-- will be getting that nod for the first time. Two (Roy Halladay and Jon Garland) will be making their first appearance for a new team. Garland will actually face one of his staff-mates from last season, Dan Haren, as the Padres travel to Arizona.


Incidentally, Tom Seaver holds the all-time record for most opening-day starts (16, including 12 straight from 1968-79). The leaders on this year's list are only halfway there.
Did you know: According to Baseball Almanac, the AL team that's won the highest percentage of its openers is Toronto (25 of 33, 76%). The NL team with the best opening-day record-- really-- is the New York Mets (60%). It's those other 161 games that have been a problem in Flushing recently.

March, 14, 2010
3/14/10
8:09
AM ET
By
Mike Trainor, ESPN Stats & Info
| ESPN.com
When the Padres traded
Jake Peavy
– the face of their franchise - in July, the team immediately put pressure on the players it received in return.
The quickest payoff of the deal for the Padres is left-handed pitcher
Clayton Richard
. The 26-year-old is penciled in as San Diego's fourth starter this season (behind
Chris Young
,
Kevin Correia
and
Jon Garland
) after a very respectable final two months of 2009.
Richard made 12 appearances for the Padres – all starts – and compiled a 5-2 record and 4.08 ERA. Where Richard excelled the most was PETCO Park, as he posted a 4-0 mark and 2.00 ERA in six starts. Breaking down the numbers further, he held opposing hitters to a paltry .254 slugging percentage at PETCO – good for sixth-lowest among NL pitchers with at least three starts in a specific park.
One of the keys to Richard's early success is his ability to get ground balls. His career groundball/flyball ratio is 1.00 – significantly better than the MLB average of 0.78 over the past two seasons. Richard's number even improved a little with the Padres, jumping up to 1.07. Here is where Richard ranked in the category among NL starters 26 or younger with at least 50 IP last season.
Highest Groundball/Flyball Ratio by NL Starters, 2009
26 Years Old or Younger, Min. 50 IP
| | Age | GB/FB ratio |
| --- | --- | --- |
| Mitchell Boggs, STL | 25 | 1.25 |
| Burke Badenhop, FLA | 26 | 1.24 |
| Ubaldo Jimenez, COL | 25 | 1.16 |
| John Lannan, WSH | 25 | 1.13 |
| Clayton Richard, SD | 25 | 1.07 |
That number was better than many pitchers known for their ability to induce grounders – such as
Mike Pelfrey
(1.06),
Adam Wainwright
(1.04),
Josh Johnson
(1.00),
Jeff Suppan
(0.98) and
Zach Duke
(0.94).
Here's one final nugget that Padres fans can get excited about:
Baseball-reference.com compares players' statistics at similar ages throughout the sport's history. Through the age of 25, who is Clayton Richard's most similar pitcher? None other than Lefty Grove!
That alone makes Richard One2Watch4 in 2010.