Stats & Info:

Jorge de la Rosa
May, 18, 2011
5/18/11
11:09
AM ET
Having lost four straight games -- their first losing streak of more than two games all season -- the
Philadelphia Phillies
will look to right the ship tonight against the
Colorado Rockies
at 7 ET on ESPN.


Since 2008, the Phillies are 15-3 against the Rockies, their best winning percentage against any National League team in that span. However, Philadelphia is going to have to start scoring runs if it wants to build on its record against Colorado.
The Phillies are 4-7 in their last 11 games, and have scored three runs or fewer in eight of them -- including all seven losses. This season, the Phillies have scored three runs or fewer in 22 of their 41 games. Only the
San Francisco Giants
and
Los Angeles Dodgers
have had more three-run games (23 each) in the National League.
Cole Hamels Matchups to Watch
Cleanup hitters this season are 1-for-23 (
Mike Stanton
has the lone hit) with nine strikeouts against
Cole Hamels
. In fact, No. 4 hitters are hitless in their last 15 at-bats; Hamels has retired 12 straight since allowing a walk to
Stephen Drew
. His .043 opponent batting average against No. 4 hitters is the best in baseball.
The Rockies
Carlos Gonzalez
will be facing Hamels for the first time in his career. Although he has seven RBI in his last four games, "CarGo" is hitting just .193 since April 19. And he's struggled mightily against left-handed pitching.

Gonzalez
Last season, Gonzalez hit .320 against left-handed pitching, which ranked 10th in the National League among players with at least 150 plate appearances against left-handers. In 2011, he's hitting only .159.
Left-handed pitchers have been able to bust Gonzalez inside (2-for-9, .222), compared to last season when he hit .364 (16-for-44) on inside pitches from left-handers.
Gonzalez also is hitting ground balls at a much higher rate this season. In 2010, he hit only 41.8 percent of pitches for a ground ball. This season he's at 52.1 percent. He's also missing pitches right down the middle, from both righties and lefties. In 2010, Gonzalez hit .352 with a 1.080 OPS on pitches right down the middle. This season, he's hitting just .231 (3-for-13).
Jorge De La Rosa Matchups to Watch
Hamels will be opposed by
Jorge De La Rosa
, who is 0-3 with an 11.34 ERA in four career starts against the Phillies. He's even worse at Citizens Bank Park: 0-2 in two starts with a 14.04 ERA.
Expect the Phillies to stack tonight's lineup with right-handed bats. Left-handed hitters are 3-for-28 against De La Rosa this season and hitless in their last seven at-bats. The three lefties to get hits against him:
Miguel Montero
,
Pedro Alvarez
and Diamondbacks pitcher
Joe Saunders
.
Left-handed hitters in the last three seasons against De La Rosa have struggled: .107 this season (with no home runs), .206 last season and .204 in 2009. Right-handed hitters haven't fared much better, hitting just .242.
December, 5, 2010
12/05/10
10:00
AM ET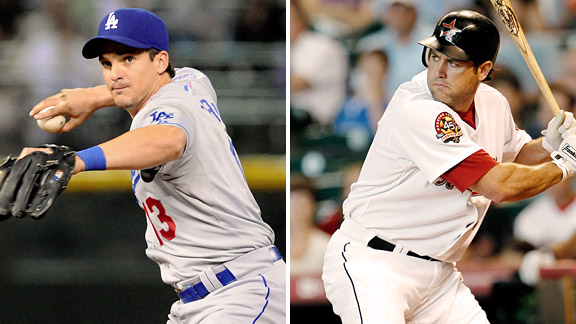 Icon SMI
Ryan Theriot and Lance Berkman lacked in performance in 2010, but the Cardinals will give them a chance to bounce back.
There were lots of huge moves in the majors last week, but our weekly review focuses on a couple of new Cardinals, and a thankful Rockies pitcher, along with a quick farewell to
Adrian Gonzalez
.
Cardinals sacrificing defense, hoping for more punch
With their acquisitions of shortstop
Ryan Theriot
and outfielder
Lance Berkman
this week, the Cardinals made a strategic choice to prioritize offense over defense at two lineup spots for 2011.
Theriot is the likely replacement for shortstop
Brendan Ryan
, who posted the lowest OPS in baseball last season (.573), though Theriot's .633 was only a couple of spots better. But there is a significant defensive downgrade to consider.
Ryan ranked as the best fielding shortstop in the majors, leading all players with 27 defensive runs saved. In limited action at shortstop in 2010, Theriot cost his team five runs, though he did rate slightly above average from 2007 to 2009.
Ryan specialized on balls hit to the shortstop-third base hole, rating plus-20 on them in 2009 and plus-30 in 2010 according to Baseball Info Solutions' plus-minus metric.
That meant he turned 50 more balls into outs than an average shortstop would have in the same time period. In the 1,500+ innings that Theriot played shortstop over the last two seasons, he rated a minus-4 on balls hit into that hole.
That could be trouble given the ground-ball tendency of Cardinals pitchers. Last season, they had the second-highest groundball percentage in the majors.
Translation: If the Cardinals want to play Theriot regularly, they'd do well to have a third baseman who can get to balls to his left -- something they didn't previously have to worry about too much.
Berkman's defense in the outfield may not have as big of a negative impact as it seems, given those ground-ball tendencies. The last season he played in right field was 2007 and in 230 innings, he had a plus-minus rating of minus-4. He'll be joining a Cardinals outfield that rated in the upper-half of National League teams in both runs saved and plus-minus.
Much like we noted earlier this winter regarding Braves fans getting used to cheering for
Dan Uggla
(who owned them), Cardinals fans will have to get used to cheering for Berkman.
Berkman leads active players in home runs (39) and RBI (118) against the Cardinals. His .415 OBP ranks fourth-best and his .601 slugging percentage ranks fifth-best against them among active players (minimum 150 PA). His 169 home runs and 540 RBI against NL Central opponents are the 3rd-most since divisional realignment in 1994.
–- Katie Sharp and Mark Simon
Rockie-Solid?
Most starting pitchers who net a multi-year free agent contract for $10 million or more have lengthy histories of durability and success. But not seven-year veteran
Jorge De La Rosa
.
De La Rosa still has the equivalent of a baseball bucket list as he heads into the first of two guaranteed seasons with the Rockies at a guaranteed $21.5 million. He's never finished a season with an ERA under 4.00, never posted an ERA+ of 120 or better (meaning his ERA, adjusted for ballpark, was never 20 percent better than the rest of the majors), and only once pitched 150 innings in a season.
De La Rosa, much like
Troy Tulowitzki
might consider himself thankful for the Rockies generosity.
–- Mark Simon
Going, Going, Gonzo
A few last numbers by which to remember Adrian Gonzalez, the Padre:
0.17–-
Gonzalez's Win Probability Added in September/October, 2010, 39th-best in the NL, fourth-best among Padres (San Diego hit .229 in September, hurting the number of chances Gonzalez had to make an impact)
16–-
"Just enough" home runs hit by Gonzalez in 2010, most in the majors according to Hit Tracker Online (homers that cleared by less than 10 feet)
47–-
Home runs at home since 2007, tied for 43rd-most in the majors
161–-
Home runs as a Padre, two shy of Nate Colbert's team record
–- Derek Czenczelewski, Katie Sharp, Mark Simon
September, 5, 2010
9/05/10
1:42
PM ET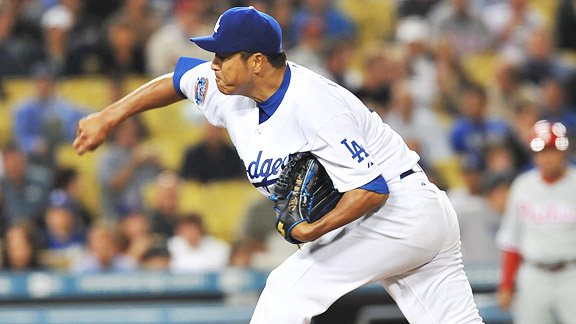 Jayne Oncea/Icon SMI
The Dodgers' Hiroki Kuroda took a no-hitter into the eighth inning in his last start.
Want a reason to watch the
San Francisco Giants
and
Los Angeles Dodgers
on Sunday Night Baseball at 8 ET on ESPN2?
How about the idea that you might get to watch some pitching history. People have been calling this season The Year of the Pitcher, but perhaps the year of the great pitching performance is more apt.
There have been 25 games this season in which a team managed no hits or one hit. According to the Elias Sports Bureau, that's one shy of the all-time major league record, set in 1988.
The kicker is that both starting pitchers tonight --
Jonathan Sanchez
and
Hiroki Kuroda
-- have thrown one-hitters this season. Kuroda did it in his last start against a powerful
Philadelphia Phillies
lineup, taking a no-hitter into the eighth inning before settling for a shared one-hitter with
Hong-Chih Kuo
.
It's part of a stretch of nine starts in which Kuroda has held opponents to a .193 batting average and .520 OPS, yet somehow Kuroda is just 3-4 with a 2.56 ERA in that span. That's what happens when your team totals just 21 runs of support in those games.
Sanchez's one-hitter came in an odd situation -- a 1-0 loss to the
San Diego Padres
on April 20 in which he yielded just a
Chase Headley
single, but was done in when the lone run scored on a sacrifice fly. Sanchez already has a no-hitter to his credit against those same Padres last season.
If there is a one-hitter to be had tonight, it's more likely to be for the Dodgers than the Giants, for two reasons:
First, Sanchez is 0-5 with a 6.04 ERA against the Dodgers, the second-worst mark against them for any active pitcher (
Jorge De La Rosa
is 0-6). His ERA is the second worst of any Giants pitcher who has thrown 40+ innings against the Dodgers since the teams moved to California in 1958.
Second, the Giants haven't thrown a one-hitter against the Dodgers since 1973.
But Sanchez's .215 opponents batting average rates among the best in baseball, and the Dodgers offense rates among the most inept in the majors since the All-Star break. Perhaps the Giants are due.
Four other reasons to watch, with some help from our game researcher, Katie Sharp:
•
Rafael Furcal is a Giants killer
He's hitting .324 against the Giants as a Dodger, third-best among anyone since the two teams moved westward in 1958.
•
The Dodgers like small ball
Los Angeles leads the National League in sacrifice bunts, and with the help of
Baseball-Reference.com
, we know the Dodgers lead in bases taken via fly balls, wild pitches, passed balls, balks and defensive indifference. They've also taken an extra base on 45 percent of the opportunities they've had, matching the
Colorado Rockies
and
Cincinnati Reds
as the most aggressive teams in the league.
•
See an unknown star
If you're a fan of some of these new sabermetric statistics, you'll like
Andres Torres
, who, primarily on the strength of his defensive rating, is fourth in the NL in Wins Above Replacement. His "Ultimate Zone Rating" (a gauge of ability to turn hit balls into outs, avoid errors, and serve as a base-running deterrent) rates higher than any outfielder in the league.
•
You're going to see a close one
Of the 14 games the teams have played this season, 11 have been decided by two runs or fewer, including the last seven.
We checked with the Elias Sports Bureau, which tells us this is the first time that the Giants and Dodgers have had a season in which they played seven straight games that were that close since 1928, and they have never played eight straight games in the same year, decided by two runs or fewer.
Maybe tonight's the night for some history.
April, 10, 2010
4/10/10
2:25
AM ET
By
ESPN Stats & Info
| ESPN.com
It's Friday and we're in love with baseball. Here are some of the best notes from ESPN Stats & Info as we head towards the weekend.
Hitters of the Night:
Edgar Renteria
went 3-5 on Friday against the Braves and tied the game with a 2-run HR in the 9th inning off of
Billy Wagner
. The Giants won in the 13th inning to remain the only unbeaten team in the big leagues at 4-0. Renteria is 11-for-16 so far this season and is being more selective at the plate, especially as pitchers throw him less strikes. Renteria is chasing only 11.9 percent of pitches outside of the zone this season after chasing 19.3 percent last season. The result? Renteria has put the ball in play 57.7 percent of the time he has swung as opposed to just 46.3 percent in 2009.
Placido Polanco
joins Renteria atop the league leaderboard with 11 hits this season, and is pacing a Phillies team that has scored 32 runs already. He's driven in a quarter of those runs himself, and is hitting .579 in the early going. Polanco has also been more selective, and the notorious contact hitter is missing even less this year -- he hasn't struck out yet in 21 PA. And he's jumping all over the few fastballs he sees, swinging at 56.5 percent of heaters. Polanco has seen 46 fastballs this season, swung at 26 of them, and missed ZERO.
Why Rockies Starter Jorge de la Rosa Won:
- Threw first-pitch strikes to 75 pct of hitters (56 pct in '09).
- Allowed 27 pct of swings to be hit in play (38 pct in '09).
- Of 9 swings against his slider, 0 were put in play.
- Retired the leadoff hitter in each of his 7 innings.