November, 10, 2014
Nov 10
10:43
AM ET
By
ESPN Stats & Information
| ESPN.com
AP Photo/Charles Rex ArbogastThis swing produced 36 home runs in 2014.
Awards season kicks off on Monday with the announcement of the AL and NL Rookie of the Year awards.
In the American League, the choice is clear-cut, with
Chicago White Sox
first baseman
Jose Abreu
heavily favored over
New York Yankees
pitcher
Dellin Betances
and
Los Angeles Angels
pitcher
Matt Shoemaker
.
In the National League,
New York Mets
pitcher
Jacob deGrom
,
Cincinnati Reds
outfielder
Billy Hamilton
and
St. Louis Cardinals
second baseman
Kolten Wong
are the three finalists in what should be a close race.
AL: Abreu's award to lose
Abreu is trying to become the first White Sox player to win the AL Rookie of the Year award since Ozzie Guillen in 1985 and the sixth White Sox player overall, joining Hall of Famer Luis Aparicio (1956), Gary Peters (1963), Tommie Agee (1966) and Ron Kittle (1983).
Abreu led all rookies in home runs (36), RBIs (107), hits (176), doubles (35), runs scored (80), OBP (.383), slugging percentage (.581) and OPS (.964). He's the first rookie in major league history to finish in the top five of all three Triple Crown categories.
Abreu became the first player in MLB history to win both the player of the month and the rookie of the month awards twice in the same season.
Abreu would be the first first baseman to win the award since
Ryan Howard
of the Phillies won in 2005.
That's not to say that Betances and Shoemaker didn't have good seasons.
Betances had a 1.40 ERA and averaged 13.5 strikeouts per nine innings, both the lowest totals for anyone who threw at least 80 innings this season. Betances also ranked best among those pitchers in opponents' batting average (.149) and OPS (.442).
At age 28, Shoemaker had one of the best rookie seasons for an Angels pitcher. He finished 16-4 and was 7-0 with a 1.29 ERA in his last eight appearances of the season.
NL: deGrom vs. Hamilton
DeGrom is trying to become the first Mets player to win rookie of the year honors since Dwight Gooden in 1984. The other Mets to win the honor are Tom Seaver (1967), Jon Matlack (1972) and Darryl Strawberry (1983).
DeGrom didn't figure to be in the rookie of the year running after starting the season 0-4, but he was dominant the rest of the year, going 9-2 with a 1.99 ERA in his last 15 starts. DeGrom allowed 20 runs in his first seven starts and only 24 in those last 15.
Included in that was a start against the Marlins in which he tied a major league record by striking out the first eight batters of the game.
Hamilton is trying to become the first Reds player to win the award since pitcher Scott Williamson won in 1999. The last Reds position player to win was third baseman Chris Sabo of the Reds in 1988. Other Reds to take the honors: Pete Rose (1963), Tommy Helms (1966), Johnny Bench (1968) and Pat Zachry (1976).
Hamilton excelled in two areas: baserunning, as he finished second in the NL with 56 stolen bases, and defense. He led NL center fielders with 10 assists and ranked third among them with 14 defensive runs saved.
Hamilton's 56 steals are tied for the second most by a rookie in the wild-card era, behind only Tony Womack's 60 for the Diamondbacks in 1997.
Wong is an unlikely candidate to win, but he did close the season very strong. He would be the first Cardinals player to win rookie of the year since
Albert Pujols
in 2001.
July, 18, 2014
Jul 18
12:28
PM ET
By
ESPN Stats & Information
| ESPN.com
Rick Osentoski-USA TODAY Sports
Víctor Martínez has nearly as many home runs (21) as strikeouts (23) for the first place Detroit Tigers
The 2014 All-Star break is over and regular season baseball continues Friday night.
Here are a few of the top statistical storylines for the second half of the season.
Can Victor Martinez finish with more HR than K?
Víctor Martínez has 21 home runs and 23 strikeouts on the year. If Martínez finishes the season with more home runs than strikeouts, he would be the first qualified player to accomplish that feat since
Barry Bonds
in 2004 (45 HR, 41 K). George Brett's 1980 season is the only other one since 1960 with more home runs than strikeouts (24 HR, 22 K).
For more recent context, 11 other players have hit 20 or more home runs in 2014. The average strikeout total among those players is 74.
Giancarlo Stanton
has the same number of home runs as Martínez but 82 more strikeouts (105).
National League Cy Young race
The debate over who should start for the National League in the All-Star game was settled when manager
Mike Matheny
chose
Adam Wainwright
over
Clayton Kershaw
.
But if Kershaw's last eight starts are any indication (8-0 with a 0.74 ERA), the race for the NL Cy Young award is just heating up.
The chart on the right shows how close the race has been to this point. Among the 114 pitchers who have made at least 14 starts, Kershaw and Wainwright each rank in the top-5 in ERA, WHIP and opponent OPS.
American League rookies chasing history
Jose Abreu
leads all of baseball in home runs with 29 entering the second half.
George Springer
has 19 home runs since being called up two weeks into the season by the
Houston Astros
.
The only rookie to hit 40 home runs in a season was
Mark McGwire
, who set the rookie record with 49 in 1987.
O's and A's in first place
The
Baltimore Orioles
are in first place at the All-Star break for just the second time in the last 25 seasons. The last time was 1997 when the O's went on to win the AL East and lose in the ALCS.
The
Oakland Athletics
have the best record in Major League Baseball at the All-Star break for the second time in franchise history. The only other time was 1988. The A's lost 4-1 to the
Los Angeles Dodgers
in the World Series that year.
July, 8, 2014
Jul 8
11:26
AM ET
By
ESPN Stats & Information
| ESPN.com
Mike Ehrmann/Getty ImagesYoenis Cespedes will attempt to defend his 2013 Home Run Derby title.
The Gillette Home Run Derby (Monday, 8 p.m. ET, ESPN/WatchESPN) captains
Troy Tulowitzki
and
Jose Bautista
will announce their teams this evening on the 6 p.m. ET edition of "SportsCenter." The ESPN Home Run Tracker team put together the lineups it would most like to see, using data from every home run hit this season.
American League
Yoenis Cespedes
Yoenis Cespedes
hit a total of 32 home runs in last year's Home Run Derby, eight more than any other contestant. Target Field has a shorter power alley in left-center field than Citi Field (377 feet vs. 385 feet), although it does have a slightly longer distance to the foul pole (339 feet vs. 335 feet).
Of Cespedes' 32 homers in last year's derby, 26 were hit to the left of center field.
Nelson Cruz
Nelson Cruz
leads the majors with 28 home runs. He also has 19 homers off fastballs this season, four more than any other player.
Cruz has hit 2.1 miles worth of home runs this year, which leads the majors. He's also shown some of the most raw power in baseball, being tied for fourth in the American League with five homers of at least 425 feet.
Jose Abreu
Jose Abreu
has 27 home runs, second-most in MLB behind Nelson Cruz. Abreu is one of three players to hit two or more miles worth of home runs this year.
David Ortiz
David Ortiz
is one of four players to hit a 475-foot home run this season. Ortiz's 482-foot homer on April 22 traveled 119.9 mph off the bat, the highest for a home run this year.
Ortiz has 16 homers of at least 400 feet this season, tied for fourth-most in the league. The only players with more than Ortiz are
Edwin Encarnacion
(injured),
Mike Trout
(has already declined derby consideration) and
Giancarlo Stanton
.
National League
Giancarlo Stanton
Stanton's average home run to this point in the season has traveled 423.8 feet, the longest of any player with at least 10 homers. Stanton's average is no sample-size fluke either: His 21 homers are the most of the 11 players averaging at least 410 feet per home run.
Stanton has nine homers this year that traveled at least 425 feet, most of any player in the league. Stanton has five 450-foot home runs; no one else in the league has more than two. Stanton has more 450-foot home runs than any other team in MLB.
Michael Morse
Michael Morse
has eight 425-foot home runs, two 450-foot home runs and an average distance of 420.5 feet. All of those are second in the league behind Giancarlo Stanton.
Morse ranks in the top 10 in the National League in average distance, speed off the bat and apex among players with at least 10 home runs.
Justin Upton
Justin Upton
has hit four 440-foot home runs, trailing only Stanton and Morse for the most in the majors. His 477-foot homer on April 10 is the fourth-longest in baseball this season and the longest at Turner Field since September 2010.
Ian Desmond
The shortest of the 15 home runs hit by
Ian Desmond
this year was calculated at 387 feet, making him the only player who has hit at least 15 homers that all traveled at least 375 feet. His average home run distance is 416.4 feet, the fifth-longest in the majors (mininum 10 HR).
Desmond's 462-foot shot on April 21 is the second-longest home run recorded at Nationals Park since ESPN began tracking home runs in 2006.
July, 1, 2014
Jul 1
12:56
PM ET
By
ESPN Stats & Information
| ESPN.com
June was another notable month when it came to home run hitting, particularly to a couple of players who couldn't stop hitting long home runs.
HR Hitter of the Month: Mike Trout
Mike Trout hit seven home runs in June, including a career-long 489-foot blast off off
Jason Vargas
at Kauffmann Stadium on June 27.
The other three longest home runs hit this year were all in April -
Giancarlo Stanton
hit a 484-foot shot on April 4 at Marlins Park;
David Ortiz
recorded a 482-foot home run on April 22 at Fenway Park; and
Justin Upton
hit a 477-foot round tripper on April 10 at Turner Field.
Trout's 489-foot home run is the longest home run by an American League player since the beginning of ESPN HR Tracker in 2006, and the sixth-longest overall.
Trout's average career home run distance is 415.2 feet. He trails only
Justin Upton
(417.5 feet) in average home run distance since 2006 (min. 50 HRs).
His two longest career home runs have come in Kansas City – 489 feet on June 27, 2014 and 463 feet on May 23, 2013.
The Home Run Tracker team compared Trout's home run to Bo Jackson's first career home run (hit on Sept. 15, 1986), which was calculated at 495 feet. Both of which were hit at Kauffman Stadium.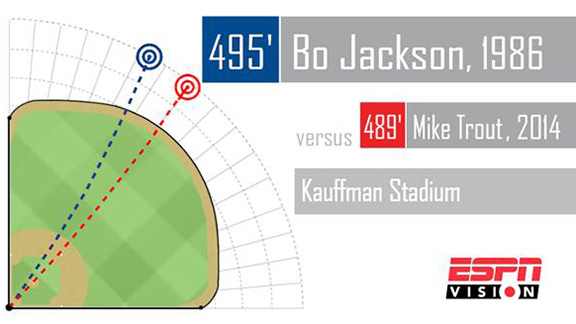 Trevor Ebaugh
Shortest HR of the Month: Chris Davis
On June 17, Chris Davis hit a 319-foot home run off the base of the left field foul pole in Tropicana Field, the shortest home run of the season (not including inside-the-park HRs). Of the nine home runs hit 320 feet or shorter since 2009, Davis' was the only one that was not hit at Fenway Park.
Other Notable Performances: Hanley Ramirez, George Springer and Jose Abreu
Hanley Ramirez
On June 8, Hanley Ramirez drove a
Jorge De La Rosa
fastball 472 feet at Coors Field. Not only was it a career long for Ramirez, it was the longest home run by a Dodger since the beginning of Home Run Tracker in 2006.
Prior to this home run, the longest by a Dodger was 461 feet by
Manny Ramirez
on April 22, 2009.
George Springer
On June 24, George Springer hit a 465-foot home run off
Aaron Harang
at Minute Maid Park, tied for the second longest home run hit in Houston since 2006.
Lance Berkman
had the two others (473 feet on June 8, 2008 and 465 feet on July 26, 2006).
Springer also led the month of June in average HR Distance (minimum 5 home runs).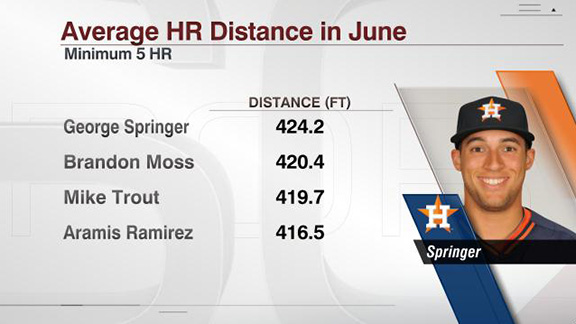 Trevor Ebaugh
Jose Abreu
Jose Abreu led the major leagues with 10 home runs in the month of June and set a record by reaching 25 career home runs faster than anyone in MLB history (67 games). That broke the mark of 72 games set by the Tigers' Rudy York.
June, 28, 2014
Jun 28
12:57
AM ET
By
ESPN Stats & Information
| ESPN.com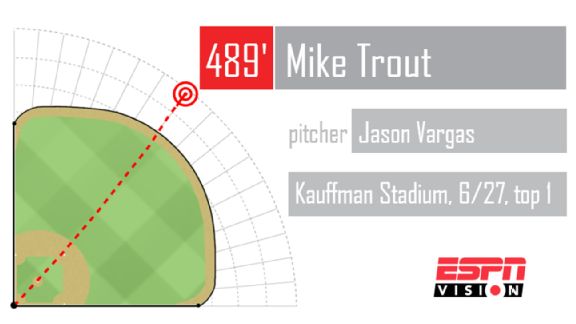 Mike Trout
of the
Los Angeles Angels
hit a first-inning homer against the
Kansas City Royals
. His 489-foot homer is the longest hit in Kauffman Stadium since ESPN began tracking homers in 2006, and it is the longest hit there since
Travis Hafner
hit one 481 feet on April 15, 2012.
It is the longest by an American League player since ESPN began tracking home runs in 2006. The second-longest is 488 by
Edwin Encarnacion
on Sept. 1, 2012.
Trout's homer is also the longest by an Angel since ESPN began tracking home runs in 2006. The second-longest was
Vladimir Guerrero
, who hit one 484 feet on July 30, 2006.
Trout's home run is the longest of his career by 26 feet, is his fifth career home run of 450 feet or more and is the longest home run in MLB since
Giancarlo Stanton
hit one 494 feet on Aug. 17, 2012.
Abreu goes deep (twice)
Trout wasn't the only star hitting long homers on Friday.
Jose Abreu
hit two home runs for the
Chicago White Sox
in their win over the
Toronto Blue Jays
on Friday.
It was Abreu's fourth multihomer game this season, his first since April 27.
Abreu now has 25 home runs in 67 games. He's the fastest player to reach 25 homers in MLB history, according to the Elias Sports Bureau.
Only one other player in MLB history --
Mark McGwire
in 1987 -- has had more home runs as a rookie before July 1.
Abreu's fifth-inning home run traveled 428 feet. It is the seventh home run this year that he has hit 425 feet or more, which is tied for second-most in MLB and leads the American League.
Abreu's two homers were two of four allowed by
R.A. Dickey
, the first time he has allowed that many homers in a game since 2006.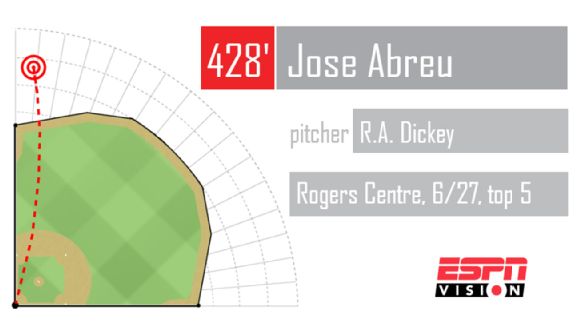 May, 7, 2014
May 7
12:44
PM ET
By
Justin Havens
and
Katie Sharp, ESPN Stats & Info
| ESPN.com
The
Chicago White Sox
and
Chicago Cubs
continue their annual Crosstown Cup Series with a two-game set at U.S. Cellular Field starting Wednesday (8 ET on ESPN).
Last year the Cubs won all four games between the clubs, but this year the White Sox are halfway to completing the sweep of their North Side rivals.
Cuban sensation
Jose Abreu
has been nothing short of incredible in his first month-plus in the majors.
• Abreu and fellow Cuban Yasiel Puig are the only players to win both the Player of the Month and the Rookie of the Month in their debut months in the majors.

• Abreu's 10 homers and 32 RBI were both the most in each category for a rookie before May 1 in MLB history.

• He was the first rookie to lead the majors in both home runs and RBI in the season's opening month since Kent Hrbek in 1982.
Abreu's success can largely be attributed to his ability to crush pitches on the outer half of the plate.
No player in the majors this season has hit more homers or has a higher isolated slugging on pitches in this location than Abreu.
Abreu has been susceptible to chasing pitches out of the strike zone, but he's still been able to do damage on those pitches when he makes contact.
His three homers on pitches out of the zone are tied for the most in baseball and only two players have more hits on out-of-zone pitches than Abreu this season.
Wood has been good
Travis Wood
may not be the first name you think of when making a list of elite left-handed starters in baseball, but he does own the sixth-best ERA among southpaws since the start of last season. Only
Clayton Kershaw
,
Madison Bumgarner
,
Cliff Lee
,
Chris Sale
and
Hyun-Jin Ryu
have bested him in that span.
Wood has improved his performance against left-handed batters in each season since becoming a full-time starter in 2012, holding them to .524 OPS this season, which ranks 10th among NL starters.
Since the Phillies lefties were 5 for 17 against him in his first start this season, he's held same-sided batters to a .160 average and .360 OPS over his last five games.
Danks falling behind
John Danks
started the season strong with four straight quality starts and a 2.84 ERA through April 21. Yet he's struggled over his last two outings, allowing 12 runs in 10⅔ innings with as many strikeouts as walks (7) in those games.
Batters have really hit him hard over his last two starts, with 31 percent of at-bats ending in a well-hit ball, nearly quadruple the rate he allowed in his first four starts (8.6%).
He's also gotten into a lot of trouble by falling behind in the count frequently. His first-pitch strike percentage has dropped from 60 percent in his first four outings to 46 percent in his last two turns and he hasn't been able to recover. Opponents are hitting .360 with a 1.267 OPS after the count reaches 1-0 in his last two starts.
May, 1, 2014
May 1
11:02
AM ET
By
ESPN Stats & Info
| ESPN.com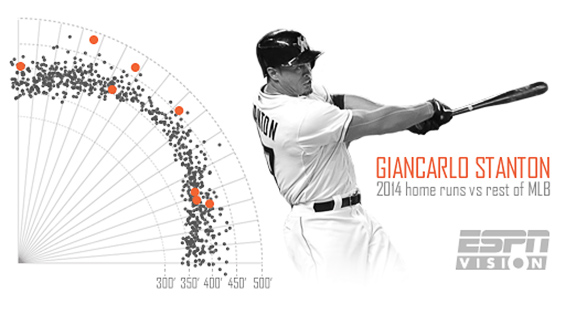 ESPN Stats & Info
Giancarlo Stanton crushed the ball in April, earning him our Home Run Hitter of the Month award.
ESPN Stats & Info's Home Run Tracker Team tracks every home run hit in the majors. Here are a few standout performances from the month of April.
Home Run Hitter of the Month: Giancarlo Stanton
Giancarlo Stanton dominated the home run headlines in April, hitting three of the nine longest homers of the month. On April 4, he launched an
Eric Stults
pitch 484 feet to left center field for the longest home run in the history of Marlins Park and the longest home run of the 2014 season.
Stanton wasn't done there, as he added a 469-footer on April 12 and a 457-footer on April 15. There have been 13 home runs hit of 450+ feet in all of MLB this season, and Stanton has hit three of those. In fact, since his rookie season in 2010 no hitter has hit more 450+ foot home runs.
Performance of the Month: Michael Morse
At Coors Field on April 23, Michael Morse hit a 458-foot homer off
Tyler Chatwood
in the second inning and a 450-foot homer off him in the third inning, the two longest home runs of the season at Coors Field. Morse became just the third player since ESPN began tracking home runs in 2006 to hit two 450+ foot home runs in the same game.
It was quite an April for Morse as he added 449 and 442 foot home runs as well and finished the month with a major league leading 440 foot average home run distance, 42.5 feet further than the MLB average (397.5).
Other notable performances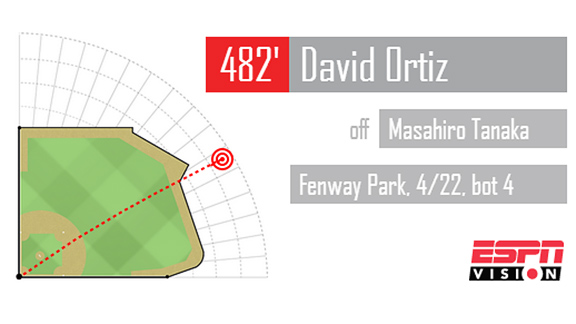 ESPN Stats & Info
Ortiz hit the longest home run by a Red Sox hitter since ESPN Stats & Info began tracking home runs.
• On April 22
David Ortiz
hit a ball 482 feet off
Masahiro Tanaka
at Fenway Park, the second longest homer of the season. Not only was it the longest homer for Ortiz since ESPN began tracking homers in 2006, but it was also the longest home run by any Red Sox hitter. It was the second longest home run hit by anyone at Fenway Park in that period, trailing only
Vladimir Guerrero's
484-foot shot against
Curt Schilling
on July 30, 2006.
The ball left Ortiz's bat at 119.9 mph, the fastest off-bat speed for any home run hit this season. It is the third fastest speed for any home run in the last four seasons.
• White Sox slugger
Jose Abreu
set an all-time rookie-record with ten home runs before May. Abreu is the only hitter in the American League to hit three home runs of at least 430 feet. On top of that, Abreu hit the two longest homers at Comerica Park this season despite only playing four games in Detroit.
• Earlier this month
Albert Pujols
became the 26th member of the 500 home run club with a 430-foot homer at Nationals Park. Since ESPN began tracking home runs, six players have reached the 500 homer mark and Pujols' traveled the furthest (430 feet).
April, 27, 2014
Apr 27
10:30
PM ET
Legend has it that the father of scorekeeping, Henry Chadwick, chose "K" because it was the most dominant sound in the word "strike". This week, in our weekly take on the interesting and unusual in baseball stats, we feature quite a few pitchers who were dominant with the K's as well.
•
Collin McHugh
of the
Houston Astros
got things started
on Tuesday
when he struck out a dozen
Seattle Mariners
. McHugh surrendered neither a walk nor a run, becoming the first Astros pitcher with 12 strikeouts, no walks, and no runs since
Randy Johnson
's 16-strikeout shutout against the Pirates in 1998.
McHugh also gave up only three hits, meaning his line matched just one other game in franchise history. J.R. Richard had a 13-strikeout, three-hit complete game with no walks against the Giants on June 6, 1980.
Nine of McHugh's strikeouts came against the top third of the Mariners' order (
Abraham Almonte
,
Dustin Ackley
,
Robinson Cano
). That made Seattle the first team this season with hat tricks out of each of their top three hitters (the
Cleveland Indians
, Aug. 20, were the only team to do it last year). And it was a first in Mariners franchise history.
• The
Miami Marlins
and
Atlanta Braves
, after striking out a combined 22 times in
Monday's game
, went for 28 whiffs-- and
zero!
walks--
on Tuesday
.
•
Jose Fernandez
and
Alex Wood
each pitched eight walk-free innings with 14 and 11 punchouts respectively. They're the first pair of starters in the live-ball era to
both
hit 8/0/11 in the same game. And that combined total of 28 strikeouts and no walks? That broke, by one, the major-league record for such a thing. The Cubs and Expos got to 27 without a walk on April 9, 2003.
Naturally, in
Wednesday's finale
, the teams combined for 28
more
strikeouts. That's a total of 78; according to Elias that's a National League record for a three-game series in the modern era (since 1900).
The Marlins went on to strike out 13 more times in
Friday's series opener
against the
New York Mets
, the first time in their history they've had four straight 12-strikeout games on offense. They're only the seventh team since 1920 with such a streak, and six of those have come in the last decade. The only other one was by the 1964 Yankees (who
won
three of the games).
•
Corey Kluber
of the Indians also hit the 8/0/11 mark in throwing
a complete game on Thursday
. It was the Indians' first complete game with at least 11 strikeouts since
Justin Masterson
took a loss in the final week of the 2009 season. And it was their first to also be walk-free since Tom Candiotti fanned 12
Minnesota Twins
in a 12-3 win on October 1, 1986.
•
John Lackey
added
an 8/0/11 outing on Wednesday
, just the third
Boston Red Sox
pitcher ever to do it against the
New York Yankees
(
Pedro Martinez
, 1999; Jim Lonborg, 1967). Tack on
Cliff Lee
's
10 strikeouts for the
Philadelphia Phillies
on Monday, and there were six pitchers in four days who recorded double-digit strikeouts with no walks (regardless of innings pitched). Tuesday was just the second day in the live-ball era where it happened three times. The other was June 5, 2002, by
Javier Vazquez
(Expos),
Ruben Quevedo
(Brewers), and Randy Johnson (Diamondbacks).
•
Michael Wacha
of the
St. Louis Cardinals
also had an interesting start this week.
On Wednesday
he faced 20 batters and only five put the ball in play. Wacha struck out 10 and walked five before leaving after four innings and 93 pitches. It had been two years since any pitcher recorded the first nine outs of a game via strikeout (then-Dodger
Aaron Harang
against the
San Diego Padres
on April 13, 2012), and no Cardinals pitcher has done it as far back as play-by-play is available (to the early 1950's).
• Wacha was also the first Cardinals pitcher to record 10 strikeouts and five walks in an outing of any length since
Chuck Finley
did it against the Cubs on Sept. 1, 2002.
April, 27, 2014
Apr 27
8:37
PM ET
By
ESPN Stats & Information
| ESPN.com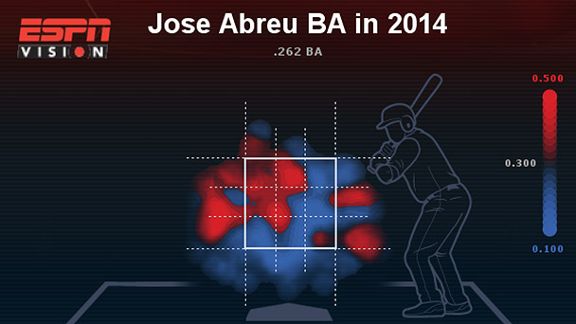 Jose Abreu's ability to hit the outside pitch has been huge so far.
Jose Abreu's dominant hitting through the first month of the season is a credit to his ability to reach out and crush the outside pitch.
Abreu is the first rookie to hit 10 home runs by the end of April and the first to have 30 RBIs by the end of April.
The Elias Sports Bureau noted that he's the first rookie with 10 homers and 30 RBIs in a calendar month since Al Rosen and Luke Easter both did it for the
Cleveland Indians
in June 1950.
Eight of the 10 home runs have come against pitches on the outer half of the plate or off the outside corner, including the three he hit against the
Tampa Bay Rays
over the weekend.
His eight home runs and .797 slugging percentage against outer-half pitches both rate best in baseball.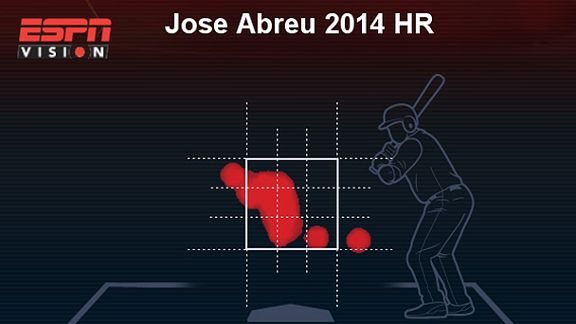 The success even applies to pitches out of the strike zone. He has seven hits on pitches that were out of the strike zone and either on the outer-third of the plate (but too high or too low) or off the outside corner, including two doubles, a triple and a home run. In at-bats ending with an out-of-the zone pitch that was outside, he's hitting .350.
Abreu's six extra-base hits against pitches out of the strike zone rank second in baseball to the game's best all-around player,
Mike Trout
.
Abreu's accomplishments are impressive when compared against a fellow Cuban rookie slugger,
Yasiel Puig
. Abreu's 31 RBIs through 26 games are nearly twice as many as the 16 Puig had in his first 26 games.
Abreu's homer and RBI totals are nearly as good as
Frank Thomas
had in his best month for the two. Thomas had 13 home runs and 31 RBIs in August 2003.
Abreu has been a bit of an all-or-nothing hitter against outer-half pitches so far. He has missed on 34 percent of his swings against them, about 9 percentage points above the major-league average.
Abreu is still adjusting to the inside pitch in terms of trying to hit it for power, with two home runs on 91 swings against inner-half (or off the inside corner) pitches. He has 8 on his 127 swings against those outer-half pitches.