December, 14, 2013
12/14/13
7:14
PM ET
By
ESPN Stats & Information
| ESPN.com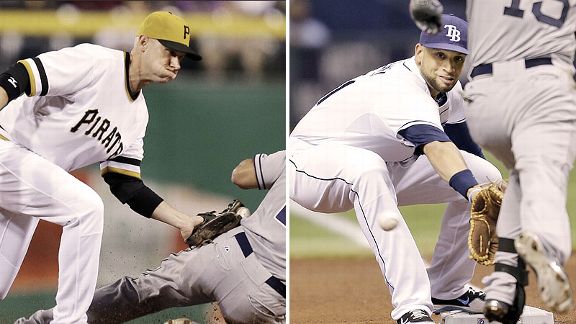 AP PhotoClint Barmes and James Loney are capable of making the tough defensive play.
Most of the time when we look at notable MLB moves, we look at how they improve a team's offense or pitching. But what about how they impact a team on defense? We'll go around the diamond and devote our weekly signings roundup to that subject this week.
Loney handles first base well
First baseman
James Loney
signed on for three more years with the
Tampa Bay Rays
after a season in which he posted his best OPS since 2007. But Loney contributes on the other end too.
Loney doesn't have overwhelming defensive numbers, but he's rated positively in Defensive Runs Saved in each of his eight seasons in the major leagues.
Baseball Info Solutions, a company that does video tracking for major league teams and media, likes certain aspects of Loney's play.
Loney's 259 "Good Fielding Plays" (think: Web Gem nominees) rank second-most among first basemen over the last four seasons, trailing only Joey Votto's 268.
There are certain things that Loney does very well defensively. His long reach comes in handy with foul balls by the stands.
He's made a dozen catches over the last four seasons in which he reached into the seats to pull back a foul ball, the most among first basemen. He's also started the most double plays at that position in that span (50) and has the third-most Good Fielding Plays for handling difficult throws (such as those in the dirt and that required him to reach off the base to get an out), 151.
Loney does make some mistakes, but not enough to offset what he brings. His ratio of Good Fielding Plays to Defensive Misplays & Errors rates 10th-best in that span. In 2012, Rays first basemen averaged 2.3 Good Fielding Plays per Defensive Misplay. Loney had 68 Good Plays and 22 Misplays & Errors, for a ratio of better than 3-to-1 in 2013.
Cano a standout
The Mariners acquisition of
Robinson Cano
should provide them a defensive boost too.
Cano has 21 Defensive Runs Saved over the past two seasons, the fourth-most of any second basemen. He has excelled in ranging far to his left and right to make plays. Cano's 119 "Out of Zone plays" over the last two seasons edge out
Dustin Pedroia
for the most at that position.
Mariners second basemen rated exactly major-league average last season (0 Defensive Runs Saved).
Pirates bring back defensive specialist
Clint Barmes
is about as good as they come defensively. He's not as flashy as someone like
Andrelton Simmons
of the Braves, but Barmes makes up for that with consistency.
Barmes has 89 Defensive Runs Saved as a shortstop since 2003 (which is both the year the stat was first compiled and the season in which Barmes debuted). He rates third among shortstops in that stat and also ranks third when looking at that number on a per-inning basis. Barmes has seven seasons in which he's been credited with at least 10 Defensive Runs Saved (which includes his time playing second baseman). Only
Adrian Beltre
has more, with eight.
He hasn't slowed down at all. His 39 Defensive Runs Saved over the last three seasons rank third in the majors, trailing only Andrelton Simmons (60) and
Brendan Ryan
(51).
-- Mark Simon
Uribe solid at the hot corner
Juan Uribe
, who was reportedly close to an agreement with the Dodgers, had quite a contract year for them after being below replacement level in his first two seasons of his deal.
He ranked third among third basemen with a career-best 15 Defensive Runs Saved last season.
Handling the hot corner means facing a lot of screaming liners, and when it came to Good Fielding Play-grabs of liners, Uribe was tied for third among third basemen last season with five. Only Evan Longoria (8) and Josh Donaldson (6) had more.
-- Kenton Wong
Davis adds to Tigers depth
The Tigers added a capable outfielder, signing
Rajai Davis
to a two-year contract.
Davis will likely platoon with current left-fielder
Andy Dirks
. The two have similar defensive profiles, though Davis rated slightly better in a small sample of games at the position last season.
Last year in just under 400 innings, Davis secured outs on all 63 balls hit into his fielding zone (areas in which more than half of batted balls are turned into outs), and made a defensive misplay or error (per video review by BIS) once every 64 innings, compared to once every 48 innings for Dirks.
Davis will also be a capable backup in center for
Austin Jackson
or right for
Torii Hunter
. He has played 3,200 innings as a centerfielder and 670 as a rightfielder, contributing above-average defense at both positions in his career.
-- Katie Sharp
October, 8, 2013
10/08/13
1:33
AM ET
By
ESPN Stats & Information
| ESPN.com
Juan Uribe
hit .204 and .191 in the first two seasons of his three-year $21 million deal with the
Los Angeles Dodgers
.
But boy has he bounced back to provide great value in Year 3.
Uribe
Uribe's go-ahead homer in the eighth inning pushed the Dodgers into the NLCS with a come-from-behind win over the Braves.
A historic homer
The series-winning late-game homer is familiar territory for Uribe.
He hit one in the eighth inning of Game 6 of the 2010 NLCS for the
San Francisco Giants
against the
Philadelphia Phillies
, helping the Giants reach the World Series.
He's the first player to hit a go-ahead homer in the eighth inning or later of two postseason series-deciding games.
Another dramatic Dodgers homer
Uribe is the second player in Dodgers history with a go-ahead HR with his team trailing in the eighth inning or later in the postseason.
The other? Kirk Gibson off Dennis Eckersley in Game 1 of the 1988 World Series.
What have you done for me lately?
Uribe has been a stellar defender at third base for the Dodgers throughout 2013, solidifying a position that had been a bit shaky for them. He contributed a career-best 4.1 Wins Above Replacement this season, thanks in part to a career-high 15 Defensive Runs Saved.
But his offense has picked up in the last month, first with a three-homer game on Sept. 9 and now with a late-season surge.
Uribe entered Sept. 9 with a .271 batting average, .392 slugging percentage and seven home runs.
He's hitting .333 with a .640 slugging percentage and seven homers since then.
Inside the Home Run
Uribe's Game 4 homer came on a hanging slider from Braves reliever
David Carpenter
.
Uribe's history is to be susceptible to the breaking ball from a righty, as many hitters are. He missed on 35 percent of his swings against them from right-handed pitchers this season, a hair above major-league average.
According to the pitch-performance data in our tracking system, Uribe had only hit one homer against a slider from a right-handed pitcher all season prior to Monday.
That too was a game-winner, on April 11 against the
San Diego Padres
and
Luke Gregerson
.
March, 21, 2013
3/21/13
6:48
PM ET
By
ESPN Stats & Information
| ESPN.com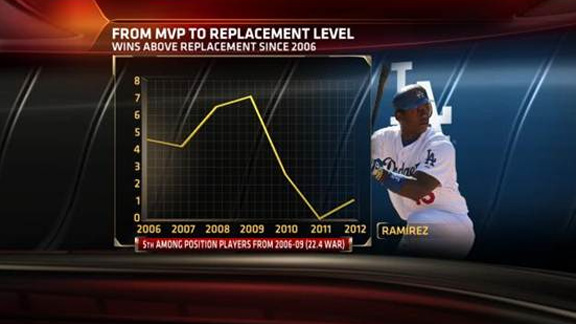 Fresh off prized free agent acquisition
Zack Greinke
dealing with elbow pain, the
Los Angeles Dodgers
will now be without starting shortstop
Hanley Ramirez
for approximately eight weeks after he has surgery to repair ligaments in his right thumb on Friday.
Although he still boasts significant name recognition -- and was acquired with the intention of being an impact player for the Dodgers -- Ramirez has been a far cry from the MVP candidate he was just four years ago.
From 2006-10, Ramirez hit .313 (including a National-League leading .342 in 2009), averaged 25 home runs, 39 stolen bases with a .906 OPS.
But over the last two seasons, Ramirez has hit just above .250, averaged fewer than 20 home runs and saw his OPS drop to .742.
Ramirez is still owed $31.5 million over the next two seasons.
The graphic atop this article shows Ramirez's decline in Wins Above Replacement over the last several seasons.
Ramirez's potential replacement scenarios involve some combination of
Luis Cruz
,
Nick Punto
, Jerry Hairston Jr,
Dee Gordon
and
Juan Uribe
.
What does each bring to the table?
Luis Cruz
Cruz was worth 2.2 Wins Above Replacement last season. A good chunk of that value came from how he impressed defensively (at least statistically) at third base. Despite playing only 427 innings at the position, Cruz ranked fifth among third basemen with eight Defensive Runs Saved. His strength in that regard was turning batted balls into outs.
Of the 90 balls hit into his "zone" (areas in which third basemen turn balls into outs at least 50 percent of the time), Cruz turned 75 into outs. His .833 Revised Zone Rating was the best of anyone who played at least as many innings as he did.
Jerry Hairston Jr.
Hairston also brings defensive value. Last April, the
Sweet Spot blog
wrote him up for being the game's top defender that month.
Hairston also rates as a careful hitter. He posted a .343 on-base percentage over the last two seasons (23 points above the major-league average). He missed on 14.5 percent of his swings in that span, well below the major-league average of 21.5 percent.
Nick Punto
Punto brings similar skills to Hairston. His miss rate over the last four seasons is just 13.6 percent and his on-base percentage in that span is .336.
Punto walked in nearly 13 percent of his plate appearances over the past four seasons, a rate that ranks 22nd among the 293 players with at least 1,000 plate appearances in that span. His weakness is a lack of power.
The difference between him and Hairston is Punto's lack of power. His .309 slugging percentage since 2009 is fourth-worst among those 293.
Dee Gordon
Gordon, currently dealing with an ankle sprain, is the speediest of the Dodgers options. He stole 32 bases last season, but his statistical shortcoming (an inability to reach base) prevents him from fully showcasing that talent.
The biggest issue Gordon has to overcome is twofold. He has a tendency to look at strikes (40 percent of pitches he took last season were called strikes-- the third-highest rate in the majors) and chase balls (he swung at 35 percent of pitches out of the strike zone, six percentage points higher than major-league average).
Juan Uribe
Uribe is in the last year of a three-year, $21 million deal, the first two of which, statistically-speaking, have been terrible.
Uribe's .552 OPS over the last two seasons ranks third-worst among those with at least 400 plate appearances.
When Uribe was going good in 2009 and 2010, he hit for power (34 home runs). He was also useful as a right-handed hitter who could hit right-handed pitching. His .484 slugging percentage against righties ranked in the top 20 percent of right-handed hitters.
July, 9, 2011
7/09/11
11:19
PM ET
Derek Jeter
grabbed the headlines, but there were other dramatic games and performances Saturday.
Aaron Harang
and four relievers held the Dodgers without a hit for 8 ⅔ innings before
Juan Uribe
doubled to end the Padres' bid for the franchise's first no-hitter. One batter later,
Dioner Navarro
hit a walk-off single to give Los Angeles a 1-0 win. The Dodgers' pitching wasn't too shabby either, only allowing one hit to the Padres.
From the Elias Sports Bureau: The Dodgers and Padres combined for three hits. It's just the third 1-0 game in the last 25 seasons that featured three or fewer hits.
The Dodgers weren't the only team to walk off with a win.
Josh Hamilton
finished off a 4-for-5 night with a two-run, walk-off home run to give the Rangers their sixth straight win, a 7-6 victory over the Athletics.
Alexei Ramirez
, who homered earlier in the game, singled in the bottom of the ninth to drive in
A.J. Pierzynski
and give the White Sox a 4-3 win over the Twins. The victory snapped Chicago's nine-game losing streak against Minnesota.
Later, Cardinals pinch-hitter
Tony Cruz
doubled home
Colby Rasmus
in the ninth to give St. Louis a 7-6, walk-off win over the Diamondbacks.
Of the 15 games played on Saturday, eight of them were decided by one run.

Bautista
Jose Bautista
hit two more home runs, including the go-ahead shot in the 10th inning, as the Blue Jays edged the Indians, 5-4. Bautista increased his MLB-leading home run total to 31 and is the first AL player to hit that number before the All-Star break since
David Ortiz
in 2006. Bautista has 13 multi-HR games over the last two seasons, the most in MLB.
He is also the first Blue Jays player to hit 30 before the All-Star break in a single season. It's also his 100th career homer with the Blue Jays, the fastest anyone has reached 100 homers in team history, doing so in 377 games with the club.
John Lackey
entered Saturday with an ERA of 9.17 at home this season. He pitched 6 ⅔ shutout innings against the Orioles, the first time he has had a scoreless start at home since his very first with the Red Sox (April 7, 2010, vs. the Yankees).
Before Saturday, Lackey had allowed at least one run in 24 straight starts at Fenway Park.
November, 29, 2010
11/29/10
8:50
PM ET
Juan Uribe
's
potential three-year, $21 million contract
with the
Los Angeles Dodgers
looks like a case of a player being in the right spot to profit at just the right time.
Uribe's presence would fill a major need for the Dodgers at second base, a position at which Los Angeles was lacking in offensive punch, in one respect. His 24 home runs in 2010 ranked seventh among players whose primary spot was middle infield (second base or shortstop) and his .440 slugging percentage was 110 points higher then what the Dodgers got out of second base last season.
However, his .300 career on-base percentage ranks among the bottom six percent of those who have had at least 2,500 plate appearances since 2000.
Uribe rates as an average defender at three positions, which would give the Dodgers some options for usage. His 2010 +/- ratings, which compare how frequently he turned batted balls into outs, were +1 at both second base and shortstop and +2 at third base, basically meaning he got to balls at a rate comensurate with an average to very-slightly-above-average defender.
Uribe would be the fourth Giants free agent to sign with the Dodgers since the 1998-99 offseason, joining
Ricky Ledee
(2004-05),
Brett Tomko
(2005-06), and
Jason Schmidt
(2006-07). Schmidt got the biggest contract of any Giants free agent to sign with the Dodgers since the 1990-91 offseason, getting a three-year $47 million deal. That deal didn't work out well for the Dodgers as Schmidt battled injuries and spent more time on the sidelines than on the mound.
If we work off the presumption that Uribe would play second base if he signs, it's one of the longer, larger deals awarded to a free agent second baseman recently. The last free agent second baseman to get a three-year deal at an annual salary of $7 million or greater was Bret Boone from the
Seattle Mariners
in the 2001-02 offseason.
October, 28, 2010
10/28/10
3:19
AM ET
Wednesday the Giants gave
Cliff Lee
his first career postseason loss. San Francisco chased Lee in the fifth inning racking up eight hits and seven runs (six earned). Lee entered the game with the third best postseason ERA in MLB history at 1.26. After Wednesday's start, that ERA is now 1.96, good for 18th all-time.

Lee
Cliff Lee, normally extremely efficient, threw 104 pitches in 4⅔ IP. That's tied for the second-most pitches in ANY postseason start with less than five IP since 2000 (farthest back for accurate pitch data).
Jason Schmidt
of the Giants also threw 104 pitches in 4⅔ IP in Game 5 of the 2002 World Series.
Here's how the Giants got to Lee:
• Opponents entered Wednesday 3-28 against Lee's cutter in the postseason; the Giants were 3-10 on Wednesday, with all of the hits going for doubles. The difference was Lee threw more cutters than usual in the strike zone, especially on outside pitches. Fifteen of Lee's 18 (83.3 pct) outside cutters were in the strike zone, and the Giants doubled off two of them. In the first three games of the postseason, 60.0 pct of Lee's outside cutters were in the strike zone, and opponents had just one hit on them.
• The Giants did damage against all of Lee's outside pitches. Lee had made a living on the outside corner in the postseason, but the Giants made him pay in Game 1. Lee had allowed five hits on outside pitches in the ALDS and ALCS; the Giants had six hits on outside pitches in Game 1. Four of the six hits were on line drives or fly balls, as the Giants were able to elevate Lee's outside pitches.
Lee also didn't get a lot of help from his defense as the Rangers committed four errors (though not all while Lee was in the game).
FROM THE ELIAS SPORTS BUREAU:
The Rangers are the ninth team to commit four or more errors in a World Series game and the first since the 2004
Boston Red Sox
did it in back-to-back games.
Although
Juan Uribe
hit a big three-run HR off of Darren O'Day immediately after Cliff Lee was taken out of the game, it was second baseman
Freddy Sanchez
who gave Rangers pitching the most trouble. Sanchez doubled in each of his first three at-bats and later added a single.
Freddy Sanchez tied a Giants record with 4 hits in a World Series game. It has been done 8 times previously. The last 4 times it was done before Sanchez were by Hall-of-Famers Ross Youngs (1923), Fred Lindstrom (1924), Mel Ott (1933) and Monte Irvin (1951).

Sanchez
FROM THE ELIAS SPORTS BUREAU:
Freddy Sanchez had three doubles off Cliff Lee, equaling the number of extra-base hits Lee had allowed over his previous three starts this postseason. Only three players have had three extra-base hits off Lee in a regular-season game (and no one else has done it in the postseason): Adrian Gonzalez this season,
Alberto Gonzalez
in 2009 and
Mark Teahen
in 2006.
October, 24, 2010
10/24/10
5:45
AM ET

San Francisco's dominant pitching staff and timely hitting propelled the Giants into the World Series for the fourth time since moving to San Francisco and the first time since 2002. Entering Game Six of the NLCS, the Giants starters had an ERA of 2.84 so it was not a particularly good sign when Game Six starter
Jonathan Sanchez
became the 14th starter in Giants postseason history to pitch two innings or fewer.
Sanchez's short stint however, did not do the Giants in as manager Bruce Bochy made a historic call to the bullpen that helped the Giants advance to the World Series.
According to the Elias Sport Bureau, Saturday was the first time in postseason history that a team used four straight left-handed pitchers in a game (Jonathan Sanchez,
Jeremy Affeldt
,
Madison Bumgarner
and
Javier Lopez
). When it was all said and done, five Giants relievers combined to hold the Phillies without a run over the final seven innings. It was the most innings pitched without allowing a run by the winning team's relievers in a postseason series-clinching game that did not go to extra innings since Game Five of the 1984 NLCS (Padres' bullpen combined for 7 ⅔ scoreless innings against the Cubs).
Closer
Brian Wilson
sealed the deal by getting five outs to earn his third save of the series. Wilson posted a win and three saves in this year's NLCS. According to the Elias Sport Bureau he became the fourth pitcher to win or save four games in one postseason series since saves became an official major-league statistic (in 1969). He joins Dennis Eckersley (1988 ALCS), Mitch Williams (1993 NLCS) and John Wetteland (1996 World Series) as the only four pitchers to accomplish that feat.
Besides stingy pitching,
Juan Uribe
's tiebreaking solo HR off
Ryan Madson
in the eighth inning was the difference in the game. The bomb by Uribe was his first postseason homer since his first postseason game, Game One of the 2005 ALDS (for White Sox). He went 23 postseason games without a home run, but once the streak was snapped Uribe became the fifth Giants player with a go-ahead home run in the eighth inning or later of a postseason game.
Outfielder
Cody Ross
was named NLCS MVP after batting .350 with three HR and five RBI. Ross became the fifth player in MLB history to start the season with a different team and win the LCS or World Series MVP award. He also extended his postseason hit streak to seven and hit a double for the third straight game. The latter is tied with Willie Mays for the second-longest such streak in Giants franchise history (
Edgardo Alfonzo
holds the record with a double in four straight games).
The Giants victory was their sixth, one-run win this postseason as they become just the third team in MLB history with that many one-run wins in a postseason.
Looking ahead, the Giants and Rangers have gone a combined 104 seasons worth of baseball without a World Series win. The Giants have not won a title in 55 seasons while the Rangers have never won a title in their 49 seasons as a franchise. It's the second World Series in the last 50 years (non-strike season) in which both teams had 92 wins or fewer. The other was 1997 (Marlins vs Indians).
October, 21, 2010
10/21/10
1:48
AM ET
In the San Francisco Bay Area fans describe Giants baseball as "torture". The Giants picked up their sixth win this postseason Wednesday; this time by a narrow 6-5 margin. That is San Francisco's fifth one-run win this postseason. They finished tied for second in the National League with 28 one-run wins during the regular season. Who led the NL? The Phillies with 29.

Posey
After going 6-16 during the NLDS against the Braves,
Buster Posey
was mired in a 1-11 slump through the first 3 games of the NLCS. He picked a good time to break out. According to the Elias Sports Bureau, Buster Posey is just the fifth rookie to have four hits and two RBIs in a postseason game. The others are
Jacoby Ellsbury
(2007 Red Sox),
Miguel Cabrera
(2003 Marlins), Joe Garagiola (1946 Cardinals) and Freddie Lindstrom (1924 Giants).
Pablo Sandoval
came up with a key 2-run double for the Giants. Last season that wouldn't have surprised many, but this season Sandoval hit .208 with runners in scoring position. That was the 3rd-worst among NL hitters with at least 100 AB with RISP. He was 0-1 in the postseason entering Game 4. He had just 2 hits in his last 12 at-bats with RISP to end the regular season.
From the Elias Sports Bureau: Giants starting pitcher
Madison Bumgarner
was lifted with a 2-1 lead with two outs in the top of the fifth inning, and then in the bottom of the inning, Phillies starter
Joe Blanton
was removed from the game with two out and Philadelphia holding a 4-3 lead. That marked the first time in major league history that both starting pitchers were lifted from a postseason game one out away from being eligible for a victory.
This is the third time the
San Francisco Giants
have been up 3-1 in a Best-of-7 LCS. The two previous times (1989 against the Cubs and 2002 against the Cardinals), they closed out the series in five games. As for the Phillies, they are down 3-1 for the fifth time in franchise history. They've won Game 5 twice (2009 World Series, 1993 World Series), but they have never won a series when down 3-1.

Uribe
Juan Uribe
's sacrifice fly was the fourth game-ending postseason RBI in franchise history and the first since
Kenny Lofton
in the 2002 NLCS. Fred Merkle is the only other Giant with a walk-off sac fly (Game 5 of the 1911 World Series against the Philadelphia Athletics).
The last time the Phillies lost a postseason game by walk-off was in one of the most dramatic games in history -- Game 6 of the 1993 World Series. Joe Carter hit a home run off Mitch Williams to win the game and the series.
September, 15, 2010
9/15/10
4:29
PM ET
Today's Trivia:
Paul Maholm
takes the hill for the
Pittsburgh Pirates
Wednesday holding the team-lead in strikeouts with 90 (Side note: 34 pitchers had more than that before the All-Star break). Not having a 100-K pitcher is a bit more common than you might think. In fact, it happened five times last decade, including last season to the
Washington Nationals
. Which brings us today's trivia question: Which pitcher led the Nationals in strikeouts last season?
The standings might say otherwise, but there's always something to play for – in this case, history. In the first of a series of divisional breakdowns, here's some statistical minutiae to keep an eye on in the closing weeks. First the AL West.
Los Angeles Angels
Bobby Abreu needs one stolen base for 20 on the season. That would give him 12 straight seasons of 15 HR and 20 SB, extending his own record streak. Barry Bonds (10 straight) has the next longest such stretch.
Brandon Wood's .397 OPS would be the lowest for a player with 200 plate appearances since Frank O'Rourke posted a .325 OPS for the 1912 Boston Braves. Wood is just below Tony Pena Jr.'s .398 for the Kansas City Royals in 2008. Wood's .185 on-base percentage would be the seventh lowest since 1900 for players with 200 PA.
With 56 strikeouts and only four walks, Wood would have the most strikeouts for a player with fewer than five walks since Rob Picciolo (63 K, 2 BB) of the 1980 Oakland A's.
Oakland A's
Both the Seattle Mariners and A's do not have a player with 15 home runs. The difference is that the A's leader Kevin Kouzmanoff (14 HR) has been missing time with a back injury. The last AL team without a 15-HR player was the 1992 Angels, who were led by Gary Gaetti's 12.
If Daric Barton (100 BB, 88 K) stays below 100 strikeouts, he'd be the first American League player since Rafael Palmeiro to do that in a season with over 100 walks. Since Palmeiro's 2002 campaign, 16 players have done this, but all were in the National League. With only eight HR, Barton would be the first to do this with fewer than 10 HR since Rickey Henderson in 1996.
How does a pitcher with only 98 strikeouts have the lowest opponent OPS in the AL since Tim Hudson in 2003? There just might be some luck involved for Trevor Cahill. The .224 BABIP against Cahill is the lowest against a qualifying AL pitcher since opponents had a .212 BABIP against the Detroit Tigers Jeff Robinson in 1988. Not only was that Robinson's only season with a sub-3.00 ERA, but his next best was 4.73.
Seattle Mariners
With Franklin Gutierrez currently leading the team with 56 RBI, the Mariners could become the first team since the 1983 Cincinnati Reds without a 60 RBI player in a non-strike shortened season. That Reds squad was led by Ron Oester's 58 RBI.
Russell Branyan only has 56 RBI to go with the 24 home runs he's hit between the Cleveland Indians and Mariners. He's safe though. The fewest RBI for a player with 25+ HR is 54 by Ron Gant when he played for the Philadelphia Phillies and Angels in 2000. The AL "record" is shared by Fred Lynn (1988 Orioles/Tigers) and Marcus Thames (2008 Tigers) with 56.
Mariners designated hitters are batting just .190 at the plate this season. Over the last 35 years, the only AL team to hit below the Mendoza Line at DH was the Texas Rangers (.197) in 1988. Larry Parrish was the most frequent DH on that squad.
Texas Rangers
Left-handed hitters are batting just .136 against C.J. Wilson. That's the second lowest for a qualifying AL starter over the last 35 years. In 1995, lefties hit just .129 against Randy Johnson. The difference is that Johnson only faced 92 lefties that season, while Wilson has done battle with 156.
If he doesn't suit up again in the regular season, Josh Hamilton will finish with 21 home runs and .395 batting average at home. Over the last 50 years, the only other AL player to hit .390 with 20 HR at home was Albert Belle for the 1994 Indians.
Elvis Andrus has 145 hits, but only 17 have gone for extra bases. The last player with over 150 hits in a season with 17 of fewer extra base hits was Kirby Puckett in 1984. Only 17 of his 165 hits were no singles.

Key Matchups:
Alex Rodriguez
(.208) and
Mark Teixeira
(.143) have been baffled by
James Shields
in the past. However, no one compares to
Curtis Granderson
. His .077 average is lowest for anyone that Shields has faced at least 20 times. Granderson's struggles are notable for the fact that he usually struggles against right-handed pitchers. In fact, against righties not named James Shields, he has a .289 career average compared to .216 against southpaws.
Chad Billingsley
has an 0.61 in 29 2/3 innings against the
Los Angeles Dodgers
this season, good enough for a 2-0 record in four starts. In fact, Billingsley has tossed 23 2/3 consecutive scoreless innings against San Francisco. Both
Juan Uribe
and
Pablo Sandoval
are 0-for-10 against him in 2010. Uribe was 5-for-10 entering the season.
Trivia Answer:
With 92 strikeouts,
Jordan Zimmermann
led the 2009 Nationals, despite making only one appearance after the break. Washington's
Tyler Clippard
(97) had already eclipsed that total while pitching solely in relief.
August, 26, 2010
8/26/10
1:51
PM ET
By
Lee Singer
and
Dan Braunstein
| ESPN.com
In the Colorado Rockies' come-from-way-behind 12-10 victory Wednesday afternoon against the Atlanta Braves
, their win probability (based on teams throughout history in similar situations) dipped as low as 1.2 percent in the fourth inning:
• The Rockies trailed 3-0 after the top of the first, meaning their win probability was 28.9 percent even before they came to bat.

• After the top of the second, the Rockies trailed 7-0 - a win probability of 7.0 percent.
• When
Omar Infante
homered in the third inning to give the Braves a 10-1 lead, the Rockies' win probability fell to 2.2 percent.
• With the score still 10-1,
Brian McCann
doubled leading off the top of the fourth, and the Rockies' win probability dipped to its lowest point at 1.2 percent.
• Trailing 10-6 in the sixth inning, the Rockies' win probability sat at just 15.5 percent until a
Ryan Spilborghs
two-run double increased it to 30.8 percent, cutting the score to 10-8.
• The Rockies' win probability did not get above 30.8 percent until the eighth inning, when Carlos Gonzalez's two-run single tied the game at 10. The Rockies win probability jumped all the way from 24.9 percent to 61.2 percent with the hit.
• When
Troy Tulowitzki
followed with the go-ahead single to make it 11-10, the Rockies' win probability went up to 84.9 percent, and increased to 93.1 percent with Todd Helton's RBI single providing the final run.
• The Rockies' win probability did not dip below 90 percent from that time forward as they closed out the Braves in the 9th.
The Cincinnati Reds' 12-11 victory over the San Francisco Giants
on Wednesday featured several win probability swings:
• The Reds scored four runs in top of the first inning and had a win probability of 82.4 percent before the Giants even came to bat.

• After the Reds scored four more runs in the third inning to take an 8-1 lead, their win probability stood at 96.4 percent.
• When
Homer Bailey
singled to give Cincinnati a 10-1 lead in the fifth inning, the Reds' win probability was all the way up to 99.5 percent, its highest point until the game was over.
• The Giants cut the lead to 10-5 after six innings, but the Reds' win probability was still high at 97.4 percent.
• Even when
Juan Uribe
homered in the eighth to make it 10-8, the Reds still had a win probability of 85.2 percent.
• The biggest win probability jump of the game occurred on Andres Torres' eighth-inning double, which tied the game at 10 and knocked the Reds' win probability from 65.3 percent down to 26.2 percent.
• When Aubrey Huff's sacrifice fly in the eighth gave the Giants an 11-10 lead, the Reds' win probability fell to 14.6 percent.
• The Reds entered the 9th inning trailing 11-10. After
Ryan Hanigan
flied out leading off the top of the inning, the Reds' win probability was at its lowest point at just 8.3 percent.
• After
Drew Stubbs
reached second base on an error, Paul Janish's game-tying single in the 9th took the Reds' win probability from 21.9 percent up to 56.1 percent, the third-biggest jump of the game.
• The Reds took a 12-11 lead in the 12th inning on a
Joey Votto
single, which brought the Reds win probability from 48.1 to 84.9 percent, the second-largest win probability movement of the game.
• Torres came to bat in the ninth inning with runners on first and third and two out, with the Giants trailing 12-11. The Reds' win probability was at 80.9 percent at this juncture. Torres grounded out to end the game, bringing the Reds' win probability to 100 percent.