Stats & Info:

Julio Borbon
April, 13, 2011
4/13/11
8:15
AM ET
By
Nick Loucks
| ESPN.com
Where have all the great centerfielders gone?
A cursory look at the basic stats tell us that there are no elite offensive talents currently in the major leagues at that position. No player who spent half his time in center field last season and qualified for the batting title managed to hit .300.
That's the first time that's happened in the live-ball era (1920).
Baseball-Reference.com
tells us that since 1920, there have been 173 players who spent half their time toiling in center field and had an OPS+ of at least 140. Every decade from the 1920s to the 1990s featured at least 17 individual seasons reaching that number. In the 2000s, there were 11 seasons combined and five of them were by
Jim Edmonds
alone. The last centerfielder to accomplish it was
Carlos Beltran
in 2006.
To the right is a chart of the recent annual OPS averages for major-league centerfielders. Notice especially the steady decline in the AL.
We should consider this in context with other positions since offense has depressed overall in that time span. Still, the offensive profile of the centerfielder has changed.
It's very possible that defense has become more of a priority in front offices across the baseball landscape. Taking a glance at the American League West alone and you'll see
Peter Bourjos
in Anaheim (15 Defensive Runs Saved in 2010),
Franklin Gutierrez
in Seattle (14),
Coco Crisp
in Oakland (9) and
Julio Borbon
in Texas (7). These players are light on offense and decidedly heavy on defense.
Looking more broadly with a defensive metric from Baseball Info Solutions, 2010 was a banner year for defense at this glamour position. The combined Defensive Runs Saved by all centerfielders that played at least 700 innings was +109. That's the high-water mark for a position that has become decidedly more defensive-oriented in the last decade.
Is there light at the end of the tunnel? Currently, there are nine teams that have players in their age-25 season or younger manning centerfield. And that's not even counting players like
Jacoby Ellsbury
,
Drew Stubbs
,
Chris Young
and
B.J. Upton
.
Since 2000, the only centerfielder to manage an OPS+ of 160 over the course of an entire season is Edmonds. In the VERY early-goings this season, Baseball-Reference shows us there are four centerfielders doing that now, three of whom are still in their 20s (
Matt Kemp
,
Colby Rasmus
and Upton).
They may not be names like Ty Cobb, Joe DiMaggio, Willie Mays, Duke Snider, Mickey Mantle or even Kirby Puckett but it does offer some hope for future greatness.
--Contributions made by Mark Simon, Jeff Bennett and Justin Havens
October, 4, 2010
10/04/10
3:06
PM ET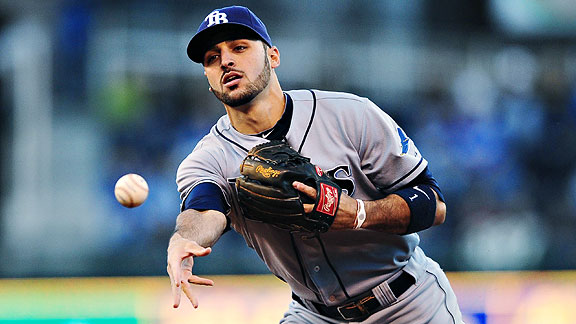 Mark J. Rebilas/US Presswire
Rays second baseman Sean Rodriguez had a knack for strong defensive play and clutch hitting, two factors that could be key in the postseason.
A capsule stat-based preview of the Texas Rangers-Tampa Bay Rays ALDS matchup.
Top things to know
The Rays led the American League in both walks and stolen bases, which partly accounts for how a team could finish near the bottom of the AL in batting average, yet near the top of baseball in runs scored (third-best in the majors).
The Rays also rank atop the majors by a huge margin in a Bill James-devised metric Baserunning Gain (ability to take an extra base on hits, outs and other plays). The Rangers rank second (+66 bases, 52 behind the Rays).
Josh Hamilton
had the greatest offensive season by a member of the Texas Rangers. He had the highest batting average (.359) of any player in Rangers team history (for a team that led the AL in the stat), as well as the best OPS+ (OPS compared to league average, adjusted for ballpark), a 174.
Deciding factor
The Rays had the second-best record in baseball when opponents started a left-handed pitcher, and they'll face left-handers in each of the first two games. They beat
Cliff Lee
three times during the regular season in 2010.
Evan Longoria
, currently battling an injury, led the way with a .956 OPS against lefties, followed by
B.J. Upton
's .919.
The Rangers bullpen won 32 games this season, most of any American League team. Their four most frequently used relievers who are available for the ALDS (
Neftali Feliz
,
Darren O'Day
,
Darren Oliver
and
Alexi Ogando
) combined for a 2.22 ERA, and had a strikeout-to-walk rate of 3.6 to 1.
Most interesting matchups
Vladimir Guerrero
has good numbers against almost every Rays reliever of note, albeit in a limited number of meetings. He's 5-for-9 against
Rafael Soriano
, 3-for-5 against
Dan Wheeler
, 3-for-6 against
Grant Balfour
, and 4-for-15 (with four walks and a .450 on-base percentage) against
Joaquin Benoit
. If Tampa Bay puts
James Shields
in the bullpen, Guerrero is good against him too (.394 BA, 1.030 OPS).
With the first two games taking place in the afternoon, it's worth noting that the Rays .587 win percentage in day games ranked sixth-best in baseball. The Rangers were 24th out of 30 (19-25, .432 win pct). The biggest impact seemed to be with Hamilton, who hit .384 with an 1.121 OPS at night, compared to .286/.819 during the day.
Statistical secrets
Rays second baseman
Sean Rodriguez
has all sorts of value to his team. His 18 defensive runs saved (a metric that measures ability to turn batted balls into outs, and turn double plays) rank best in baseball among second basemen.
Rodriguez also had an unusual knack for getting hits in big spots. He hit .400 (18-for-45) in "close and late" situations (defined by
Baseball-Reference.com
as plate appearances in the seventh inning or later with the batting team tied, ahead by one, or the tying run at least on deck).
The Rangers combination of
Elvis Andrus
and
Julio Borbon
bunt for hits better than almost anyone. Fangraphs.com charted Borbon as tied with
Erick Aybar
for the major league lead with 18 bunts hits. Andrus ranked third with 13. Combining bunt hits and infield hits, the Rangers rated tops in the majors, by Fangraphs calculations, with 187.
SIG's Picks
Albert Larcada of ESPN Stats & Info did statistical analysis of the last 10 postseasons, looking for the factors that most separate winning and losing teams. He found three -- power hitting, front-end starting pitching, and the ability to turn batted balls into outs. Using his findings, he was able to make a projection.
For the Rangers-Rays matchup, Larcada's system picks the Rays in four games. He gives the Rays a 56.6 percent chance to win the series.
June, 11, 2010
6/11/10
12:11
PM ET
By
Ryan McCrystal, ESPN Stats
and
Info
| ESPN.com
Quick Hits:
The weather is heating up and so are the hitters. Here's a look at a few players who are crushing the ball in the month of June.
Marlon Byrd is batting .516 (16-31) this month, raising his average on the season to .329.
Victor Martinez, who hit just .238 in April and .276 in May, is batting .486 in June.
Julio Borbon, who got off to a terribly slow start this season, is on fire in June, batting .467.
Carlos Pena already has 5 home runs this month, two more than he had in all of May and matching his total from April.
Josh Hamilton may be the month's hottest hitter, he's batting .436 with 4 home runs a league-leading 15 RBI.
Today's Trivia:
In what has already been a great week for rookies, top catching prospect Carlos Santana has been called up to make his debut for the Indians tonight. Who was the last Indian to win the rookie of the year award?
Today's Leaderboard:
Luke Gregerson and Mike Adams each pitched a perfect inning of relief in the Padres win in game one of their double header on Thursday. Gregerson and Adams lead the majors in perfect relief appearances of at least one inning.
Key Matchups:
Jim Thome and Tim Hudson will likely face off for the first time since 2005 tonight. In his career against Hudson, Thome is batting .563 (9-16) with 4 home runs, 9 RBI and 2.057 OPS.
David Ortiz is slumping again, batting .037 with 0 home runs in his last 8 games. Maybe facing Jamie Moyer will wake him up again. Ortiz is batting .361 with 5 home runs against Moyer. The only pitcher which Ortiz has taken deep more often is Roy Halladay (6 home runs).
Trivia Answer:
Current Indians first base coach Sandy Alomar Jr. won the award in 1990, in what turned out to be a great rookie class. Among others receiving votes: Kevin Appier, John Olerud, Travis Fryman and Robin Ventura.
April, 14, 2010
4/14/10
2:09
PM ET
By
Jeremy Lundblad, ESPN Stats & Info
| ESPN.com
Today's Trivia
: Happy Birthday to the 1995
Atlanta Braves
. Well, three of them at least.
Greg Maddux
,
David Justice
and
Steve Avery
were all born on April 14. Maddux posted an NL-best 1.63 ERA in 1995. Can you name the two other pitchers on that team that won an ERA title at some point in their career?
Quick Hits
: April has not been kind to leadoff hitters thus far, a trend spotted by Baseball Tonight researcher Mark Simon. With the obligatory acknowledgement that we are only 10 days into the season, let's take a look at the hole at the top spot in the order.
* Apparently, leadoff is the new seventh. Leadoff batters are hitting .249 with an OBP of .316. Meanwhile, the seventh spot is a collective .250 with an OBP of .316
* The No. 1 hitter in the
Texas Rangers
lineup is 1-28 with no walks.
Cincinnati Reds
pitcher Mike Leake had more hits than that in his MLB debut. The No. 1 hitter for the Braves is 2-29.
Arizona Diamondbacks
pitcher
Edwin Jackson
had two hits in an inning.
* The primary culprits have been
Julio Borbon
(1-25),
Melky Cabrera
(2-26), and a pair of Padres:
Everth Cabrera
(1-15) and Tony Gwynn, Jr. (1-11).
* In all, ten teams are hitting under .200 from the top spot in the order.
* Thirteen No. 1 hitters have an on-base percentage below .200 (minimum 15 PA)
* Though
Carlos Gonzalez
has the highest leadoff average (.393),
Jimmy Rollins
has arguably been the most productive leadoff hitter thus far. He's hitting .391 with a .516 on-base percentage. The catch? Rollins appears on his way to the disabled list.
Shane Victorino
, his likely replacement atop the lineup, is a career .227 hitter from the top spot.
Key Matchups
:
Bobby Abreu
has nine career home runs against
Javier Vazquez
, which is five more than he has against any other pitcher. However, that's just the tip of the iceberg. The Elias Sports Bureau unearthed a fascinating element to their head-to-head history. Abreu has three multi-homer games against Vazquez, making him the first to do that against one pitcher since Willie McCovey against Bob Buhl.
Looking to guide the Astros to their first win,
Brett Myers
is 4-2 in his career against the Cardinals. However, the current Cardinals lineup might indicate a different story. Six Cardinals regulars have faced Myers before, and they've combined to hit .392 with nine home runs in just 79 at-bats. For once
Albert Pujols
is bringing down the rest of the group. He is a .310 hitter against Myers with "only" two homers in 29 at-bats.
Today's Leaderboard
: Five players that have made at least 20 plate appearances have yet to strikeout this season. The most surprising would have to be Ivan Rodriguez, who fanned 92 times last season. With one strikeout in 34 PA,
Chase Utley
just missed the list. He had 110 strikeouts last season.
Trivia Answer
: If you guessed
Tom Glavine
and
John Smoltz
... sorry, they never led the league in ERA. Alejandro Pena (1984) and
Jason Schmidt
(2003) would be the correct answers.
April, 11, 2010
4/11/10
11:15
AM ET
By
John Parolin
and
Derek Czenczelewski, ESPN Stats & Info
| ESPN.com
Starting today we are going to start unveiling our top 25 players in the majors under the age of 25.
The criteria to make the list
:
- Must be under 25 years old on Opening Day 2010.
- Must have MLB experience.
- MLB results matter more than projected future stats or "talent" level. (If we were doing a list based on potential,
Jason Heyward
, Carlos Santana,
Buster Posey
and
Austin Jackson
etc. would be on this list).
- Our 25-man "team" must carry ordinary MLB requirements (two catchers, all positions and DH covered plus a bench and 12 pitchers).
We'll unveil the bottom 5 today and work our way up the next 4 days.
25. Jarrod Saltalamacchia, TEX, 24
2009: .233 BA, .290 OBP, 9 HR in 84 games.
-In danger of earning the dreaded lifetime prospect distinction, "Salty" should start behind the plate for the Rangers this season. His tools can't be ignored, and legitimate power-hitting catchers are not easy to find. But legitimate power-hitting catchers do not have a .180 WHAvg, .371 SLG% nor an OPS of .661, and his 33% chase percentage and 31% K% do not help his case either. But every team needs two catchers, and this one is no different. A strong season from Saltalamacchia could do well to justify his spot on this list; otherwise, he's a mere placeholder for the likes of Carlos Santana or Buster Posey in 2011.
24. Elvis Andrus, TEX, 21
2009: .267 BA, .329 OBP, .702 OPS, 33 SB
-Of the top 14 stolen base leaders in the American League last year, only
Ian Kinsler
(.327) and
B.J. Upton
(.313) had worse OBP numbers then Andrus. In a Texas system that should produce some top notch offensive talent in the next couple years (ESPN's Keith Law ranked the Rangers' organization as the number one farm system in baseball), Andrus can improve his runs scored and stolen base totals significantly if he can make better contact in the zone (.662 OPS on pitches in strike zone last year) and work some walks with a little more frequency (7.4% BB% in 2009). With
Julio Borbon
at the top of the order, there won't be too much pressure on Andrus to produce offensively, particularly given his ability with the leather.
23. Asdrubal Cabrera, CLE,
2009: .308 BA, 68 RBI, 81 runs, 17 SB, .799 OPS
- Cleveland's switch-hitting shortstop took some solid steps forward in 2009, but was still vulnerable against breaking pitches from both sides of the plate. Cabrera hit .125 on 198 curves and sliders on the inside part of the plate last season. Pitchers needed to work the inner third effectively, because Cabrera hit .333 on the outer third. However, even with the 49-point average jump from 2008, Cabrera's OBP only saw a 15-point spike, and his walks percentage (7.6%) is still well behind the league average of 8.9%. However, he can get away with it at times because he's so hard to finish off. Cabrera only strikes out in 31% of 2 strike at-bats, missing 17% of swings with 2 strikes, and won't help pitchers early, chasing only 15% of pitches in non-2 strike counts. Those numbers will almost certainly help him improve on his walks percentage in 2010, showing why he's a very viable option to lead off the Cleveland order.
22. Daniel Bard, BOS, 24
2009: 3.65 ERA, 63 strikeouts in 49.1 IP
- While Bard's ERA might not impress you for a reliever, the 3:1 K/BB ratio certainly will. Daniel's 100MPH fastball coupled with a crafty slider allowed him to effectively work out of jams, keeping 76% of inherited runners from scoring. 52 percent of Bard's innings were completed in 1-2-3 fashion, and 22 percent of his outs recorded came via a 4-pitch or fewer strikeout.
21. Neftali Feliz, TEX, 21
2009: 1.74 ERA, 39 strikeouts and 8 walks in 31.0 IP
- Feliz had a tremendous, but brief stint in the majors this past season. In 20 appearances, Feliz held opposing batters to a .124 batting average. Feliz turned 2-strike at-bats into outs 89 percent of the time (league avg. = 72 percent). With a WHIP of .677 and a K/BB ratio of nearly 5:1, Feliz represents the Rangers as their closer of the future, and perhaps present.
Check back tomorrow for players 16-20.
April, 5, 2010
4/05/10
10:10
AM ET
By
Kenton Wong, ESPN Stats & Info
| ESPN.com
Welcome to the debut of the TMI Power Poll. Each week a panel of 8 from the ESPN Stats & Info group will tackle a different topic and rank the top ten players/teams/items in that category. But we encourage you to get involved. Let us know why we're wrong, where we got it right and suggest future topics.
Since it is Opening Day (for most teams anyway), we
lead off
with the top 10 leadoff hitters. Corny? Absolutely, but it is an interesting topic for sure.
What makes a good leadoff hitter? It used to be that most would say a nice batting average and a lot of stolen bases would do the trick. Those numbers are definitely still relevant, but there are so many ways to look at things nowadays. Runs created, pitches seen, extra bases taken… Imagine the possibilities.
The majority of our panel was aboard the Ichiro bandwagon. Not much to dislike when it comes to the Mariners leadoff hitter – Ichiro has been a model of consistency. In each of his nine MLB seasons, he has at least 200 hits, 25 steals, a .300 BA and a .350 OBP. Last season Ichiro slugged a career high .465 and grounded into just 1 double play.
All that and much more were considered… You know our number one, so here's the rest of our best leadoff hitters (first-place votes in parentheses):
Others receiving votes:
Julio Borbon
,
Juan Pierre
,
Grady Sizemore
,
Alfonso Soriano
,
Ian Kinsler
,
Skip Schumaker
,
Stephen Drew
,
Kosuke Fukudome
,
David DeJesus
,
Marco Scutaro
,
Andrew McCutchen
and
Dexter Fowler
.
March, 17, 2010
3/17/10
2:49
PM ET
By
Kevin Goldstein, Baseball Prospectus
| ESPN.com
With
Julio Borbon
penciled (or more accurately, penned) in as the centerfielder and leadoff man for the
Texas Rangers
, we can now get down to the nitty-gritty here. How good can he be? His tools profile as a classic old-school CF/No. 1 hitter, so let's check how well those translate on the field. The role Texas envisions for Borbon contains three primary components, so here's a breakdown:

Running:
Tools-wise this isn't a problem, as Borbon has 70 speed on the 20-to-80 scouting scale, or "plus-plus." He also knows how to use that speed on the basepaths, stealing 97 bases over the past two years, including 44 last year between the minors and majors combined with an impressive 80% success rate. Defensively, his wheels allow him to cover plenty of ground.
Playing Defense:
While his range isn't an issue, as
Richard Durrett writes in today's piece for ESPNDallas.com
, his arm is. We're not talking
Johnny Damon
noodle-like arm strength, but we're not talking much better either. It's a liability, but also a common one for players like Borbon. The good news here is that Texas couldn't find a better tutor than Gary Pettis, who despite his offensive shortcomings as a player, is arguably the best defensive outfielder of his generation.
Getting On Base:
This is where things might get a bit problematic. Borbon certainly can hit. His career minor league batting average is .310, and he's hit above .300 at every level. His .317 batting average during his big league debut last year is probably a bit fluky, as players just don't hit better in the majors, but there's no reason not to see him flirting with .300 annually. The question really revolves around plate discipline, as leadoff men are expected to work the count and reach base via the walk as well to boost their on-base percentage. For many, the baseline here is a 10% walk rate -- that is, if a player has 500 at-bats, one wants to see a minimum of 50 walks. Borbon's career minor league rate is just 6.6%, although there has been some progress including an 8.1% mark at Triple-A, followed by a shockingly good 9.6% rate with Texas. If this is real progress, it spells great things for the Rangers' chances in the American League West. Unfortunately, the small sample sizes bring up a fear of flukiness, and this spring he's returned to his free-swinging ways, walking just twice in 37 at-bats (5.4%).
Our PECOTA projection system, which uses historical comparables to forecast the future, sees many players similar to Borbon, with the most similar being former Padre Alan Wiggins, as well as current big leaguer
Juan Pierre
, who has carved out an 11-year career with a similar skill set. If the walks come around, everything could change, but for now, the system sees Borbon hitting a solid-yet-unspectacular .286/.335/.394 at the top of the Rangers' lineup without a lot of growth potential from there. He's the kind of player a team is happy to have, while they keep an eye out for something better.
Kevin Goldstein is an author of
Baseball Prospectus
.