Stats & Info:

Kelly Johnson
August, 19, 2013
8/19/13
8:53
PM ET
By
Justin Havens, ESPN Stats & Info
| ESPN.com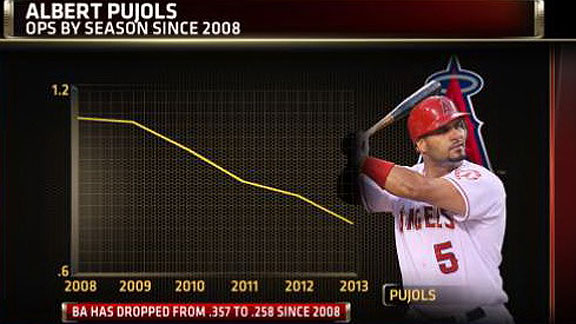 ESPN Stats & InfoThe Angels are on the hook for another eight seasons with Albert Pujols, whose numbers have been on the decline in recent seasons.
When it comes to bloated contracts, first there was Mike Hampton's with the
Colorado Rockies
. Then,
Barry Zito
's with the
San Francisco Giants
and
Alex Rodriguez
's with the
New York Yankees
set the bar even higher.
But there's one contract still in its infancy that could end up far more burdensome than any previous contract in major league history.
Much has been made of how the Yankees owe Rodriguez nearly $90 million (not including performance bonuses) through 2017.
However, the
Los Angeles Angels
still owe
Albert Pujols
–-
who will miss the rest of the 2013 season
with an injured left foot -- $212 million through 2021. The two least-expensive seasons in his 10-year deal were 2012 ($12 million) and 2013 ($16 million).
The only player who is owed more money starting next season is the
Cincinnati Reds
'
Joey Votto
($225 million through 2023).
Pujols has seen several of his once-lofty statistics decline since he won back-to-back National League MVP awards in 2008 and 2009.
Pujols had 9.2 Wins Above Replacement (WAR) in 2008 and a major league-best 9.7 in 2009. Since then, it has dropped from 7.5 in 2010 to 5.0 in his first season with the Angels to 1.6 this season. That's tied for 129th, with players such as
Kelly Johnson
,
Dioner Navarro
and
David DeJesus
, to name a few.
Pujols' OPS has decreased each of the past five seasons after he posted a career-high 1.114 OPS in 2008.
This season will also mark the first time in Pujols' 13-year career that he will not hit at least 30 home runs and just the second time that he will not drive in 100 runs.
Another streak that will come to an end is his 12-season run with 150 hits. That's tied for the third-longest streak in the live ball era. Only Paul Waner (14 straight from 1926 to '39) and Richie Ashburn (13 straight, 1948-60) had longer such streaks.
And, for the first time in his career, Pujols will play less than 100 games.
When Pujols returns in 2014, he will be eight home runs from becoming the 26th member of the 500-home run club and two RBIs from 1,500.
July, 28, 2012
7/28/12
1:27
PM ET
Getty Images/Jim McIsaac PhelpsJustin Upton and the Diamondbacks are hanging in the race for a postseason spot.
The epic end of the 2011 regular season will go down in baseball lore -- the
Boston Red Sox
's collapse, the Atlanta Braves' faltering to lose the Wild Card,
Evan Longoria
's walk-off to put the
Tampa Bay Rays
in the postseason.
Lost in the amazement of Sept. 28 was the bigger picture before that, when the
Arizona Diamondbacks
staged a remarkable stretch run over the final 62 games to overtake the
San Francisco Giants
in the NL West.
The D'backs finished on a tear -- 41-21 (.661), including a nearly incredible 29-13 (.690) against NL West opponents. They went from trailing the Giants by four games to winning the division by eight.
Justin Upton
, who had been averaging a home run every 27 plate appearances, lowered that frequency to 16½ -- mostly by crushing fastballs at a .376 clip (after a respectable .318 earlier in the year).
Gerardo Parra
hit better than .300 for the final two months.
The team traded second basemen with Toronto, sending
Kelly Johnson
northward in exchange for
Aaron Hill
, who promptly led the team with a .315 batting average the rest of the season.
Ian Kennedy
won 10 of his last 12 starts en route to a 21-4 overall record. As a team Arizona cut its strikeout-to-walk ratio from 2.53 to 2.11, and raised its on-base percentage from .314 to .336.
J.J. Putz
converted his last 24 save opportunities, had an ERA equal to his WHIP (0.77), and averaged nearly 11 strikeouts per nine innings.
Could a similar charge by the Diamondbacks be in order this season?
Friday's 11-5 win against the Mets was Arizona's 100th game of the season. And the 2012 numbers compare favorably to those at 100 games in 2011.
Despite three fewer wins, the team's batting average is 18 points higher, scoring is up slightly, and hitters are more patient than last season.
The remaining schedule is fairly light, with half of the games being against sub-.500 teams, including 16 against the
San Diego Padres
and
Colorado Rockies
, who bring up the rear of the division.
It remains to be seen whether this season holds similar Diamondbacks in the rough, but there are a few with potential.
Paul Goldschmidt
has been feasting on left-handed pitching; his average (.368), slugging percentage (.755), and OPS (1.189) are all among the NL leaders.
Free-agent pickup
Jason Kubel
is your NL RBI leader with 72, and 11 of his 22 homers have come in July.
Kubel has been a lot more selective on inside pitches this season; his swing rate has gone down four points, and his average has jumped from .179 to .258. And after a slow start,
Miguel Montero
is hitting .331 since mid-June and chasing a lot fewer pitches out of the zone.
As 2011 taught a lot of teams, a 5½-game lead in either the division or Wild Card can easily be overcome. So if the final pieces in the puzzle fall into place, the NL West could be an interesting division over these last 62 games.
May, 20, 2012
5/20/12
5:22
AM ET
Scott Rovak/US PresswireCarlos Beltran is one of the reasons the Cardinals lead the National League Central this season.
(The
Los Angeles Dodgers
host the
St. Louis Cardinals
, Sunday at 8 ET on ESPN)
The post-
Albert Pujols
era is in its first season in St. Louis, and right now the Cardinals do not appear to miss the second-most prolific home run hitter in franchise history.
In fact, the Cardinals are in first place in the National League Central thanks in part to some savvy offseason moves.
Carlos Beltran
and
Rafael Furcal
have been two of the three most effective free agent signings. Beltran's 1.9 Wins Above Replacement (WAR) is tied with
Kelly Johnson
for the highest this season among 2012 free agent signings. Furcal is third with a 1.8 WAR.
In fact, Beltran and Furcal are part of an interesting 2012 trend: rejuvenation of older players once thought to be done.
• Carlos Beltran (35) Leads NL in home runs (hasn't hit 30 HR since 2007)
• Rafael Furcal (34) .351 BA ranks 4th in NL (.231 BA in 2011; didn't play 100 games in either of last 2 seasons)
•
Derek Jeter
(37) .355 BA ranks 3rd in AL (hit .282 in previous 2 seasons)
•
David Ortiz
(35) 3rd in AL in OPS and 4th in BA (hit .257 from 2008-10)
•
Paul Konerko
(36) .367 BA is 2nd in AL (hit .240 in 2008)
Beltran has 13 home runs through 40 games, the most he's ever hit in his team's first 40 games. (Before 2012, the most HR Beltran hit in his team's first 40 games was 11 in 2004.) In addition to leading the National League in home runs, Beltran ranks fifth in OPS (1.036).
He's also two stolen bases from becoming the eighth player in major-league history with 300 HR and 300 stolen bases. With a .861 career OPS, he'd join Willie Mays,
Alex Rodriguez
and
Barry Bonds
as the only 300-300 players with an .850 OPS.
As good as Beltran has been, Furcal has been just as impressive. He's hitting .400 this month, which is the fourth-highest NL average in May behind
David Wright
(.436),
Andrew McCutchen
(.420) and
Carlos Ruiz
(.411) Furcal also is one of the best NL hitters with two strikes. His .293 average with two strikes is third in the National League.
One part of Furcal's success is that he isn't so pull happy. Last season, Furcal pulled 42 percent of all balls that he put in play. In 2012, that percentage is down to 34 percent.
Furcal and Beltran are also two of the most prolific active switch hitters. Beltran ranks third among active players with 1,956 hits and Furcal is sixth with 1,739.
May, 4, 2012
5/04/12
10:24
AM ET
By
Sharon Katz, ESPN Stats & Info
| ESPN.com
After one month of baseball, the American League East sits atop ESPN Stats & Info's MLB Divisional Power Rankings by a wide margin.

Dating to last season, the AL East has never held a larger lead than its current 25.6-point lead over the National League East. Strong starts by the
Baltimore Orioles
and
Toronto Blue Jays
have given the AL East five of the top 12 teams in baseball, according to
ESPN.com's most recent power rankings
.
Additionally, the AL East has been close to unstoppable outside of the division, posting a 44-25 (.637 win percentage) record in games against non-divisional opponents. No other division has a win percentage above .515 in non-divisional games.
What may be most surprising about the AL East is that unheralded names are making an impact for their teams. Toronto's
Edwin Encarnacion
and
Kelly Johnson
rank fourth and 20th, respectively, in ESPN's Player Rating system, combining for 15 of Toronto's 32 home runs through May 2.
The AL West has its share of players off to fast starts with
Josh Hamilton
,
Ian Kinsler
,
Felix Hernandez
,
Yu Darvish
and
Jered Weaver
all ranking in the top 10 of ESPN's batter and pitcher ratings. Five players from the AL West is the most from one division.

The
Los Angeles Angels
play 17 more games in May against teams that currently do not have a winning record. If the Angels can turn things around and live up to preseason expectations, the AL West has a chance to close the gap on the AL East.
The AL Central currently sits at the bottom of the divisional rankings with only one team above .500. Against non-divisional opponents, the AL Central is 29-48 (.377 win percent), by far the worst win percentage of any division.
The
Minnesota Twins
have been the worst team in baseball outside their division, winning five of 17 games against non-divisional opponents.
The weekend of May 18 presents several opportunities to shake up the rankings.
Divisional leaders clash in the National League, with the
St. Louis Cardinals
visiting the
Los Angeles Dodgers
. Interleague highlights include the
Philadelphia Phillies
hosting the
Boston Red Sox
and
Cincinnati Reds
visiting the
New York Yankees
.
For a brief recap of how we rank the divisions,
click here
.
November, 5, 2011
11/05/11
11:00
AM ET
If you're a team that needs a catcher, second baseman, or centerfielder, you might struggle to find what you're looking for in this year's free agent market. Here's a closer look at what is available among these positions.
Catcher
The first thing to know about the market for backstops is that there are no catchers on this year's free agent market who played in 100 games last season. The only available player who even caught 700 innings was
Rod Barajas
.
The top-rated catcher available statistically is
Ramon Hernandez
, who finished last season with 2.0 Wins Above Replacement. His WAR over the past three seasons is 4.4, the best among free-agent catchers.

Hernandez
For perspective on Hernandez's value, a 2.0 WAR is someone who would barely be considered an everyday player. In fact, his WAR ranked 16th-best among all catchers in 2011.
Aside from his below-average production, another potential reason against signing Hernandez is that he is a Type A free agent. If the
Cincinnati Reds
offer him arbitration, the compensation for another team signing him could be a first-round pick.
Second Base
There are plenty of second baseman in this year's free agent pool, but the market lacks a star player. It does have a large group of players who played a lot of innings, but produced in a limited fashion.
The highest-rated second baseman in Wins Above Replacement are
Kelly Johnson
, who hit .222 with 21 homers for the
Toronto Blue Jays
and
Arizona Diamondbacks
, and
Jamey Carroll
, who had a .359 on-base percentage but no home runs for the
Los Angeles Dodgers
. Both players finished with 2.2 WAR last season.
How thin is the second base market? There are four free agents who played at least 100 games last season and finished with a WAR below 1.0:
Aaron Hill
,
Aaron Miles
,
Adam Kennedy
, and
Orlando Cabrera
.
Center Field
The highest-rated centerfielder by Wins Above Replacement is
Coco Crisp
, who finished with 2.2 WAR in 2011, followed by
Rick Ankiel
at 1.4.
What's interesting about center field is that there are two players who were formerly great centerfielders, who would be highly coveted and could be put in centerfield if a team is willing to take a risk.
Carlos Beltran
showed himself to be an adequate defensive player in right field for the
New York Mets
and
San Francisco Giants
, with two Defensive Runs Saved last season. However, a factor that would work against him moving back to center field is his age, as he turns 35 in April.
Beltran also showed that he is still capable of handling himself at the plate. His .910 OPS was third-best among major-league right fielders last year, and his 39 doubles were surpassed only by Joey Votto among all NL players.
When healthy,
Grady Sizemore
was one of the top centerfielders in the game, averaging 27 homers and 29 stolen bases from 2005-08. However, he's played an average of just 70 games in the last three seasons and has hit .234 over that span.
June, 16, 2010
6/16/10
2:09
PM ET
By
Jeremy Lundblad, ESPN Stats & Info
| ESPN.com
Quick Hits
: With
Todd Helton
and
Joe Mauer
in opposing dugouts this week, it has highlighted the fact that neither slugger has hit a home run at home this season. Some other intriguing home/road notes:
Denard Span is hitting .378 at home and .172 on the road. That .206 discrepancy is the largest in baseball.
On the other hand, Ryan Braun is hitting .370 on the road, but just .216 at home, the largest discrepancy in the other direction.
Chris Young has hit 10 of his 12 home runs at home. Paul Konerko is next, having hit seven more homers at home.
Nine of Justin Morneau's 11 home runs have come on the road, while David Wright has hit eight more homers on the road than at home. Meanwhile, all seven of Ian Stewart's homers are away from Coors.
Of Ryan Sweeney's 28 RBI, 23 have come at home.
At .391, Martin Prado is on track for the highest home batting average since teammate Chipper Jones hit .399 at home in 2008.
Over the last 55 years, only two Yankees have posted a higher home batting average than Brett Gardner's .385: Paul O'Neill (.409 in 1994) and Mickey Mantle (.387 in 1957).
Casey Kotchman's .175 batting average at home would be the fifth worst among qualifying players over the last 50 years.
Jason Heyward has 17 more walks on the road than at home, the biggest difference in the majors.
Today's Trivia
: If
Alex Rodriguez
returns to the lineup against
Jamie Moyer
on Wednesday, it will mark the second time that a player with 500 career home runs has faced a pitcher who has allowed 500 long balls. The only other instance occurred in 1966. Who were the players involved?
Today's Leaderboard
: The best hitters at home this season? A pair of players that could find themselves playing elsewhere in a couple months. Who knows if Paul Konerko will still be calling U.S. Cellular Field home after the trade deadline, but for now Konerko is crushing the ball at home. His 1.201 OPS at home is the best in baseball, and is on track to be the best since
Barry Bonds
in 2004. Second on the list is Kelly Johnson's 1.133 OPS.
Key Matchups
:
David Ortiz
faced
Rodrigo Lopez
each year from 2003 to 2006 as AL East foes. In 50 plate appearances, he's hitting .326 with a .932 OPS. That includes a memorable two triple game in 2004, the only in Ortiz's career. However, one thing has eluded Ortiz against Lopez: A home run. Ortiz is homerless in 50 plate appearances, the most he's faced any pitcher without going deep. Even stranger? Despite that .932 OPS, Ortiz only has one RBI against Lopez.
Alex Rodriguez is expected back in the Yankees' lineup on Wednesday, and he'll face Jamie Moyer in a matchup that dates back to 1996. They've faced each other 59 times in total, and A-Rod is a .389 hitter against Moyer with a 1.218 OPS. This will be the first meeting since 2005, but in his last nine at-bats against Moyer, Rodriguez is 7-9 with four home runs.
Trivia Answer
: When Willie Mays stepped in against Robin Roberts on August 6, 1966, he had 529 home runs to his credit. In his previous start, Roberts became the first pitcher to allow 500 career home runs when Hank Aaron took him deep. It was Aaron's 429th career home run.
May, 11, 2010
5/11/10
9:27
AM ET
By
Joe Pawlikowski, FanGraphs
| ESPN.com
If the Atlanta Braves could have one mulligan from this past offseason, it probably would be their decision to non-tender second baseman Kelly Johnson. While the Braves have struggled to hit for power, Johnson has supplied it in droves for the Arizona Diamondbacks this season. He has 10 home runs already, which is as many as all Braves not named Jason Heyward have hit. But although Johnson's torrid start has been impressive, it's unlikely he'll remain this good throughout 2010.
Johnson first showed signs of his potential in 2007, when he hit .276/.375/.457 (batting average/on-base percentage/slugging percentage) as the Braves' full-time second baseman. He struggled in the next two years, however, hence the non-tender. In many ways, the start to his 2010 season resembles that breakout season. His walk and strikeout rates are back in line. His batted ball data also line up fairly well, although Johnson is hitting a few more fly balls in 2010. Still, the results on those fly balls have been much better. Of the 35 fly balls he's hit, 10 have left the park (28.6 percent). That mark is almost certainly unsustainable during the course of a full season and is higher than any hitter's rate last year.
In 2009, only seven NL hitters cleared the fence with more than 20 percent of their fly balls. Mark Reynolds led the way with 26 percent. (See list below.) One thing that stands out about the names you see is that they all have high career isolated power (ISO) numbers, a statistic that is calculated by subtracting batting average from slugging percentage. Among last year's leaders in home run rate, only Raul Ibanez doesn't have a career ISO of .200 or higher, and he's close at .194. Johnson has a career ISO of .178, so he is a prime candidate to regress.
Ibanez actually provides a cautionary tale of his own. Before his mid-June injury last season, he hit 22 home runs on 85 fly balls, a 25.9 percent rate, while his career rate is just 13 percent. From his mid-July return through the end of the season, he hit 75 fly balls, only 12 of which left the park (16 percent). That percentage still ranks above his career mark but certainly brought down the numbers he produced during his powerful start.
Even when Johnson does come back to Earth, he'll likely continue to produce for the Diamondbacks. Sabermetrician Dan Szymborski's ZiPS projection, which he updates daily, has Johnson pegged for a .219 ISO the rest of the way, so his power should remain intact even when more of his fly balls start dropping into gloves or gaps. He won't sustain his .355 ISO for the next five months, but a .251 mark, per ZiPS, would represent a huge step forward for Johnson.
Joe Pawlikowski is a writer for FanGraphs.
May, 7, 2010
5/07/10
2:05
PM ET
By
Ryan McCrystal, ESPN Stats
and
Info
| ESPN.com
Today's Trivia: Today is the anniversary of Herb Score getting hit in the face by a line drive off the bat of the Yankees' Gil McDougald, effectively ending his promising young career. Two years prior, Score set a rookie record with 245 strikeouts which has since been topped only by Dwight Gooden. Since Score's 1955 season only Gooden and two other rookies have eclipsed the 225 strikeout plateau. Can you name them?

Quick Hits: Andre Ethier hit his sixth career walk-off home run on Thursday, all of which have come in the last three seasons. Here's a few notes to put that into perspective:

* It was the first Dodgers walk-off grand slam since Russell Martin on April 21, 2007 against the Pirates
* He's just the sixth player in baseball history with six walk-off homers in a three-year span. Roy Sievers and Jimmie Foxx are the only ones with seven
* He now trails only Duke Snider and Gil Hodges for the most walk-off home runs in Dodgers history. Snider and Hodges each hit seven
* Ethier is 2-2 with two grand slams with the bases loaded this season
* Over the past three seasons Ethier has a .452 OBP with the bases loaded

Today's Leaderboard: Kelly Johnson went deep for the 10th time on Thursday, and once again his home run came against a fastball. Eight of his 10 homers have been off of fastballs, and he currently leads the majors with a .847 slugging percentage against the fastball.

Key Matchups: Josh Hamilton is batting .400 with two HR and six RBI during his current six-game hit streak, but he'll have a hard time keeping that streak alive tonight. Hamilton is 0-13 in his career against Zack Greinke with seven strikeouts. All seven strikeouts have been of the swinging variety.

Expect Jim Thome to be in the Twins lineup when they take on Kevin Millwood tonight. In his career against Millwood Thome is hitting .625 with three home runs in just eight at bats. He's also walked four times.

Trivia Answer: Hideo Nomo (236 in 1995) and Kerry Wood (233 in 1998). The closest any rookie has come since Wood was Daisuke Matsuzaka with 201 strikeouts in 2007.
April, 26, 2010
4/26/10
2:26
PM ET
By
Jeremy Lundblad, ESPN Stats & Info
| ESPN.com
Today's Trivia
: On Sunday,
Joakim Soria
became the all-time saves leader among pitchers born in Mexico? Whose record did Soria break?
Quick Hits
: Let's take a look at some of the more stunning ratios as we hit the three-week point of the young season.
*
Brian McCann
has 16 walks and only four strikeouts. Rather amazing for a player who has never had more walks than strikeouts, and had only 49 walks compared to 83 strikeouts last season.
*
David Eckstein
only has fanned once in 63 plate appearances. No qualifying player last decade had a PA per K greater than 30.0. In fact, the last to do so was
Tony Gwynn
in 1995.
* A ridiculous 79 percent of Kelly Johnson's hits have been for extra bases. His career high is just 46 percent. Meanwhile, all 16 of Juan Pierre's hits have been singles.
* According to Baseball-Reference.com, 33 percent of the fly balls hit by
Travis Snider
have been infield flies.
* With a 4.33 groundout to air out ratio,
Derek Jeter
is on track to lead the majors in that category for the second straight year.
*
Ryan Rowland-Smith
has allowed more home runs (six) than he has strikeouts (five), and has the worst strikeout percentage in the majors.
* Of all the fly balls to the outfield against
Cole Hamels
, 20.6 percent have been home runs, easily the highest percentage in the majors.
*
Carlos Silva
has a 0.63 WHIP. Last season, he allowed 0.73 extra-base hits per inning pitched.
*
Carl Pavano
has a 17-to-1 K-BB ratio. Last season, he had three walks in his first recorded inning of work.
* The Astros pitching staff surprisingly leads the majors with a 2.62 K-BB ratio.
* The Giants, Padres, and White Sox have more strikeouts than hits allowed.
* Of the hits allowed by the Pirates, 45 percent have gone for extra bases. Meanwhile, it's just 25 percent for the Tigers, according to Baseball-Reference.com.
Today's Leaderboard
: The Indians have struck out only 90 batters in 18 games, but have walked 77. That is just 1.17 strikeouts for every walk. Over the last 20 years, the worst K-BB ratio belonged to the 1995 Brewers at 1.16. Last decade, only the 2000 Angels (1.27) had a K-BB ratio below 1.3.
Key Matchups
: One way to know if
Vernon Wells
is really back? If he hits
Josh Beckett
like it is 2006. That was the last year Wells made an All-Star team, and that honor was largely courtesy of Josh Beckett and the Red Sox. In his first 10 games of 2006 against Boston, Wells hit eight home runs. Four of those came off Beckett. However, Wells is just 3-for-18 off of the right-hander since.
Zach Duke
is 0-5 with a 7.38 ERA at Miller Park, as the Pirates have lost 21 straight there. That's the longest road losing streak against a single opponent in Pirates history. Duke's head-to-head matchups with
Corey Hart
are the complete opposite of what you'd expect. Hart is a .444 career hitter in Pittsburgh against Duke, but just .150 at home.
Trivia Answer
: Aurelio Lopez had 93 saves over an 11-year career that ended in 1987. Considering there have been 68 Mexico-born pitchers in MLB history, Soria's total is rather small for a "save king." Countries that can boast a pitcher born there with more saves: Germany (Craig Lefferts, 101), Vietnam (
Danny Graves
, 182), and Japan (
Kazuhiro Sasaki
, 129).
April, 25, 2010
4/25/10
10:33
PM ET
By
ESPN Stats & Info
| ESPN.com
Any team that wanted
Matt Capps
or
Kelly Johnson
last winter could have had them cheaply, after each was non-tendered this offseason.
Both have found early success in new scenery and that continued Sunday. Johnson hit his seventh home run, one fewer than he had in 303 at-bats in 2009, as the
Arizona Diamondbacks
topped the
Philadelphia Phillies
. Johnson is taking what's given to him, just as he did this offseason, to produce power.
Of Johnson's seven home runs, four came on pitches that our Inside Edge video review deemed to be on the outside part of the plate. He didn't have a home run on an outside pitch in all of 2009.
Capps set a
Washington Nationals
team record with his eighth April save, lowering his ERA to 0.79. The key for Capps? Opponents are hitless in 16 at-bats against him with runners in scoring position (he got three of those outs Sunday). They hit .350 against him in such spots last season. That provides an easy explanation for a drop in ERA of nearly five runs.
What else was noteworthy Sunday?
* It was a rough day for Pirates starter
Charlie Morton
and Yankees starter
Javier Vazquez
. Morton actually reduced his ERA to 16.20 after allowing five runs in three innings against the Astros. If Morton doesn't pitch again, his April ERA will rank second-worst among those who made four starts. Vazquez's ERA jumped to 9.00, matching the worst-ever April ERA by a Yankee who pitched at least 20 innings.
*
Cla Meredith
saved the game for the Orioles Sunday in his 272nd career appearance. He previously had the most relief appearances by an active pitcher who didn't have a save. Pirates reliever
Jack Taschner
, with 211, is now on the clock.
Hitters of the Day
Paul Konerko and Ryan Theriot
Konerko was clutch and Theriot was consistent. Konerko's sharp eye has been a key this year. He took six swings on Sunday, missing none, and making his last count for a game-winning home run.
Theriot got five hits, with the last four all coming early in counts. In the at-bats that netted his last four hits, Theriot saw just nine pitches. Since 2009, Theriot is hitting .362 within the first two pitches of an at-bat, 30 points better than the major league average.
Why David Price won:
- Retired 14 of 15 hitters when gaining a two-strike count, getting hitters to swing at half of the pitches he threw out of the strike zone in those spots.
Why Scott Olsen won
:
- His slider worked. Seven of his eight strikeouts came with the slider, with the hitter chasing a pitch out of the strike zone on five of those seven. This was a sharp contrast from his first two starts, in which he got three strikeouts with the slider.
Why John Danks won:
- Efficiency: Threw three or fewer pitches to 60 percent (18 of 30) of the batters he faced. The major league average is about 47 percent.
Why Randy Wells won:
- Besides his team scoring a lot of runs, Wells may have been a little lucky. Brewers hitters were 0-for-7 in situations in which they had a favorable count.
Why Gio Gonzalez and Brad Penny won
- They shared the common thread of shutting down the leadoff man. Gonzalez didn't let a leadoff man reach in his seven innings. Penny only let the leadoff hitter reach once (7.2 IP).
March, 28, 2010
3/28/10
8:17
AM ET
By
Mark Bowers, ESPN Stats & Info
| ESPN.com
Looking for an under-the-radar fantasy possibility at second base? Then why not take a nice long look at
Martin Prado
? With the
Kelly Johnson
era at an end in Atlanta, Prado is poised to have a breakout season. Not only did Prado have a pretty decent season last year, but he should be the Braves 2B starter from day one batting in the second spot behind
Nate McLouth
and in front of
Chipper Jones
. Take a look at how some of Prado's numbers compared with MLB and NL second basemen last year. Note the production that Prado had despite the low number of at bats. With Kelly Johnson gone and Prado cemented as the everyday second baseman fantasy owners should expect an uptick in production. In 2009 Prado was 20th among MLB second baseman with 503 Total Plate Appearances and 21st with 450 At Bats. For better or worse Bobby Cox has been known to stick with players once he's decided that's who he wants, so look for Prado to see a significant improvement in that category.
Reasons to be Skeptical
Unfortunately, there are some reasons to worry about Prado's overall run production. First off, Nate McClouth hasn't exactly been tearing the cover off the ball this spring so it appears that batting in the second hole for the Braves might often mean batting with the bases empty and one out.
Perhaps a larger worry, and the two are probably connected, should be Prado's inability to create runs last year. In fact, Prado (5.42) lagged far behind leaders
Ben Zobrist
(8.12) and
Chase Utley
(7.98) in terms of producing runs per 27 innings in 2009. Of course it should also be noted that Zobrist and Utley were both almost two full runs ahead of their closest rival (
Brian Roberts
). Still, McClouth's inconsistency coupled with Prado's seeming difficulty in producing runs is some cause for alarm.
Other Variables
With Chipper Jones coming off one of his worst seasons of his career there are two schools of thought: he's due to bounce back, or it's the end of a great career. Last year Jones posted a career low in RBI and had his lowest OPS since his rookie season. Still, the fact remains that if Jones gets 600 at-bats he drives in over 100 runs and if Prado is batting in front of him than fantasy owners are going to be the beneficiary of those RBI. Furthermore, there seems to be a growing feeling in Atlanta that given the closeness between Chipper and Bobby Cox that Jones would be willing to play through some injuries that in the past may have sidelined him.
Conclusion
Prado isn't a player that you should draft before some of the other stalwart second basemen out there like Utley, but he is a very solid option for those willing to wait a little bit longer on draft night. I look for him to continue the improvement that he had last season and for his numbers to increase in 2010.